Stood tall overlooking the Adriatic sea, with views of Dubrovnik's famous old harbour
Guests of the Grand Villa Argentina can choose from indoor and outdoor swimming pools
A stone's throw away from Dubrovnik's iconic Old Town. Take advantage of the great opportunities to explore
Offers a wonderful range of fine dining experiences from the Grand Villas' three restaurants
First built as a private residence in the early 1920's, and later developed into a luxurious hotel, the Grand Villa Argentina holds a special place in the city of Dubrovnik as one of the few exclusively elegant places to stay. Located just outside the walls of the Old Town, the Grand Villa Argentina follows the architectural stylings of Dubrovnik while bringing the interior of the hotel to life with modern furnishings, fashionable décor, and sophisticated yet comfortable furniture.
The hotel is perched atop Dubrovnik's beautiful coastline, offering guests expansive views of the Old Harbour and the natural East Harbour of the island of Lokrum from its luscious gardens and the beach platform in the hotel. Views in the background of the Villa show forests of pine trees in the mountainous region towering above the city.
With all of the luxury restaurants, bars, relaxing pool areas, and excellent five star service waiting for you, the Grand Villa Argentina is the perfect place to stay while visiting the historic city of Dubrovnik.
Hotel child prices apply to ages 2–11 years. The hotel has 131 rooms, 7 floors, and 3 elevators.
Facilities
Bars & Restaurants
La Caravelle
La Caravelle serves as the hotel's main restaurant and provides a specially curated breakfast, lunch and a la carte menus. The affixed piano bar also has live music in the summer to liven up the evening hours.

Open: 06:30 - 20:00.
Victoria
A fine dining restaurant for the evening hours. With a superb a la carte menu and glorious views overlooking the Old Town, you are sure to spend many an evening enjoying all the Victoria has to offer.

Open: 18:00 - 00:00.
Beach Restaurant and Bar
This beachside dining restaurant allows you to enjoy a light and refreshing lunchtime menu right by the water's edge. A perfect way to spend an afternoon enjoying delightful foods and watching the sunlight flicker and dance over the Adriatic.

Open: 10:00 - 18:00 from May to September.
Lobby Bar
The Lobby Bar offers a bustling and welcoming environment to enjoy a coffee or a cocktail in, with beautiful views of Dubrovnik's Old Town.

Open: 08:00 - 20:00.
Beach & Pools
Swimming Pools
There are two pools offered to guests at the Grand Villa Argentina. One that can be found indoors within the spa complex and the other is an outdoor installation at the hotel's private beach. Whatever the weather, there will always be a place to take a dip.
Spa & Wellness
Spa
Inside the spa complex guests will find a diverse array of beauty and wellness treatments, designed to meet any requirement or need. The many facilities include aromatherapy and massage treatments, a hairdresser's salon and a sauna.
Fitness Studio
There is a small but accommodating fitness studio that can found in the hotel's spa complex. This studio holds an array of cardio and strength training equipment.
About the location
Dubrovnik, often described as the 'Pearl of the Adriatic', is found sitting on the furthest south coast of Croatia. The city was granted UNESCO World Heritage site status in 1979, and has benefitted in becoming one of Europe's leading tourist destinations.
Explore the historical sites of the Old Town district, which is pathed with cobbled streets and bustling with boutiques, hotels, and fine dining restaurants. The Old Town also hosts an array of local heritage sites, such as palaces, monuments, and churches that all project the Latin, Venetian, and Slavic influences of the city's vibrant and diverse past. One of the largest attractions that Dubrovnik has to offer are the city walls that surround it. These mighty fortifications were erected between the 13th and 16th centuries and, at their highest point, reach 25 meters in height and, at their widest point, 12 meters wide.
You can find sandy and pebbly beaches scattered along the coastline of Dubrovnik. There are also plenty of exclusive beaches to be found on the small islands surrounding the city's old harbour – all just a short boat ride away.
Transfer time
Grand Villa Argentina is a 30 minute drive away from Dubrovnik Airport.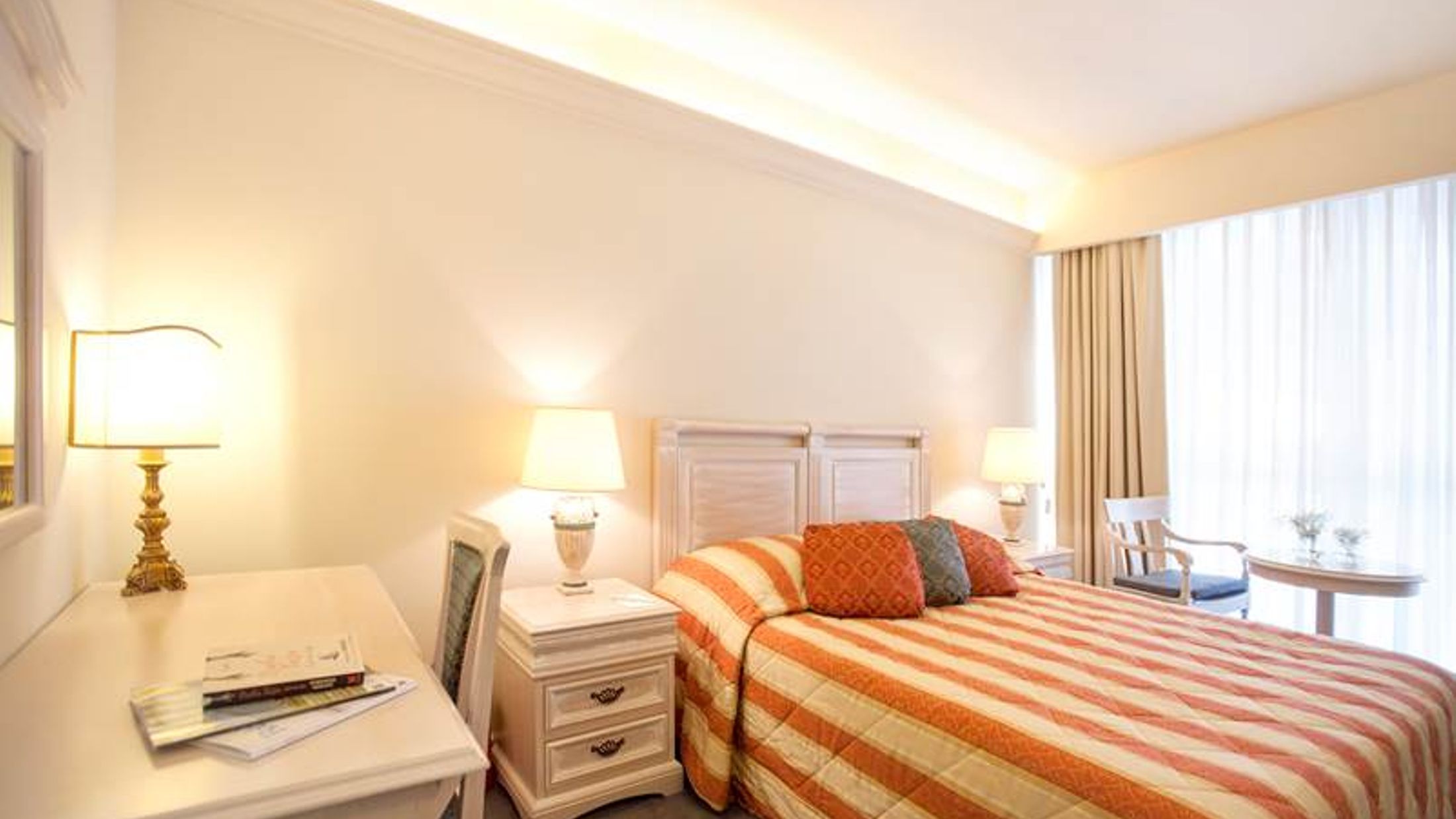 Hotel Classic Double
Max 2 adults
Hotel Classic Double Rooms (Hotel Argentina Wing) are approximately 25m² and are located in the newer wing of the hotel. Facilities include air conditioning, satellite TV, telephone, complimentary internet access, minibar, safe, hairdryer, bathrobes, slippers and designer toiletries.
18m²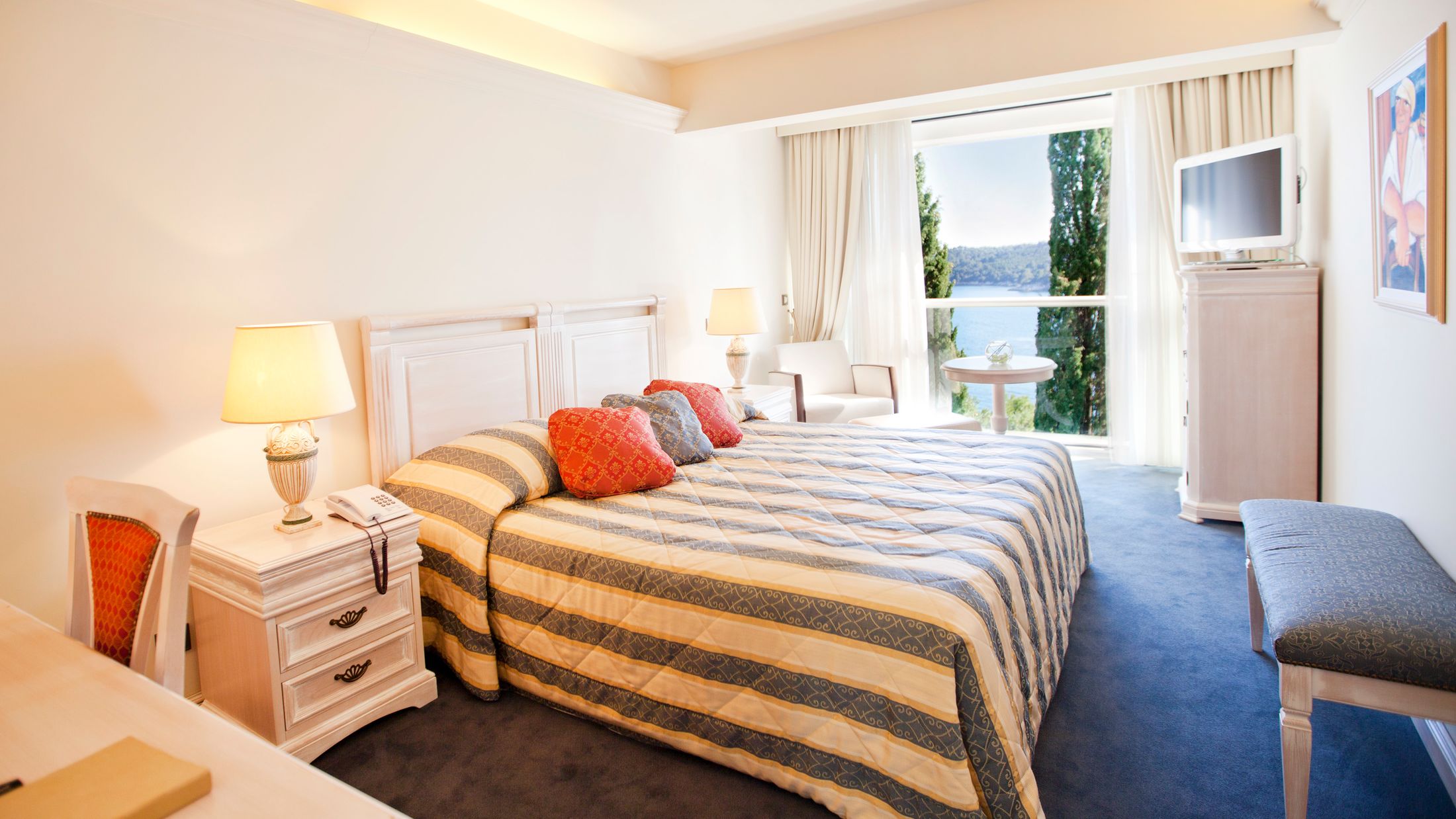 Hotel Superior Double Sea View
Max 3 adults
Located in the Hotel Argentina Wing, Superior Double Sea View rooms are light and airy with views of the sea and Old Town.
From 24m²
Hotel Deluxe Double Sea View Balcony
Max 3 adults
Deluxe Double rooms have a larger balcony and a more direct sea view. They are located within the hotel wing.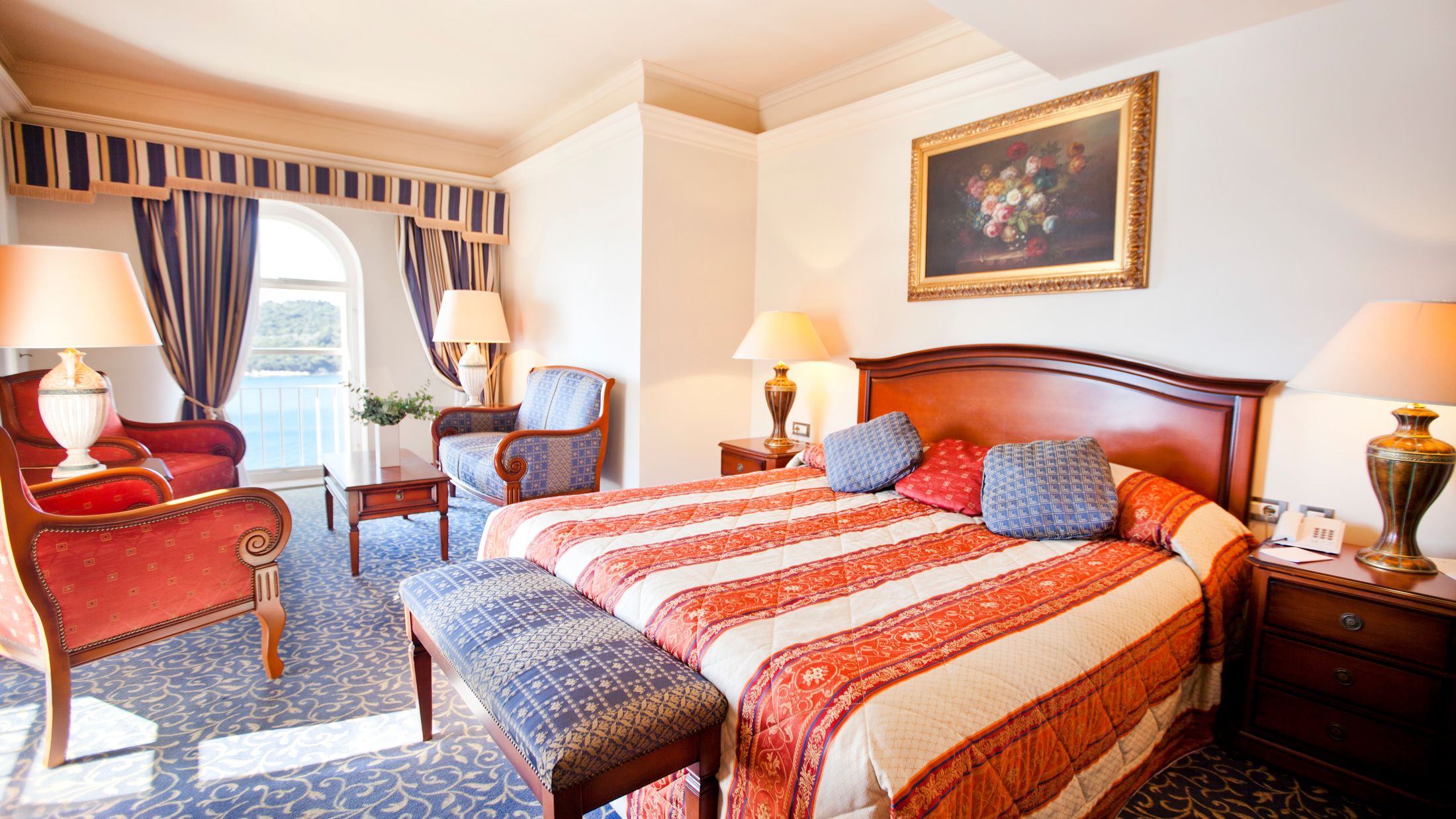 Villa Superior Double Sea View
Max 3 adults
Villa Superior Double Sea View Rooms (Villa Argentina Wing) are 26-30m². More traditionally furnished, they are located in the original building and benefit from sea views.
From 24m²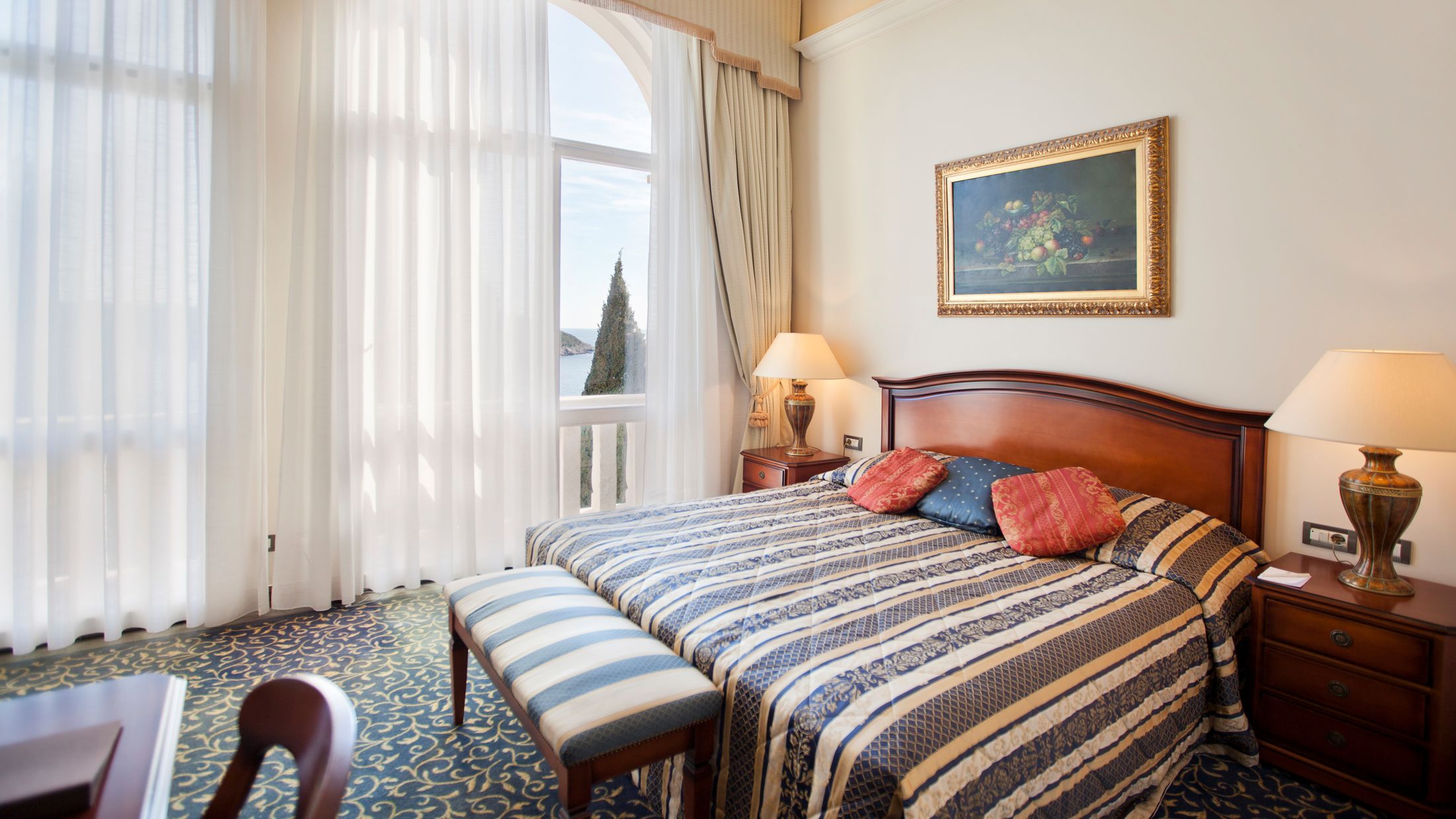 Villa Superior Double Sea View Balcony
Max 2 adults
Villa Superior Double Sea View Balcony Rooms (Villa Argentina Wing) are 26-30m². More traditionally furnished, they are located in the original building with a balcony and sea views.
From 25m² plus balcony
Single Parent Offer
Is available at this property - please call our Trusted Advisers for details.
Welcome Gift
Sovereign Guests receive a fruit basket and a bottle of still water in their room on arrival.

Based on 1719 traveller reviews

84% of travellers recommended this hotel
Travellers Ratings
What to expect
Reviews
"
Lovely hotel, short walk from the old town
ahb1963, Reading, United Kingdom
Jan 01 2021
This review is based on a family stay in June 2017. A large hotel that gets quite busy when a wedding is on (4 out of 7 days when we were here) but great facilities and a location that more than...
This review is based on a family stay in June 2017. A large hotel that gets quite busy when a wedding is on (4 out of 7 days when we were here) but great facilities and a location that more than makes up for the occasional noisiness. The children (ages 21 and 23) made the most of the gym, the indoor pool and the easy access to the crystal clear sea. It was only a 15 minute walk to the city walls so we ate in the Old City most nights after the cruise ships had moved on and the city got a little quieter. A great hotel.
View full review
vingoe54, Carrick-on-Shannon, Ireland
Jan 10 2020
nice hotel food very expensive staff are nice it was near all the historic places we wanted to see felt safe walking from the hotel to the town the views from the hotel are fantastic dubrovnik is a...
nice hotel food very expensive staff are nice it was near all the historic places we wanted to see felt safe walking from the hotel to the town the views from the hotel are fantastic dubrovnik is a beautifully town
View full review