A 5-star luxury resort on the Psalídi strip, Kos
Visually stunning spa provides first-rate services and therapies with products made from Kos Imperial's own farm
Four restaurants and two bars plus extensive Greek wine list for lots of dining option
Six pools plus a spa, kids club, adults-only private beach make the resort ideal for all ages
If you have ever wanted to discover the timeless elegance of the Aegean, then Kos Imperial is the hotel for you. Set in gloriously lush mature gardens and epitomising all that is great and good about Greece, this luxury hotel combines notable service, creative cooking, a sumptuous spa and a beautiful pebble beach for an unforgettable holiday.
Kos Imperial is a big place - at over 100,000 m2 the hotel is one of the biggest resorts on the island. The star attraction is undoubtedly the expansive lagoon that winds its way through the resort. Water features dominate here: reflecting pools, waterfalls and a lazy river that swirls around a tiny central island and feeds into the main swimming pool (there are six). Mature, exotic tropical gardens cascade to the beach's edge complete the effect.
Set between sunshine and coastline the hotel is spectacular. There is a definite relaxed elegance here - massive wood beams overhead, stone floors, comfy furniture and soft tones set the mood. Kos Imperial is island living at its finest - extensive sea views from almost everywhere in the resort allow your mind to wander as you gaze amazed at the horizon, where on a clear day you can see all the way to Turkey just opposite. Cool sea breezes accompany the view of yachts and fishing boats travelling the Aegean sea.
Located on the north of the island, Kos Imperial is the penultimate resort on the Psalidi strip. The beach is backed by a lively promenade that buzzes with local life come dusk. The resort is a little too far to walk into Kos Old Town (at 4 km) but it's only a short taxi ride to the pretty Byzantine village. However, if you just want to stay at the resort it's no hardship. There's a plethora of choice for guests from fine dining to a food court, to onsite activities that include a kids club with its own mini-buffet.
Facilities
Bars & Restaurants
Soak up the Agean sun as you enjoy some of Kos' finest fare. All restaurants at Kos Imperial - and there are four plus a food court - have extensive terraces that allow you to enjoy the stupendous sea to sky views. Dining options include fine dining, a Mediterranean buffet and a traditional Greek taverna.
Lagoon Restaurant
The Lagoon Restaurant is surrounded by jungle and offers Mediterranean buffet style cuisine and daily themed dinners alongside the lagoon.
The Finicia Restaurant
This unique Greek restaurant serves cuisine from France, Italy and Greece.
1930's Bar Restaurant
Italian classics including hot stone specialities and artisanal cheese, charcuterie plateau dolci, fresca frutta and gelato.
Tavernaki
Delicious recipes and local ingredients can be enjoyed at this family Greek restaurant.
Beach & Pools
Water is a focal point at Kos Imperial and six amazing pools (including two heated ones and a chid only one) plus a beautiful beach offer ample space for sunbathing. Sunbeds, umbrellas, showers, beach towels and changing cabins are all provided. The private beach has an adult only section.
Swimming Pools
A water paradise with six amazing pools, including a freshwater indoor pool and a seawater indoor heated pool, as well as a freshwater beachfront pool for children, a quiet garden pool and a seatwater seafront lagoon pool with lazy river and waterfalls.
Beach
Those looking to relax will love this beautiful stretch of sand on the Aegean coast. Sunbeds, parasols and towels are available for use.
For Families
Kids Club
Kids can enjoy arts and crafts, water activities, team games and theme events. At the main restaurant there is even a special kids' buffet.
Teens Club
The Teens Club provides an excellent range of activities for teenagers 13-17 years old (from mid June – mid September). Activities include beach volleyball, basketball, mini football, archery, water polo, tournaments and entertainment programs.
Spa & Wellness
Kos Imperial's lovely spa uses ancient wellness methods for head-to-toe rejuvenation. The sumptuous spa has a wide range of treatments and excellent facilities, including a mosaic-laid hydrotonic pool. Make your luxury holiday even more special by treating yourself to an essential oil aromatherapy massage in the private massage suite with walk-in gardens and open-air soaking tubs.
Elixir Spa
Kos Imperial's Elixir Spa features an indoor heated pool, sauna, steam room, fitness room, private garden open-air massage rooms and beauty Salon.
Activities & Entertainment
With such a strong focus on the water, it comes as no surprise that snorkelling and diving is one of the resort's main activities (there's a PADI Dive Centre on-site). The challenging gym is perfect if you want to keep up the fitness regime and there are lots of other activities including stretching, aqua gym, aqua aerobics, water yoga, pilates, tennis and yoga to keep you busy.
Sports Activities
A wide range of sporting activities are available, such as golf, tennis, football and badminton. Guests can also hire mountain bikes or take fitness classes.
Water Sports
Guests can hire surfboards and catamarans at the Sail and Surf Centre and fully enjoy the Aegean sea.

Open: 09:00-19:00
About the location
Beautiful sea, crisp white beaches, and charming Byzantine villages add character and colour to this gorgeous Greek Island. Part of the Dodecanese group of islands, Kos is a discovery of picturesque narrow streets and winding alleyways dotted with medieval castles, and elegant domed churches.
Kos Town is only 4 km away from the resort. Take a short taxi ride to visit the island's capital and enjoy a gentle day of getting lost in the labyrinthine streets, visiting archaeological remains, stocking up on souvenirs and enjoying some of the island's splendid food and drink. Kos is blessed with many treasures both natural and man-made and it is not unusual to become blasé at the millennia-old Greek ruins are scattered everywhere you turn.
The island's golden beaches and fertile marine life are a great pull for many, but Kos' strategic placement between east and west makes it one of Greece's most interesting islands. Vestiges of both worlds can be found here, from footprints of the ancient Greeks and Romans to crusading medieval knights, to Byzantine and Ottoman rulers to 20th-century Italian bureaucrats. Historians should not forget that Kos is also the birthplace of Hippocrates, the father of modern medicine. Visits to archaeological sites including the Asclepius where Hippocrates taught or the temple of Apollo are dripping with history while the natural springs at Asklepion, which are still in use today, offer an opportunity to bathe as the Gods once did. Even Cleopatra was said to be a fan.
Transfer time
Grecotel Kos Imperial is a 40 minute drive away from Kos International Airport.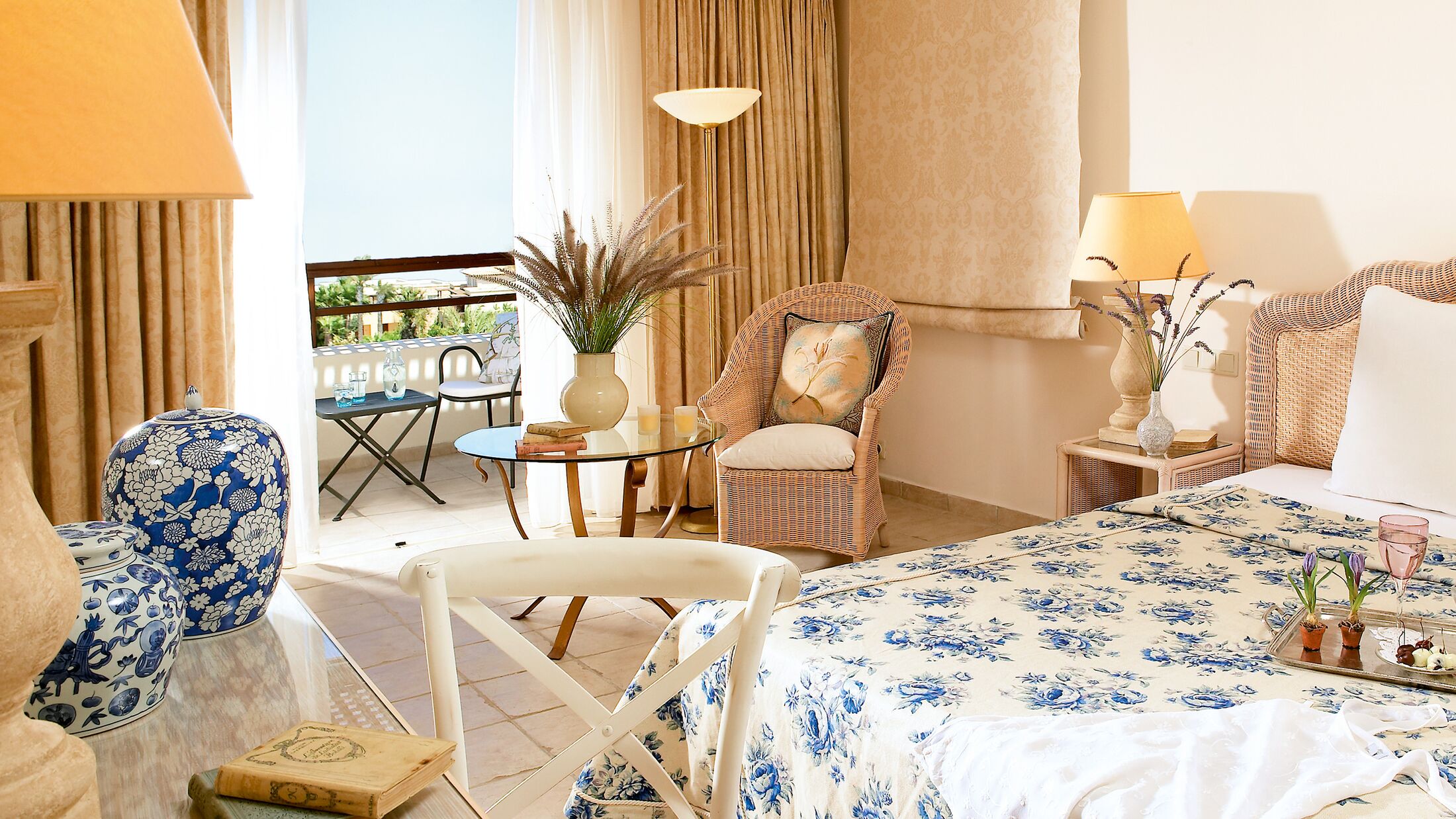 Double Room Garden View
max 3 adults
Double Room Garden View are located in the main building. They feature an open plan bedroom with either a double or twin bed, spacious bathroom with bathtub. Facilities include air conditioning, complimentary WiFi, satellite TV, mini bar, tea and coffee making facilities, safe, hairdryer, luxury bathroom amenities, bathrobes and slippers.
31m²

Based on 1525 traveller reviews

86% of travellers recommended this hotel
Travellers Ratings
What to expect
Reviews
"
Loved every second, an amazing place!
DarcyS90, Loughborough, United Kingdom
Dec 08 2021
Everything about Grecotel was just amazing, from the managers being so welcoming on arrival / dinner, to the amazing all inclusive offering - we upgraded the first morning we woke up as we realised...
Everything about Grecotel was just amazing, from the managers being so welcoming on arrival / dinner, to the amazing all inclusive offering - we upgraded the first morning we woke up as we realised it was just to good not too???so would fully recommend that! The cocktails & drinks included are wonderful and the selection of food is really great too (and you get a special night at a four course sit down restaurant included in the week all inclusive). Breakfast, lunch and dinner -everything you could want and the opinion of more casual / formal dinning for lunch. As someone who doesn???t eat meat there was loads to choose and they did mostly label food, this could be slightly better, but there???s lots of people around to ask if not. All of the bar & restaurant staff were great, honestly you can tell how hard they work and make you feel like individual guests, we were so impressed! The rooms were spacious, nice and clean - they could perhaps do with slight modernisation but this didn???t take away from the week at all. And the entertainment staff, we totally LOVED them, they were hands down the best hotel entertainment I???ve ever experienced from loads of day time activities to choose from to just golden nighttime entertainment- quizzes, dancing, games etc; we will always hold a place in our hearts for Kevin and Catarina! I don???t have enough words to describe how brilliant..hilarious..atmospheric they were. And jumping in the pool as bride snd groom on our last day was just the perfect ending too. We SO want to return, and I???d be so keen to discover other Grecotels too! 👏🏼🙌🏼 we hope the team are really proud for an amazing season as we were towards the end and you couldn???t tell at all!
View full review
"
Don???t tell me I didn???t warn you!
CrazyBelgianTraveler, Toronto, Canada
Nov 07 2021
We have been at the Grecotel Corfu 3 years ago. The Imperial in Kos is???NO WHERE NEAR to that one. Really bad experience I must honestly admit. They seem to try hard to want to maintain the Grecotel...
We have been at the Grecotel Corfu 3 years ago. The Imperial in Kos is???NO WHERE NEAR to that one. Really bad experience I must honestly admit. They seem to try hard to want to maintain the Grecotel standards but really really struggle. Extremely poor customer service at the lobby, the lady we usually had to deal with has never heard of customer satisfaction or hospitality whatsoever. My standards are not even that high for a ???all in??? to be clear, trust me when I say that they weren???t able to satisfy very basic needs. So zero for customer service. They even messed up with the covid test for our kids, they had no clue how it worked nor showed any interest. Food/buffet: don???t bother. Really basic for what you pay. Unfriendly people at the buffet and the food is quite similar each day, not much choice, etc. Imagine those large all-in hotels with bad/poor food buffets, that???s basically it. Sorry guys, you should level up to Grecotel standards. Location: really good. Nice views of Turkey on the other side of the bay. Pools are big and all of them with salt water. Alex the pancake/crepes guy is super friendly with the kids, nice guy. Thank you Alex for your great service and attitude. Room: we had a duplex room. Not bad, not great. Pretty basic but we don???t spend much time in the room so care less about this. Overall: there are way better hotels on Kos (not going to make any publicity here that???s not the point). I would avoid until they fixed a few problems with reception personnel and kitchen/food budgets.
View full review