Explore an architecturally stunning property set on its own 17 acre island
Arrive in style to the heart of Venice in just 10 minutes on your own private boat
Enjoy top quality cuisine and fine wines with scenic views of Venice
Your every need is catered for, with excellent amenities and famous Italian hospitality
With its grand sweeping hallways, exquisite decor and perfectly manicured gardens, prepare to feel like royalty from the moment you step onto the grounds of the San Clemente Palace Kempinski Venice. Once a monastery belonging to the Order of the Camaldorese monks, this stunning 17th Century property has been meticulously renovated to give you the epitome of luxury, modern travel.
It's not just the amazing architecture that makes this hotel so incredibly special. It's the location. This private island is just minutes from central Venice. And as sophistication is what this hotel does so perfectly, your transport to and from the heart of the city will be via your own exclusive boat.
High ceilings, tasteful furniture and art lined walls are what to expect from the spacious rooms. A perfect balance of comfort and beauty. And a magical retreat for a couple or family seeking a high end weekend getaway. Despite being so close to the hustle and bustle of this historical city, you'll be blown away by the peace and tranquility of your five star surroundings. Here you can enjoy a turquoise swimming pool, a top of the range fitness centre, a choice of exceptional restaurants and views that will take your breath away.
Facilities
Bars & Restaurants
Acquerello
Located within the main hotel, Acquerello offers exquisite culinary delights that take diners on a complete sensory experience. Masterminded by Executive Chef Roberto Dal Seno, each modern Mediterranean dish is an ode to the spectacular surroundings in which the restaurant is located, and is made with the freshest locally sourced ingredients.
Open from 18:30 - 22:30.
Dress code is smart casual.
Clemente Bar
If you're a fan of superior champagne and exotic cocktails, this is the perfect spot for you. The bartenders here are not just the best in the business, they're extremely passionate about their art, so expect delicious drinks with a slice of history about their origins.
Open from 10:00 - 01:00.
Garden Bar
Enjoy al fresco drinks that are just as magnificent as the views the bar offers of Venice City.
Open from 10:30 - 00:00.
Insieme Restaurant
You'll feel right at home at this informal and very welcoming restaurant, set in the beautiful historical courtyard of the hotel. This is also where breakfast is served daily.
Open from 10:30 - 19:30
Dress code is smart casual.
La Dolce Bar
Indulge in an afternoon tipple or grab a light bite in this shaded haven located in the tree filled gardens.
Open from 11:30 - 17:30.
La Dolce Restaurant and Grill
Nestled into the stunning gardens of the property, this informal outdoor eatery offers simple but extremely tasty food made with seasonal, local produce. From fresh pizzas baked in the wood-fired oven, to sizzling seafood straight off the barbecue, there are dishes to suit every taste.
Open from 11:30 - 22:00.
Dress code is smart casual.
Beach & Pools
Pools
Relax by the outdoor heated swimming pool set in perfectly landscaped gardens filled with ancient Cyprus trees and beautiful flowers.
Open from 09:00 - 18:00 May - September.
For Families
Family Traditions
Family Traditions at San Clemente Palace covers a broad spectrum of inclusive services that combine to create an all-round family-friendly package. There are fun active experiences like tennis and swimming, hand-picked local attractions and recommendations offered by the hotel team, and a payable kids' club for guests aged three to 11.
Spa & Wellness
The Merchant of Venice Spa
In need of some indulgence and relaxation? Look no further than the Merchant of Venice Spa. This heavenly scented sanctuary offers an extensive array of treatments that will pamper and preen you, leaving you feeling refreshed and rejuvenated.
Gym
For those in the mood for exercising, the gym is open all day, every day. Fitted with quality Technogym machinery and weights, you can get your heart racing in no time.
Activities & Entertainment
Daytime Activities
In the hotel grounds, guests can enjoy an asphalt tennis court, with lessons available for a local charge. There's also a jogging track around the grounds.
Guests can explore the stunning twelfth century Church of San Clemente, which is available for events such as weddings and concerts.
The complimentary boat shuttle departs every thirty minutes, and drops guests off at the historic St. Mark's Square. Here you can explore Venice's unique architecture and art.
The nearby Pitch & Putt course is perfect for a quick round to hone your skills. The course contains a picturesque lagoon, and is free for guests to use. Equipment is available for rental.
About the location
Venice is known as one of the most romantic cities in the world. From its historic cobbled streets where you can duck into traditional restaurants and upmarket boutiques, to winding waterways and canals, there is so much to be explored. Head to St. Mark's Square in the centre for beautiful views of the church and a chance to feed the local pigeons. Or simply allow yourself to be punted through the canals in a gondola, taking in the romance and beautiful architecture.

San Clemente Palace Kempinski Venice is located on its own private island, surrounded by glittering waters and just minutes away from the main attractions of the city. It's ideal for those wanting to enjoy a serene location, close to the action.
Transfer time
San Clemente Palace Kempinski Venice is an hour and 30 minutes from Marco Polo Airport.
Superior Room
Max 2 Adults
Superior Rooms measure 26m² and are elegantly decorated with Murano glass light fittings and precious fabrics and brocades that reflect the artisan legacy of Venice. They overlook the internal courtyards and feature a king-size bed or twin beds, marble bathroom with bathtub, bathrobes and slippers, air conditioning, 42" TV, complimentary Wi-Fi and safe.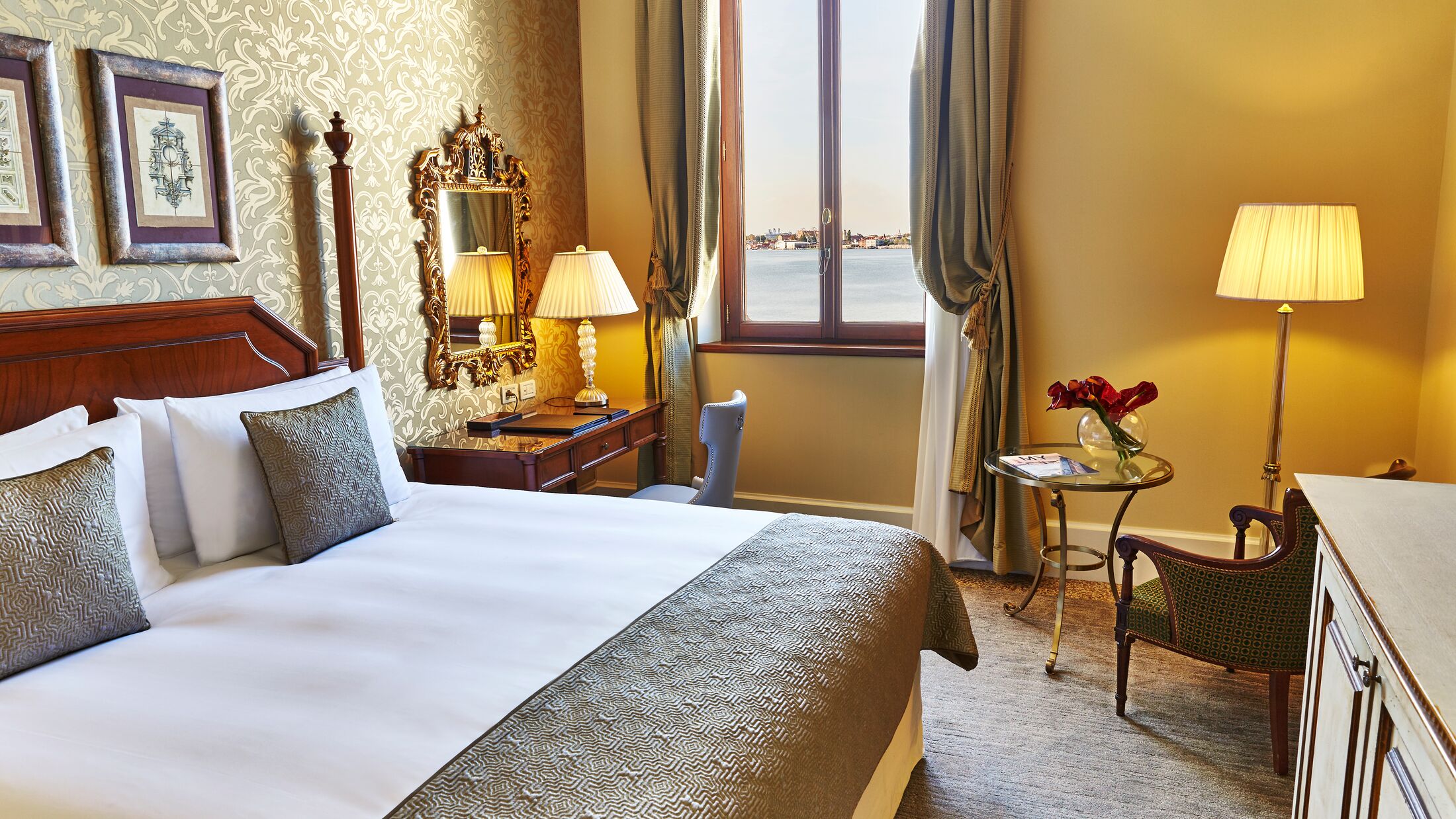 Superior Lagoon View Room
Max 2 Adults
These rooms are designed in creams and golds, featuring high ceilings and offering modern facilities. The views sweep across the lagoon and in the distance you'll see the Venice skyline.
Deluxe Room
Max 3 Adults
Deluxe Rooms are 35m² and combine comfort with style. They are decorated with fabric-covered and painted walls and have romantic views over the island's centuries-old park or the palace's internal gardens.
Deluxe Lagoon View Room
Max 3 Adults
Decorated in a venetian style this room epitomises elegance and luxury. Comprised of high ceilings featuring murano chandeliers, Deluxe rooms provide true comfort with wonderful views across the Lagoon.
Grand Deluxe Room
Max 3 Adults
Grand Deluxe Rooms measure 40m² and are decorated with heritage terrazzo floors, contemporary rugs, paint and silk fabric covered walls. They feature a comfortable sitting area with writing desk, a king-size bed or twin beds, high Venetian ceilings and windows that face on to the hotel's internal courtyards or manicured park grounds.
Grand Deluxe Room with Lagoon View
Max 3 Adults
Grand Deluxe Rooms with Lagoon View effortlessly combine comfort with contemporary and heritage decorative elements including terrazzo floors and contemporary rugs. They measure 35m² and boast large windows with panoramic views of the waters and islands in the lagoon surrounding San Clemente island.
Junior Suite
Max 3 Adults
Junior Suites measure 52 - 64m² and are decorated in a style that combines Venetian design with modern elegance. The large windows allow for plenty of natural light, offering views over the gardens. The suites feature a sitting area and desk space.
52-64m²
Junior Suite Lagoon View
Max 3 Adults
Junior Suite Lagoon View rooms are luxuriously furnished and offer plenty of space. The large windows allow for plenty of natural light and stunning views of the Lagoon.
52-64m²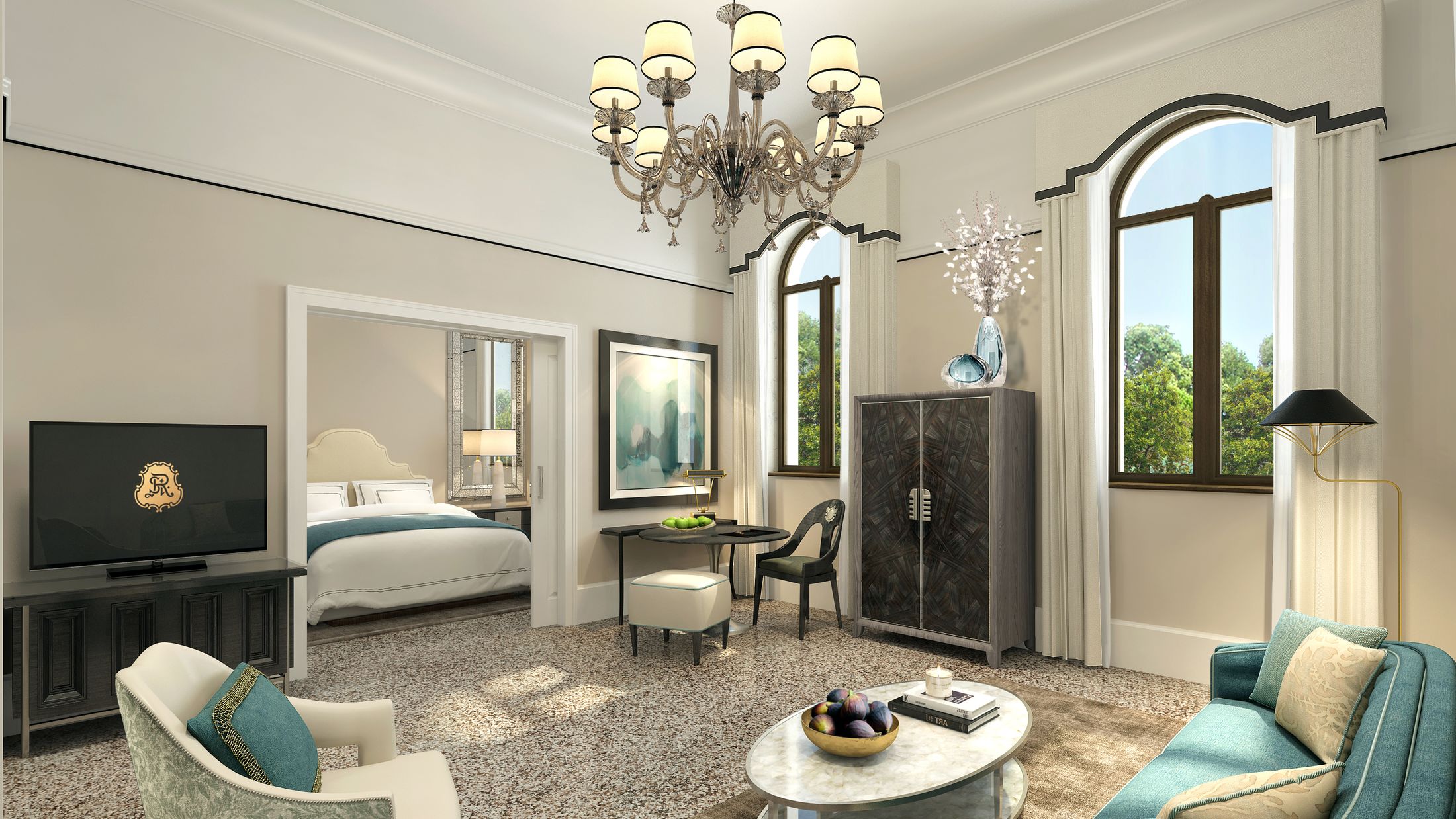 Venice Suite
Max 3 Adults
Venice Suites are spacious at 70m² and have contemporary decorations that blend with legacy design elements such as high Venetian ceilings. They feature a king-size bed or twin beds, a walk-in wardrobe, large entrance and a separate living room overlooking the palace's heavenly gardens.

Based on 1394 traveller reviews

95% of travellers recommended this hotel
Travellers Ratings
What to expect
Reviews
"
living life the Italian way : simply the best !
mpmoppie, Roeselare, Belgium
Jul 29 2021
my wife and I decided to book 4 days at the hotel San Clemente Kempinski. we chose this hotel because it was located on a private island, its history and the luxury it offers. we arrived at the...
my wife and I decided to book 4 days at the hotel San Clemente Kempinski. we chose this hotel because it was located on a private island, its history and the luxury it offers. we arrived at the airport and the shuttle boat from the hotel arrived on time. the boat trip to the hotel was very joyful. when we arrived, the concierge (Marco) welcomed us with a big smile. we felt immediately at home. the check in was quick and efficient. we had chosen the navigante suite, which is spacious, luxurious and offers a very beautiful view over the lagoon. really breathtaking ! As a surprise for my wife, I booked a private romantic dinner at the top location on the island where you can enjoy a fantastic sunset. the dinner was excellent and our waiter, Simona, was very kind, professional.and discrete. the next day, we visited Venice. while waiting for the shuttle boat, we had a talk with Matteo (a member of the concierge team), who showed real interest in what we would like to do in Venice. He gave us a private invitation to the tudeski foundation where we had a fantastic breathtaking rooftop view over the city !!!! THANK YOU Matteo ! the next day, we went on a tour, organised by the hotel, to visit Murano, Burano and Torcello. Again, everything was perfectly organised. a private taxi boat brought us to the different islands. We were invited to the Murano glass factory Venier. We could see how these sculptures are made and we got a tour of the showrooms by the sales manager Eugenio. After that, we visited Burano which is famous because of the production of lace. we visited a lace factory and got here too a private tour. We would also visit Torcello but there was no time as we didn't see the time passing so fast in Murano and Burano ! we booked 2 evenings at the Aquarello restaurant, which is located at the pier and which offers also a fantastic view of the lagoon ! combine this with excellent food and outstanding prosecco and you've the best dining experience ever ! we would like to thank the staff, especially Marco, Matteo, Simona and the lady in red (who organised the private romantic dinner) for their genuine interest in what we expected from this trip, and who did their utmost to fulfill our wishes ! we will certainly come back and again enjoy living life the Italian way !!!!
View full review
"
Excellent stay for a family in this very comfortable and friendly hotel resort
alainmonroche, Paris, France
Jul 24 2021
With my wife and my grand-son, we had a wonderful stay in this wanderful hotel resort.with a fantastic swimming pool.Just ?? suggestions I would like to make: - there should be a junior menu...
With my wife and my grand-son, we had a wonderful stay in this wanderful hotel resort.with a fantastic swimming pool.Just ?? suggestions I would like to make: - there should be a junior menu especially at the pool (portions are huge, even for adults), - and the transfer to St marco and return should be scheduled every half hour, it would be easier to remember, and also more convenient. But everything was fantastic.and the service was very friendly.
View full review