Revel in the stunning panoramic views of the majestic Lake Garda
Enjoy a short and scenic stroll to the nearby town of Bardolino
Dip your toes into one of the five refreshing pools on offer
Pamper yourself with a treatment package at the luxury spa
Create lasting memories at the scenic Hotel Caesius Thermae & Spa Resort, which can be found nestled on the shores of the stunning Lake Garda. With enormous grounds and jaw-dropping natural beauty at every turn, you'll never want to return to reality after a stay here. Your comfort is the top priority, and you'll find the famously warm and friendly Italian hospitality in every little detail. From the hammocks dotted around the lush gardens, to the luxurious spa packages, everything has been designed with you in mind.
Simple, classic and refined is the resort's style and this is evident throughout. Especially when it comes to the décor and the gourmet restaurant choices on offer. Perfect for both families and couples looking for a romantic escape, the Hotel Caesius Thermae & Spa Resort offers interesting activities for all ages. And for those who want to explore further afield, Bardolino and its local bars and restaurants are only a short stroll away.
Facilities
Bars & Restaurants
Benacus Restaurant
Dine in style in the hotel's contemporary Benacus restaurant. This eatery is overflowing with delicious dishes that will certainly get your taste buds in a twist. All ingredients are locally sourced and seasonal meaning you can enjoy the freshest Italian flavours.

Benacus Restaurant is available for half board guests.
Le Vele Restaurant
Enjoy an intimate al fresco dinner by candlelight at this cosy Mediterranean eatery. Located between the pool and the lush gardens, it's also open during the day for an open-air breakfast or light afternoon bite.
Augustus Terrace Restaurant
Exclusive to guests staying at Casa Augustus, this charming restaurant offers magnificent culinary delights served with spectacular views of the stunning Lake Garda.
Camino Bar
Chill with a classic cocktail while listening to the tinkling of ivories in this elegant piano bar. The bar staff are professional mixologists so expect the best when it comes to your choice of beverage.
The Gazebo Bar
Take a break from the midday sun at this cool and chic bar located right next to the main pool. Not only does it offer refreshing, ice cold drinks and coffees, it also has an impressive list of delicious lunchtime snacks.
Beach & Pools
Swimming Pools
The Hotel Caesius Thermae and Spa Resort offers a total of seven luxury pools for you and your family to cool off in. There are five spacious outdoor options, with two of those especially designed for the little ones. Indoors you'll find another two - both heated to 33 degrees and featuring a hydromassager.
For Families
Kids Club
Keep the littles out of trouble at the onsite Kids' Club. Led by a team of attentive professionals, your children can enjoy non-stop activities and games. An outdoor playground is also available for some fun in the sun.
Open: Friday and Saturday 3pm - 7pm, Sunday 10am - 1pm and 3pm - 7pm.
Spa & Wellness
Spa
Beautify, purify and detoxify in the haven of utter relaxation that is the resort's spa. Beauty and skin experts will ensure you get the perfect treatment, while many of the products are created from grapes grown on the land, using a special formula to promote skin luminosity.
Fitness Centre
Whether you want to pump some iron or get your heart racing on the treadmill, the state of the art gym is well equipped and ready for action. Staffed by trained professionals who are always happy to help, the centre also offers a variety of classes for every fitness level.
Activities & Entertainment
Daytime Activities
Guests can enjoy the local area with both guided and nordic walking, as well as guided excursions on bike. There's also canyoning and paragliding, as well as seven clay tennis courts.
Nearby there are four theme parks, Gardaland, Caneva world, Park Jungle Adventure, Parco Natura Viva Pastrengo.
Golf
There are several golf courses in the local area, with courses that feature the crooked olive tree filled countryside and impressive lake views.
About the location
Italy's largest lake (its vast size will impress even the hard-to-please) is a vision of deep-blue waters and grey-green mountains. Impossibly pretty villages line its edges, each with its own individual look and feel. At the northern tip of the lake is sporty Riva del Garda, famous for its windsurfing. Skirt down the east coast and you'll soon hit Malcesine, home to a medieval castle. Carry on south and you'll reach wine-loving Bardolino, famous for its vineyards and delicious rosé. Sirmione marks the southern point of the lake – here, you'll find natural thermal baths and a waterfront castle. Up on the west coast is lovely Limone, which sprawls around a truly scenic harbour. Exploring is easy – ferries chug all around the lake, and there are regular bus routes travelling up and down the coast.

Transfer time
1 hour from Verona airport.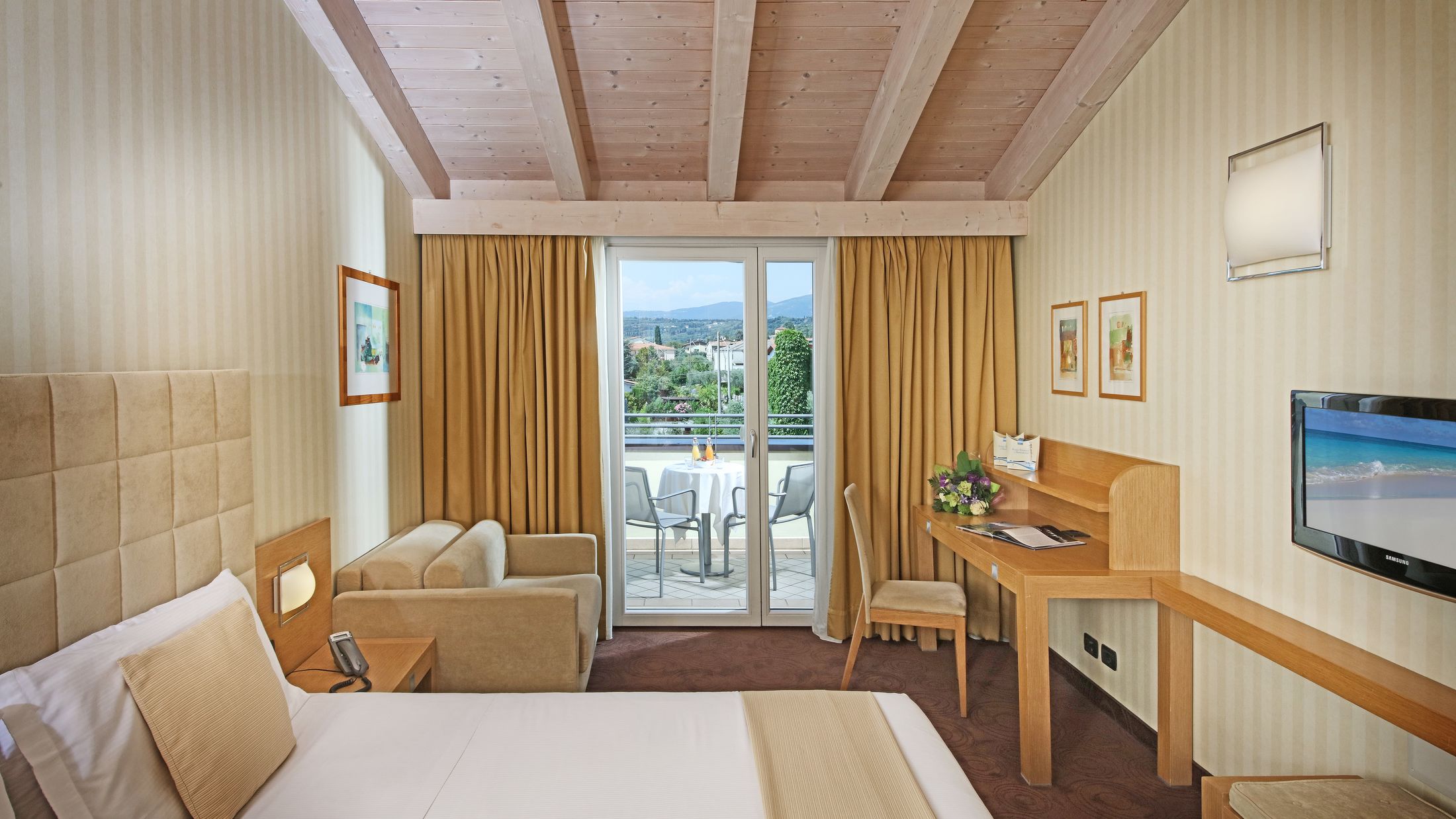 Main Building Room with Balcony
Max 2 adults, 1 child
Main Building Rooms with Balcony have a balcony and do not have a specified view.
19-25m²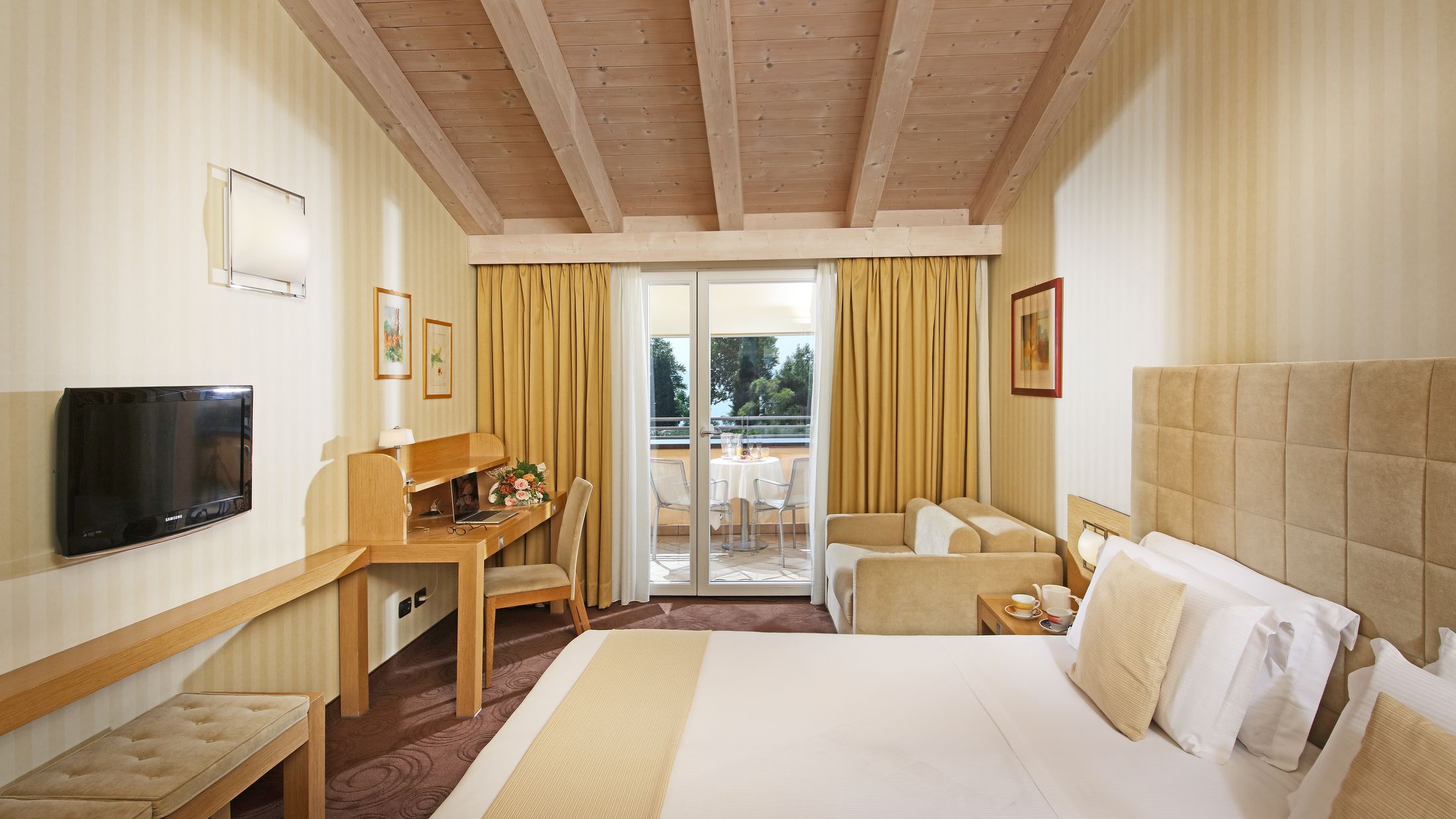 Main Building Room with Balcony and Pool View
Max 2 adults, 1 child
Main Building Rooms with Balcony and Pool View have a view of the swimming pool.
19-25m²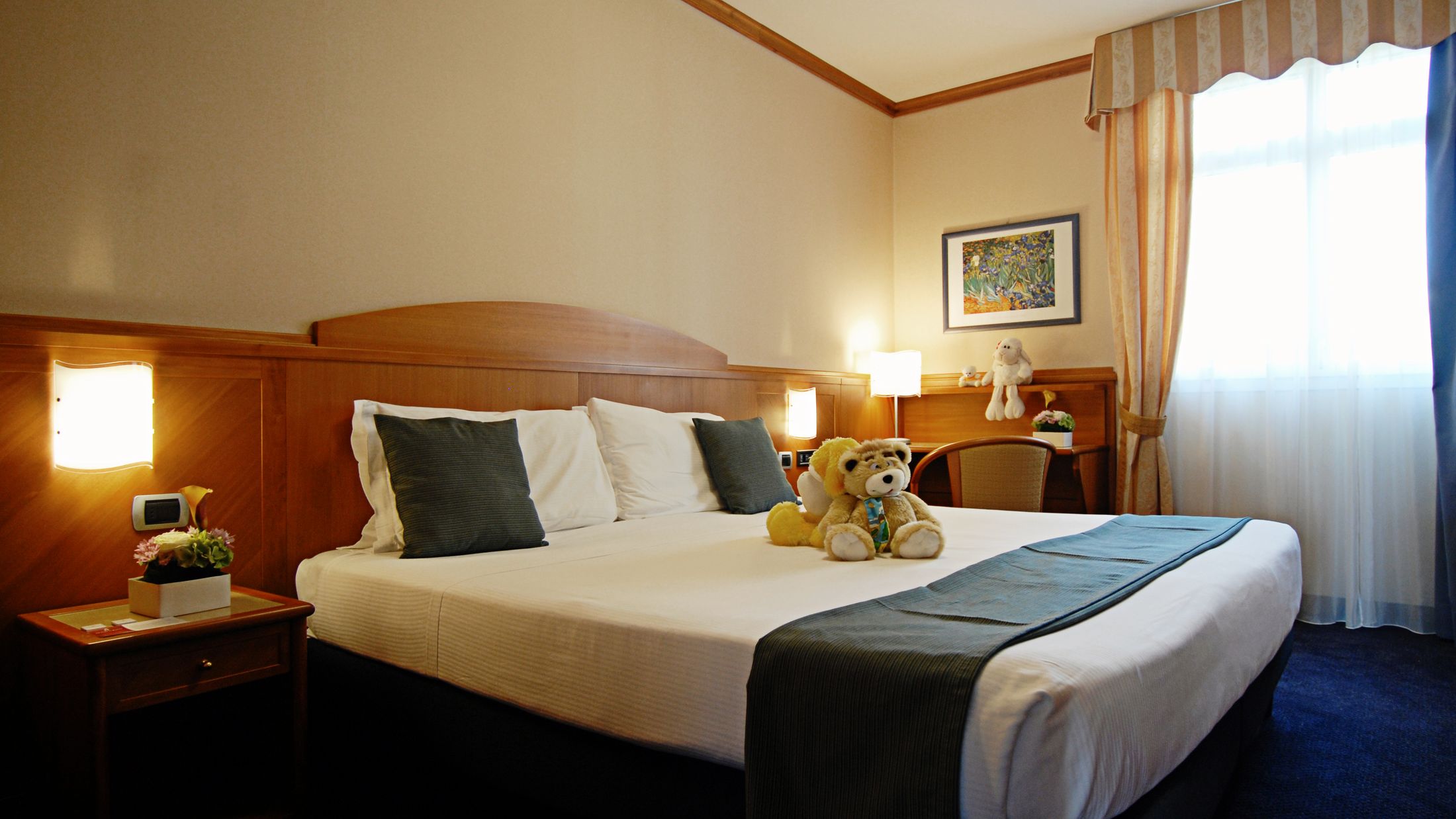 Family Suite Augustus Balcony or Terrace
Max 4 adults
Augustus Family Suites with Balcony or Terrace are located in one of the Augustus buildings, separated from the main building. The Suites feature a double bedroom, a living room with a double sofa bed and table and chairs and have a large balcony or terrace.
45-50m²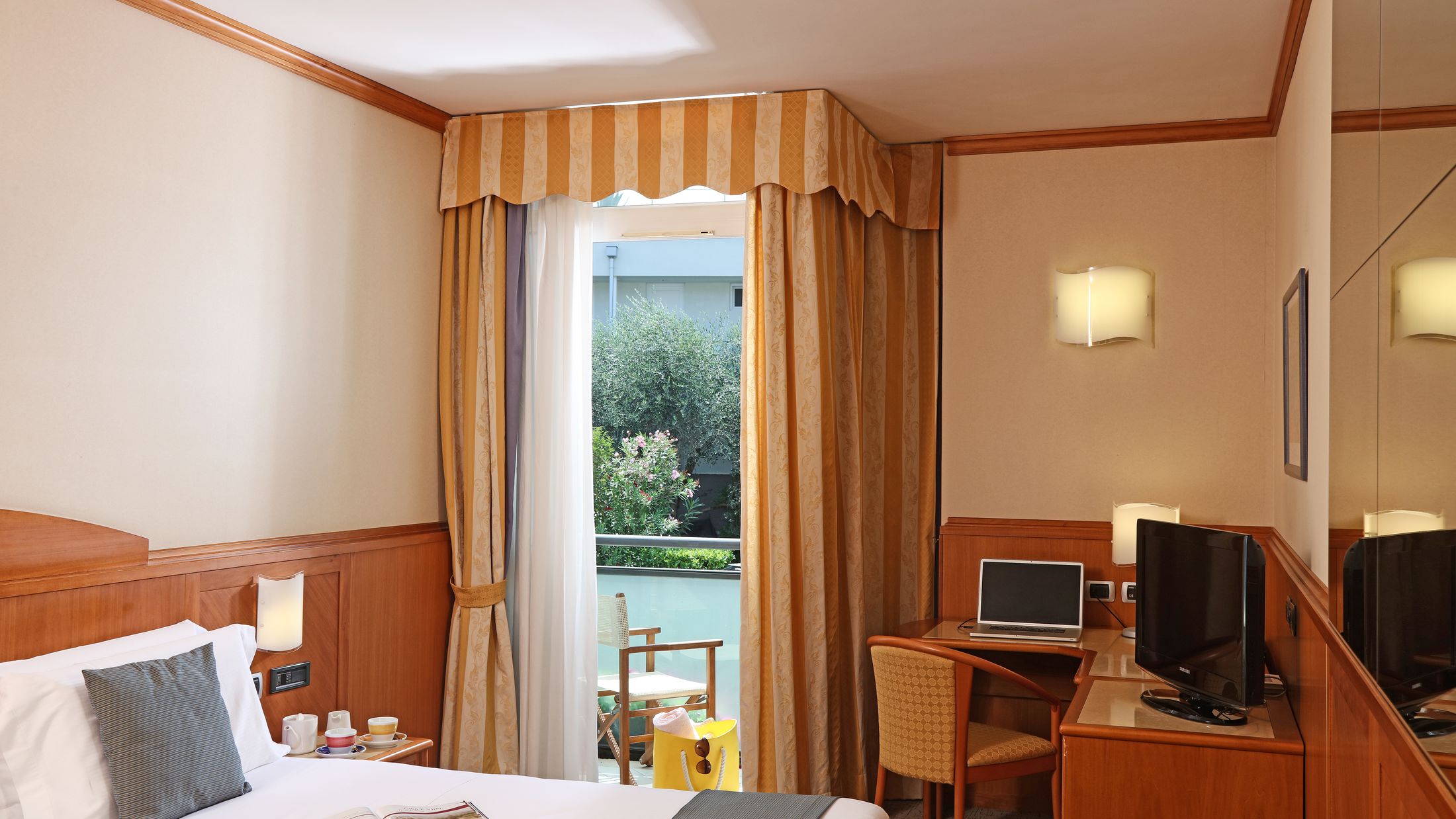 Twin Terrace Augustus Building
Max 2 adults
Twin Augustus Building Rooms with Terrace are located in one of the Augustus buildings, separated from the main building.
19-25m²

Based on 3300 traveller reviews

95% of travellers recommended this hotel
Travellers Ratings
What to expect
Reviews
shina2019, Kanturk, Ireland
Aug 25 2021
This is a simply fabulous Hotel on the shores of Lake Garda and our favourite place ever to holiday. Wonderful food, lovely comfortable rooms, amazing staff and service and beautifully planted and...
This is a simply fabulous Hotel on the shores of Lake Garda and our favourite place ever to holiday. Wonderful food, lovely comfortable rooms, amazing staff and service and beautifully planted and kept grounds with a huge pool. The beautiful village and restaurants of Cisano are right across the road and the busy town of Bardolino is a lovely 20 min stroll away on a pedestrian pathway right along the edge of the lake that extends all the way down to Garda ! We have been guests here many times and keep coming back year after year and hope to do so many more times in the future. Grazie Mille....💕 Shane & Ina
View full review
"
Fantastic hotel with delicious breakfast
Bass0174, Naaldwijk, The Netherlands
Aug 02 2021
We arrived at the end of July 2021 and stayed here for 4 nights. We booked the top comfort room with a view on the swimming pool and the lake. This room was just perfect! The airconditioning was...
We arrived at the end of July 2021 and stayed here for 4 nights. We booked the top comfort room with a view on the swimming pool and the lake. This room was just perfect! The airconditioning was functioning very well (which was needed thanks to the hot weather) and the room was very comfortable with a lovely nice balcony. My girlfriend celebrated her birthday during our stay and the hotel send over a bottle of champagne as a gift for her birthday. Also, I asked their help in making a cake specially for my girlfriend her birthday and they were very keen to help me. The breakfast was amazing and all tastes were catered for! We wouldn't mind to come back soon :)
View full review