The Maldives' first private island resort
Rooms and villas set in lush gardens
Spa with indoor and outdoor treatments
Taste local seafood at the Ocean Grill
Diving, snorkelling and watersports
The country's first private island resort and a pioneer of tourism for nearly 40 years, Kurumba Maldives is conveniently located only a short speedboat ride away from Male airport. With 180 rooms and villas scattered amongst the lush green gardens, great dining choices offering eight different restaurants, including Indian, Italian and Japanese Teppanyiaki, as well as an impressive range of facilities, this island paradise will not disappoint. Whether you are after a beachfront bungalow or a garden villa with private pool, the comfortable stylish accommodation has something to suit every need. For a spot of pampering, head to the Veli Spa, discover more than 1200 species of marine life on a diving or snorkelling trip, or enjoy a private romantic picnic on your very own desert island.

A range of hotel child prices applies to ages 2-11 & 12-17 years.
Sovereign does not accept children under the age of 13 in the water villa or over water categories.
Optional All Inclusive - what's included
The Dine Around All Inclusive includes Breakfast in the main restaurant Vihamanaa; Lunch including selected beverages: international menu at Vihamanaa, all day dining menu at the Café, all day dining menu and pizza at Pool side and light snacks and pizza at Beach Bar; Dinner including selected beverages: daily theme-inspired buffet at Vihamanaa, contemporary cuisine featuring seafood, local fresh fish and prime meats from the Maldivian grill at Thila restaurant, all day dining menu at the Café, Japanese menu at Hamakaze, Indian menu at Mahal, Chinese/Vietnamese and a touch of Thai at East, Middle Eastern menu at Al Qasar, Italian menu at Isola.

Soft drinks, juices, water, coffee, tea, a selection of beers, wines, liquors and cocktails.

Starred menu items, room service, mini bar and premium pouring brands are excluded.

In addition, guests can choose a snorkeling safari, Malé tour or glass bottom boat excursion.

Complimentary laundry is also included with up to 25 items washed and folded for every 4 nights paid accommodation.
Added value
Free nights
Stay for 7 nights and pay for 5 nights for holidays between 01 May - 24 July 2018 or stay 7 nights and pay for 6 nights for holidays between 25 July - 27 December 2018, compulsory bed tax is applicable on free nights.
Early booking discount
Save up to 8% on the hotel price for holidays booked 60 days prior to arrival between 01 May - 24 July 2018, a minimum stay of 4 nights is required.
Children stay free
Up to two children aged between 2 - 11 years old stay free when sharing with at least 2 adults staying for a minimum of 3 nights for holidays between 01 May - 30 September 2018 (excludes staying in a Superior Room, please note applicable taxes may apply).
Honeymoon offer
Honeymooners will receive a free honeymoon set menu dinner in Thila Restaurant, a bottle of wine or champagne (dependent on board basis), special turn down and welcome amenities as well as a credit of 30 US Dollars per person to use on Veli Spa treatments for holidays between 01 May 2018 - 10 January 2019.
Valid for couples staying for a minimum of 4 nights and within 6 months from the date of their wedding.
Please note not all offers are combinable, for further details please call our Trusted Adviser and are subject to terms and conditions.
Facilities
Bars & Restaurants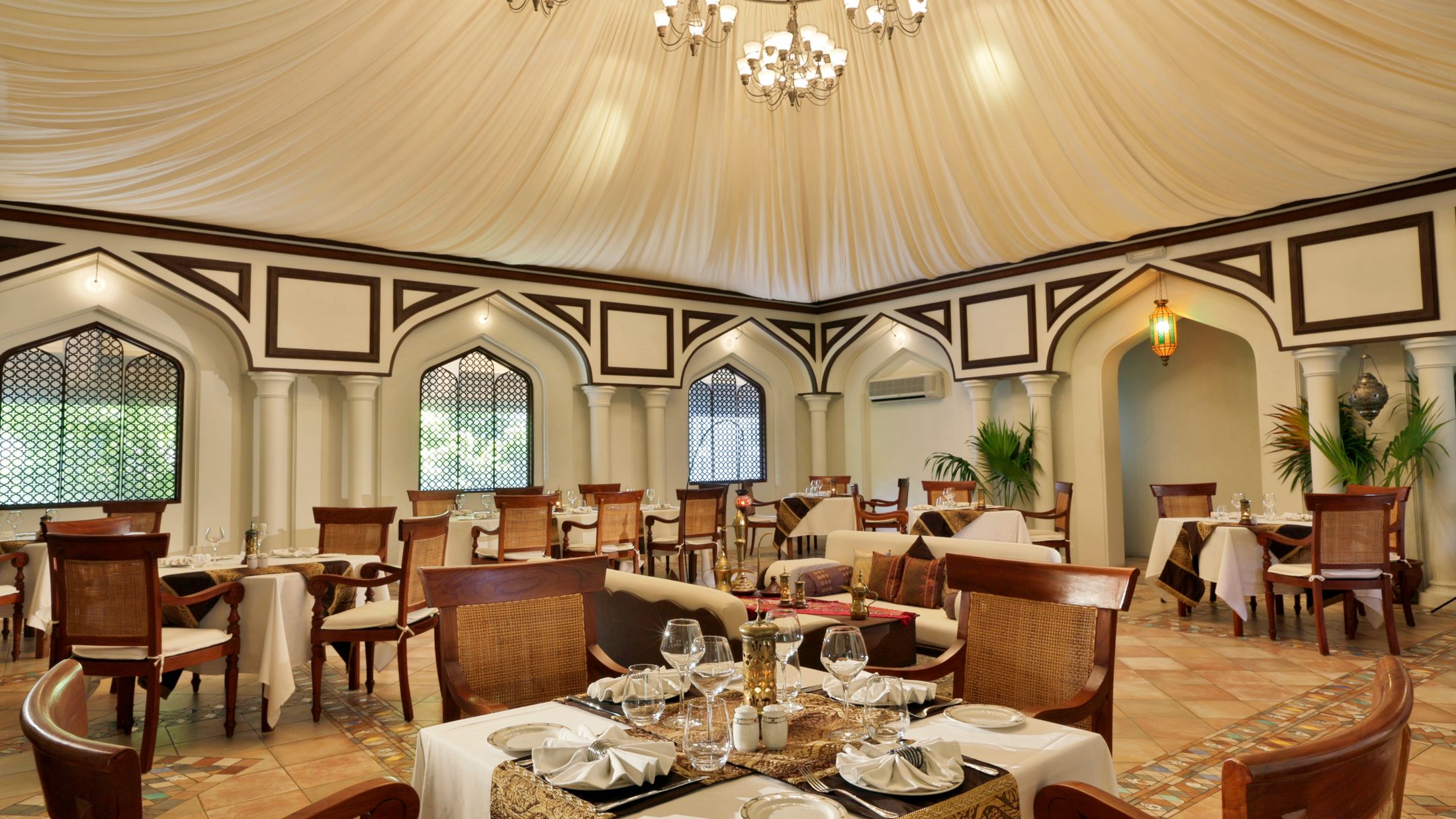 Al Qasr Restaurant
Opening Times:
19:00 - 21:30
Opening Dates:
Open six days a week
Included With:
All Inclusive
Middle Eastern restaurant offering a tantalizing, authentic cuisine, juicy kebabs, mezzo and intriguing dips.
Hamakaza Restaurant
Opening Times:
12:00 - 14:00
19:00 - 21:30

Opening Dates:
Tuesdays - Saturdays

Included With:
All Inclusive
Sizzling teppanyaki and colourful sushi and sashimi platters are served in this lively Japanese restaurant.
East Restaurant
Opening Times:
19:00 - 21:30
Open 6 days per week.
Chinese, Thai and Vietnamese restaurant serving a mouthwatering selection of Cantonese and Szechuan dishes, including the crispy Peking duck.
Isola Restaurant
Opening Times:
19:00 - 21:30
Open 6 days per week.
Included With:
All Inclusive
Italian restaurant offering modern take on classic dishes from Tuscany, Lombardy, Sardinia and Sicily.
Vihamanaa Restaurant
Opening Times:
07:00 - 10:30
12:00 - 14:30
19:00 - 22:00
Included With:
Bed & Breakfast, Half Board, All Inclusive, Full Board, Full Board Plus
The resort's main restaurant, serving sumptuous breakfast, Maldivian lunch and exciting international buffet for dinner.
Restrictions:
Guests on Half Board and Full Board can eat at Vihamana including tea, coffee and water or receive 50% discount on dishes in all other restaurants (excluding drinks) - pre-booked reservation required.

Guests on Full Board All Inclusive (Full Board Plus) can enjoy lunch and dinner including beverages at the Vihamana restaurant as well as a selection of alcoholic and non-alcoholic drinks throughout the day from the Sand Bar, Beach Bar and Randevouz Lounge. Alternatively guests can receive 50% discount on food in other restaurants.

Guests on Dine Around All Inclusive have a choice of two menus with drinks in three locations for lunch and a choice of eight restaurants with beverages for dinner.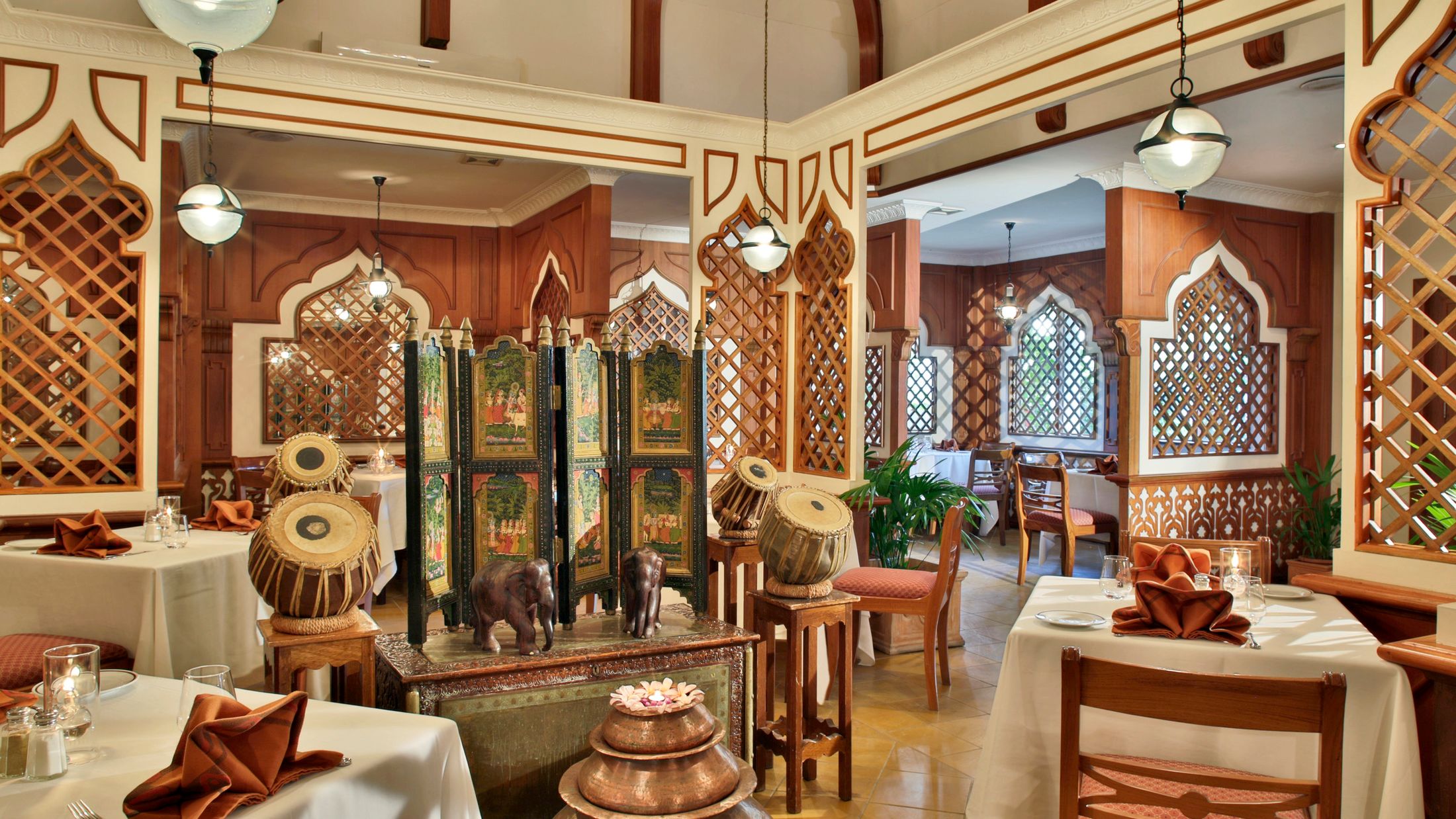 Mahal Restaurant
Opening Times:
19:00 - 21:30
Open 5 days per week.
Included With:
All Inclusive
Indian restaurant offering a tantalizing, authentic cuisine, including bright tandooris and rich curries.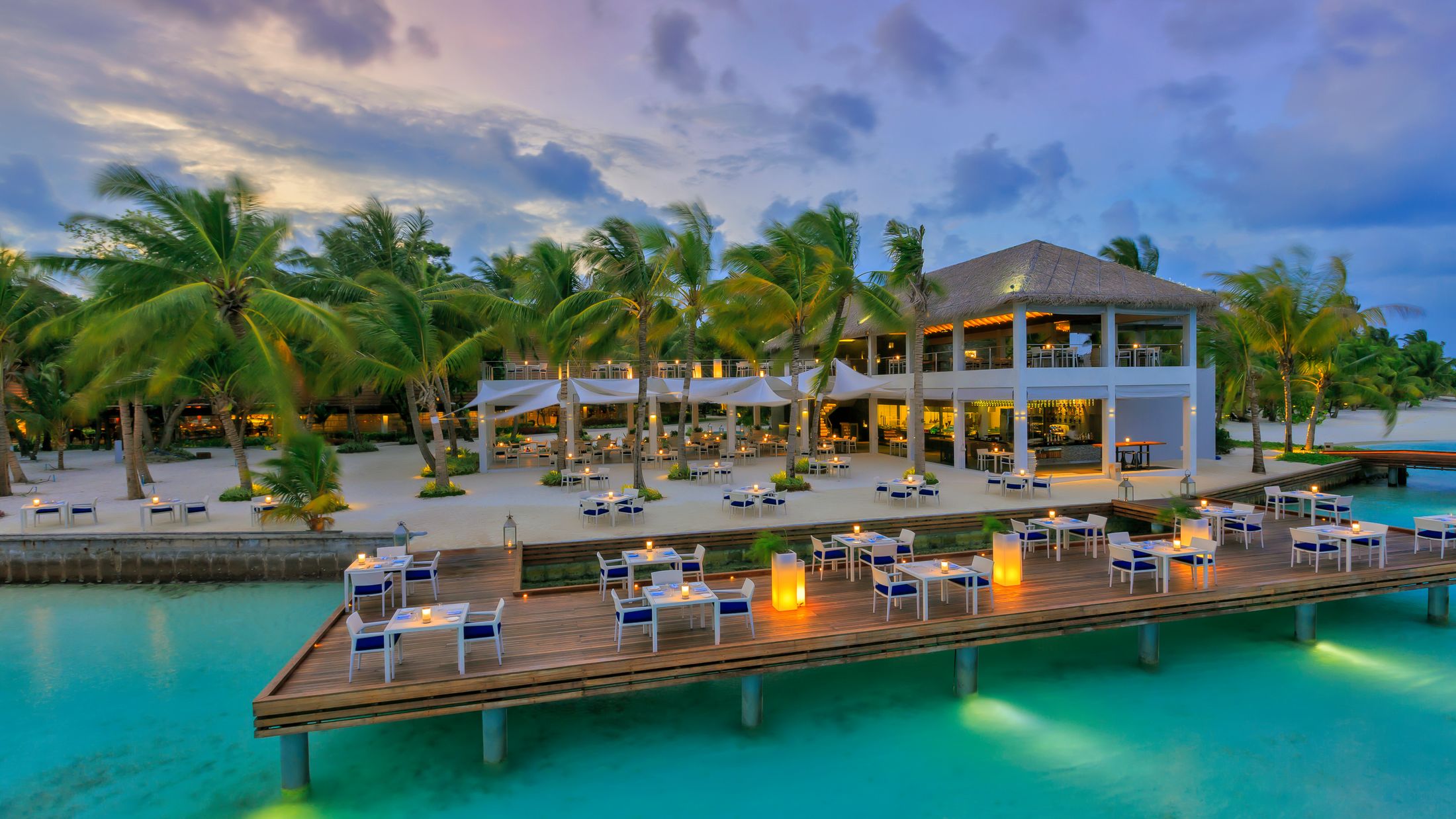 Thila Restaurant
Opening Times:
08:00 - 11:00
19:00 - 21:30
Included With:
All Inclusive
Located on the beachfront, the Thila offers a continental buffet for breakfast, and an a la carte dinner menu. Enjoy traditonal grilled meats and local seafood.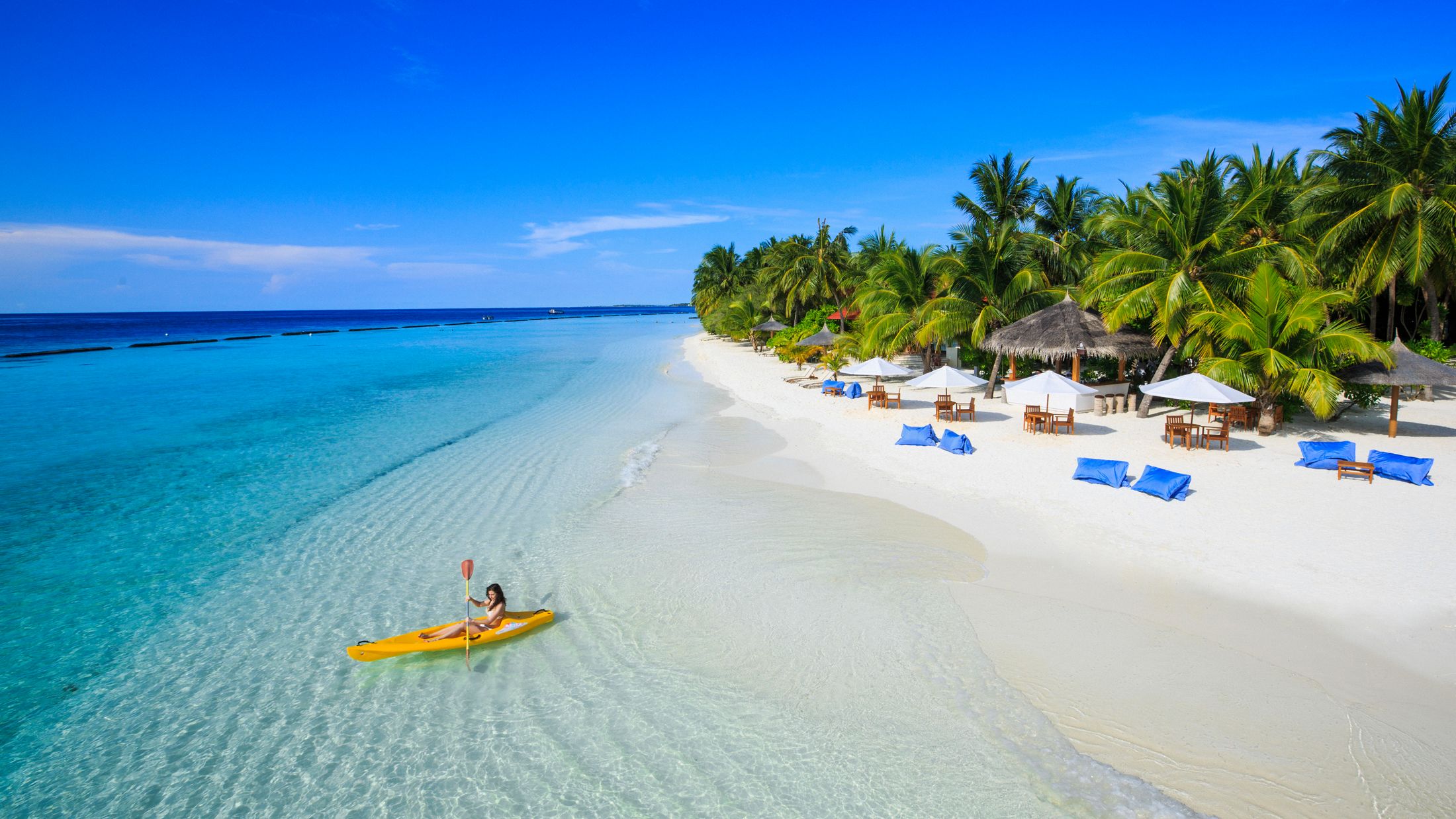 Bars
Start your day with a drink on the beach from Athri, open morning till sunset. Then head over to Kandu for a cocktail, and finish your night at Kalhu, with Karaoke and a DJ.
Beach & Pools
Beach
The iconic white sands of the Maldives surround this island resort, providing plenty of space for sunbathing and swimming. Beach service is also available.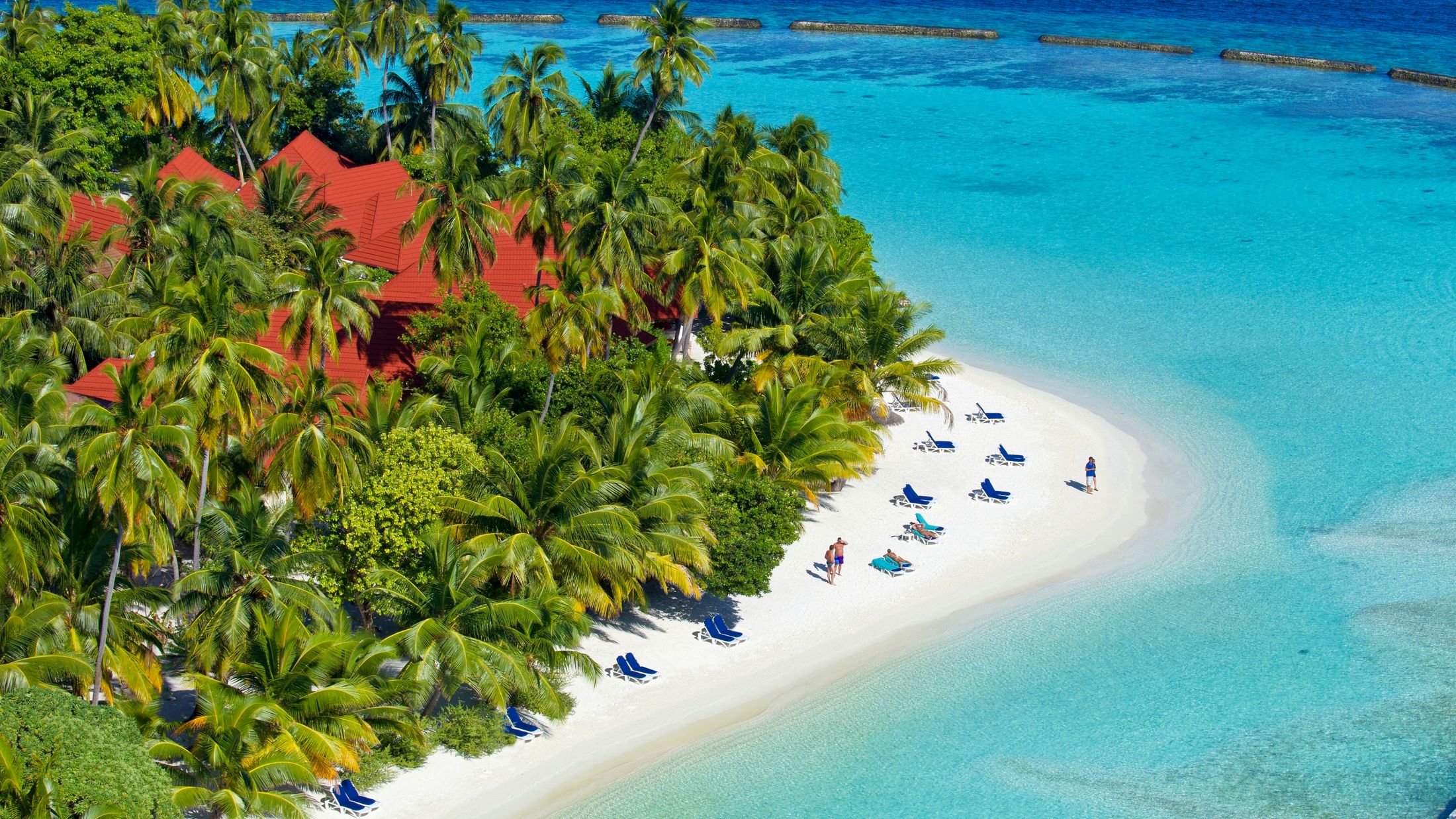 For Families
Kids facilities
Kurumba is the perfect place to take kids of all ages. Baby facilities are available, with baby cots, bottle warmers and sterilisers and nappy stations. There are babysitters available on request, booked a day in advance, with a local charge.

In addition, there is a children's menu, as well as high chairs and strollers, subject to availability. There is also a small outdoor play area, perfect for keeping the kids occupied whilst you relax.

Children can enjoy snorkeling with the whole family, with child size life jackets and equipment available. Don't forget to check out the Majaa Kids' Club.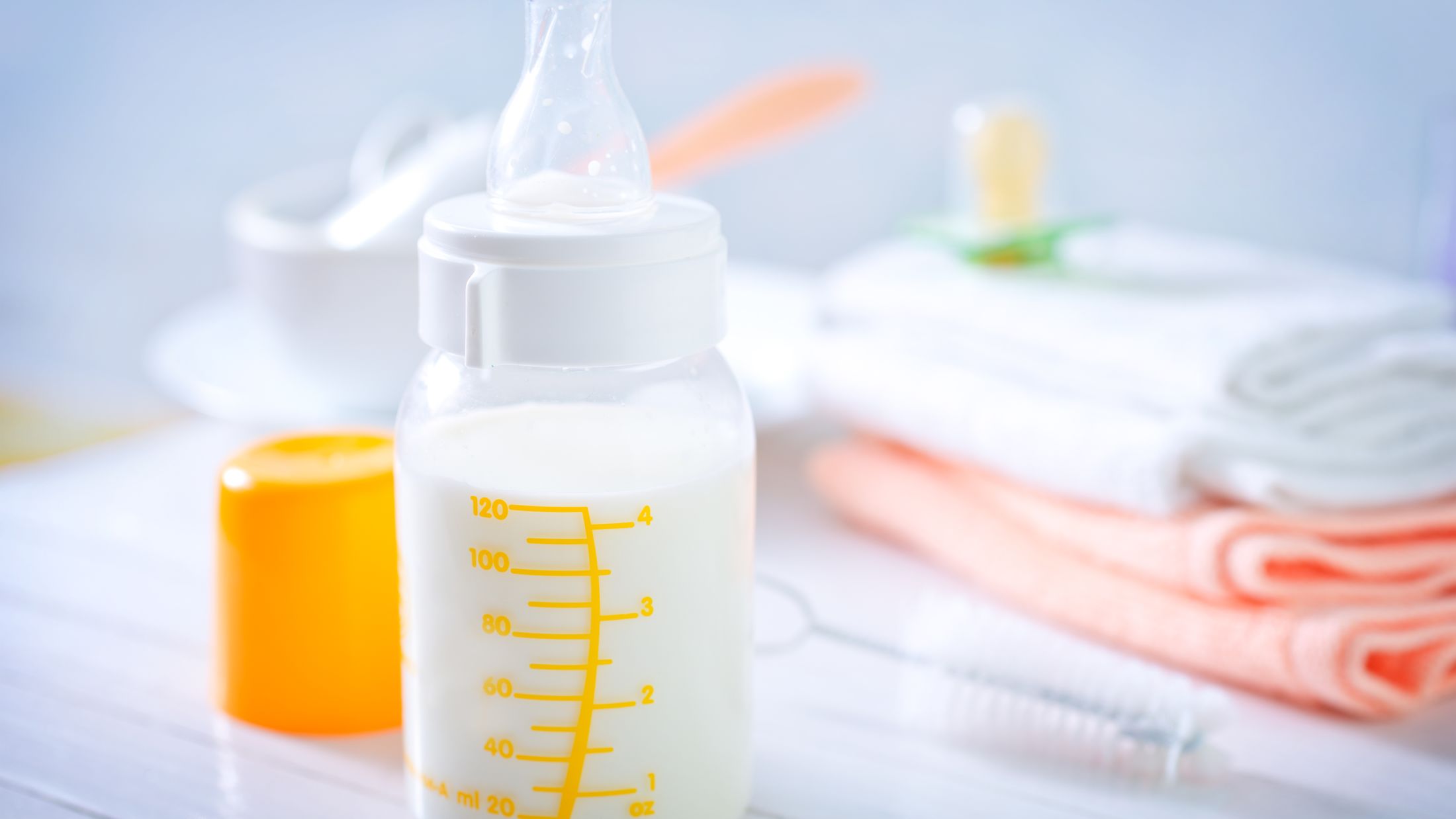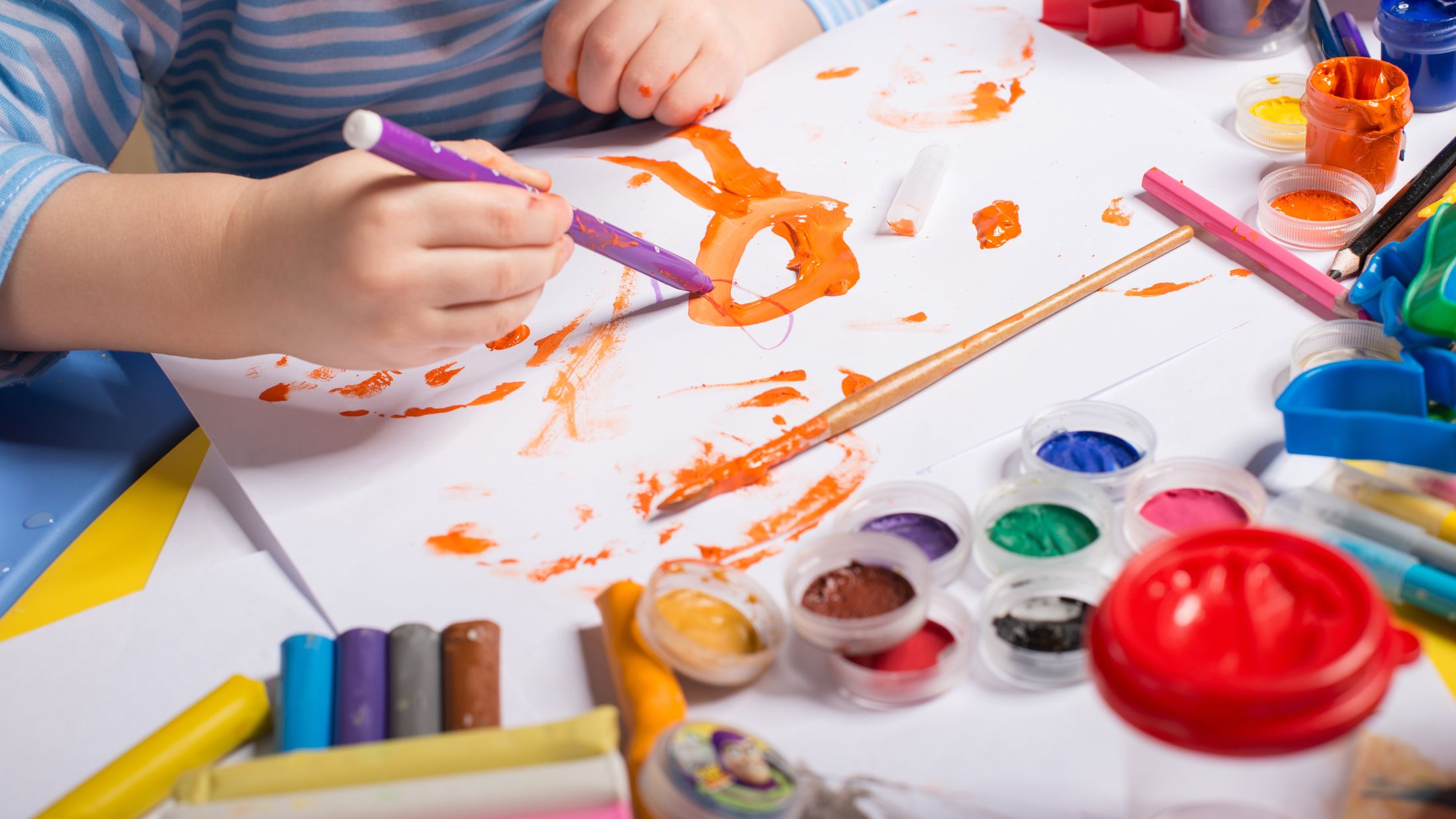 Majaa Kids Club
Opening Times:
09:00 - 18:00
Kids aged 4 - 12 are welcome at the Majaa Kids' Club. There is a lot to do, from marine biology, traditional drum lessons, coconut arts and crafts and fish feeding. Kids are encouraged to play outside, as well as do indoor activities like face painting, colouring and movies.
Children under four are also welcome, if accompanied by a parent, guardian or prearranged babysitter. Babysitters are available for a local charge, with one days notice.
Spa & Wellness
Fitness centre
Opening Times:
Open 24 hours a day
There is a 24 hour gymnasium with classes including full-body stretching, core conditioning and tai chi. Other sports are available including three floodlit tennis courts, cricket, volleyball and a yoga pavillion.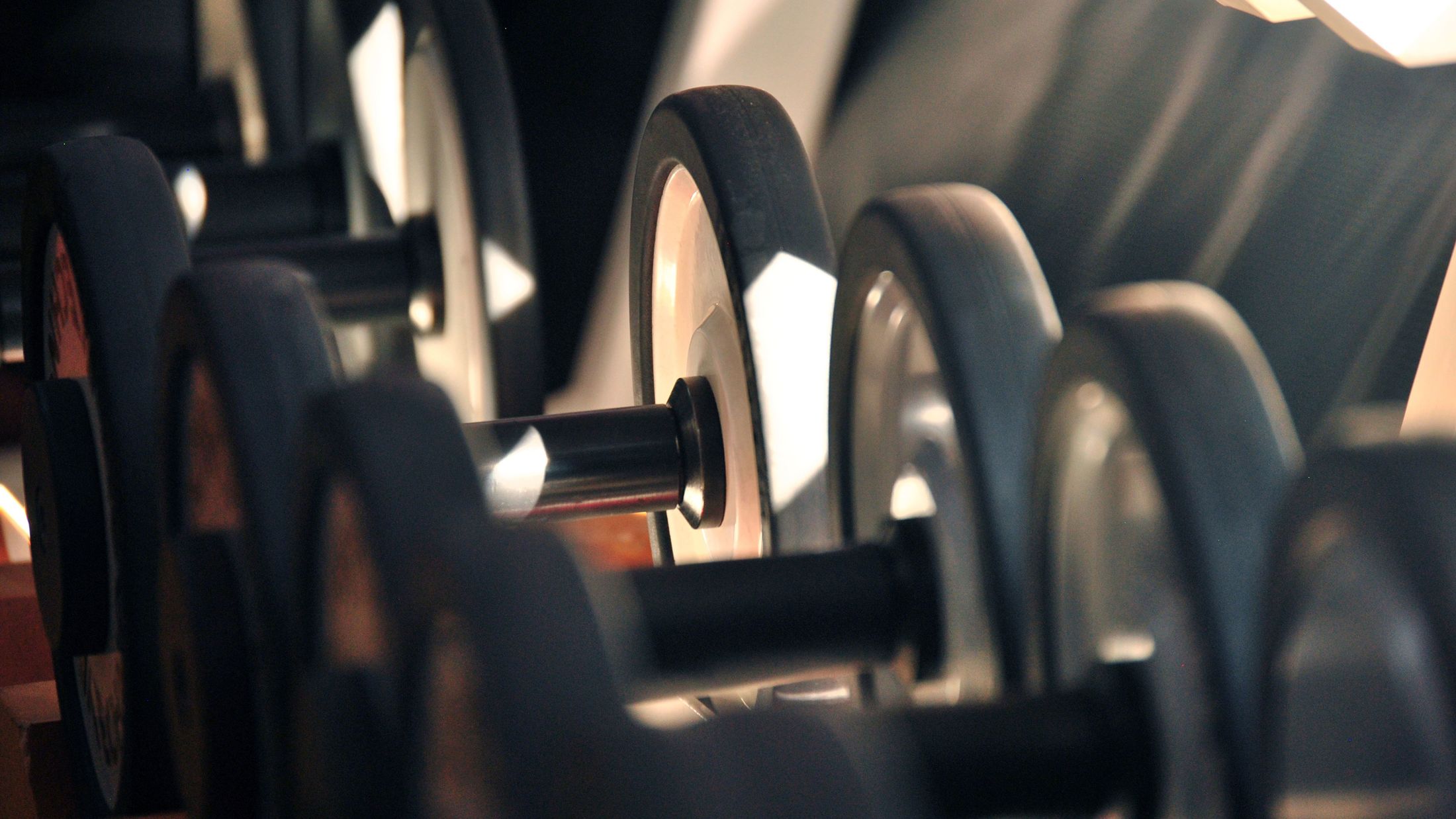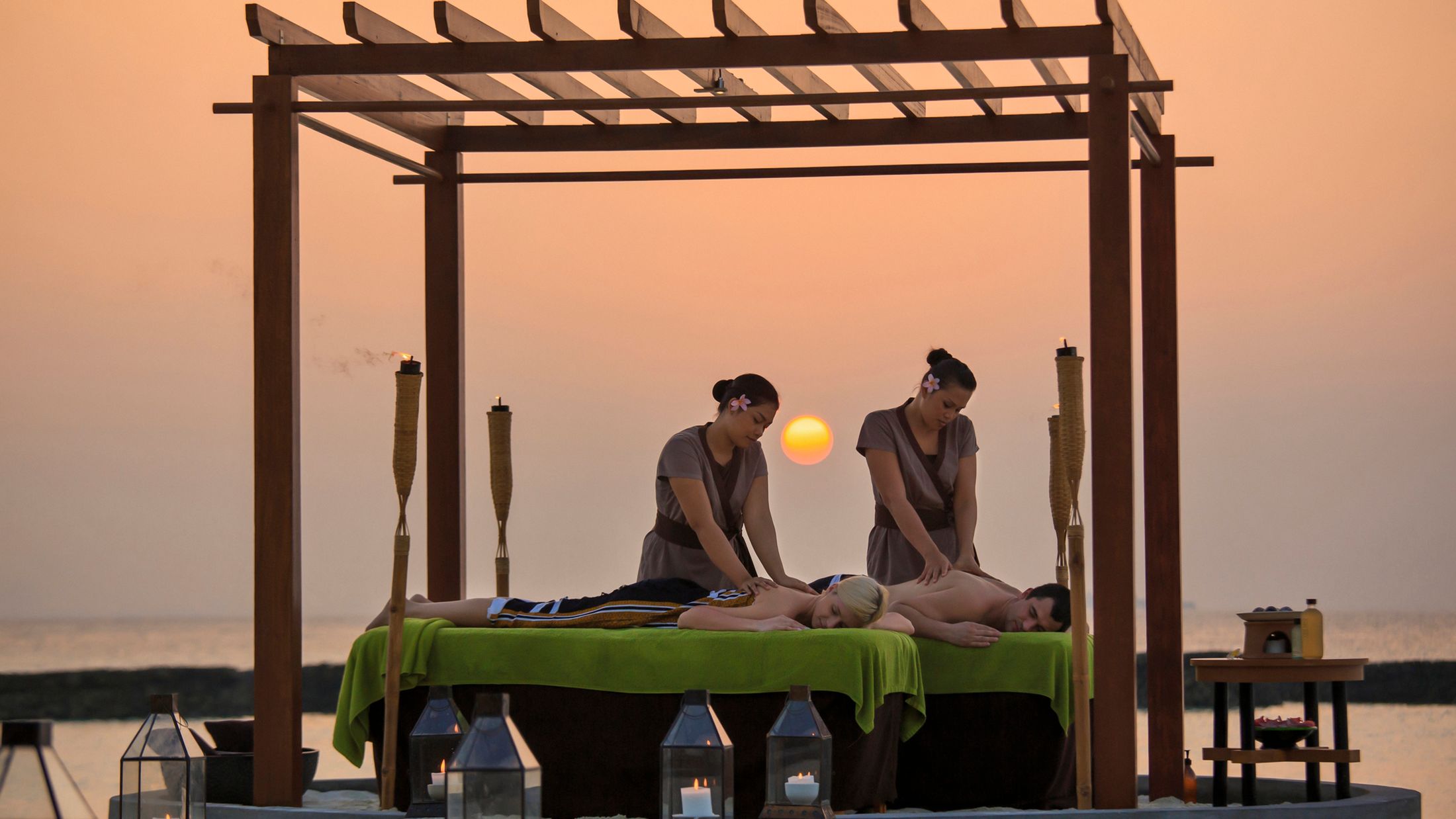 Veli Spa
Veli Spa is surrouned by lush gardens, and is inspired by Maldivian culture. It uses coconut oil sourced locally, and pastes made from indigenous herbs. In particular the Spa makes use of dhivehi-beys, a traditional Maldivian herb.
Activities & Entertainment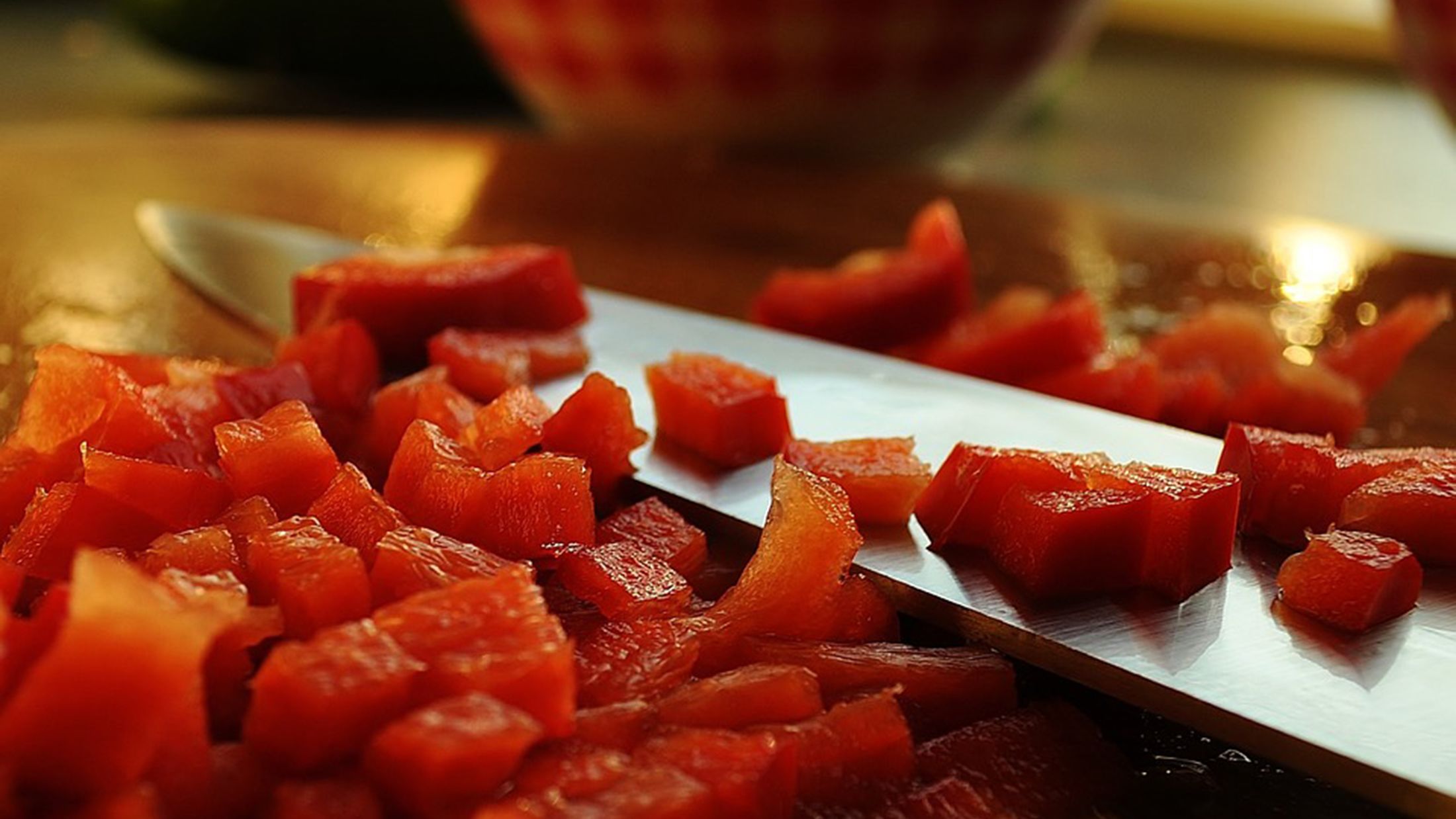 Daytime activities
Feeling creative? Guests are invited to participate in an exciting Cocktail Masterclass, or recycled Arts and Crafts.

Want to get to know the local culture? Watch a traditional cooking demonstration, or do some Kurumba leaf crafts. The Marine Biology Presentation will tell you all about the fragile and unique ecosystem of the islands.

There are lots of ways to get active, with three floodlit tennis courts and a yoga pavilion, and a variety of table sports like billiards, ping-pong and air hockey.
Watersports
What better use of the clear turquoise waters of the Maldives than to try some new and exciting water sports. There are windsurfing lessons, a Jet Ski tour, Catamaran sailing or water skiiing, as well as many more.
If you really want to explore the clear waters then try a snorkeling lesson and explore under the waves. Go deeper under the ocean with the PADI-certified dive school.
Looking for something more fun? Have an exhilarating ride on a Banana Boat or a Fun Tube.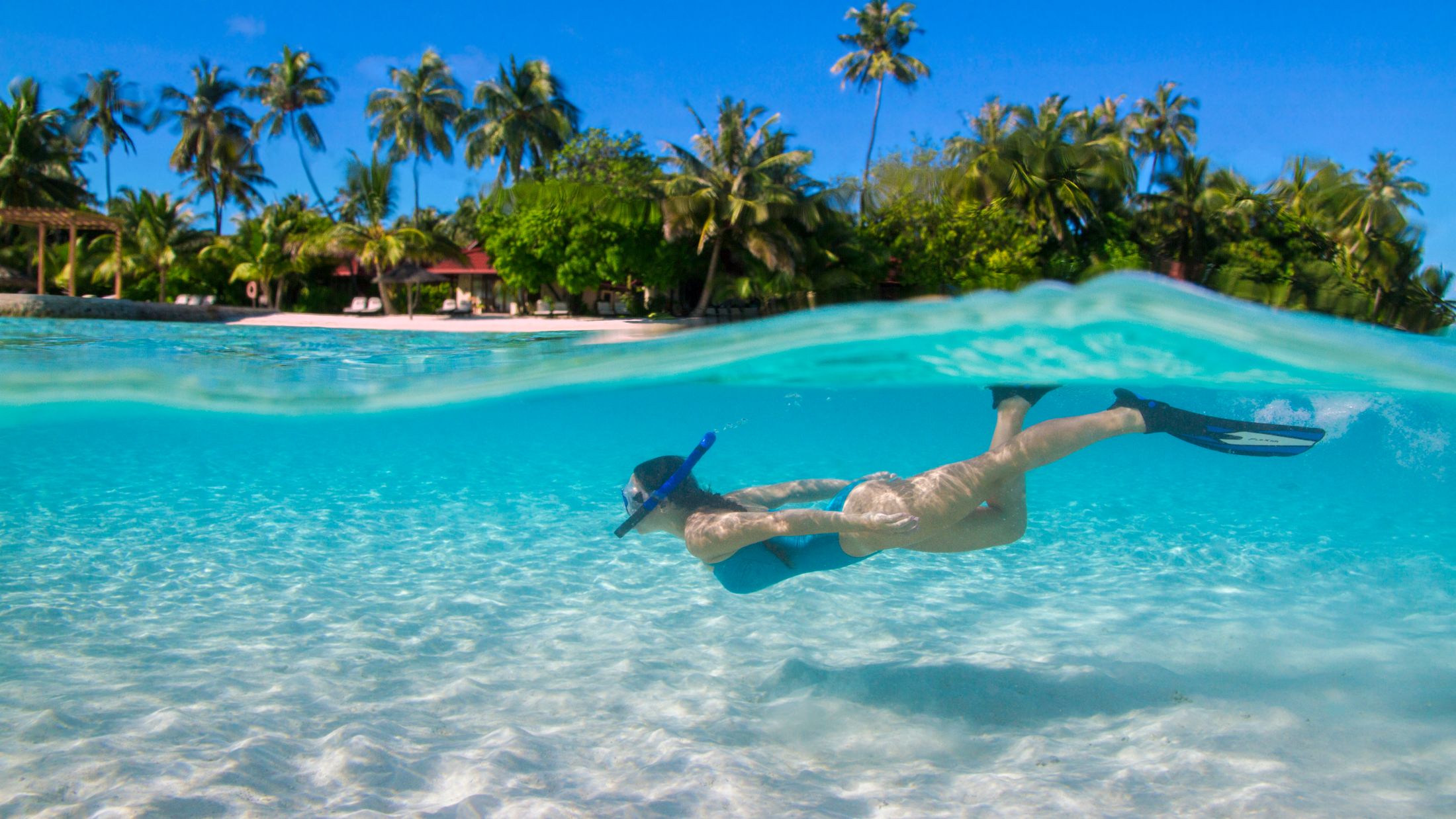 About the location
Made up of more than 1,000 islands scattered across the Indian Ocean, the Maldives is the quintessential get-away-from-it-all destination. It's a one-hotel-per-island affair, with properties ranging from luxe hideaways with stylish restaurants and bars, to rustic-chic retreats that draw on traditional Maldivian design.

The islands come with a natural colour scheme of green, white and blue - green for the glossy palms, white for the sugary sands, and blue for the photo-perfect lagoons that surround them. Beneath the waters things are just as spectacular, with colourful coral reefs and exotic sea life just a short swim from the beach. The Maldives is also home to some of the best scuba sites in the world, and hotels can arrange boat trips for keen divers.

Being surrounded by the sea means that fish (tuna in particular) is a key focus in Maldivian cuisine. Coconut is also used liberally - mixed into creamy curry sauces, sprinkled on top of salads and used in rich desserts. You'll also find plenty of dishes inspired by Sri Lankan and Indian cuisine.
Transfer time
10 minutes by speedboat from Male airport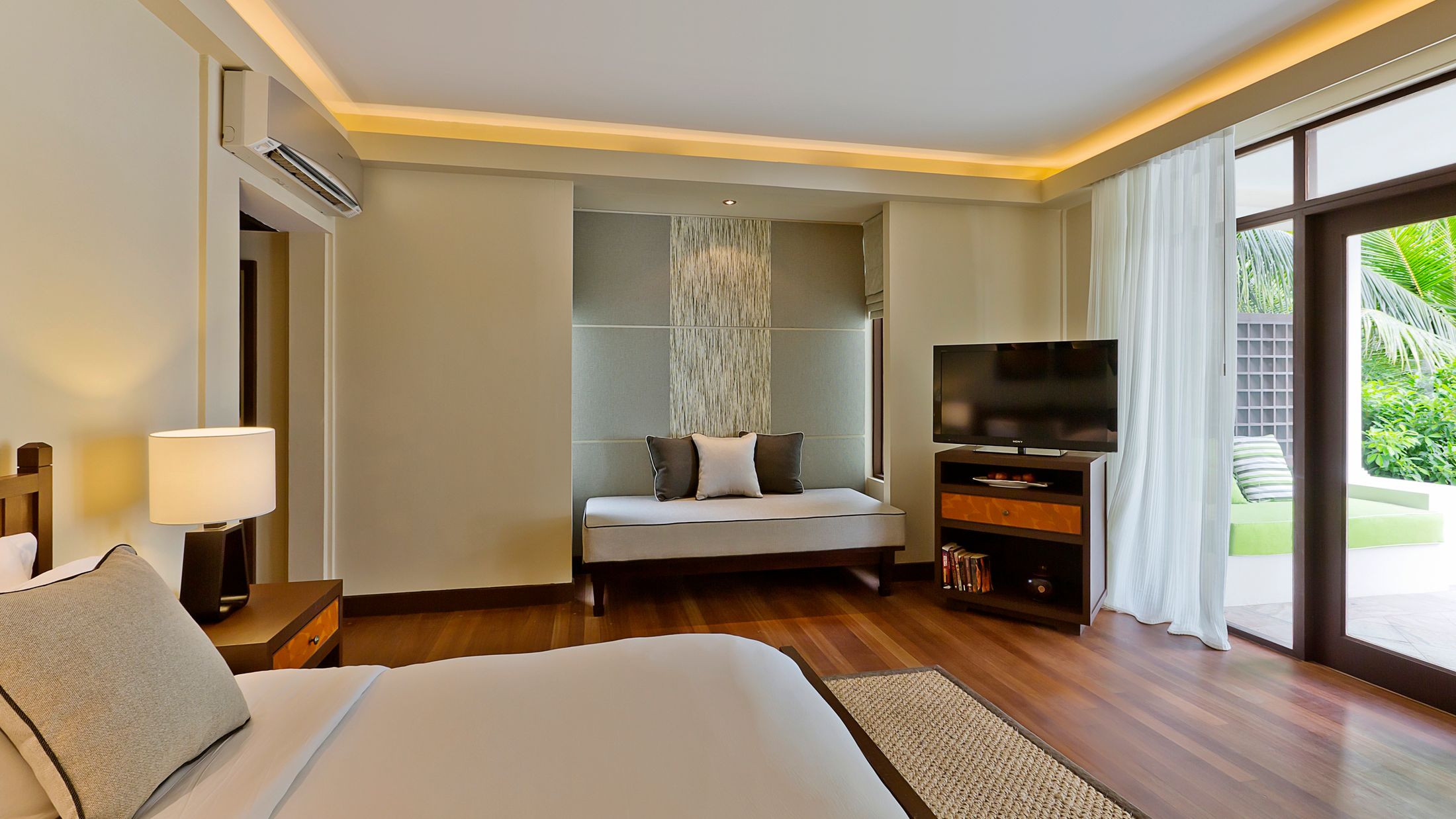 Superior Room
Max 3 adults
Superior Rooms feature open-plan bathrooms and a private balcony or balcony with lagoon views. All rooms feature double or twin beds, indoor and outdoor shower, bathtub, Satellite TV, DVD player, complimentary WiFi, tea & coffee making facilities, safe, minibar, bathrobes, hairdryer, beach slippers and beach bag.
74m²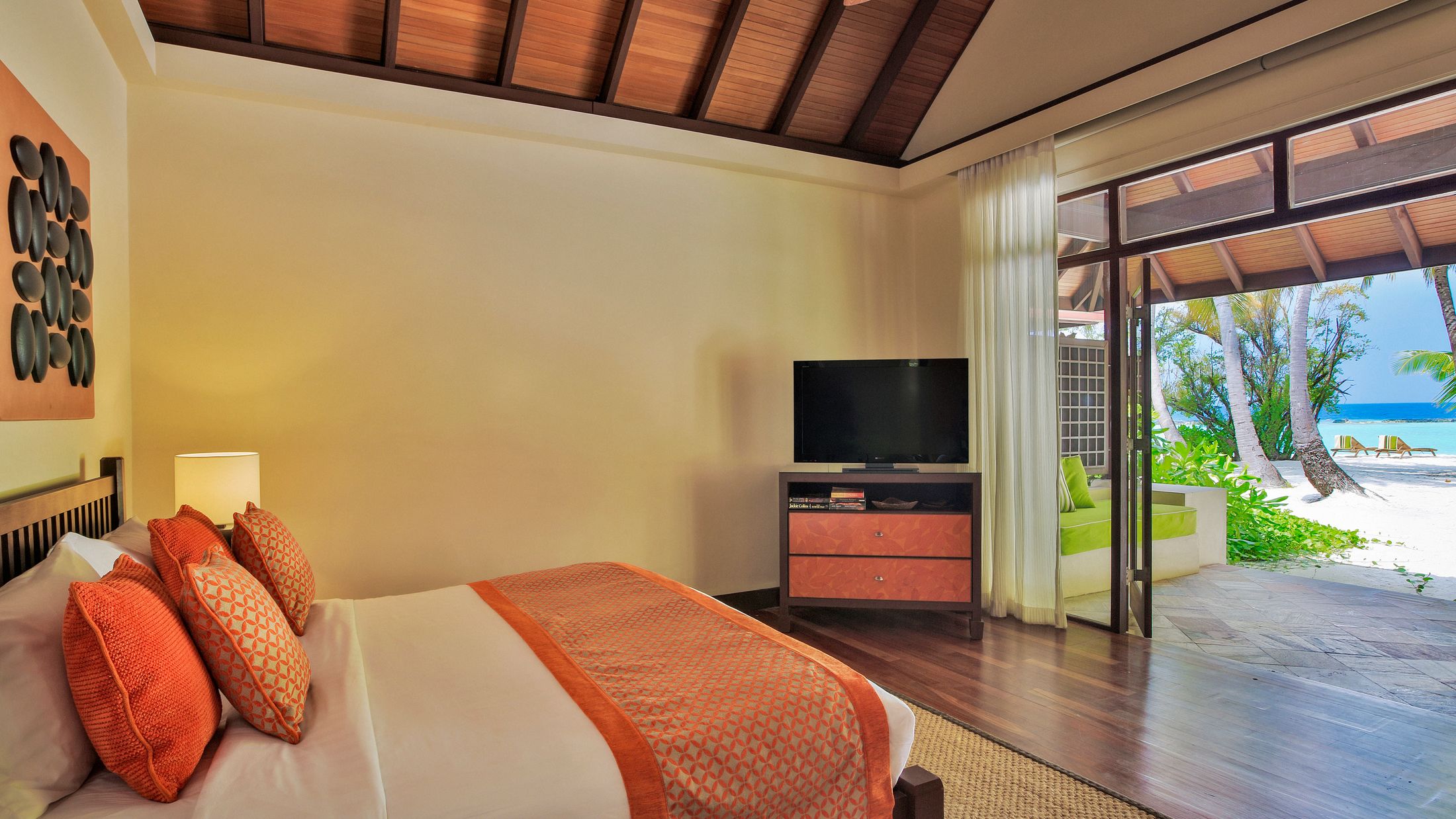 Deluxe Bungalow
Max 3 adults, 1 child
Deluxe Bungalows are located just steps away from the beach, nestled amongst lush greenery, featuring open-plan bathroom with double vanity, indoor shower, outdoor shower and a large bathtub. In addition, Deluxe Bungalows also include cafetiere with freshly ground Lavazza coffee, ironing board and electrical adapters.
74m²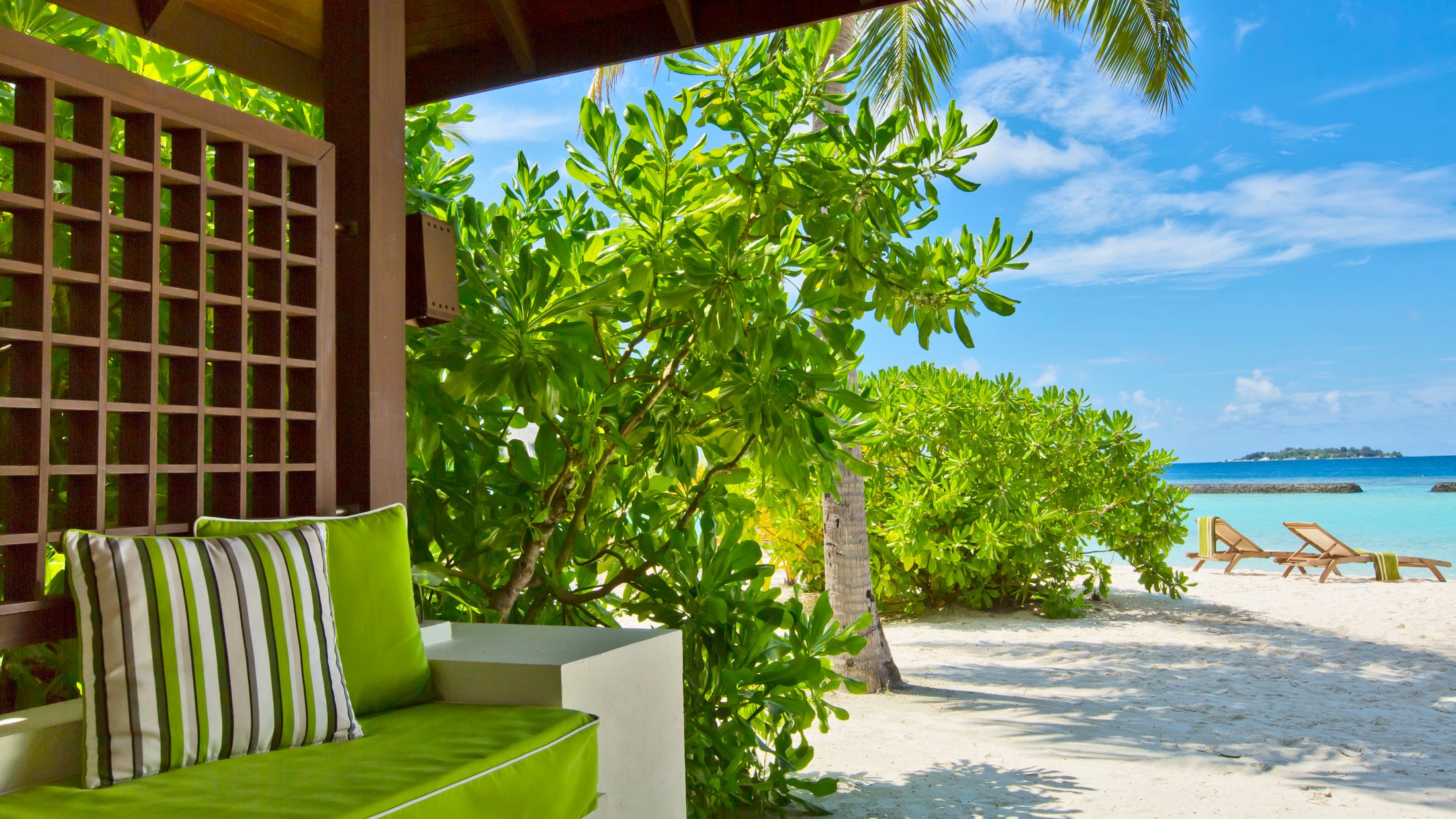 Beach Front Deluxe Bungalow
Max 3 adults, 1 child
Beach Front Deluxe Bungalows are located a few steps away from the beach. In addition to all Deluxe Bungalow facilities, these bungalows also feature iHome docking station, a Nespresso® coffee machine and premium breakfast at Thila restaurant.
74m²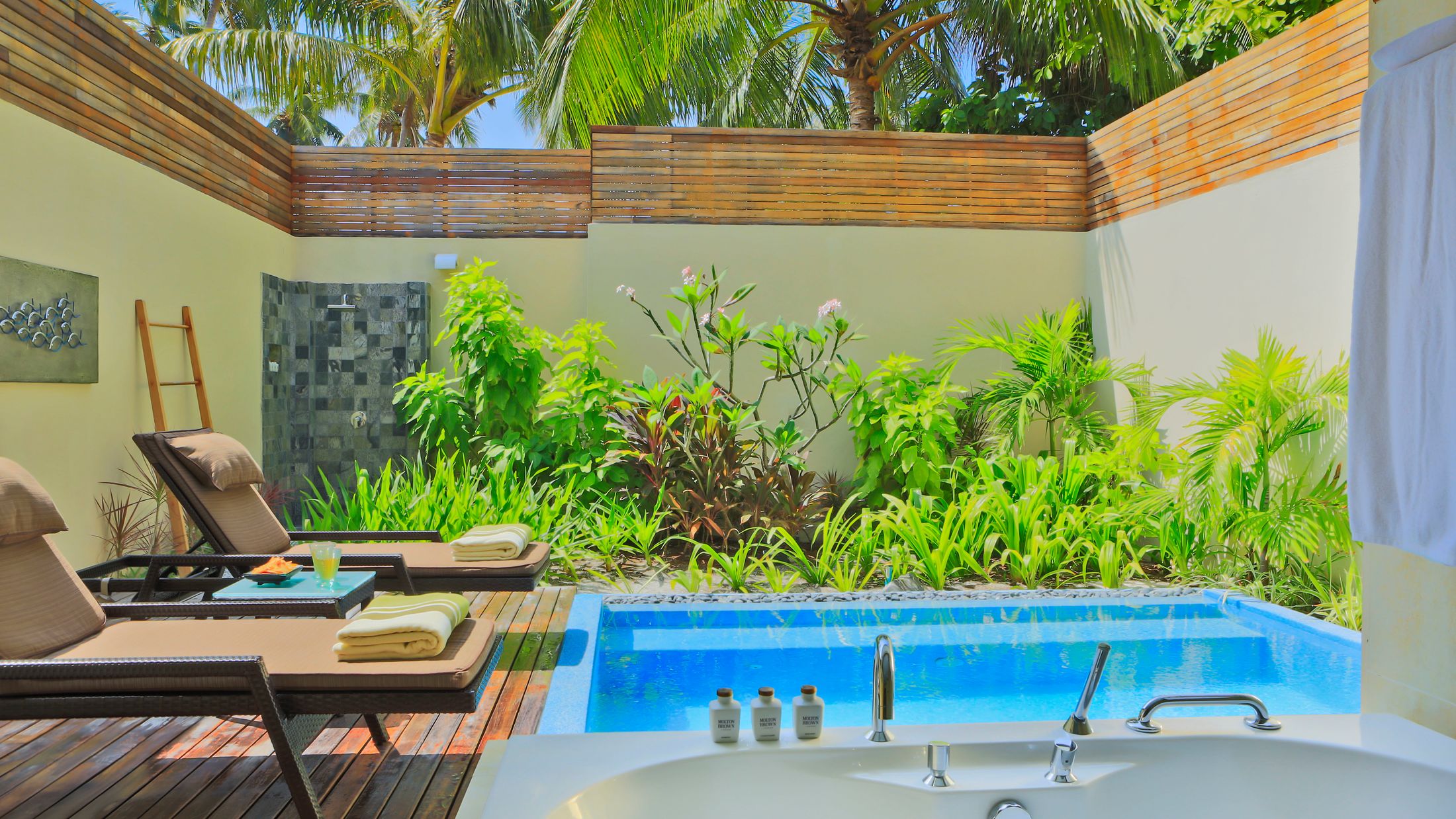 Garden Pool Villa
Max 3 adults, 1 child
Garden Pool Villas offer extra space, a host of in-room beverages from cocktail kit to premium Lavazza coffee and your very own private plunge pool. The villas feature the same in-room amenities as Beach Front Deluxe Bungalows, including a Nespresso® coffee machine and premium breakfast at Thila restaurant.
124m²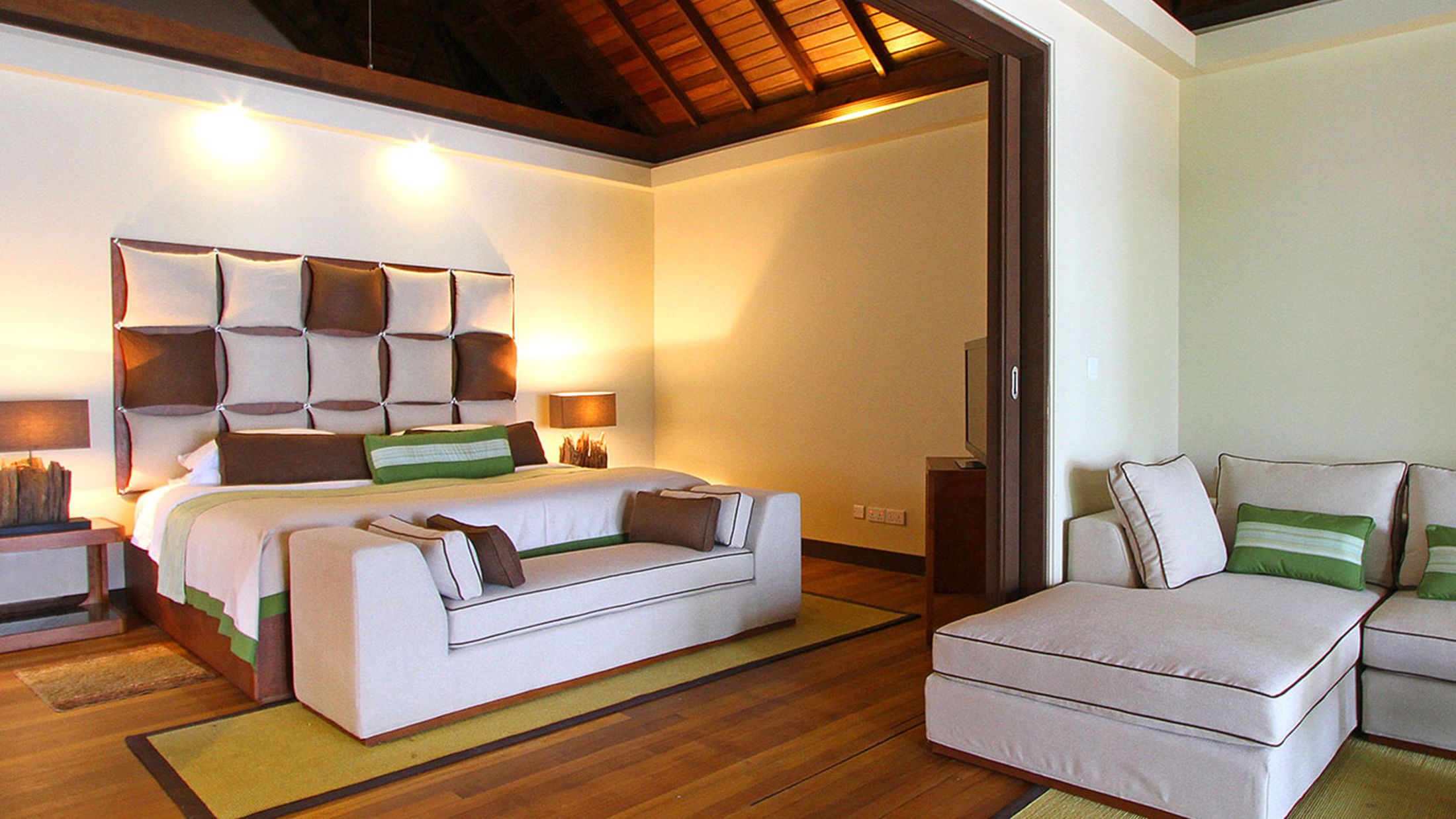 Beach Villa With Jacuzzi
Max 3 adults, 1 child
Beach Villas are ideally positioned for watching the sunrise and feature a large bedroom, sitting room with veranda and wonderful ocean views.
103m²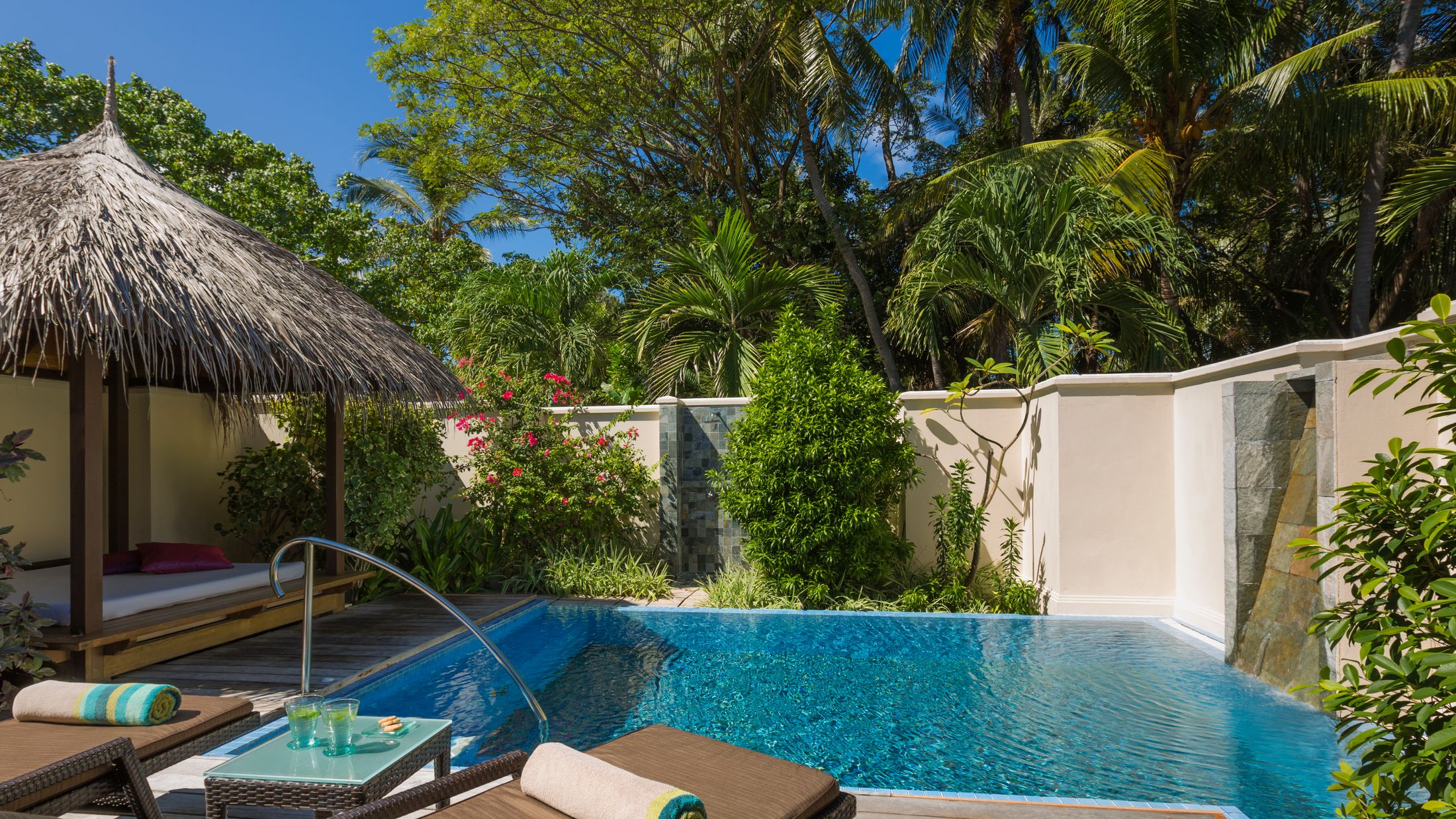 Deluxe Pool Villa
Max 3 adults, 1 child
Deluxe Pool Villas offer an open-plan space and feature a private outdoor pool and whirlpool, as well as private gazebo and day bed.
160m²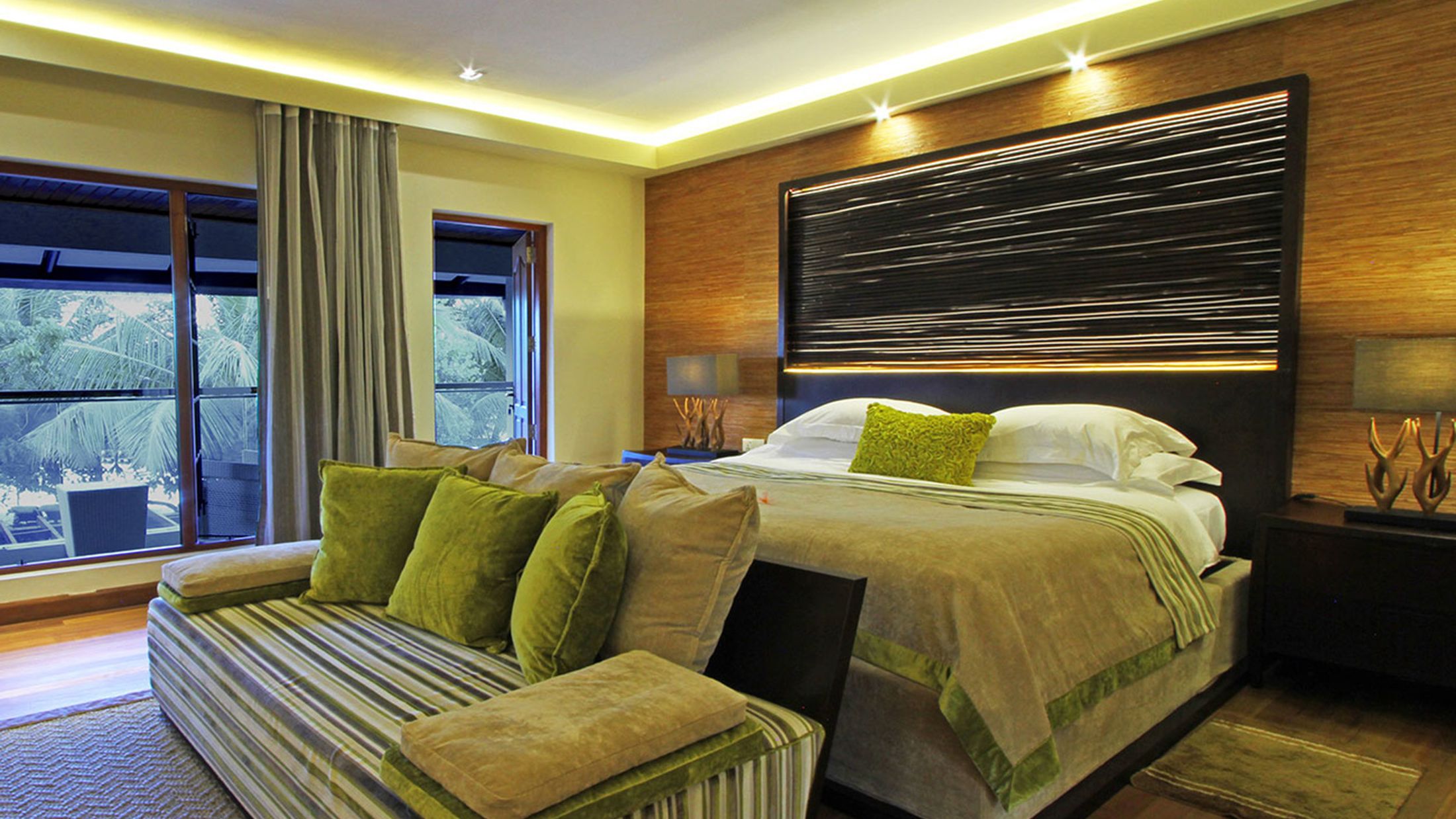 Presidential Pool Villa
Max 3 adults, 1 child
Located over two levels, the Presidential Pool Villa has a king bedroom and bathroom upstairs and a spacious living area downstairs with a private pool.
306m²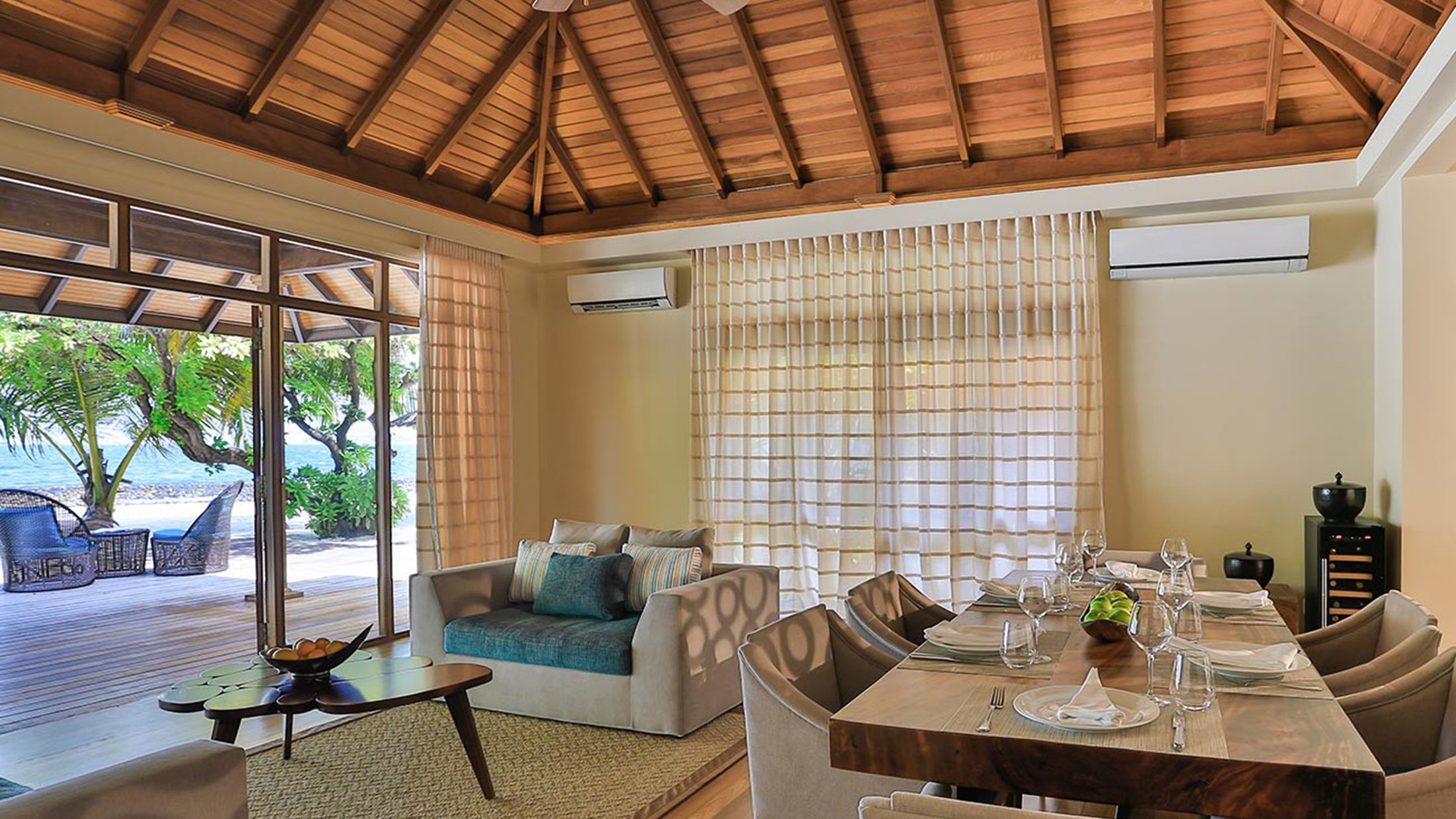 Royal Kurumba Residence
Max 6 adults
The Royal Kurumba Residence boasts two bedrooms and two private pools, with a central lounge and large veranda that is set right on the beach surrounded by lush greenery.
768m²

Based on 4141 traveller reviews

95% of travellers recommended this hotel
Travellers Ratings
What to expect
Reviews
mchayel, Boston, Massachusetts
Sep 18 2018
We stayed here for our honeymoon and the hotel was just awesome with jacuzzi. The beach was so romantic and pristine, and the chefs their knew how to make foods that fulfill your taste buds. We...
We stayed here for our honeymoon and the hotel was just awesome with jacuzzi. The beach was so romantic and pristine, and the chefs their knew how to make foods that fulfill your taste buds. We couldn't have asked for anything more.
View full review
chynasummers42, Newhaven, United Kingdom
Sep 17 2018
We have just returned from our second trip to Kurumba and it was every bit as good as the first. The beach villa with jacuzzi was outstanding and kept spotlessly clean, it had all the amenities that...
We have just returned from our second trip to Kurumba and it was every bit as good as the first. The beach villa with jacuzzi was outstanding and kept spotlessly clean, it had all the amenities that you need including thoughtful touches and cookies! We were on the dine around all inclusive package which meant we could try all of the restaurants during our stay. The food is out of this world in every restaurant and the staff set this place apart from anywhere else. I didn???t get everyone???s names but to name a few ... Thila Restaurant - Azmeel, Mirah, Edan. The cafe - Ram and Rupa. Kandu bar- April. We thank each and every one of you from the bottom of our hearts. We had the spa under the stars treatment which was absolutely heavenly, thankyou to Avril and June. Cocktails whilst watching the sunset at Arithi 2 beach bar is not to be missed. I could go on and on but the bottom line is... visit Kurumba, you will not be disappointed. Thankyou so much to every single one of the staff who look after you like you are family. Kurumba, we will be back 😊?????? From Samantha and Clifford Summers
View full review