An exclusive adults only boutique hotel set within a natural cove, overlooking white sands and the glistening lagoon
Newly refurbished rooms, boasting modern and chic decor with tropical accents
A member of the Small Luxury Hotels of the World
Paradise Cove Boutique Hotel is an intimate hotel nestled on the tropical shores of Mauritius by Anse La Raie. A stunning blend of classical grandeur and contemporary chic, the architecture and décor of the hotel are traditional, exotic and timeless.

The newly refurbished hotel now boasts 75 rooms with views overlooking the stunning white sand beach and lagoon. Each room combines classy tropical décor and a modern-luxury touch with large bathrooms that are cosy and chic. The beach front arrival and departure lounge, with its dedicated self-service bar and 11 private cabins, ensures a relaxed welcome and a comfortable end to your holiday paradise.

The hotel offers a large choice of land and nautical activities and there is a relaxing spa under the majestic tree, ideal for unwinding after a day full of adventure. As for entertainment, there are plenty of live music events every night at the hotel. Enjoy a delicious meal at one of the four restaurants, serving a mix of international, Mauritian and Creole cuisine.
Facilities
Bars & Restaurants
Beach Bar
The Beach Bar is open 24/7 as a self-serve bar with bar service throughout the day.

Open: 24/7 as self-service bar, bar service open from 08:00 -20:00
Peninsula Restaurant & Bar
The contemporary and trendy Peninsula Restaurant offers a wide variety of Tapas of the World, ideal for lunch and dinner. Offering spectacular views of the turquoise lagoon and northern islands, Peninsula is contemporary and trendy. Head to the bar for your favourite cocktail or for a delightful meal.

Restaurant Opening Times: 12:00 - 15:00 (Lunch), 19:00 - 22:30 (Dinner)
Bar Opening Times: 10:00 - 23:00
Rum Gallery
Offering a selection of carefully picked rums from the region and the world, the Rum Gallery is discreetly tucked away in the lobby.

Open: All day
S'Cellar
Wine lovers should head to S'Cellar to sample some of the finest wines in the Southern Hemisphere in a splendid cave.

Open: 15:30 - 22:30
S.T.A.Y Bar
Located in the heart of the hotel, S.T.A.Y Bar is a relaxing venue where you can enjoy your favourite cocktails and snacks.

Open: 08:00 - 23:00
Tea Bar
The tea-bar is a new and refreshing spot to enjoy a thirst-quenching break sheltered from the sun.

Open: 24/7 as self-service bar
The Cove
For an intimate experience, head to The Cove. Overlooking the tranquil water, you can enjoy a romantic seafood dinner. There are also over-water dining huts for two offering maximum privacy.

Open: 19:00 - 22:30
The Dining Room
The Dining Room is the hotel's main restaurant, serving delicious cuisine for breakfast and dinner. The interior is beautifully spacious with chic and tropical décor, and the food gives you a real taste of the exotic flavours Mauritius.

Open: 07:00 - 10:30 (Breakfast), 19:00 - 22:30 (Dinner)
XO
Experience dishes with an Asian flair at XO. This sophisticated yet cosy restaurant takes you on a journey of delectable sushi, with subtle blends of herbs, spices and fruits.

Open: 19:00 - 22:30
Beach & Pools
Pools
Paradise Cove features 3 pools: 1 main swimming pool, 1 infinity swimming pool on the Peninsula (heated in winter) and 1 lap pool in the gardens.
Spa & Wellness
Fitness Centre
Containing a range of cardio and strength equipment, the fitness centre is perfect for those wanting to keep active during their stay.
The Spa
Indulge and unwind at the serene spa at Paradise Cove Hotel. Discover 'Beauty Rituals of the World' of the famous French brand 'Cinq Mondes', offering a variety of facials and massages. There is even an outdoor double massage kiosk where you can feel at peace with nature while enjoying a peaceful treatment overlooking the sea. Just relax…
Activities & Entertainment
Entertainment
From live unplugged music every night to a Sega show once a week, there is plenty of entertainment at the hotel.
Land Activities
There's a lot of activities to keep you busy at the hotel. Choose from a match of tennis, a bicycle ride around the beautiful surroundings or rejuvenate with a yoga class.
Water Activites
Make the most of the activities on offer and head for some adventure. Try windsurfing, snorkelling, kayaking and much more.
About the location
Situated on the North coast of Anse La Raie, the Paradise Cove Boutique Hotel is near an abundance of stunning sheltered beaches and lagoons. The hotel itself overlooks a private and intimate beach, offering pristine white sands and beautiful sunsets. The hotel is also surrounded by lush gardens filled with colourful vegetation.

Approximately 10 minutes from the lively resort of Grand Baie, there is plenty to do and see. Explore the village's restaurants and vibrant bars, as well as the gorgeous stretch of coast. The hotel is also only 25 minutes from the capital city, Port Louis, and close to cultural and historical sites such as Le Château de Labourdonnais and Pamplemousses botanical garden.
Transfer time
Paradise Cove Boutique Hotel is 1 hour 15 minute drive from Mauritius International Airport.
Deluxe Premium
Max 2 Adults
Elegantly decorated with fresh colours and subtle tropical accents, the Deluxe Premium rooms offer a four-poster bed with romantic white drapes, an open plan sitting area and balcony overlooking the spectacular views of the cove. The charming rooms have a serene and peaceful atmosphere, with light wood furniture, rattan, and refined exotic wallpaper. To ensure you feel comfortable, plenty of cupboard space, a mini bar, coffee machine and much more are featured. Experience a truly relaxing getaway.
50m²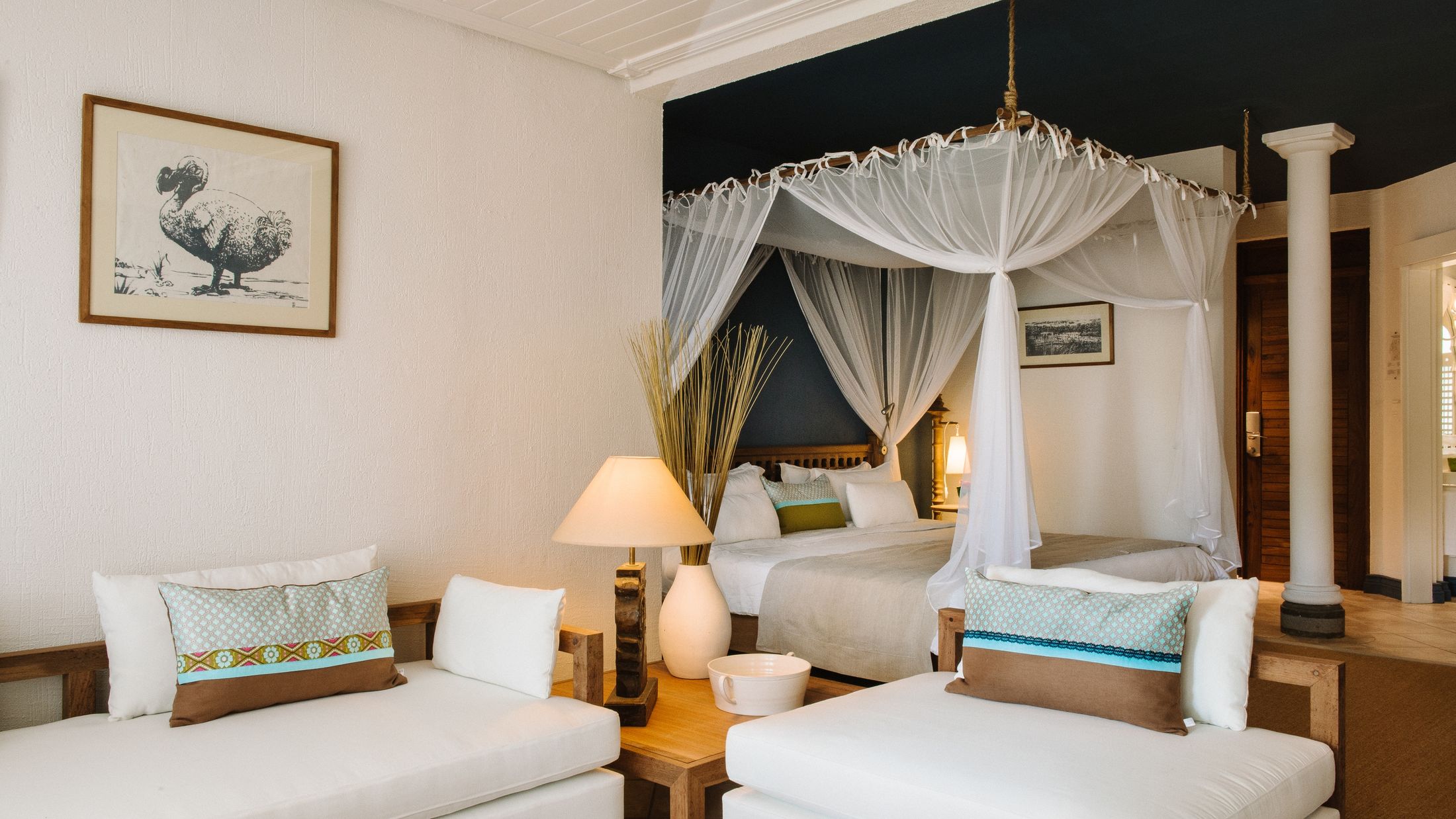 Junior Suite
Max 2 Adults
Instantly feel that light, serene and peaceful atmosphere as you enter the Junior Suites. The light wood floor and furniture, rattan, white ceilings and walls with the delicate and refined exotic wall paper create a harmonious combination of elegance with the transparency of contemporary design.
51m²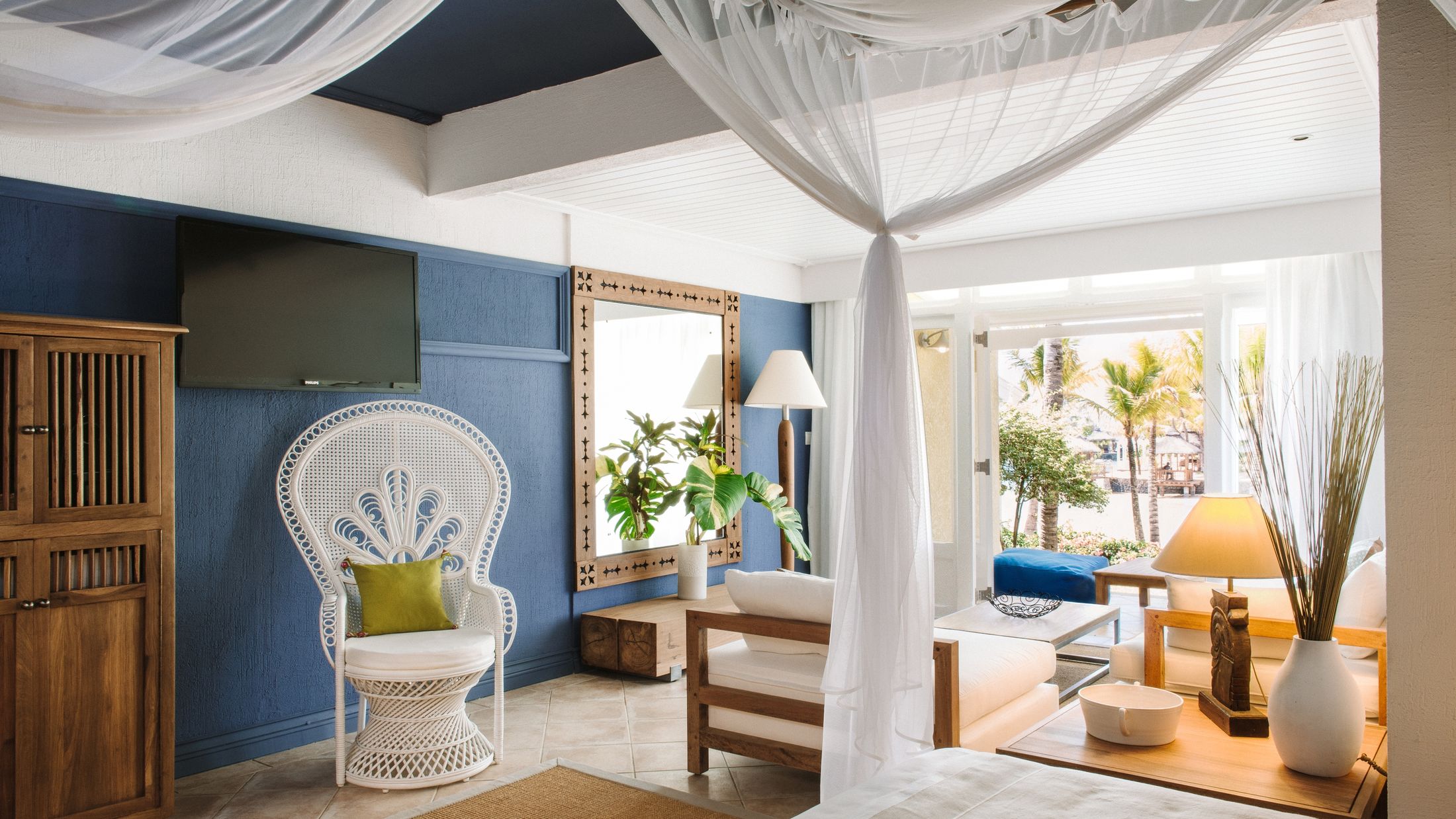 Prestige Junior Suite
Max 2 Adults
The peaceful Prestige Junior Suites boast a cosy, comfortable lounge and a delightful terrace that opens on to the garden. The light wood floor and furniture, rattan, white ceiling and walls, create a chic and warm atmosphere that accompany the beautiful wallpaper and fourposter bed, which is a simple reminder of the surrounding nature.
54m²
Senior Suite
Max 2 Adults
The spacious Senior Suites offer a large interior and exterior living space, each decorative item with its personal story to share. Marble top bedside tables and tropical wallpaper are amongst the collection of antique furnishings that this room plays host to. Relax on comfortable sofas as you sit and enjoy an interesting book from the bookshelf whilst gazing out to sea. Or admire the views out to sea on the beautiful terrace, if you prefer the outdoor feel.
98m²

Based on 164 traveller reviews

96% of travellers recommended this hotel
Travellers Ratings
What to expect
Reviews
Brit-abroad-in-Asia, Asia
Sep 20 2020
Our holiday here was just fantastic. After a bit of a rocky start when we had to wait for our room after a long flight - the rest of the week was perfect. The room was beautifully decorated with a...
Our holiday here was just fantastic. After a bit of a rocky start when we had to wait for our room after a long flight - the rest of the week was perfect. The room was beautifully decorated with a stunning view of the lagoon. All of the restaurants - there were four to choose from - delivered fantastic food, each with its own theme and cuisine. The views from the bar out over the reef were beautiful and the all-day inclusive service of drinks to the sunbed was delivered with a smile by Michael who always seemed to know when you needed a refill. We didn't actually do much except rest and relax, but I enjoyed the snorkling trip out over the reef and the glass bottom boat ride. The spa was also nicely presented and giving very relaxing massages. All in all - a lovely stay and highly recommend.
View full review
"
Perfect Boutique Hotel!
diina_08, Lucerne, Switzerland
Aug 25 2020
We have been for the very first time in Mauritius and it was the best vacation we ever had! The stuff at the Paradise Cove is very friendly! We stayed there for around 10 days and everything was...
We have been for the very first time in Mauritius and it was the best vacation we ever had! The stuff at the Paradise Cove is very friendly! We stayed there for around 10 days and everything was great! The rooms are very nice and clean and due to the small hotel we had more than enough privacy. The pool area ???in front??? of the sea could be a bit bigger but the rest is just amazing. We liked the concept of ?? la carte and buffet in the evening and we have to highlight that the food quality was very good - especially we liked the ???Indian buffet night???. We can recommend the couple massage in front of the sea and other Spa treatments like Manicure. The ladies did a great job! Moreover, for my boyfriends birthday I organized a ???You&Me??? Moment??? which was provided by the hotel and all of them helped to make it a wonderful day! He even received a birthday cake in the evening! You can really see that the whole stuff is doing their best, no one ever passed and did not say ???hi??? - really nice! We would come again! :)
View full review