Situated on Agadir's beautiful coast
Typical Kasbah style with modern touches
A choice of six bars with nightly live music
Relax in the indulgent oriental spa
Two pools with luxe covered sun beds
Elegant and contemporary, the Sofitel Agadir Royal Bay Resort is located on the coast of a palm-fringed bay where a wonderful sandy beach lends itself perfectly to the calming atmosphere. Vibrant fabrics and wrought iron blend with cool tones to create a modern feel with a touch of tradition, a style typical of Kasbah architecture. A choice of generous guest rooms achieve refined comfort with a quality finish. Upgrade to an ocean view room for a stunning backdrop to complete the relaxing oasis. Indulgence is paramount at the luxurious spa where oriental influences infused with modern facilities provide a full range of pampering treats. Four exquisite restaurants and six bars also await with tempting menus to complete your Moroccan experience.
Facilities
Bars & Restaurants
La Caravane
Opening Times:
06:30 - 10:30
19:30 - 22:30
Experience a tantalising array of international flavours at this design-conscious family-friendly eatery. Morning and evening buffets can be enjoyed in the cosy dining room or on the sun-drenched terrace, where the sights and sounds of Agadir can be enjoyed along with your meal.
La Nasse
Opening Times:
12:30 - 15:00
19:30 - 22:30
Beautifully located by the hotel's poolside gardens, this authentic Asian restaurant brings a taste of the Far East to Agadir. Food is cooked in front of your eyes, as the expert chefs prepare a varied array of classic dishes, ranging from sushi to noodles.
Le Riad
Le Riad is probably the resort's most spectacular venue. Set under a retractable roof, the scene is light and casual of a morning, when coffee, pastries and shisha is on offer. Of an evening, the venue transforms with help from a hundred flickering candles and live guitar music, with the climax involving an exciting fire ritual that will have your heart racing.
Pool Lounge Bar and Restaurant
Opening Times:
11:00 - 17:00
This al fresco terrace cafe serves a delectable array of light lunch options, in dazzling sun-drenched surroundings. There are plenty of sun-shaded mosaic tables to dine at should the sun prove too much, and the wide range of salads and grilled sandwiches are sure to compliment a morning spent by the pool.
So Good
Opening Times:
19:30 - 00:00
Enjoy a trend-setting mix of French an Moroccan flavours at this innovative and chic restaurant. Open for dinner only, this stylish venue is the perfect place to go for a special occasion or treat.
Beach & Pools
Swimming Pool
The resort's uber-stylish pool is a tranquil escape from it all, complete with beach views and carefully designed sun terraces, luxe loungers and picturesque clusters of native palms.
For Families
Children's Club
The resort offers younger guests plenty of fun activities, thanks to the children's club - aimed at guests aged 4 to 12 years of age. There are also playground facilities close at hand.
Spa & Wellness
Spa
Put yourself in the capable hands of the resort's trained therapists and experience a wide range of treatments, enhanced with natural essential ingredients like orange and eucalyptus. A fitness centre is also available, helping you complete your wellness experience.
About the location
It's easy to see why Agadir is Morocco's number-one resort. You've got a huge nine-kilometre crescent of golden sand, backed by dunes and bathed in year-round sunshine (300 days a year, to be exact). Rebuilt virtually from scratch after an earthquake in the 1960s, this is Morocco at its most modern. The traditional Moroccan style has a contemporary edge, with a wide palm-shaded promenade parallel to the beach and a swish new marina (Agadir's punchy nightlife offering, with upmarket bars and restaurants). A day on the greens is easy; there are four top-notch golf courses within around half an hour of Agadir. For a feel of typical Morocco, you can swap water-skiing for a camel ride or even take a spin in a dune buggy, and have a wander of the local souk for a glimpse into the resort's sand-dusted past.
Transfer time
25 minutes from Agadir airport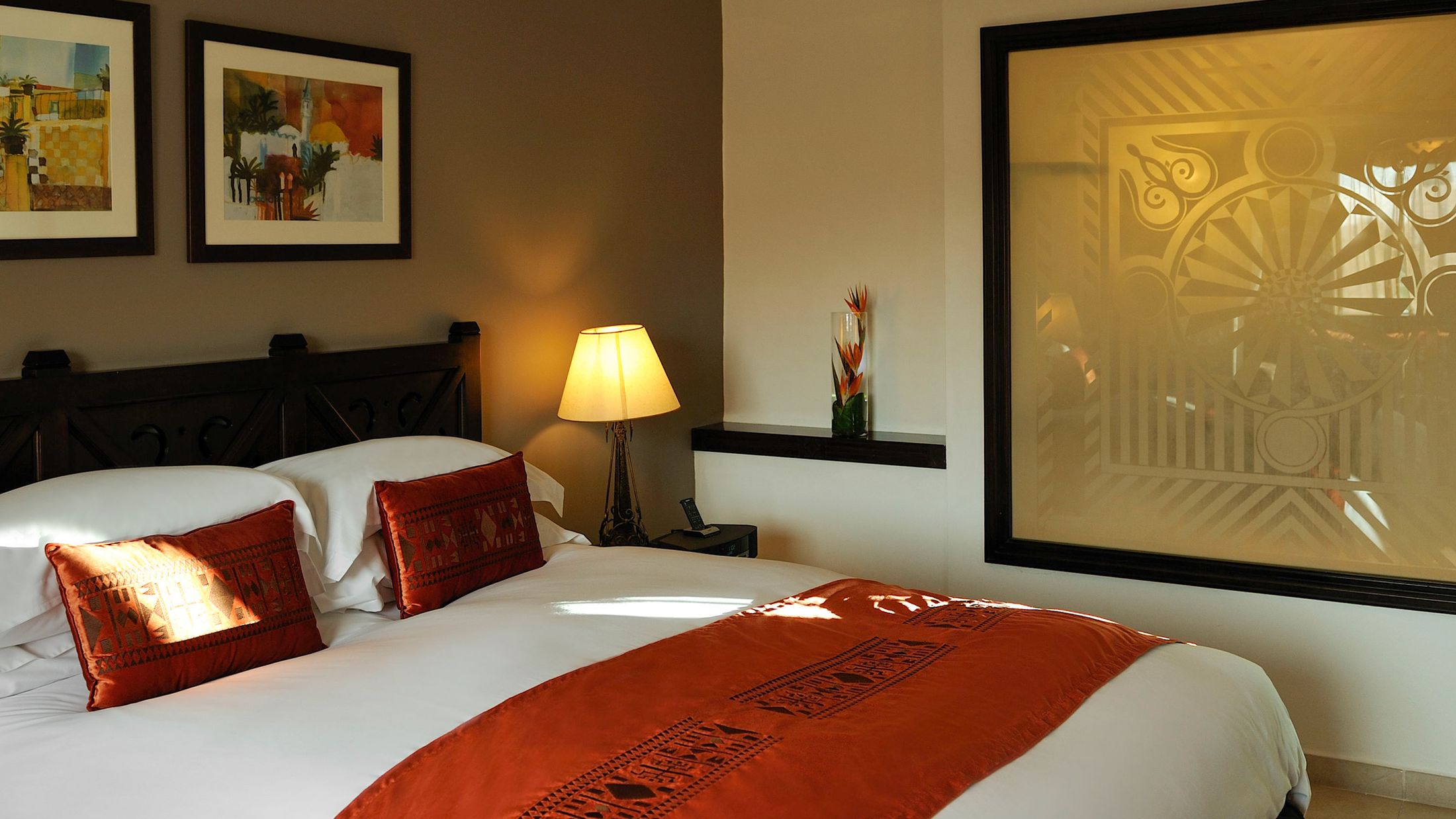 Classic Room
Max 2 adults, 1 child
Classic rooms offer a spacious setting with furnishings and decor inspired by traditional Moroccan designs.
30m²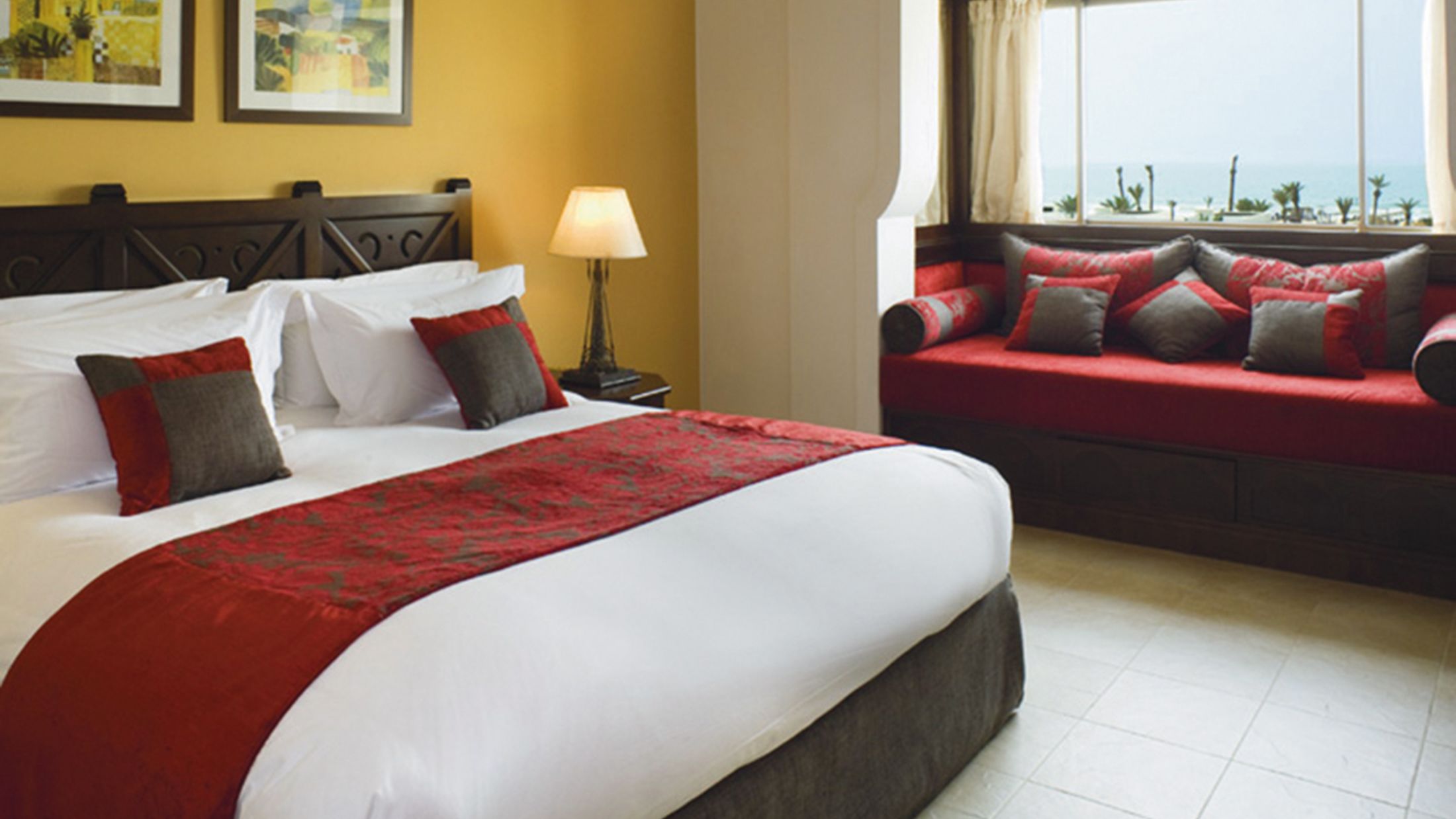 Superior Room
Max 2 adults, 1 child
Superior Rooms are the same as Classic rooms, but have a pool view.
30m²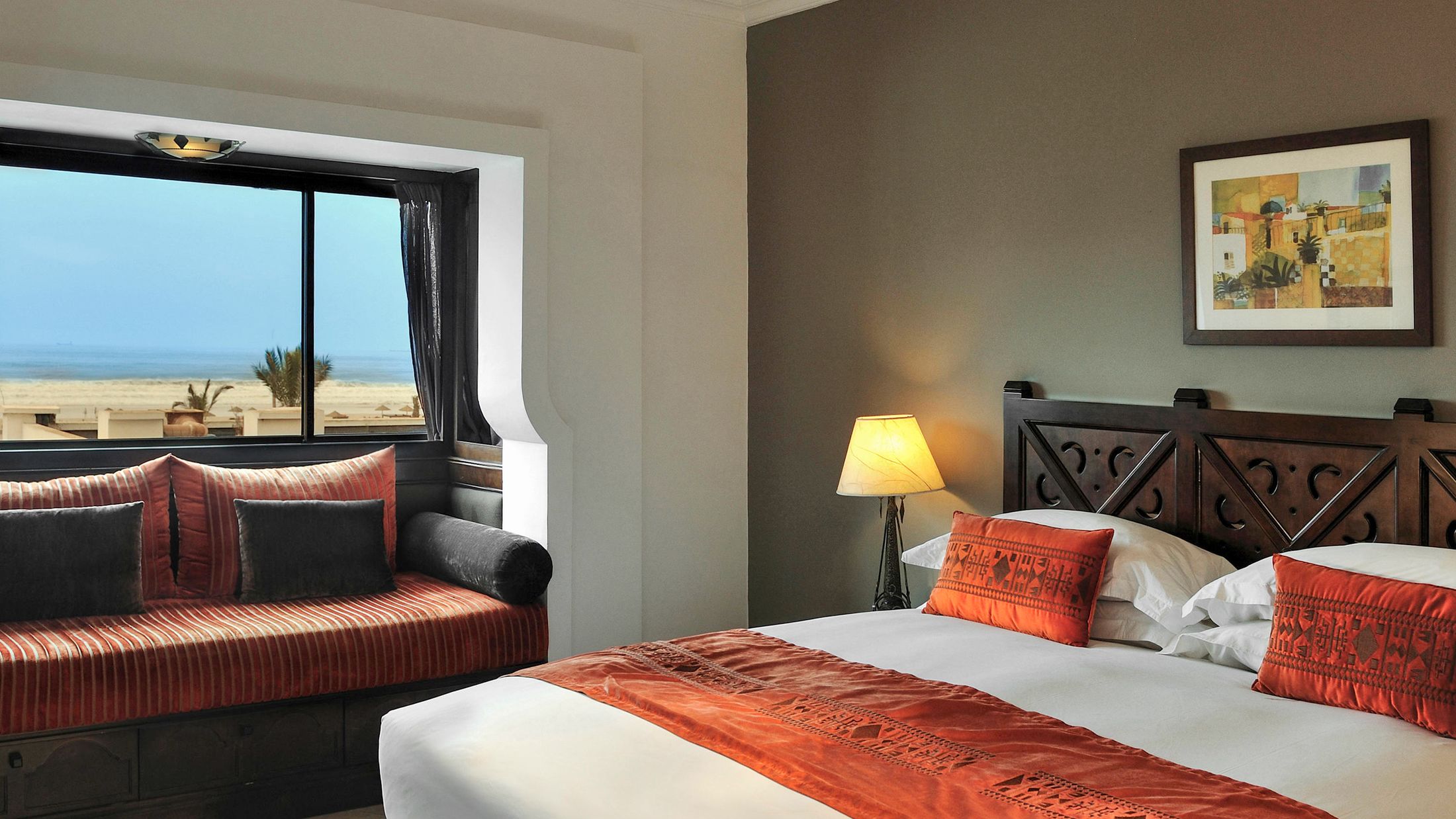 Deluxe Ocean View Room
Max 2 adults, 1 child
Deluxe Ocean View Rooms are the same as Classic rooms, but have an ocean view.
30m²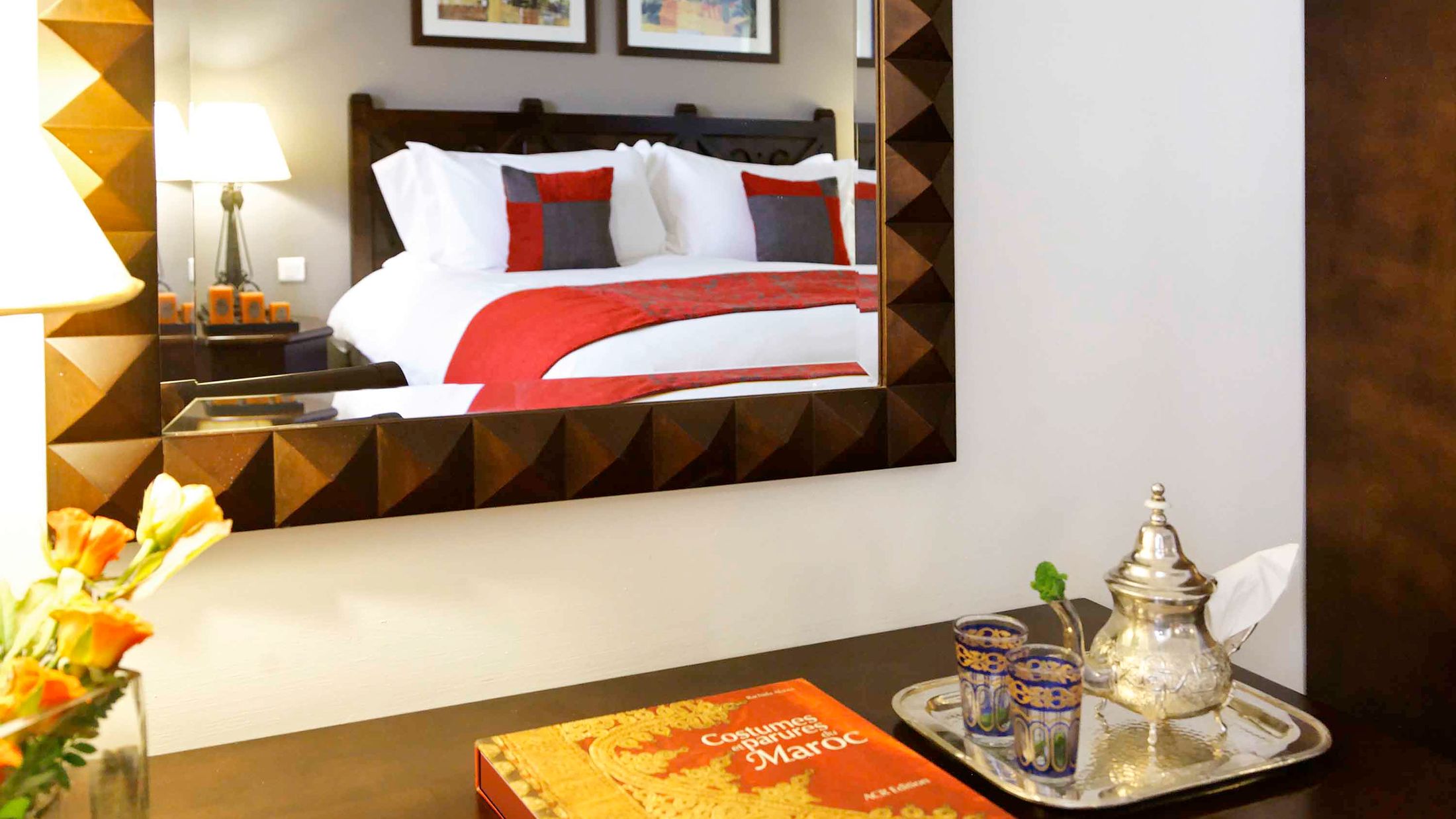 Deluxe Room with Terrace or Balcony
Max 2 adults, 1 child
Deluxe Rooms with Terrace or Balcony have a furnished terrace or balcony.
30m²
Sovereign Experiences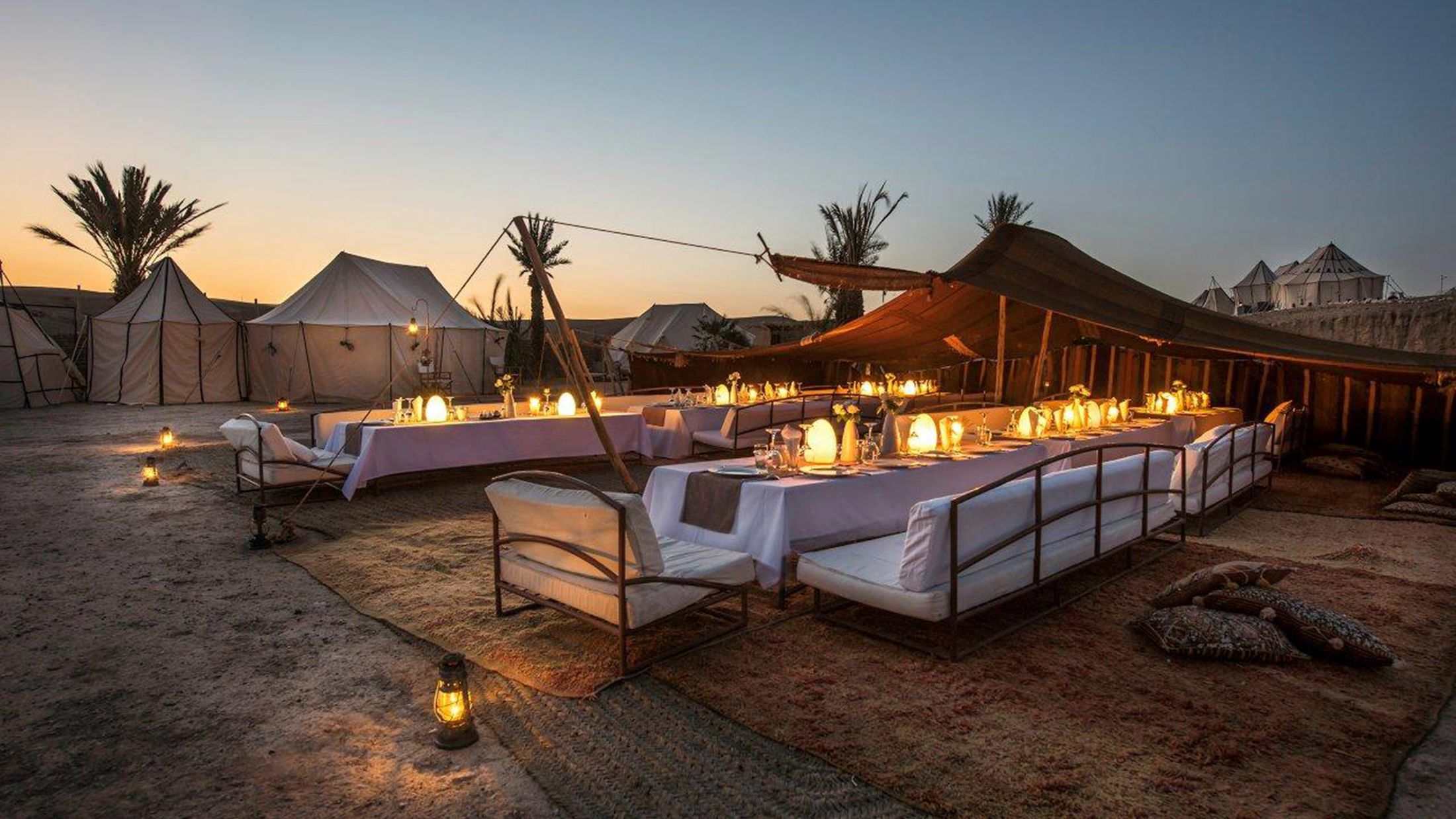 Step a short distance away from bustling Marrakech and you'll find yourself in the dramatic Agafay Desert. Nestled in a valley of palms and olives, La Pause is an elegant glamping experience. The accommodation is beautifully decked out with soft furnishings, fine linen and Berber rugs. Guests can enjoy al fresco dining, open plan living, an inviting central lounge, and day activities from walking to horse riding. By night, your peaceful oasis is lit up with candles and solar lights, and banquets are put on.
View the La Pause Hotel
---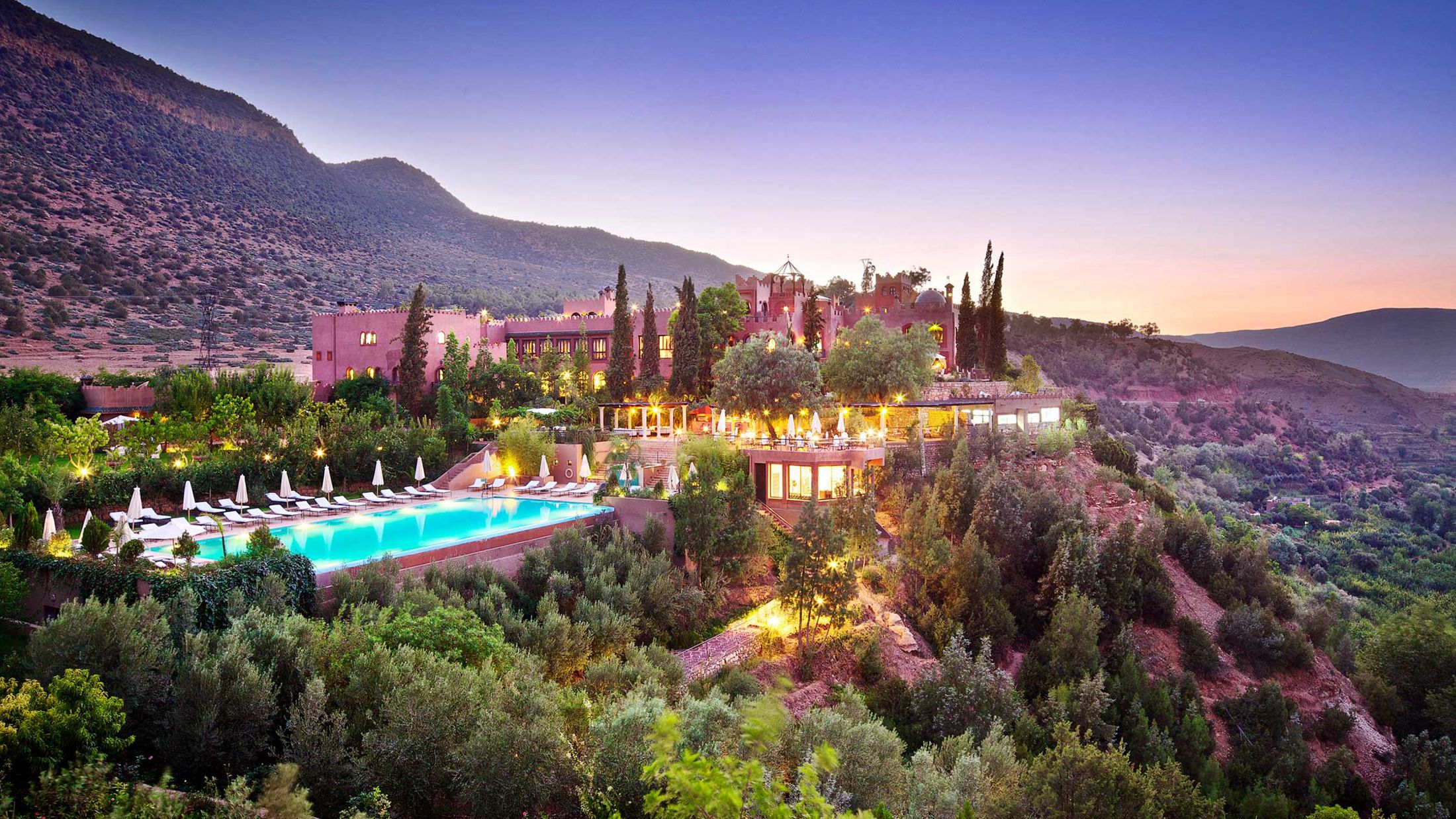 Combine pure luxury and adventurous living with a short stay in the Atlas Mountains. One of Sir Richard Branson's private getaways, the Kasbah Tamadot perfectly matches high life living and breathtaking views of the valleys and mountains. Enjoy al fresco dining, world class spa treatments and luxuries like the open air cinema.
View the Kasbah Tamadot Hotel

Based on 3444 traveller reviews

81% of travellers recommended this hotel
Travellers Ratings
What to expect
Reviews
Rachid E,
Jun 21 2019
Booked a 3 night stay in a luxury sea view room on the third floor. Room was very nice, clean and fresh looking and the view is perfect from the third floor terrace. Facilities are great with a nice...
Booked a 3 night stay in a luxury sea view room on the third floor. Room was very nice, clean and fresh looking and the view is perfect from the third floor terrace. Facilities are great with a nice selection of restaurants and a fe barw and two swimming pools. Plenty of poolside beds along the pool area and robot service around. Food quality and selection was excellent, service was fantastic and the supply of drinks is just perfect. Local spirits and wine are the best.
View full review
BethanyJadeTravel, Manchester, United Kingdom
Jun 19 2019
Overall we had an excellent stay. Upon arrival we were given Moroccan tea and biscuits which was lovely. However, we had issues with our door key and we couldn???t get in or out of our room. It was...
Overall we had an excellent stay. Upon arrival we were given Moroccan tea and biscuits which was lovely. However, we had issues with our door key and we couldn???t get in or out of our room. It was only sorted three hours later so we had to wait around for a long time until somebody finally helped us. Not a great start. This meant we couldn???t leave the room together all afternoon and we wanted to go out and explore. However, the rooms are very high quality, the maids came every day and cleaned the room/delivered fresh towels. A special thank you to Mina for her fabulous service. Every afternoon we were also given fresh bottles of water. The staff always asked if you are ok / if you needed anything and were very approachable and friendly. The beach is very nice and the staff serve you at your bed around the pool and on the beach beds at the beach - should you want this. After two days at the hotel, we realised it was very expensive. We had only paid for bed and breakfast and to drink a single small beer it was around ??6. There aren???t many bars near to to the hotel but a taxi is around 30 dirhams (??3) into town. We therefore decided to upgrade to all inclusive as we were prohibited to bring our own alcohol around the pool and it worked out cheaper. This cost an extra ??800 for the remainder of the holiday (the next 9 days). We didn???t mind paying this as the food and drinks were excellent! The staff do go above and beyond for you. My boyfriend purchased a blow up dingy for the pool. However, we had no pump to pump it up. The head of security and the driver Aziz therefore drove him into town to a nearby mechanic near Marjane supermarket to sort it out, it was really lovely of them. A special thank you in particular to Ayoub on security who was very friendly and also helped us out a lot! The only other downside I would mention would be that - on one occasion I took a bottle of water out of the mini bar in the night. The hotel gave out free bottles of water in the evening however, they charged us 35 dirhams (??3.50) at checkout. This was despite the fact that we were all inclusive. I thought was very cheeky, especially considering we???d given around 50 pounds worth of tips in the hotel. All in all a fabulous hotel with great facilities and lovely staff
View full review