You could never imagine that this stunning oasis in the expansive Agafay Desert is located just 20 miles from the bustle of Marrakech's famous markets and medinas. A perfect two-night addition to a stay in Morocco's most iconic city, the La Pause is a unique rustic eco-resort boasting a range of activities, a swimming pool and stunning desert views. Despite it's city proximity, it provides a feeling of absolute seclusion, disconnected from the outside world with no electricity and minimal mobile reception. Offering classic Berber tents with king-size beds, desert views and surrounding furniture for comfortable nights under the stars. The stylish lodges were built using a traditional combination of mud and straw, lit by only candlelight and oil lamps, they boast a large double bed, rain showers, sofas and quintessential rugs. A fireplace for those cool desert nights and a patio-sun lounger for the hot Sahara days are also supplied.

With multi-coloured hammocks, an organic garden, a massage tent and delightful Berber cuisine served al fresco on the open terraces, you can enjoy the authentic nature of the desert in comfort. For those looking for unique experiences to write back about, the La Pause offers guided camel rides, quad biking, horse treks, cooking classes, calligraphy lessons and even some desert-style crazy golf.
Hotel child prices apply to ages 0-11 years

A lunch supplement is required as the La Pause's natural seclusion means there are no other options for dining nearby
The hotel has 8 double en suite bedrooms comprising of five large lodges.
• Stunning views across the desert
• Perfect to twin with Marrakech city stay
• Experience authentic Morocco in absolute comfort
• Array of exciting activities
Facilities
Bars and Restaurants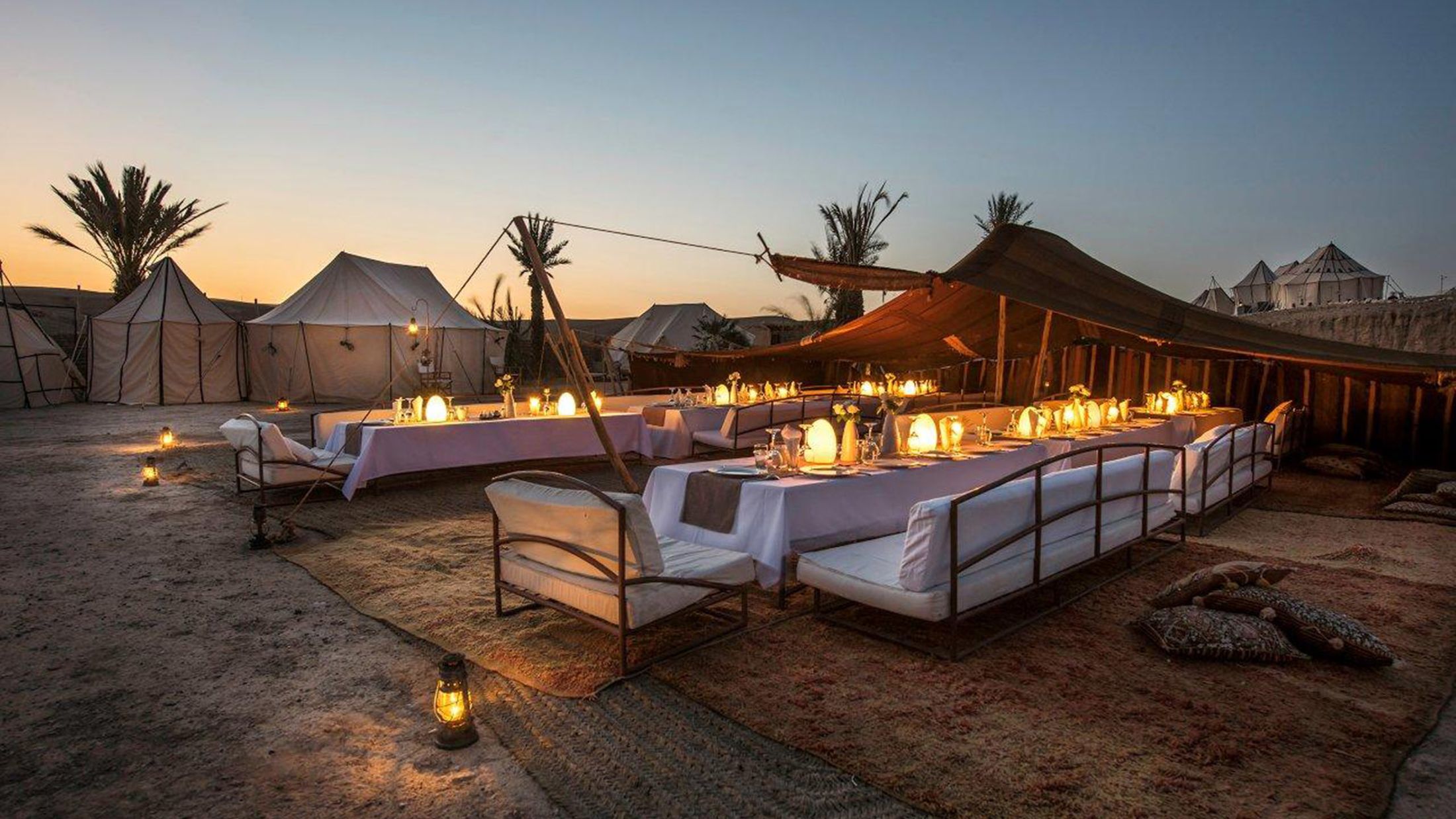 The Terrace
Guests will be provided traditional Moroccan cuisine either on the terrace with a dune view or in one of the classic Berber tents.
Beach and Pools
Swimming Pool
Despite its remote nature the La Pause still boasts a cold water swimming pool surrounded by shrubbery and shade, perfect for cooling off out of the red sun.
Activities and Entertainment
Camel Riding
Follow a guided rider for an hour, experiencing traditional ways of travel by nomadic tribes in the centuries gone by.
Cooking Classes
Go behind the scenes at La Pause, step into a traditional Moroccan kitchen run without electricity. The chief chef will show you how to cook up a variety of delicious dishes from tajines to traditional couscous and many other authentic meals.
Cross Crazy Golf
Experience a golf experience like no other, take to the 9 hole course in the dried out river beds surrounding La Pause.
Guided Walks
Whether you're after a relaxing walk in the dunes or are determined to see some of the wild life in its natural habitat, there is always something for everyone of all ages and abilities on these nature guided works.
Horse Trekking
The more experienced riders can take a 2 hour tour off into the desert through rocky valleys and dried up river beds, providing incredible views throughout.
Quad-Biking
Journey over the dunes at full speed for a thrilling two hour ride on a quad-bike or dune buggy.
About the location
Marrakech's beauty is as distinctive as it gets – minarets, mosaics and the fountains of riad courtyards, all set against the backdrop of the snow-tipped Atlas Mountains. One of Morocco's most important cities, Marrakech fuses Arabic and African to form a fascinating cultural capital.
Its pulsating heart is Djemaa el-Fna, a big square set on the edge of the old city. Here you'll find rows of open-air food stalls (try the melt-in-your-mouth lamb tagine or seafood brought in from Essaouira that morning), while jugglers, snake charmers and belly dancers put on a show.
For souvenir shopping, go traditional. The aromas and vibrant colours of the souks are the classic snapshot of Marrakech. The labyrinth of stalls sells bags of aromatic spices, hand-beaded slippers and delicate jewellery, with different souks specialising in different goods. Start at Souk Semmarine, which sells an intriguing mix of everything – but don't forget to haggle...
Transfer Time
La Pause is 40 minutes from Marrakech Airport.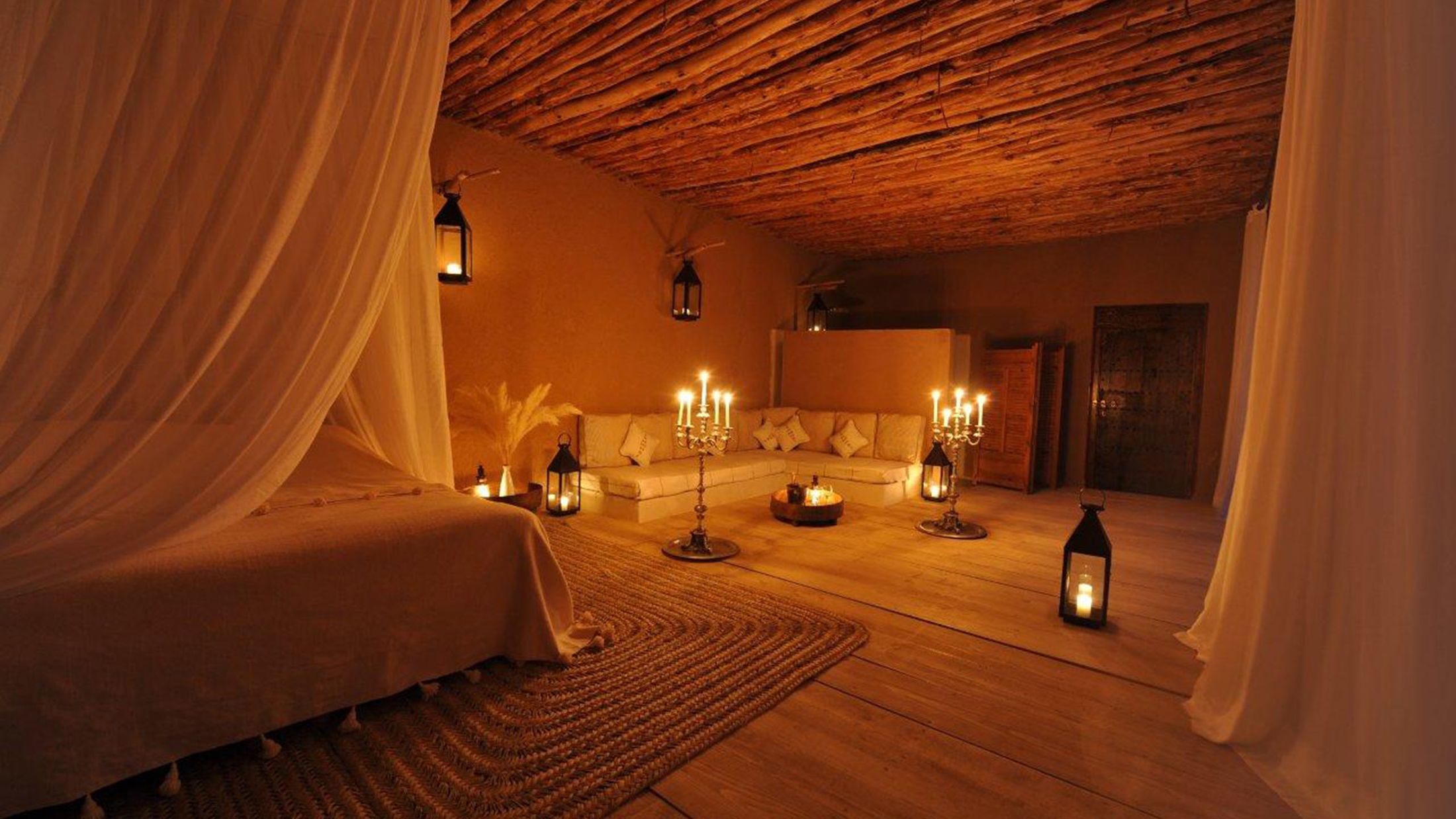 Lodge Rooms
Max 3 adults
Spacious with a seamless combination of modern decor and an authentic Moroccan theme, the Lodges provide premium luxury with large double beds, rain showers, comfortable sofas and traditional Arabic patterned rugs and cushions. The candles and oil lamps create a magical glow about the place, illuminating the room with a warm orange tint and cosy atmosphere, heightened when used with the fireplace on those cool desert nights. Outside, there is a patio sun-lounger for morning mint tea and basking in the warm Saharan sun. All of the lodges offer the utmost privacy with a notable distance between them.

Based on 276 traveller reviews

81% of travellers recommended this hotel
Travellers Ratings
What to expect
Reviews
Emma C, Calne
Aug 10 2018
Stayed here for one night as part of our tour. Took a camel ride and then had a fantastic three course meal. The tents and bathroom facilities were great and i really enjoyed my stay. The walk back...
Stayed here for one night as part of our tour. Took a camel ride and then had a fantastic three course meal. The tents and bathroom facilities were great and i really enjoyed my stay. The walk back to the tents was a bit interesting with a pond full of frogs.
View full review
"
Desert dinner and camel ride for a corporate event
Samera E, San Francisco, California
Aug 06 2018
Our group, comprised of about 30 team members from four countries spent one week in Marrakech for a conference. We had one activity evening, and leaving Marrakech for an adventure and luxury evening...
Our group, comprised of about 30 team members from four countries spent one week in Marrakech for a conference. We had one activity evening, and leaving Marrakech for an adventure and luxury evening in the desert with La Pause was amazing. La Pause expertly hosted this exclusive event and it was even more breathtaking than the photos or description can convey. They picked us up in modern comfortable vans with A/C and took us to a small ???village??? near La Pause where the camel herders were. The drive was about 45 minutes/1 hour. When we arrived, we had tea in a small courtyard and everyone enjoyed looking around. The camel caravan then took the group to the entrance of La Pause where we walked the rest of the way. It was a beautiful little oasis in the middle of the dunes. We heard the music start and the traditional drummers played for us as we were greeted with another iced beverage and then walked up to the lookout point for the sunset and cocktail hour. When we got to the top of the hill, they had a bar with wine and beer as well as passed appetizers and lounge area set up for us with rugs and cushions. Our group had a ceremony of speeches in this area as the sun was setting. The drummers started again and led us down to the dinner tent, which was magical with lanterns, candles, and fire pits. It was stunning. Dinner was delicious ??? each person had an individual plated four course meal. During dessert, the fire show started and was the perfect conclusion to the night. Planning in collaboration with La Pause was a very smooth experience. They answered all of my questions and demonstrated expertise in the event arena. The entire evening flowed so smoothly, it was clear they had this so well planned out. My favorite thing from the planning perspective was that I emphasized my desire to make sure everything happens in a timely manner so that we would not get back to Marrakech too late, and they really made it happen! They paid strict attention to the schedule and everything was on point. Given that it was so hot every day, I was concerned that we might be too hot or uncomfortable during the camel ride, but the evening actually cooled off during sunset when we arrived. We were very comfortable overall. After reading some reviews, I was sure to set expectations with our group that we would be in a stone desert rather than a sandy desert. Given the beautiful dunes and rustic setting, everyone enjoyed it, and it was a perfect desert outing. Huge thanks to Rhythm, Mostapha, and the amazing servers and performers. All of the guests were incredibly impressed and couldn???t stop talking about it the next day.
View full review