An authentic Moroccan riad
Close to the Royal Palace and souks
Just 36 light and modern guest rooms
Learn new skills at the Moroccan cookery school
Wellbeing centre featuring a hammam
Just a stone's throw from the Royal Palace and within easy reach of the bustling souks, the charming Les Jardins de la Medina is a calm oasis in the heart of Marrakech. After a busy day exploring the bustling Medina, the hotel's beautiful gardens provide the perfect place to simply relax. Walk amongst the centuries-old palm trees, orange trees and small fountains, and find a secluded corner where you can sit back and appreciate the tranquil atmosphere. This authentic riad, a part of the prestigious Châteaux et Hotels Collection, has just 36 guest rooms and perfectly blends traditional architecture with contemporary finishes. The hotel's bar offers the perfect opportunity to sip a drink next to the cosy fireplace or in the garden under a blanket of stars. At the Les Jardins de la Medina a personal service and ideal location combine to ensure a memorable holiday.
Hotel child prices apply to ages 4-11 years for Superior Rooms and 3-11 years for Solarium and Sultane Rooms.
The hotel has 36 rooms.
Facilities
Bars & Restaurants
Les Jardins de la Medina Restaurant
Opening Times:
Breakfast : 7:30 to 10:30
Lunch : 12:00 to 15:30
Dinner : 19:30 to 22:30
Room service : 7:30 to 22:30
The Restaurant is a place rich with history; set in the Riad's former reception hall, the lofty ceilings and historic wood furnishings conjure thoughts of old-world Morocco. Lunch is a light and airy affair, with terrace seating and a simple yet delicious menu, while dinner steps the creativity up a notch, offering an inventive menu that focusses on seasonal ingredients accompanied by fine Moroccan wines.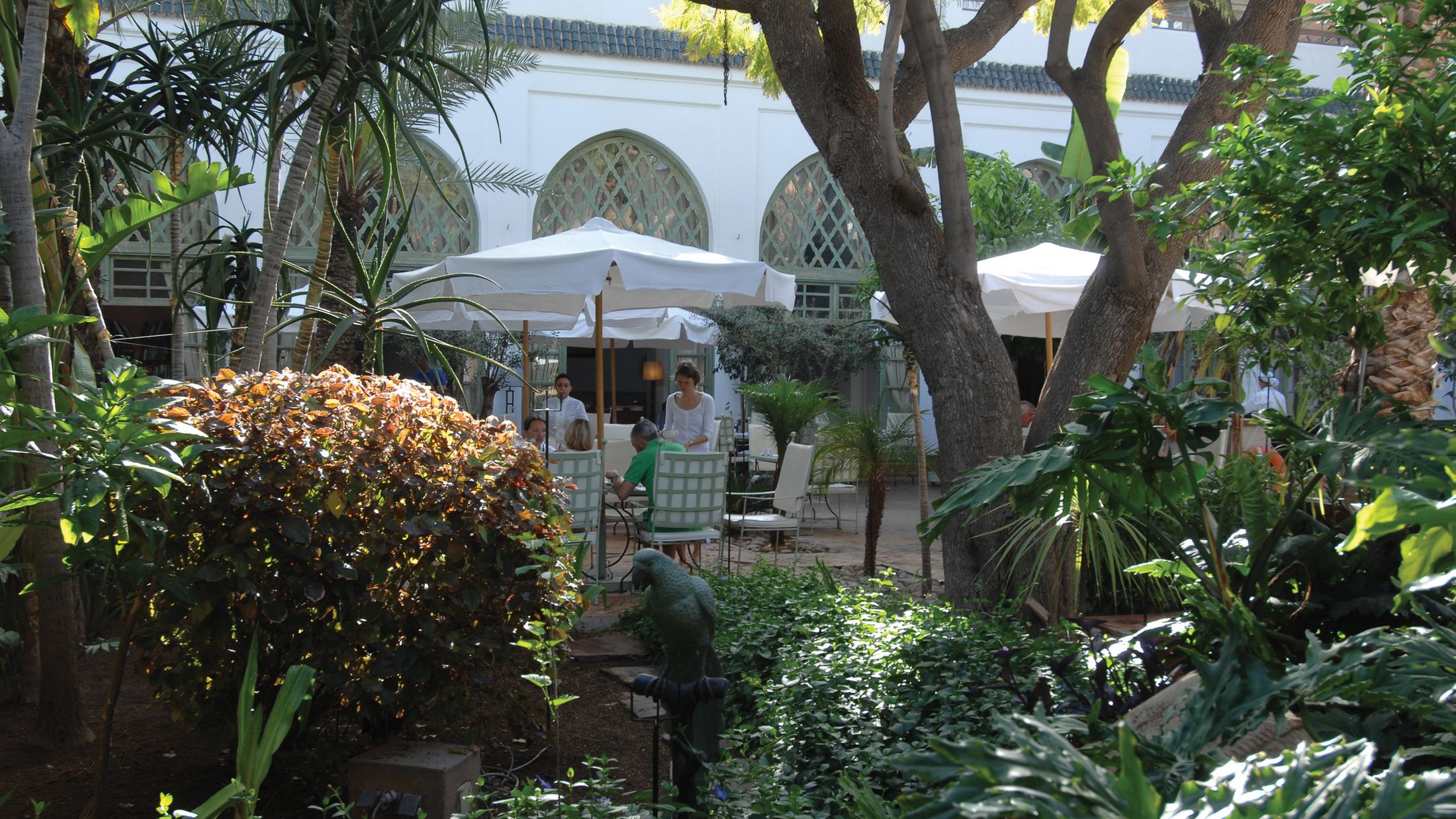 Beach & Pools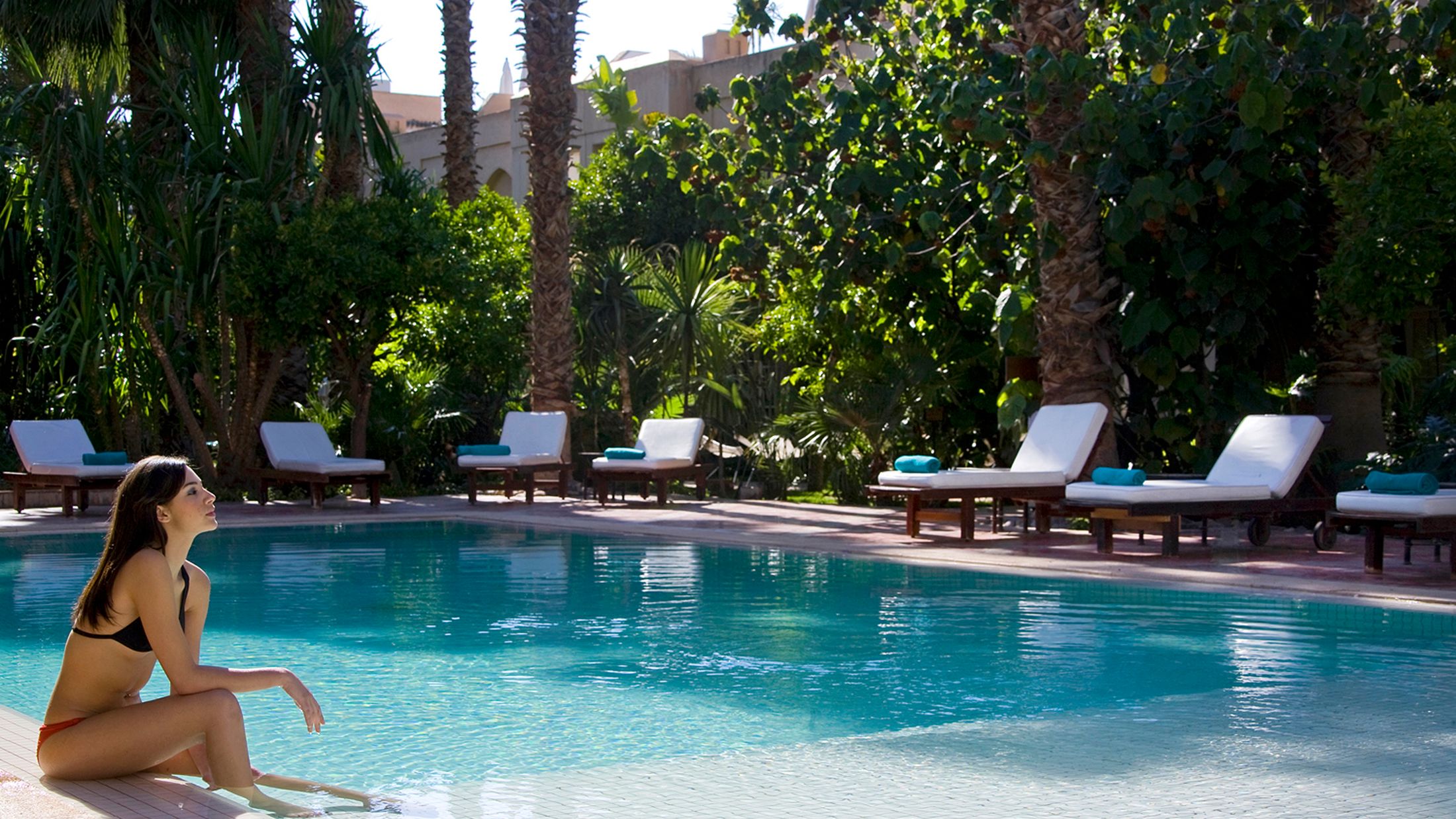 Swimming Pool
The hotel's pool area is a sanctuary away from the stresses of everyday life. There's solarium space for soaking up the sun, a tranquil swimming pool (heated during winter) and lush gardens for a beautiful backdrop.
Spa & Wellness
Well-Being Centre
Step into a world of Moroccan rejuvenation at the hotel's Well-Being Centre. Dramatic tiled interiors create an authentic atmosphere, and a wide range of Argan oil massages, perfumed facials and classic Middle Eastern treatments ensure that you'll emerge feeling like a new you.
Activities & Entertainment
Cookery School
The hotel's cookery school is one of Marrakech's most prestigious, helping aspiring chefs to learn the ways of the authentic Moroccan cook. Set amid the pergolas of the hotel's rooftop, the setting is sublime, and the aromas of the sizzling ingredients will be sure to tempt even the most cautious of cooks into trying new things.
About the location
Marrakech's beauty is as distinctive as it gets – minarets, mosaics and the fountains of riad courtyards, all set against the backdrop of the Atlas Mountains. One of Morocco's most important cities, Marrakech fuses Arabic and African to form a fascinating cultural capital. Its pulsating heart is Djemaa el-Fna, a big square set on the edge of the old city. Here you'll find rows of open-air food stalls (try the authentic lamb tagine) while jugglers, snake charmers and belly dancers put on a show. For souvenir shopping, go traditional. The aromas and vibrant colours of the souks are the classic snapshot of Marrakech. The labyrinth of stalls sells aromatic spices, beaded slippers and delicate jewellery, with different souks specialising in different goods. Start at Souk Semmarine, which sells an intriguing mix of everything – but don't forget to haggle...
Transfer time
10 minutes from Marrakech airport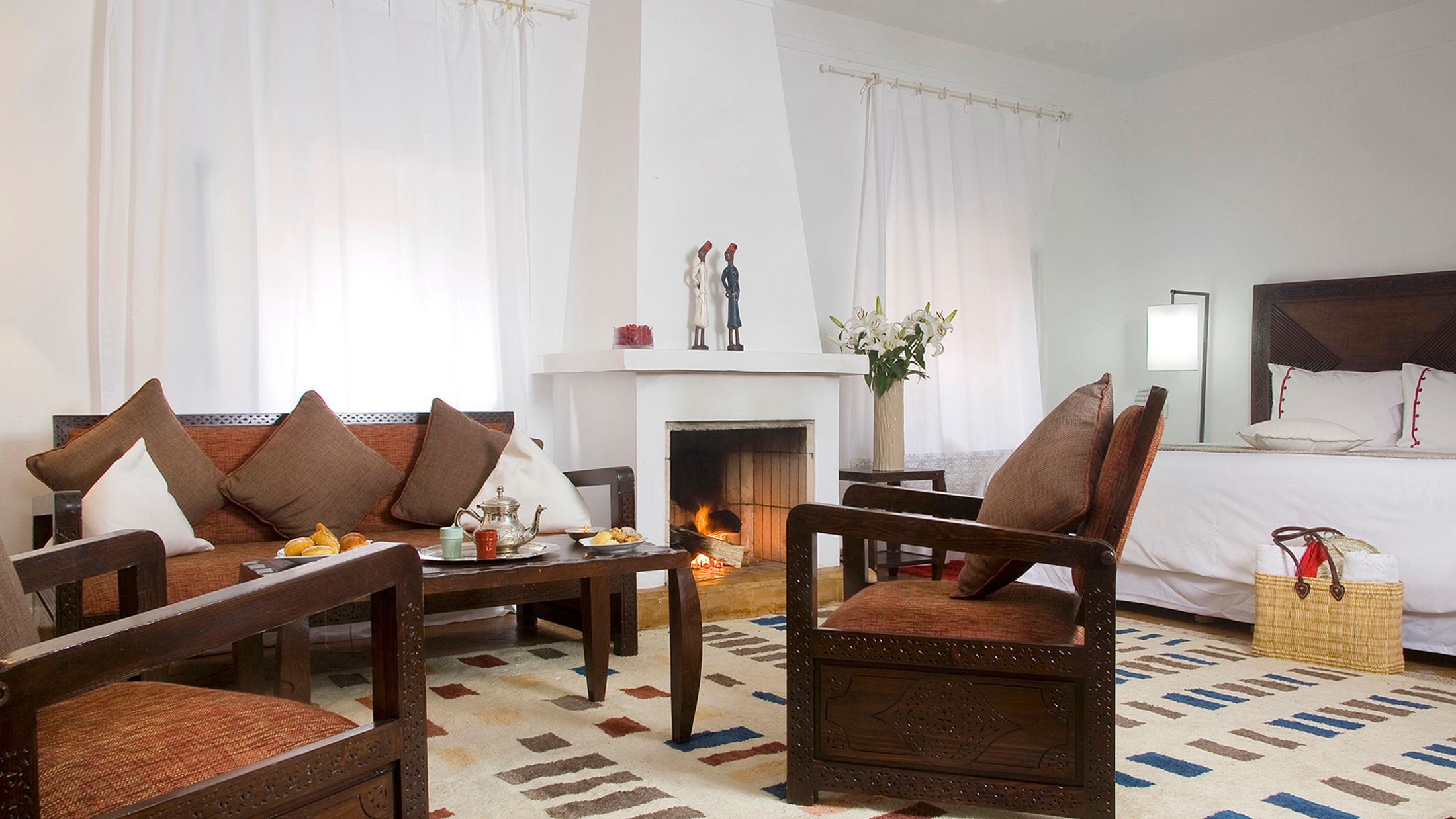 Superior Patio View Room
Max 3 adults, 1 child
Superior Patio View Rooms are arranged around courtyards of fountains, jasmine, orange or palm trees.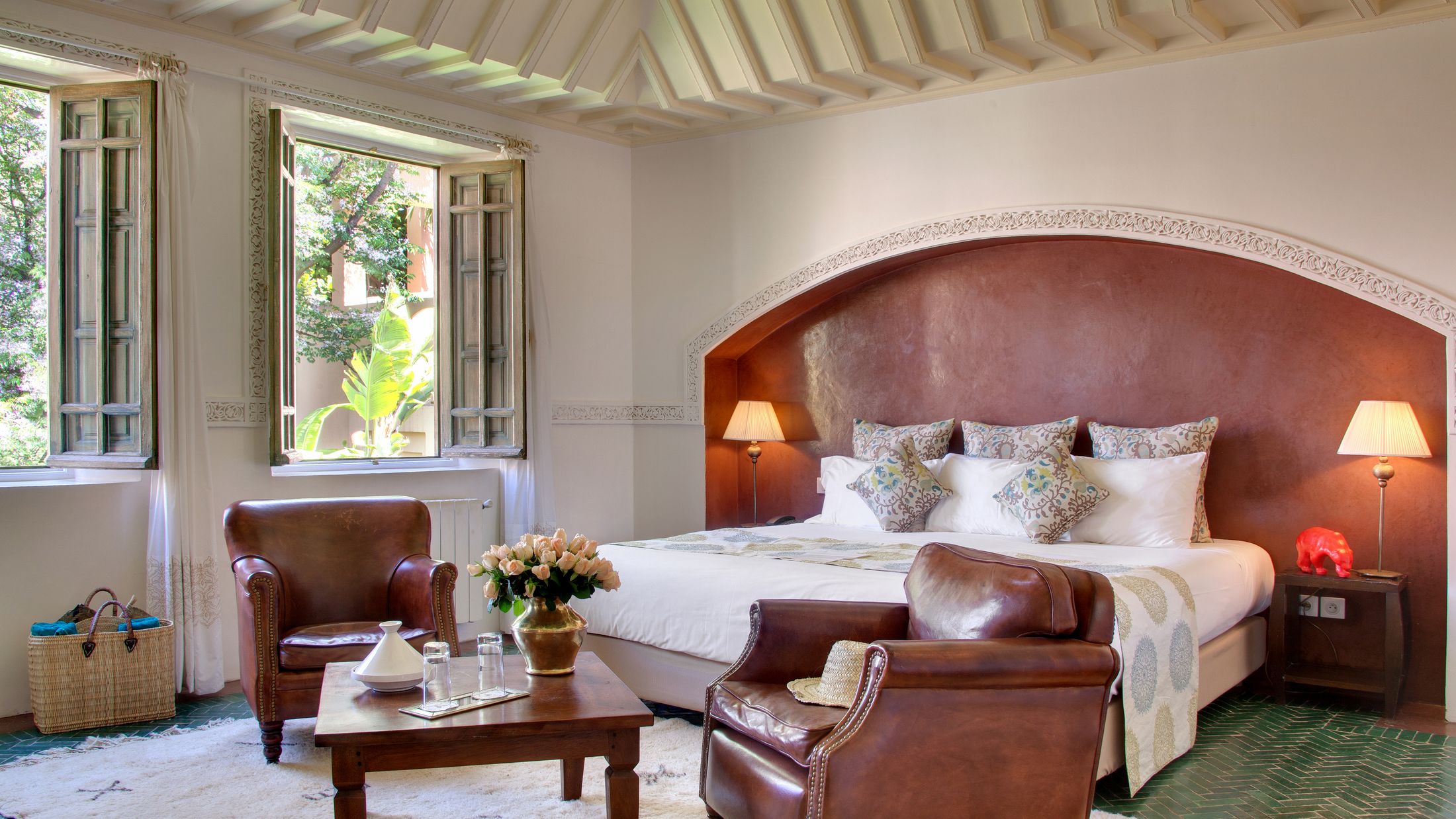 Superior Garden View Room
Max 3 adults, 1 child
Superior Garden View Rooms offer very pleasant views in both summer and winter and are located on the garden side.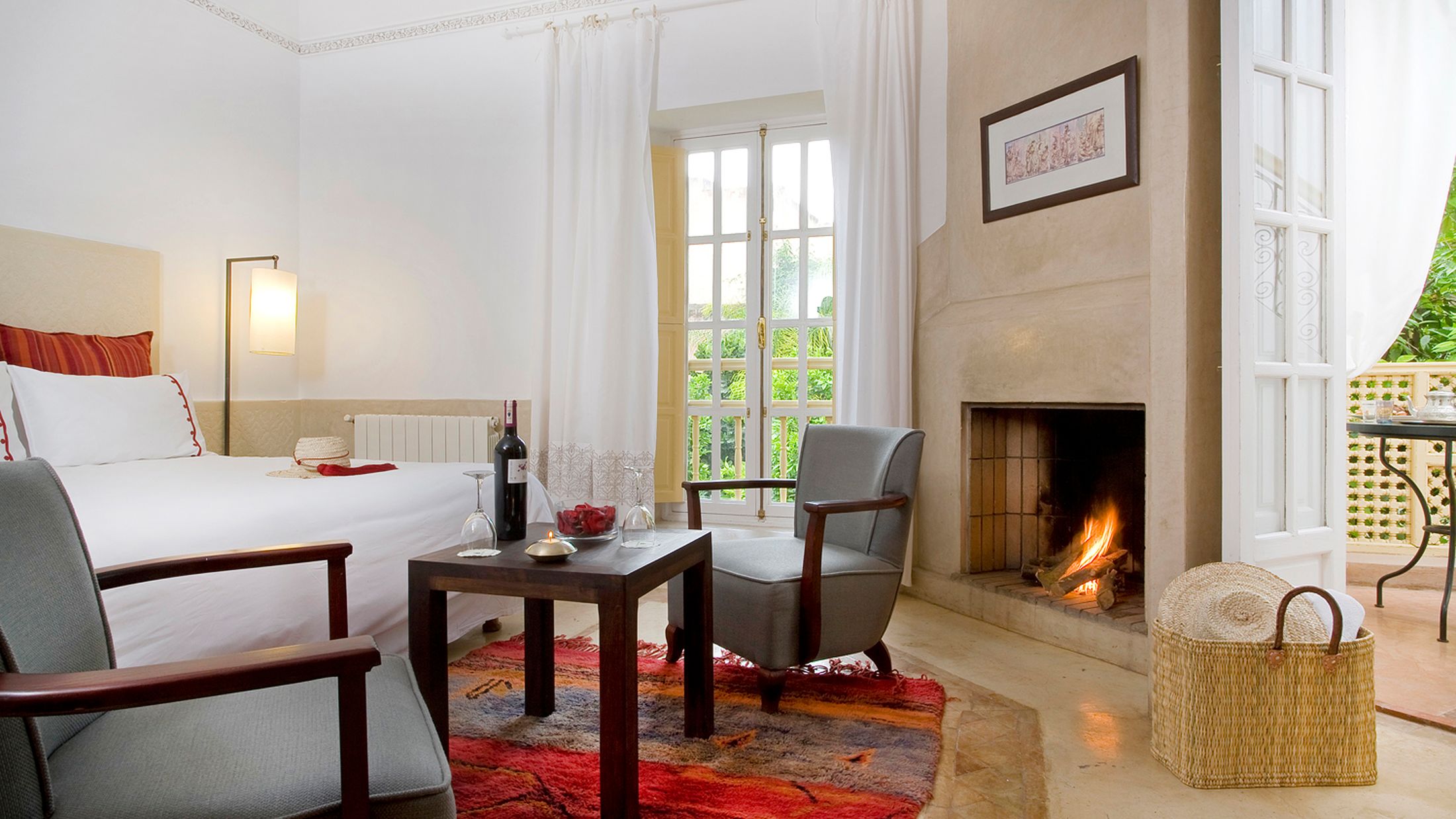 Les Solarium Room
Max 2 adults
Les Solarium Rooms open out onto a small pergola and a staircase leading up to a large private terrace with a solarium.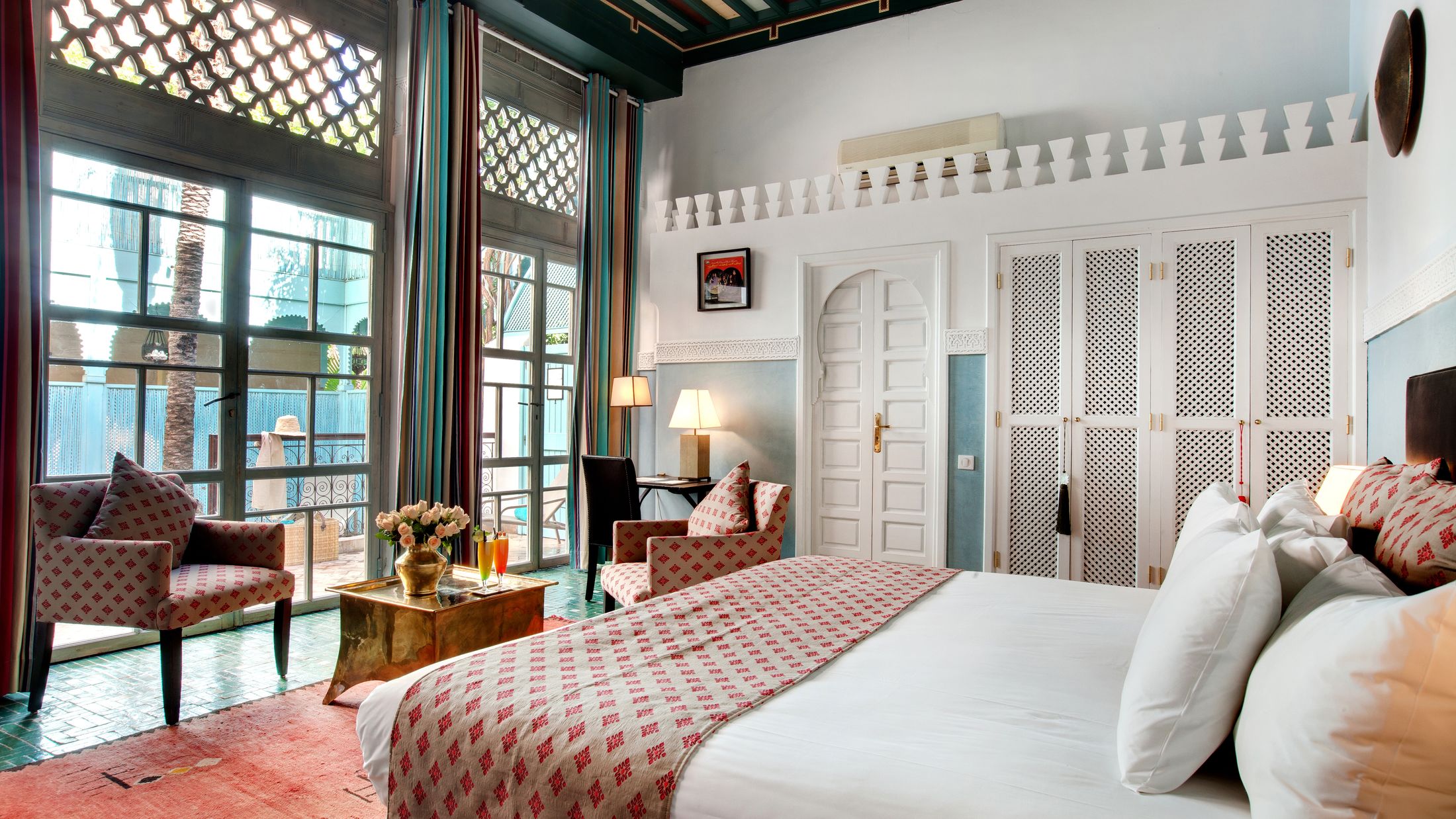 Sultane Room
Max 2 adults
A group of seven suites, Les Sultanes are named after renowned women. The stylish suites have a terrace or balcony with views over the beautiful gardens. They offer either a large bath or rain shower and most also have a fireplace.
Sovereign Experiences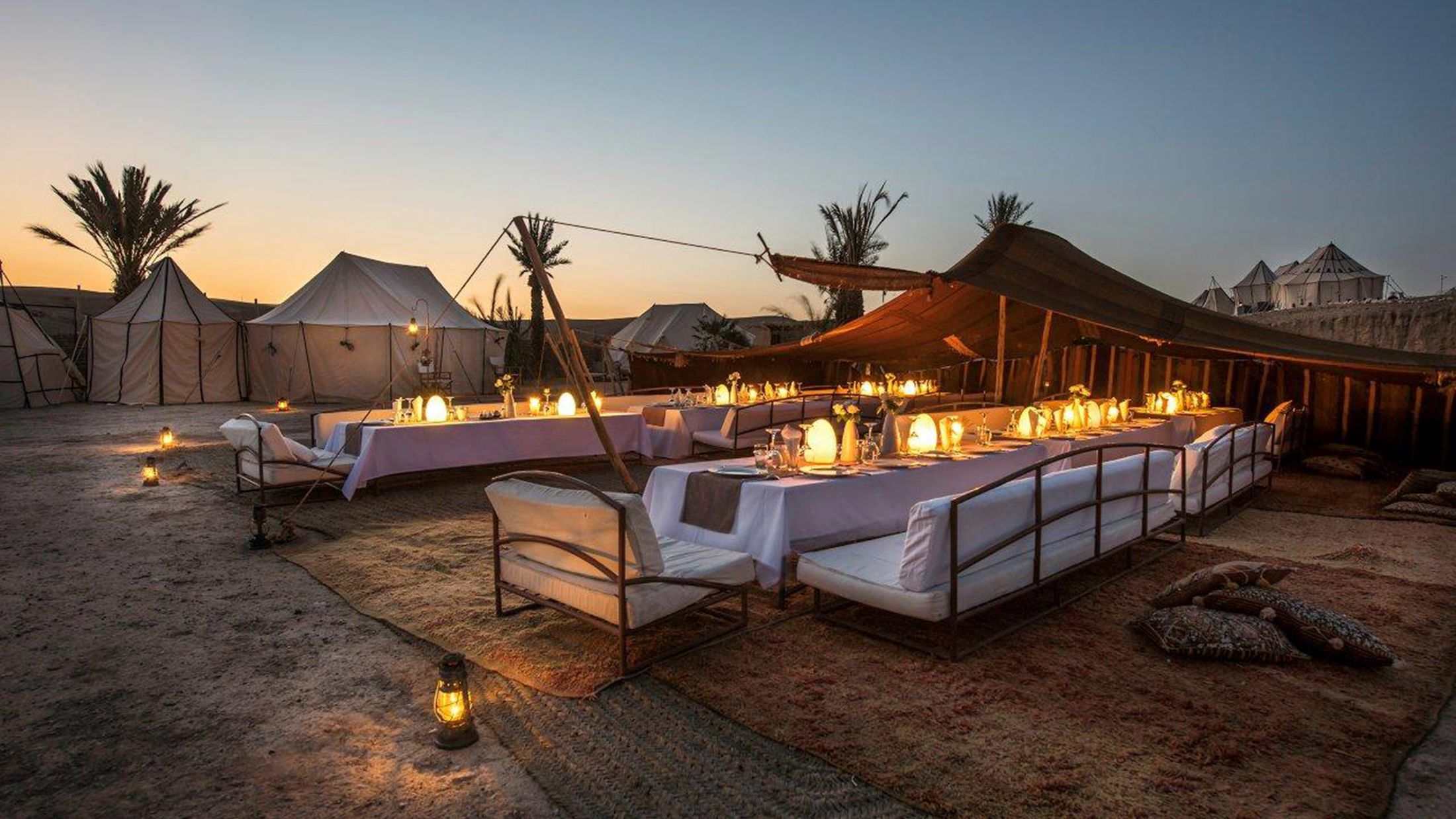 Step a short distance away from bustling Marrakech and you'll find yourself in the dramatic Agafay Desert. Nestled in a valley of palms and olives, La Pause is an elegant glamping experience. The accommodation is beautifully decked out with soft furnishings, fine linen and Berber rugs. Guests can enjoy al fresco dining, open plan living, an inviting central lounge, and day activities from walking to horse riding. By night, your peaceful oasis is lit up with candles and solar lights, and banquets are put on.
View the La Pause Hotel
---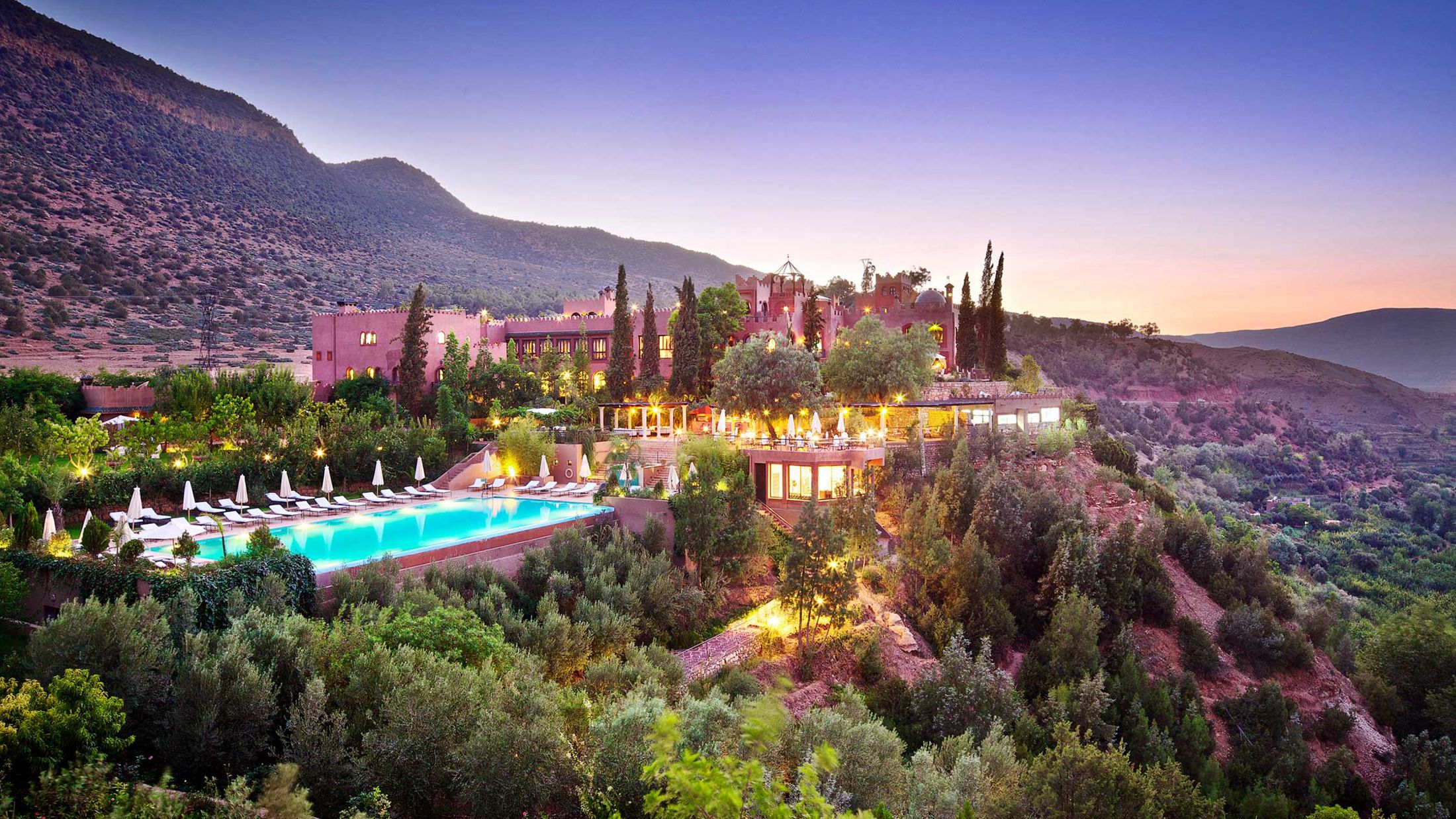 Combine pure luxury and adventurous living with a short stay in the Atlas Mountains. One of Sir Richard Branson's private getaways, the Kasbah Tamadot perfectly matches high life living and breathtaking views of the valleys and mountains. Enjoy al fresco dining, world class spa treatments and luxuries like the open air cinema.
View the Kasbah Tamadot Hotel
---
Fly high in a hot air balloon
The Moroccan landscape is a rich tapestry of untouched desert, traditional villages, and vast mountains and gorges. Soar high above the north region of Morocco with an unforgettable hot air balloon experience. Watch the sunrise as you hover over this incredible land, and be ready for those breath-taking moments. A hot air balloon experience is truly the best way to enjoy these soul-stirring landscapes.
Call our trusted advisers to book this experience

Based on 1705 traveller reviews

95% of travellers recommended this hotel
Travellers Ratings
What to expect
Reviews
"
It's all about the service
Lynn D, Fort Collins, Colorado
Aug 13 2018
My two daughters and I stayed in this hotel for 3 nights, beginning on August 5th. The hotel is lovely. Beautiful gardens and pool. During our stay we had a series of events, which if handled...
My two daughters and I stayed in this hotel for 3 nights, beginning on August 5th. The hotel is lovely. Beautiful gardens and pool. During our stay we had a series of events, which if handled better by the hotel staff would have been chalked up to bad luck, but turned into something much more. Day 1 - The drain in the shower backed up, flooding the entire bedroom. We through down towels and called maintenance. Day 2 - We arrived back from our day in the Medina to find our room full of workers with ladders in the ceiling, door wide open etc. Had we been given prior notice, no big deal. The surprise was a bit unsettling. Later that afternoon the power went out in 6 rooms for several hours. Need I mention that it is HOT in Marrakesh in the summer. But things happen. Day 3 - i asked reception to book a dinner reservation for us. They said that they would. Went out for the day and returned to find that our room smelled of sewage. The smell was coming from the shower drain. I called for maintenance and they sent a lovely young lady with perfume. I explained that this would not fix the problem. They finally sent for the maintenance guy. Meanwhile we prepared for dinner. Reception called a cap and we set off for our restaurant only to arrive and find that the place had closed the week before. Returning to the hotel, I inquired about our reservation request. They checked their records and it clearly stated that they had called and discovered the place had closed. Would have been nice to know before we set off in our taxi. We then asked reception for a recommendation. They asked if we wanted Moroccan food and we said no. They gave us an address and we set off waling through the Medina only to find that it was a Moroccan restaurant. Day 4 - check out. We were leaving Marrakesh for a 1 night stay in the Atlas mountains. We were to return the following night to the same hotel. I explained that if we did return that I wanted a new room and a refund so that we could obtain different lodging. The manager took no responsibility for anything. No of the issues were related to poor maintenance of the hotel and the 6 room power outage was "caused by the city". Entire hotel maybe, but not 6 rooms. We did not return to this hotel and our guide is still working with his agency to get our funds refunded. Beyond this, it was difficult to get waiters at both the pool and the restaurant. It is a shame because the grounds are beautiful. But it is lipstick on a pig.
View full review
MrsMJT2013, Stratford-upon-Avon, United Kingdom
Aug 06 2018
We stayed for 4nights with 2 teenage boys, had 2 rooms. Such a lovely hotel, couldn???t fault anything.....calm,lovely rooms, delicious breakfast, lovely pool area and roof terrace. Even had the...
We stayed for 4nights with 2 teenage boys, had 2 rooms. Such a lovely hotel, couldn???t fault anything.....calm,lovely rooms, delicious breakfast, lovely pool area and roof terrace. Even had the football World Cup on in the library!! All the staff were very helpful and friendly. So nice to come back to after a day in the Medina. Thank you for a lovely holiday.
View full review