Step into a traditional riad and enjoy an authentic Moroccan experience
Located in the heart of the medina, this boutique hotel is close to city's landmarks
The hotel combines modern luxury and historic Moroccan style
Guests can enjoy the hotel's sumptuous well being centre
Immerse yourself in the fascinating history of Marrakech at Les Jardins de la Medina. This boutique hotel, part of the Châteaux et Hotels Collection, captures the soul of this enthralling city and offers guests the chance to experience an authentic Moroccan riad. Located in the heart of Marrakech's medina and close to the Royal Palace and other famous landmarks, this hotel is a true oasis of calm in the vibrant hub of the city.
Set within the walls of a traditional building, Les Jardins de la Medina has an outstanding reputation for personal service and has even been awarded the certificate of excellence in 2017 by Hotels de Charme and Caractere. Retaining its original 19th century architecture, this hotel combines modern luxury and elegant exoticism. A beautiful garden surrounds the contemporary rooms and suites, which can be found among the beautiful foliage of jacarandas, old olive trees and other luxurious plants. The garden offers a secluded spot away from the bustle of the city streets; relax by the tranquil water fountain during the day or admire the stars under a cosy blanket come evening. Plus, guests can discover an outdoor pool within the stunning grounds. For total relaxation, the hotel's well being centre provides a Middle Eastern themed sanctuary of relaxation.
Facilities
Bars & Restaurants
Les Jardins de la Medina Restaurant
Enter the former reception hall of the riad and marvel at the historic Moroccan architecture. Serving food throughout the day, dishes are made using the finest local ingredients.
Open: 7:30 to 10:30, 12:00 to 15:30 and 19:30 to 22:30
Beach & Pools
Swimming Pool
Set within the stunning exotic gardens, the hotel's outdoor pool offers an oasis of calm and is the perfect place to soak up the gorgeous Moroccan sun.
Spa & Wellness
Well-Being Centre
Rejuvenate the mind and body at the well being centre. Indulge in an Argan oil massage, treat yourself to a relaxing facial or take advantage of a classic Middle Eastern treatment.
Activities & Entertainment
Cookery School
Learn to cook Moroccan cuisine at one of Marrakech's most prestigious cookery schools, which is located on the hotel's rooftop. Master authentic dishes and experiment with exotic spices.
About the location
Marrakech is a city like no other. Steeped in history, tourists come from far and wide to marvel at the vibrant colours, rich aromas and fascinating architecture. Set against the backdrop of the snow-capped High Atlas Mountains, the bustling streets of Morocco's cultural capital are a feast for the senses. A kaleidoscope of colours line the walkways; from deep reds to golden hues and everything in between, while the delicious aromas of Moroccan cuisine flow from the many food stalls.
A fusion of African and Arabic culture can be discovered in the heart of the city at the central medina, where tourists can browse the many souks for Moroccan treasures to bring back home. The exotic buzz of the city is further amplified by the many street entertainers, from snake charmers to belly dancers. Yet, behind elaborate gates and painted doors lie tranquil courtyards where visitors can discover an oasis of calm.
Transfer time
Les Jardines de la Medina is 20 minutes from Marrakech Airport.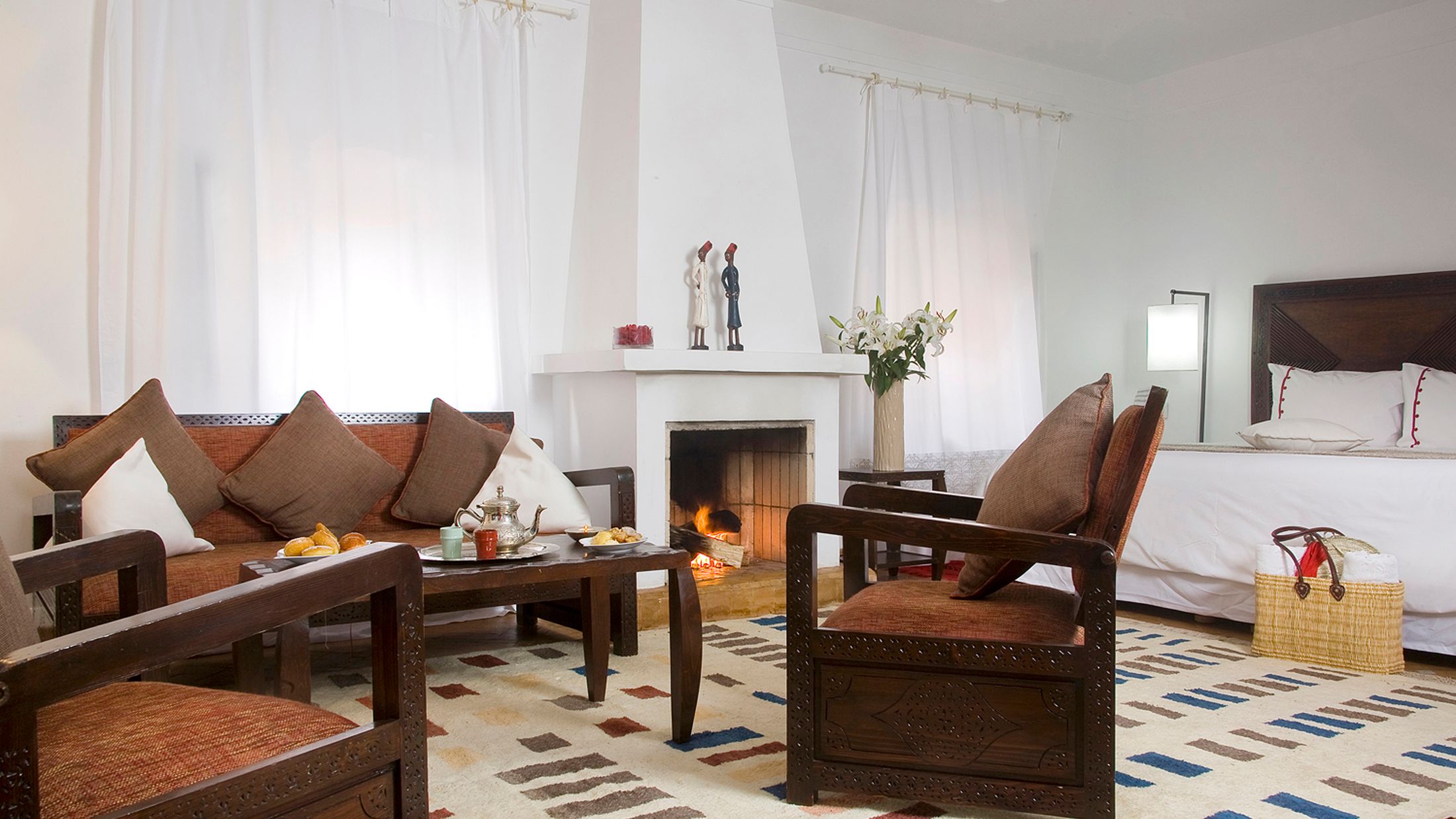 Superior Patio View Room
Max 3 adults, 1 child
Superior Patio View Rooms are arranged around courtyards of fountains, jasmine, orange or palm trees.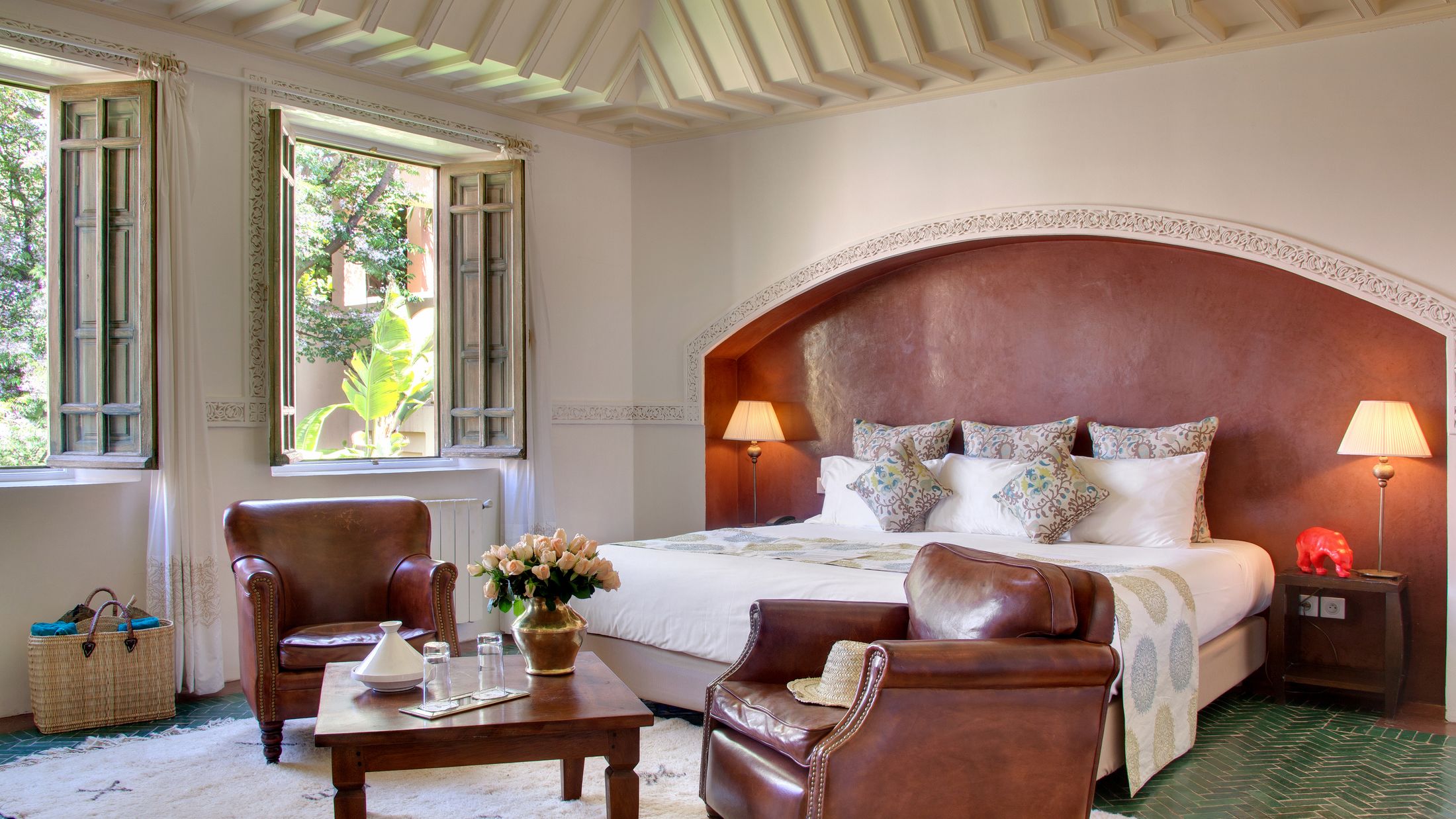 Superior Garden View Room
Max 3 adults, 1 child
Superior Garden View Rooms offer very pleasant views in both summer and winter and are located on the garden side.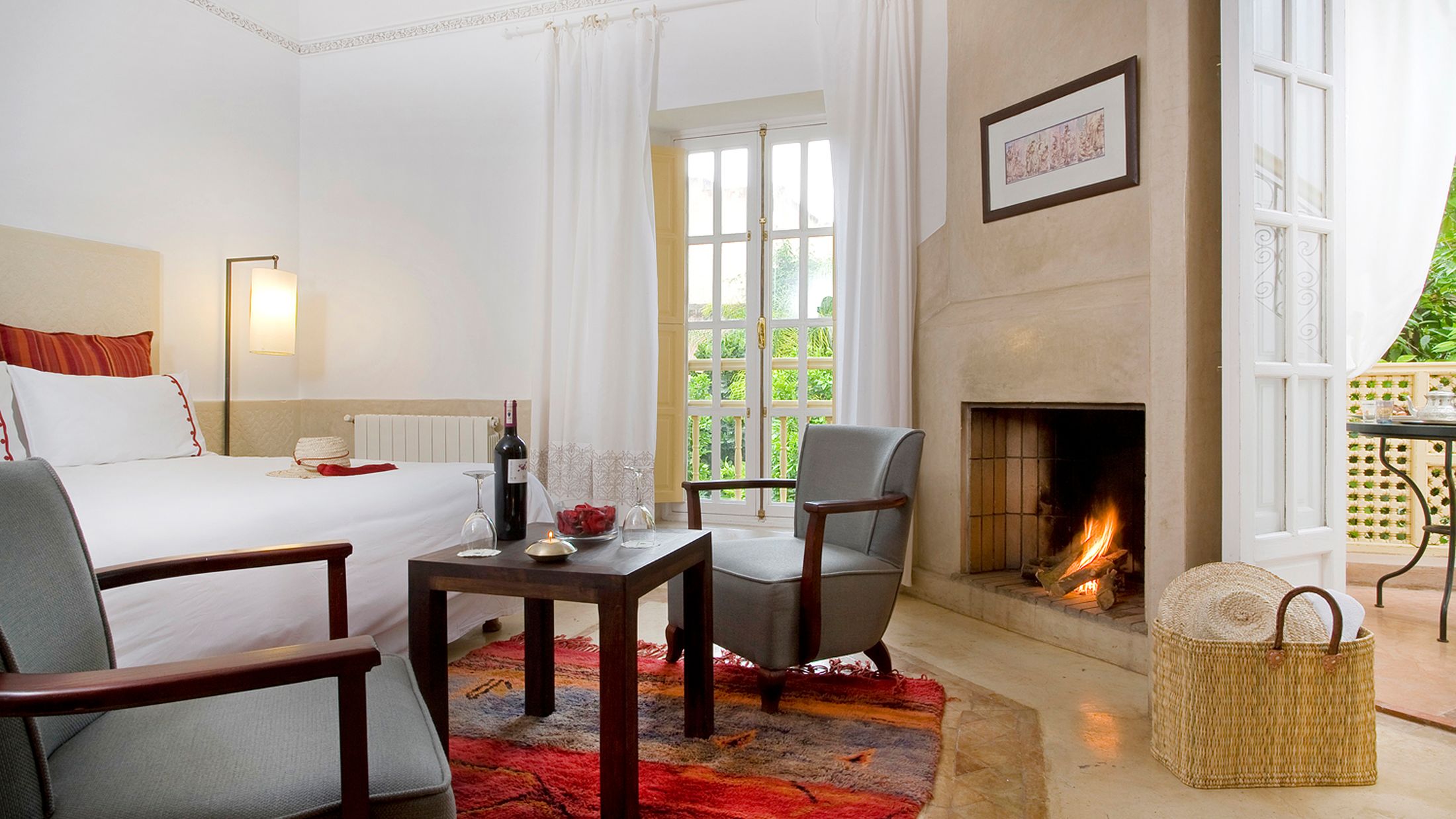 Les Solarium Room
Max 2 adults
Les Solarium Rooms open out onto a small pergola and a staircase leading up to a large private terrace with a solarium.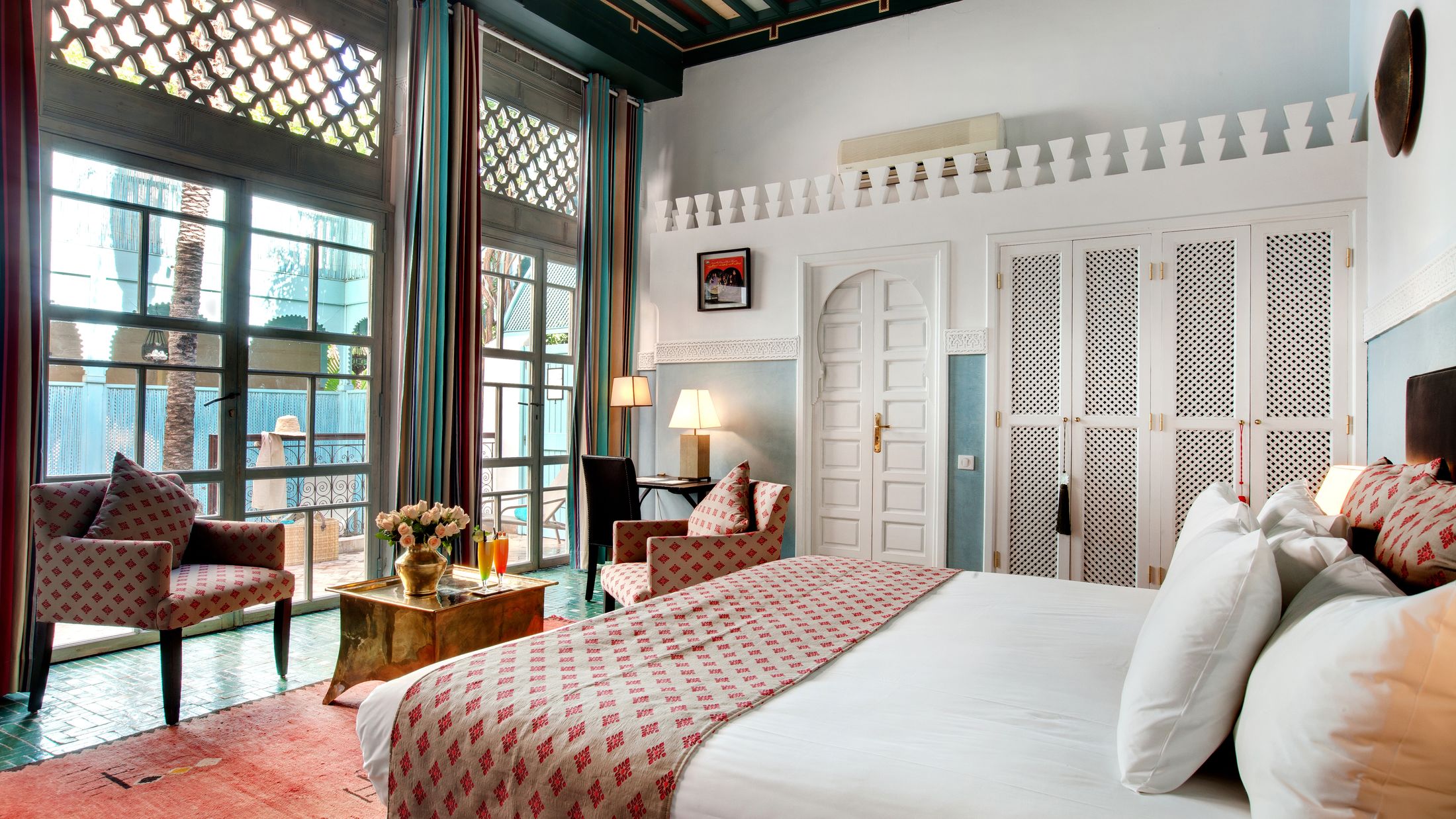 Sultane Room
Max 2 adults
A group of seven suites, Les Sultanes are named after renowned women. The stylish suites have a terrace or balcony with views over the beautiful gardens. They offer either a large bath or rain shower and most also have a fireplace.
Sovereign Experiences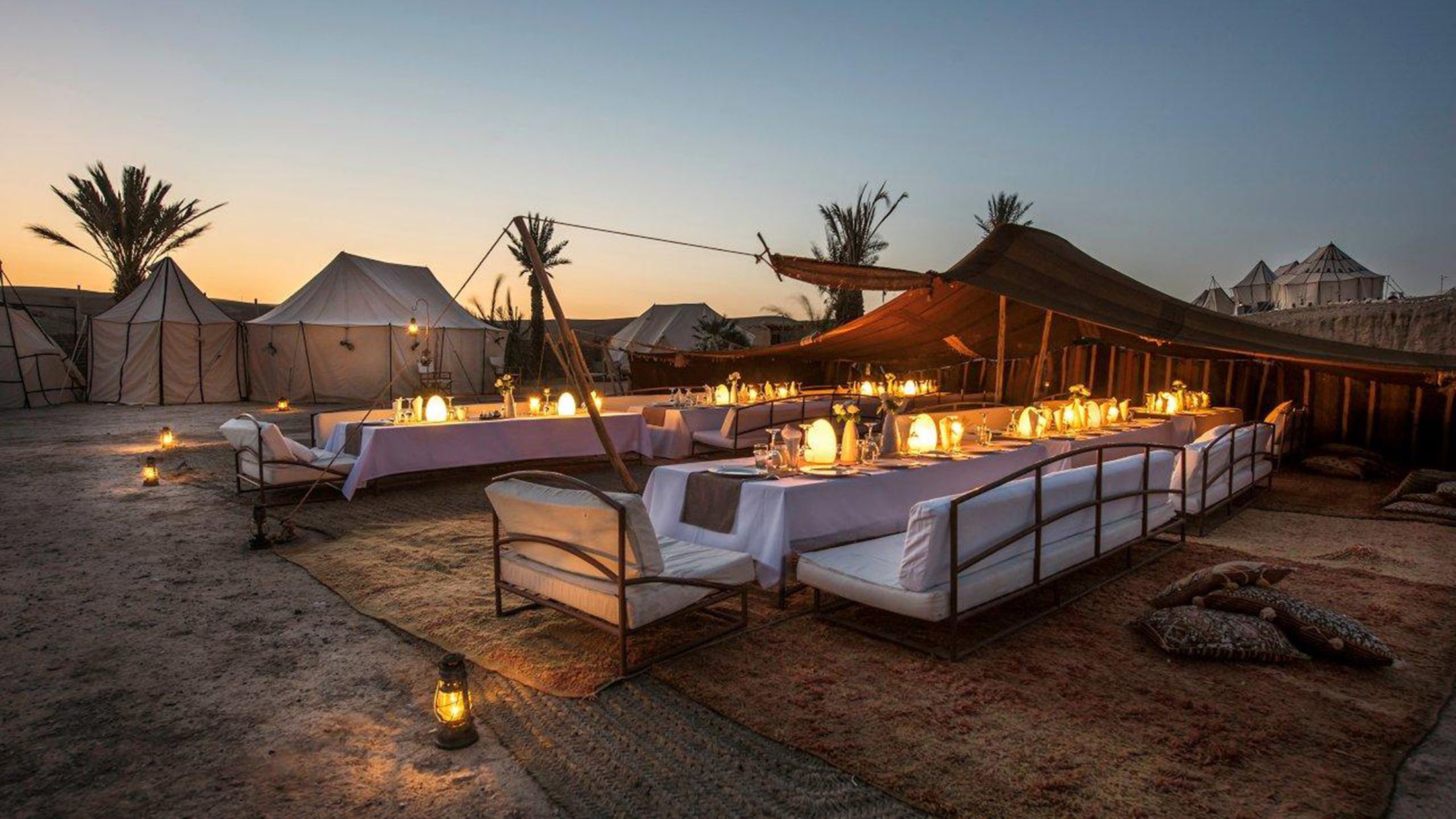 Step a short distance away from bustling Marrakech and you'll find yourself in the dramatic Agafay Desert. Nestled in a valley of palms and olives, La Pause is an elegant glamping experience. The accommodation is beautifully decked out with soft furnishings, fine linen and Berber rugs. Guests can enjoy al fresco dining, open plan living, an inviting central lounge, and day activities from walking to horse riding. By night, your peaceful oasis is lit up with candles and solar lights, and banquets are put on.
View the La Pause Hotel
---
Combine pure luxury and adventurous living with a short stay in the Atlas Mountains. One of Sir Richard Branson's private getaways, the Kasbah Tamadot perfectly matches high life living and breathtaking views of the valleys and mountains. Enjoy al fresco dining, world class spa treatments and luxuries like the open air cinema.
View the Kasbah Tamadot Hotel
---
Fly high in a hot air balloon
The Moroccan landscape is a rich tapestry of untouched desert, traditional villages, and vast mountains and gorges. Soar high above the north region of Morocco with an unforgettable hot air balloon experience. Watch the sunrise as you hover over this incredible land, and be ready for those breath-taking moments. A hot air balloon experience is truly the best way to enjoy these soul-stirring landscapes.
Call our trusted advisers to book this experience

Based on 2066 traveller reviews

95% of travellers recommended this hotel
Travellers Ratings
What to expect
Reviews
"
With the biggest private garden in the Medina, it is a charming hotel with professional staff. An oasis to consider !!
Fabrice D, Thonex, Switzerland
Sep 22 2021
If you are expecting a fancy hotel with the latest gadgets or design, you may wish to consider other addresses in the Palmeraie or Hivernage. Here however the garden offers a historical oasis in the...
If you are expecting a fancy hotel with the latest gadgets or design, you may wish to consider other addresses in the Palmeraie or Hivernage. Here however the garden offers a historical oasis in the South of the Medina. If its walls could talk, some guests names would sound familiar. Professional and well trained staff where nothing is too much trouble. Comfortable and well appointed rooms I recommend you opt for those with a private roof terrace and shower to benefit from the beautiful view over the expansive gardens. A good restaurant with a high standard of French/Moroccan cuisine, delicious a la carte breakfast served in your choice of the room, or restaurant, a great size swimming pool which beats any Riad plunge pool. We did not try the spa during our stay but there is plenty of choice for weary travellers, Overall a great choice and oasis of calm in the hectic Medina which I highly recommend !
View full review
"
Solarium rooms are brilliant. 7 tortoises on the grounds who love fruit we saved from breakfast.
2jackieb, England, United Kingdom
Sep 19 2021
Lovely hotel we visited for my birthday with my brother and his wife. Staff were attentive and friendly. Nothing was too much trouble. Got there and we had booked a garden room my brother had a...
Lovely hotel we visited for my birthday with my brother and his wife. Staff were attentive and friendly. Nothing was too much trouble. Got there and we had booked a garden room my brother had a solarium room with its own balcony and I liked their room so we asked if we could upgrade as more expensive. Staff upgraded us with no trouble at all and did this for free. We were blown away by this kind gesture and was the cherry on the cake as upgraded room was fabulous. Pool is fantastic the staff are 100% courteous the gardener we met outside helped us find a local artisan shop. Waiters were great as 9pm curfew we had drinks every night on our private balcony and brought us ice buckets every night with nibbles ( crisps olives and nuts). One of the best hotels we???ve stayed at. Five * can???t wait to come back from Jackie Chris Anth and Marion
View full review