Treat yourself to a tropical getaway in five star luxury
Enjoy a romantic candlelit meal in one of the fine dining restaurants
Go exploring on foot or bicycle and spot some of the local wildlife
Be pampered by skin and beauty experts at the indulgent spa
Stretched on the pristine white sands of Anse Bois de Rose and surrounded by the lush greenery of its namesake, the Coco De Mer palm tree, this stunning resort offers the perfect luxury escape for the modern traveller. Clean and minimal with cool colours and homely finishes, the rooms are first class and offer a variety of options. Choose a Superior Room or upgrade to an exclusive Black Parrot Suite, where you'll enjoy a private terrace that kisses the beachfront.
This is an ideal place to get cosy with a loved one. There are plenty of secluded nooks dotted around the resort, cabanas for two at the poolside solarium and intimate dining options that offer sunset views as spectacular as the food. Outside the resort, there are endless activities for you to try. From guided hikes with the friendly staff, water sports on the azure sea or bicycle rental to explore the area on two wheels, you'll certainly never be bored here.
A range of hotel child prices applies to ages 0–3 & 4–13 years.
Children under 14 years of age are not permitted a The Black Parrot Suites.
The hotel has 40 rooms & suites.
Facilities
Bars & Restaurants
Coconut Bar
A contemporary mixture of modern design housed under a traditional thatched roof, the Coconut Bar provides a chilled environment where you can make your way through the impressive list of exquisite cocktails on offer.
Hibiscus Restaurant
The Hibiscus Restaurant offers the discerning diner a sumptuous selection of international and creole cuisine. Go al fresco on the private wooden dining deck and lose yourself in the stunning views as you dine by candlelight.
The Mango Terrace Bar and Restaurant
Surrounded by coconut trees and located by the pool, this informal eatery offers a delicious á la carte menu and chilled vibes. Enjoy vibrant views of the ocean by day and the stunning sky scape of stars by night over a delicious meal and tasty cocktail.
Beach & Pools
Beaches
Fringed by several small private beaches, each as beautiful as the next, you have ample opportunity to get away from it all at Coco de Mer. Boasting direct access to these secluded bays, the crystal clear waters are within easy reach on foot or with a bicycle provided by the hotel.
Swimming Pools
The two pools onsite are elevated and come with picturesque panoramic views of the Indian Ocean. Allow yourself to unwind in the waters and relax with a cocktail while soaking up the ambience.
Spa & Wellness
Fitness Centre
Keep your fitness goals on track with a visit to the fitness centre. Boasting the latest cardio equipment, along with a top spec free weights area.
Waterfront Spa
Step inside the Waterfront Spa and let your stresses disappear. The calming views of blue sky and ocean, combined with the soothing scents of orange and cinnamon create the perfect environment to indulge in some healing therapies or much-needed massage techniques. A beauty salon and dedicated couples treatments complete the pampering package.
Activities & Entertainment
Sports
Depending on your fitness or energy levels, you can either sharpen up your serve at the onsite tennis courts or gear up for a game of Mini Golf.
Watersports
Delve into the deep and explore the fascinating underwater world with one of the PADI scuba diving operators located close to the hotel. The waters around the island are incredibly clear so you can be almost guaranteed to spot vibrant reef activity and marine life. Stand up paddle boarding and a range of other non-motorised water sports are available from the hotel too.
Bicycle Rental
Slowly explore this tropical paradise by bicycle and discover hidden, untouched golden sand beaches at your own pace.
Explore Local Sights
If you fancy exploring the other world class beach offerings of Anse Lazio or go island hopping, simply hop on the hotel's exclusive shuttle bus or boat service. You can also undertake a guided nature trail with one of the knowledgeable staff who will point out the fascinating flora and fauna of the hotel gardens and beyond.
About the location
Coco de Mer is located on a picturesque white sandy beach on the Seychelles' island of Praslin. Lapped by the crystal clear waters of the Indian Ocean, this is the ideal place for both explorers and those wanting to take it easy. Surrounding the hotel are luscious tropical gardens full of palm trees, mangoes and banana trees, as well as the spice plants which are used to create delicious Creole dishes.
Head out and explore by bicycle or take a guided tour and learn about the animals and plants which call the island home. Head underwater with a snorkel or take a scuba diving trip and see the tropical coral and colourful fish.
Transfer time
Coco de Mer is a 20 minute flight from Mahé Airport to Praslin Island airport, followed by a 20 minute drive to the hotel.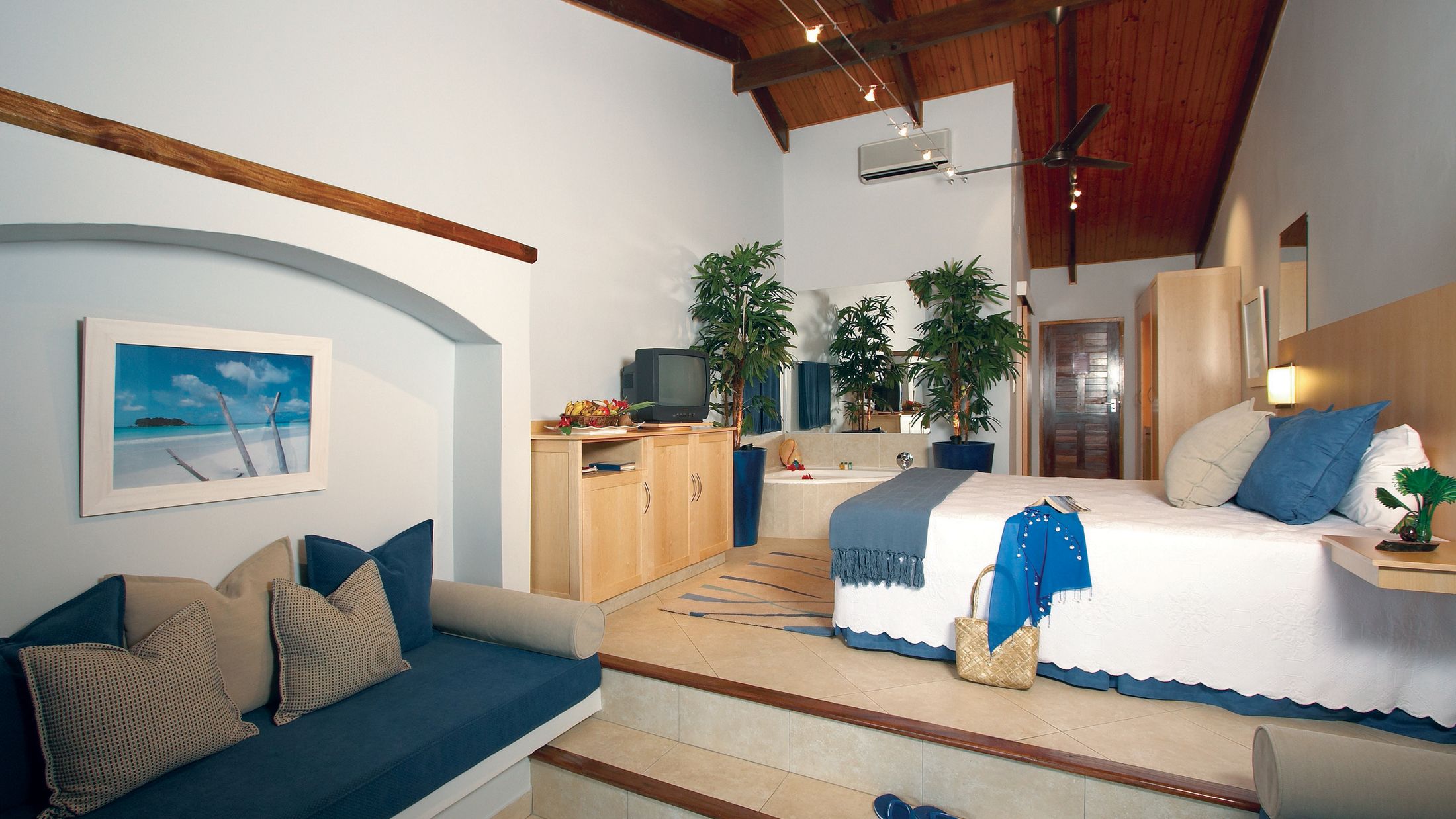 Standard Room
Max 3 adults
Standard Rooms have a spacious interior, king-size beds and a stylish balcony which overlooks the ocean. Facilities include air conditioning, satellite TV, tea and coffee making facilities, high-speed Wi-fi and a minibar.
Superior Room
Max 3 adults
Superior Rooms have a well furnished private deck with comfortable chairs, a coffee table and fantastic views of the ocean. There is a king-size bed with a large bathroom, equipped with a separate shower and bathtub. Facilities include air conditioning, satellite TV, tea and coffee making facilities, high-speed Wi-fi and a minibar.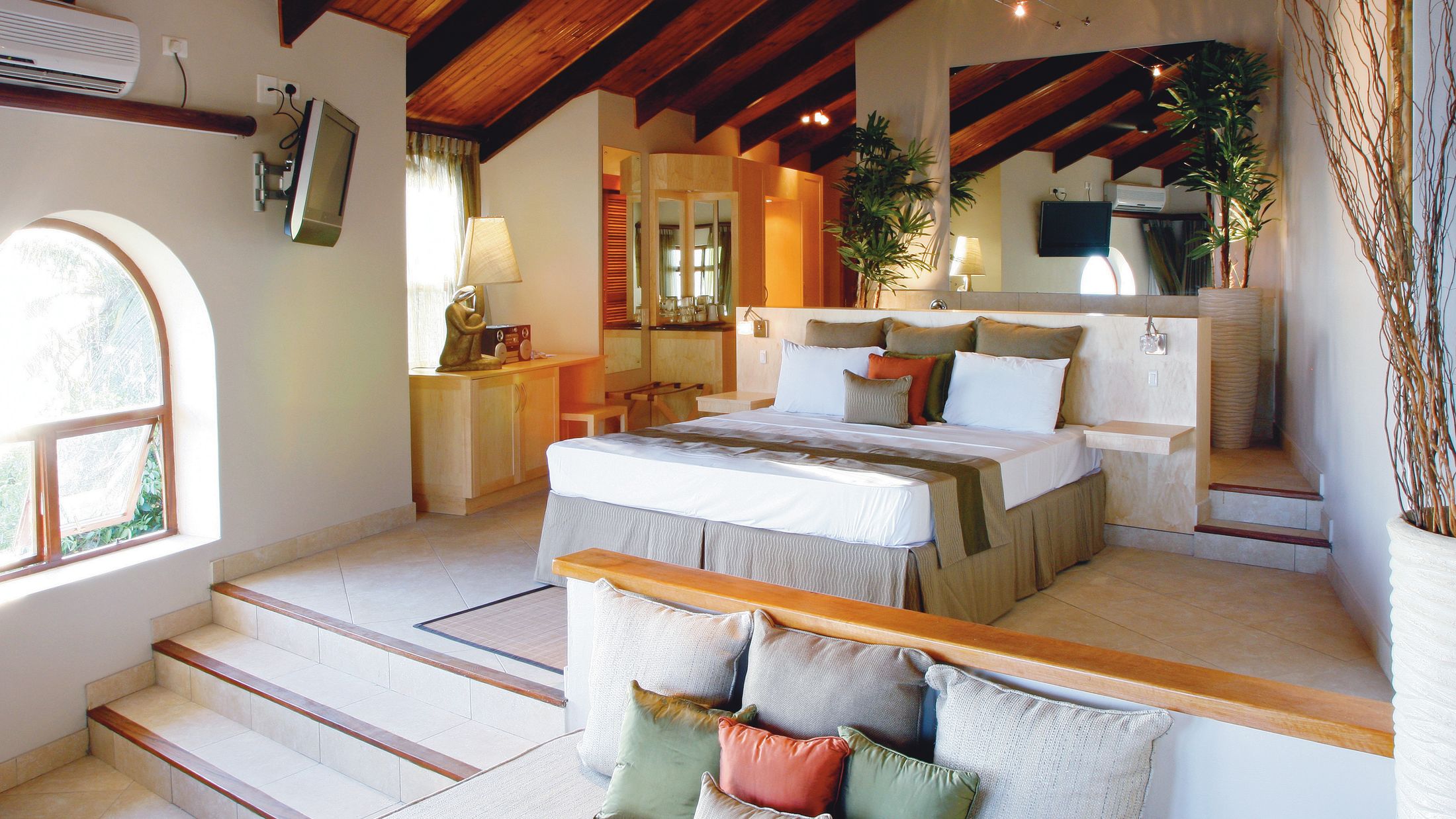 Black Parrot Junior Suite
Max 3 adults
The well-known Black Parrot Junior Suites are more luxurious with beautiful ocean views from the furnished terrace. An iPod® docking station, Espresso Machine and additional amenities are also featured. Facilities include air conditioning, satellite TV, tea and coffee making facilities, high-speed Wi-fi and a minibar.
Honeymoon Offer
Brides receive 40% discount on the hotel price on honeymoon stays of 4 nights or more held within 6 months from the wedding date (offer applies on selected travel dates).
Please call our Trusted Adviser for further details.

Please note not all offers are combinable.

Based on 1023 traveller reviews

85% of travellers recommended this hotel
Travellers Ratings
What to expect
Reviews
adl-dca, Washington, D.C.
May 17 2019
We stayed at Coco de Mer as part of our honeymoon and were generally quite happy. But it could be better. The property is a bit on the older side, and although the rooms are quite modern inside, the...
We stayed at Coco de Mer as part of our honeymoon and were generally quite happy. But it could be better. The property is a bit on the older side, and although the rooms are quite modern inside, the exterior of the property is clearly dated and has a bit of a 1980s summer camp vibe.Though, the jetty with cabanas and infinity pool is stunning and provides an amazing experience at sunset. Despite reviews saying that it's located on the lesser side of the island, the location is still quite beautiful with a view across the water to Mahe. Just be aware that the hotel is quite isolated -- there is literally nothing else around. The nearest shop is in Baie Sainte Anne, which is a 15 minute drive away -- as someone who likes to walk everywhere, it was a bit disappointing to find that there is nothing else around within even a 45-minute walking radius. One of our favourite experiences during our stay was kayaking and SUP'ing, which was very easy to organize. The waters are quite nice (although there was a significant amount of seaweed around at the time). Insofar as other activities, the hotel was also able to (very easily) organize a rental car for us, which was very helpful. Although, fair warning, driving around Praslin is not for the faint hearted! We were impressed with the food. The breakfast buffet is good and the a la carte dinners were very tasty and, for Seychelles, rather inexpensive. The restaurant staff are also very friendly. The rooms are quite modern, although the layout is ... interesting. The bathroom is surprisingly open-plan, which is maybe not a characteristic that everyone wants in a bathroom. The quality of the internet also (maybe thankfully) promotes mentally switching off, since it is extremely poor and unreliable. The one drawback we experienced was the service. The Seychellois staff were quite aloof, bordering on rude. There was very much a "well, when are you leaving?" vibe from them. On the other hand, the restaurant staff, who tended to be Mauritian or Indian, are very nice and helpful. It is an interesting dichotomy. If the service was more consistent, our experience would have been better for sure. One oddity of the hotel is their check-in and check-out times. A (very strict) 10am check-out seems to be a rarity among hotels, and perhaps even odder for a hotel that wants to attract honeymooners for a relaxing getaway. That said, the hotel does provide a helpful alternative (the Vanilla Lounge) that, for a small fee, gives you access to a lounge, showers, and luggage storage while you continue to enjoy the amenities even after check-out. It's a nice touch, but would not really be necessary if the hotel had a bit more of a sane check-in/check-out schedule.
View full review
"
Our magical stay at Black Parrots Hotel
AmelFawzi89,
May 13 2019
We had the best time of our lives in Seychelles and this hotel was just the most perfect place to be staying at for our honeymoon ! We had originally booked a superior room at Coco de Mer Hotel and...
We had the best time of our lives in Seychelles and this hotel was just the most perfect place to be staying at for our honeymoon ! We had originally booked a superior room at Coco de Mer Hotel and have been upgraded to a junior suite room at Black Parrots Hotel which was a very pleasant surprise at our arrival ! Black Parrots is really quiet and you can really relax as Its is the ???Only couples??? part of the hotel. The room was very spacious and had all the comfort to make our stay so special and the view was absolutely magnificent ! We really appreciated the little attentions like the daily decorated bathroom with fresh hibiscus flowers and the soothing and relaxing music in the room ! Ideal for a romantic holiday ?????? The staff is lovely, always ready to help and very sociable. Special thanks to Fiona for her warm welcome. Thanks to Marie-Paul for her help in organising a surprise romantic dinner and finally Tatiana and Katelyn who have been very helpful throughout our week there. We had free access to the kayaks and paddle boarding equipments and free transfer to Anse Lazio beach which is one of the most beautiful beach in Seychelles. We also had a spa treatment together which was one of the most relaxing we???ve ever had ! We would totally recommend this hotel ! PS : all of the pictures below were taken from the hotel Thanks a lot for making our stay in Seychelles such a memorable experience ! Amel & Fawzi (room 501)
View full review