Treat yourself to a tropical getaway in five star luxury
Enjoy a romantic candlelit meal in one of the fine dining restaurants
Go exploring on foot or bicycle and spot some of the local wildlife
Be pampered by skin and beauty experts at the indulgent spa
Stretched on the pristine white sands of Anse Bois de Rose and surrounded by the lush greenery of its namesake, the Coco De Mer palm tree, this stunning resort offers the perfect luxury escape for the modern traveller. Clean and minimal with cool colours and homely finishes, the rooms are first class and offer a variety of options. Choose a Superior Room or upgrade to an exclusive Black Parrot Suite, where you'll enjoy a private terrace that kisses the beachfront.
This is an ideal place to get cosy with a loved one. There are plenty of secluded nooks dotted around the resort, cabanas for two at the poolside solarium and intimate dining options that offer sunset views as spectacular as the food. Outside the resort, there are endless activities for you to try. From guided hikes with the friendly staff, water sports on the azure sea or bicycle rental to explore the area on two wheels, you'll certainly never be bored here.
A range of hotel child prices applies to ages 0–3 & 4–13 years.
Children under 14 years of age are not permitted a The Black Parrot Suites.
The hotel has 40 rooms & suites.
Facilities
Bars & Restaurants
Coconut Bar
A contemporary mixture of modern design housed under a traditional thatched roof, the Coconut Bar provides a chilled environment where you can make your way through the impressive list of exquisite cocktails on offer.
Hibiscus Restaurant
The Hibiscus Restaurant offers the discerning diner a sumptuous selection of international and creole cuisine. Go al fresco on the private wooden dining deck and lose yourself in the stunning views as you dine by candlelight.
The Mango Terrace Bar and Restaurant
Surrounded by coconut trees and located by the pool, this informal eatery offers a delicious á la carte menu and chilled vibes. Enjoy vibrant views of the ocean by day and the stunning sky scape of stars by night over a delicious meal and tasty cocktail.
Beach & Pools
Beaches
Fringed by several small private beaches, each as beautiful as the next, you have ample opportunity to get away from it all at Coco de Mer. Boasting direct access to these secluded bays, the crystal clear waters are within easy reach on foot or with a bicycle provided by the hotel.
Swimming Pools
The two pools onsite are elevated and come with picturesque panoramic views of the Indian Ocean. Allow yourself to unwind in the waters and relax with a cocktail while soaking up the ambience.
Spa & Wellness
Fitness Centre
Keep your fitness goals on track with a visit to the fitness centre. Boasting the latest cardio equipment, along with a top spec free weights area.
Waterfront Spa
Step inside the Waterfront Spa and let your stresses disappear. The calming views of blue sky and ocean, combined with the soothing scents of orange and cinnamon create the perfect environment to indulge in some healing therapies or much-needed massage techniques. A beauty salon and dedicated couples treatments complete the pampering package.
Activities & Entertainment
Sports
Depending on your fitness or energy levels, you can either sharpen up your serve at the onsite tennis courts or gear up for a game of Mini Golf.
Watersports
Delve into the deep and explore the fascinating underwater world with one of the PADI scuba diving operators located close to the hotel. The waters around the island are incredibly clear so you can be almost guaranteed to spot vibrant reef activity and marine life. Stand up paddle boarding and a range of other non-motorised water sports are available from the hotel too.
Bicycle Rental
Slowly explore this tropical paradise by bicycle and discover hidden, untouched golden sand beaches at your own pace.
Explore Local Sights
If you fancy exploring the other world class beach offerings of Anse Lazio or go island hopping, simply hop on the hotel's exclusive shuttle bus or boat service. You can also undertake a guided nature trail with one of the knowledgeable staff who will point out the fascinating flora and fauna of the hotel gardens and beyond.
About the location
Coco de Mer is located on a picturesque white sandy beach on the Seychelles' island of Praslin. Lapped by the crystal clear waters of the Indian Ocean, this is the ideal place for both explorers and those wanting to take it easy. Surrounding the hotel are luscious tropical gardens full of palm trees, mangoes and banana trees, as well as the spice plants which are used to create delicious Creole dishes.
Head out and explore by bicycle or take a guided tour and learn about the animals and plants which call the island home. Head underwater with a snorkel or take a scuba diving trip and see the tropical coral and colourful fish.
Transfer time
Coco de Mer is a 20 minute flight from Mahé Airport to Praslin Island airport, followed by a 20 minute drive to the hotel.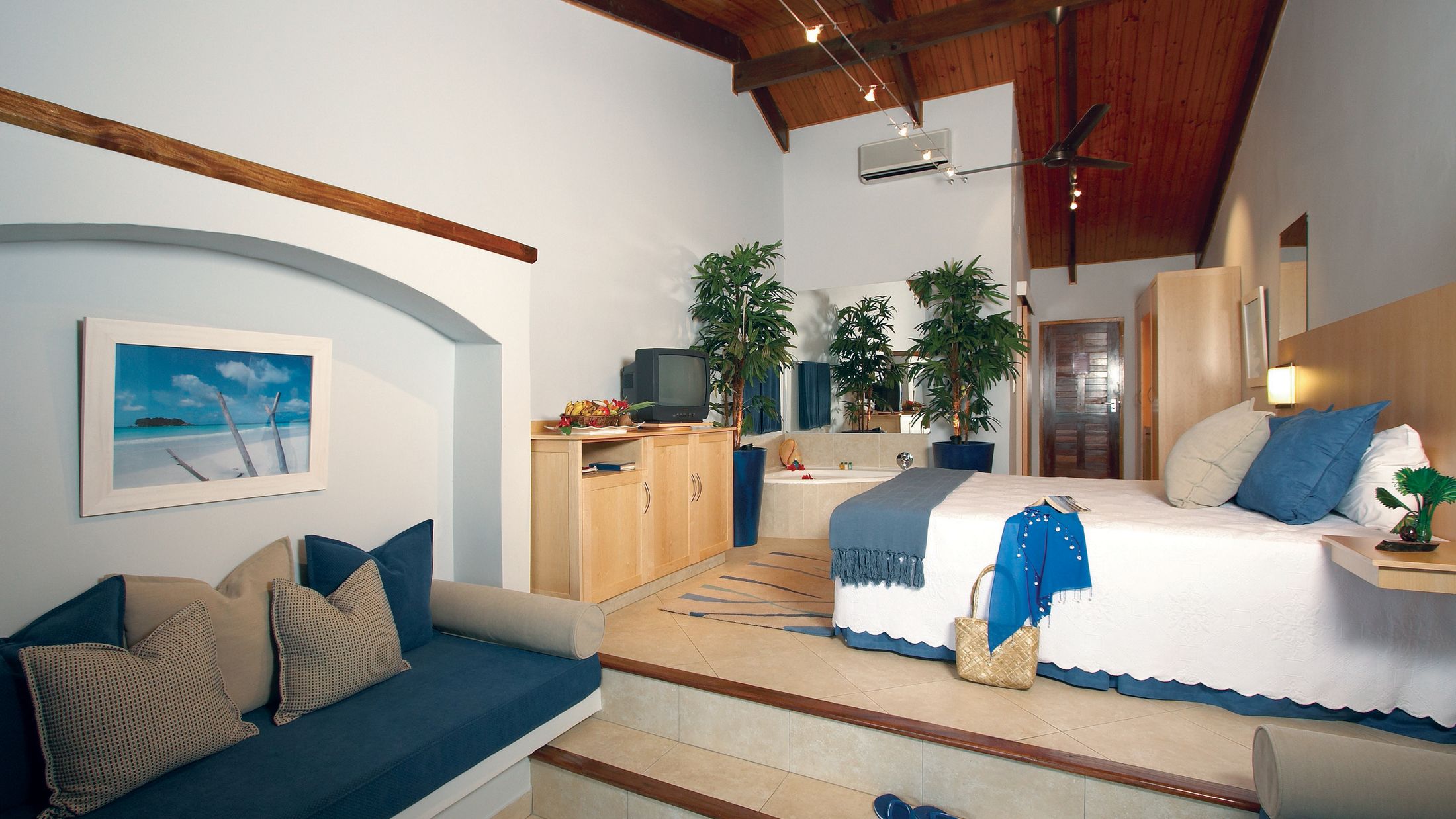 Standard Room
Max 3 adults
Standard Rooms have a spacious interior, king-size beds and a stylish balcony which overlooks the ocean. Facilities include air conditioning, satellite TV, tea and coffee making facilities, high-speed Wi-fi and a minibar.
Superior Room
Max 3 adults
Superior Rooms have a well furnished private deck with comfortable chairs, a coffee table and fantastic views of the ocean. There is a king-size bed with a large bathroom, equipped with a separate shower and bathtub. Facilities include air conditioning, satellite TV, tea and coffee making facilities, high-speed Wi-fi and a minibar.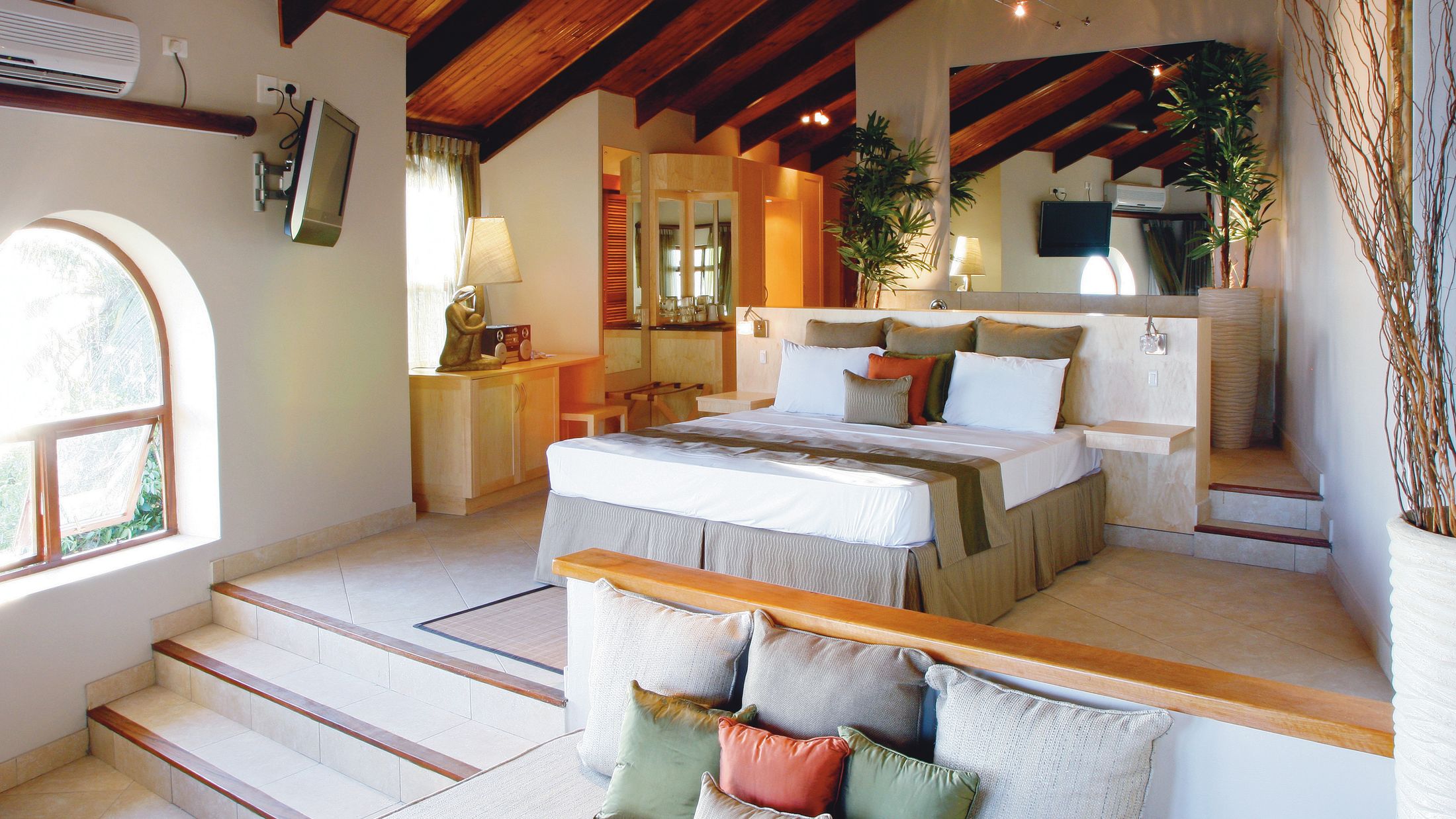 Black Parrot Junior Suite
Max 3 adults
The well-known Black Parrot Junior Suites are more luxurious with beautiful ocean views from the furnished terrace. An iPod® docking station, Espresso Machine and additional amenities are also featured. Facilities include air conditioning, satellite TV, tea and coffee making facilities, high-speed Wi-fi and a minibar.
Early Booking Discount
Save up to 5% discount on the hotel price for stays of 4 nights or more holidays between 01 May 2019 - 30 November 2019 booked by 15 April 2019.
Honeymoon Offer
Brides receive 40% discount on the hotel price on honeymoon stays of 4 nights or more held within 6 months from the wedding date (offer applies on selected travel dates).
Please call our Trusted Adviser for further details.

Please note not all offers are combinable.

Based on 1111 traveller reviews

85% of travellers recommended this hotel
Travellers Ratings
What to expect
Reviews
"
Great hotel, friendly people, avoid the buffet
coxy_gj, Oxford, United Kingdom
Jan 16 2020
We stayed for three nights. Not typical all inclusive people. The hotel is in a nice location with some good facilities. The beach is small and average. They could do with some better gardens. The...
We stayed for three nights. Not typical all inclusive people. The hotel is in a nice location with some good facilities. The beach is small and average. They could do with some better gardens. The rooms are great. Lovely large bathrooms with a bath. Good seated areas opening onto the waterfront. There is a lot of seating spread out in many areas which means you don???t feel you are on top of each other. The promenade thing is great, good for chilling and finding a breeze. We borrowed canoes, in one direction a turtle came up to my canoe and in the other we passed over a startled stingray. They offer day trips and we took a ride to the touristy beach in the north, not worth it. If the bus dropped people at the national park on the way back it might have made for a better excursion. The staff are really friendly. The breakfasts have a good selection and the pool restaurant serves nice food. Sadly we were half board, I didn???t realise, and were forced to eat the buffet. The first night was a ???spice??? theme and it was okay. The later two nights got weirder, repetitive and just not great. I wish we had written off the money spent and eaten in the restaurant. It would be good if they offered you the choice to use your half board in the pool restaurant instead of forcing you into the poor buffet. The third night was the Indian Ocean. We basically got the same food as previous nights with a different sauce. No seafood odyssey... roast lamb!? Expect for the buffet I enjoyed my stay and would recommend. It is expensive for what it is... but that???s the Seychelles.
View full review
219karlenem,
Jan 11 2020
We absolutely loved it! we had the best time. We are already planning on return every five years. Money well spent! There were so many hotels to choose from, but so glad we choose this island...
We absolutely loved it! we had the best time. We are already planning on return every five years. Money well spent! There were so many hotels to choose from, but so glad we choose this island location, is relaxing, its not overrun. The food was tasty, the staff so friendly, it was perfect
View full review