Set out over three lodges, enjoy romance and tranquillity or a livelier lodge
Sit around the fire in the boma and listen to stories or try private dining on your viewing deck
Massages and other treatments can be booked in the comfort of your room
Most rooms and suites have their own private plunge pool
There are three lodges to choose from in Dulini, each with their own character and selection of luxury facilities. Dulini Lodge is sheltered by the ancient Ebony and Leadwood trees of the surrounding woodland, leading down to the Mabrak River where you can hear the sounds of exotic birds and animals. Leadwood Lodge offers bright and spacious interiors and fascinating wildlife, where the Mabrak and Sand Rivers meet. This is the ideal setting for a honeymoon or romantic getaway. The River Lodge has six luxurious suites, all of which offer views over the Sand River and a large communal area.
Your stay at Dulini Lodge includes game drives through the surrounding game reserve, which shares a large unfenced border with the famous Kruger National Park. From here you can spot Africa's famous Big Five, as well as other incredible wildlife, birds, insects and landscapes.
Facilities
Bars & Restaurants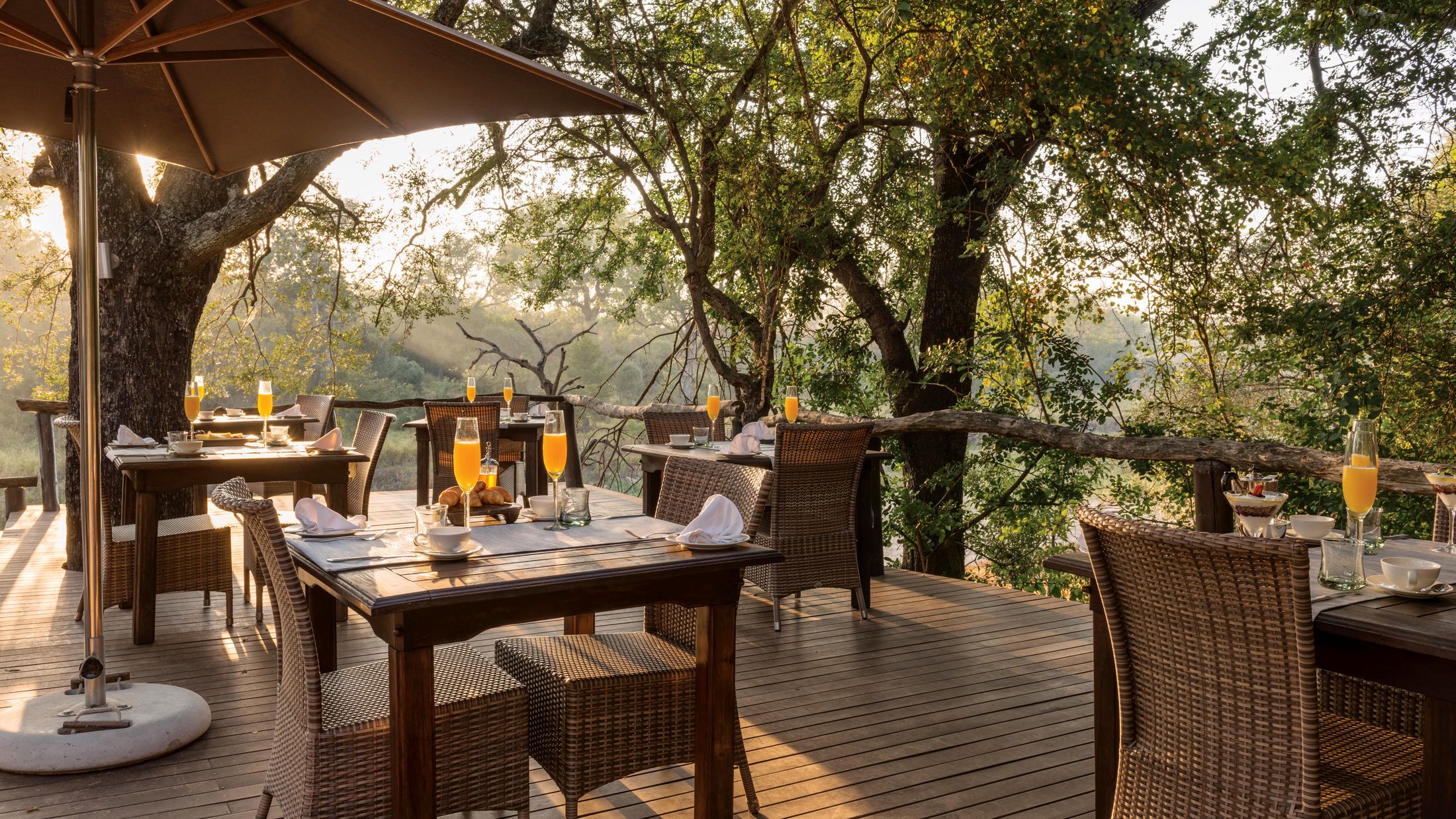 Dining Areas
Each of the three Dulini lodges have a dining area where guests can enjoy fresh local ingredients selected by expert chefs onsite. If you prefer to dine al fresco the viewing decks offer spectacular views and you can also enjoy meals and snacks on safari.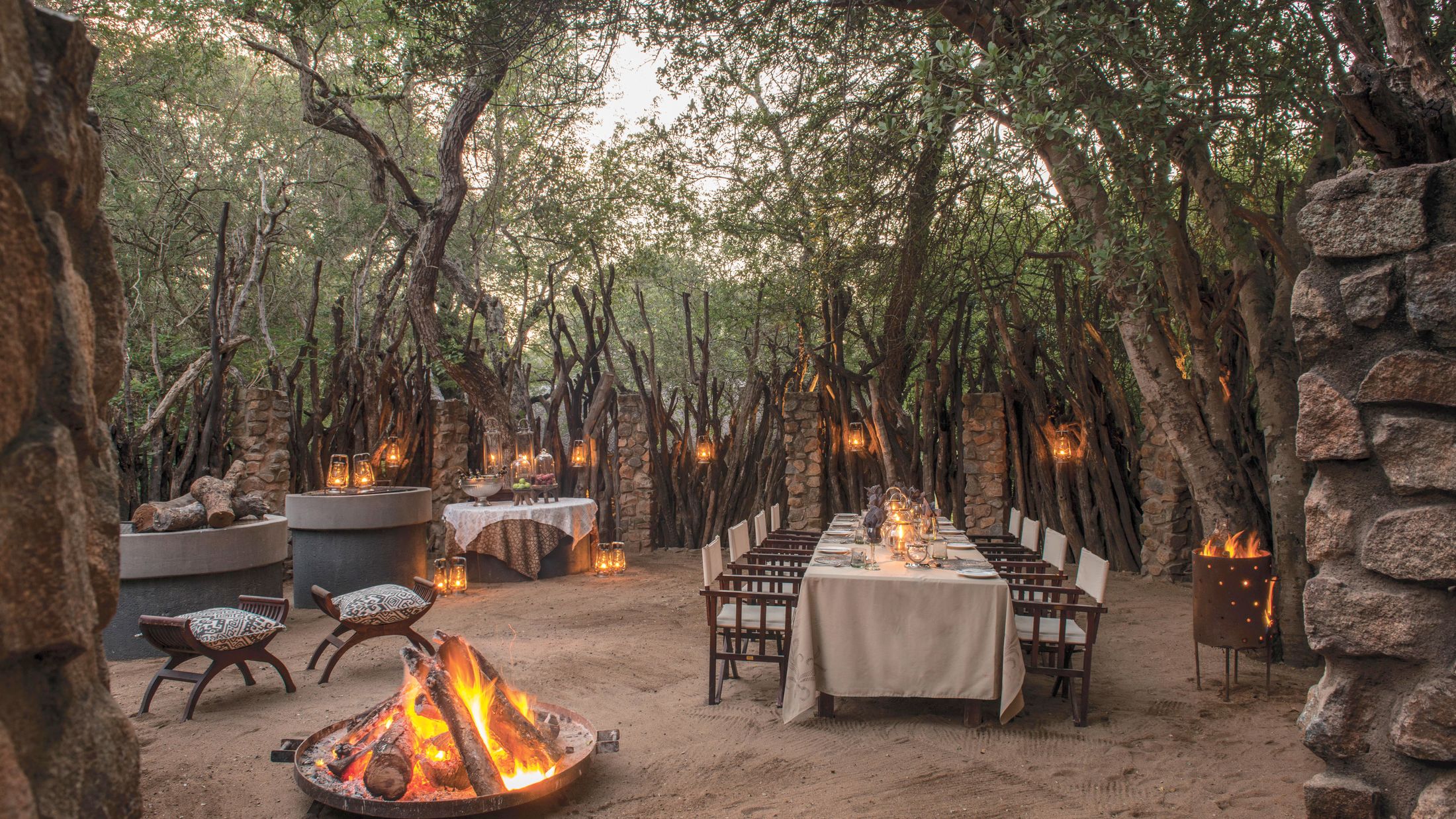 Dulini Boma
Dine under the shade of ancient Ebony and Leadwood trees as you warm yourself by the fire and enjoy the delicious mixture of African and international food and wine.
Beach & Pools
Swimming Pool
An Olympic sized swimming pool is surrounded by the beautiful exteriors of the hotel, as well as sun loungers and a pool deck where you can enjoy drinks and lunch. The swimming pool is heated in winter.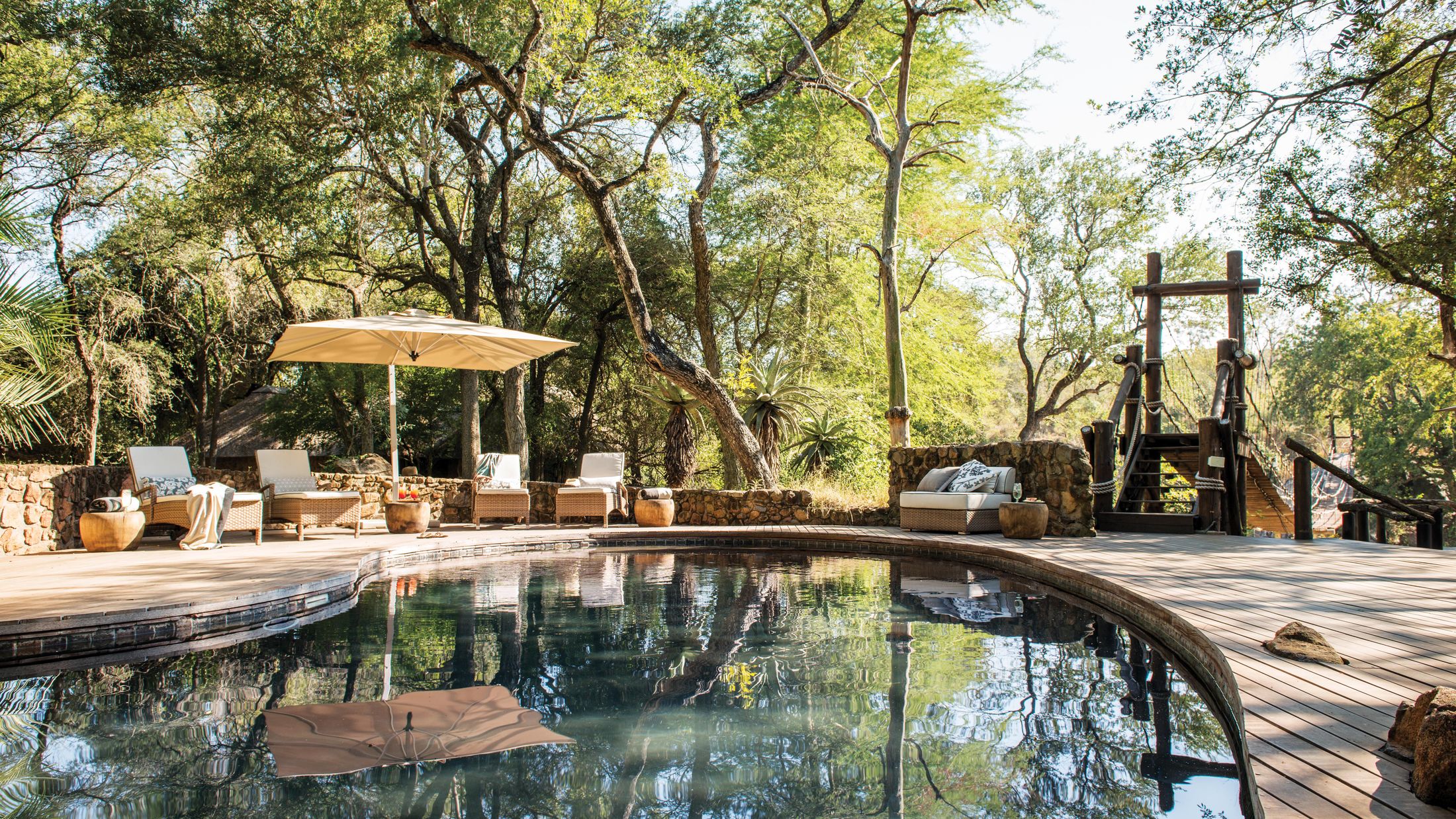 Activities & Entertainment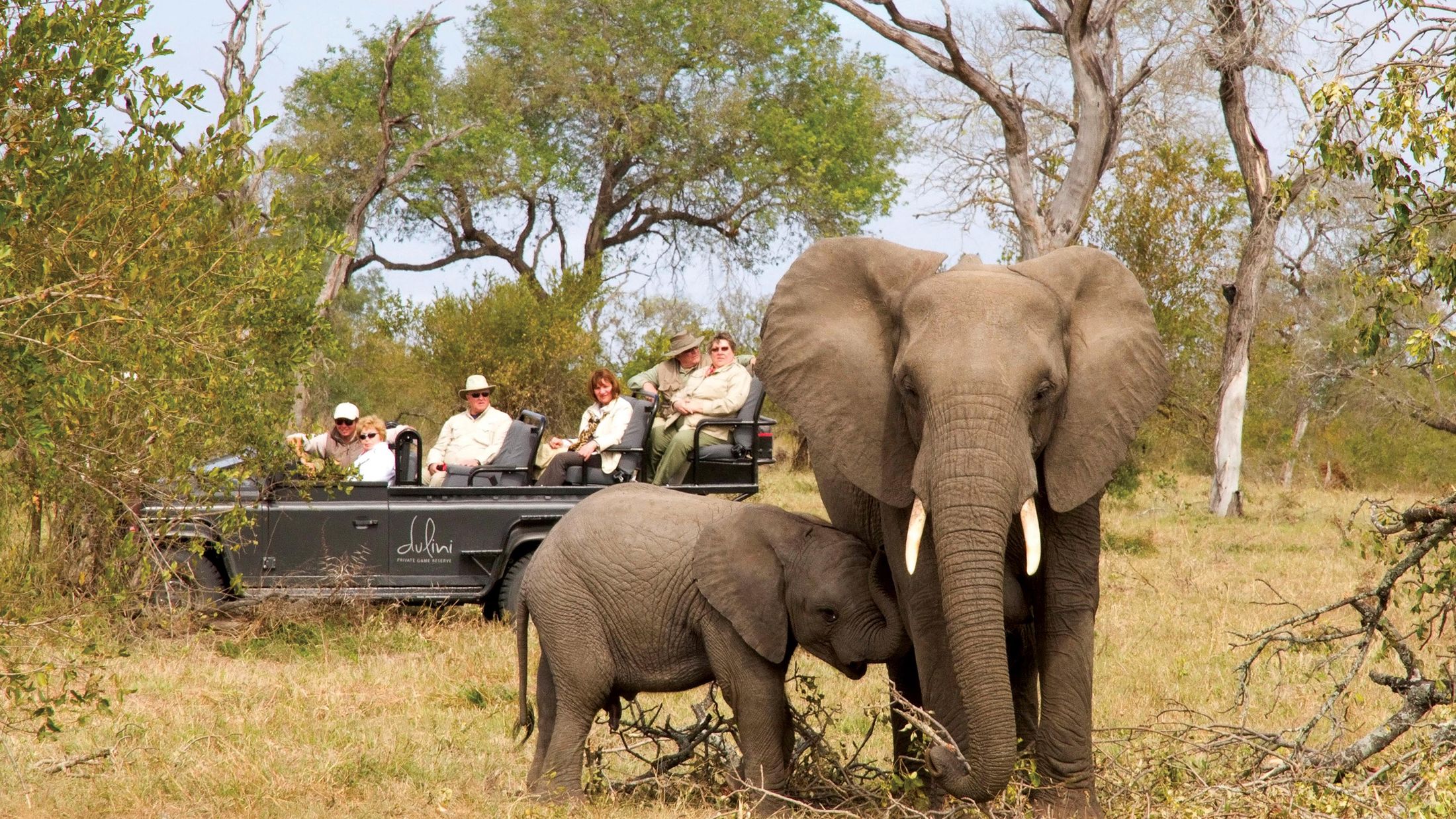 Safari Game Drives
Your stay includes two game drives per day. Your expert guide will take you through a large area of 10,000 hectares of national park where you will find fascinating creatures, as well as striking landscapes.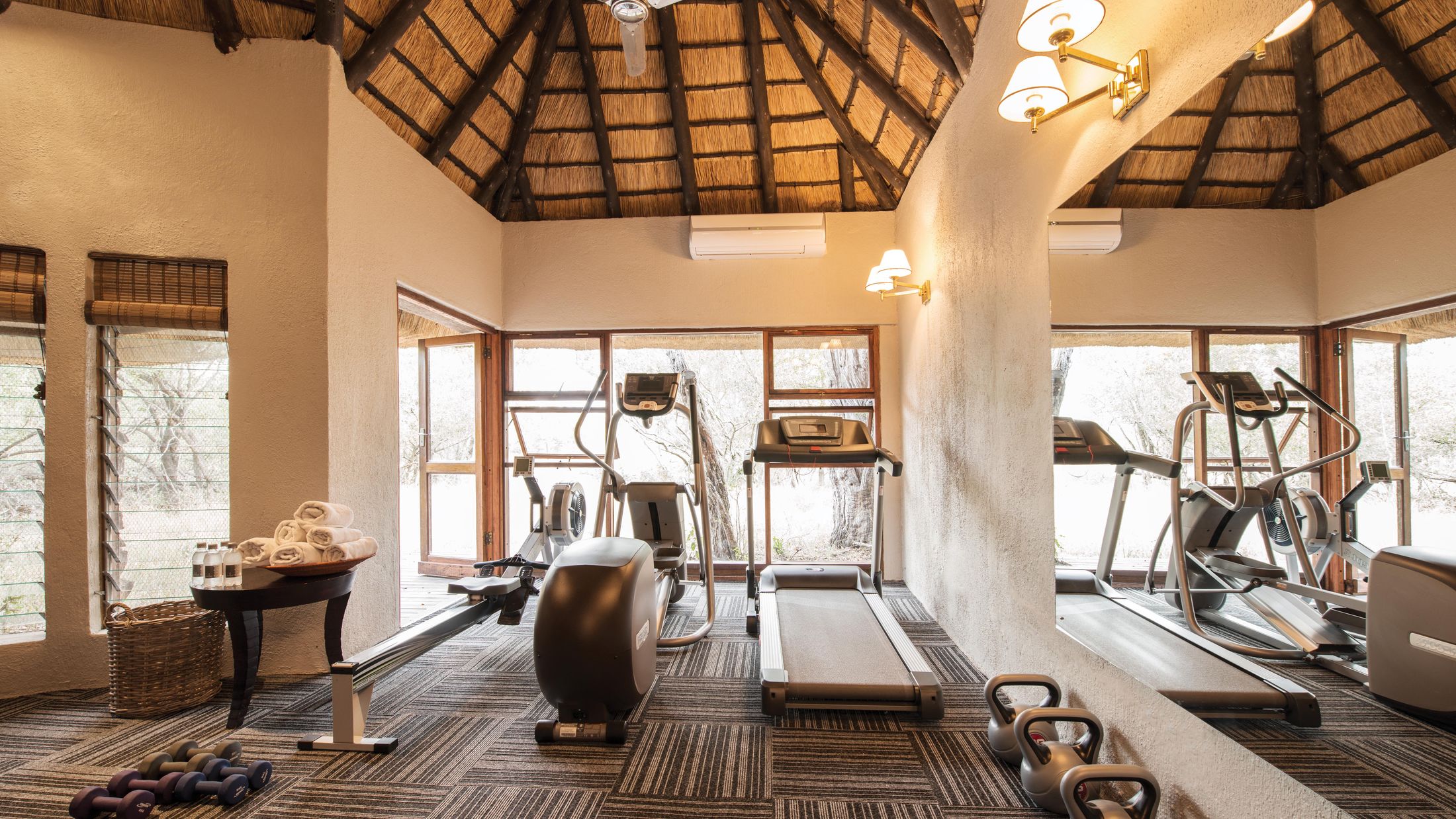 Gym
There is a fully equipped gym at the Dulini Lodge, where you can use the weight and cardio machines as you soak in the views.
About the location
Sharing a 50km unfenced border with Kruger National Park, Sabi Sand Game Reserve is one of the best places to see South Africa's magnificent wildlife. Home to wide, open plains, hills and flowing rivers this is the perfect place to see lions, leopards, elephants, rhinos, giraffes and more. Set across 65,000 hectares there are 10,000 hectares to enjoy from Dulini Lodge, with expert guides who will teach you about the behaviour of the animals, as well as tracking their movements.
Bird lovers and those wanting to learn about the insects and smaller creatures that make up Kruger National Park will enjoy bush walks, as well as 4x4 safaris, while the river banks are excellent places to see eagles, kingfishers and more.
Transfer time
Skukuza Airport is around an hour and a half away from Dulini Lodge by car.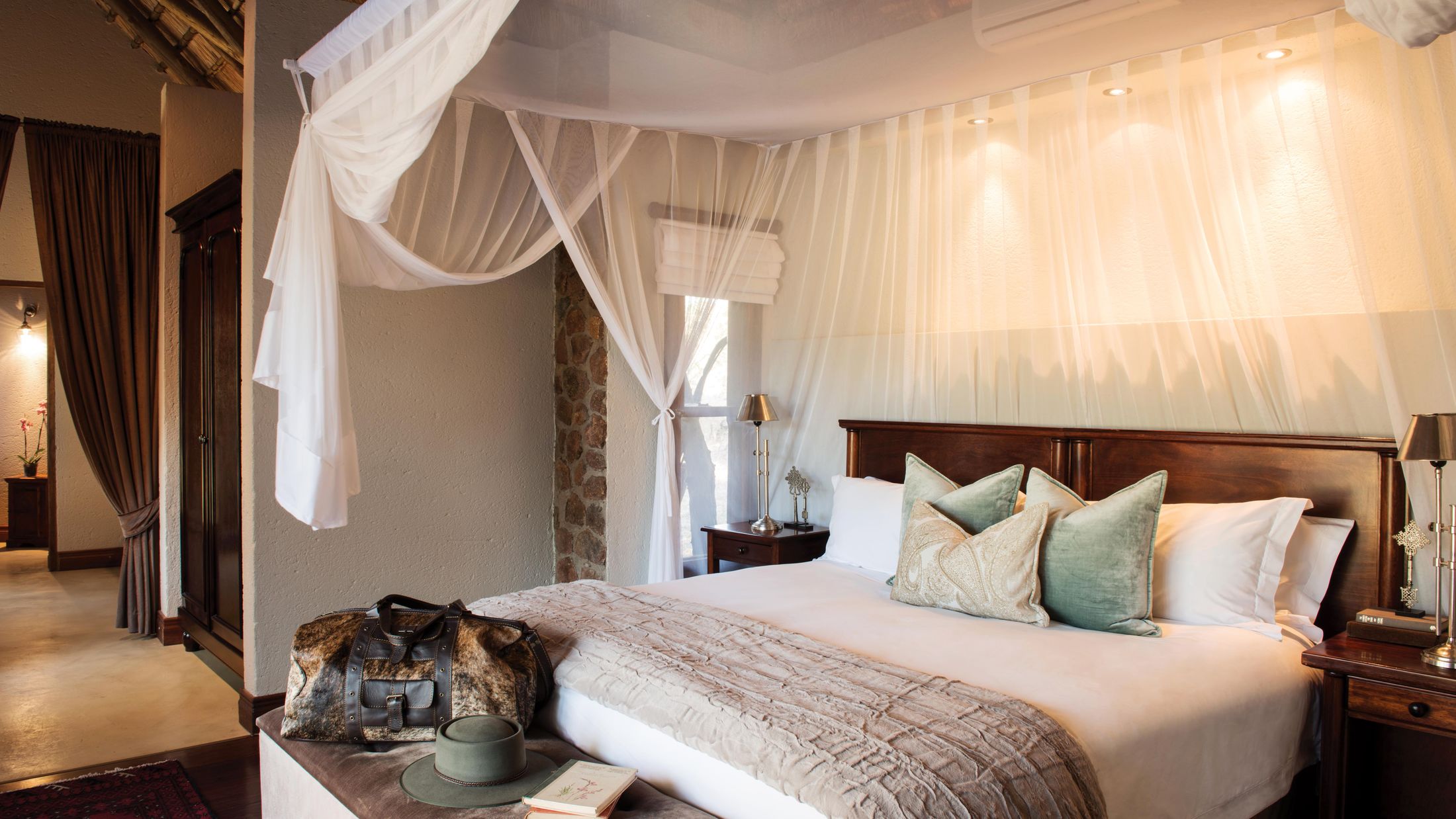 Dulini Lodge
Six private suites are located along the banks of the Mabrak River and offer wonderful views and luxury facilities. Thatched roofs blend with the environment, while the interiors combine natural details and modern amenities.
51m²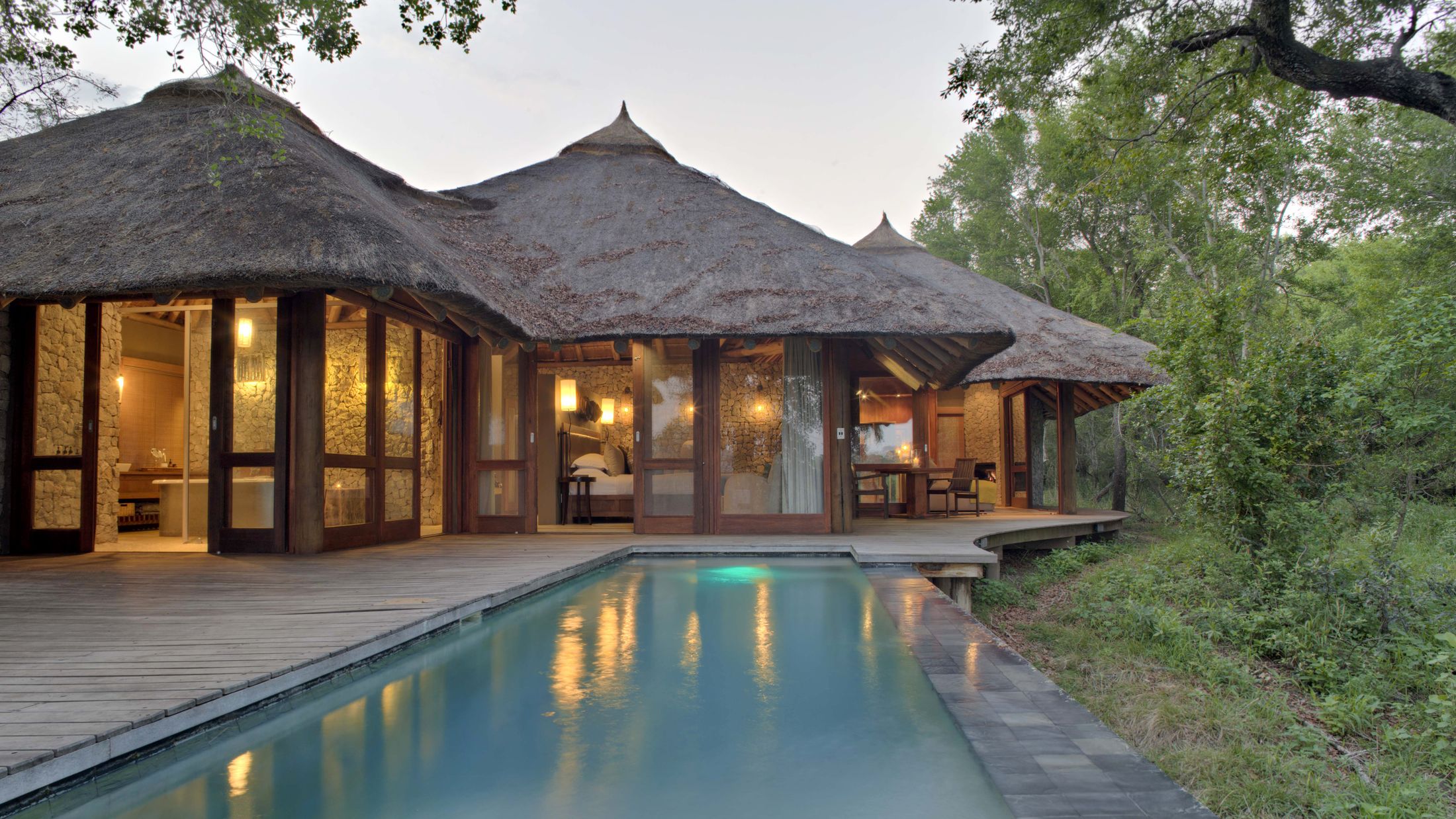 Leadwood Lodge
Sleeps up to two adults
Three romantic suites provide a tranquil setting for your safari holiday. Large private decks each have their own plunge pool where you can cool off from the warm sun and look out over the surrounding countryside. Enjoy private dining on your deck and enjoy the spacious, beautiful interiors.
36m²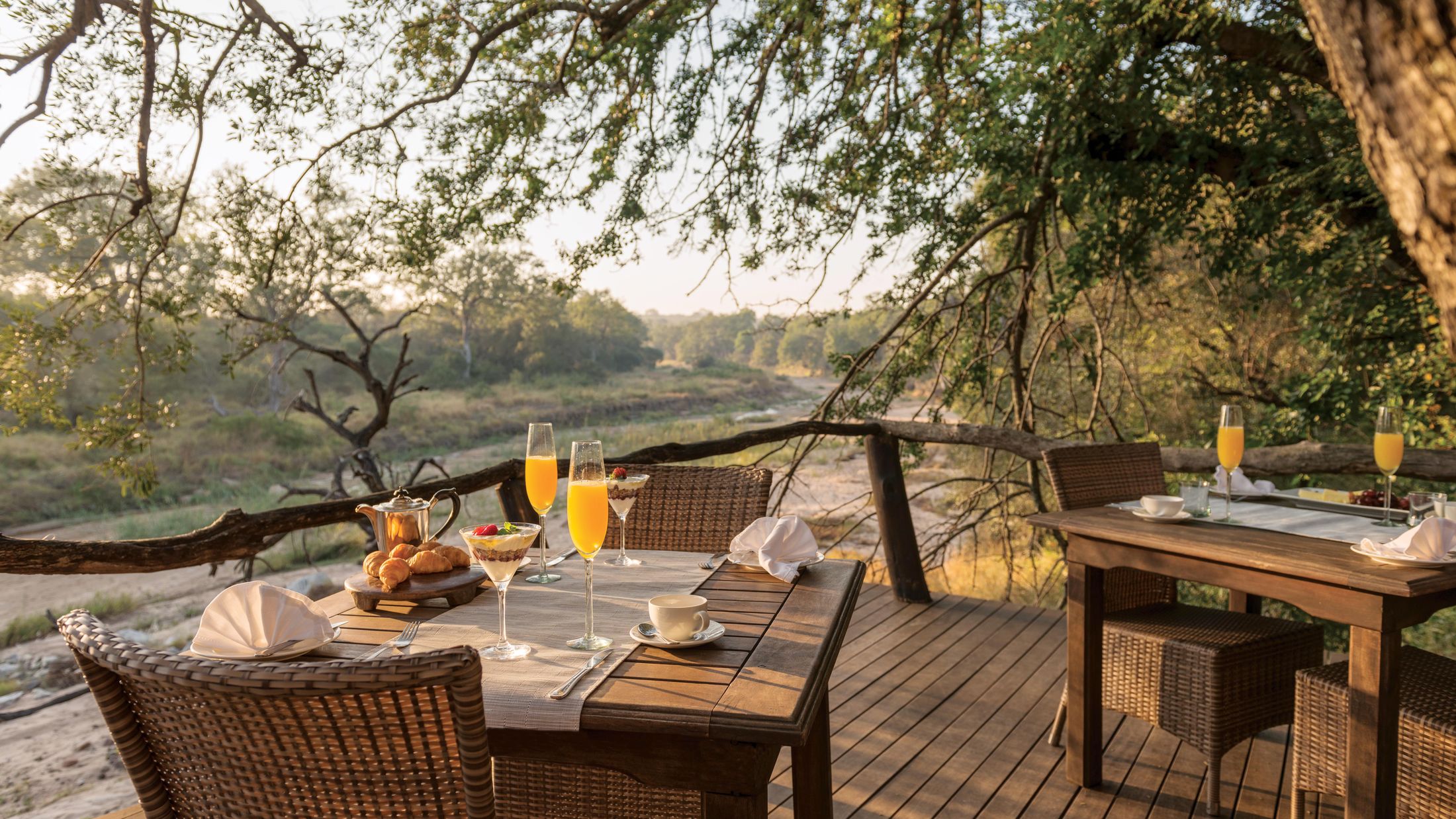 River Lodge
Sleeps up to two adults
Swim in your private plunge pool as you overlook the flowing Sands River, relax on the deck or enjoy the spacious and elegant interiors during your stay. Six suites are available and there are also large communal dining and lounge areas and a viewing deck.
46m²
Sovereign Experiences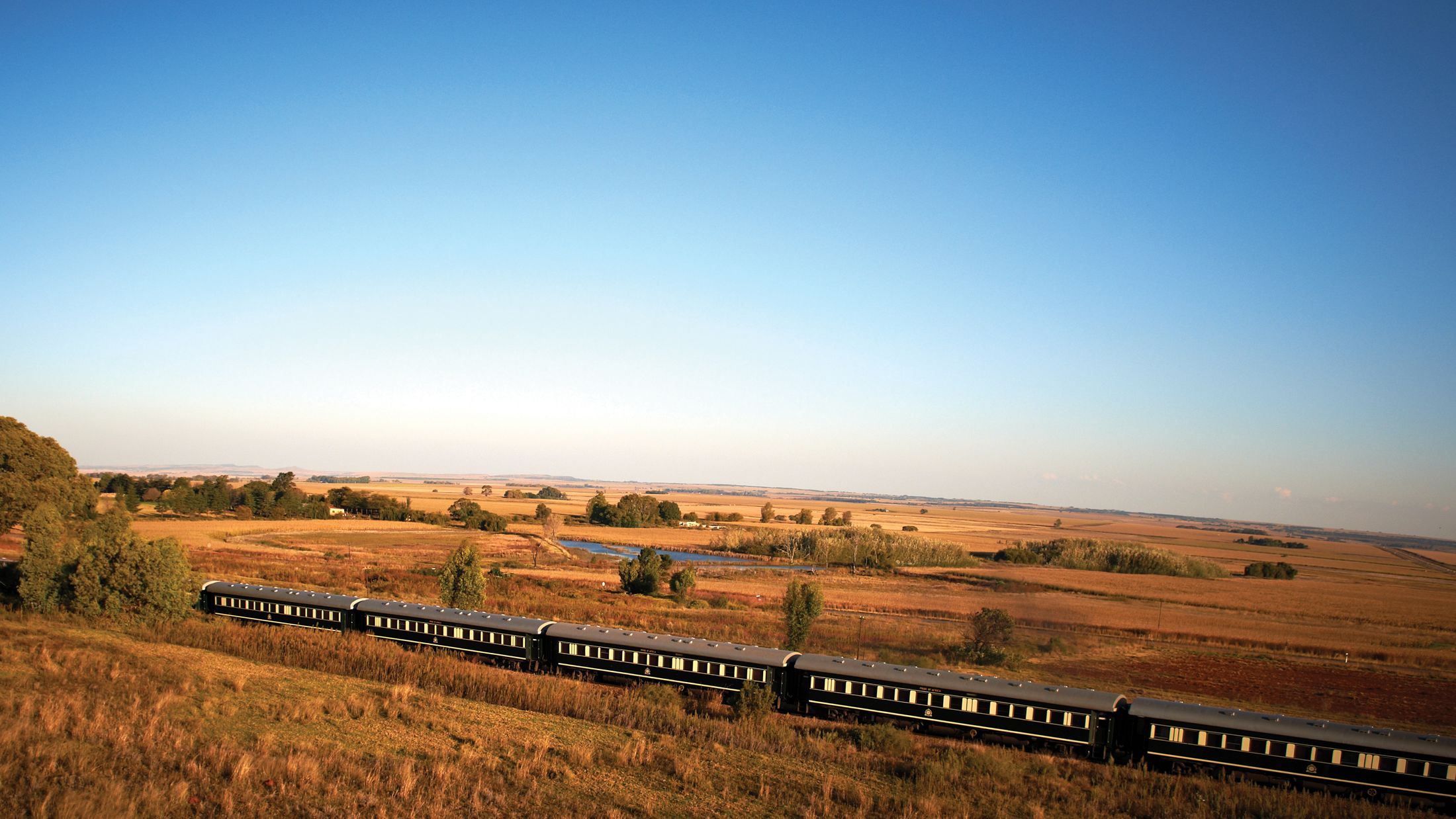 Step back in time for a luxury rail journey through the ever-changing landscapes of South Africa
Experience the best of the wonderful landscapes of South Africa and step back in time for a luxury rail journey. This is the perfect holiday for first time visitors to South Africa, as well as those wanting to experience something different.
View the South Africa Rovos Journey itinerary
---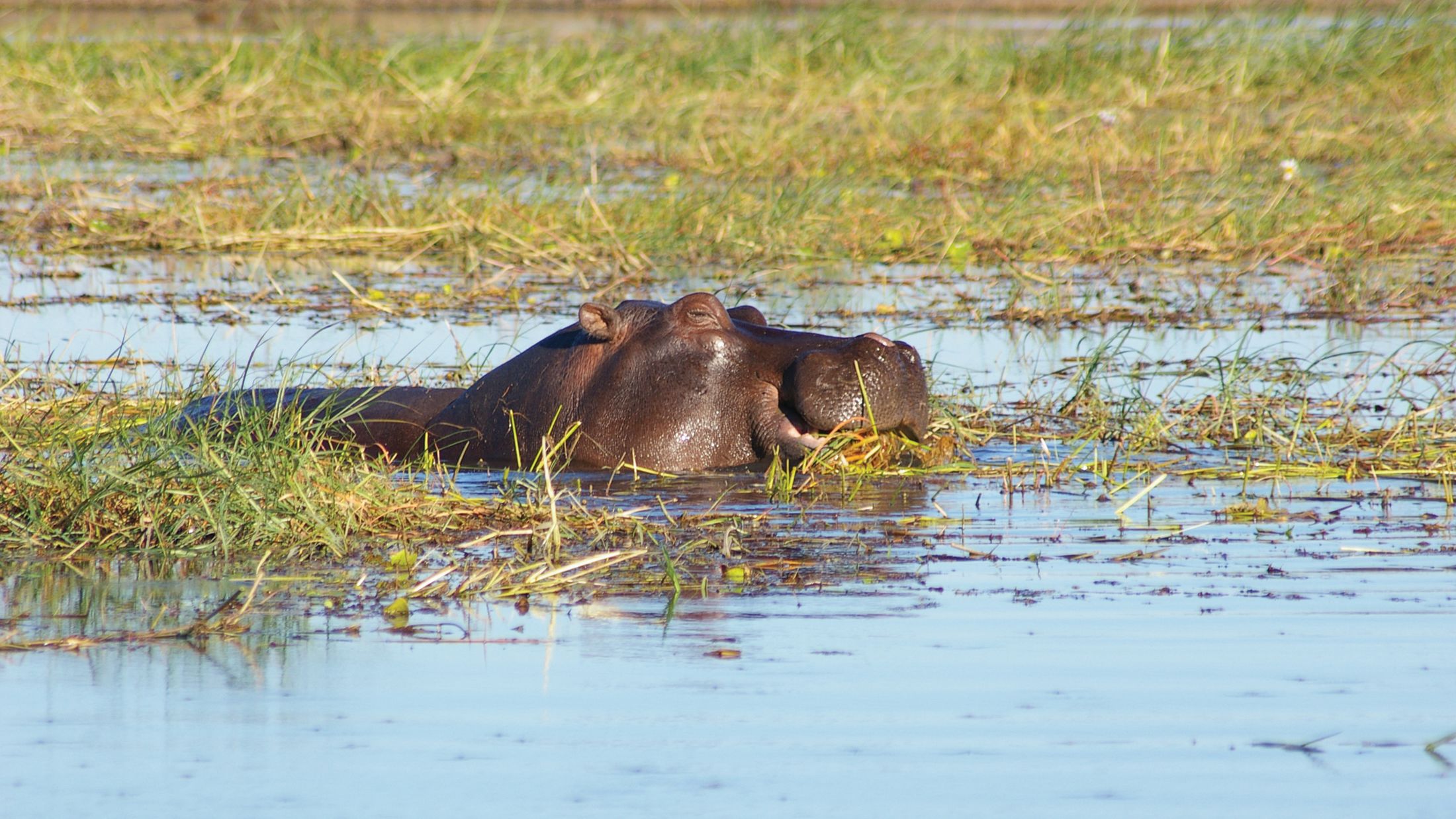 Contrast Africa's unique wildlife, natural wonders and iconic city in a holiday that introduces you to the very best of Africa.
Experience some of Southern Africa's most incredible landscapes as you enter the wilds of this beautiful continent.
View the Southern African Safari Discovery itinerary here
---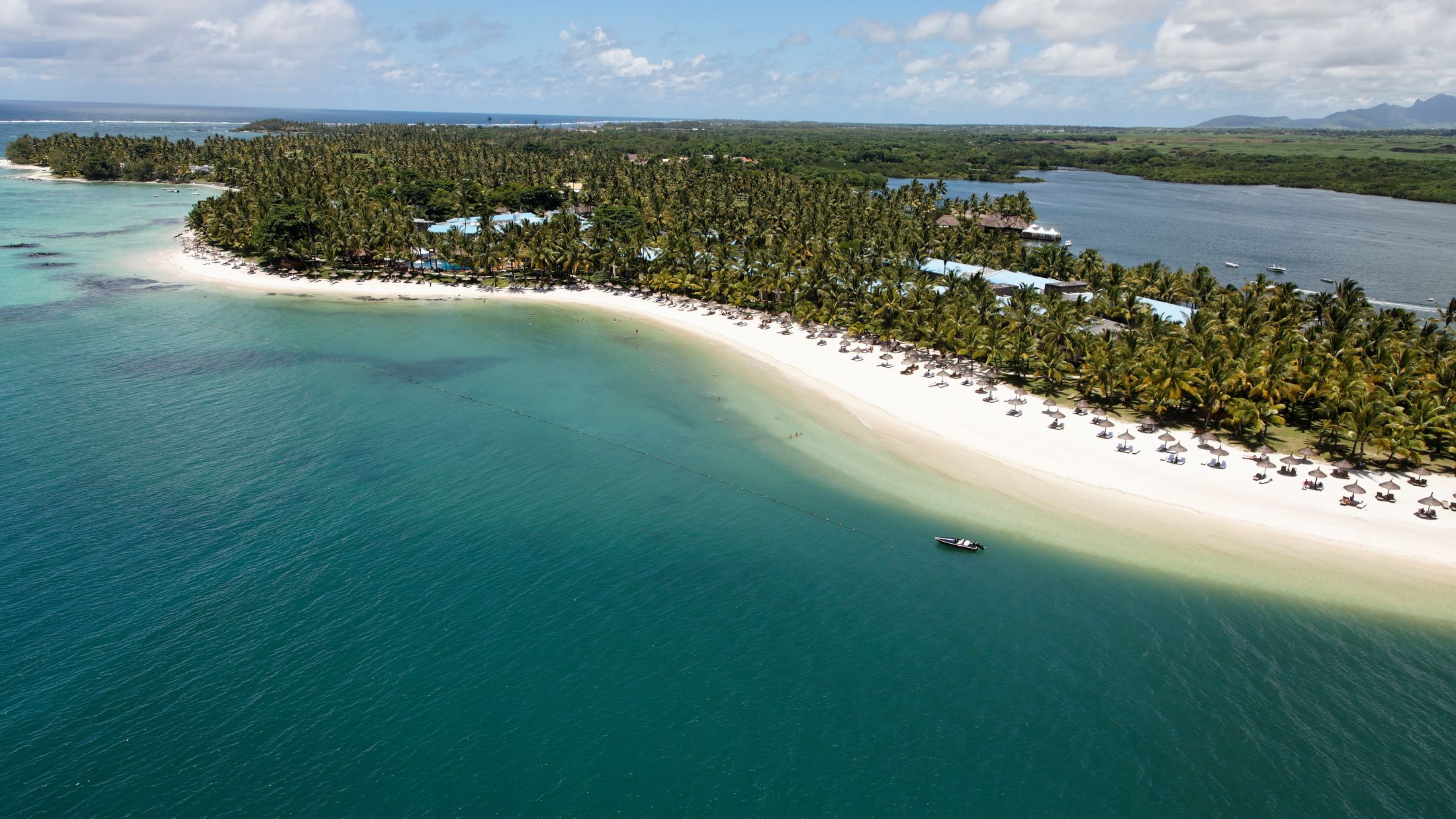 Combine the excitement of a safari and the cosmopolitan atmosphere and sophistication of Cape Town with a relaxed stay in the Indian Ocean.
Whether this is your first time on safari or you've been many times before, you are sure to appreciate your evenings in luxury and your days in awe as you visit Greater Kruger, in South Africa; one of the greatest game reserves in Africa.
View the Highlights of South Africa and Mauritius itinerary

Based on 453 traveller reviews

100% of travellers recommended this hotel
Travellers Ratings
What to expect
Reviews
"
Unbelievable Experience
dg94ke9, New York City, New York
Jun 12 2018
My wife and I just got back to the US from our southern African honeymoon, which included a stop in Cape Town, followed by a four night stay at Dulini Lodge, culminating with a few days on the beach...
My wife and I just got back to the US from our southern African honeymoon, which included a stop in Cape Town, followed by a four night stay at Dulini Lodge, culminating with a few days on the beach in Mozambique. Our time at Dulini was by far the highlight and I literally just created a Trip Advisor account specifically to give the folks at Dulini a 5-star review. Poppy and her team back at the lodge were incredible. They went above and beyond in every aspect to ensure we were extremely comfortable and cared for. The suite itself (along with the rest of the lodge) was recently renovated and everything was extremely clean. The food was awesome and there was a plethora of it. The room is stacked with beer/wine/liquor/snacks and the prepared meals themselves were all delicious. The experience while out on game drive is what really brought this into the atmosphere of "life changing". We were lucky enough to spend our 8 drives with the team of Fred (ranger) and May (tracker), who entertained us for hours on end with deep knowledge and first-hand stories about every different animal/bird/plant/tree/bush/constellation. My wife and I found ourselves enjoying the time transitioning between animal sightings almost as much as the sightings themselves, as May methodically pointed out every track or trace of various road crossings and Fred tried to convert whole car into fellow "birders". We were the last ones remaining on morning game drive every single day, with Fred and May happily leading us on a exciting chase of a pack of wild dogs long after the other vehicles had returned home for breakfast/rest. While Poppy and team could have easily complained as we threw multiple wrenches into their planned meals with our "amended" schedule, they happily adapted, even delivering us breakfast wraps/muffins/fruits while we were out on drive. We are hoping to make it back as soon as possible, and are strongly urging multiple friends who are likewise considering a honeymoon in South Africa that Dulini is the right lodge for an unforgettable experience.
View full review
London-Lourson, Hong Kong
Jun 09 2018
We stayed another 2 nights at Dulini Lodge. Dulini has six suites, its property is a lot bigger than Leadwood Lodge, many places to chill out. Service is excellent, staff are friendly and...
We stayed another 2 nights at Dulini Lodge. Dulini has six suites, its property is a lot bigger than Leadwood Lodge, many places to chill out. Service is excellent, staff are friendly and helpful. Our field guide, Fred and the tracker, May are great. If you are looking for a safari destination, Sabi Sands is a good option because it is so easy to see the big cats, we saw big five and many other wildlife. The Dulini collection is also a good hotel choice.
View full review