Set out over three lodges, enjoy romance and tranquillity
Sit around the fire in the boma and listen to stories or try private dining on your viewing deck
Massages and other treatments can be booked in the comfort of your room
All suites have their own private plunge pool
There are three lodges to choose from within The Dulini Collection, each with their own character and selection of luxury facilities. Dulini Lodge is sheltered by the ancient Ebony and Leadwood trees of the surrounding woodland, loverlooking the Mabrak River-bed where you bear first hand witness to many species of birds and animals. Leadwood Lodge offers contemporary and spacious interiors,with only 4 suites set on the confluence of the Sand and Mabrak rivers. This is the ideal setting for a honeymoon or romantic getaway. River Lodge offers six beautifully-appointed suites offering exquisite panoramic views of the Sand River.
Your stay at The Dulini Collection includes game drives through the surrounding game reserve, which shares a large unfenced border with the famous Kruger National Park. From here you can spot Africa's famous Big Five, as well as other incredible wildlife, birds, insects and landscapes.
Facilities
Bars & Restaurants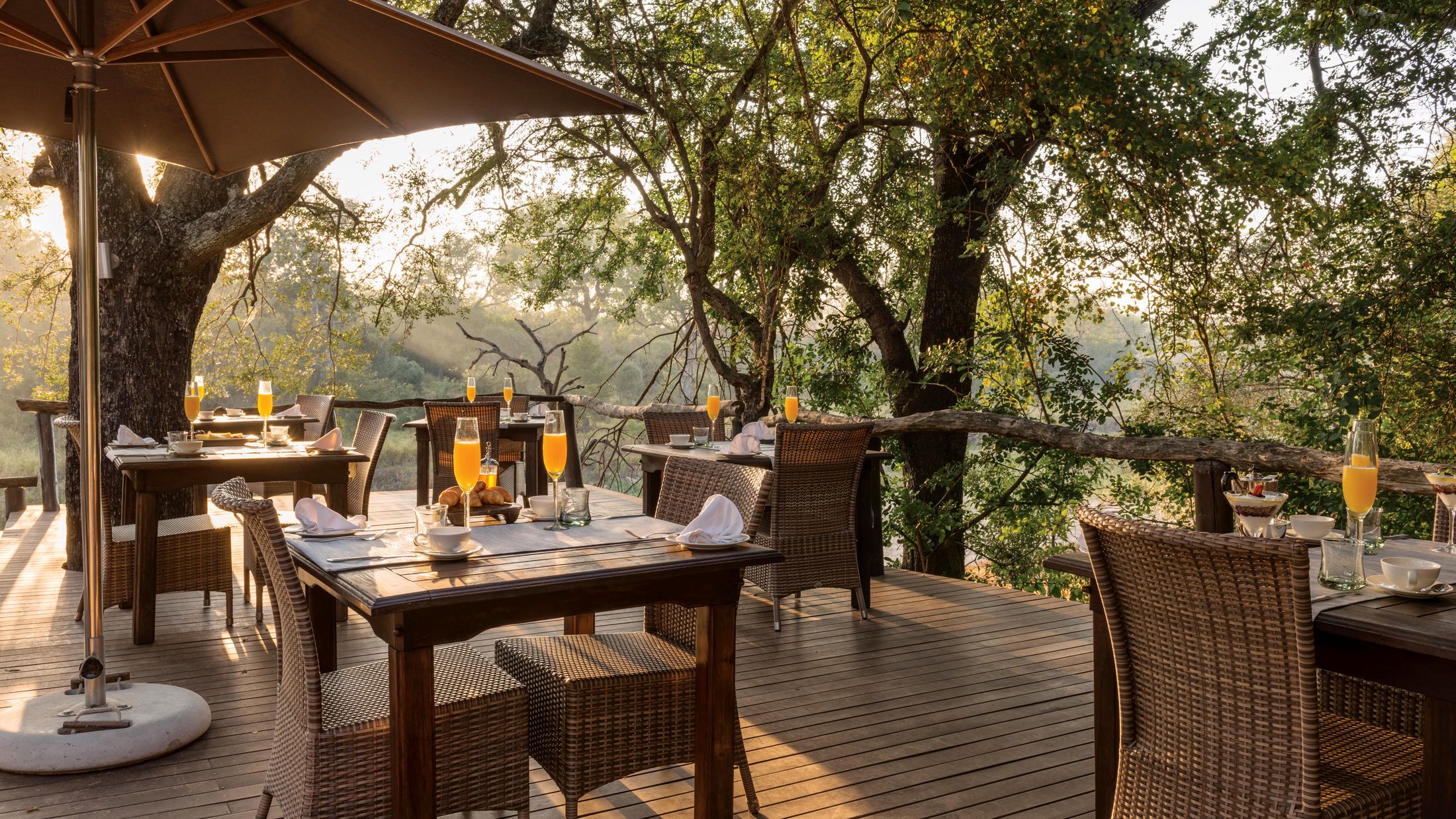 Dining Areas
Each of the three Dulini lodges have a dining area where guests can enjoy fresh local ingredients selected by expert chefs onsite. If you prefer to dine al fresco the viewing decks offer spectacular views and you can also enjoy meals and snacks on safari.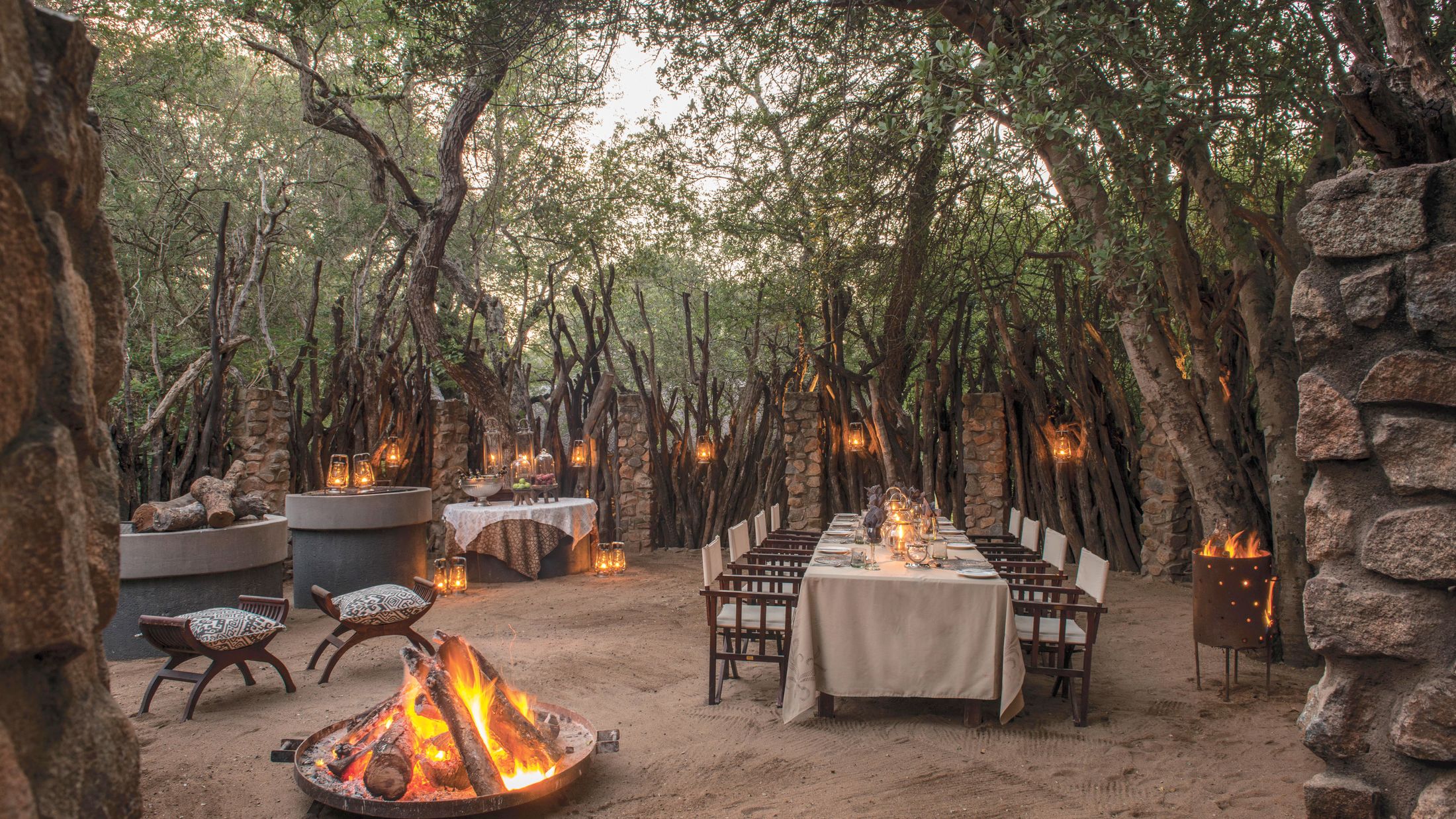 Dulini Boma
Dine under the shade of ancient Ebony and Leadwood trees as you warm yourself by the fire and enjoy the delicious mixture of African and international food and wine.
Beach & Pools
Swimming Pool
All suites boast their own private heated plunge pools. Dulini Lodge also features a larger unheated pool for all guests to enjoy in the main lodge area. Loungers and umbrellas are set up on the deck surrounding the pool. River Lodge features a unheated pool at the gym, which is equipped with a static swimming harness for training.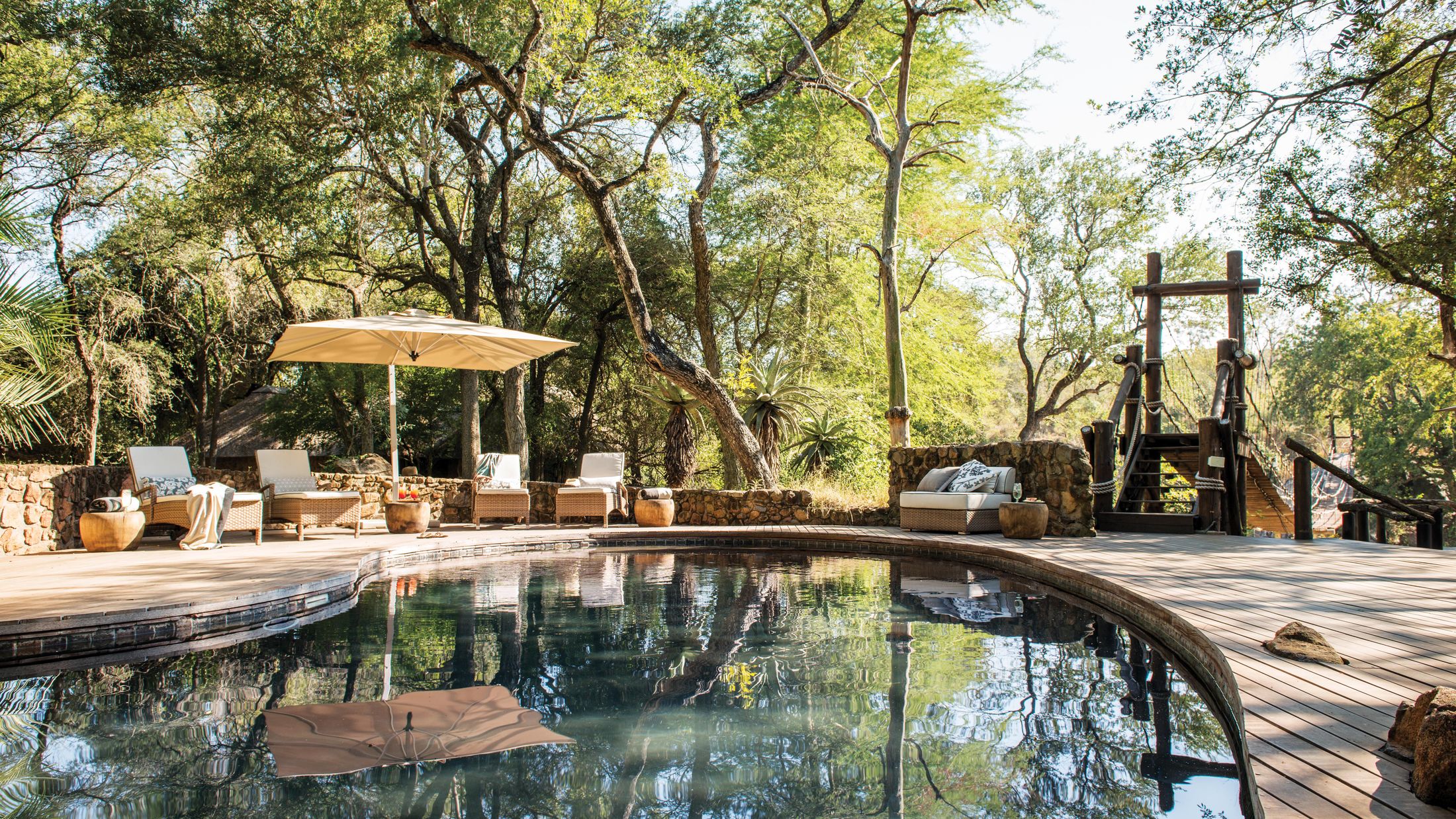 Activities & Entertainment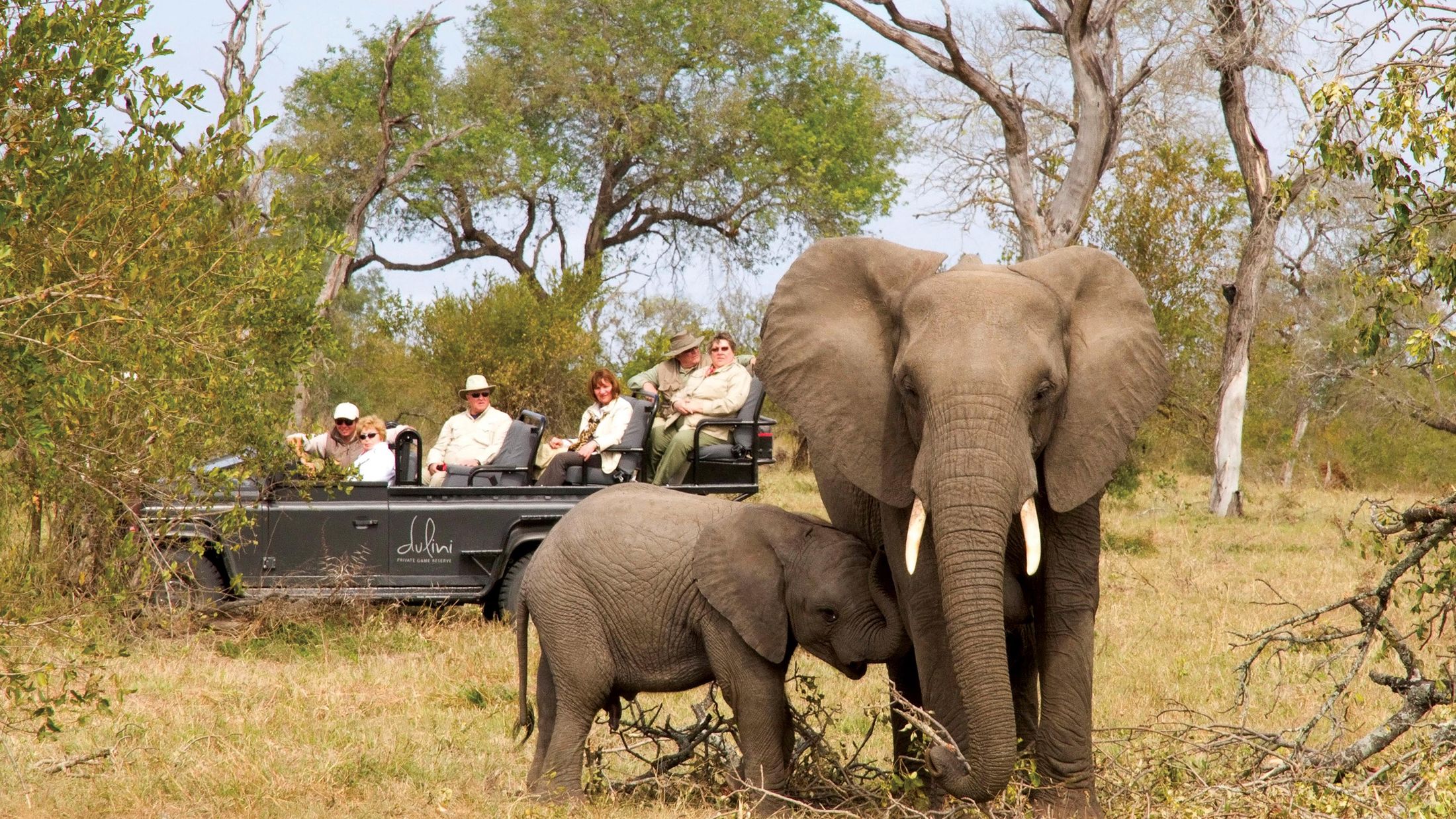 Safari Game Drives
Your stay includes two game drives per day. Your expert guide will take you through a large area of 10,000 hectares of national park where you will find fascinating creatures, as well as striking landscapes.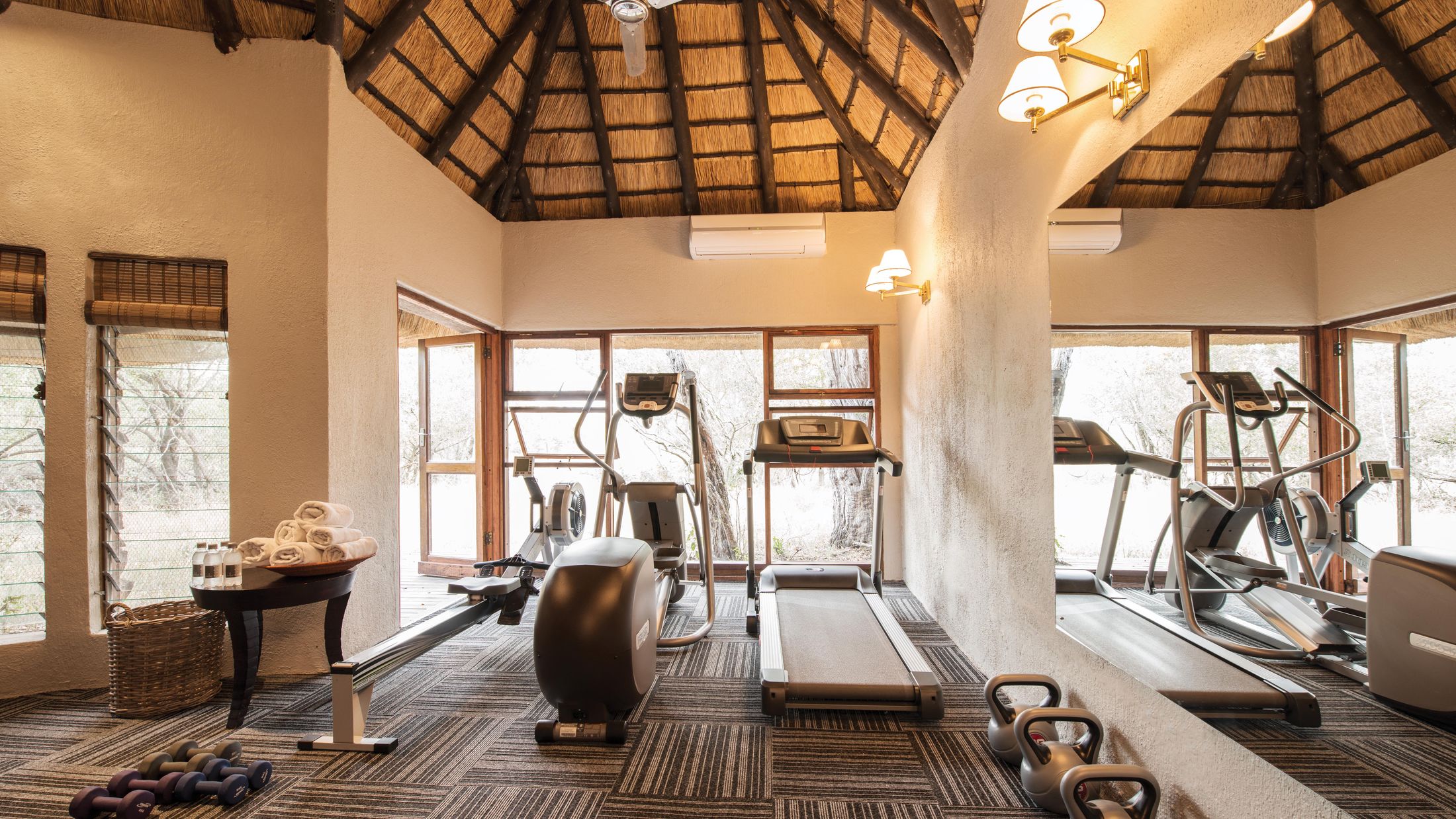 Gym
There is a well equipped gym at the Dulini Lodge and River Lodge, where you can use the weight and cardio machines as you soak in the views.
About the location
Sharing a 50km unfenced border with Kruger National Park, Sabi Sand Game Reserve is one of the best places to see South Africa's magnificent wildlife. Home to wide, open plains, hills and flowing rivers this is the perfect place to see lions, leopards, elephants, rhinos, giraffes and more. Set across 65,000 hectares there are 10,000 hectares to enjoy from Dulini Lodge, with expert guides who will teach you about the behaviour of the animals, as well as tracking their movements.
Bird lovers and those wanting to learn about the insects and smaller creatures that make up Kruger National Park will enjoy bush walks, as well as 4x4 safaris, while the river banks are excellent places to see eagles, kingfishers and more.
Transfer time
Skukuza Airport is around an hour and a half away from the Dulini Collection by car.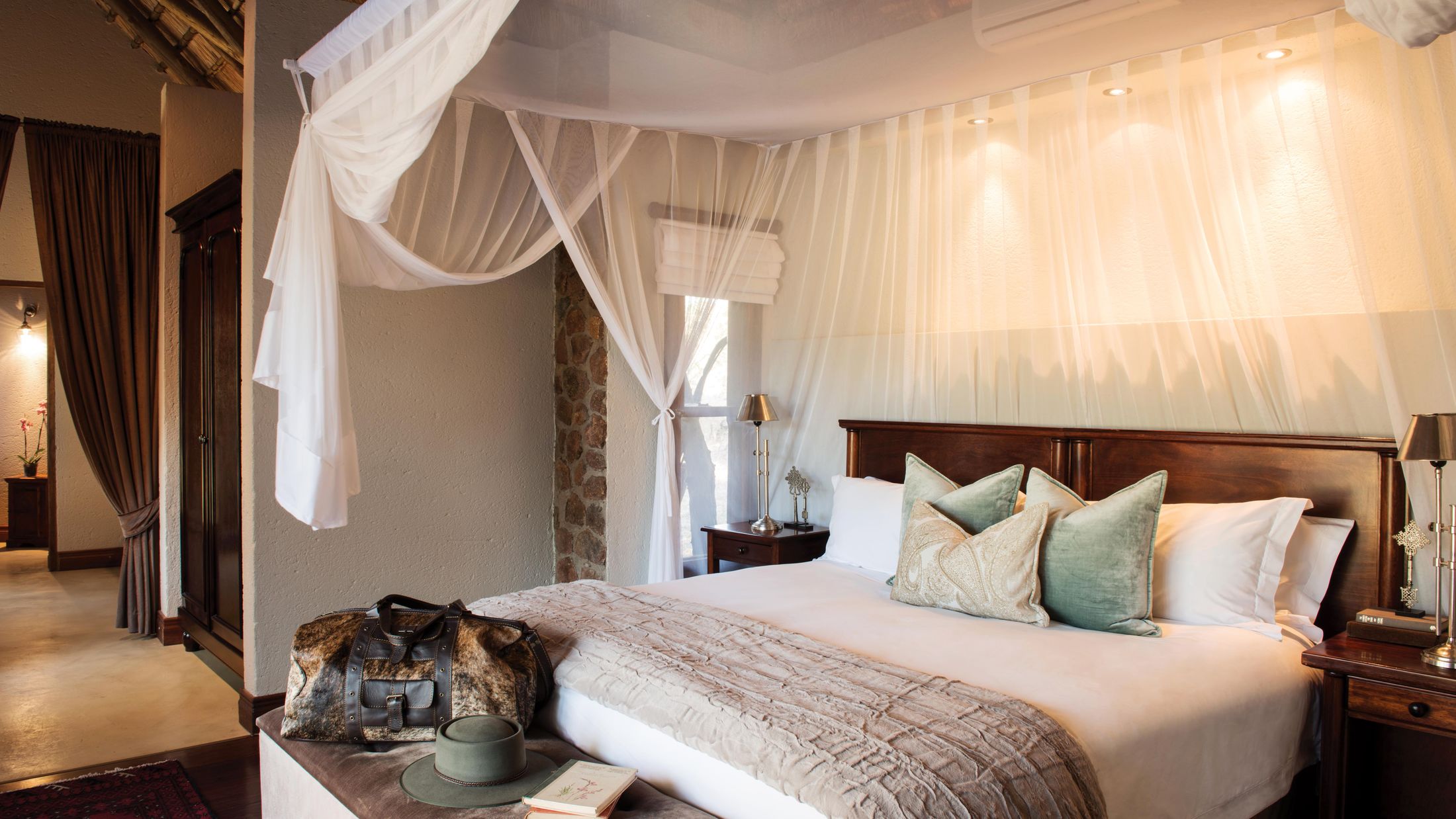 Dulini Lodge
Six private suites are located along the banks of the Mabrak River and offer wonderful views and luxury facilities. Thatched roofs blend with the environment, while the interiors combine natural details and modern amenities.
70m²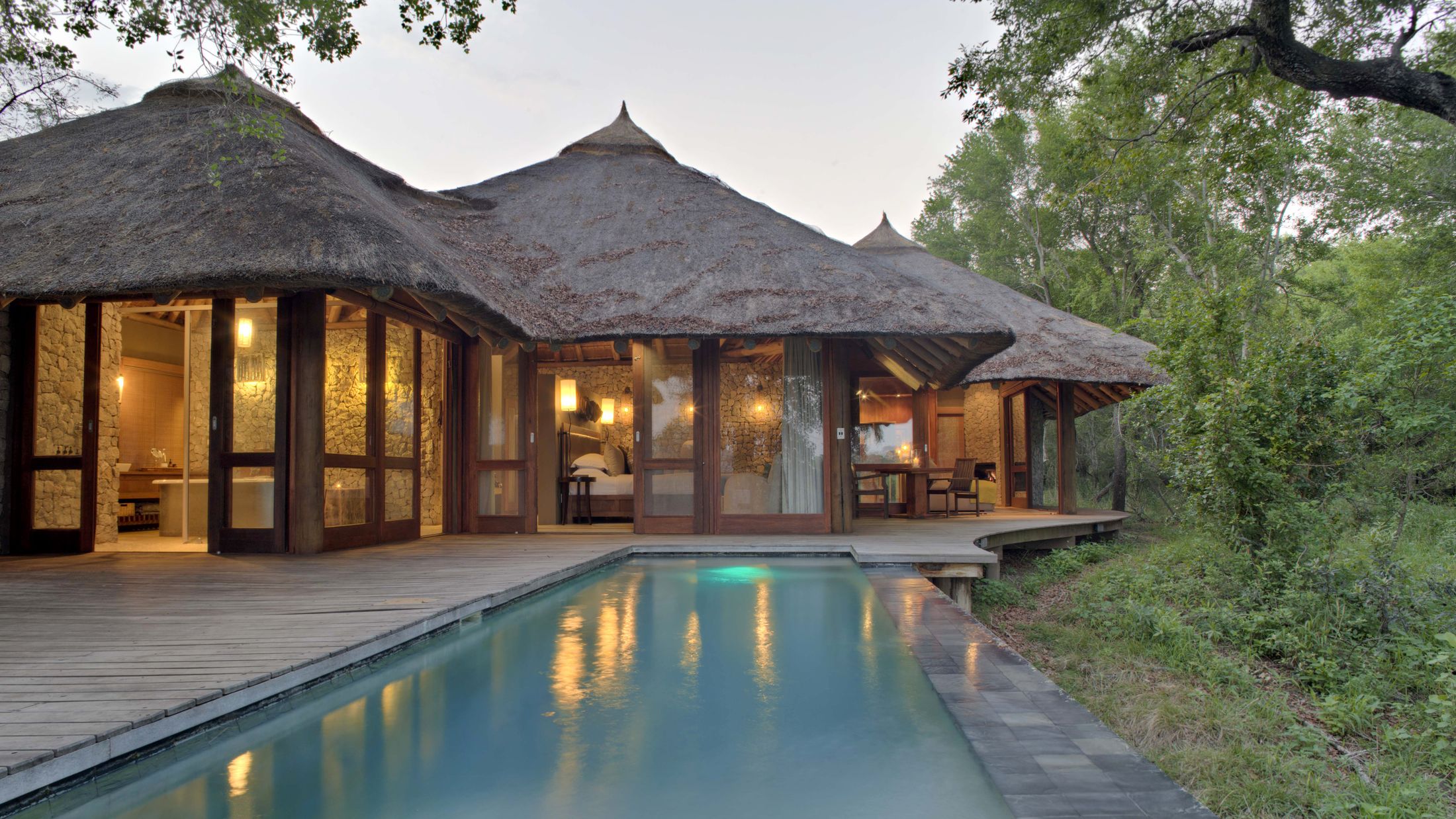 Leadwood Lodge
Sleeps up to two adults
Four romantic suites provide a tranquil setting for your safari holiday. Large private decks each have their own plunge pool where you can cool off from the warm sun and look out over the surrounding countryside. Enjoy private dining on your deck and enjoy the spacious, beautiful interiors.
87m²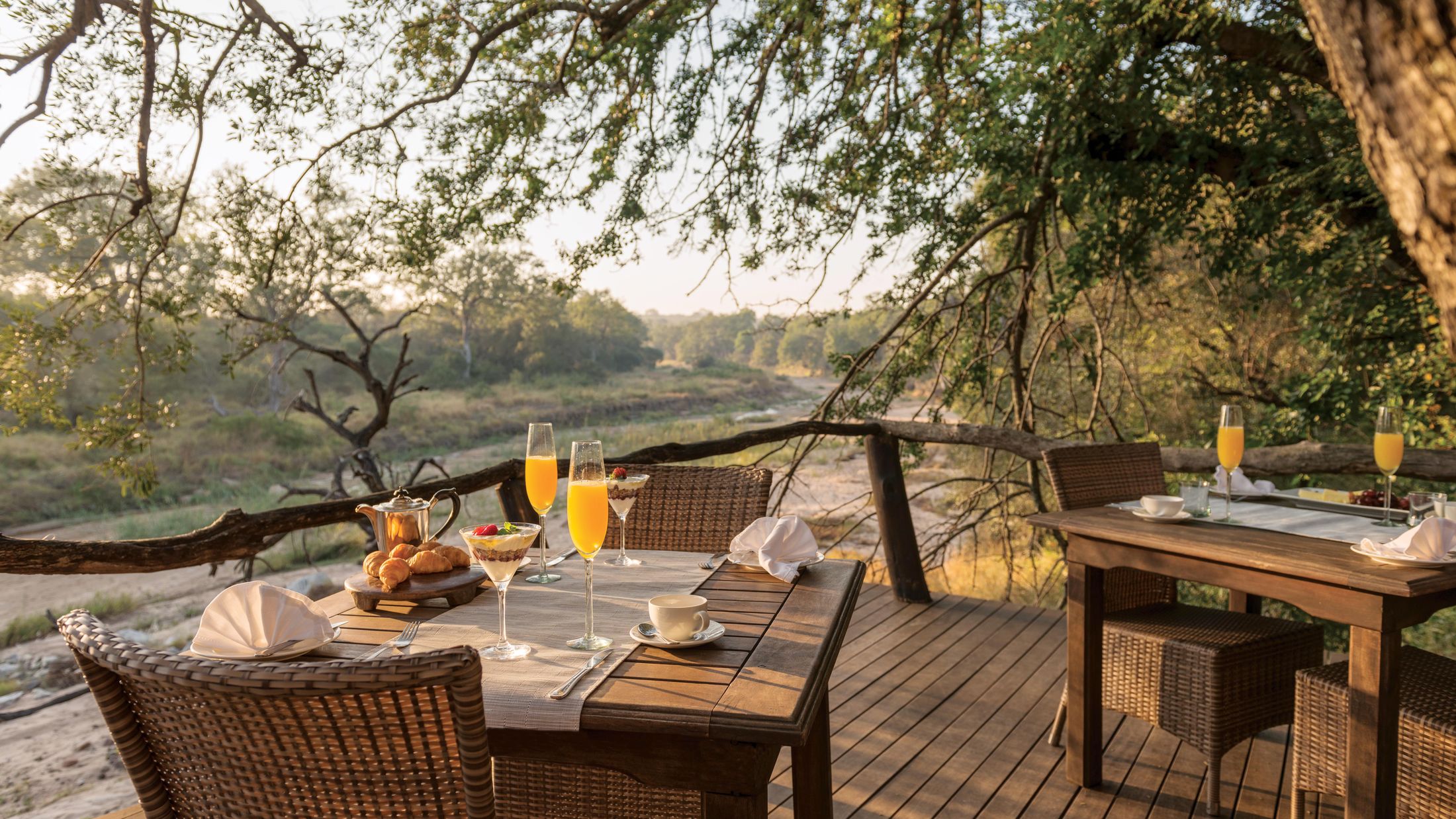 River Lodge
Sleeps up to two adults
Each of the six suites offers its guests a private heated plunge pool. Suites overlook the flowing Sand River, relax on the large deck or enjoy the spacious and elegant interiors . and there are also large communal dining and lounge areas and a viewing deck. The beautiful main lodge facilities offer its guests a walk in wine cellar, safari shop and a quiet and relaxing environment to enjoy panoramic views of the river.
77m²
Sovereign Experiences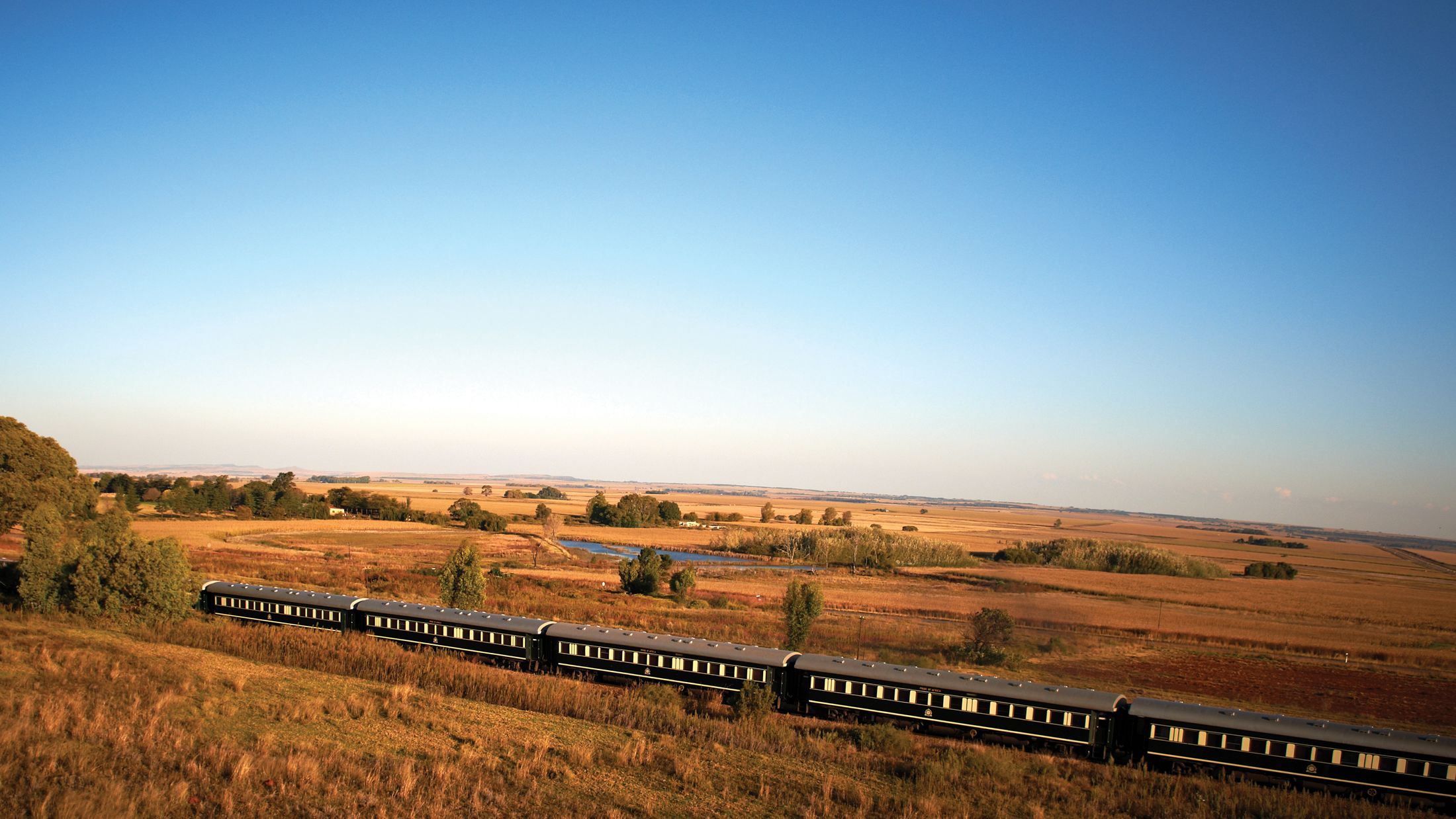 Step back in time for a luxury rail journey through the ever-changing landscapes of South Africa
Experience the best of the wonderful landscapes of South Africa and step back in time for a luxury rail journey. This is the perfect holiday for first time visitors to South Africa, as well as those wanting to experience something different.
View the South Africa Rovos Journey itinerary
---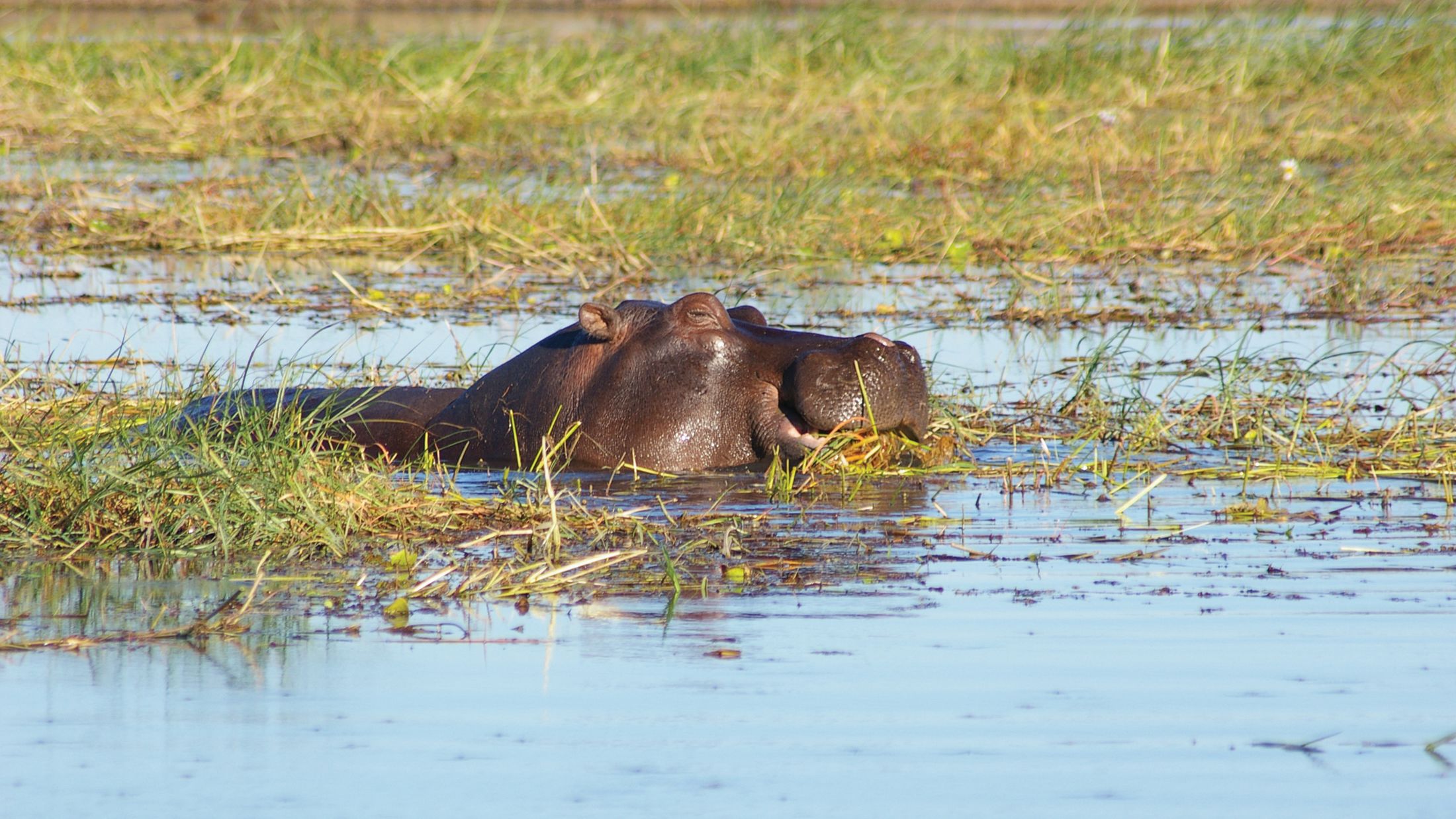 Contrast Africa's unique wildlife, natural wonders and iconic city in a holiday that introduces you to the very best of Africa.
Experience some of Southern Africa's most incredible landscapes as you enter the wilds of this beautiful continent.
View the Southern African Safari Discovery itinerary here
---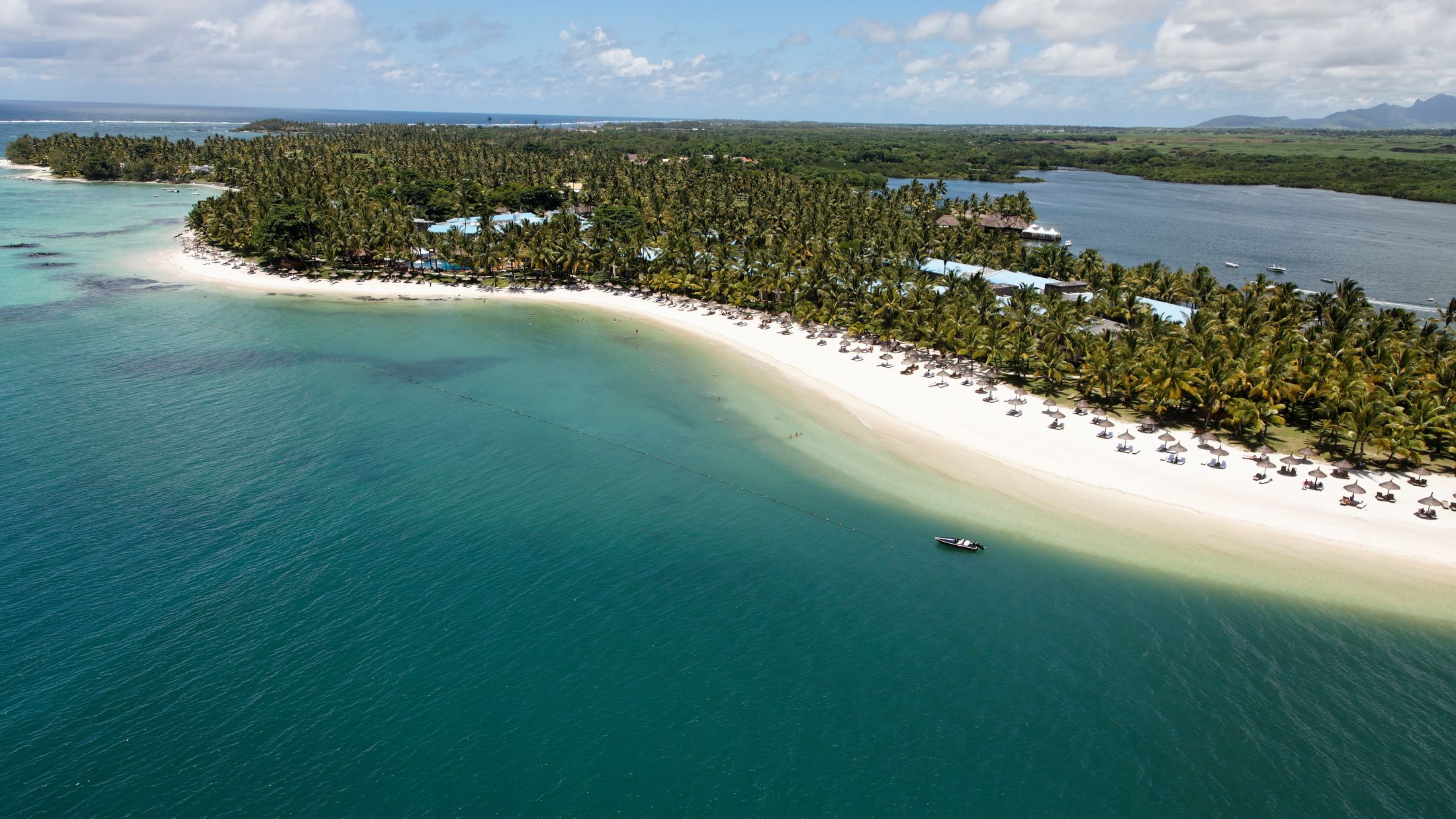 Combine the excitement of a safari and the cosmopolitan atmosphere and sophistication of Cape Town with a relaxed stay in the Indian Ocean.
Whether this is your first time on safari or you've been many times before, you are sure to appreciate your evenings in luxury and your days in awe as you visit Greater Kruger, in South Africa; one of the greatest game reserves in Africa.
View the Highlights of South Africa and Mauritius itinerary

Based on 467 traveller reviews

100% of travellers recommended this hotel
Travellers Ratings
What to expect
Reviews
Jon L, Los Angeles, California
Sep 14 2018
We spent our honeymoon at Dulini in August 2018. The food is superb, hospitality unrivaled and "rooms" are actually huge cottages with private heated plunge pools and stocked with snacks, top shelf...
We spent our honeymoon at Dulini in August 2018. The food is superb, hospitality unrivaled and "rooms" are actually huge cottages with private heated plunge pools and stocked with snacks, top shelf drinks and bottles of wine. The grounds are immaculate with Nyala and Impala roaming about during breakfast and lunch. The 6 cottages all surround a large clearing in the forest where elephants (we saw 10 at once including a baby at one point) come to forage and occasionally drink the water out of the plunge pools...we watched a thirsty elephant half drain our next door neighbor's pool on a warm afternoon. Each night, dinner was prepared for us in a different location. Our last meal was secretly setup inside of our room during our evening game drive. We returned to a bottle of champagne waiting and a warm bath drawn for us to wish us farewell on the rest of our honeymoon. Our guide was Stefan and our trackers were Colbert and Dyke. Stefan has an encyclopedic knowledge of all living things in the bush and shares the same enthusiasm for wildlife as the guests...we've had guides at other reserves that feel a bit more like cab drivers taking you from point A to B. Stefan would race to arrive "on the scene" and would excitedly take us through exactly what we were seeing and why it was happening along with answering the most obscure questions anyone in the car could think of. We've learned that a good guide is ESSENTIAL for a good safari and Stefan went above and beyond to make sure that if there were anything happening in a 20 mile radius, we saw it...both Stefan and our trackers could read paw prints, bird formations and other signs of life like a road map...directly to the all the amazing animals we were fortunate enough to meet face to face. Since Dulini is on the private Sabi Sand Reserve, you can get right next to the animals and go off road as much as the guide feels is safe - this is as close as it gets! This included: The entire big 5 within our first 24 hours Baby versions of the big 5 by the end of our stay 7 Rhinos on the second day including a calf A pride of lions (with 4 cubs) enjoying their Impala dinner (not for the faint of heart) Lion brothers roaring as they walked about 5 feet from the car Male and Female Leopards Leopard mom dragging a waterbuck up a tree to feed an adorable cub. Cape Buffalo battling for territory, horns locked! This is in addition to the multiple lion, additional rhino and leopard sightings, hundreds of elephants and impala, dozens of giraffe, zebra and hippos and thousands of birds we saw... Safari is always a roll of the dice, you never know what you're going to see. However, staying at a place like Dulini inside such an incredible game reserve with a top notch guide improves your odds significantly! Also, a shout out to Laurette who manages the property, made sure everyone had everything they needed and felt at home. We had a single morning that the hot water ran out - we returned from Safari to find the entire tank replaced and a gift bag of some goodies from their shop to take home with a note apologizing for the inconvenience. World class lodge and the gold standard for any Safari I've ever experienced.
View full review
"
Amazing Service & Experience
stats1, Sydney, Australia
Sep 14 2018
The accommodation was first class, the staff friendly and gave perfect and friendly service. The game drives were everything we imagined with experienced trackers and rangers. The highlight was a...
The accommodation was first class, the staff friendly and gave perfect and friendly service. The game drives were everything we imagined with experienced trackers and rangers. The highlight was a romantic dinner served course by course in our lodge on the last night. thank you Dulini for such a memorable experience and for your South African hospitality
View full review