A luxury five star resort with excellent rooms and facilities
Each room offers views of the private island's landscaped gardens, V&A Waterfront or Table Mountain
Home to renowned gourmet restaurants, including Africa's only Nobu
Includes a private spa island, perfect for relaxing
Located on Cape Town's iconic V&A Waterfront area, One&Only Cape Town provides an excellent base from which to explore the city. Spend your days enjoying the truly personalised service and premier facilities in the hotel itself, or find out why Cape Town is top of so many people's bucket lists.
All of the rooms feature contemporary African style and artworks, with warm colours and bright hues complementing the truly spectacular views from floor to ceiling windows. Step onto your balcony or terrace and soak in the warm African sun with a fine wine carefully selected by the hotel's sommelier, or head to the spa for a day of pampering and relaxation.
Children and families are well catered for here, with a KidsOnly Kids' Club, as well as facilities for teenagers. Guests can also arrange beforehand for the hotel to organise a personalised itinerary packed full of activities and excursions chosen just for you.
Facilities
Bars & Restaurants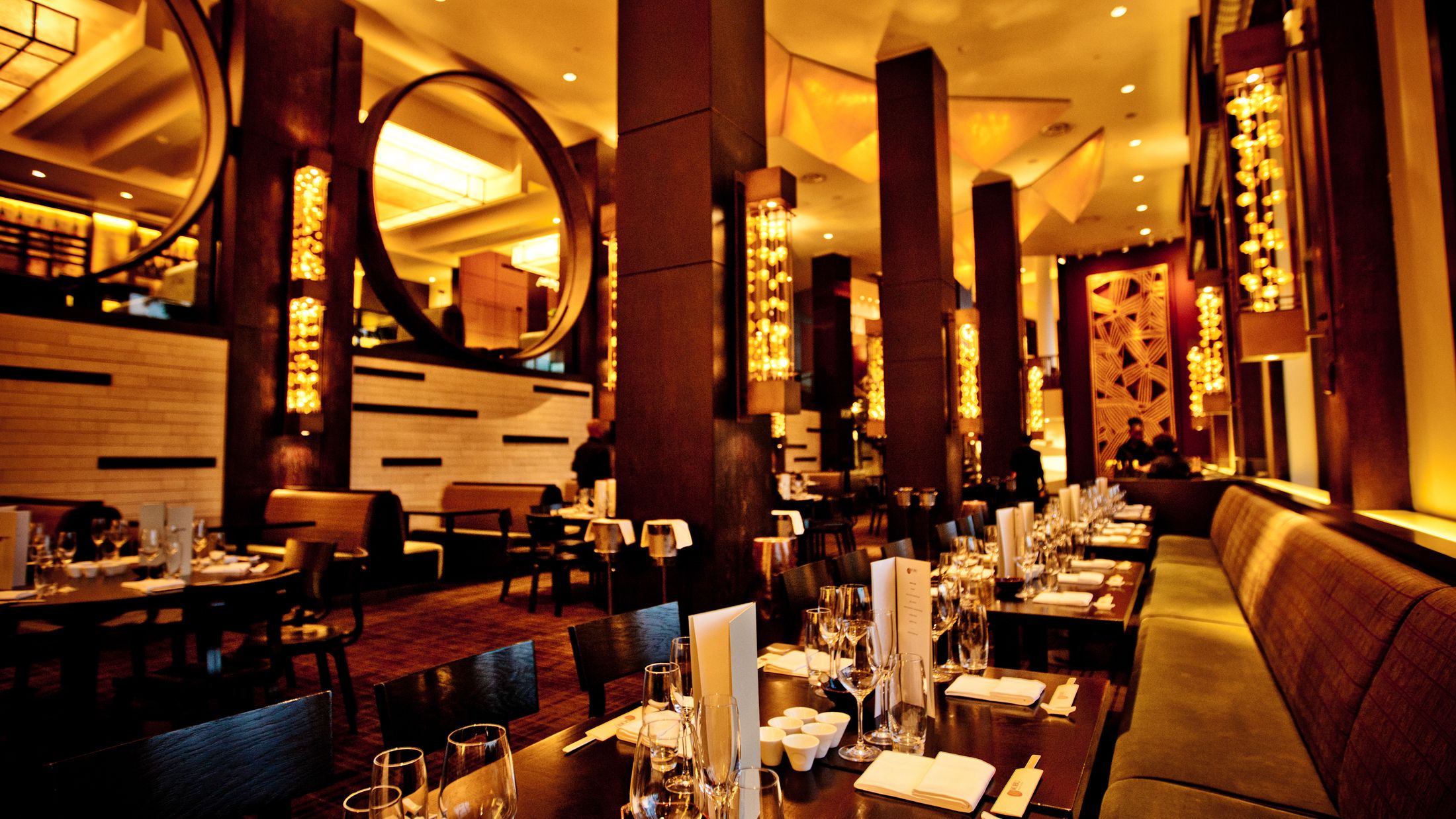 Nobu
Africa's only Nobu, master chef Nobuyaki Matsushisa brings his unique combination of Peruvian and Japanese cuisine to Cape Town. Opulent surroundings and modern interiors complement the unique views over the V&A waterfront area.

Open: 18:30 - 23:00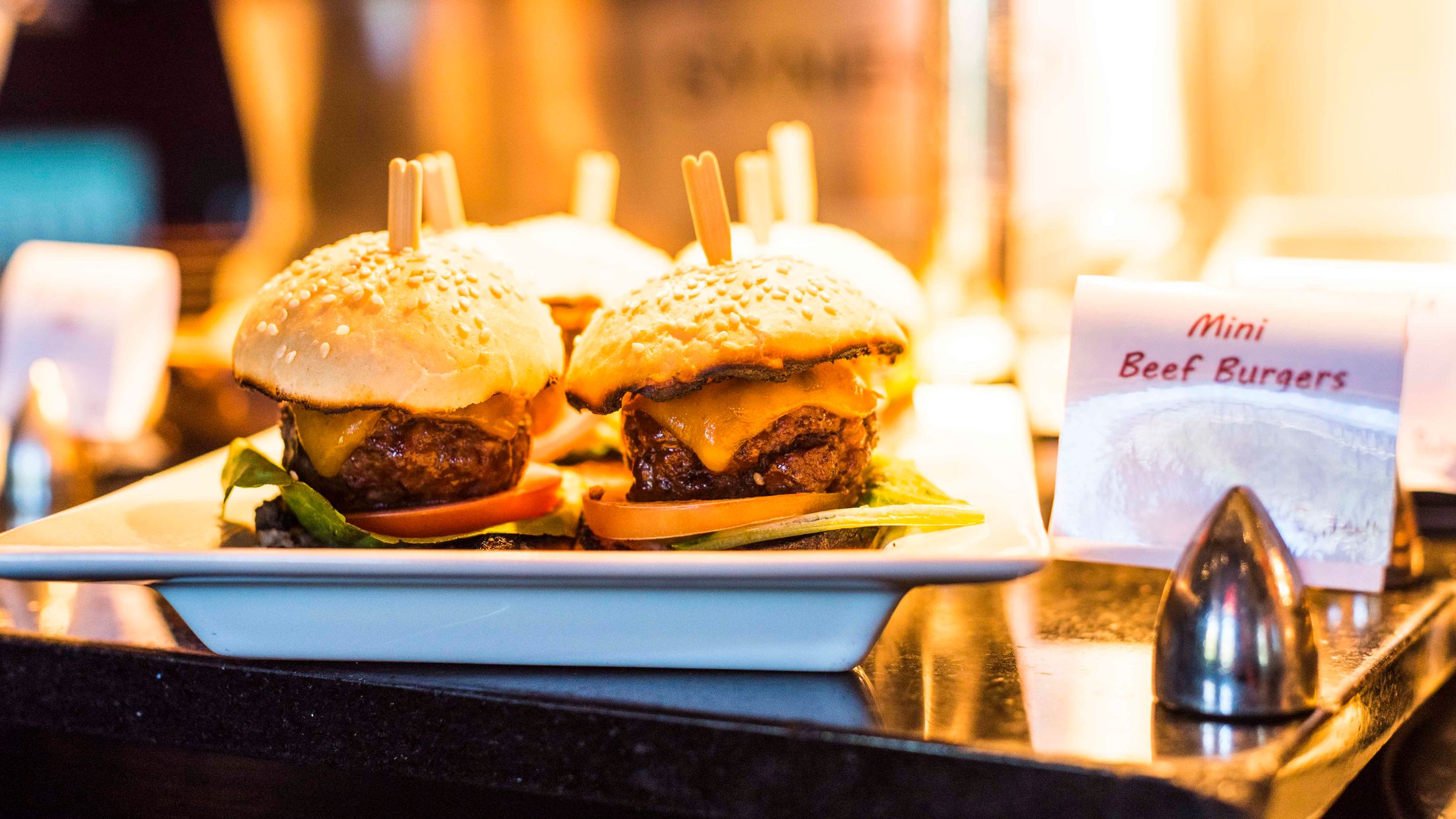 Reuben's
A chic brasserie, Reuben's menu, designed by chef Reuben Riffel, celebrates Cape Town's culinary heritage, combining fresh local seafood, African cuisine and colonial European influences.

Open: 06:30 - 11:00 & 12:00 - 22:30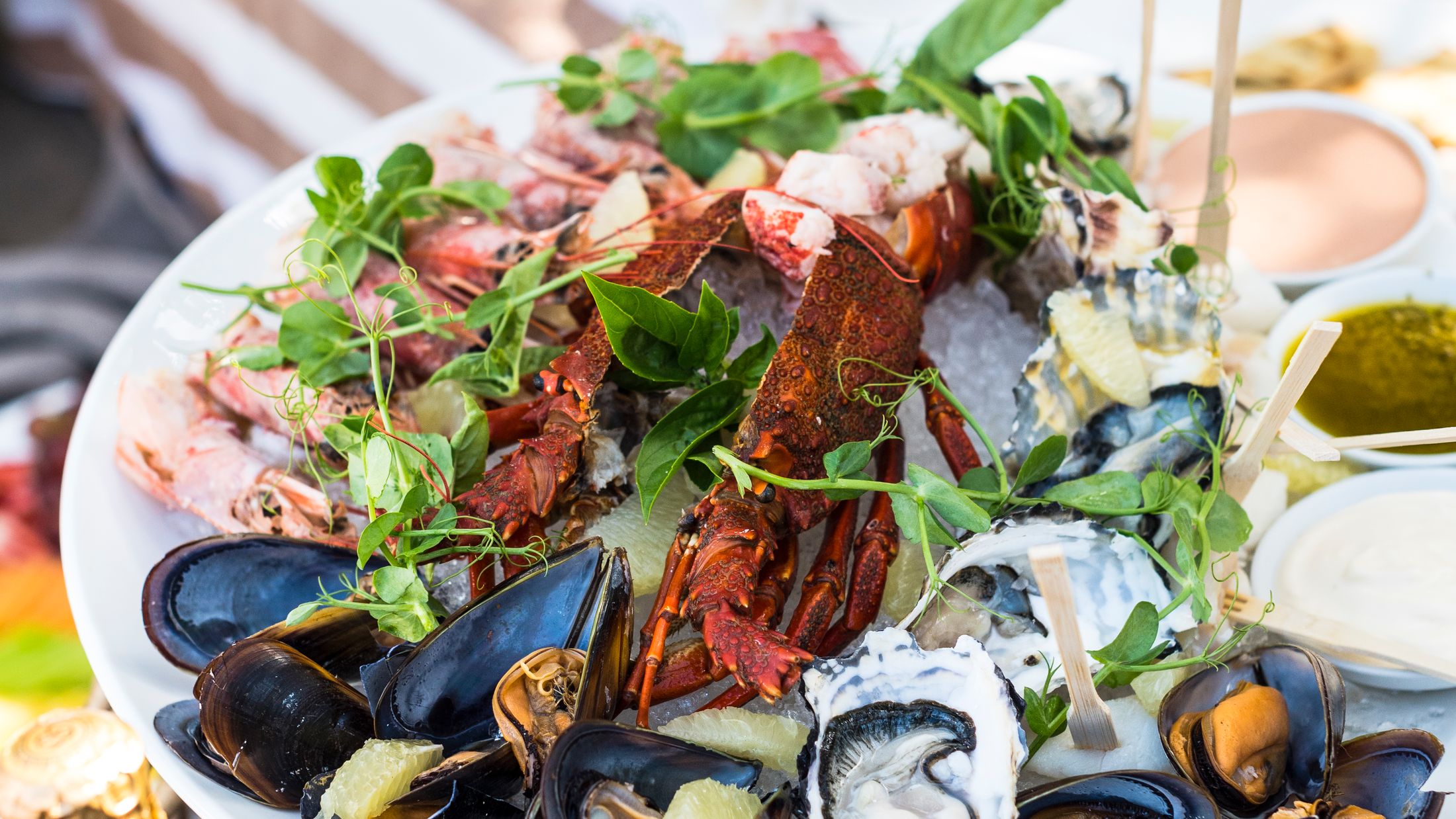 Isola
A fresh menu full of healthy and nutritious dishes, Isola is located on the hotel's private spa island and provides a relaxing atmosphere, surrounded by water and palm trees.

Open: 06:30 - 18:00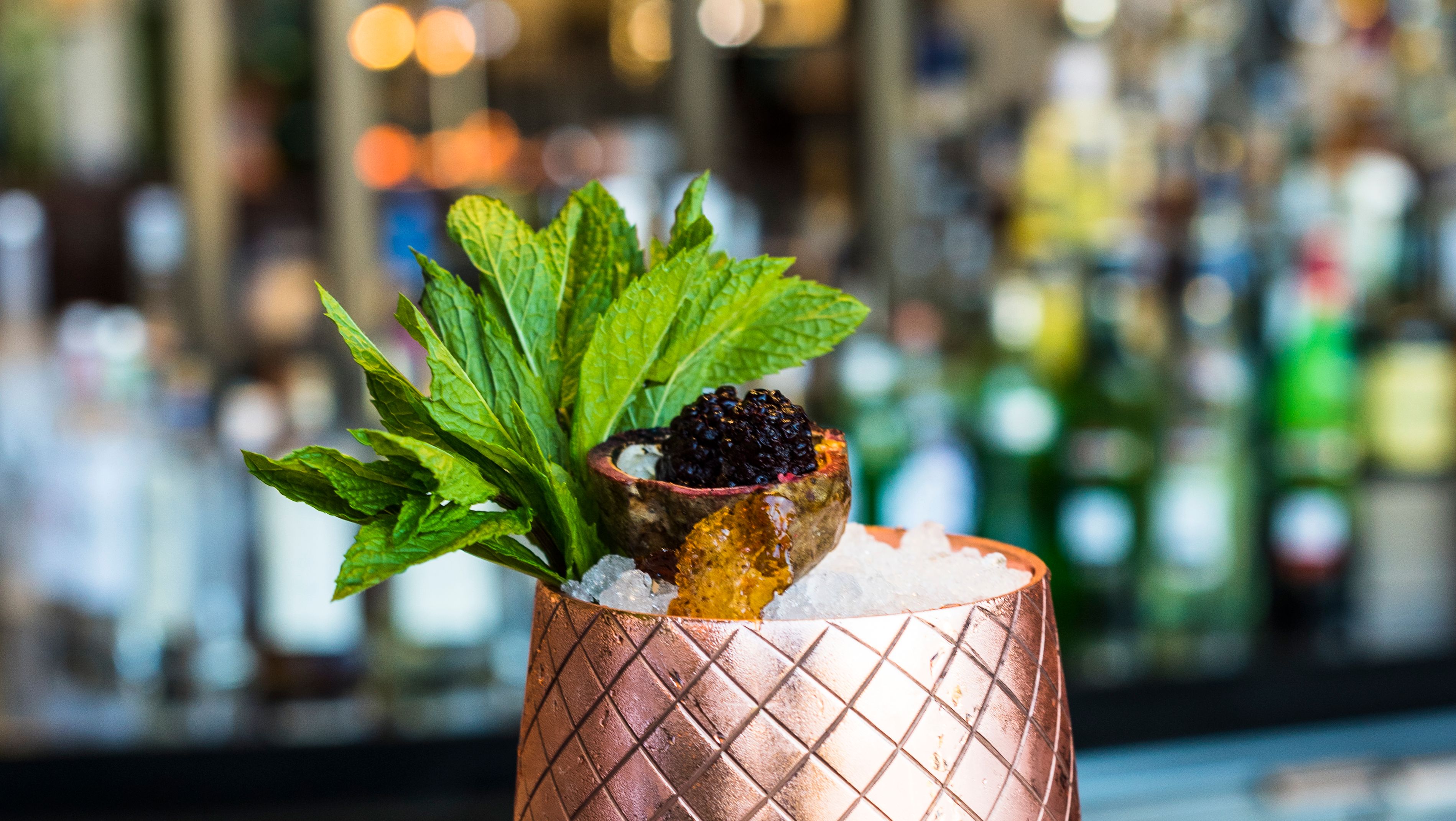 Vista Bar & Lounge
Curated music, Champagne, cocktails and fine wines combine with views of Table Mountain, light refreshments and afternoon tea.

Open: 12:00 - 01:00
Wine Loft
A spectacular display of wine bottles lines the two storey glass windows of the Wine Loft. Your personal sommelier will take you on a journey through the area's renowned winelands.

Open: Daily, reservations required
Beach & Pools
Swimming Pool
The 350m² infinity edge pool is surrounded by comfortable double chaise lounges, pavilions, and palm trees. It is ideally located next to Isola offering a range of delicious and healthy snacks. The pool is also heated in winter.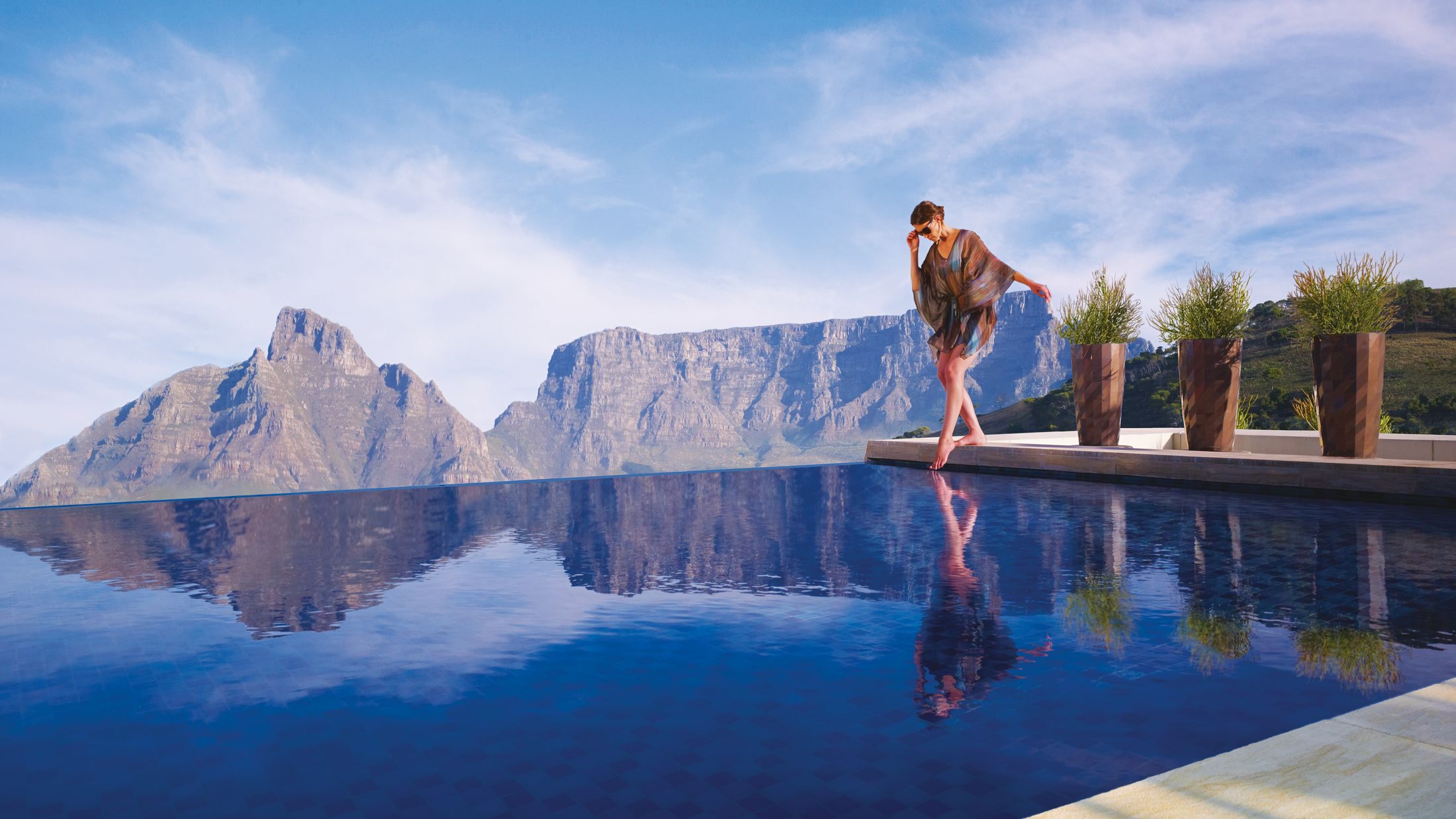 Spa & Wellness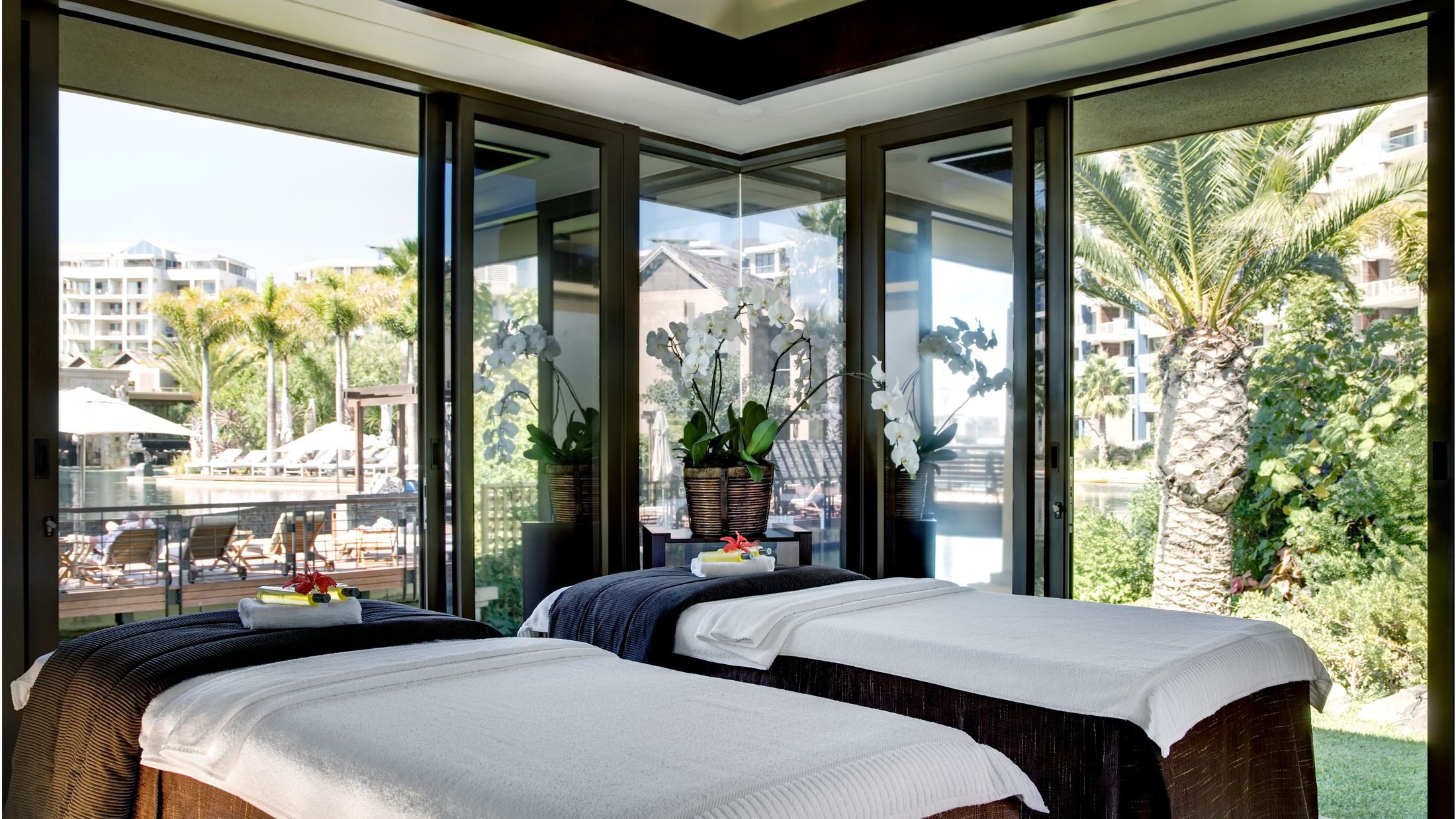 Spa
One&Only Cape Town has its own private spa island where you can relax in the vitality pool or indulge in a range of treatments before enjoying the delicious healthy food on the island.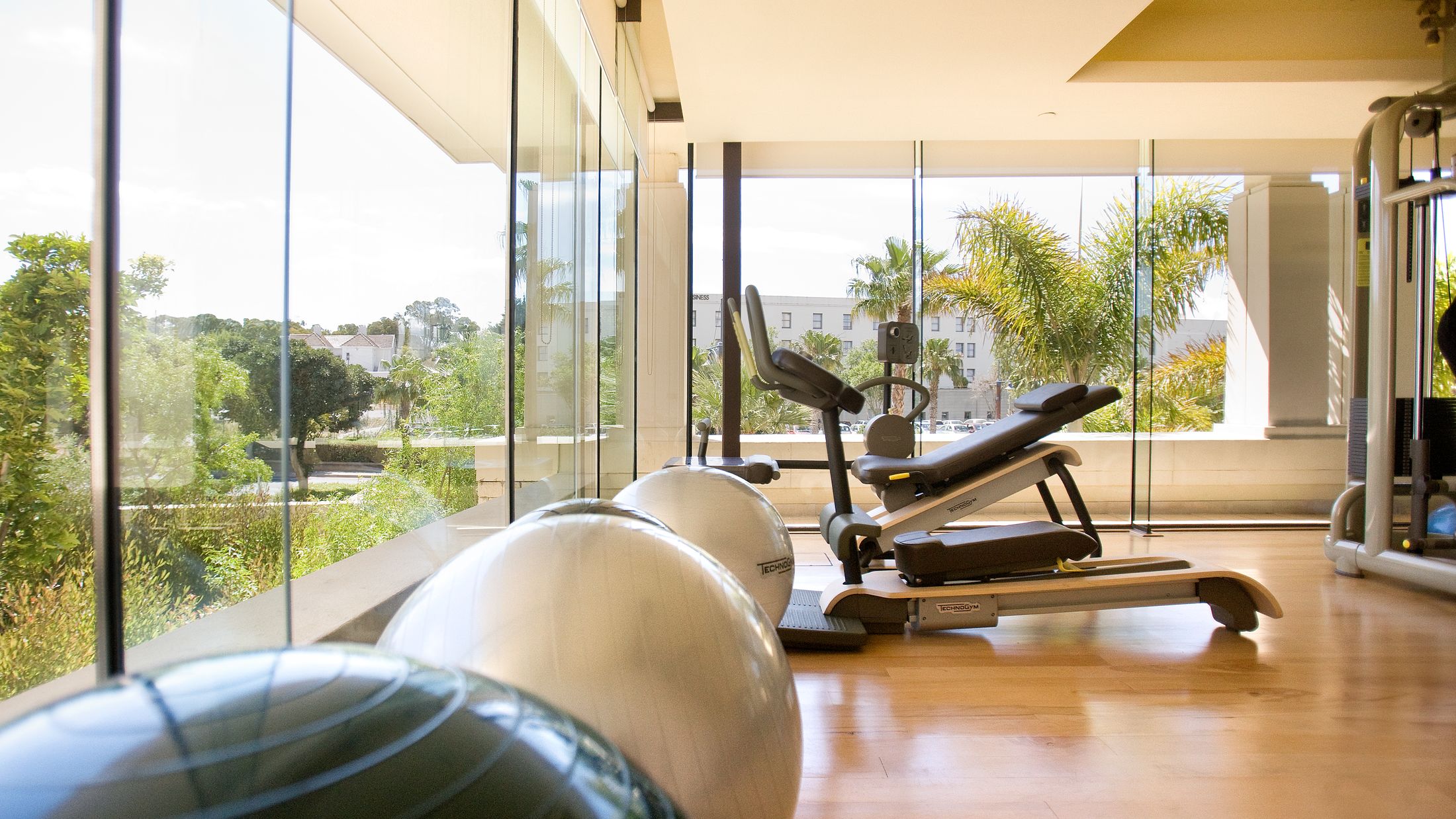 Fitness Centre
Floor to ceiling windows allow you to look out over the hotel's gardens as you enjoy cardio and weight machines. Personal training, yoga and Pilates classes are also available.
Activities & Entertainment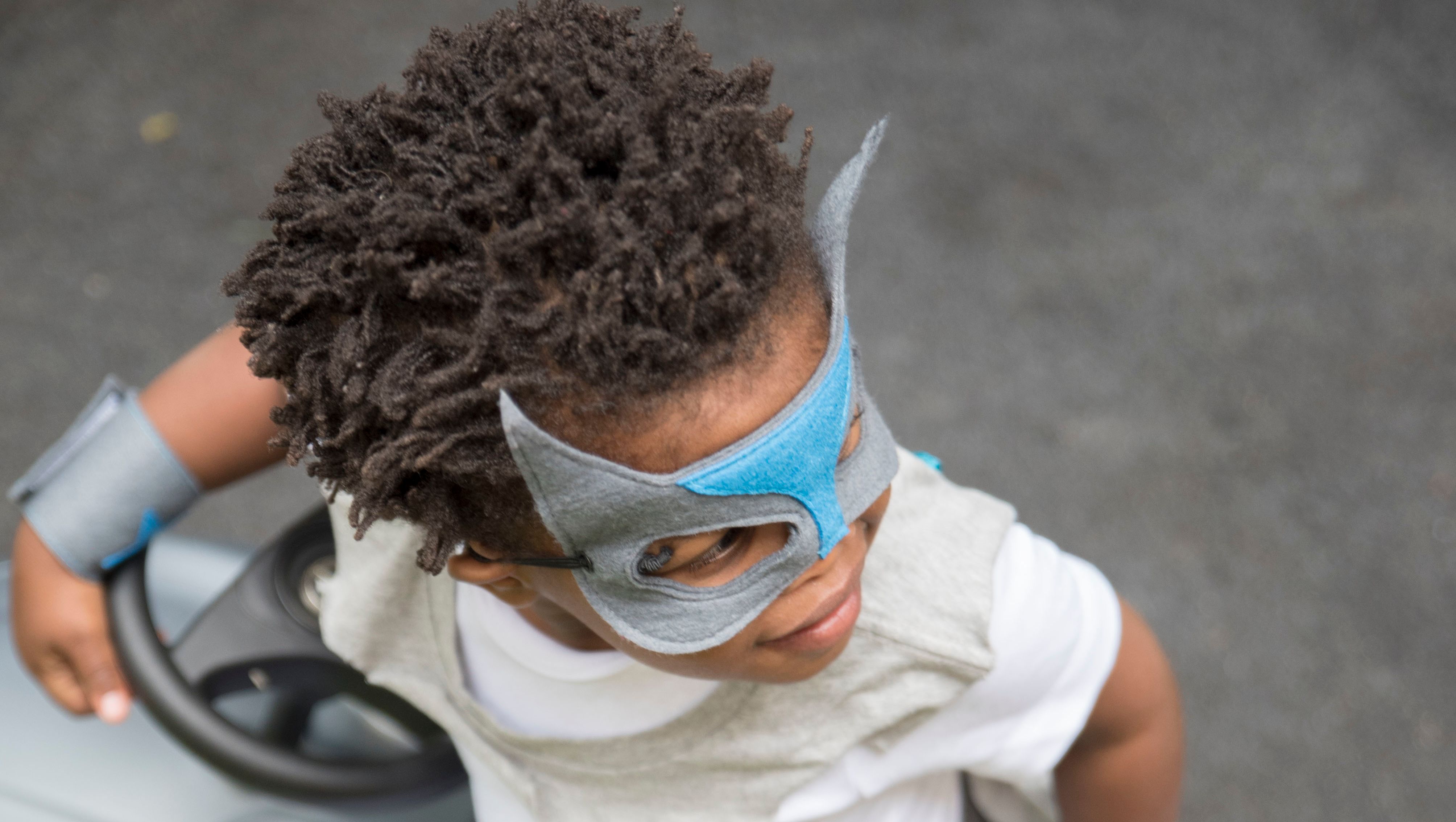 Kids Only Kids' Club
KidsOnly is run for guests aged 4 to 11, who can spend their days making new friends and trying out lots of activities, from cooking to finger painting.
Teenager's Facilities
Families with older children will find plenty for them as well. Teenagers can enjoy a full programme of events which are planned throughout the day.
Excursions
You can book excursions from the hotel, including surfing lessons, visits to Robben Island and Cape Point. Guests can also book marine safaris, whale watching and cage diving with sharks.
About the location
Step out of the One&Only Cape Town and into the heart of the city. The V&A waterfront area is on your doorstep and provides a huge range of activities and facilities, ideal for a luxury holiday in Cape Town. Book boat trips from the harbour, including sunset cruises and excursions to Robben Island, where Nelson Mandela was famously incarcerated. Alternatively, book a marine safari and see the sharks, whales and dolphins of the Atlantic Ocean or take the children to the Two Oceans Aquarium.
Cape Town is peppered with renowned gourmet restaurants serving a wide selection of dining options, as well as wines from the famous nearby winelands, Stellenbosch and Franschhoek.
Transfer time
30 minutes from Cape Town International Airport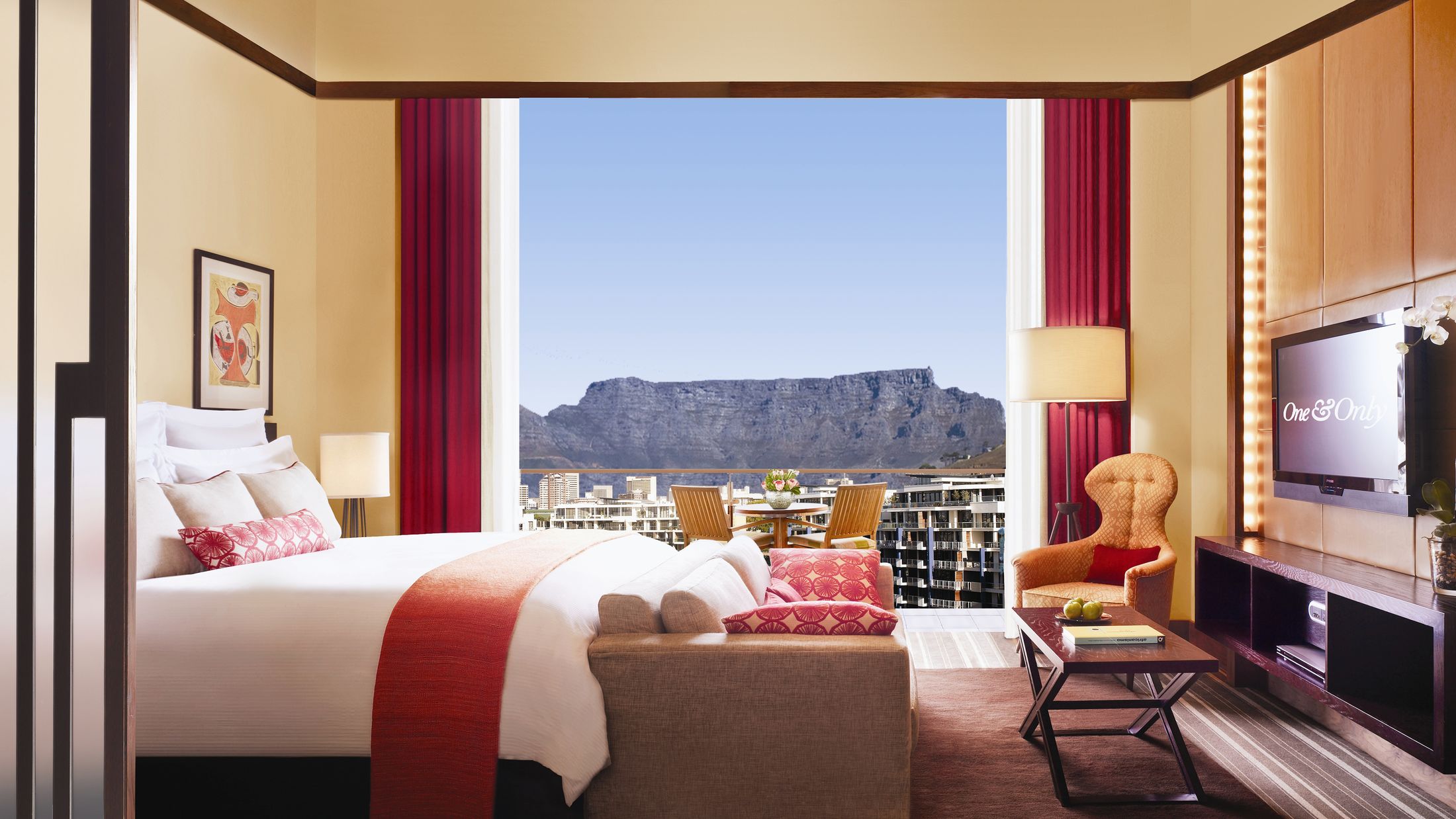 Marina Harbour Room
Spacious interiors, a large balcony and spectacular views of the famous V&A Waterfront area greet you in this modern, elegant room. Choose from a harbour view room on the first and second floors, a mountain view room on the first three floors with views over the Table Mountain, or treat yourself to a Premier Room on the fourth and fifth floors for the best views.
63m²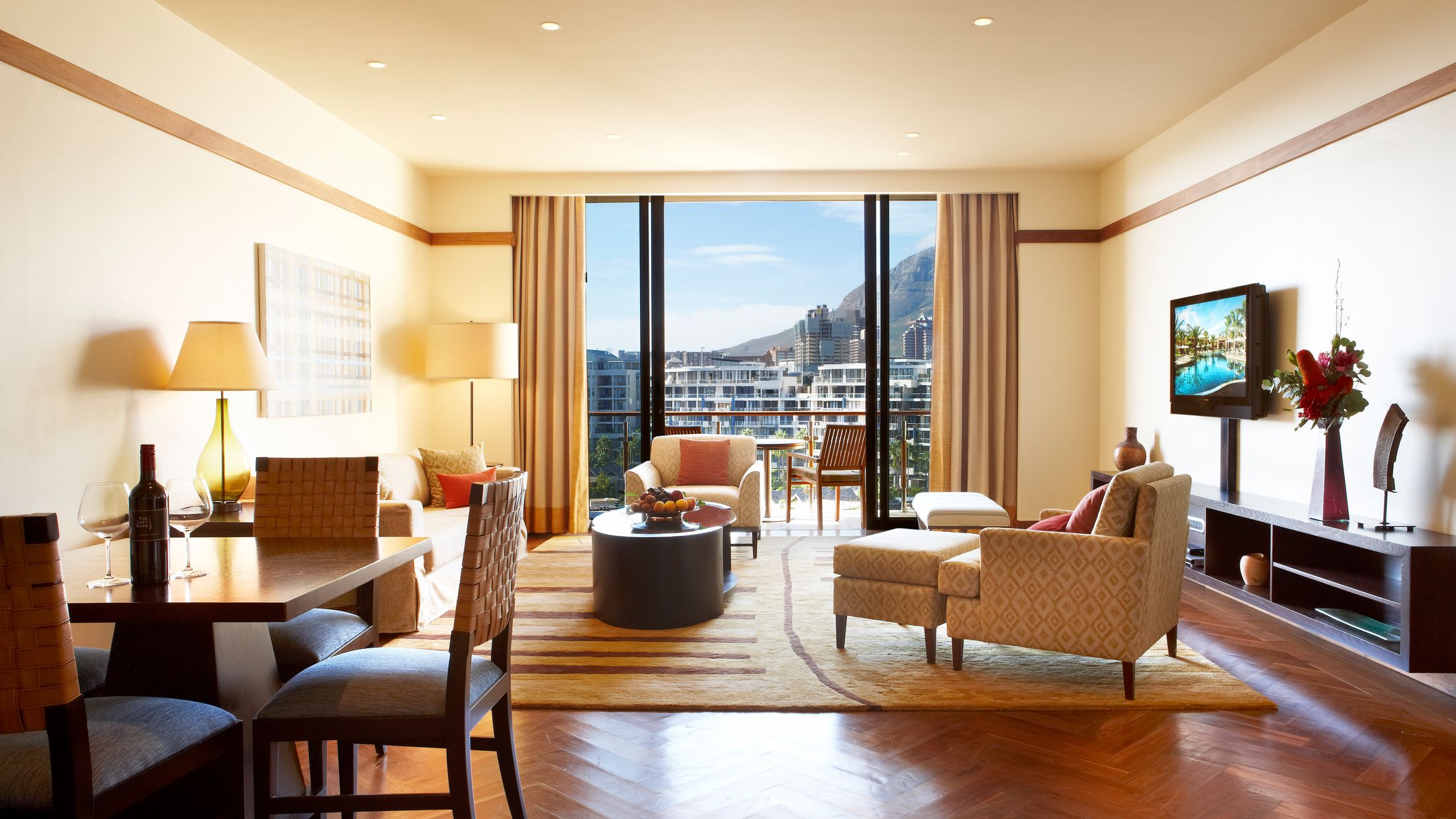 One Bedroom Marina Suite
Look out over Table Mountain from the large windows and balcony, enjoy private in room dining, an en suite with a rain shower and bath, a king sized bed and walk in wardrobe. Relax in spectacular interiors with warm hues. Your stay includes added extras like a free 30 minute personal training session and complementary bottle of South African wine on arrival.
123m²
One Bedroom Marina Grand Suite
A spacious room with large windows and a balcony with views of Table Mountain. Relax on the king sized bed and take in the beautiful warm interiors, enjoy private dining, dual walk in wardrobes and a large en suite bathroom. You can also enjoy a complementary bottle of wine on arrival, as well as a free 30 minute personal training session.
155m²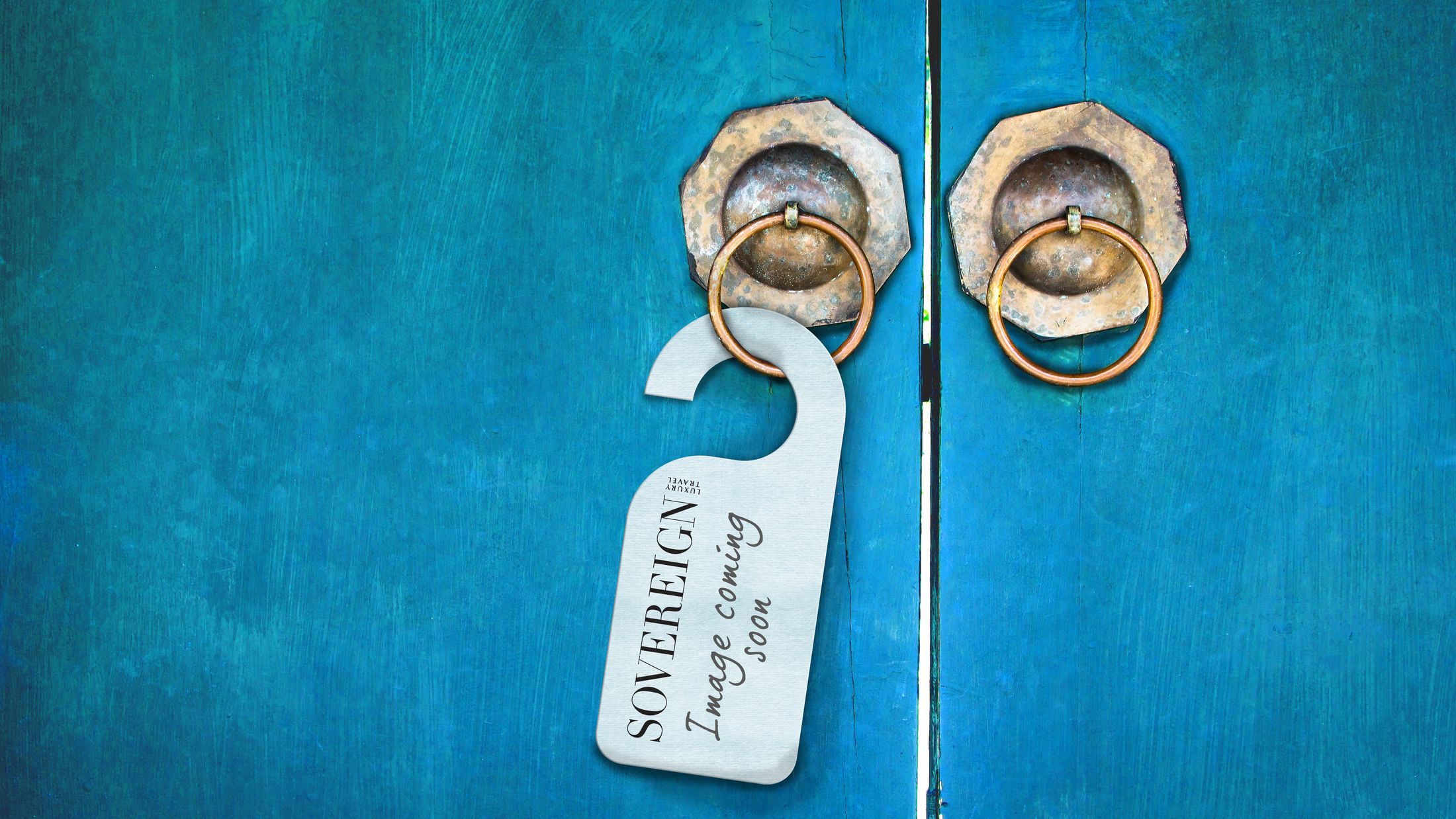 Two Bedroom Family Suite
One bedroom with two luxurious queen sized beds and one bedroom with a king sized bed, as well as a lounge and dining room make this ideal for families. The main bathroom has his and hers en suites, connected by a walk in wardrobe. Both bedrooms and the living area feature large private balconies. Contemporary interiors combine an African feel with all the amenities you need for a comfortable stay.
218m²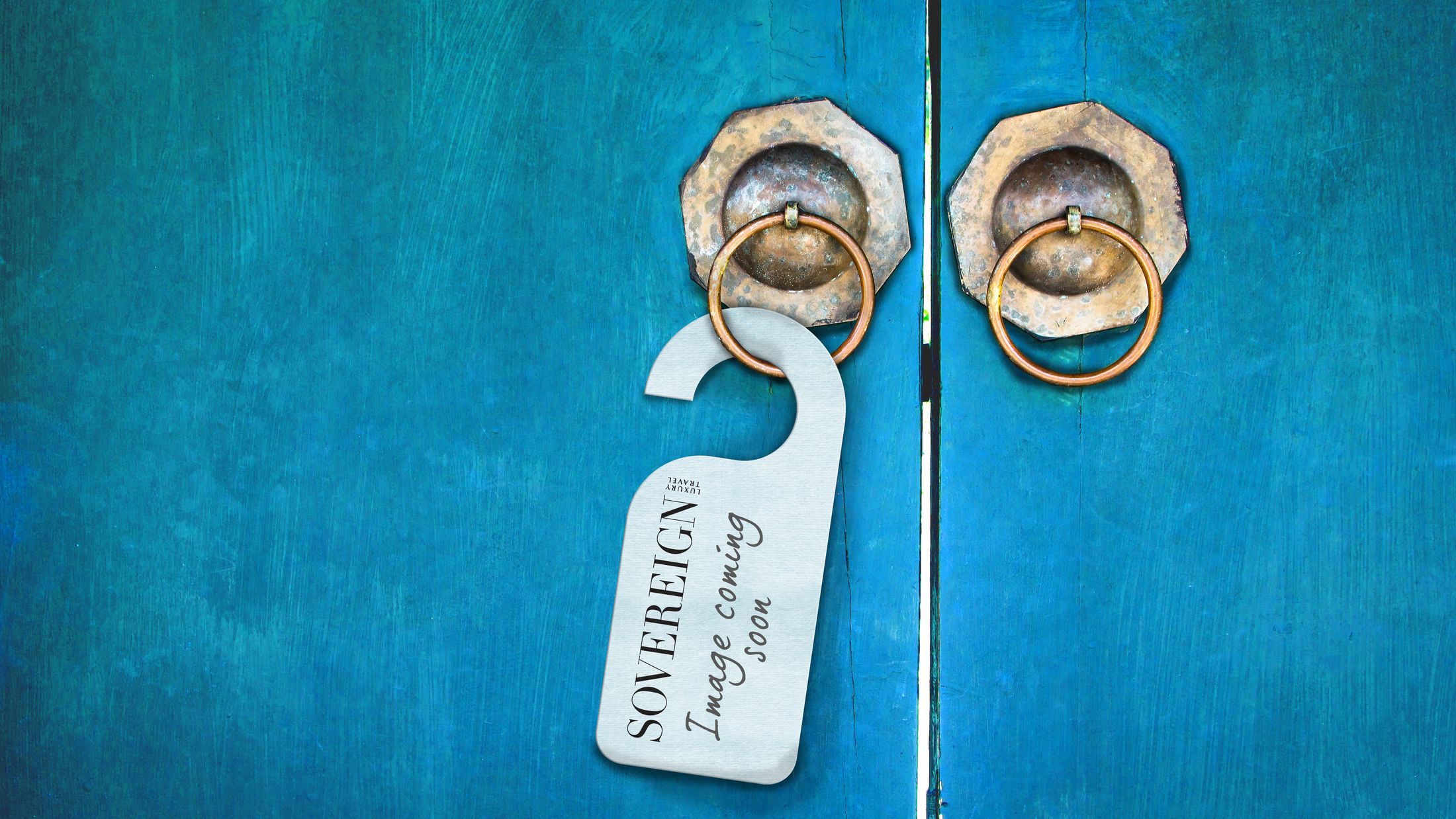 Two Bedroom Premier Family Suite
One bedroom includes two king sized beds while the other contains a luxurious king sized bed. Contemporary African art adorns the walls, while you can also enjoy excellent amenities, including three spacious en suites. Guests can also choose private in room dining, canapes and sparkling wine before sunset, a complementary bottle of fine South African wine on arrival, personalised itineraries and more.
218m²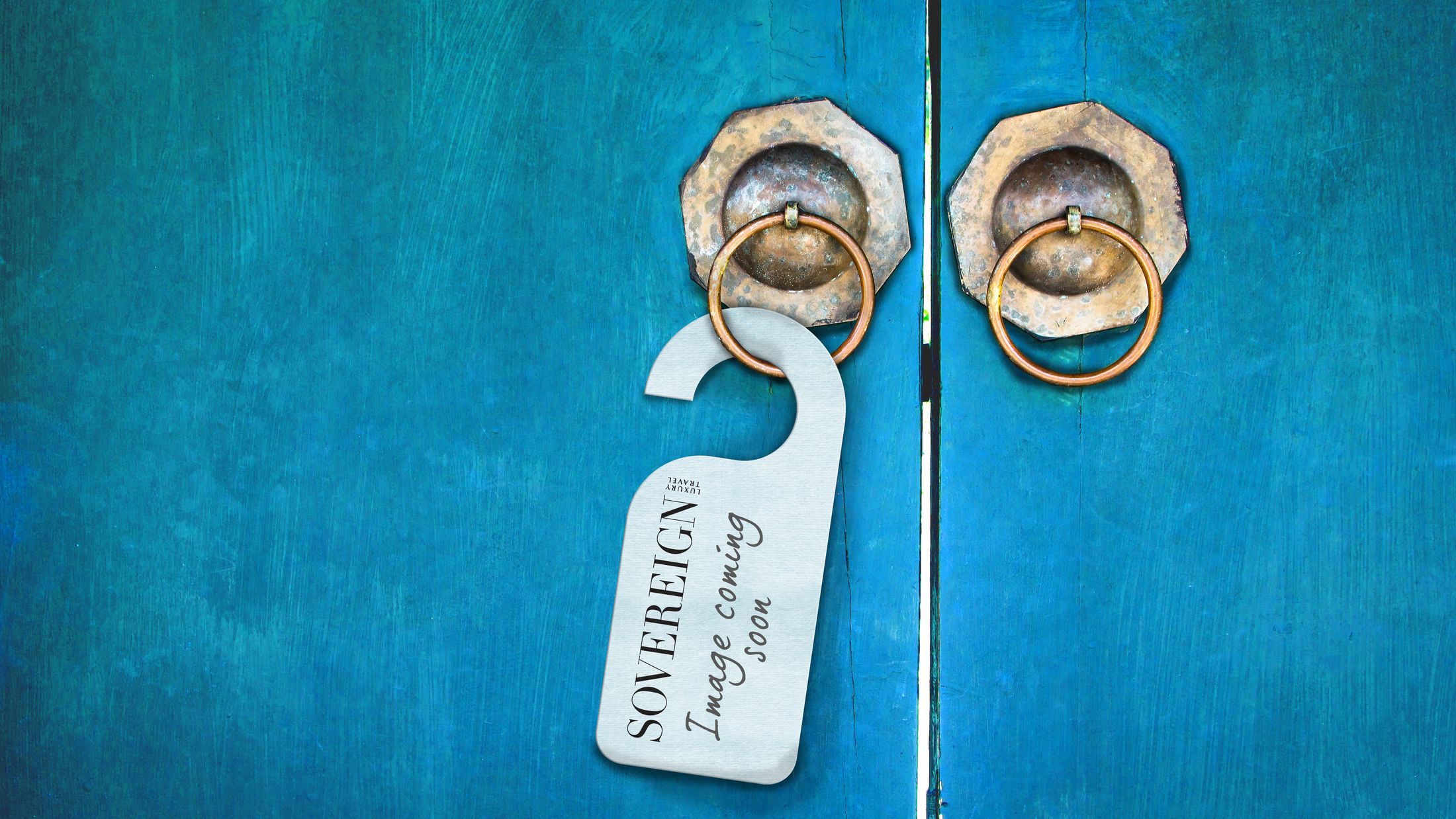 Island Superior King/Double Queen
Located on the hotel's private, landscaped island, 32 spacious rooms are located around the serene infinity pool area. Choose two queen sized bed or one king sized bed and a large luxurious en suite. Interconnecting rooms are available for families.
73m² Floor Plan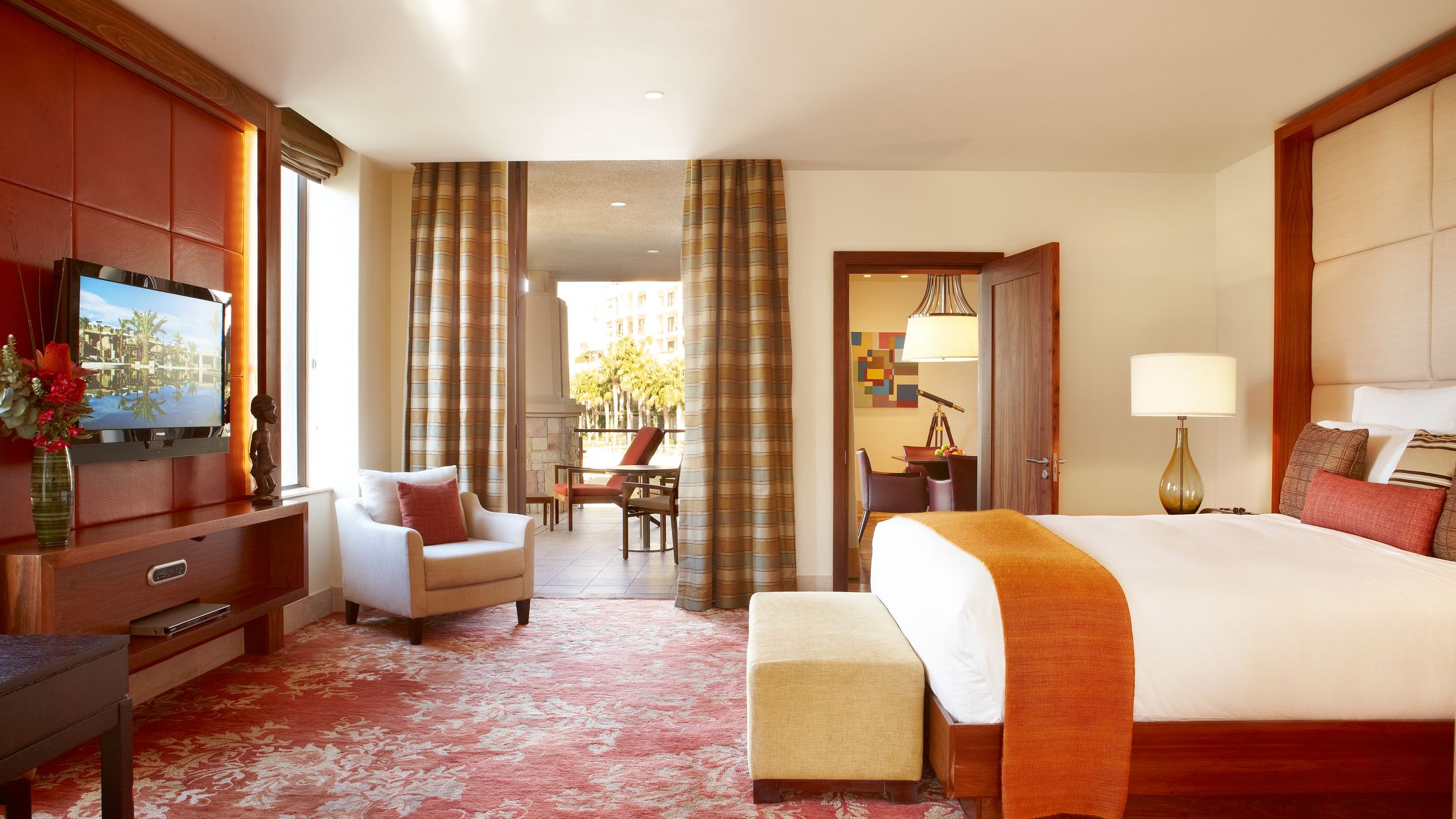 One Bedroom Island Suite
Look out over the tranquil, landscaped gardens and infinity pool of the hotel's private island as you enjoy bright, spacious interiors, a walk in wardrobe, seating area, king sized bed and more. The suites also come with a large private balcony, a four seater dining table, complementary pressing service and more.
115m²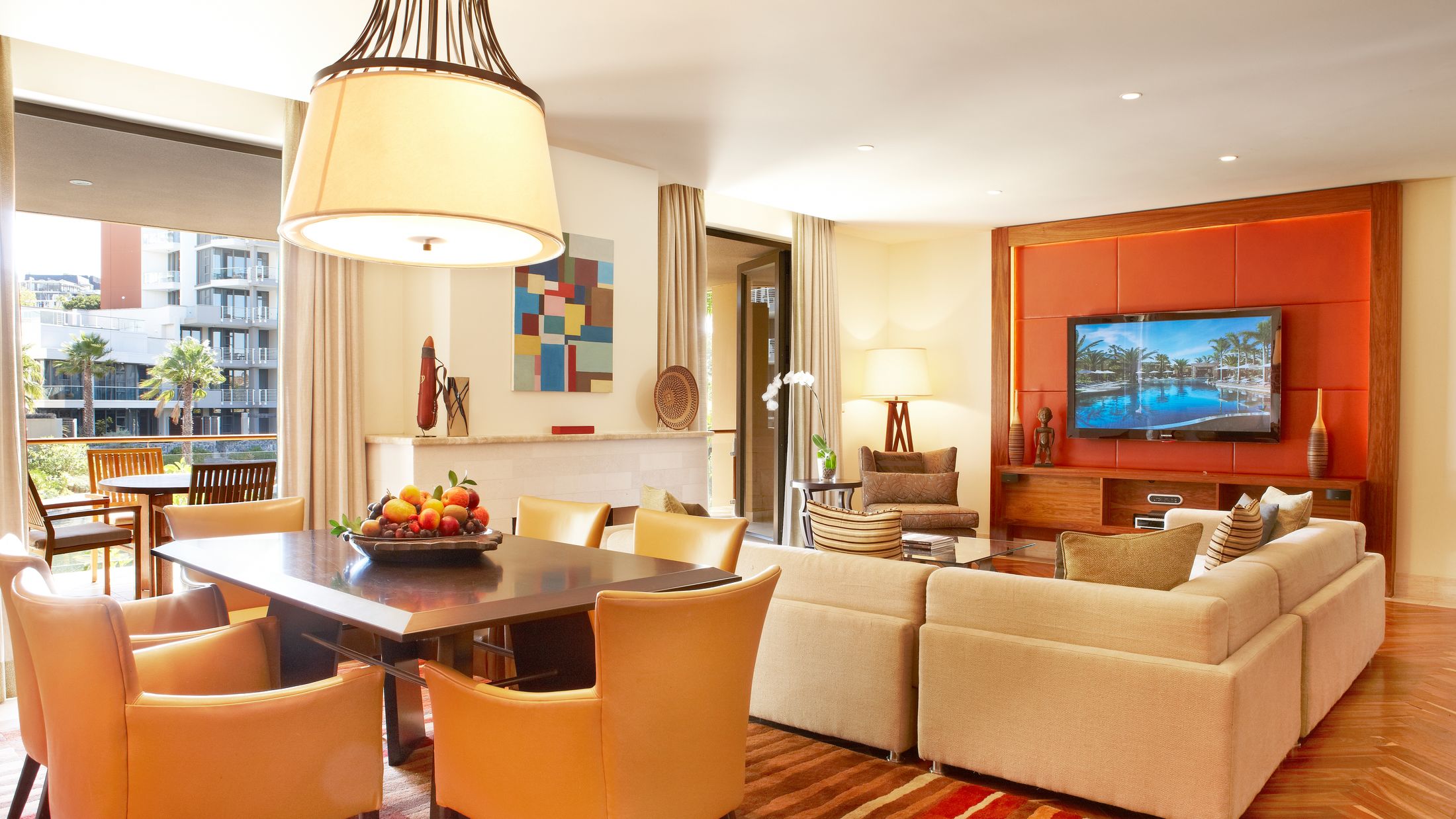 Two Bedroom Island Suite
One of the bedrooms has a king sized bed and the other two queen sized beds, perfect for families. Walk in wardrobes, two large en suites and views of the infinity pool and landscaped island gardens make this a luxurious place to relax. There is also a large lounge and dining area, as well as a kitchen with a separate entrance, allowing you to book a private chef for a fee.
254m²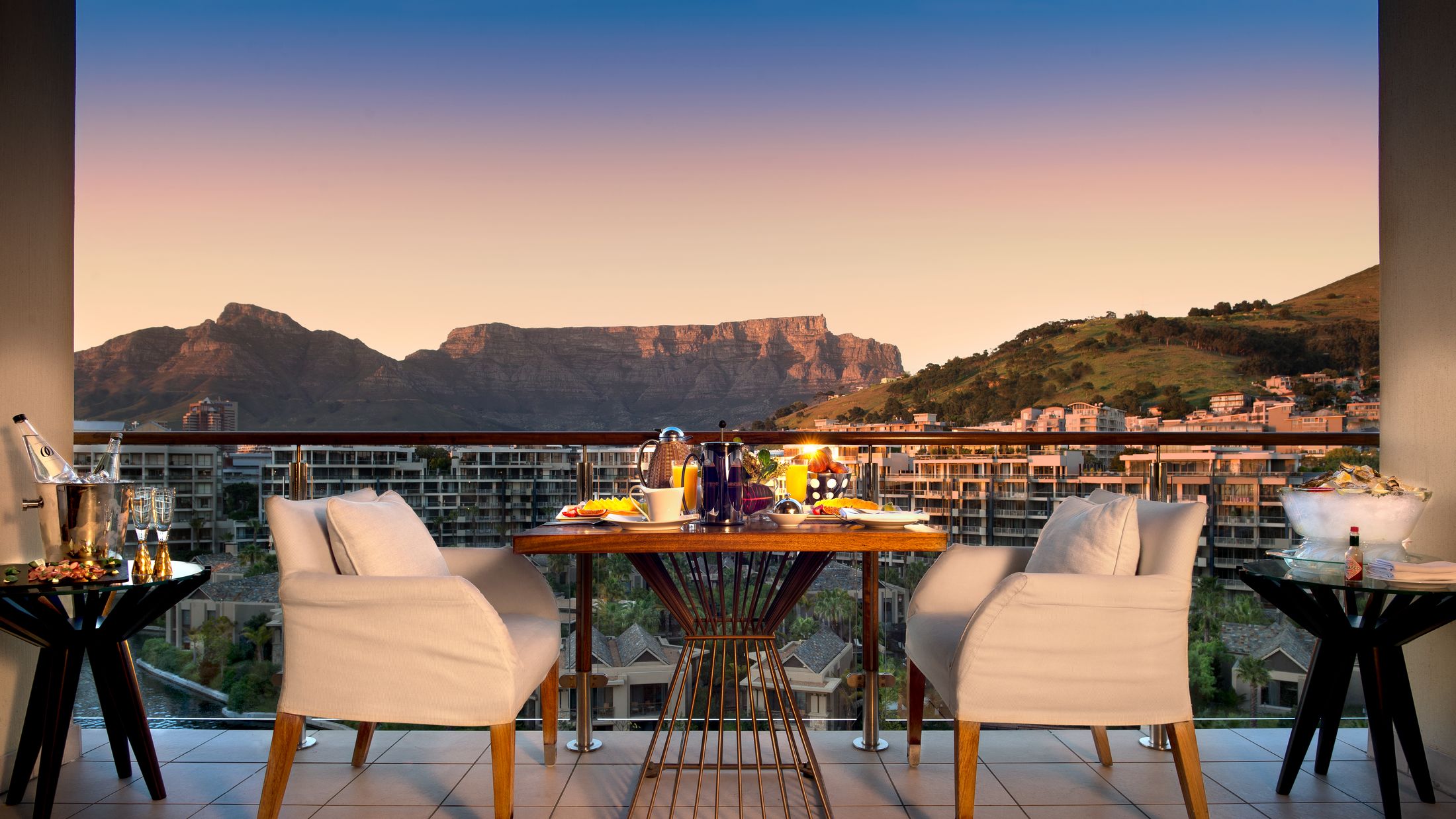 Table Mountain Suite
Leading out of floor length windows, the large balconies offer spectacular views of Table Mountain. Relax in opulent surroundings, with a 12 seater dining table, large entertainment area, personal gym and more. A walk in closet, his and hers bathrooms with a freestanding bath where you can take in the views, butler's kitchen and more are offered. Guests can also use the interconnecting doors with the Premier Marina Table Mountain Room to create a family suite.
316m²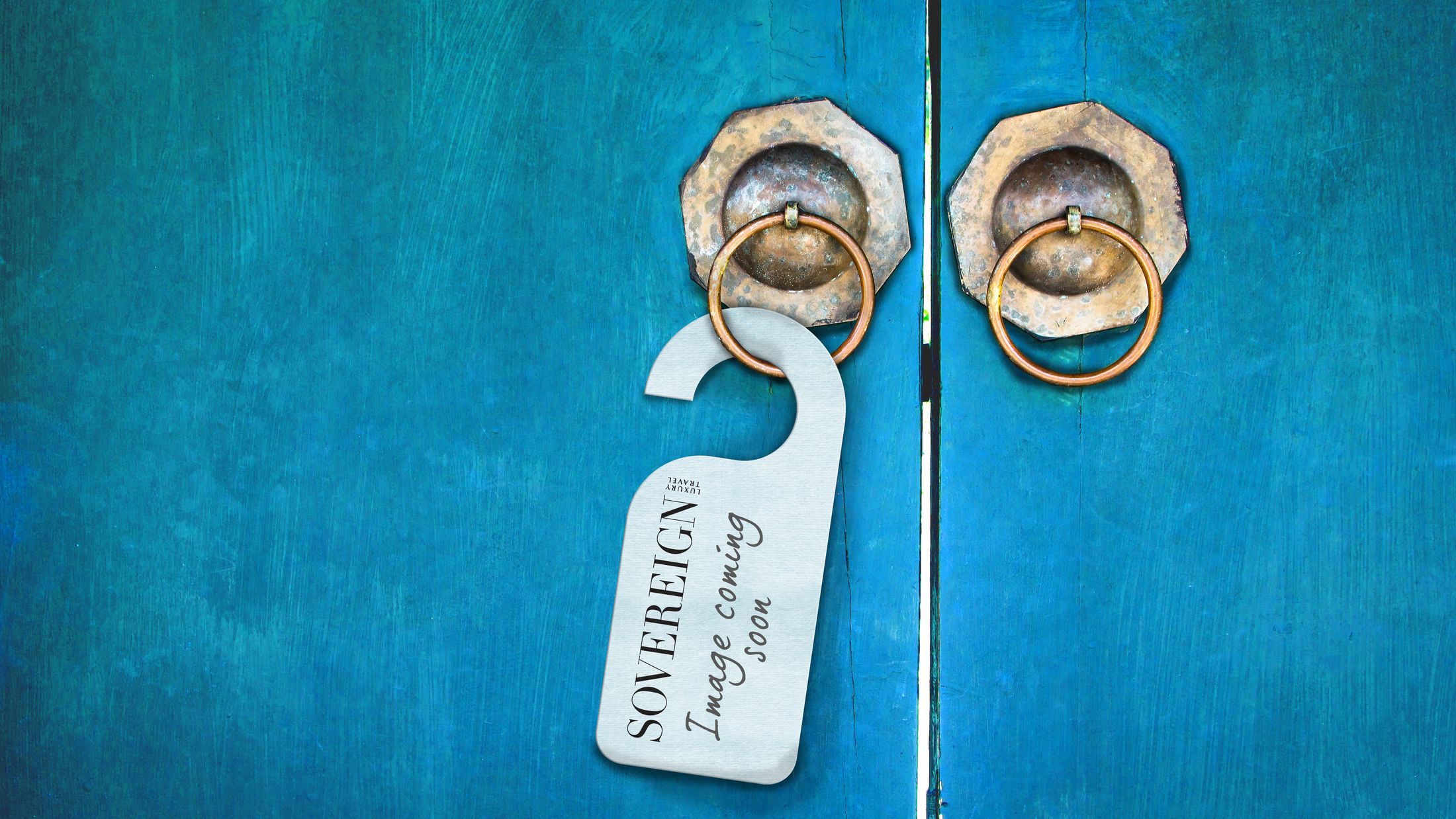 Presidential Suite
The ultimate in luxury, the Presidential Suite has two bedrooms, views of the iconic Table Mountain and the V&A Waterfront, warm, opulent interiors and a large private terrace. Entertain up to 12 guests in the dining area and take in the modern African artwork as you enjoy a private butler and chef service along with other luxury amenities.
383m²

Based on 1827 traveller reviews

92% of travellers recommended this hotel
Travellers Ratings
What to expect
Reviews
"
A Long over due Thank you
ront3691, Western Cape, South Africa
Jun 21 2018
As a International Entertainment Correspondent ,I have covered stories on quite a few countries in my field, and visited a lot of 4* stars hotels ,therefore every time I come to the One and Only...
As a International Entertainment Correspondent ,I have covered stories on quite a few countries in my field, and visited a lot of 4* stars hotels ,therefore every time I come to the One and Only Cape Town I always feel extremely welcome ,kindly express my gratitude to the following staff. Front of House staff Joshua,Nigel,Kanyisa, Christian,Tashwin,along with all of the concierge on the hospitality and for being so informative with such a warm atmosphere to they services I am given. Bar Staff: Pearl Oliver Manager ,Tracey Prince ,Bar Manager. Bar Staff team Prince, Sakhele,Johathan.Khaya, and all the staff that makes everything happen. Thank you for being so couteous with the service you always bring. Congratuations and keep up the good work. Ronnie International Entertainment Correspondent
View full review
"
Excellent resort style city hotel
Charlsmith2015, Cape Town, South Africa
Jun 21 2018
One & Only has a great location within walking distance of the V&A Waterfront. Large rooms with magnificent views. Great bar which often has live music. Reubens restuarant and a private table for...
One & Only has a great location within walking distance of the V&A Waterfront. Large rooms with magnificent views. Great bar which often has live music. Reubens restuarant and a private table for special occassions. Fantastic spa! I highly recommend this Cape Town hotel
View full review