Centrally located in Puerto Mogán, just a short walk from the charming marina and steps away from the beach, the Cordial Mogán Playa is an ideal choice for those looking for a laid-back retreat. The hotel's beautiful grounds are immaculately maintained, with expansive botanic gardens offering over 450 species of subtropical plants and an archaeological park. Well-appointed guest rooms are laid out around courtyards and terraces and two swimming pools provide the perfect setting to relax, with the Spa & Wellness Centre on hand for those who want to indulge. A choice of restaurants offer a wide range of dishes and Los Guayres, run by renowned Canarian Chef Aléxis Álvarez, provides an ideal setting to sample creative Canarian cuisine. Families are well catered for at this hotel, with a kids' club and children's pool, as well as daytime activities and evening entertainment. Boasting a good range of facilities, an enviable location and friendly service, the Cordial Mogán Playa promises to offer a warm welcome and a memorable stay.

A range of hotel child prices apply to ages 3-6 and 7-12 years.
The hotel has 487 rooms.
Close to the marina and beach
Subtropical gardens overflowing with 200 plant species
Children's pool and playground
Spa with sensations shower and massage treatments
Added value
Room discount
Save up to 15% on the hotel price for holidays between 19 June - 30 September 2018 booked by 19 August 2018.
Early booking discount
Save up to 10% on the hotel price for holidays between 01 November 2018 - 30 April 2019 booked by 30 September 2018.
Added value
Sovereign guests will receive fruit basket and bottle of wine on arrival.
Facilities
Bars & Restaurants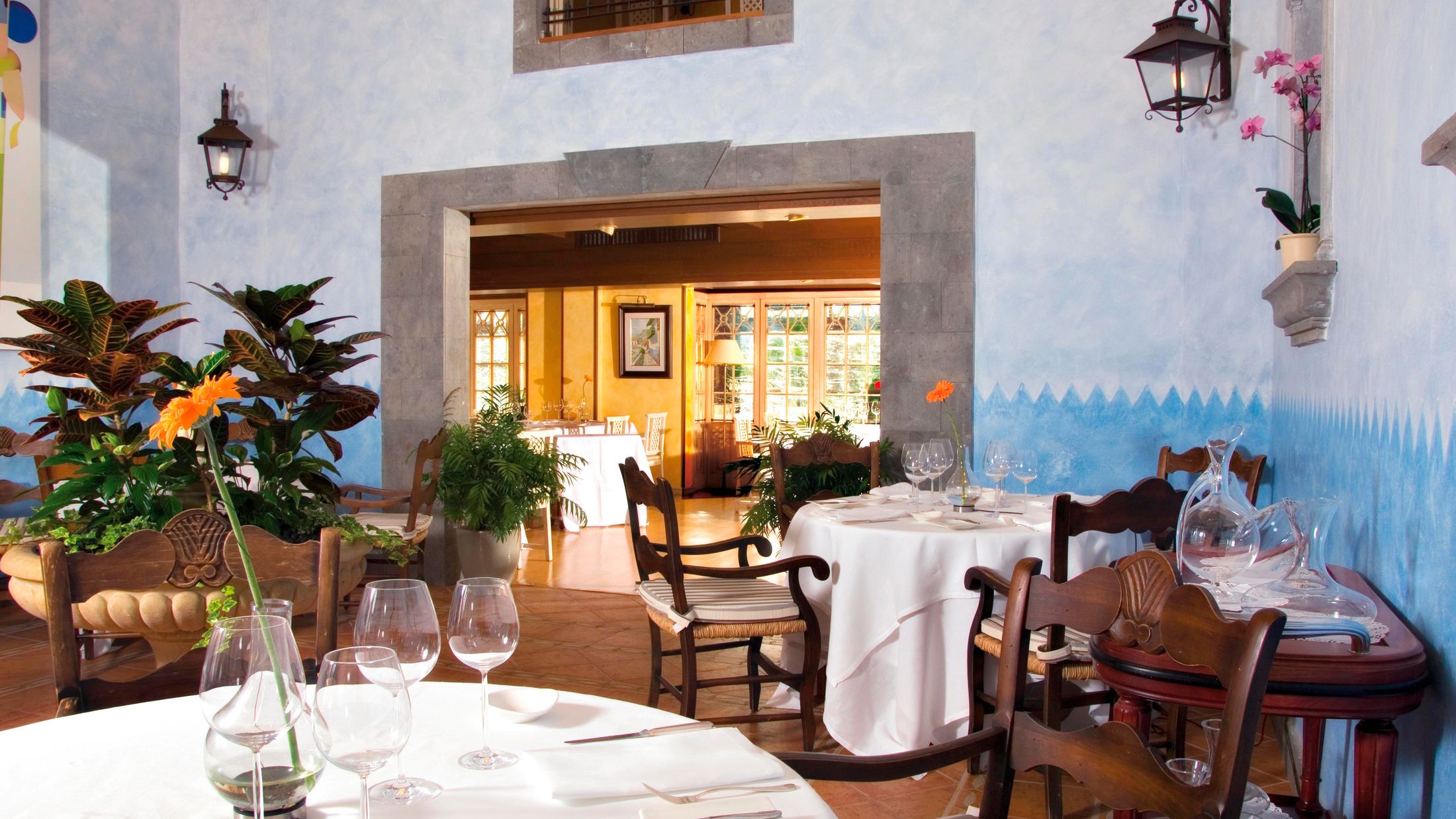 Los Guayres
Opening Times:
19:00 - 22.30
Opening Dates:
Closed Monday and Sunday
Run by renowned Canarian chef Aléxis Álverez, this restaurant offers creative Canarian cuisine.
Guests on half board and full board can receive a credit towards meals at this restaurant.


Restrictions:
Reservations are required for this restaurant.
Tamarona
Opening Times:
07:30 - 10:30
18:00 - 22:00
Included With:
Half Board, Half Board Plus, Full Board, Full Board Plus
This large buffet restaurant serves a range of cuisine with show cooking stations, it has views over the lagoon through its large picture windows.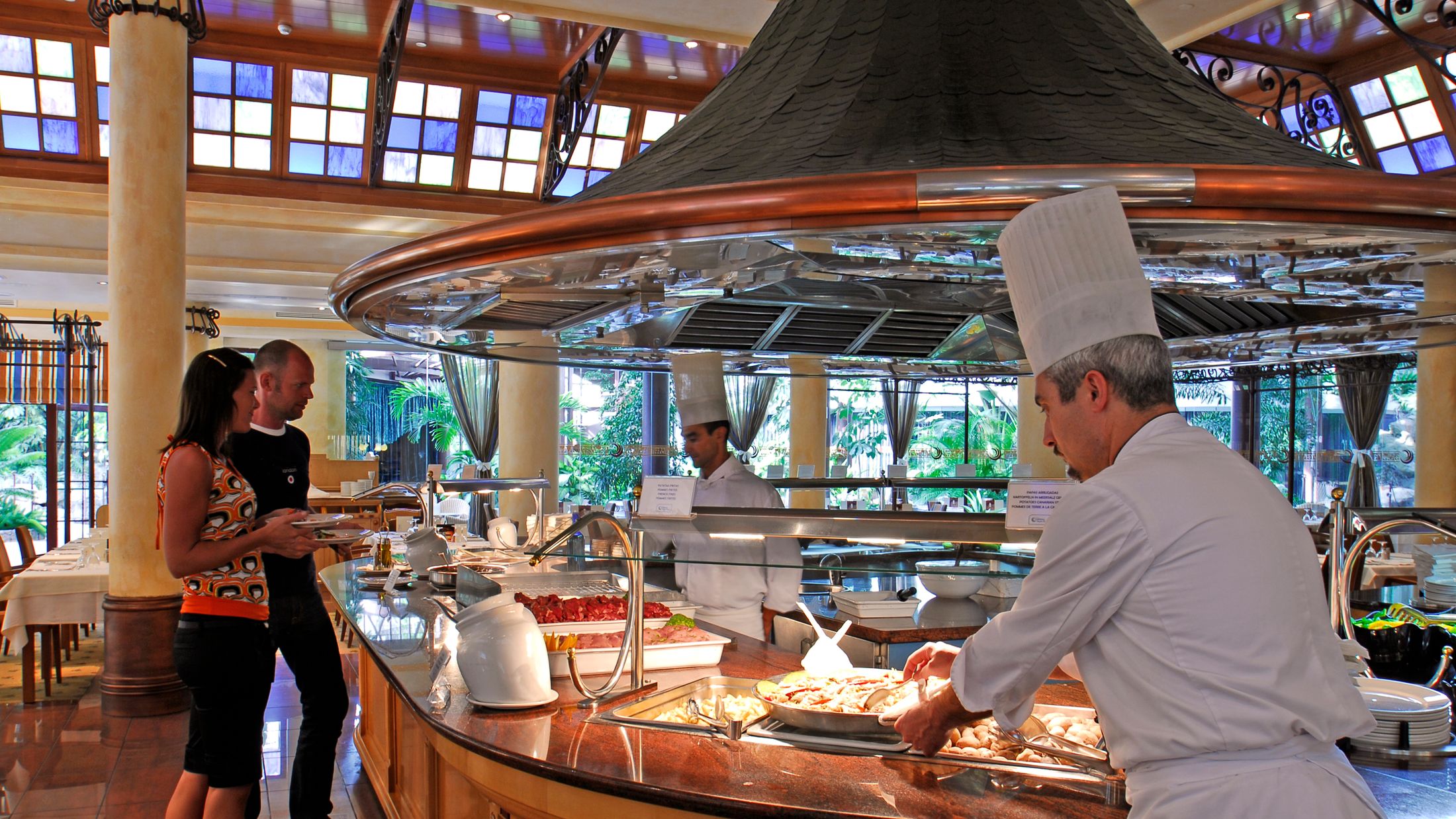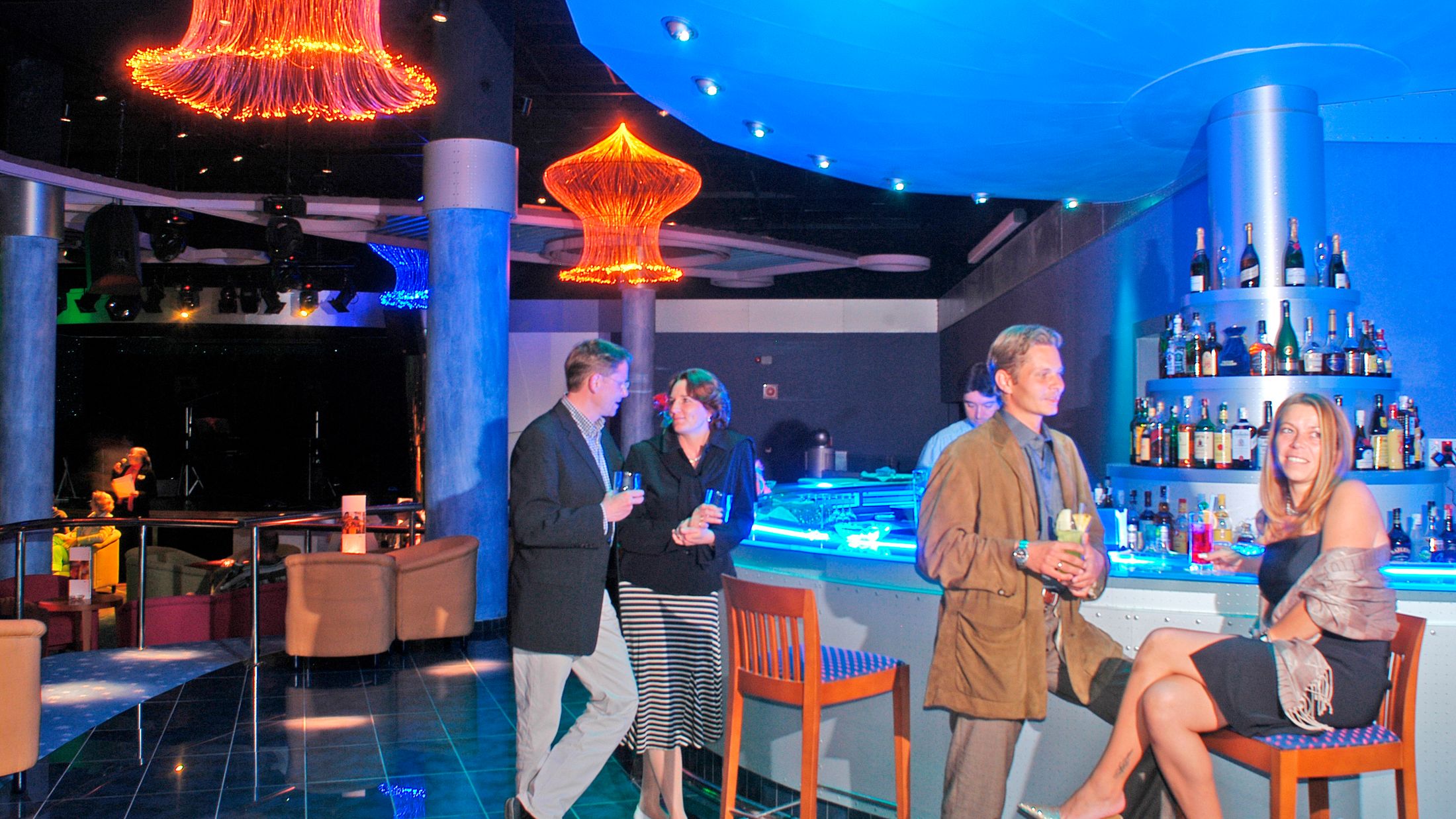 Fataga Bar
Opening Times:
19:00 - 01:00
A bar open until late with live music and shows.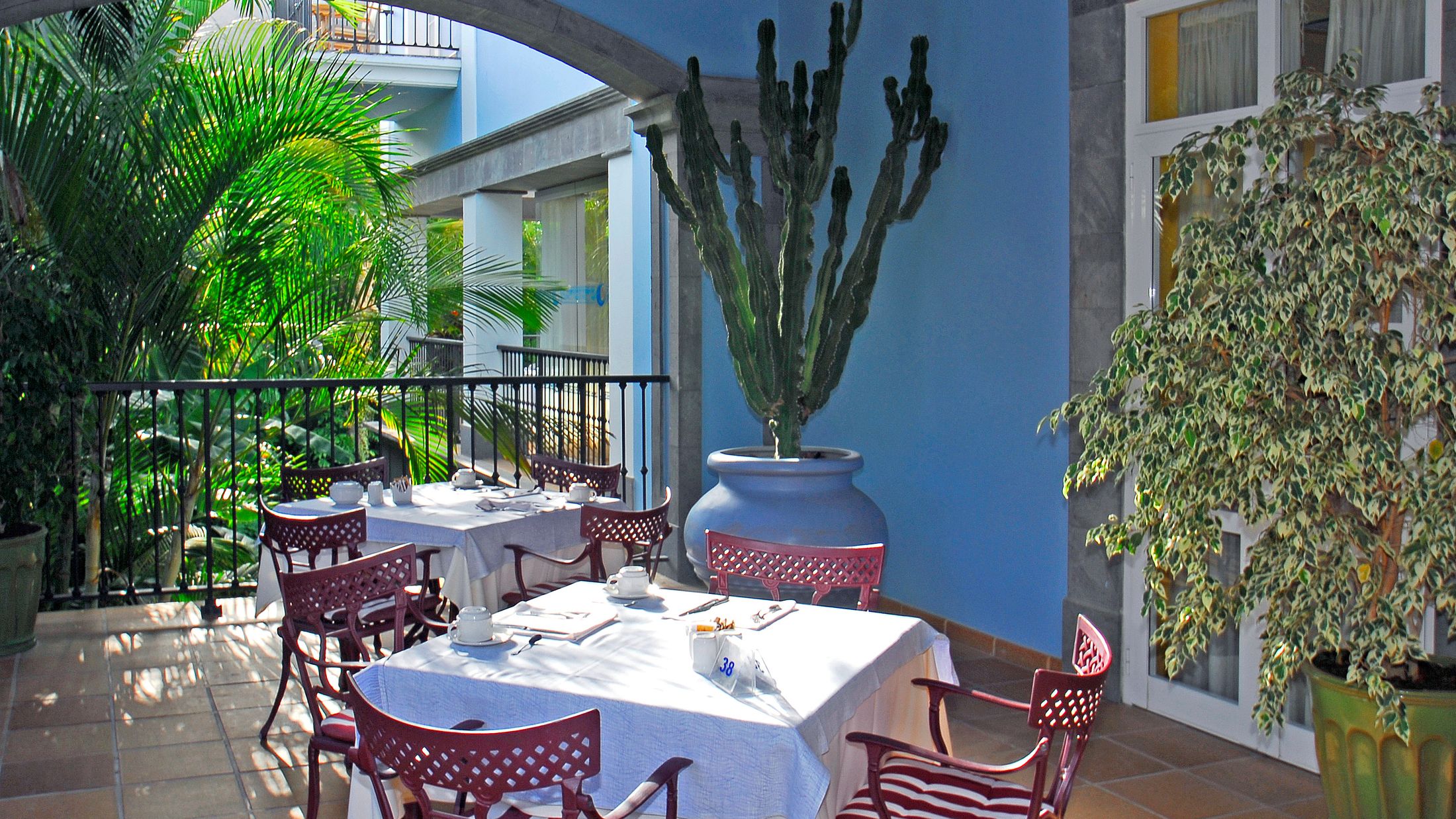 La Sama
Opening Times:
08:00 - 11:00
13:00 - 15:30
A buffet restaurant open for lunch and snacks. The restaurant serves breakfast for guests staying in Junior Suites.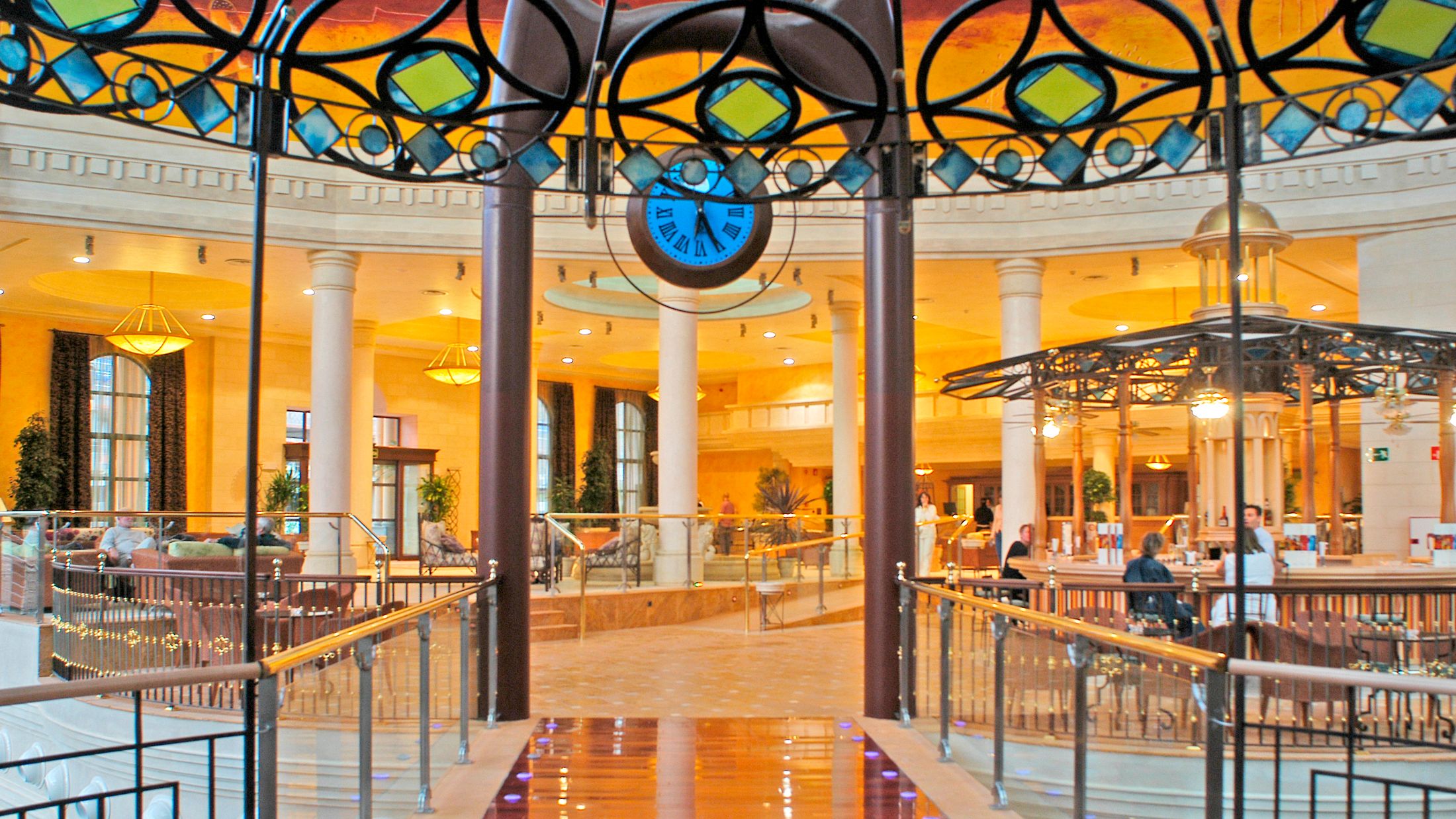 Bandama Bar
Opening Times:
17:00 - 23:00
Open for drinks during the evening.
Blue House Buffet
The Blue House Buffet offers a variety of cuisine including meat and fish from the grill as well as several pasta dishes, paella, salads and Spanish and international specialities.
Guests on Full Board and Full Board Plus will dine here for lunch.
Beach & Pools
Swimming Pools
There is a choice of two pools with one where you will find games and activities such as aqua aerobics, and the other offering a quieter experience with more shade. The beach is located just a few steps from the hotel.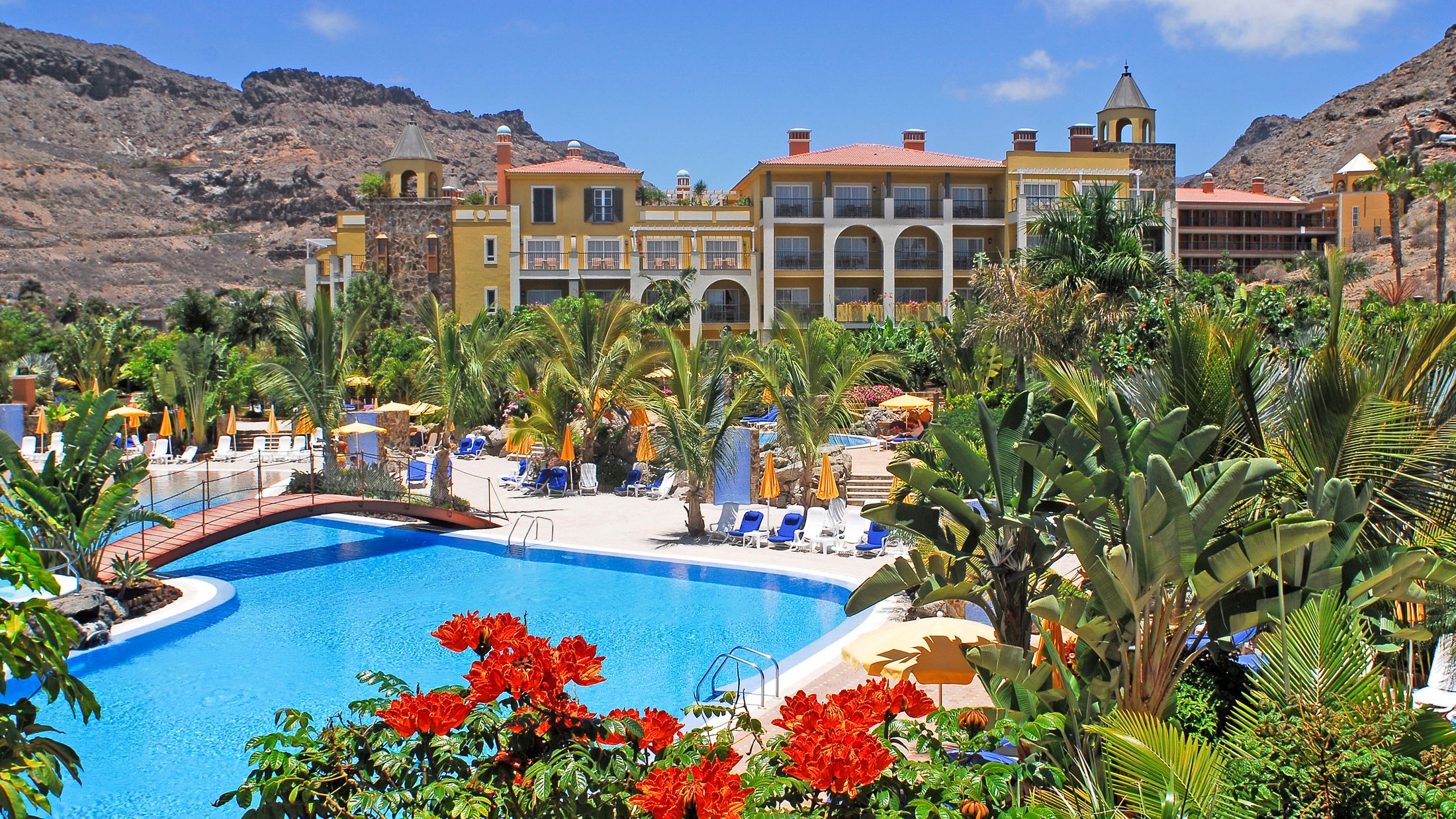 For Families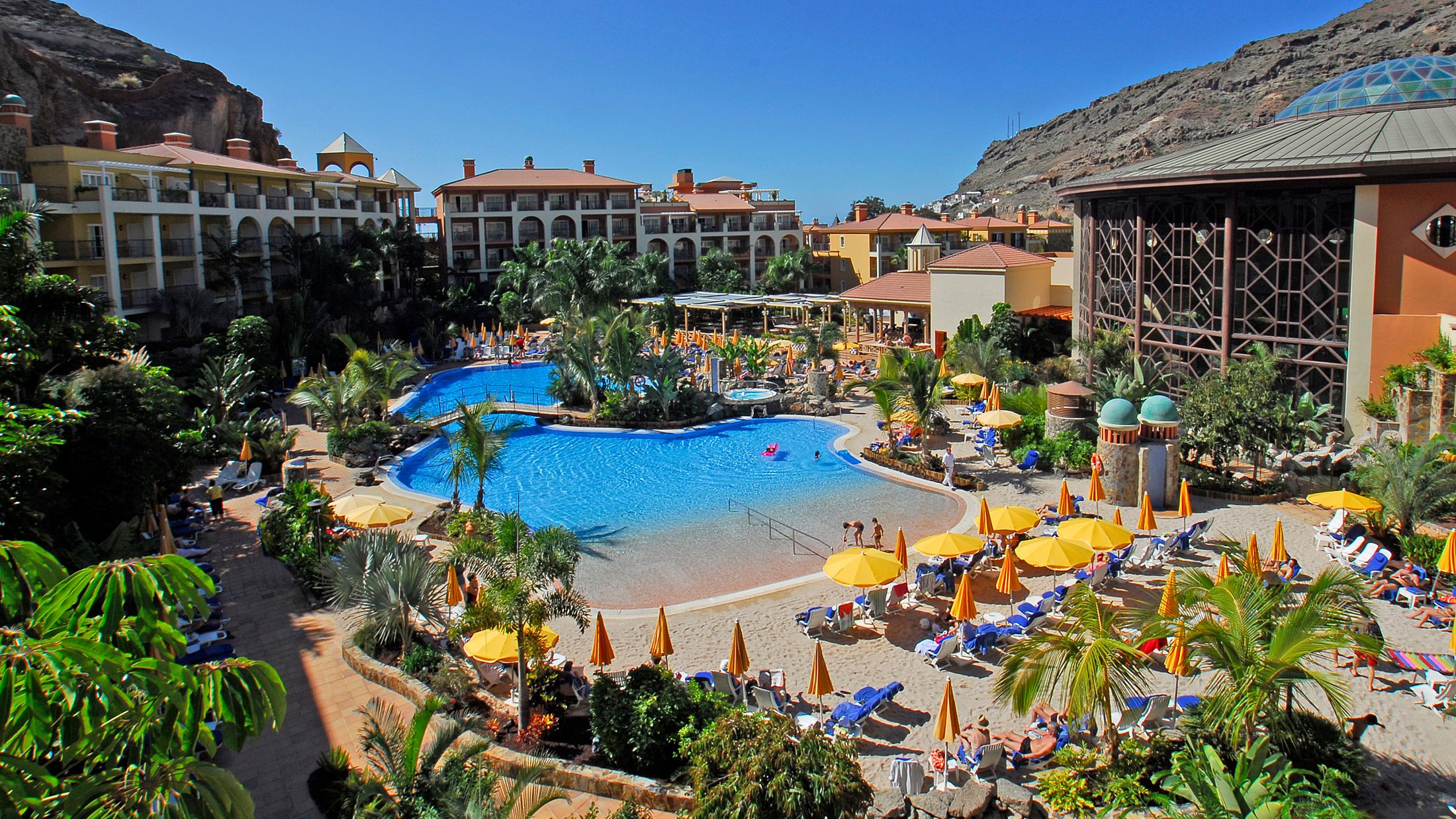 Kids' Club
The hotel boasts a range of children's activities, including those at the kids' club. From pool games to challenging interactive activities, this club is a great place for your children to go to let of some steam.
Spa & Wellness
Spa and Wellness Inagua
Opening Times:
10:00 - 18:00
Spa Inagua offers guests indoor and outdoor space. There is a dynamic spa with hydrotherapy facilities, steam bath, sauna and themed showers. Outside you will find hot and cold water baths and a floatarium with water charged with magnesium salts. There are indoor and outdoor treatment rooms, including rooms for couples. There is a charge for hotel guests to use the spa.

Restrictions:
Please note children under 18 years are not permitted in the spa.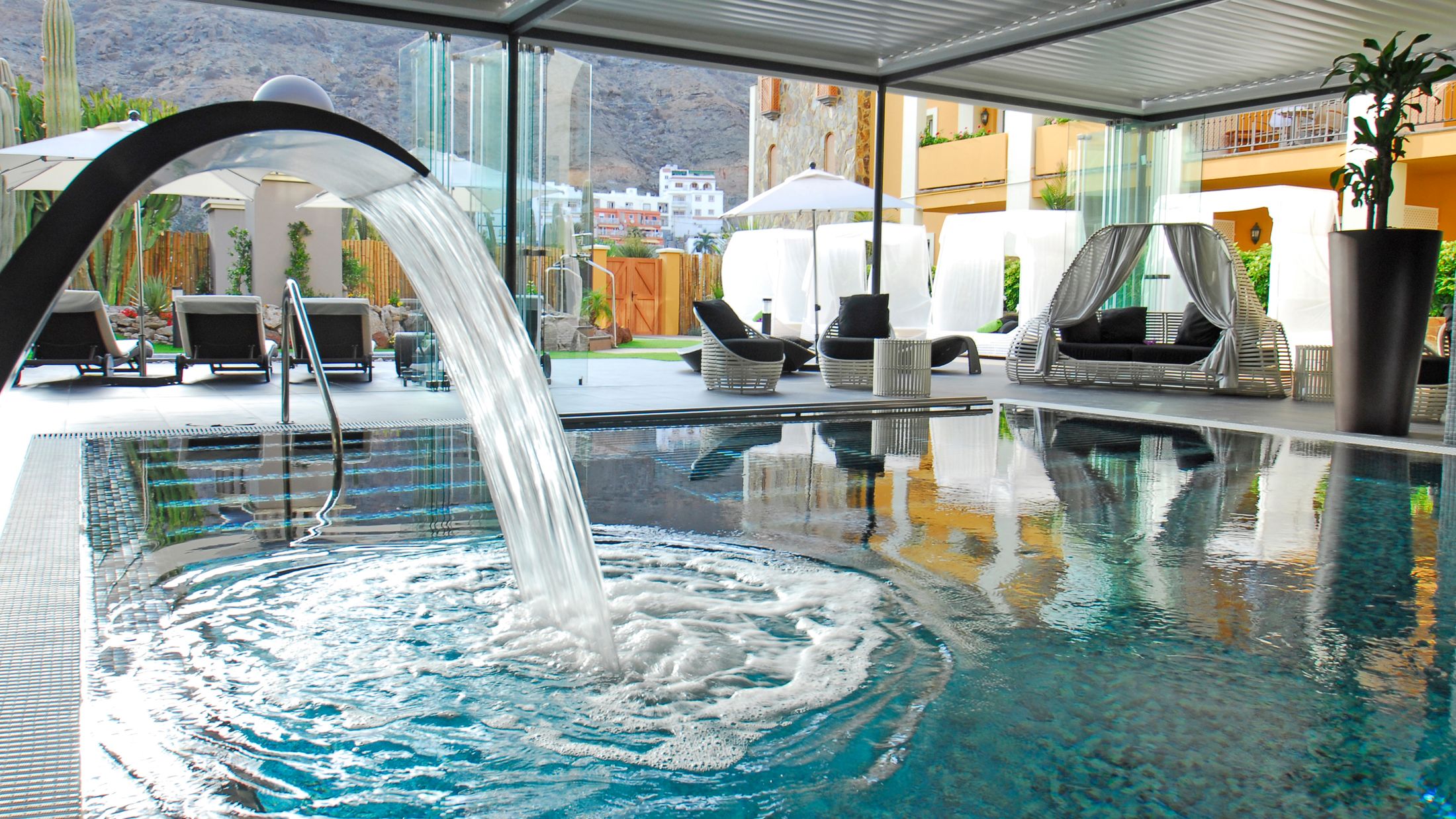 Activities & Entertainment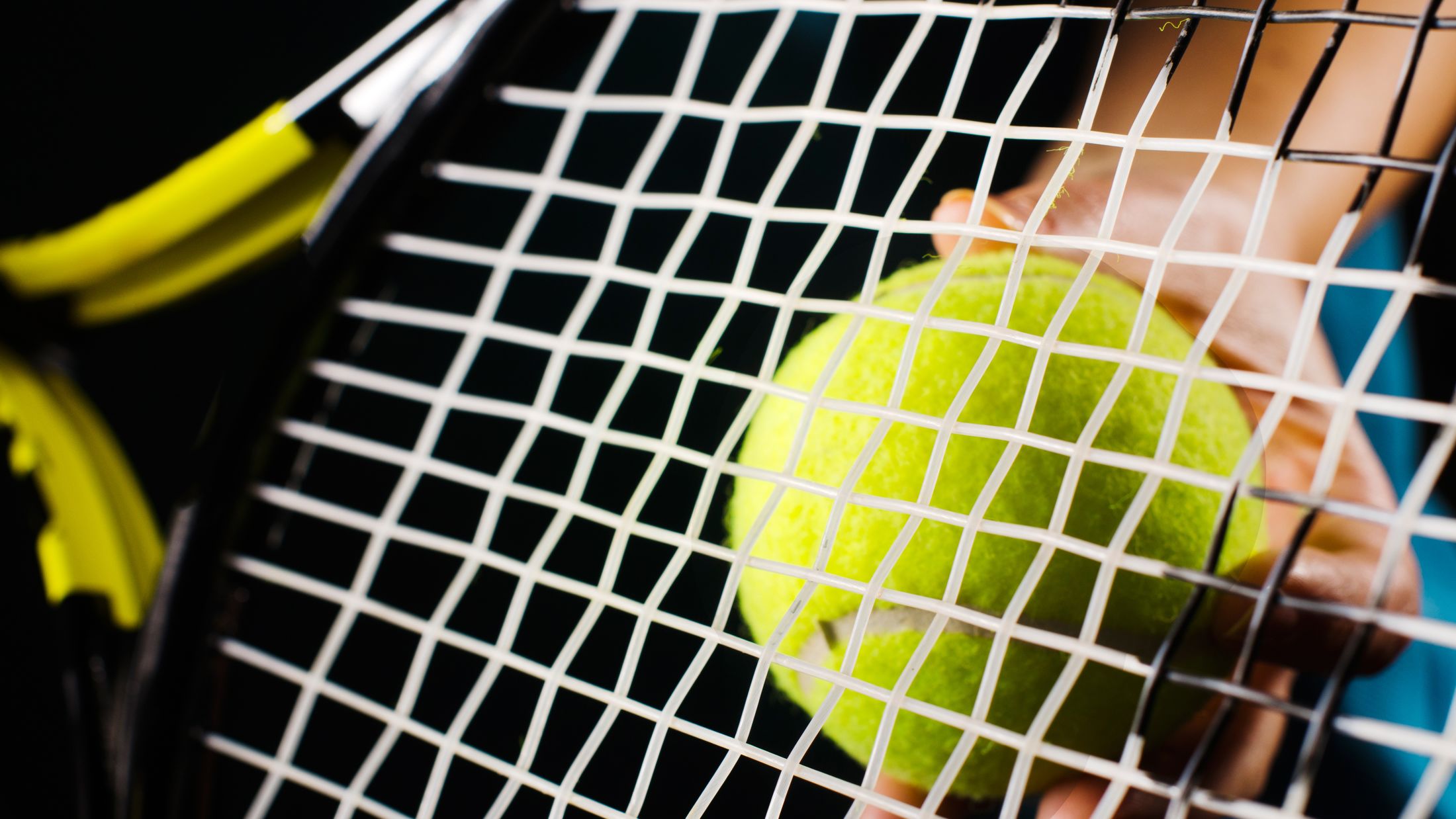 Tennis Court
The hotel offers an array of courts, making it the ideal destination for a fan of the sport. Squash courts are also available should you wish to try a different game.
About the location
Tucked in Gran Canaria's south-west coast is the picture-perfect village of Puerto Mogan. This tiny fishing port wins new fans every year with its cobbled streets and cluster of bougainvillea-draped villas. Nicknamed 'Little Venice' for its beautiful network of canals and bridges, Puerto Mogan's vibrant marina is the heart of the resort. Packed with gleaming yachts moored up beside a white sandy beach, the marina is a good spot for watersports and sailing, and has the lion's share of the resort's bars and restaurants. Expect plenty of fresh seafood and Canarian cuisine (traditional Spanish with African and South American influences). The marina has lots of little boutiques and a Canary handicraft market every Monday morning - ideal for souvenir shopping.

Transfer time
50 minutes from Las Palmas airport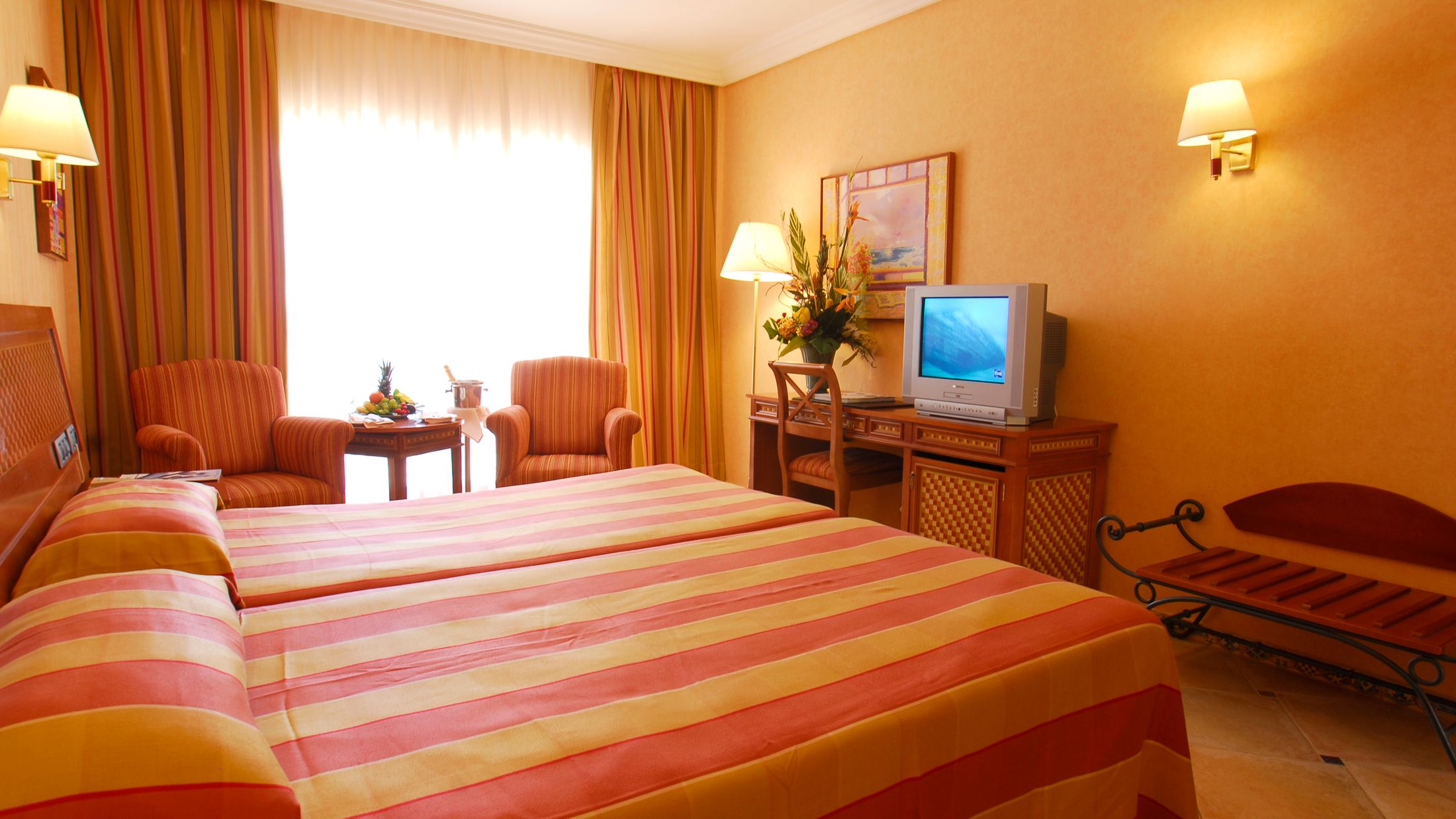 Double Room
Max 2 adults, 1 child
Double Rooms are furnished in classic style with a double or twin beds. The rooms have a bathroom with bathtub and separate shower and are equipped with a TV, air conditioning and hairdryer.
37m²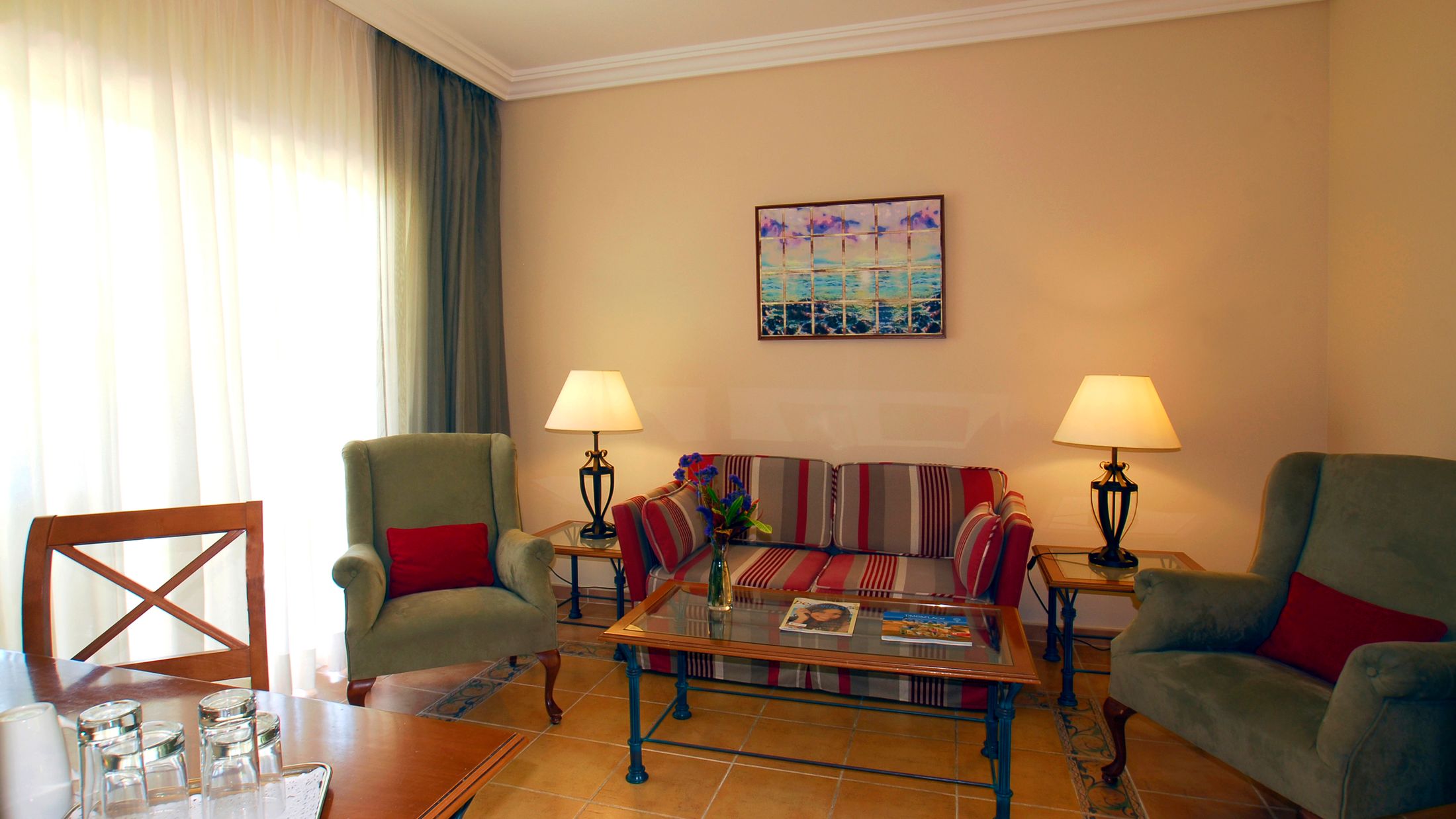 Junior Suite
Max 2 adults, 1 child
Junior Suites are spacious and decorated in warm colours with a separate living area, these rooms have a large terrace or balcony. The suites are equipped with a TV, air conditioning and a hairdryer.
48m²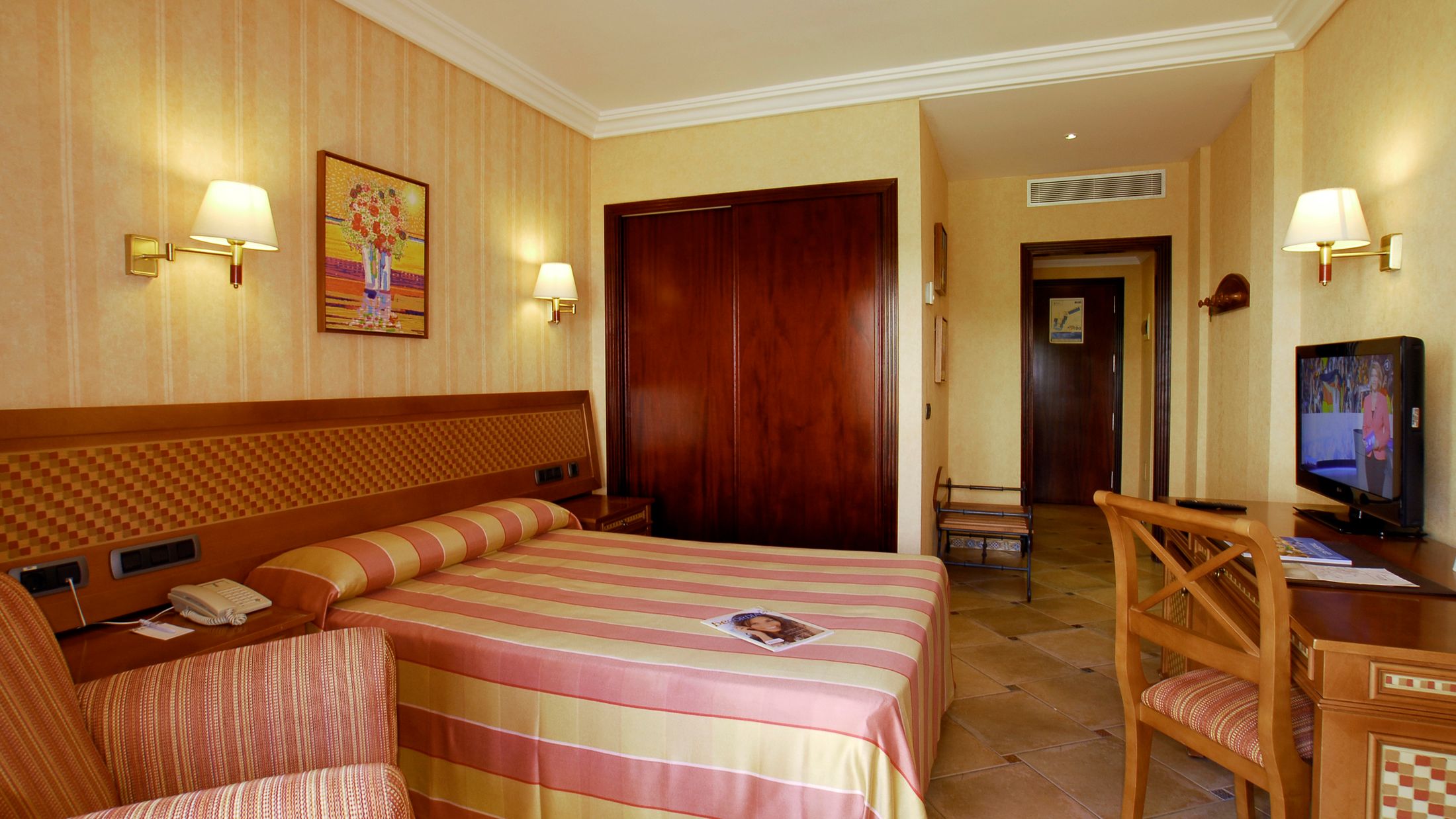 Single Room
Max 1 adult
Single Rooms measure 33m² and are simply furnished in a classic style with a single bed. Rooms have a bathroom with shower over bathtub and are equipped with air conditioning, TV and hairdryer.
33m²

Based on 4548 traveller reviews

95% of travellers recommended this hotel
Travellers Ratings
What to expect
Reviews
"
Great Hotel and nice resort
Jon S,
Aug 14 2018
Really great hotel - very large with loads of facilities. Twp great pools and food was excellent. Rooms great. 10 min walk to beach and lovely resort. Would recommend. Quick transfer from airport...
Really great hotel - very large with loads of facilities. Twp great pools and food was excellent. Rooms great. 10 min walk to beach and lovely resort. Would recommend. Quick transfer from airport, quite busy in August but hotel coped well.
View full review
Mitchel C,
Aug 13 2018
Had the best holiday of my life while staying here, fantastic staff, amazing hotel, the food was great also, was there late July and we are going back in October again, would highly recommend to...
Had the best holiday of my life while staying here, fantastic staff, amazing hotel, the food was great also, was there late July and we are going back in October again, would highly recommend to everyone
View full review