Close to the marina and beach
Subtropical gardens overflowing with 200 plant species
Children's pool and playground
Spa with sensations shower and massage treatments
Centrally located in Puerto Mogán, just a short walk from the charming marina and steps away from the beach, the Cordial Mogán Playa is an ideal choice for those looking for a laid-back retreat. The hotel's beautiful grounds are immaculately maintained, with expansive botanic gardens offering over 450 species of subtropical plants and an archaeological park. Well-appointed guest rooms are laid out around courtyards and terraces and two swimming pools provide the perfect setting to relax, with the Spa & Wellness Centre on hand for those who want to indulge. A choice of restaurants offer a wide range of dishes and Los Guayres, run by renowned Canarian Chef Aléxis Álvarez, provides an ideal setting to sample creative Canarian cuisine. Families are well catered for at this hotel, with a kids' club and children's pool, as well as daytime activities and evening entertainment. Boasting a good range of facilities, an enviable location and friendly service, the Cordial Mogán Playa promises to offer a warm welcome and a memorable stay.

A range of hotel child prices apply to ages 3-6 and 7-12 years.
The hotel has 487 rooms.
Facilities
Bars & Restaurants
Los Guayres
Opening Times:
19:00 - 22.30
Opening Dates:
Closed Monday and Sunday
Run by renowned Canarian chef Aléxis Álverez, this restaurant offers creative Canarian cuisine.
Guests on half board and full board can receive a credit towards meals at this restaurant.


Restrictions:
Reservations are required for this restaurant.
Tamarona
Opening Times:
07:30 - 10:30
18:00 - 22:00
Included With:
Half Board, Half Board Plus, Full Board, Full Board Plus
This large buffet restaurant serves a range of cuisine with show cooking stations, it has views over the lagoon through its large picture windows.
Fataga Bar
Opening Times:
19:00 - 01:00
A bar open until late with live music and shows.
La Sama
Opening Times:
08:00 - 11:00
13:00 - 15:30
A buffet restaurant open for lunch and snacks. The restaurant serves breakfast for guests staying in Junior Suites.
Bandama Bar
Opening Times:
17:00 - 23:00
Open for drinks during the evening.
Blue House Buffet
The Blue House Buffet offers a variety of cuisine including meat and fish from the grill as well as several pasta dishes, paella, salads and Spanish and international specialities.
Guests on Full Board and Full Board Plus will dine here for lunch.
Beach & Pools
Swimming Pools
There is a choice of two pools with one where you will find games and activities such as aqua aerobics, and the other offering a quieter experience with more shade. The beach is located just a few steps from the hotel.
For Families
Kids' Club
The hotel boasts a range of children's activities, including those at the kids' club. From pool games to challenging interactive activities, this club is a great place for your children to go to let of some steam.
Spa & Wellness
Spa and Wellness Inagua
Opening Times:
10:00 - 18:00
Spa Inagua offers guests indoor and outdoor space. There is a dynamic spa with hydrotherapy facilities, steam bath, sauna and themed showers. Outside you will find hot and cold water baths and a floatarium with water charged with magnesium salts. There are indoor and outdoor treatment rooms, including rooms for couples. There is a charge for hotel guests to use the spa.

Restrictions:
Please note children under 18 years are not permitted in the spa.
Activities & Entertainment
Tennis Court
The hotel offers an array of courts, making it the ideal destination for a fan of the sport. Squash courts are also available should you wish to try a different game.
About the location
Tucked in Gran Canaria's south-west coast is the picture-perfect village of Puerto Mogan. This tiny fishing port wins new fans every year with its cobbled streets and cluster of bougainvillea-draped villas. Nicknamed 'Little Venice' for its beautiful network of canals and bridges, Puerto Mogan's vibrant marina is the heart of the resort. Packed with gleaming yachts moored up beside a white sandy beach, the marina is a good spot for watersports and sailing, and has the lion's share of the resort's bars and restaurants. Expect plenty of fresh seafood and Canarian cuisine (traditional Spanish with African and South American influences). The marina has lots of little boutiques and a Canary handicraft market every Monday morning - ideal for souvenir shopping.

Transfer time
50 minutes from Las Palmas airport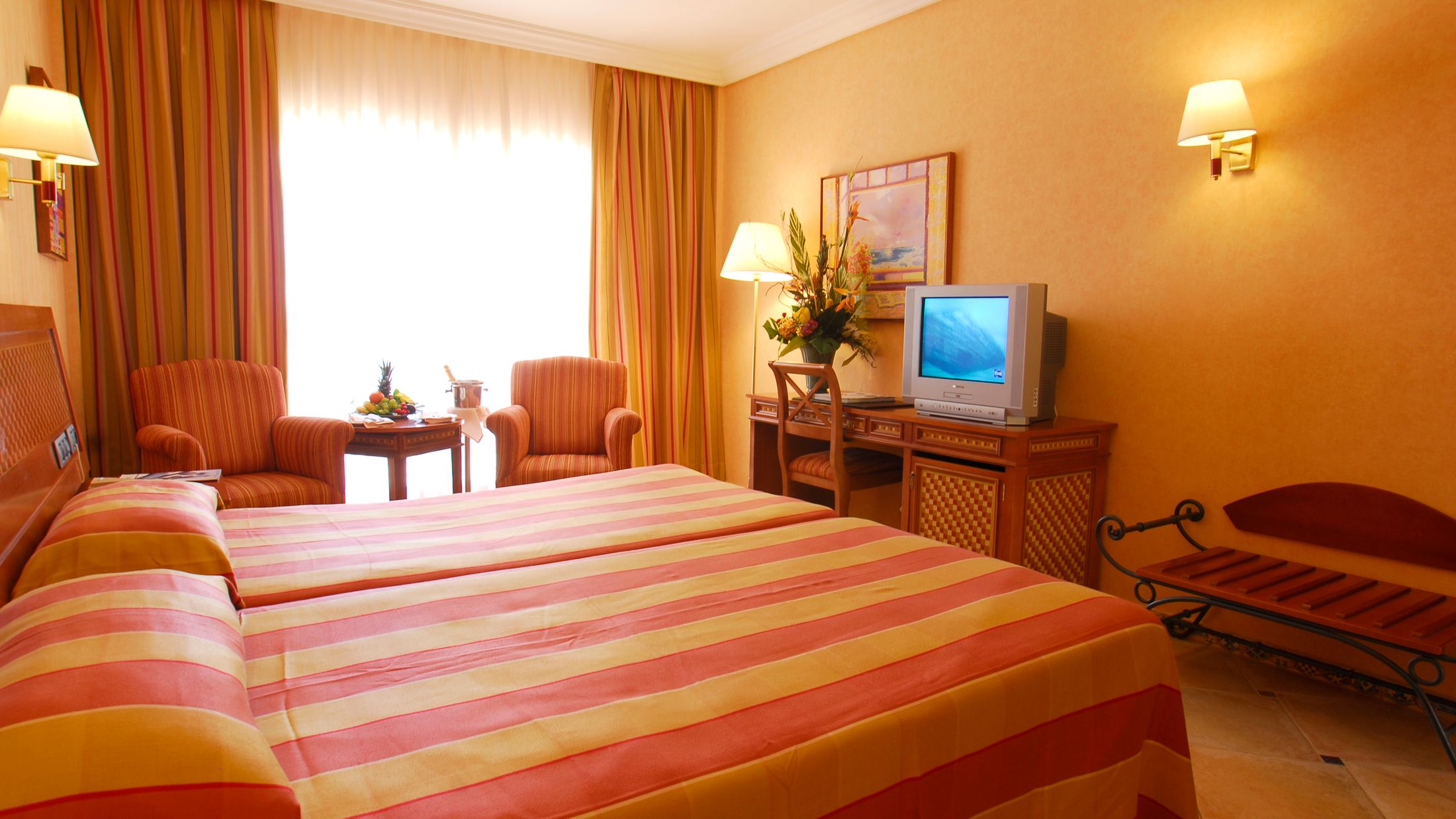 Double Room
Max 2 adults, 1 child
Double Rooms are furnished in classic style with a double or twin beds. The rooms have a bathroom with bathtub and separate shower and are equipped with a TV, air conditioning and hairdryer.
37m²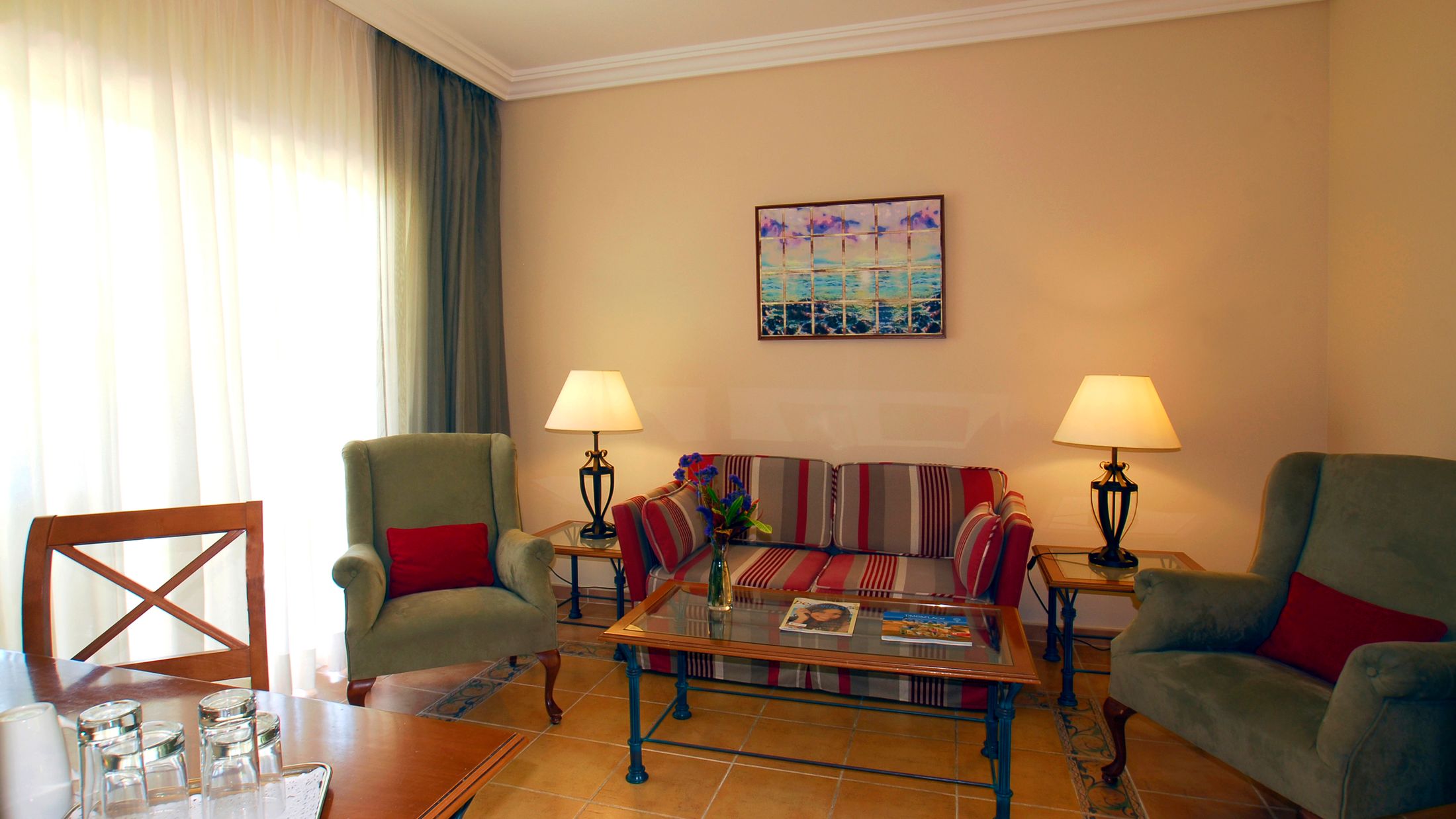 Junior Suite
Max 2 adults, 1 child
Junior Suites are spacious and decorated in warm colours with a separate living area, these rooms have a large terrace or balcony. The suites are equipped with a TV, air conditioning and a hairdryer.
48m²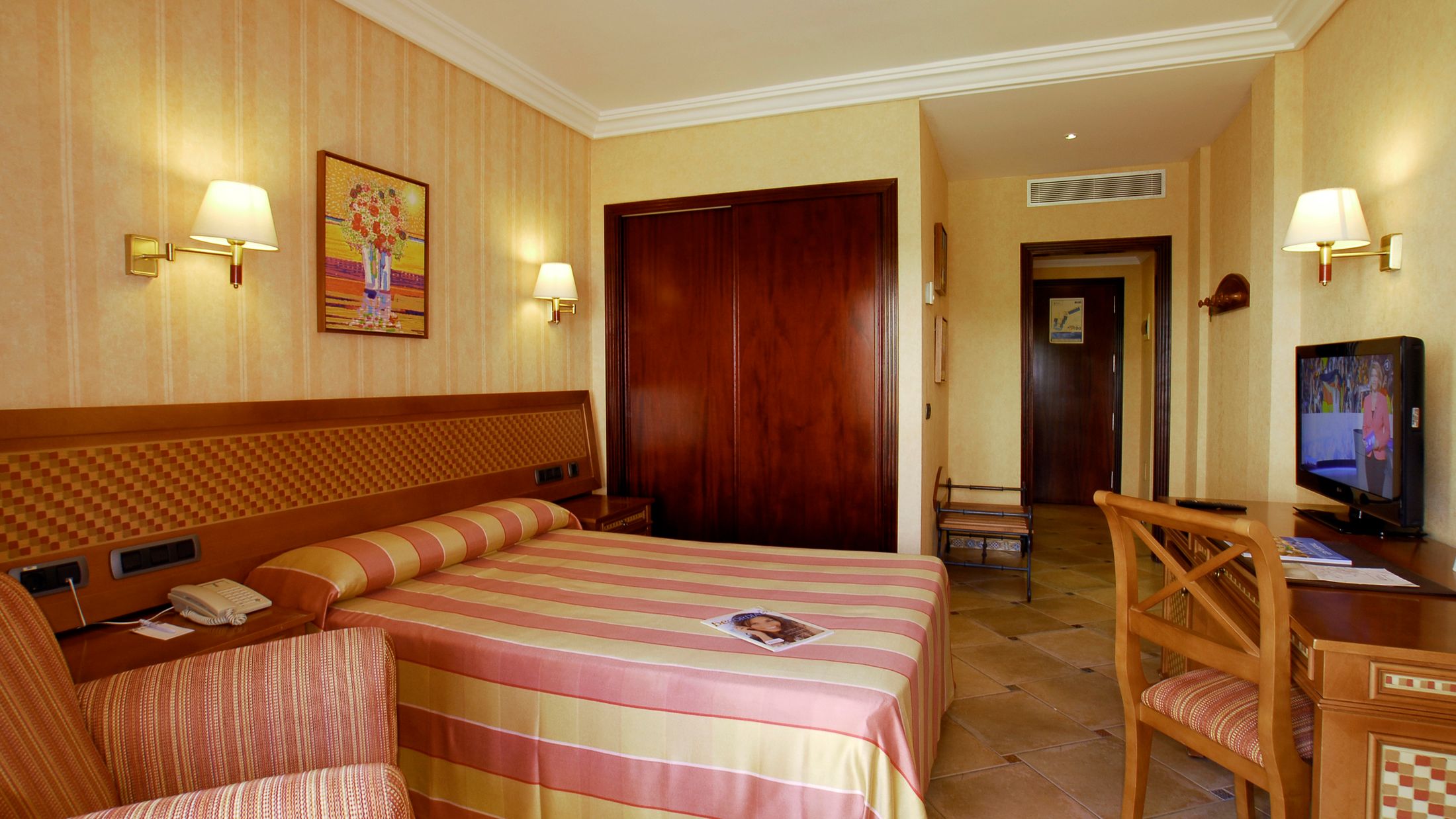 Single Room
Max 1 adult
Single Rooms measure 33m² and are simply furnished in a classic style with a single bed. Rooms have a bathroom with shower over bathtub and are equipped with air conditioning, TV and hairdryer.
33m²
Early booking discount
Save up to 14% on the hotel price for holidays between 01 May - 31 October 2019 booked by 31 March 2019.

Based on 4746 traveller reviews

95% of travellers recommended this hotel
Travellers Ratings
What to expect
Reviews
"
Lovely first visit to a great hotel
bpd1968, Oldham
Feb 18 2019
We went on recommendation and were not disappointed. Great reception area with the plants and bridge under the glass dome. Had a high level room overlooking one of the pools, little sun on the patio...
We went on recommendation and were not disappointed. Great reception area with the plants and bridge under the glass dome. Had a high level room overlooking one of the pools, little sun on the patio but great views and sun at the entrance side all afternoon. Very large room, comfortable giant bed and plenty of wardrobe space. Modern bathroom & shower, well stocked with toiletries. Booked our dinner table in the conservatory, pleasant views over the floodlit lake & waterfall and heaters at night so never felt chilly. Very large dining room, mainly self service but with 2 cooking stations for meat & fish. We chose the second sitting and were disappointed the first few nights as the food at these stations ran out very quickly and the chefs could not replenish. Know this happened to others so spoke to the Restaurant Manager, who checked, apologised & agreed with our comments and said he would ensure this would not happen again. Sure enough all was good from then on and he was often checking. The food itself was good, well cooked with plenty of choices but was never really warm neither were the plates, think this always spoils even good food. Staff were very friendly and constantly cleared the tables in rapid time. Loved the large pool, surprised how clean and well heated it was for January!! always plenty of loungers although the usual folks up early reserving some loungers, knowing that the pool staff did nothing about it, shame. Loungers in lots of different places, many different views to enjoy. Had lunch at the poolside self service restaurant, really good choices & again friendly staff. The whole hotel was clean and bright, the only place we were not too keen was the theatre, shows were not good at all & the place lacked any good decor. Easy to walk into the port where there are plenty of restaurants, bars, shops etc although there is a very convenient supermarket straight outside the hotel. The gardens were amazing, so well looked after and a great display of plants to wander through. Lots of different places in both sun & shade to enjoy some quiet time. A very relaxed place to holiday with good staff, good decor all made better by some great sunny January weather !! Will definitely put on the return to list.
View full review
MIKECHRISManchester, Manchester, United Kingdom
Feb 17 2019
This was our first visit to Cordial Mog??n Playa also our first time to Puerto Mog??n. We have fallen in love with the resort and the hotel was excellent. The hotel grounds are a mass of mature...
This was our first visit to Cordial Mog??n Playa also our first time to Puerto Mog??n. We have fallen in love with the resort and the hotel was excellent. The hotel grounds are a mass of mature tropical plants and trees which you would have a job to beat anywhere in the world. The hotel boasts 2 heated outdoor swimming pools each with a bar and restaurant area. We stayed half board and if you would prefer lunch instead of evening meal you simply get a voucher from reception. The breakfast menu from 7.39 to 10.30 can only be described as amazing, you can get almost anything you like, don???t be late though, the buffet does get cleared quite quickly at 10.30. We preferred lunch to the evening meal so we could eat out later. Again this a buffet menu and is served at the 2nd pool in the Blue building. Evening meal is in 2 sittings, we chose the later one from 8.15 to 9.30, the variety of food was very good, fresh fish and joints of meat carved for you always available. The food was good but I wouldn???t say amazing as sometimes it wasn???t quite as hot as it should be, don???t let my comments put you off though we would come back. Starters, sweets & breads always available at all meals and always very good. Both pools are quite big with loads of sun beds and plenty of room, nice thick cushions as well. There is a lifeguard on duty most of the day. The rooms are a little dated but we were happy with ours, nice big balcony too. Entertainment in the evening finished before 10.30 and we didn???t think it was brilliant but with the beach & marina only 10 minutes walk away we preferred to venture out. Staff were all very friendly & helpful and made our stay really enjoyable. The hotel architecture is amazing with internal waterways and rockeries and loads of fascinating books and crannies. There are lifts everywhere if required although this a low rise hotel, we will be back
View full review