Idyllic Playa d'en Bossa beachfront setting
Age-specific kids' clubs for ages 2-16
Zentropia Spa using all-natural ingredients
Mexican restaurant with open-air terrace
Luxurious Balinese beds by the pools
Boasting a privileged location on the beautiful sandy beach of Playa d'en Bossa, the Grand Palladium Palace Ibiza Resort provides an ideal setting for an unforgettable holiday. This large modern hotel offers spacious, well-equipped guest rooms and a wealth of amenities. Choose to dine al fresco at one of the hotel's four restaurants and enjoy well-prepared dishes and magnificent sea views. Days can be spent enjoying the many sports activities, including tennis and watersports, indulging in a treatment at the Spa & Wellness Centre or simply relaxing on one of the large Balinese beds whilst listening to the music that gently plays in the background. Families are also well catered for at this hotel, with a children's club, two children's pools and indoor and outdoor play areas. With its fantastic location just six kilometres from Ibiza Town and alongside a natural protected area, the Grand Palladium Palace Ibiza Resort promises to offer something for everyone.
Hotel child prices apply to ages 2-12 years.
The hotel has 410 rooms, 2 floors and 5 lifts.
All Inclusive - what's included
Breakfast, lunch and dinner. Local and international branded alcoholic and non-alcoholic drinks. Snacks. Ice cream. Guests are also able to use all of the facilities and dine at the Grand Palladium White Island Resort & Spa.
All restaurants are available on the all inclusive programme, reservations may be required for the à la carte restaurants.
Facilities
Bars & Restaurants
Il Palazzo
Opening Times:
18:30 - 22:00
Open for dinner, serving Mediterranean dishes prepared using fresh ingredients. This restaurant also has an al fresco area.
Restrictions:
Reservations may be required.
La Dona
Opening Times:
18:30 - 22:00
Open for dinner, this Mexican restaurant offers a variety of dishes and an al fresco area.
Restrictions:
Reservations may be required.
La Sal
Opening Times:
08:00 - 11:00
13:00 - 15:00
19:00 - 22:00
This buffet restaurant is located in the main building and offers a varied menu, show cooking and an al fresco area.
Portofino
Opening Times:
11:00 - 12:30 Breakfast
12:00 - 18:00 Lunch
18:30 - 22:00 Dinner
Portofino is located by the beach with magnificent sea views, and offers a selection of light dishes and snacks throughout the day and delicious meals in the evenings.
Bars
The hotel boasts two bars; the Lobby Bar that offers peace and quiet and the Pool Bar that serves an array of cocktails, soft drinks and snacks.
Beach and Pools
Swimming Pools
The hotel has three swimming pools, two for families and one for children.
For Families
Children's Clubs
Opening Times:
10:00 - 18:00
The Baby Club is available for children aged 1 - 3 years with care provided by nannies that are fully qualified and multilingual.
The Mini Club is for children aged 4 - 12 years and provides lots of fun with themed days, games, competitions and educational activities.
The Junior Club is for children aged 9 years and over and has a games and virtual zone, DJ classes and workshops, football, basketball and much more.
Spa & Wellness
Zentropia Spa
Zentropía Spa offers guests a place to relax and unwind with its thermal area including an indoor and outdoor pools, Jacuzzi®, sauna and steam baths and sensation showers. A fully equipped gym and treatment rooms are also available.

Restrictions:
Guests over the age of 18 years are welcome to use the spa facilities. Charges apply.
About the location
Playa d'en Bossa sits in a sun-drenched spot on Ibiza's south-east coast, around two miles outside Ibiza Town. A real crowd-pleaser, the resort's nightlife scene is an overflow from Ibiza Town, with a line-up of swanky cocktail bars and exclusive beach clubs dotted along the waterfront. But by day, Playa d'en Bossa quietens down. There's a real family focus, with a stunner of a beach wrapped around the coast - think super-soft sand, smooth shoreline and a backdrop of palm trees. It's also fully equipped with a watersports centre, beachfront playgrounds and sun loungers where you can camp out all day. The picturesque shady waterfront has a sociable buzz from a string of souvenir shops, family-friendly restaurants and pubs.
Transfer time
10 minutes from Ibiza airport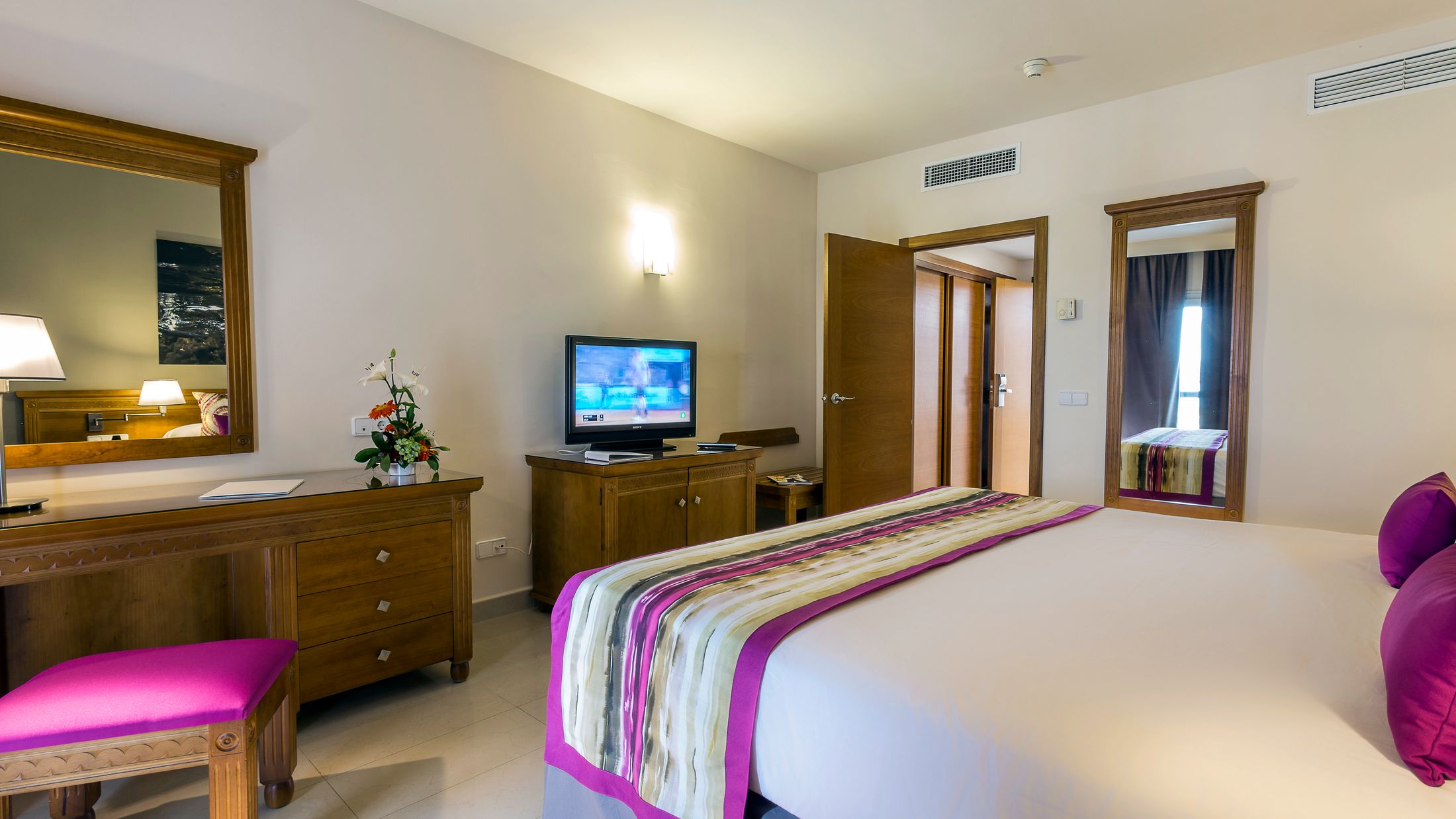 Double Room
Max 3 adults
Double Rooms have two twin beds or a king size bed, air conditioning, ceiling fan, satellite TV, telephone, WiFi, safe, iron & ironing board, tea & coffee making facilities, radio/iPod docking station, pillow menu, hairdryer, bathrobes, slippers and a furnished balcony or terrace.
33m²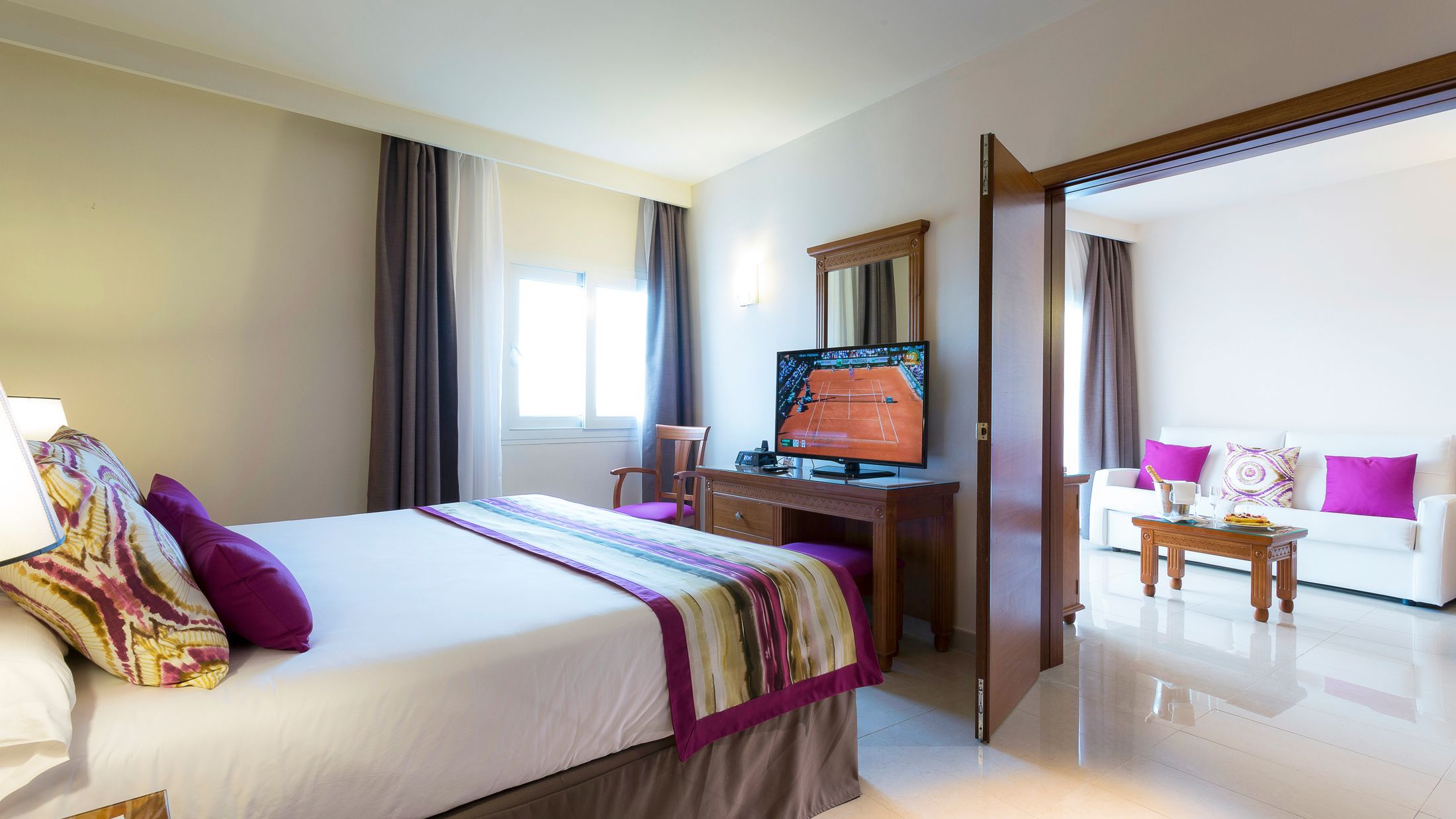 Junior Suite
Max 3 adults, 1 child
Junior Suites have a separate lounge, minibar, Jacuzzi® bath and balcony.
54m²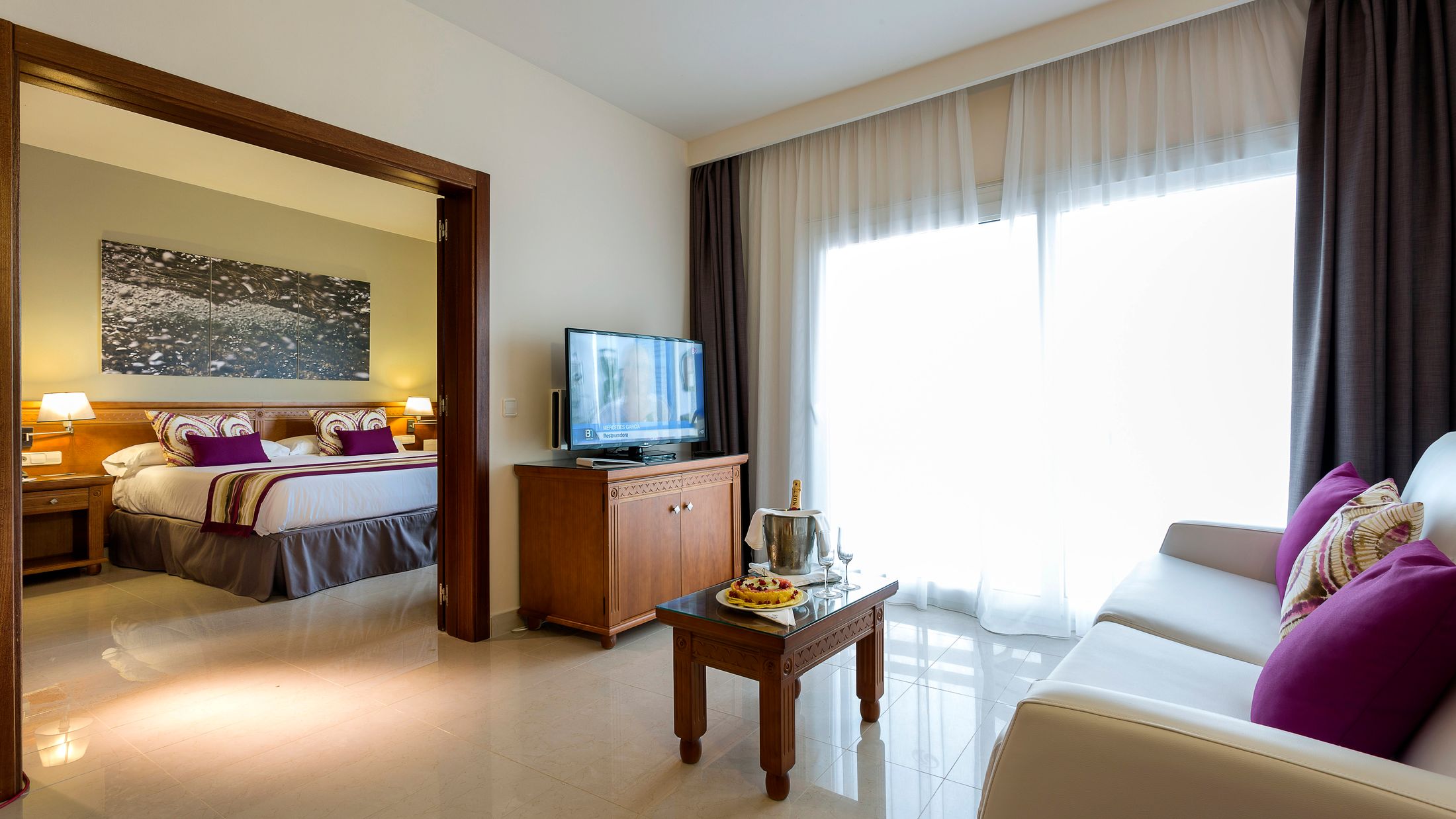 Master Suite
Max 6 adults
Master Suites are the same as Junior Suites but have two bedrooms and a separate entrance hallway.
87m²

Based on 4375 traveller reviews

83% of travellers recommended this hotel
Travellers Ratings
What to expect
Reviews
"
Amazing Hotel Would Recommend
RoxyWatford, Hemel Hempstead, England, United Kingdom
Sep 19 2020
Firstly, we visited in October last year and I don???t know how Covid has affected the hotel operations this year We upgraded to a room with a jacuzzi on the balcony which was a nice touch The room...
Firstly, we visited in October last year and I don???t know how Covid has affected the hotel operations this year We upgraded to a room with a jacuzzi on the balcony which was a nice touch The room was one of the biggest hotel rooms I think I???ve ever had ! The hotel was very clean and modern, decorated to a high standard. The main buffet restaurant had plenty of food choice and the food was very good But we particularly enjoyed the 3 a la carte restaurants , the Mexican was our favourite, but the Italian and other one had very nice food too. The drinks were good quality brands and we liked the lobby bar of an evening. The entertainment was very good, set in an outdoor stage with lots of seats and tables, the lion king was the best show, but there was a musicals night, an ABBA night and a Michael Jackson night ... all very good ! The pools were lovely and we enjoyed the canopy sun beds which were big and comfy The American sports bar was very good too for snacks , burgers , pizza etc I would recommend this hotel to friends and family
View full review
"
For Family's Only and not Worth Five Stars!
jordand01983, Newmarket, United Kingdom
Sep 08 2020
First off, my wife and I understand times are hard due to COVID and the Palladium Group had to take drastic measures to appease its customers by consolidating all to its biggest hotel, but for some...
First off, my wife and I understand times are hard due to COVID and the Palladium Group had to take drastic measures to appease its customers by consolidating all to its biggest hotel, but for some, it was not appeasing. We originally booked the Palladium Palymar adult-only in San Antoni but were forced into this "five" star family hotel on the other side of the island. The hotel was packed with families with kids. So much noise, kids peeing in and outside of the pool, and even right after we left some kid pooped in the big pool. This was not a five star in our opinion, trash not picked up, decaying pool furniture, dirty pool water, etc. We were even given "the best" Junior Suite with a sea view. If this was their best then it was sad. One time housekeeping even came into our room one morning even though we had the do not disturb sign on the door. Our bedroom had one small window, and our rooms were right over the stinky sewage and back of a restaurant. Sure there was a decent sea view, but not worth the money. If we had our original booking in the adult-only hotel our experience would have been so much better and our room would have been much better. If we had the option to cancel the hotel and flights and not go we would have taken it. The Palladium Group informed us we could cancel our original booking and book a new room at the Grand and we would not have to pay any difference, well we did when we got to the hotel. It was a nightmare, and the hotel staff was not aware of our situation. Regarding COVID, the staff did not enforce the rules enough. When you enter the hotel there is a temperature machine, they don't make sure you use it and many times it will give one bad temperature and then right after it would be good. A lot of the staff did not wear their mask over their entire face. Sometimes they would take your temperature when entering the restaurants/buffet. The buffet lacked staff, you had to wait a long time. Go to the restaurants if you can, the Medeteranin restaurant was the best. The shows at the theater were nice, but twice I had to go tell the front desk about groups of people not keeping social distance or wearing a mask. At one point there were a bunch of Jewish teenagers being so loud, no masks, no social distancing, and other guests sitting down were getting upset. First I asked the bartender to do something, he said: "what can I do". So then I had to yell at these kids. Anyway, A lot of the staff were very friendly, we had a better time outside of the hotel, and we spent way too much for this hotel.
View full review