Boasting a privileged location on the beautiful sandy beach of Playa d'en Bossa, the Grand Palladium Palace Ibiza Resort provides an ideal setting for an unforgettable holiday. This large modern hotel offers spacious, well-equipped guest rooms and a wealth of amenities. Choose to dine al fresco at one of the hotel's four restaurants and enjoy well-prepared dishes and magnificent sea views. Days can be spent enjoying the many sports activities, including tennis and watersports, indulging in a treatment at the Spa & Wellness Centre or simply relaxing on one of the large Balinese beds whilst listening to the music that gently plays in the background. Families are also well catered for at this hotel, with a children's club, two children's pools and indoor and outdoor play areas. With its fantastic location just six kilometres from Ibiza Town and alongside a natural protected area, the Grand Palladium Palace Ibiza Resort promises to offer something for everyone.

Hotel child prices apply to ages 2-12 years.
The hotel has 410 rooms, 2 floors and 5 lifts.
Idyllic Playa d'en Bossa beachfront setting
Age-specific kids' clubs for ages 2-16
Zentropia Spa using all-natural ingredients
Mexican restaurant with open-air terrace
Luxurious Balinese beds by the pools
All Inclusive - what's included

Breakfast, lunch and dinner. Local and international branded alcoholic and non-alcoholic drinks. Snacks. Ice cream.

Guests are also able to use all of the facilities and dine at the Grand Palladium White Island Resort & Spa.
All restaurants are available on the all inclusive programme, reservations may be required for the à la carte restaurants.
Added Value
Room Discount
Save up to 10% for holidays between 14 - 31 October 2018 booked by 31 August 2018.
Facilities
Bars & Restaurants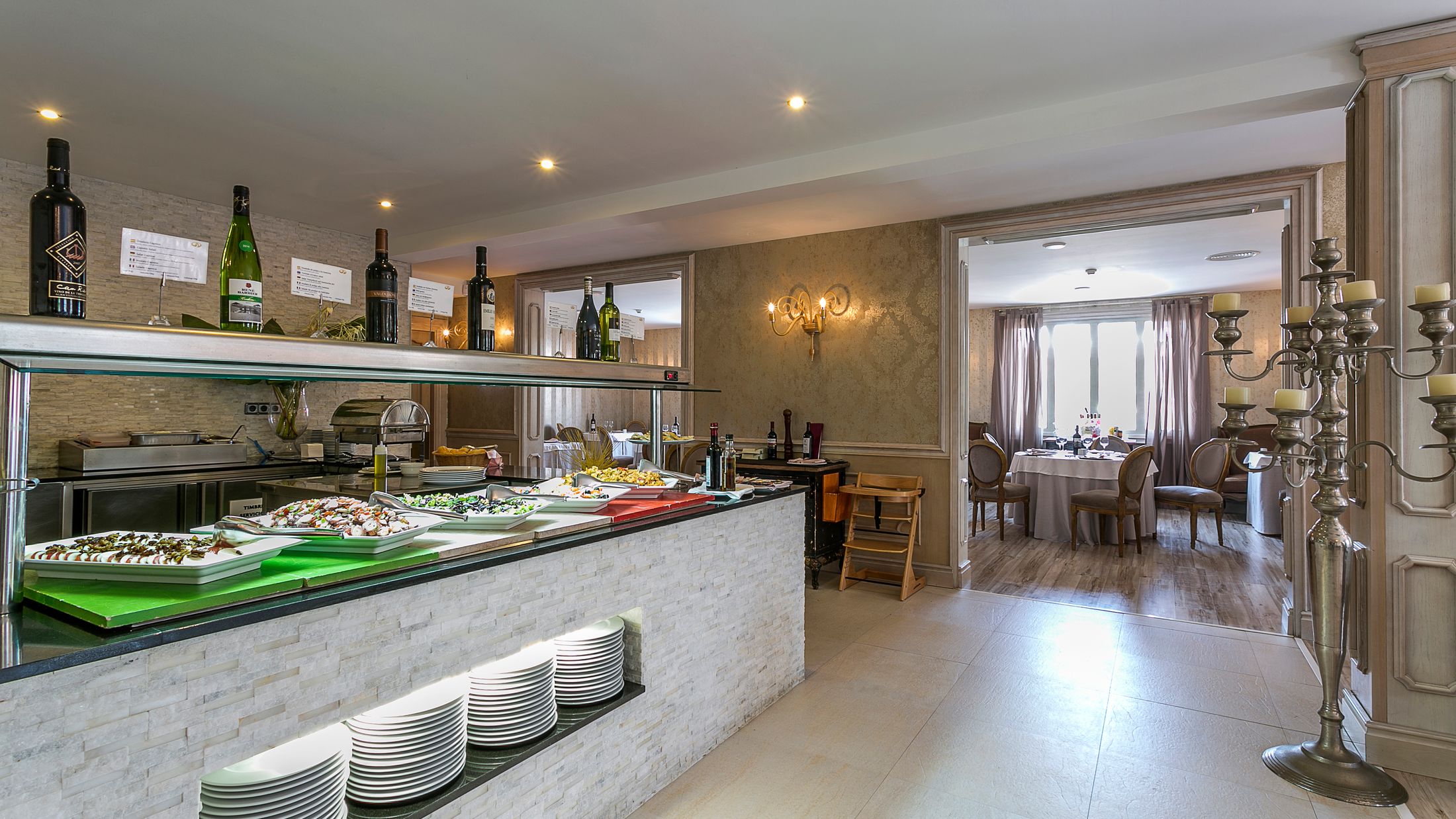 Il Palazzo
Opening Times:
18:30 - 22:00
Open for dinner, serving Mediterranean dishes prepared using fresh ingredients. This restaurant also has an al fresco area.
Restrictions:
Reservations may be required.
La Dona
Opening Times:
18:30 - 22:00
Open for dinner, this Mexican restaurant offers a variety of dishes and an al fresco area.
Restrictions:
Reservations may be required.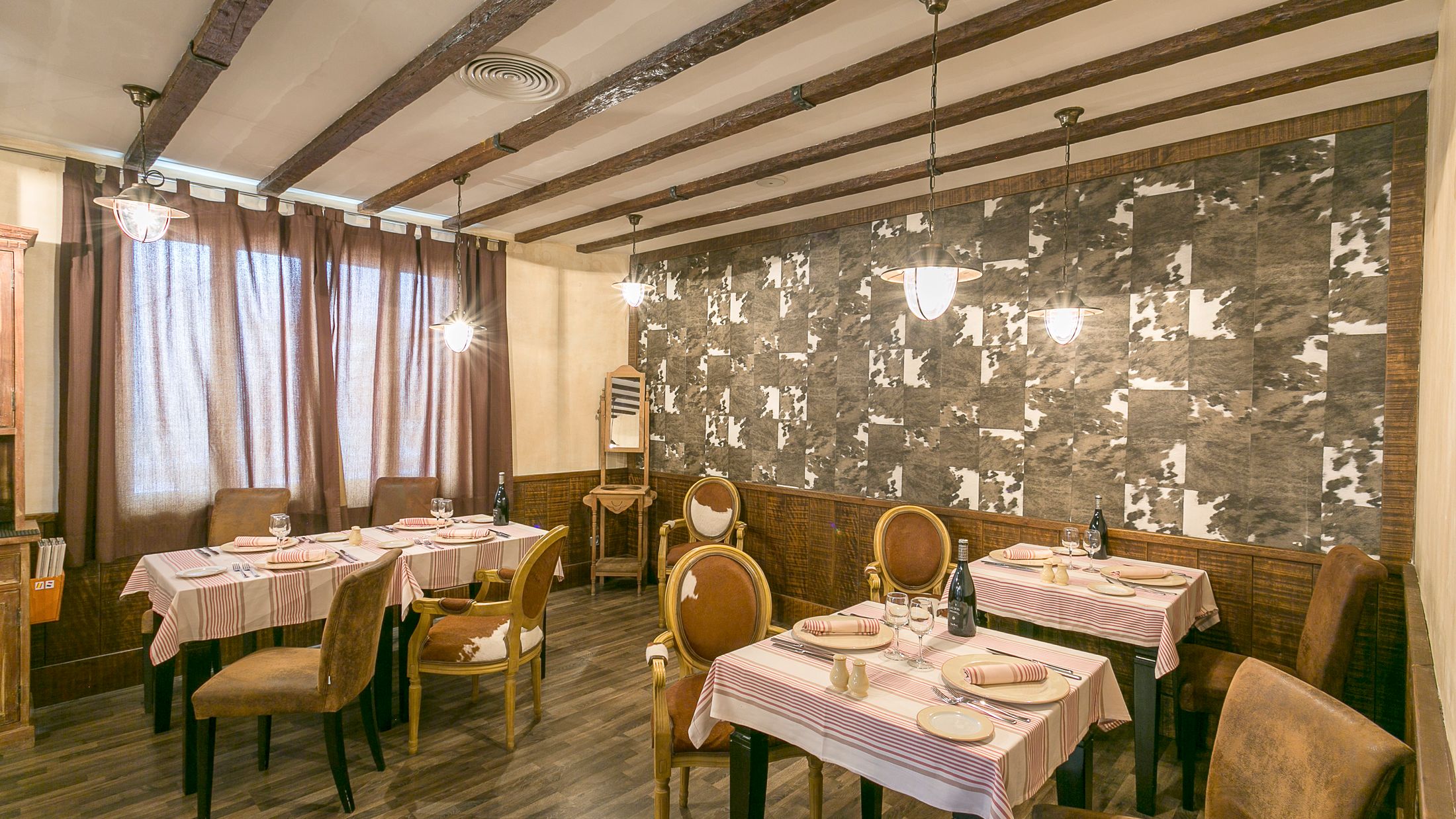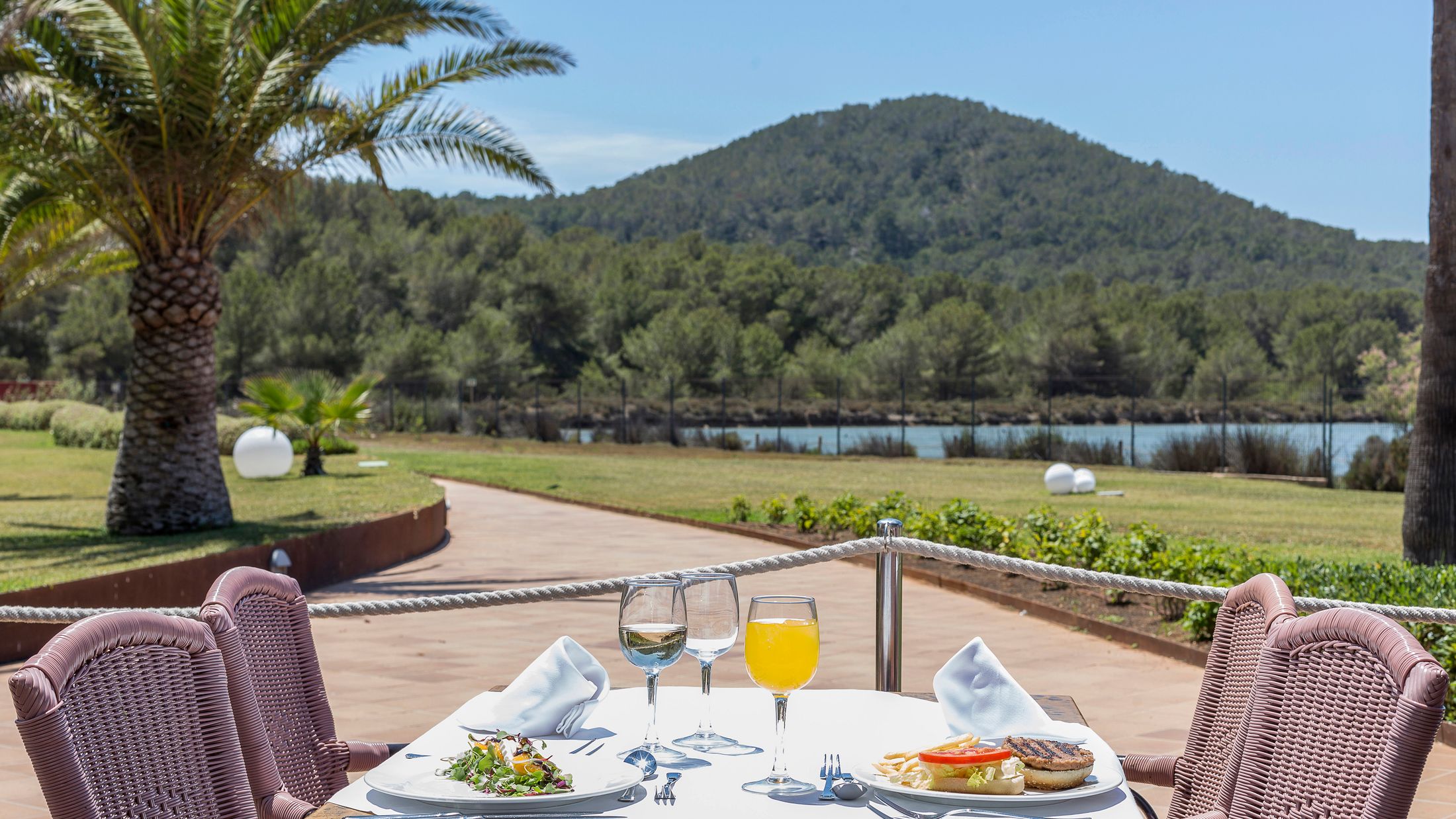 La Sal
Opening Times:
08:00 - 11:00
13:00 - 15:00
19:00 - 22:00
This buffet restaurant is located in the main building and offers a varied menu, show cooking and an al fresco area.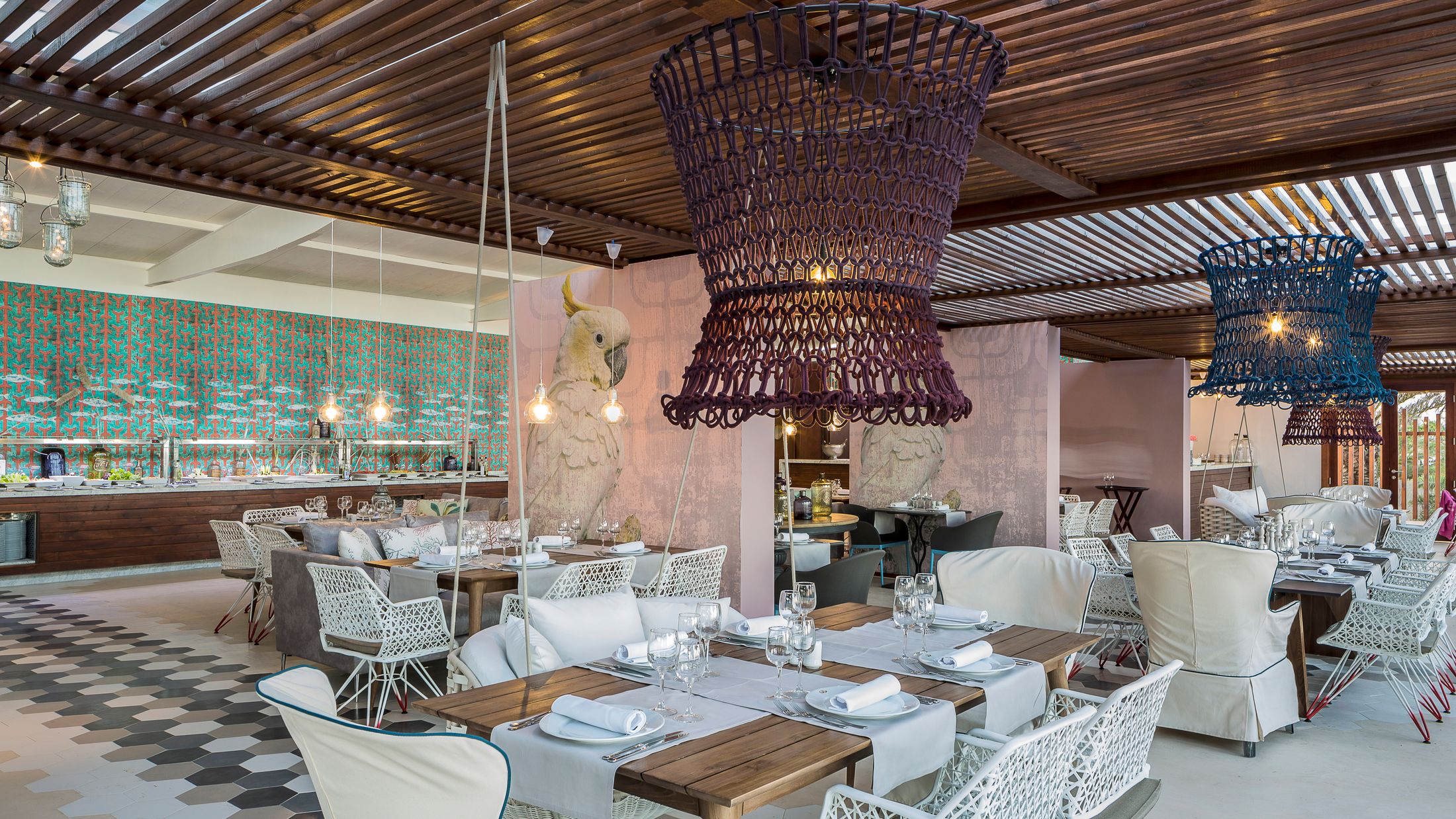 Portofino
Opening Times:
11:00 - 12:30 Breakfast
12:00 - 18:00 Lunch
18:30 - 22:00 Dinner
Portofino is located by the beach with magnificent sea views, and offers a selection of light dishes and snacks throughout the day and delicious meals in the evenings.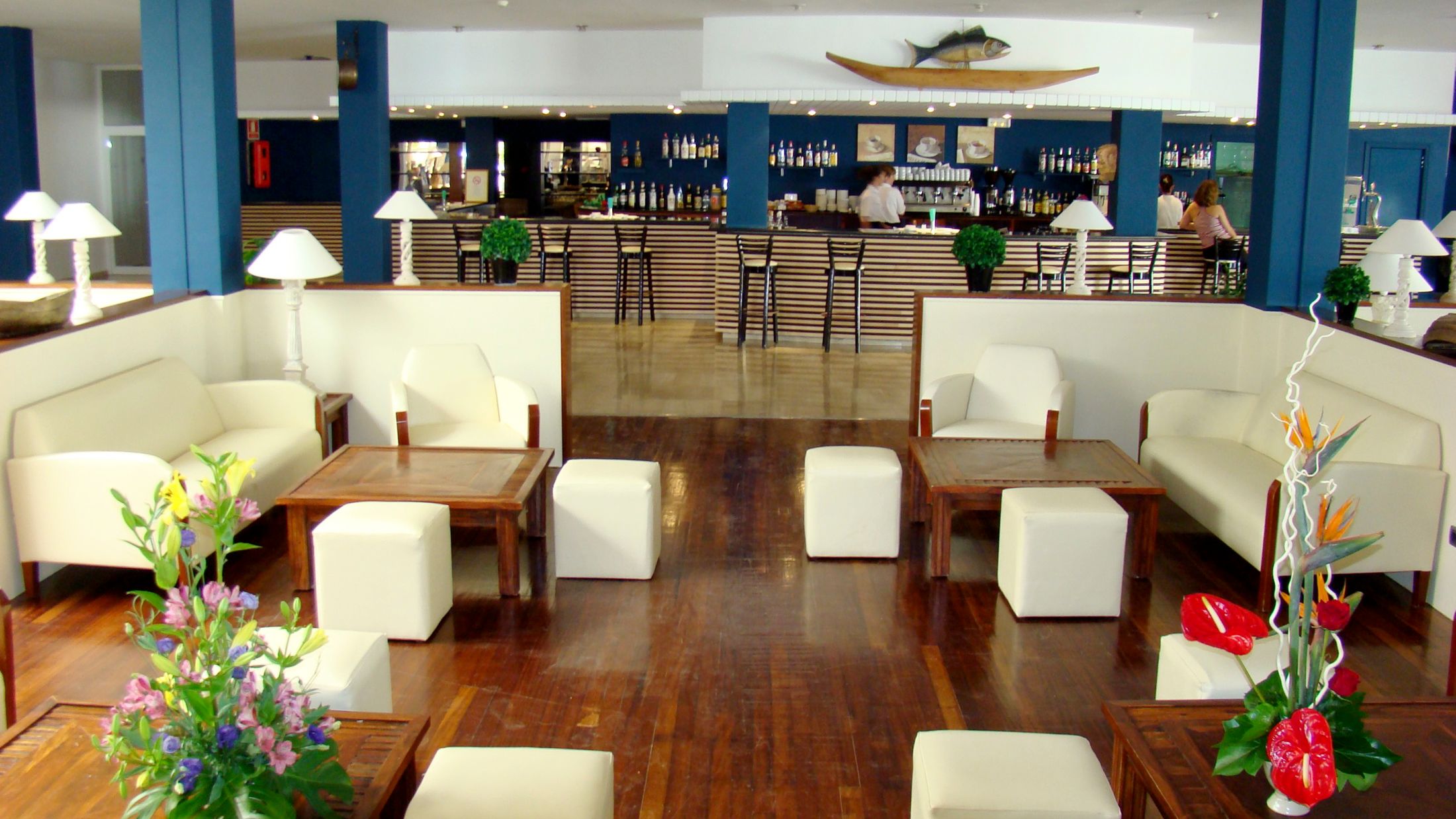 Bars
The hotel boasts two bars; the Lobby Bar that offers peace and quiet and the Pool Bar that serves an array of cocktails, soft drinks and snacks.
Beach and Pools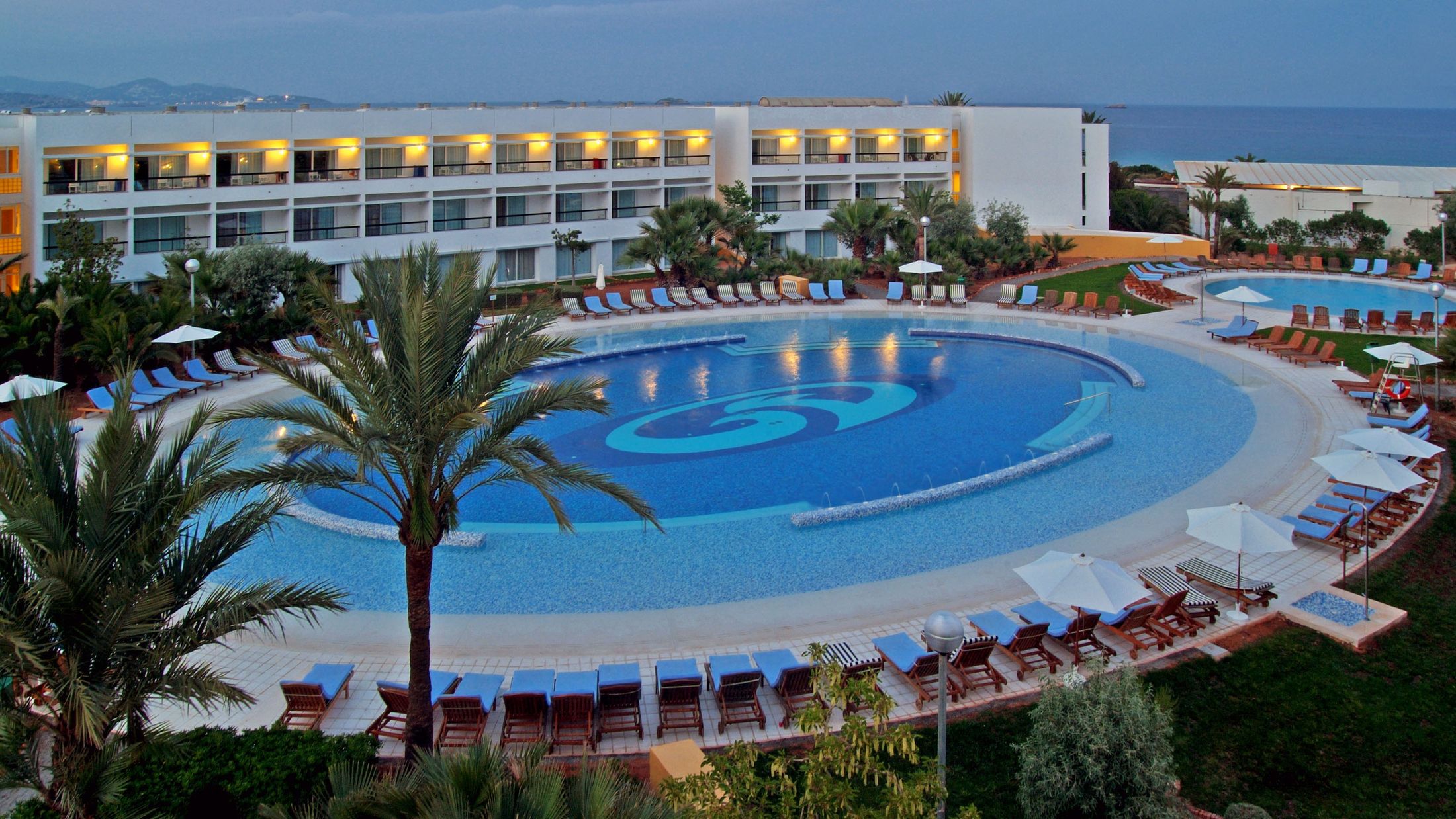 Swimming Pools
The hotel has three swimming pools, two for families and one for children.
For Families
Children's Clubs
Opening Times:
10:00 - 18:00
The Baby Club is available for children aged 1 - 3 years with care provided by nannies that are fully qualified and multilingual.
The Mini Club is for children aged 4 - 12 years and provides lots of fun with themed days, games, competitions and educational activities.
The Junior Club is for children aged 9 years and over and has a games and virtual zone, DJ classes and workshops, football, basketball and much more.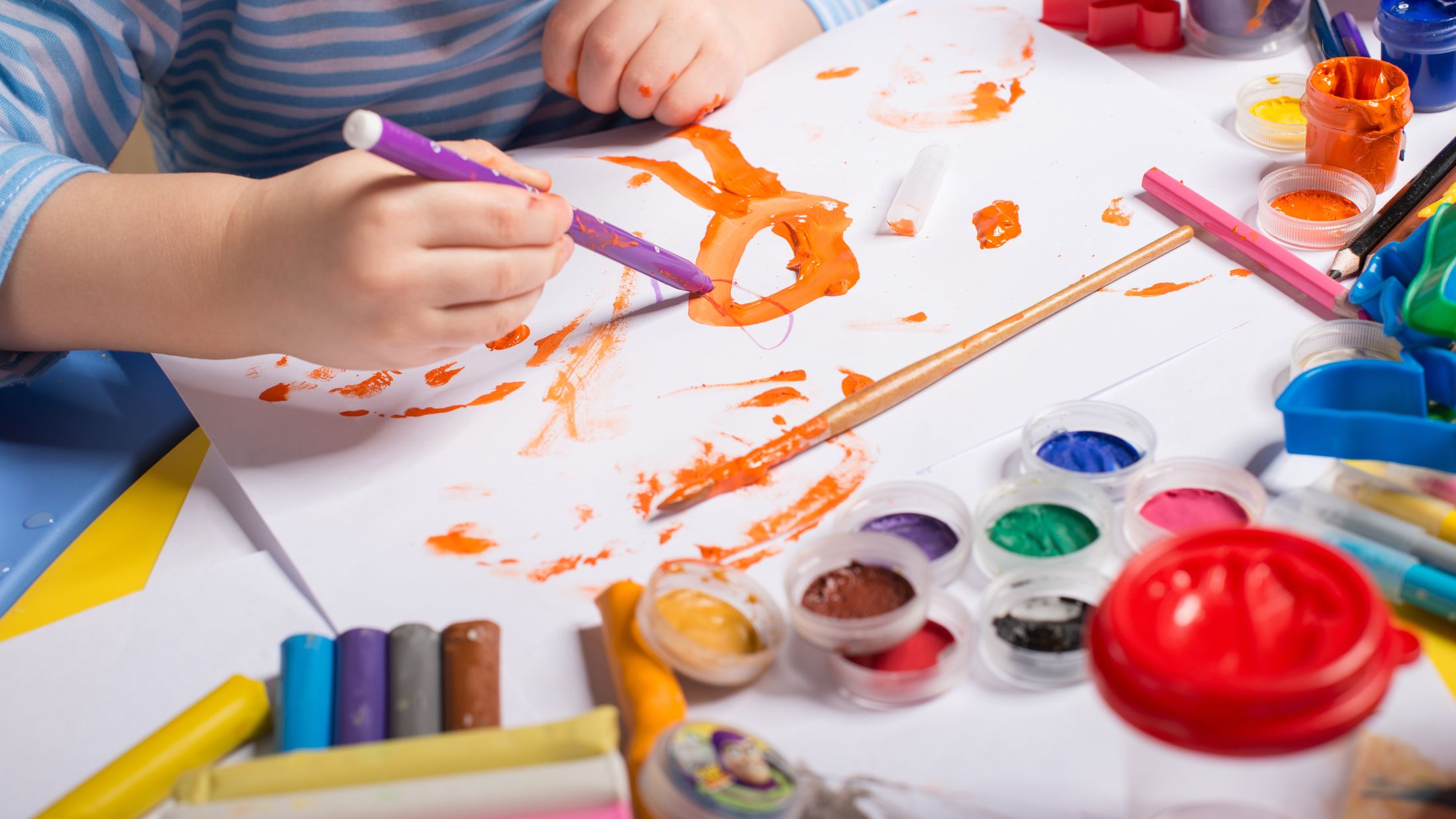 Spa & Wellness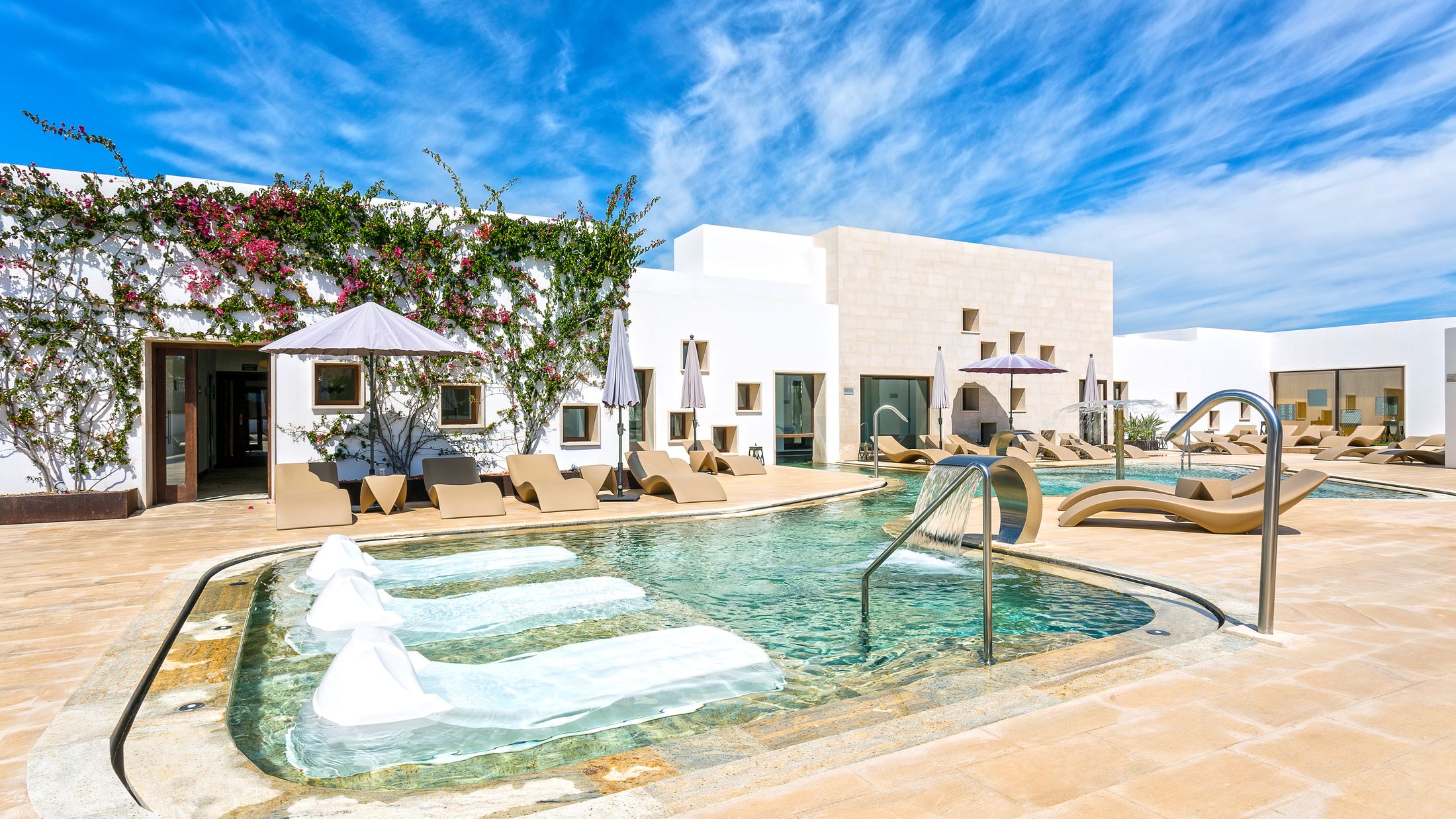 Zentropia Spa
Zentropía Spa offers guests a place to relax and unwind with its thermal area including an indoor and outdoor pools, Jacuzzi®, sauna and steam baths and sensation showers. A fully equipped gym and treatment rooms are also available.

Restrictions:
Guests over the age of 18 years are welcome to use the spa facilities. Charges apply.
About the location
Playa d'en Bossa sits in a sun-drenched spot on Ibiza's south-east coast, around two miles outside Ibiza Town. A real crowd-pleaser, the resort's nightlife scene is an overflow from Ibiza Town, with a line-up of swanky cocktails bars and exclusive beach clubs dotted along the waterfront. But by day, Playa d'en Bossa quietens down. There's a real family focus, with a stunner of a beach wrapped around the coast - think super-soft sand, smooth shoreline and a backdrop of palm trees. It's also fully equipped with a watersports centre, beachfront playgrounds and sun loungers where you can camp out all day. The picturesque shady waterfront has a sociable buzz from a string of souvenir shops, family-friendly restaurants and pubs.
Transfer time
10 minutes from Ibiza airport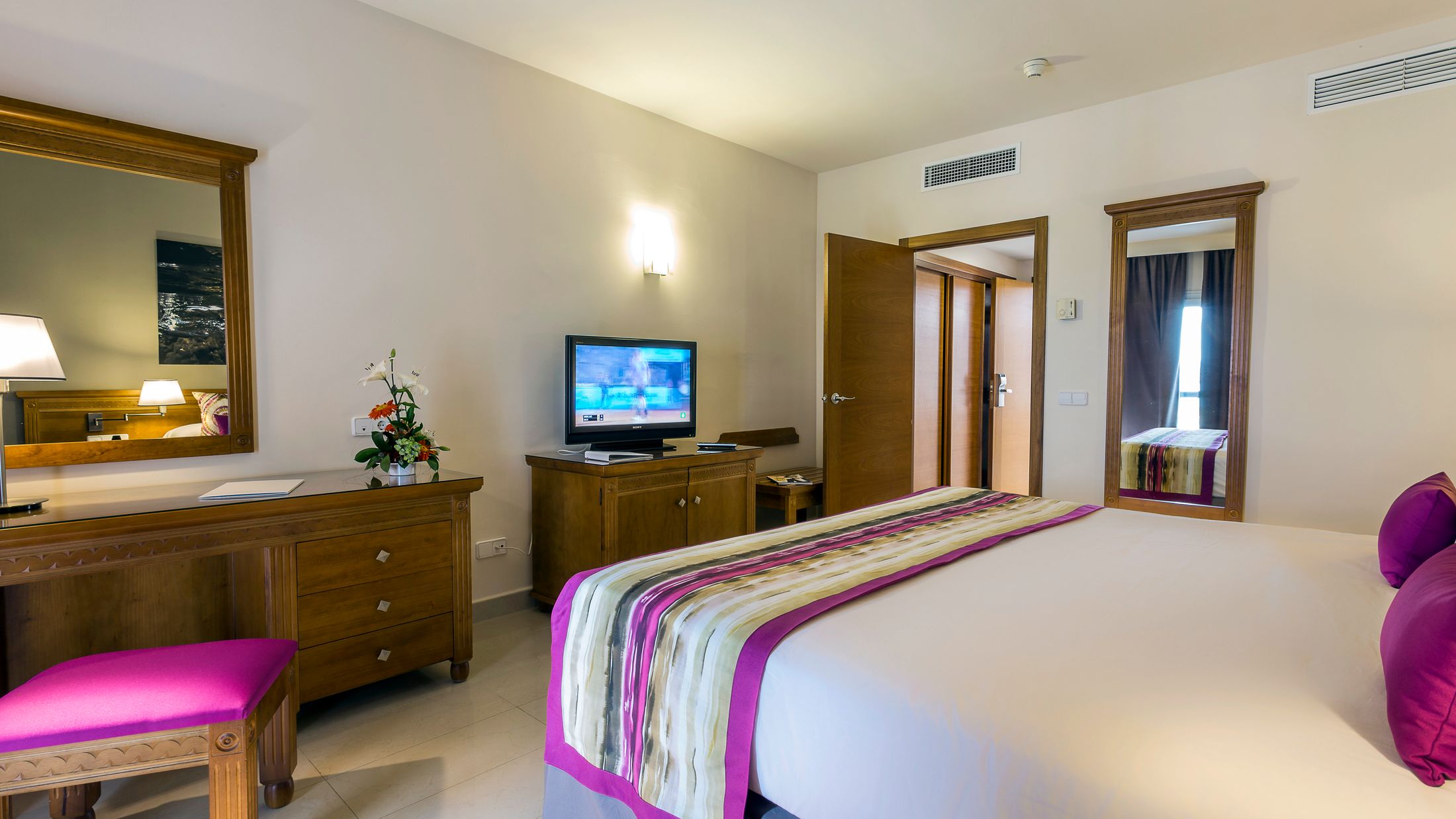 Double Room
Max 3 adults
Double Rooms have two twin beds or a king size bed, air conditioning, ceiling fan, satellite TV, telephone, WiFi, safe, iron & ironing board, tea & coffee making facilities, radio/iPod docking station, pillow menu, hairdryer, bathrobes, slippers and a furnished balcony or terrace.
33m²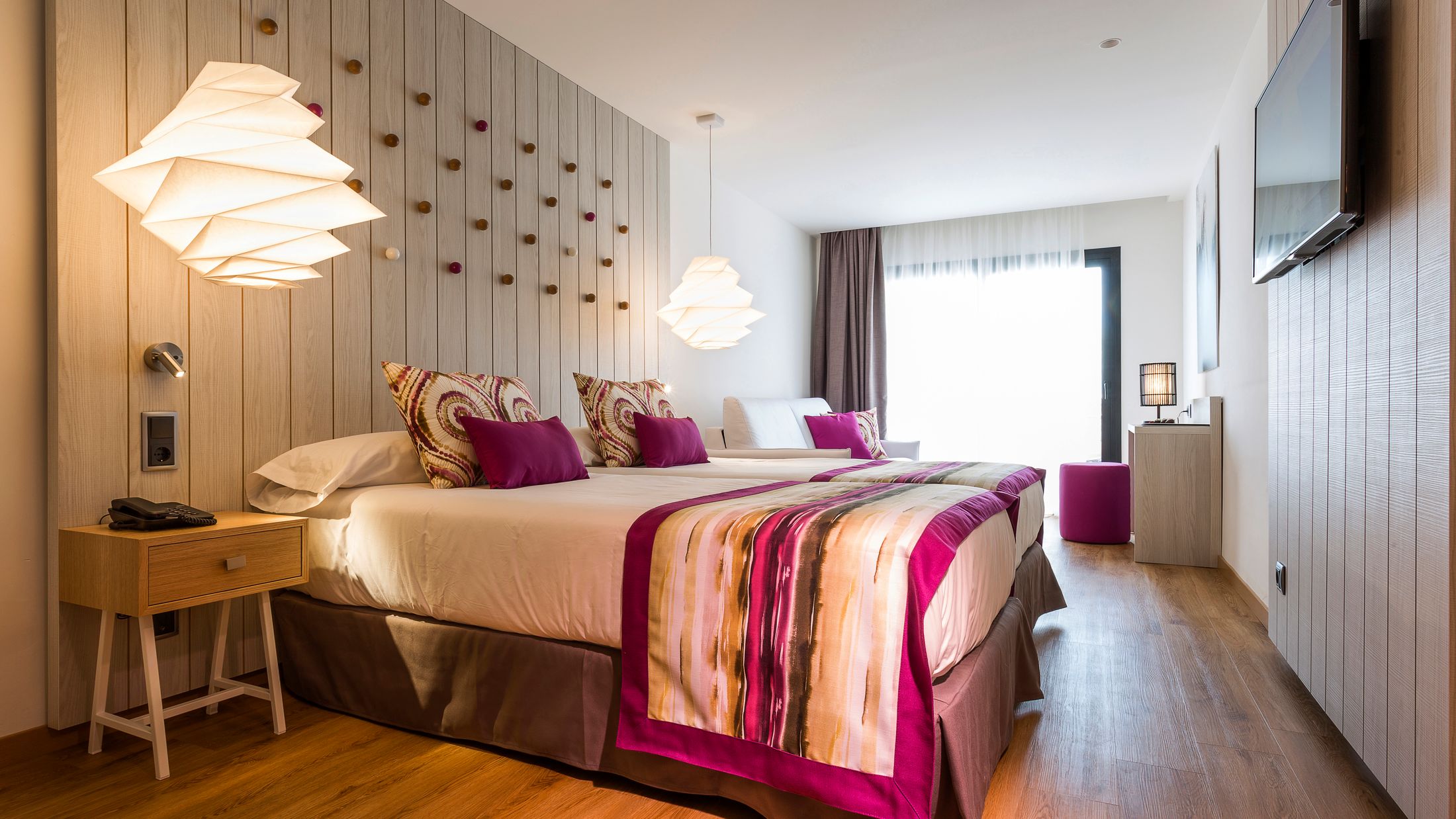 Junior Suite
Max 3 adults, 1 child
Junior Suites have a separate lounge, minibar, Jacuzzi® bath and balcony.
54m²
Master Suite
Max 6 adults
Master Suites are the same as Junior Suites but have two bedrooms and a separate entrance hallway.
87m²

Based on 3128 traveller reviews

83% of travellers recommended this hotel
Travellers Ratings
What to expect
Reviews
"
Great hotel staff are amazing
Gem C, Herefordshire, United Kingdom
Aug 15 2018
We have returned here again for 10 nites as the staff here are amazing they make you feel like your friends with them and have been for years they can???t do enough for you , getting you the right...
We have returned here again for 10 nites as the staff here are amazing they make you feel like your friends with them and have been for years they can???t do enough for you , getting you the right drinks to just talking to you or helping you anything you need The bar staff were amazing especially roly , merby Richard ,Christina and many more , we love the new pool side services that was amazing , and the food is also very good especially at portafino we booked there one night it was amazing highly recommend it It???s in a lovely location all staff are lovely entertainment staff are great also always up for a chat and a laugh , There was a couple of things this year that do need addressing 1) nothing major lack of music by the pool as all the times we???ve been before there was nice music playing up to date no lift music !!! 2) This one I thought was a major thing and people from reception or management didn???t seem to get the idea that it was a big deal to use twice the fire alarms went off once lucky we just got out of the shower so early evening 7.30pm , we leave are apartment block and wait 20-25 mins before another holiday makers comes to tell us that they said to go back in while the alarm is going !!! So we wait until the alarm is off and someone I assume said it???s ok go !! So we double check the fire alarm records on the back of the door to check we weren???t missing something , as to why they left us there for so long with anyone coming to address concerned holiday makers , then the next night 1:40am the fire alarm goes off again this time waking us up startled from sleep to the really loud ringing well we know what the sound is as it???s only the day before it went off to we rush out of our room to find the elderly out the the very young all distressed , not sure if it???s an actual fire so we wait out side the block like it says on the fire procedure time passes no one comes once again a holiday maker is going to reception only to come back quite a bit later saying there isn???t really staff there but they think it???s a false alarm they THINK it???s a false alarm, I???ve got a five year old little girl stood holiday my hand as she is scared with her mum and family and we???re trying to calm her down and they think it???s a false alarm , I???m sorry that wasn???t good enough so a gentleman of elderly age went to find someone eventually someone care from reception , toward the building didn???t address us so I spoke to them to ask the problem they said it???s a fault with the alarm system you can go back in So I explain that we weren???t happy with how things had been dealt fault or not us as holiday makers don???t know this , and there is only so many times you can cry wolf and people with keep running what happens when it???s a real fire and we don???t go because we think it???s a fault !!! Do we return to our rooms to speak to management the next morning to be told I can only speak to assassinate manager so says they are very sorry and thst if it was a real fire they would send people to band on the door to get you out which I find very strange they didn???t seem bothered at all that we had stand out side the apartment block twice unsure of it it was real and fear for people and your belongings I was told it was being dealt with and that???s it as not to rewin my holiday i left the hotel to deal with this matter , my partner and my safety is something I hold in high regard as I???m sure everyone does so that???s one thing for sure I would like looked at if to make a return visit
View full review
"
Not 5 star and way over priced
Alexa H,
Aug 14 2018
We booked a girls work trip for 4 nights, 5 days here back in end of June, party of 5. Overall we had a nice time as it is what you make it. Hotel was generally nice but a few things to note listed...
We booked a girls work trip for 4 nights, 5 days here back in end of June, party of 5. Overall we had a nice time as it is what you make it. Hotel was generally nice but a few things to note listed below. The hotel decor was nice and modern, pool was nice. We had access to the other hotel (Grand Palladium Palace) as well but this wasn???t as nice. The rooms at White Island were quite small especially as there were 3 people in ours. they were however very clean and tidy, the cleaners that cleaned our rooms were the nicest out of all the staff members!! Very polite and always said hello. Our rooms were cleaned everyday. Restaurant staff varied some were moody and others were okay. (We originally booked to stay at the Palace but Tui messed up and were really rude about it.. my score is not take this into consideration as it was nothing to do with Grand Palladium.) Both hotels were separated by a bridge that you had to walk over if you wished to use the other one. And rooms are generally bigger in Palace but White Island is more modern. Food- At first I thought AMAZING... all you can eat buffet, started off well, but myself and another member from our party actually got sick on the 1st/2nd day. We didn???t eat anywhere else.. which left both of us feeling ill for the rest of the holiday. The buffet food (in both White Island and palace) looks nice but was quite bland. I mentioned to them about gluten free and they would always bring me a massive tray with loads of gluten free bread thrown on not presented very well, which took them a while to get as well. I was most annoyed about the afternoon snacks, usually serving pizza etc, I would ask what was gluten free and they suggested dried up salad and no other option. On the last day we found the other restaurants in the Place complex, we visited the Mexican and the food here was the best I had the whole time. See photos The sports bar (in the Palace) was quite good as it was open all night but the service for food here was shocking!! Took ages for anything to come or to even get served. Drinks- these were good, you could get many branded drinks!! Beach- There were no specified deckchairs for the grand palladium. Which for a 5star is a bit ridiculous, we had to carry heavy and oddly shaped foldout cushions to the beach if we wanted to sit there and these were only available from the Palace. Even though the beach is close by It was still a bit of a walk with these heavy fold up cushions. Entertainment- dire! (Located again in the Palace) I feel like this mainly try???s to market to adults but the entertainment was for children and teens. On the last day we checked out and prior to this booked a room to get showered and changed in, you were aloud 30mins per room... we had three people staying in our room and in the room provided there were two showers.. There was no clear directions to these rooms and when I turned up to the room at the time given (after the people prior to me were 15mins late!) it was an absolute mess!! See photos.. this is a 5 star remember. We all had a nice time but as I said it was what we made of it. It???s very over priced for what you get, i we were to book a week it would have cost over a grand, and I would absolutely not pay that for what we got.
View full review