Pioneering health and wellbeing resort
Daily complimentary treatment at The Wellness Centre
Healthy eating at four restaurants
Activities include fencing, tai-chi and stress-management
Unique BodyScience personalised health programmes
The BodyHoliday, on the beautiful island of St Lucia, offers one of the world's leading health and well-being programmes and is a place where you can truly recharge you body and mind. This haven is located on the north coast of St Lucia and enjoys exceptional views of the Caribbean Sea from its beachfront location. Carefully combining the delights of an all inclusive beach holiday with a cathartic programme of body treatments at 'The Wellness Centre', you will feel like new in no time. Providing an understated luxurious feel, all of the rooms have been furnished with gentle pastels and four-poster beds, and come with awe-inspiring views from the balcony or terrace. The four restaurants serve a huge selection of healthy food ensuring that your diet will complement your treatment and activity programme. The great thing about The BodyHoliday is that you can decide what you want to do, when you want to do it.

This hotel does not accept guests under the age of 16 years, except during selected dates in Easter, Summer and Christmas when children aged 12 years and over will be welcome (children under 16 years cannot receive spa treatments).
All Inclusive - what's included


Breakfast, lunch, afternoon tea and dinner. Soft drinks (not bottled water), house wine and cocktails by the glass. Free daily spa treatment (excludes arrival/departure days - conditions apply). Land sports. Watersports (including sailing, waterskiing, kayaks and snorkelling). Shore diving daily for certified PADI divers. Introductory dive for beginners (boat dives at a charge). Fitness centre. Evening entertainment.
Facilities
Bars & Restaurants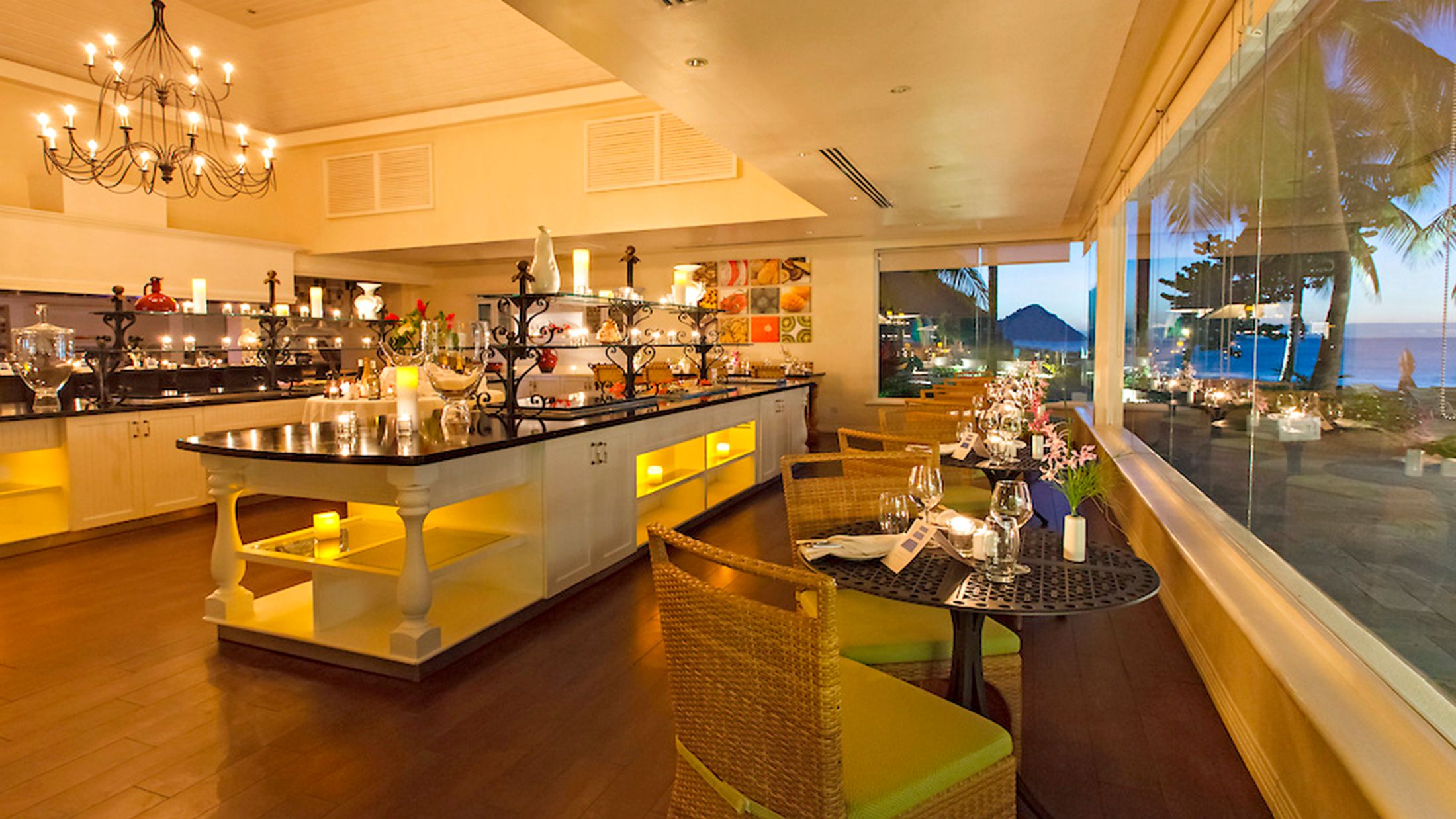 Cariblue Restaurant
Start the day with a charming breakfast. Lunches are themed and change daily. Sample foods from the Mediterranean, Orient, Italy and Mexico. In the evening enjoy table d'hôte cuisine.

Opening Times:
Open for breakfast, lunch and dinner.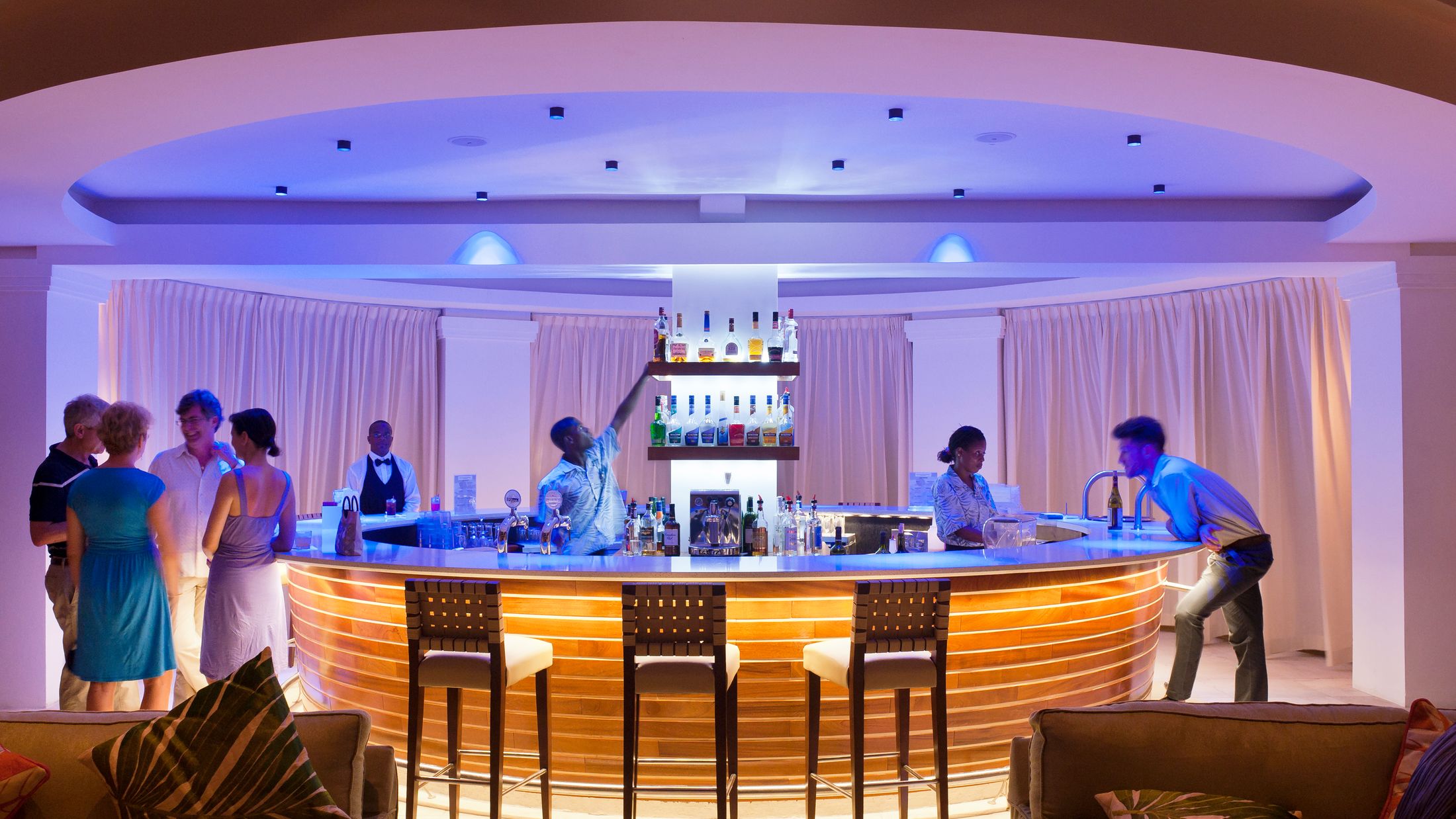 Clubhouse
Located at the heart of the resort and serving as the hotel's main hub, guests at the Clubhouse can enjoy a full bar service whilst enjoying facilities such as a pool table, books and board games. In the evening, the bar becomes more vibrant with entertainment, music and dancing.

Deli
The open-air Deli is perfect for those looking for lighter snacks such as salads, grilled paninis or simply to enjoy a coffee on the peaceful terrace.
Opening Times:
09:00 - 17:00
Tao
Named by Condé Nast Traveller magazine as one of the 60 hottest tables in the world, TAO is the flagship restaurant at The BodyHoliday. This fusion restaurant serves some of the best Eastern and Western cuisine complemented by the most amazing views.

Opening Times:
Open for dinner.
Restrictions:
Reservations are required.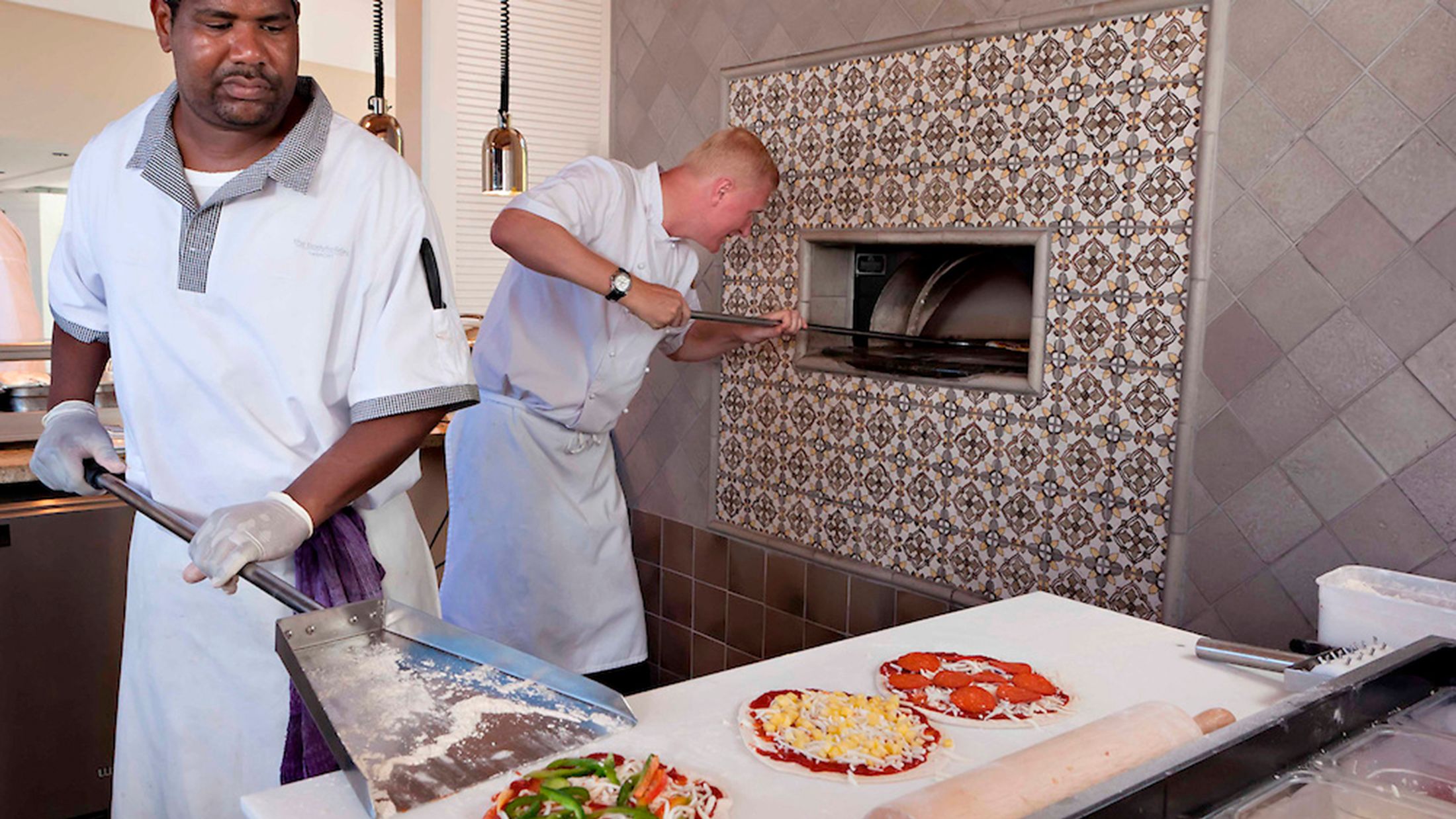 The Pavilion
Connected to the Clubhouse and serving a range of dishes from the buffet, grill and pizza oven. The Pavillion offers guests a more casual dining experience. A selection of sandwiches, cakes and scones are also available for afternoon tea.

Opening Times:
Open for lunch, afternoon tea and dinner.
The Wine Salon
Guests are invited to sample a selection of fine wines carefully selected by the team of sommeliers and accompanied by cheeses and preserves.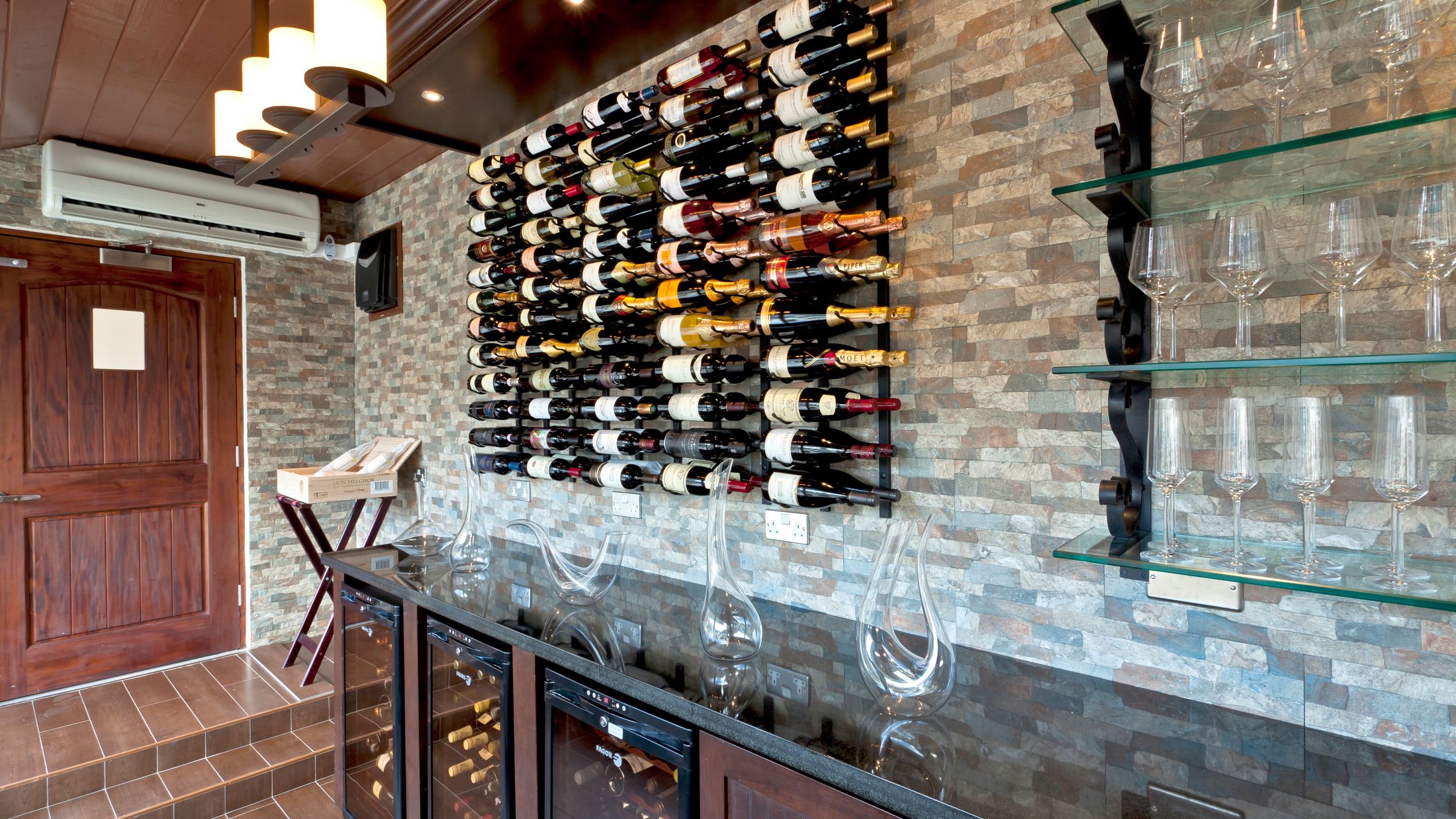 Beach & Pools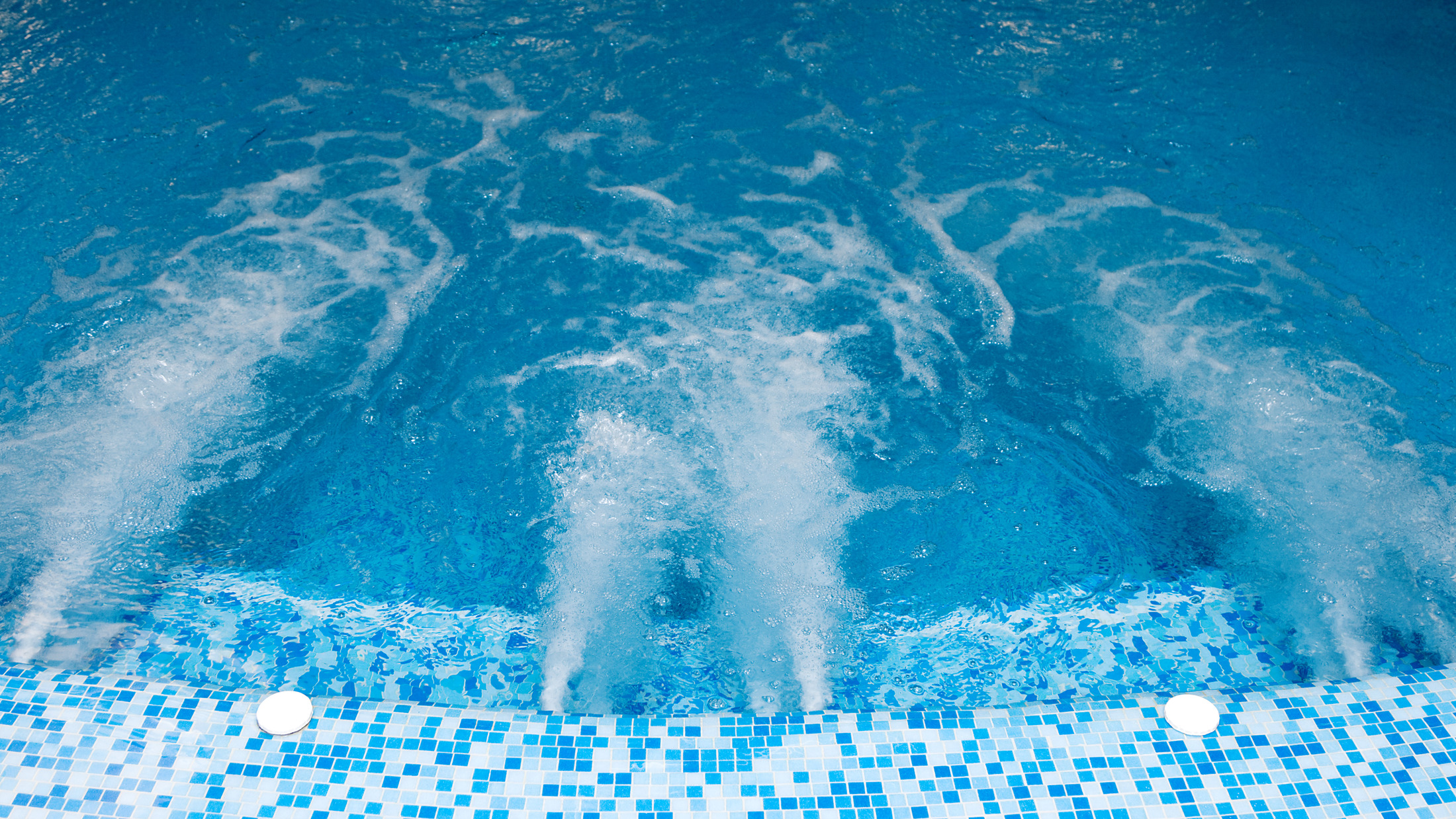 Swimming Pools
The hotel has three swimming pools including an infinity pool with stunning ocean views.
Spa & Wellness
Wellness Centre
Guests at The BodyHoliday are pampered on a daily basis with a choice of daily treatments included within their stay. Guests can also design their own treatment plan and add enhancements to their included treatments in order to enhance their relaxation.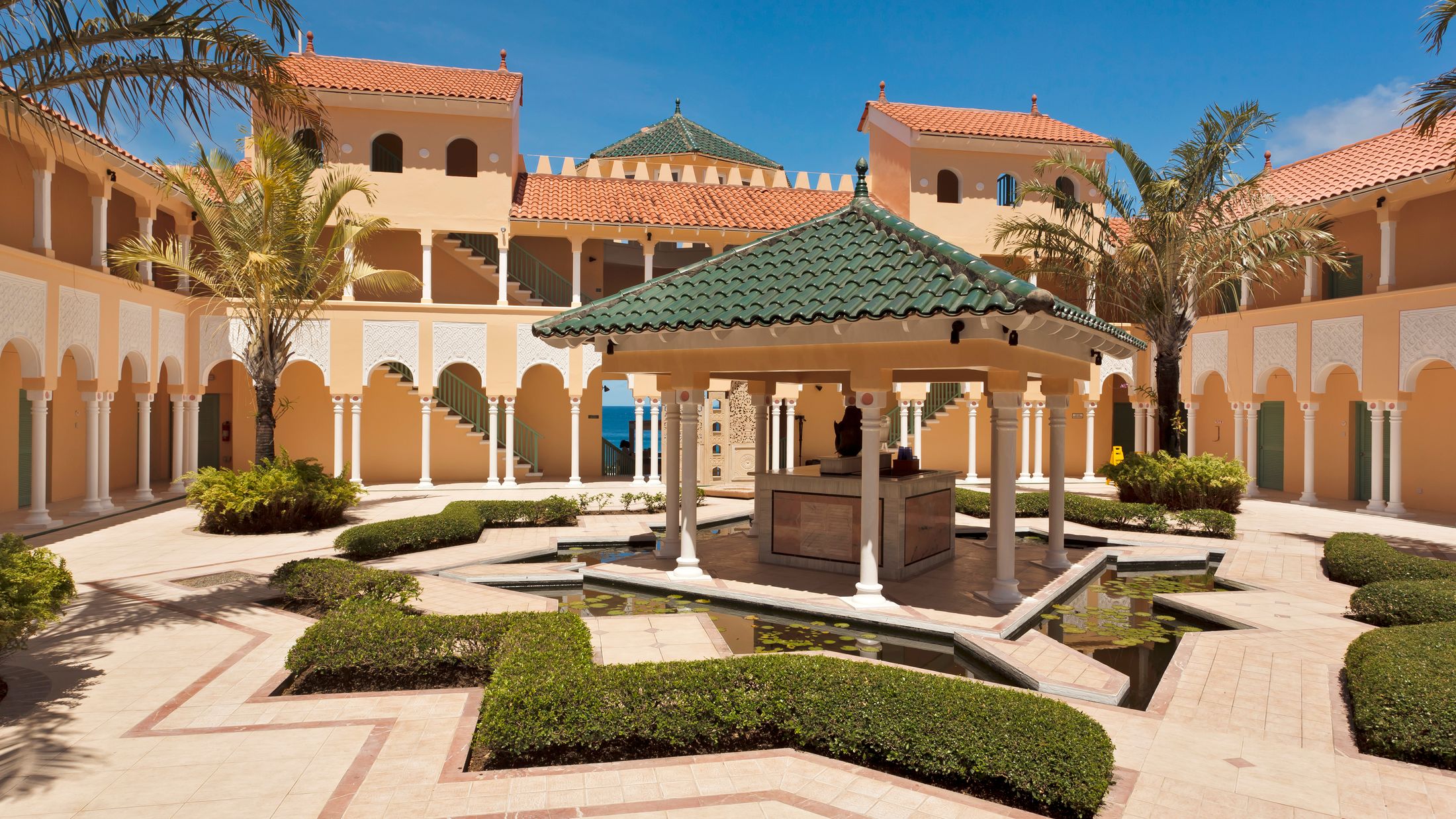 Activities & Entertainment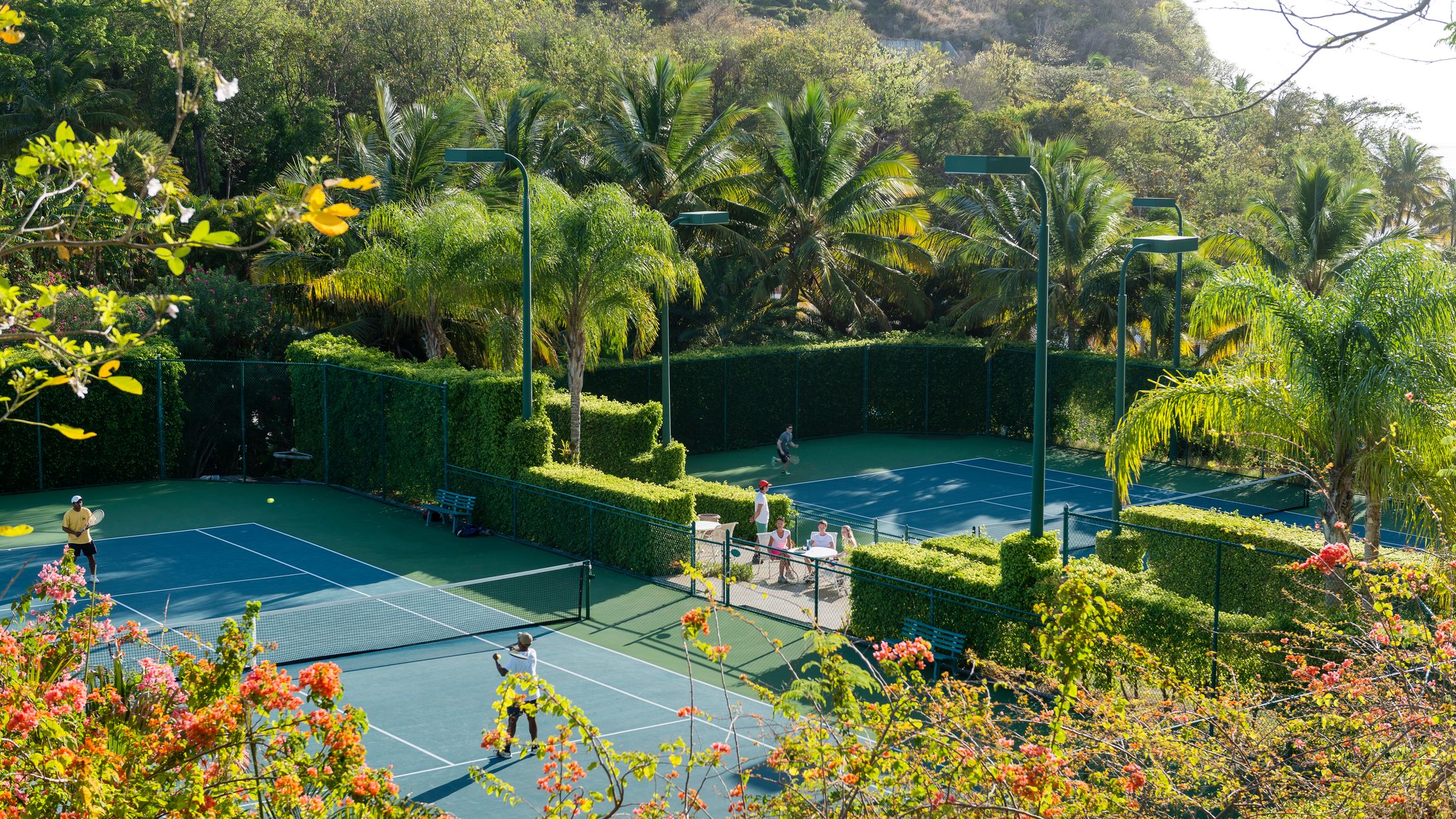 Sports and Activities
Guests looking to remain active are encouraged to participate in a range of sports and activities on offer including archery, golf, tennis, cycling and beach volleyball.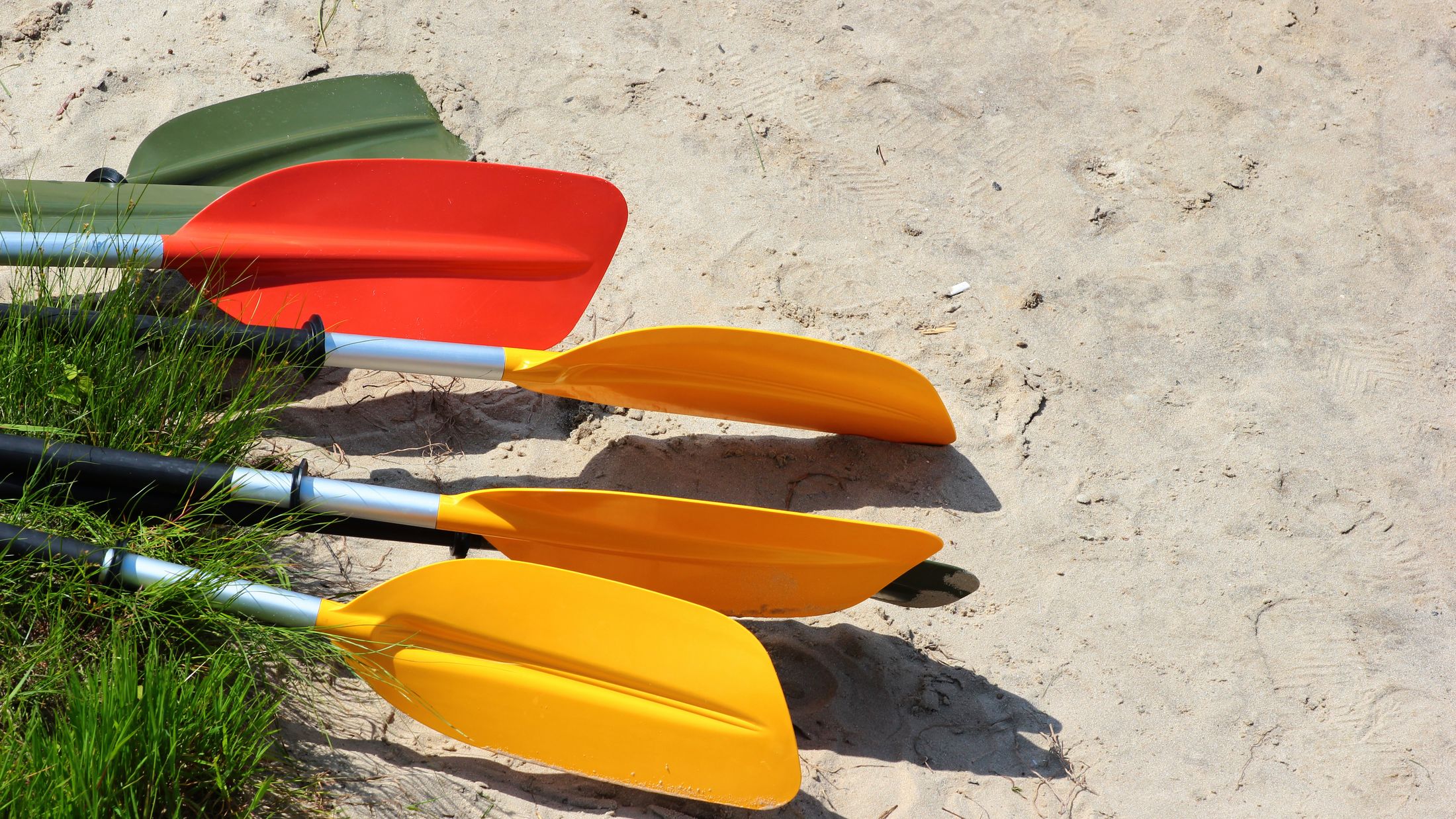 Watersports
The hotel offers guests a range of motorised and non-motorised watersports including kayaking, windsurfing and water skiing. A range of scuba diving courses are also available.
About the location
Settled into St Lucia's northern coast, Cariblue Beach is a crescent-shaped bay in a stunning part of the island. Surrounded by tropical gardens, the beach doesn't disappoint – even by St Lucia's sky-high standards. Think soft, floury sand and glass-clear sea which stays bath-warm pretty much all year round. If you're lucky enough to be staying at the resort on the beach, you can make the most of the beachfront hot tub and luxurious loungers and hammocks. The beach has a dedicated swimming and snorkelling area for checking out the vibrant marine life, as well as an à la carte menu of watersports – waterskiing and sailing are favourites. Cariblue Beach is a couple of minutes from the St Lucia Golf and Country Club, home to a world-class 18-hole course with incredible views of the coast.

Transfer time
1 hour 30 minutes from St Lucia airport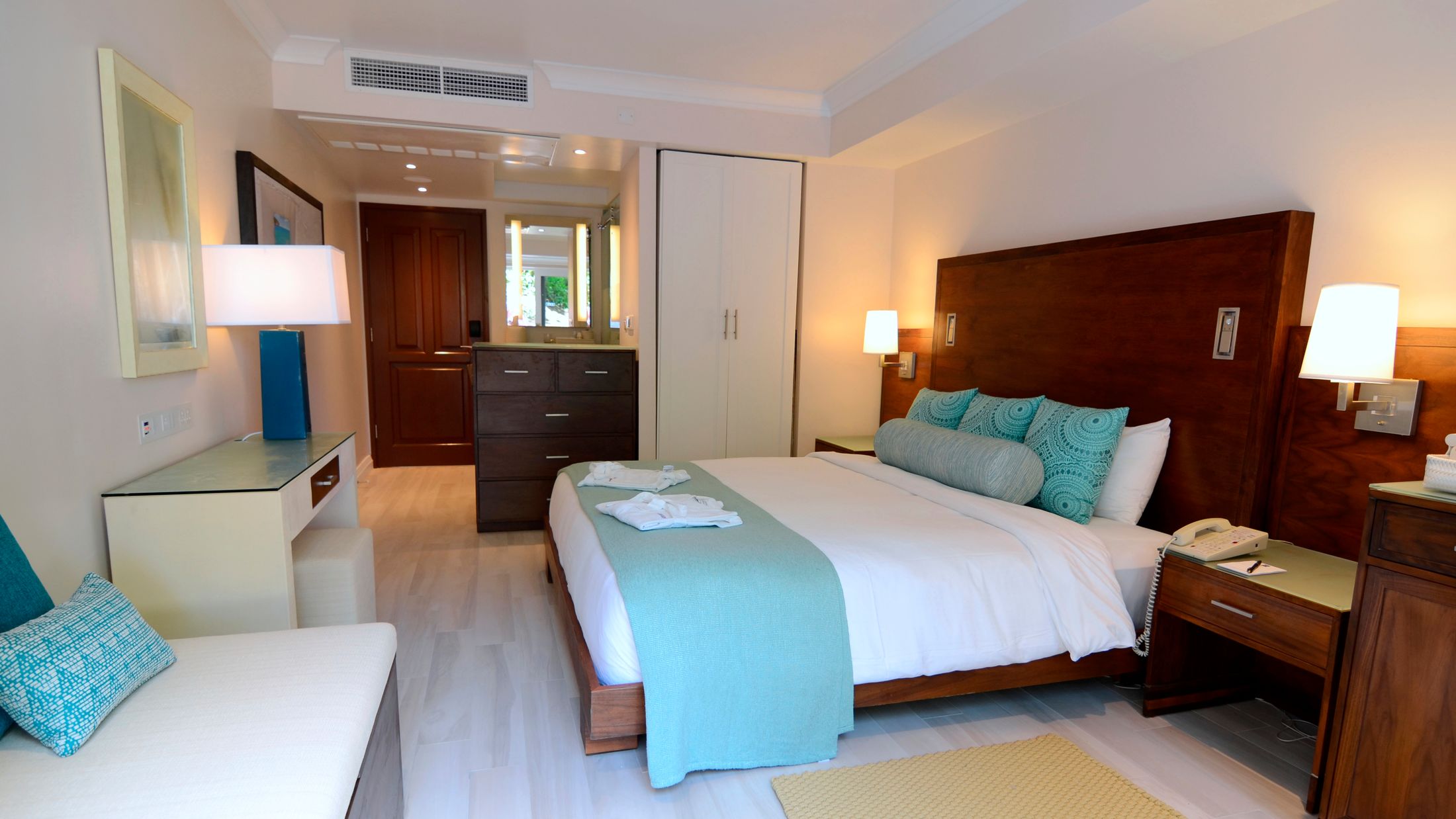 Standard Garden View Room (Single)
Max 1 adult
Renovated in 2016, the Standard Garden Rooms are perfect for single travellers as they carry no supplement charges. They are generously proportioned with a double bed and overlook the gardens. Facilities include air conditioning, telephone, internet connection (charges apply), iPod docking station, radio, safe, fully-equipped bathroom with shower, hairdryer, bathrobes, slippers and luxurious toiletries.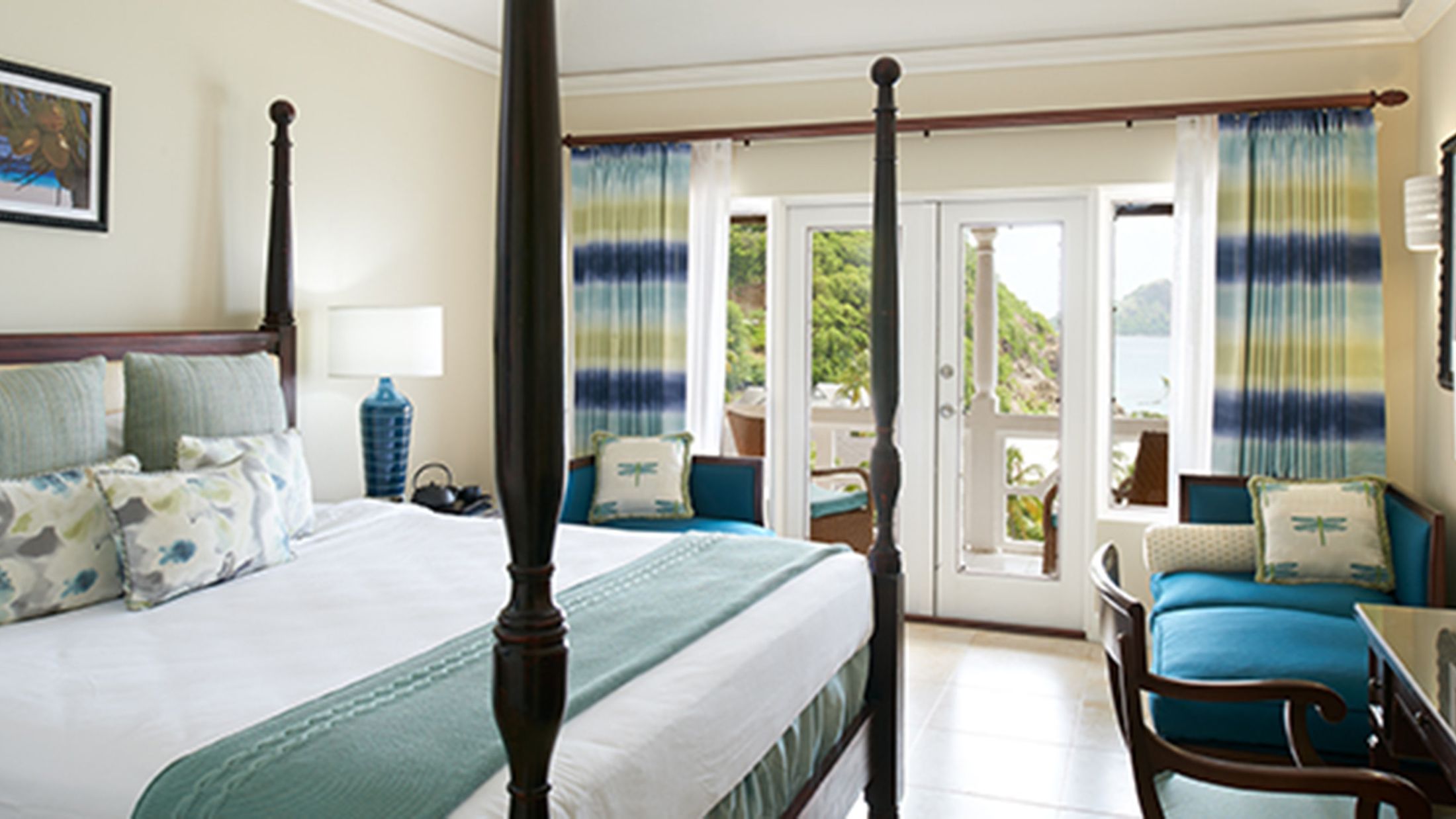 Luxury Room
Max 3 adults
Luxury Rooms overlook the gardens and have french doors, which lead to a furnished balcony or terrace.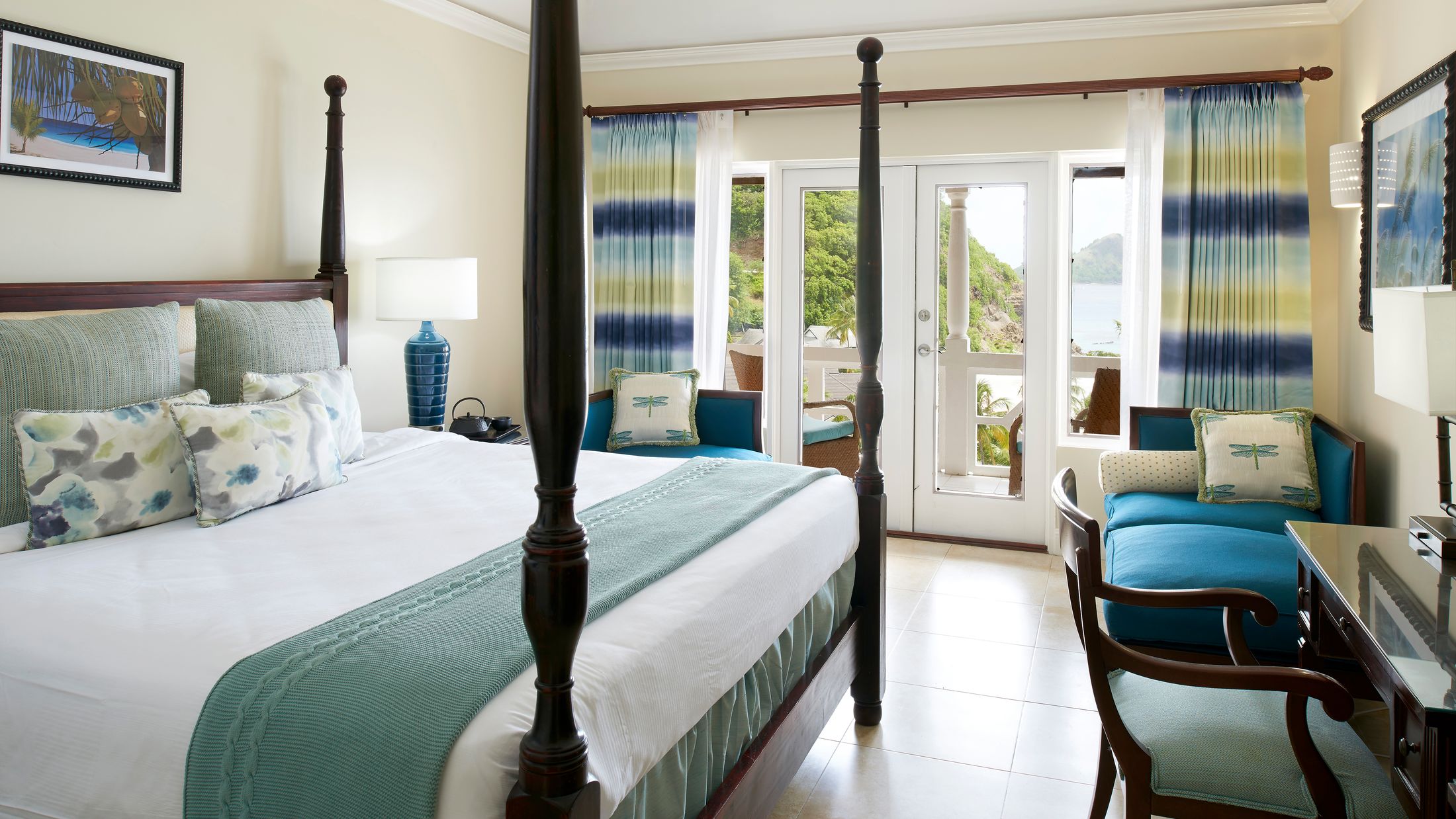 Luxury Ocean View Room
Max 3 adults
Luxury Ocean View Rooms have the added benefit of stunning sea views and are located in the most elevated part of the resort with panoramic views of the resort and ocean. Each room has a king-size four-poster bed or twin queen beds and french doors that lead out to a balcony or terrace with wicker armchairs and a table.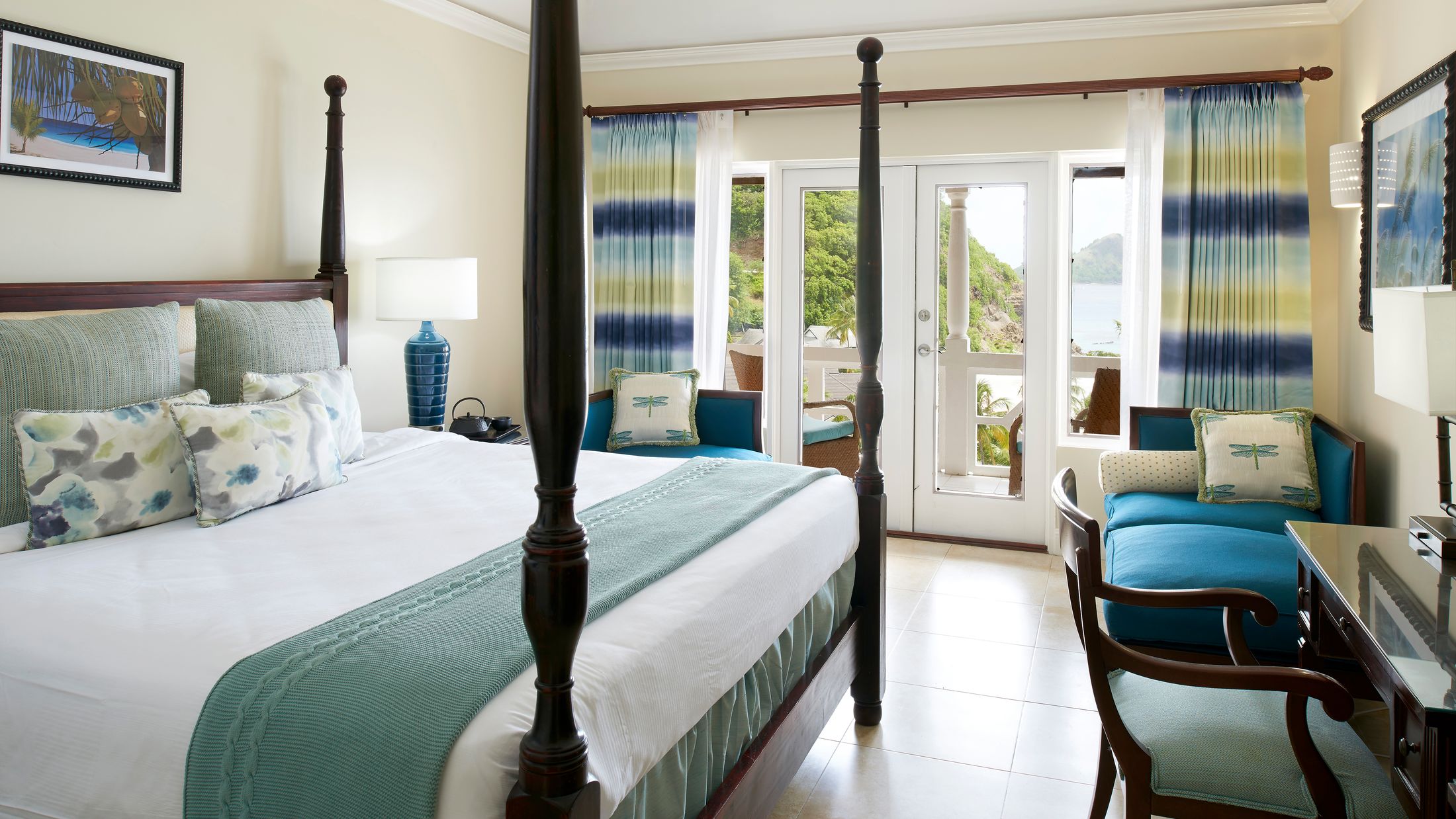 Luxury Ocean Front Room
Max 2 adults
Luxury Ocean Front Rooms are located on the water's edge and have amazing views of the ocean.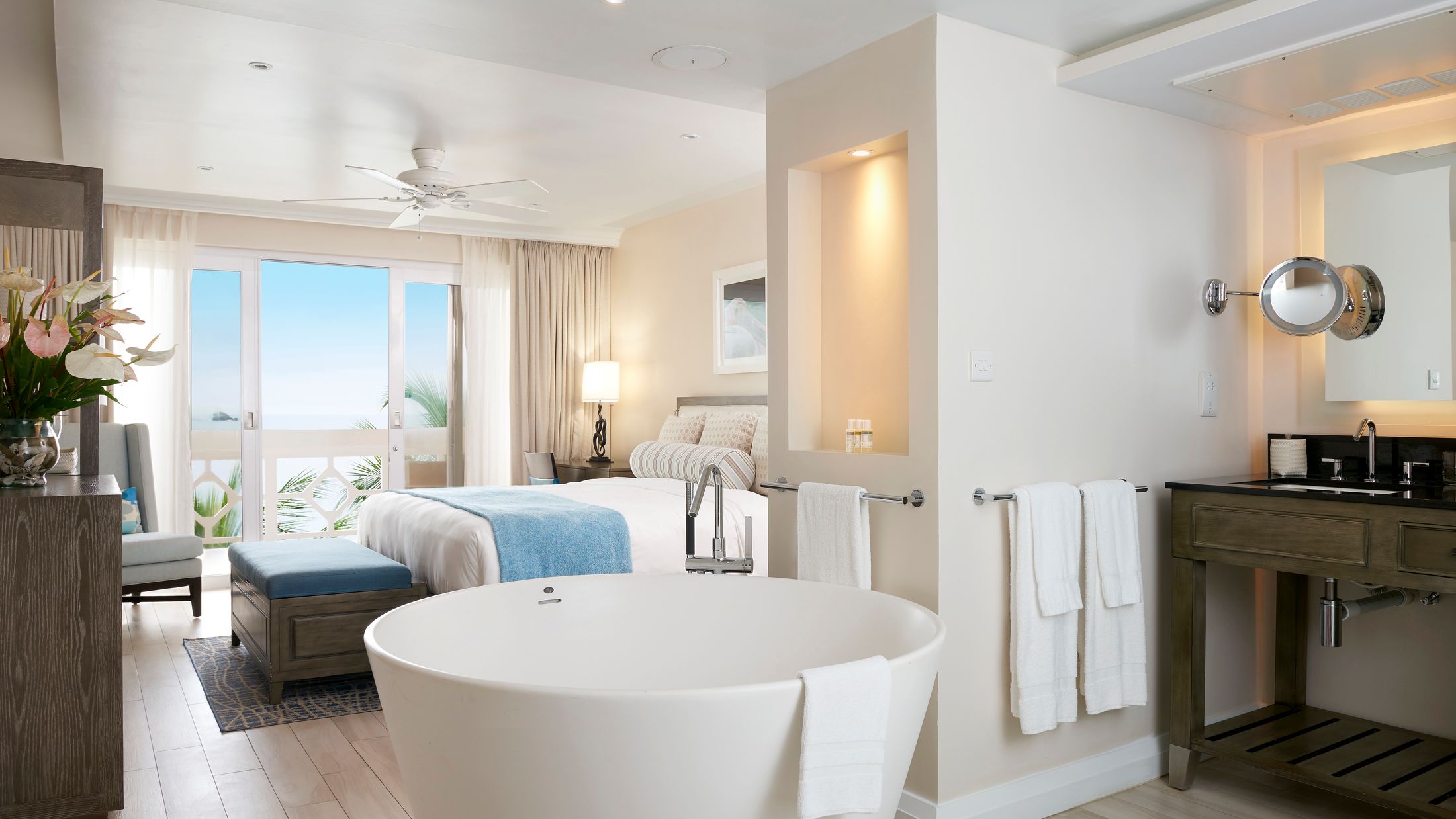 Grand Luxury Ocean Front
Max 2 adults
Grand Luxury Ocean Front rooms are elegantly designed and feature a king-size bed, large stand alone soaking tub and separate shower. The balcony provides lovely views across the bay.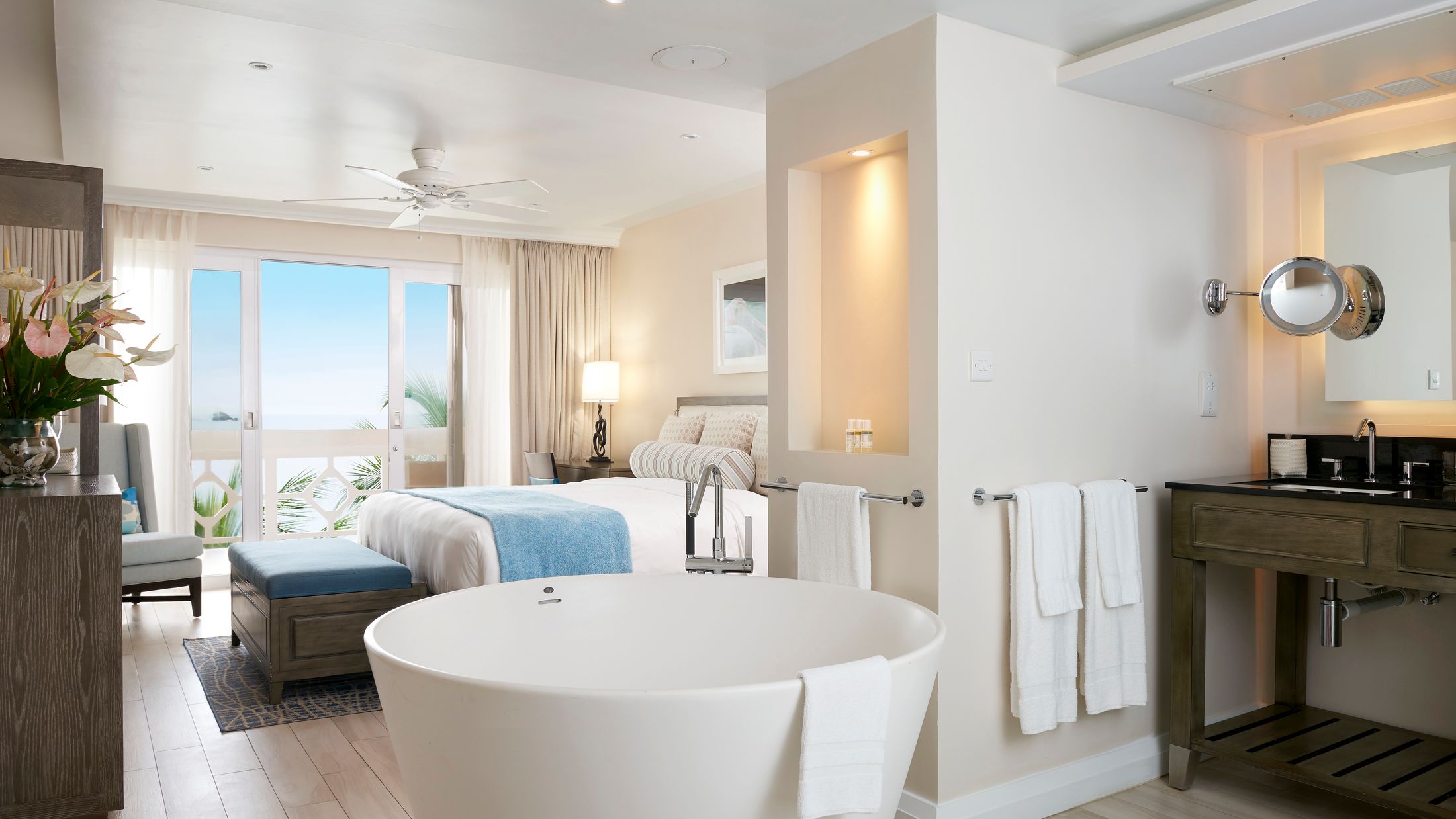 Grand Luxury Ocean Front Solo
Max 1 adult
Grand Luxury Ocean Front rooms are elegantly designed and feature a king-size bed, large stand alone soaking tub and separate shower. The balcony provides lovely views across the bay.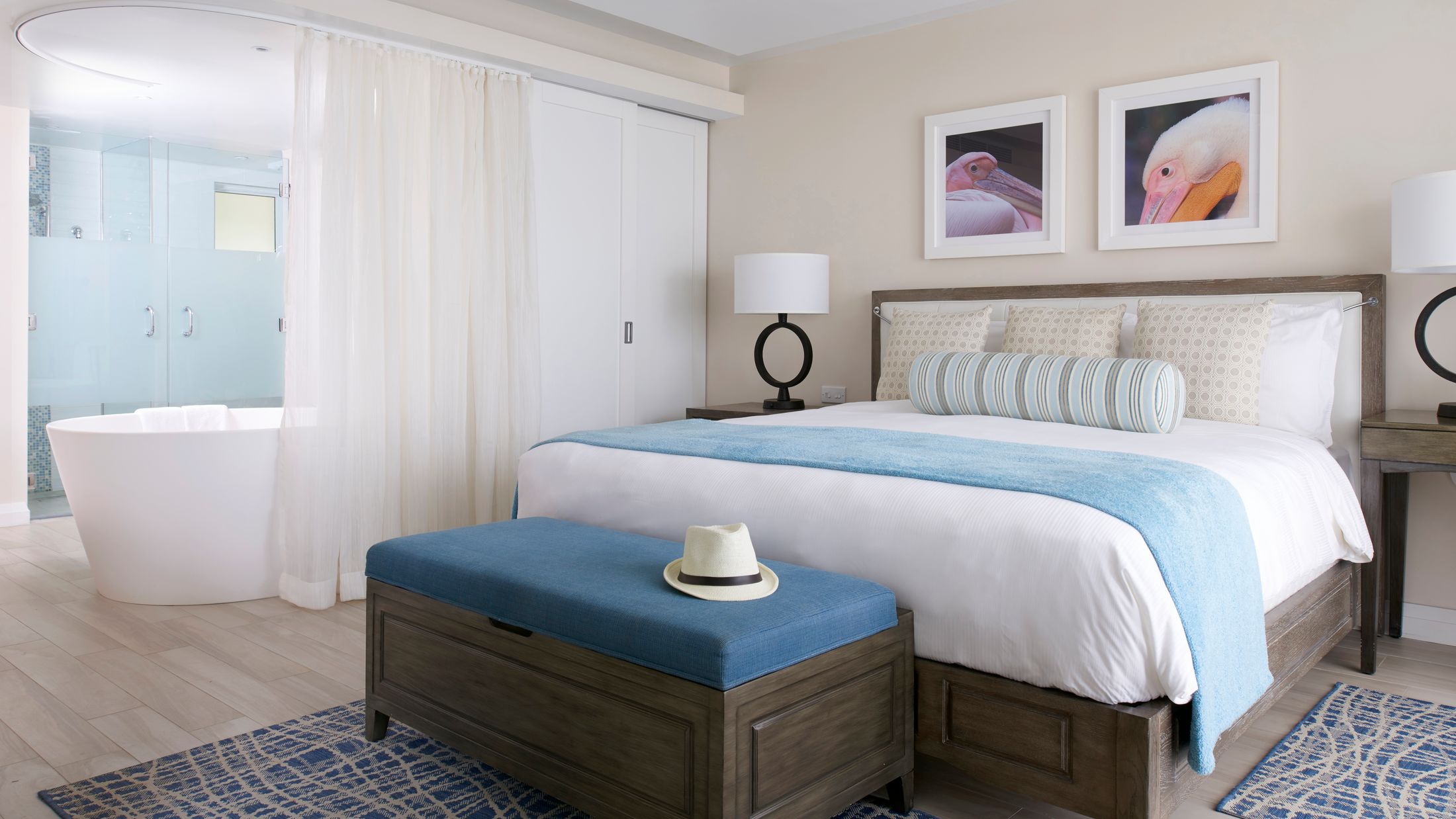 Grand Luxury Ocean Front Junior Suite
Max 2 adults
Grand Luxury Ocean Front Junior Suites are comfortable and spacious offering a bedroom and sitting room area and luxurious stand alone soaking tub.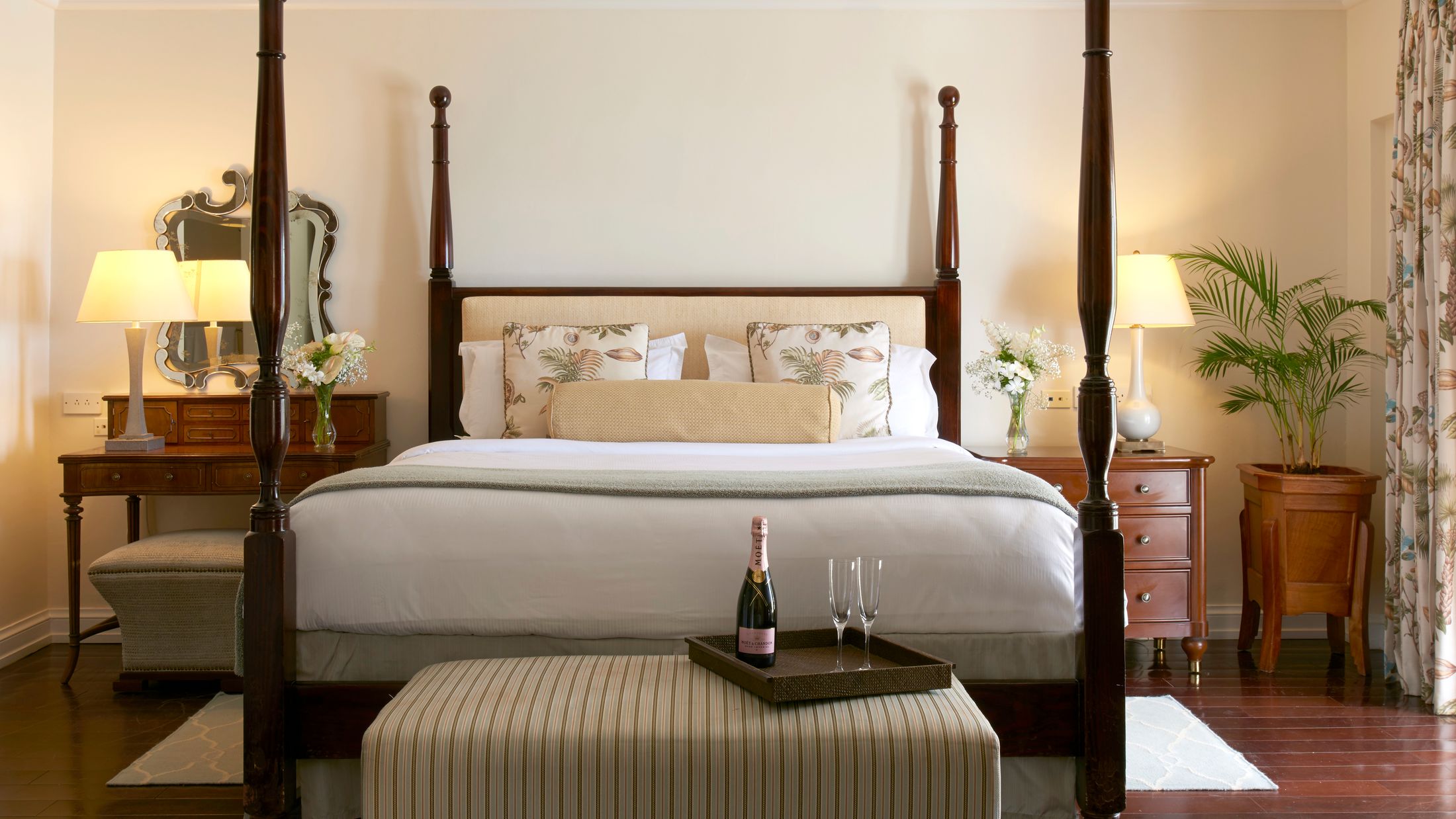 Grand Luxury Ocean Front Suite
Max 2 adults
Grand Luxury Ocean Front Suites are located on the top floor of the hotels two-storey building and are adjacent to the sea. The suite has two rooms, a bedroom and living room as well as a double balcony that is fully furnished.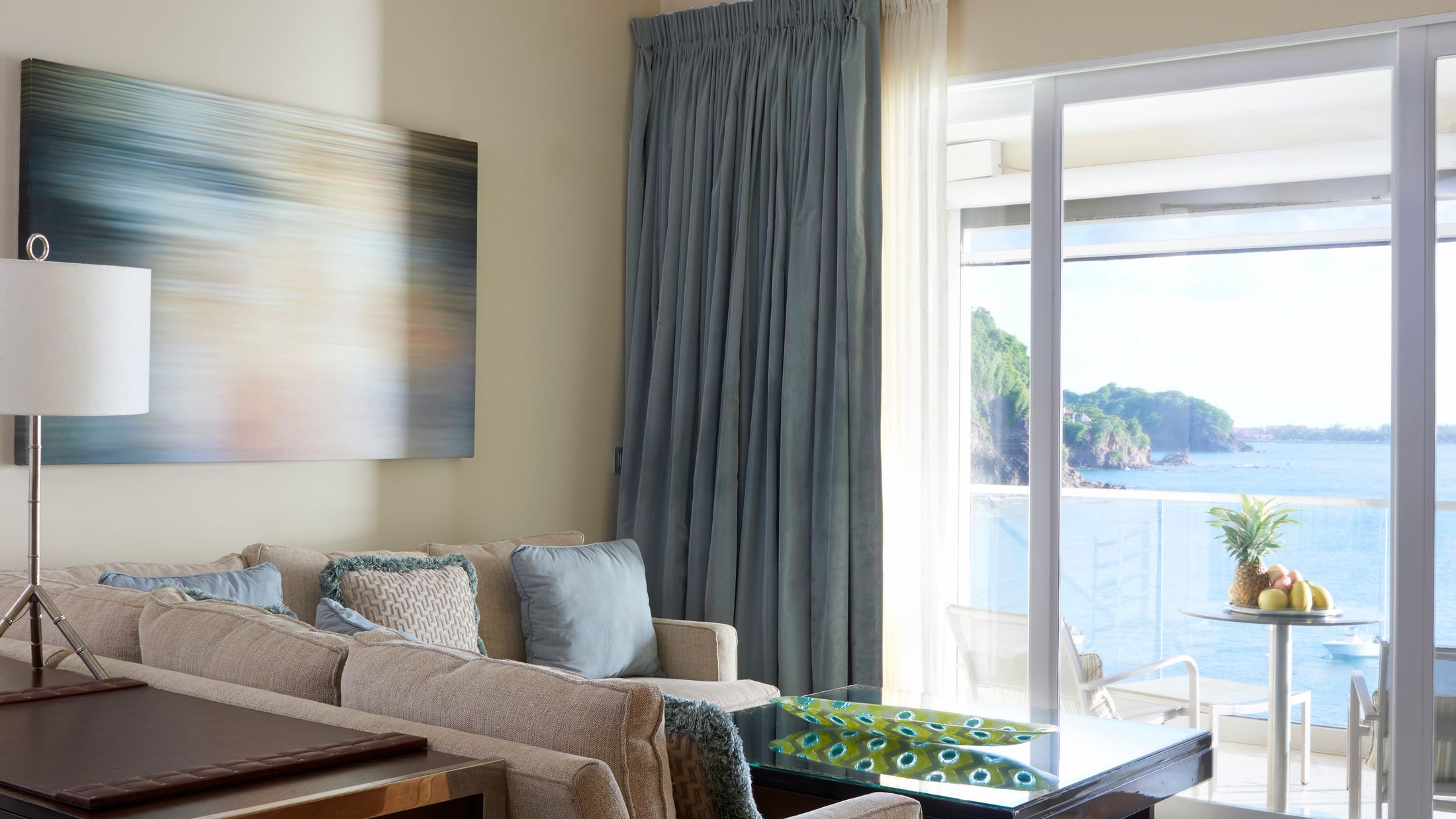 Penthouse Suite
Max 2 adults
The Penthouse Suite is located on the fifth level with its own private entry staircase. The suite features an open plan living area including a wet-bar, separate from the bedroom spaces. The bathroom includes an elevated bathtub to give views of the ocean and surrounding living area. The suite also includes a private Hammam and steam room decorated in mosaic marble.
Added value
Honeymoon offer
Honeymooners will receive tropical flowers in their room upon arrival, one morning breakfast on their balcony, an invitation to the weekly sunset cruise, one Sunset Experience and a Time for Two Aromatherapy Massage for holidays between 03 January 2018 - 05 January 2019.

Based on 2665 traveller reviews

92% of travellers recommended this hotel
Travellers Ratings
What to expect
Reviews
"
Unforgettable - first time & won't be the last.
Siobhan L, London, United Kingdom
Oct 16 2018
I cannot fathom why anyone wouldn't have an amazing experience at the Body Holiday. The location and the services on offer feel above and beyond my expectations. I feel I was lucky to meet amazing...
I cannot fathom why anyone wouldn't have an amazing experience at the Body Holiday. The location and the services on offer feel above and beyond my expectations. I feel I was lucky to meet amazing people to enjoy the trip with. The staff make an effort to learn your name as soon as you meet them and don't forget it. They make you feel so welcome and loved! I really can't fault it. There were a few classes I tried out that were a little too beginner, but you soon learn the classes that work for you and stick to them. My personal highlight was learning to water ski and you can go twice a day - a video recording on the final day revealed that I didn't look quite as cool as I had imagined but all the more reason to go back!
View full review
"
An unforgettable resort with heart and soul
Annabronwen,
Oct 09 2018
I usually don???t take the time to review hotels as the Internet contains so much feedback already. However after my third visit to this special resort (one as a lone traveller during September solos...
I usually don???t take the time to review hotels as the Internet contains so much feedback already. However after my third visit to this special resort (one as a lone traveller during September solos) I felt compelled to share the experience. The Body Holiday is unique in providing a mix of a beautiful location, impressive, comprehensive range of sports and activities - most of which are included in the price - a huge array of nutritious food (and cocktails) and the largest spa in the Caribbean. It is not as pristine or manicured as some resorts but strangely that just seems to add to its appeal. It has soul and an air of familiarity that gives the impression of arriving home. The staff are almost universally warm, welcoming and helpful but a special mention must go out to each of the the charming and warm Javid and Sabina who made our stay all the more special. Thank you. The Body Holiday is a special and unique place for anyone in need of a week of self-care, indulgence and escapism. Go with an open mind and heart, get involved and prepare to see the light. 😍
View full review