Luxury tented camp and floating rainforest camp excursion
Unique Asian elephant encounters with experts
Guided wildlife tours, including canoeing and wild swimming
Elephant Hills perfectly blends together a luxury Thai tropical jungle short-stay, with an elephant park experience. Stay for one or two nights based on your chosen itinerary, including a night in the main elephant camp, as well as the floating camp situated on the emerald waters of Cheow Larn Lake. Both camps can be found within the Khao Sok national park, making it a perfect two to three day stop to get up close with the Jungle wildlife and add a touch of luxury to your Sovereign experience.
Learn the secrets of the elephants up close and personal before taking in breath-taking views as you take a relaxed guided canoe down the Sok River. Enjoy one the superb Jungle treks make sure you listen out for the local wildlife. So many options to explore so get in touch with one of our Expert Travel Advisors today.
Elephant Hills is a perfect adventure to add to your Thailand getaway. Easily accessible and close to other top destinations such as Phuket, Khao Lak, Krabi and even Koh Samui.
Facilities
Itinerary for the 2 Night - 3 Day Jungle Lake Safari:
Elephant Encounters
Elephant Hills Jungle Safari Camp is designed in a highly responsible and sustainable way and has won awards for its conservation work and animal welfare. Kindly note that the Elephant Hills experience is only available for guests aged 7 and above.

This camp is inspired by luxurious African safari tents and boasts en suite bathrooms and gorgeous handmade furniture.

After checking and settling into the main camp you will be taken on your first jungle activity - a unique elephant encounter. You'll be met by mahouts - elephant' caretakers - who will teach you the secrets and culture of the Asian elephant. You'll have a chance to interact with the elephants, helping to prepare their food and feed them, as well as watching them bathe and play.

The Asian elephants you find at Elephant Hills have been rescued from logging and captive environments. With the elephant's best interests at the heart of the camp, you will find no chains, no performing and no elephant riding at Elephant Hills.

You'll then take a relaxing guided canoe safari along Sok River, where you can peacefully observe the native, tropical wildlife. There are plenty of opportunities to take photos, so be sure to bring your camera.

Upon returning to your main camp, you can cool off in the outdoor swimming pool, or laze in your own private hammock. As the sun goes down, entertainment is provided - often in the form of a cultural dance performance or a cooking demonstration.
Lunch and dinner is included today.
Lake activities - Rainforest Floating Camp
After breakfast, leave the main Elephant Hills Camp and board a local longtail boat. Experience a thrilling ride as your naturalist takes you wildlife spotting on the lake, en route to the Rainforest Floating Camp. With your naturalist on hand to answer your questions, this is the perfect time to discover the local culture and traditions. Check into the Rainforest Floating Camp just in time for lunch.

In the afternoon, you can head out on a guided jungle hike, or even venture out in your own self-paddle canoe, before cooling off with a wild swim in the lake's emerald clear waters.

Have a tranquil evening listening to your natural soundtrack of the rainforest.

Breakfast, Lunch and Dinner is included today.

Jungle Trek
After a delicious breakfast, it's time to discover more of the rainforest, with a guided canoe safari. Your experienced naturalist will be able to stop and share with you the gems of flora and fauna hidden amongst the thick forest, before you head back to the rainforest camp for lunch.

Once you're satiated, enjoy a final refreshing swim in the lake and freshen up, before heading back to the main camp and onwards to your next destination in Thailand.

Breakfast and Lunch is included today.

Experience itineraries available:
1 Night - 2 Day Jungle Safari
2 Night - 3 Day Jungle Safari
2 Night - 3 Day Jungle Lake Safari (as highlighted)


Activities
Canoeing
Being located on a lake, you'll have the opportunity to try your hand at canoeing.
Swimming pool
At the Main Camp, take advantage of having a dip the swimming pool and take in the stunning surrounding scenery.
About the location
Khao Sok National Park is the largest area of rainforest in Southern Thailand and is home to Thailand's first luxury tented camp, the multi award-winning Elephant Hills Jungle Safari Camp.

For two consecutive years, Elephant Hills has been named as World Travel Awards Asia's Leading Luxury Camping Company.

Khao Sok National Park is a tropical wonderland, where mountains and limestone cliffs are covered in a flourishing rainforest.

Hike through the rainforest and discover tropical flora and fauna. Khao Sok National Park is home to many species including barking deer, banteng, Malayan tapir, Malaysian sun bear, wild boar, long-tailed macaque, and slow loris. There are also 311 different bird species to witness in the tree canopies, including a variety of hornbills.

A highlight of your holiday in Khao Sok National Park is being able to safely get close enough to quietly observe the magnificent Asian Elephant.

Many lakes and rivers wind through the rainforest, so for an extra special experience, why not switch from exploring on foot to a canoe or kayak adventure?
Transfers
Transfers are included to and from the following locations: Khao Lak 2.5 hours. Phuket 3 hours. Krabi 3 hours, Koh Samui 5.5 hours.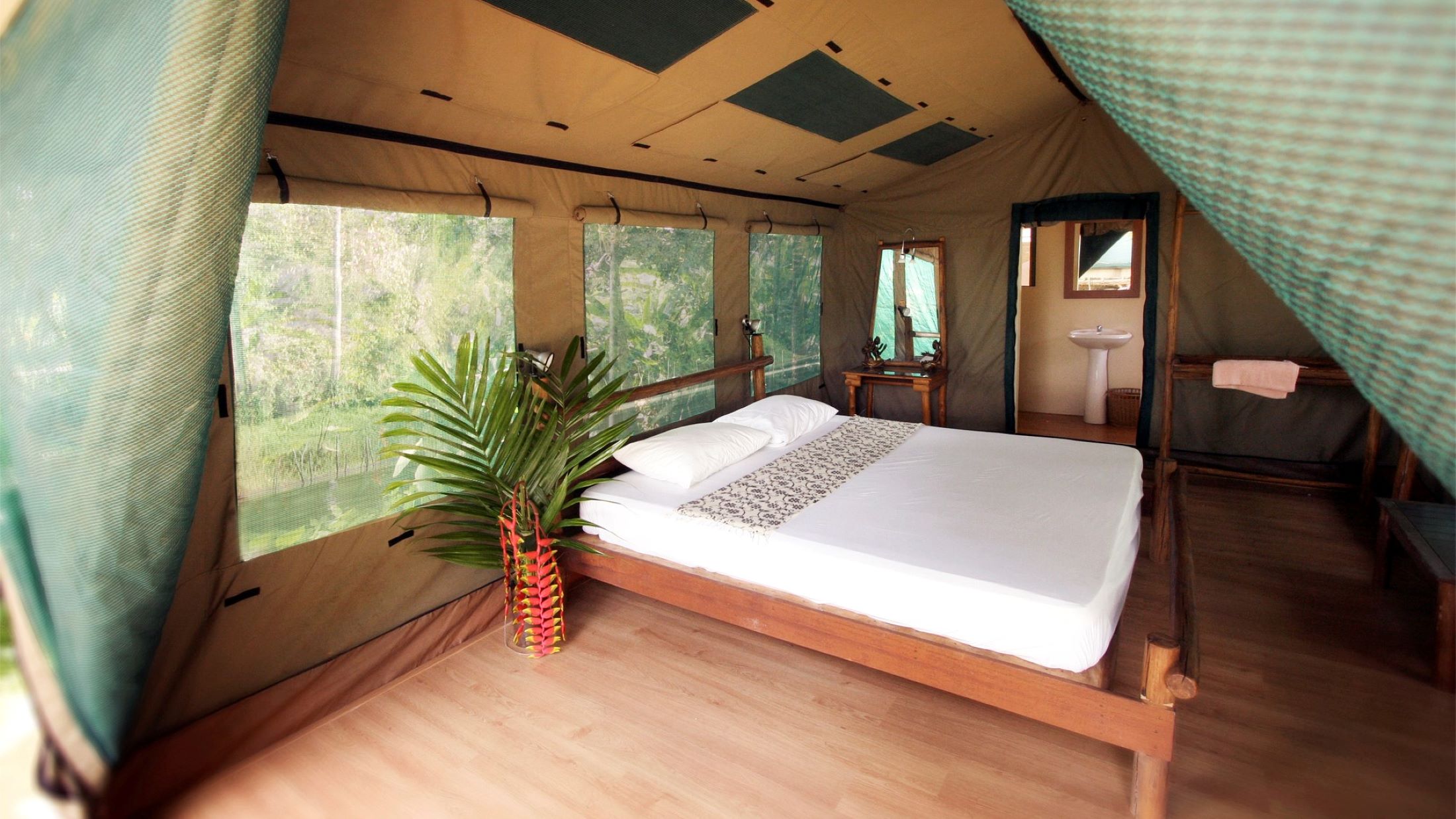 Main Rainforest Camp
Max 2 adults
Attention is paid to every detail in your safari-style tent. Each tent is fitted with a comfortable solid bed (queen size or twin singles), and the furniture is handmade by local craftsmen using natural materials. There is ample space, electricity and you are well protected against mosquitos. You will be given a padlock for your room – but security boxes are also provided for extra piece of mind. Your en-suite bathroom has a simple shower with hot and cold running water, and natural toiletries are provided.