Located on the northern coast of Koh Samui on a secluded stretch of white sandy beach, the Melati Beach Resort and Spa boasts 77 luxurious suites and villas. Set amongst a tropical landscape, the guest rooms have tropical décor and ambiance, many featuring private pools. An array of dining options include a beachfront restaurant serving international cuisine as well as an authentic Thai restaurant and even a private romantic dinner on the beach. The inviting blue sea, two swimming pools and the Melati spa provide endless opportunities for relaxation, however if you are looking for more active pursuits, you can take part in numerous activities on offer. Explore the underwater world of diving or snorkelling, cycle around the island, enjoy a yoga class or venture further afield on one of the culture and discovery tours.


Hotel child prices apply to ages 3-11 years.
Secluded resort on a white-sand beach
Dine by the sea for a romantic experience
Take part in regular yoga classes
Jasmine-infused treatments at the Melati Spa
Kids' club and children's art classes
Optional All Inclusive - what's included
Breakfast daily (from 06:30 to 10:30), lunch and dinner (3 courses meals, consisting of starter, main course and dessert) from menus offered either at The View (all day dining restaurant) or Kan Sak Thong Thai Restaurant (fine dining restaurant open for dinner only). Guests may join the Theme Buffets, with the exception of Seafood Buffets and "Dining Under The Stars" menu. Some dishes marked as "Special Dishes" and "Chef Recommendation" at Kan Sak Thong and The View are not included in All Inclusive. Open bar from 10:00 until 22:00 at both the Pool and Beach Bar and during meals - including house brand alcoholic beverages and domestic beers, soft drinks and ice cream. (Please note: wine is not included).
Added value
Early booking discount
Save up to 15% discount on the hotel price for holidays between 16 July - 19 December 2018 and 07 January - 31 March 2019 booked at least 90 days prior to arrival or save 10% discount booked between 45 - 89 days prior to arrival.
Long stay offer
Stay for a minimum of 14 nights between 01 April - 30 June 2018, 01 September - 23 December 2018 and 07 January - 31 March 2019 receive a free dinner per person per stay ( based on a set menu, beverages excludes).
Honeymoon offer
Honeymooners staying for 5 nights or more will receive a bottle of sparkling wine, fruit basket and flower arrangement in their room upon arrival or guests staying for 10 nights or more will additionally receive a free dinner for holidays between 01 April 2018 – 31 March 2019.
Please note that not all offers are combinable.
Facilities
Bars & Restaurants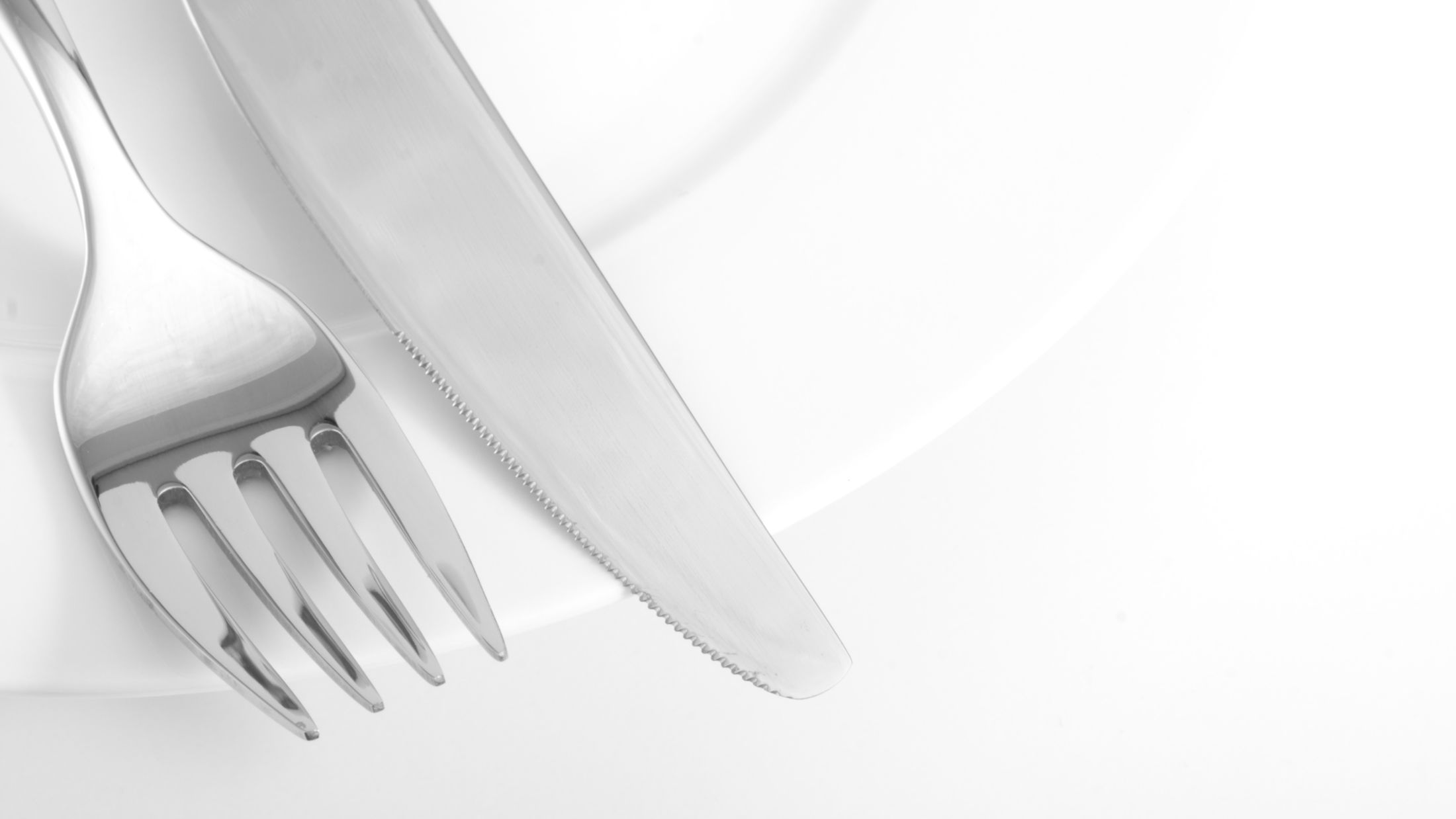 The View Restaurant
Opening Times:
06:00 - 22:30
Located directly on the beach and offering all day dining, the restaurant features international cuisine with a Mediterranean twist.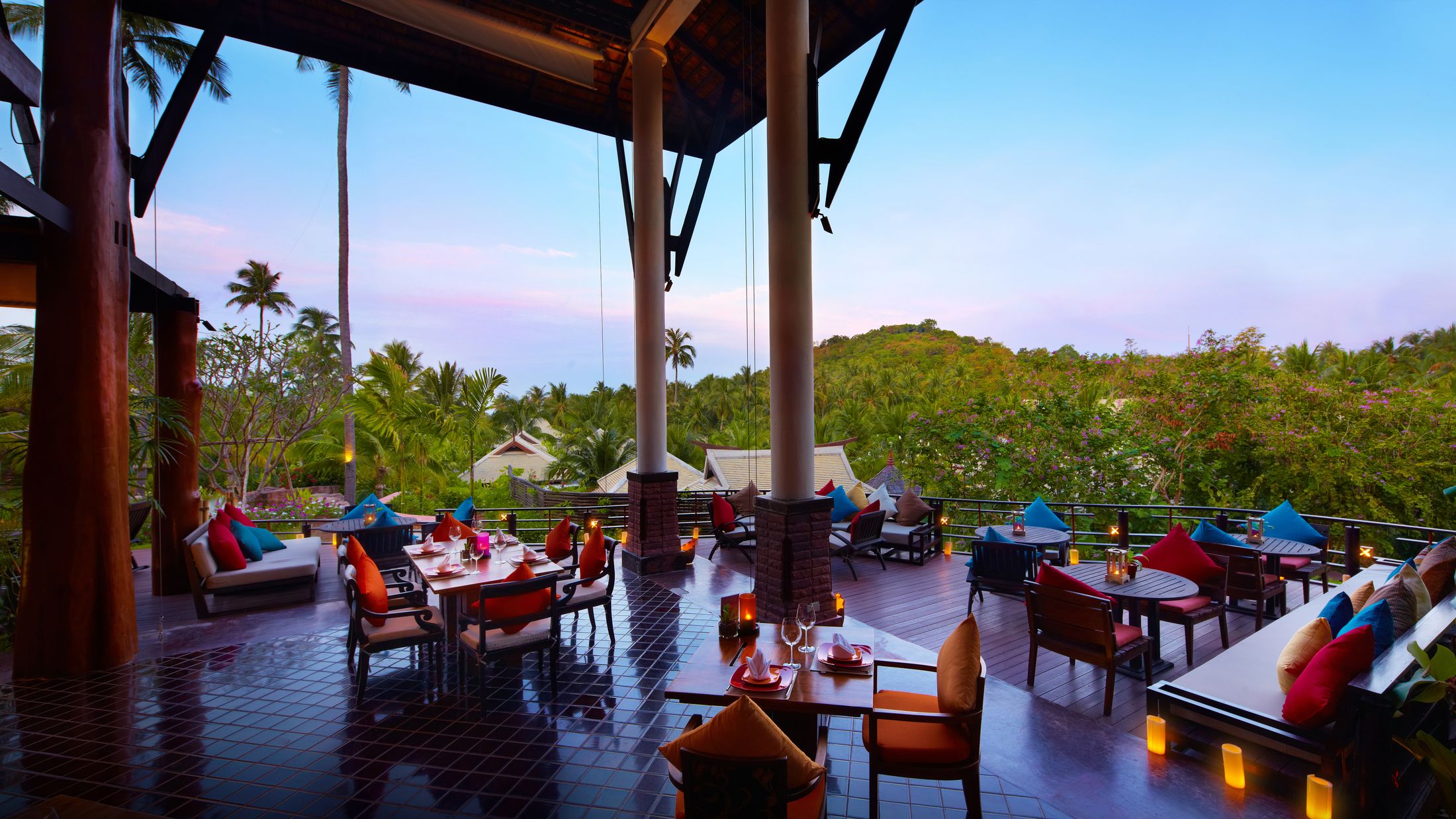 Kan Sak Thong Restaurant
Opening Times:
06:00 - 22:30
Located adjacent to the resorts waterfall, the Kan Sak Thong offers authentic Thai cuisine as well as Thai French fusion.
The Sea View Bar
Opening Times:
09:00 - 22:30
This delightful swim up bar is the perfect place to grab a light bite and enjoy the fantastic ocean views.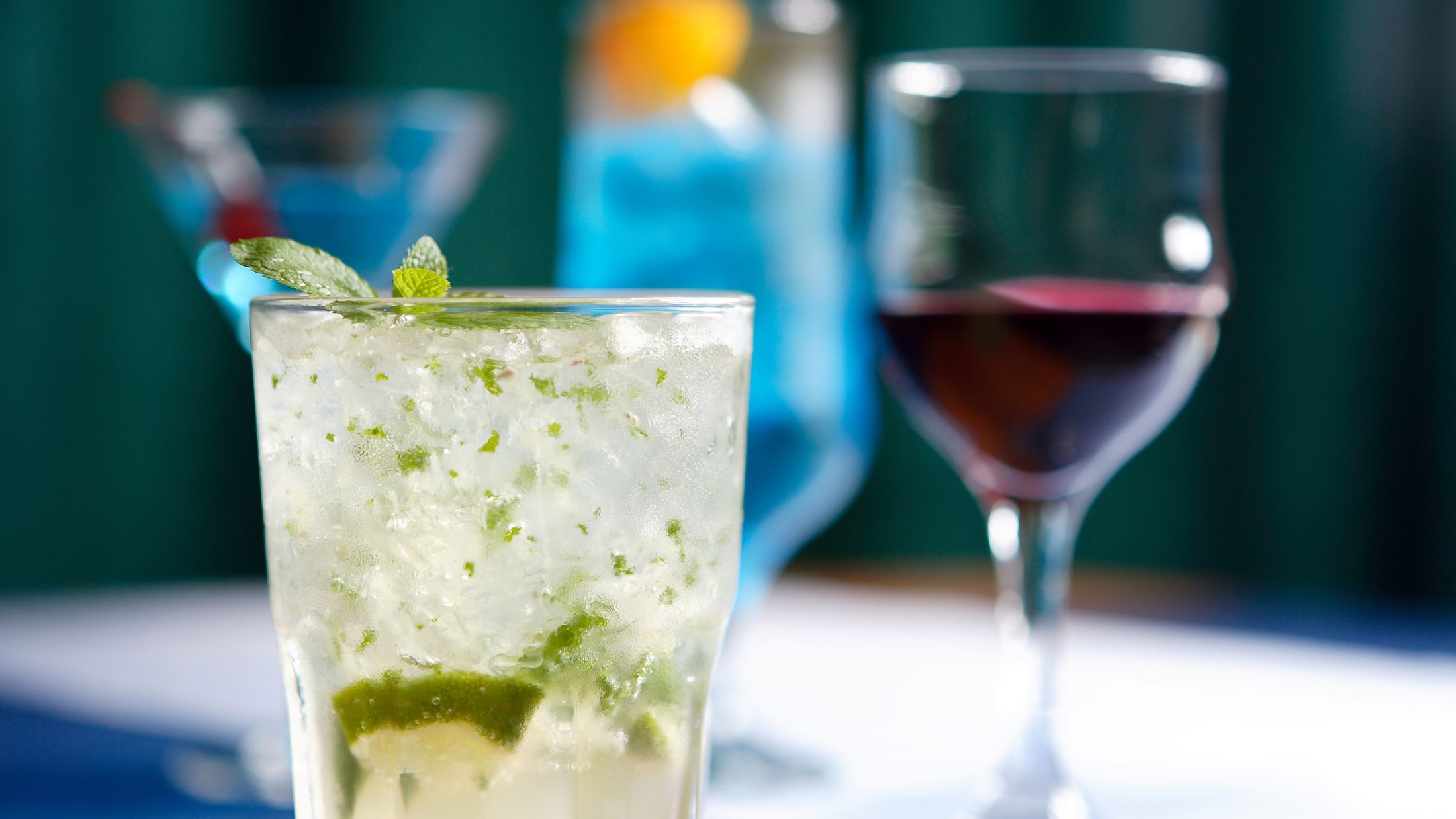 Beach & Pools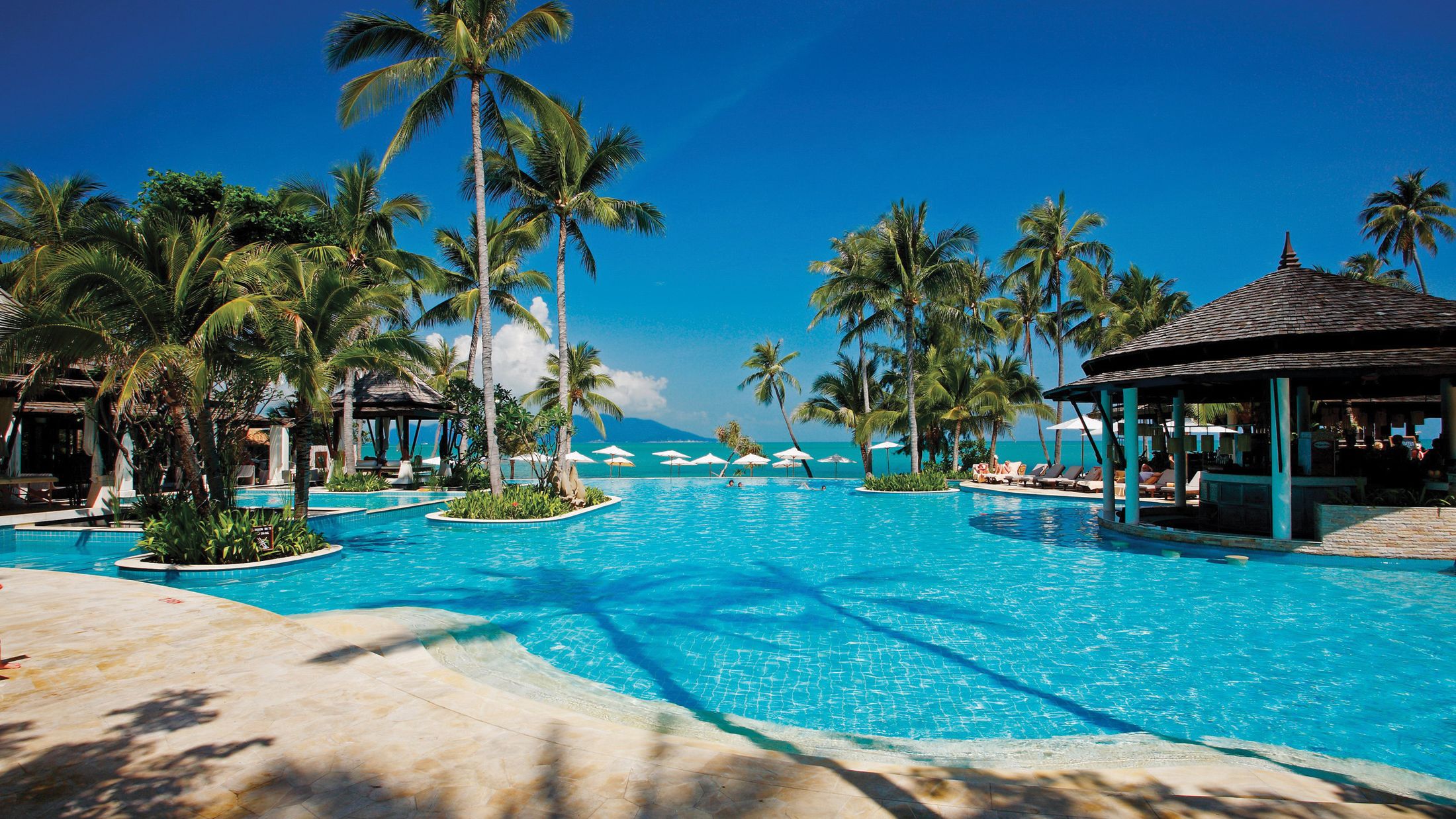 Pools
The resort has the fantastic lagoon style Beach Pool, surrounded by palm trees and including a swim up bar. It also has the Sactuary Pool, a classically stunning pool with dramatic evening lighting, and a smaller kids' pool.
Spa & Wellness
Melati Spa & Gym
Melati Spa offers a range of luxury Thai based treatments, including massages, facials, wraps and scrubs. Natural products are favoured, including coconut and jasmine. There is also a nailcare salon using OPI products, as well as a Beauty Sala, Yoga Sala and Boutique.
In addition, there is a fully equipped Fitness Centre.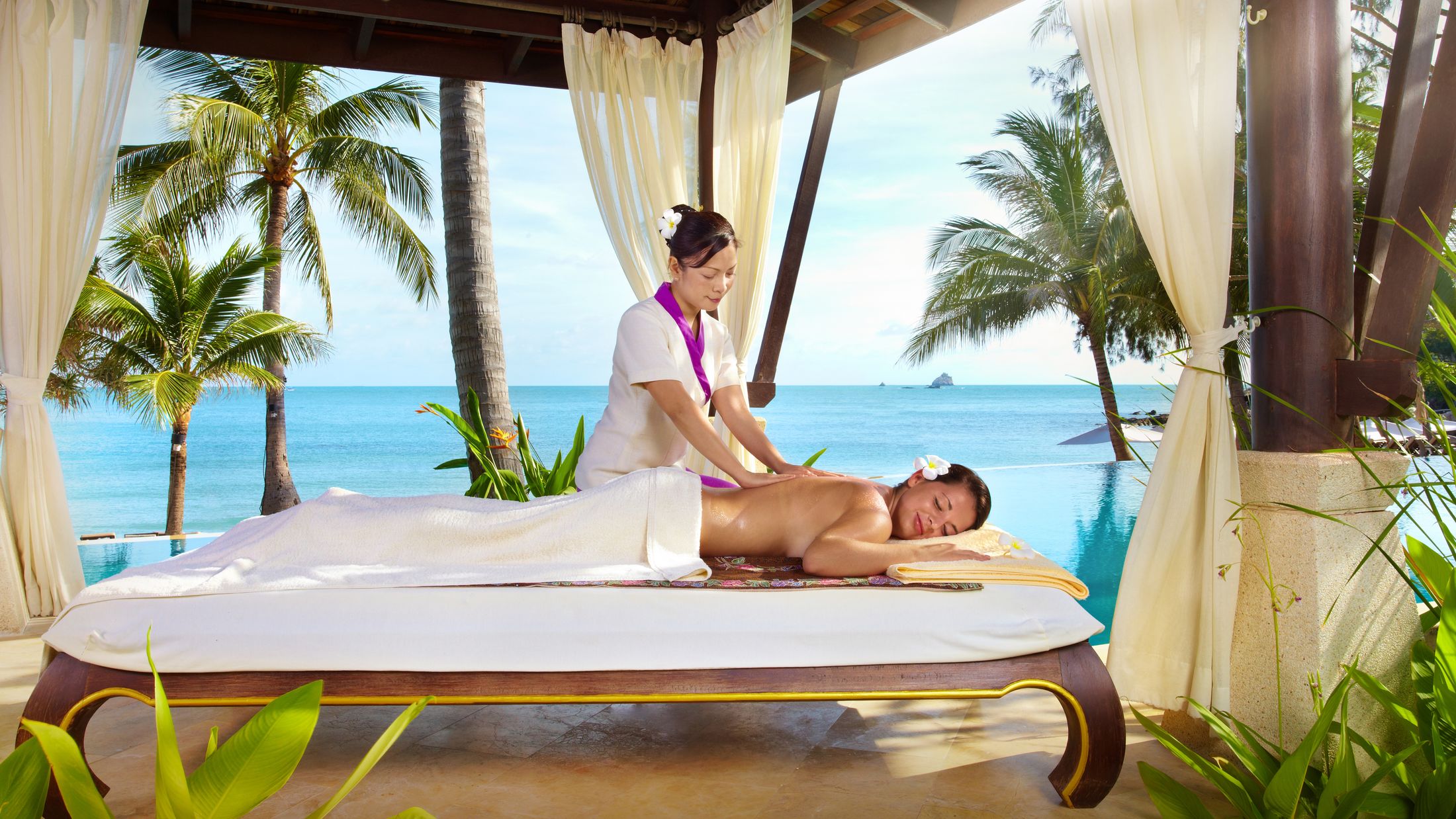 Activities & Entertainment
Daytime Activities
Guests can enjoy classes in Thai cooking, Thai boxing and pilates, as well as beach and water polo. There's also aqua aerobics and bike hire if you want to get active this holiday. Finally, there's a library for you to get the perfect poolside read.
About the location
Koh Samui is an old hand when it comes to holidays - it was the go-to island back when Thailand first started making waves on the travel scene. Visitors were originally drawn in by its white-sand beaches, nodding palms and first-rate snorkelling and diving. Nowadays, you can add luxury hotels, gourmet restaurants and slick beach clubs to the mix.

Chaweng is the liveliest resort on the island, with a big helping of restaurants, late-night bars and shops. The beach is one of Koh Samui's best, too. If you prefer things a little quieter, but still want amenities on hand, head a little way down the coast to Lamai. On the north coast, Bophut has a village feel, with lots of small cafés and restaurants (some right on the sandy beach), as well as shops selling handicrafts and local art, while Mae Nam has a huge, palm-edged sandy beach and a peaceful, laid-back feel.
Transfer time
10 minutes from Koh Samui airport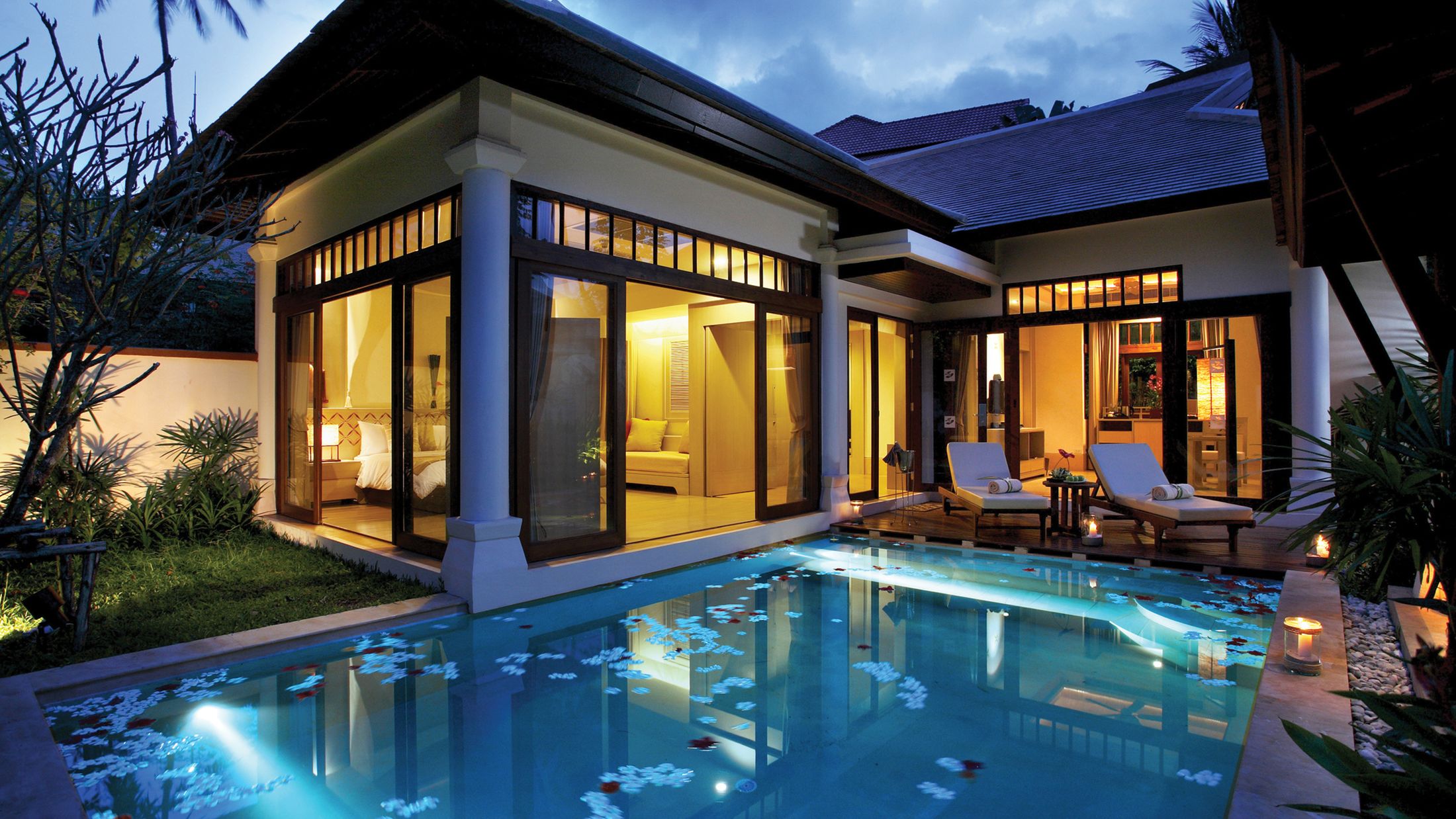 Family Pool Villa
Max 3 adults, 2 children
Family Pool Villas are very spacious, boasting a master bedroom with a dressing area and bathroom featuring a bathtub and shower. The living area converts into a second bedroom and has an outdoor bathroom overlooking the garden. The villa has an outdoor private swimming pool with sundeck and sala.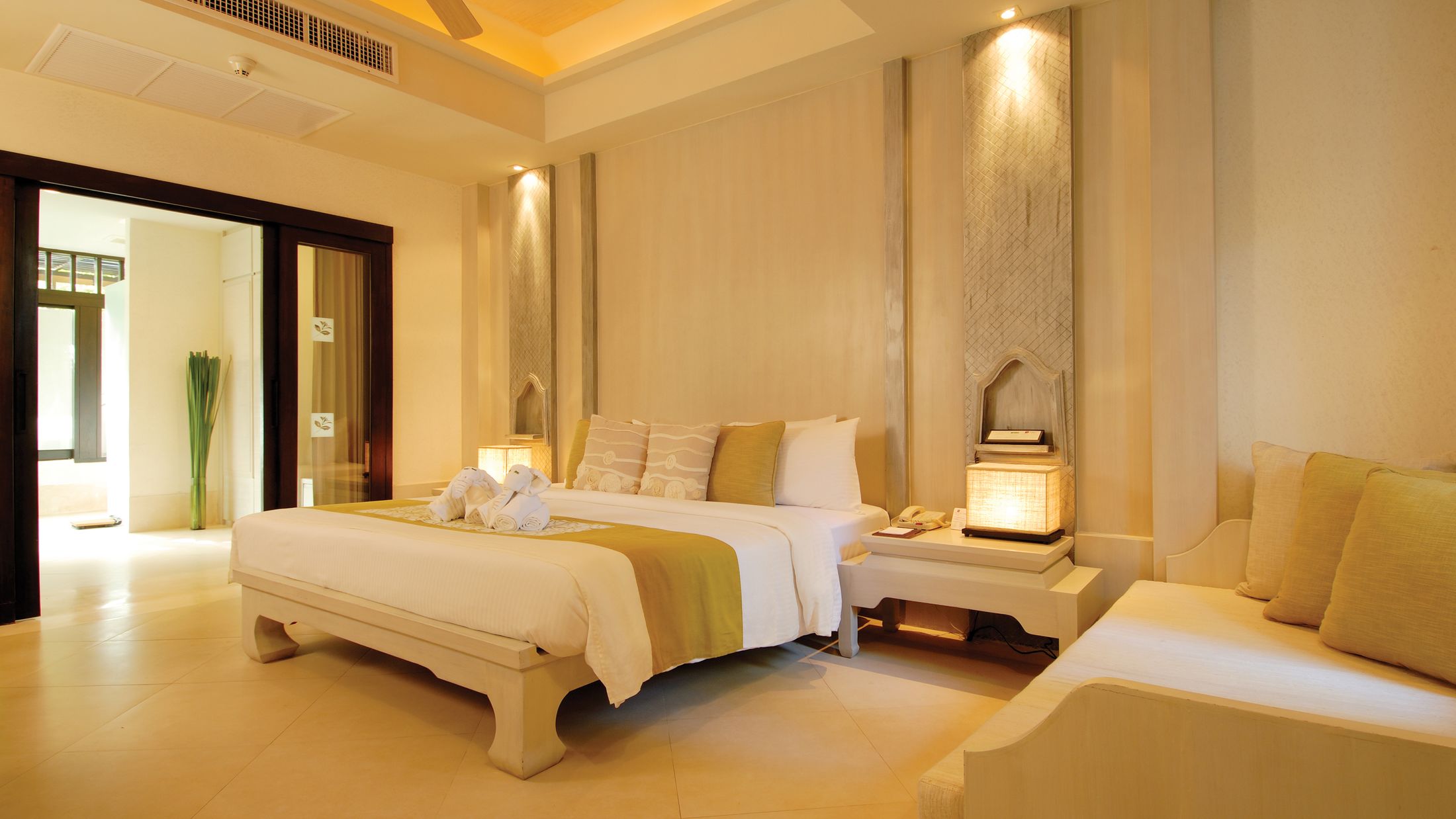 Grand Deluxe
Max 3 adults, 1 child
Grand Deluxe rooms feature either a king size bed or two twin beds. The rooms are very spacious between 77-95m² and are either located on the first or second floor. The first floor rooms have direct access to the garden courtyard.
77-95m²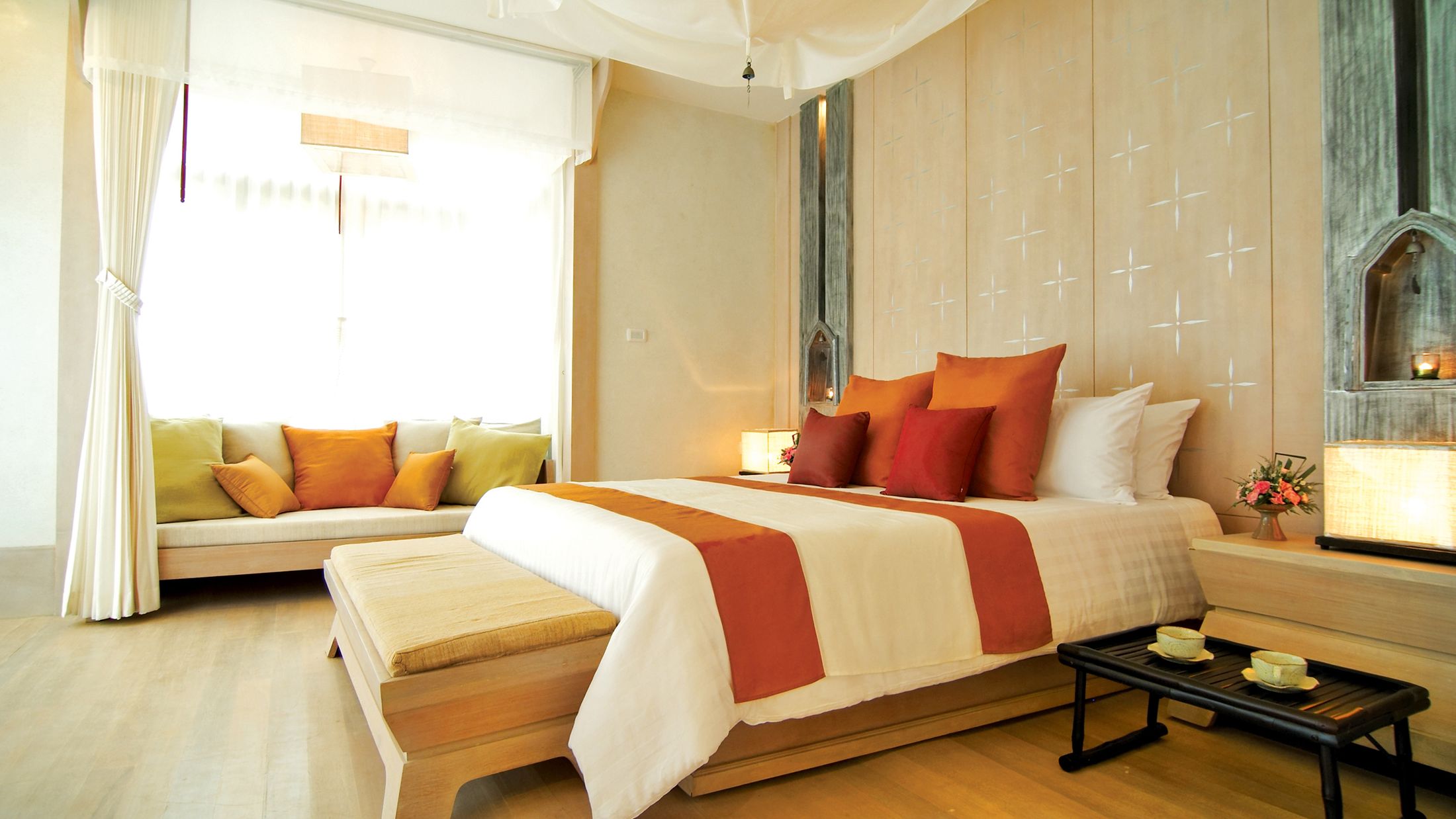 Pool Villa
Max 4 adults
Pool Villas are set around the ancient pool in the middle of the property, they are approximately 143m² with private plunge pool and outdoor shower. These villas have a king size bed.
143m²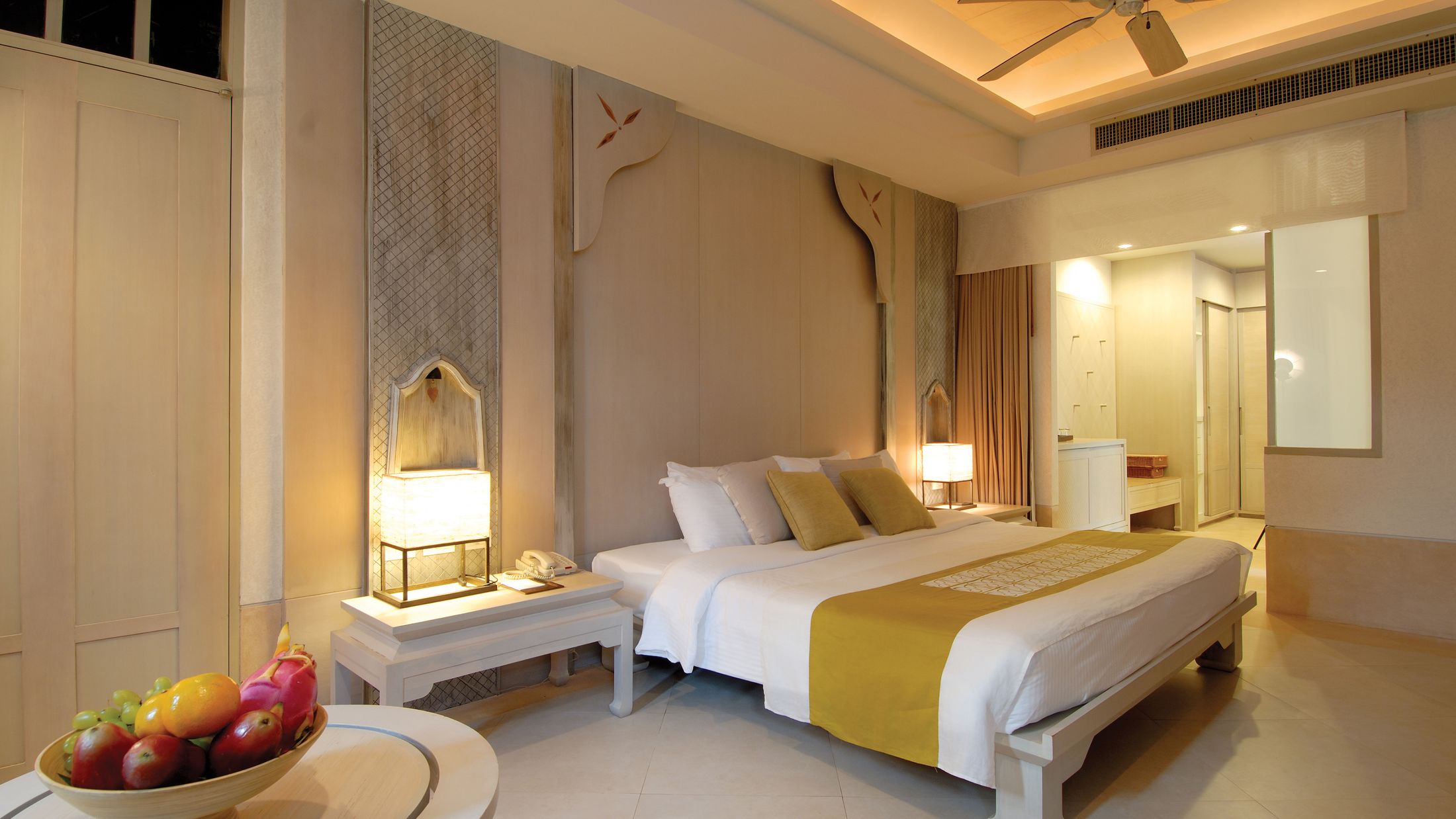 Private Garden Pool
Max 3 adults, 1 child
Private Garden Pool rooms are approximately 143m² and are elegantly designed with a private plunge pool, sala and outdoor shower. The bedroom offers a king size bed.
143m²

Based on 1615 traveller reviews

86% of travellers recommended this hotel
Travellers Ratings
What to expect
Reviews
Sarah H, Kettering, United Kingdom
Aug 20 2018
We had a lovely time when we stayed here for our honeymoon. I was a little worried when I read some reviews that said the hotel was expensive, but we really didn't find this. Not when compared to...
We had a lovely time when we stayed here for our honeymoon. I was a little worried when I read some reviews that said the hotel was expensive, but we really didn't find this. Not when compared to some places we have stayed. Yes, you pay a lot more for food and drink inside the hotels than outside, but it still isn't a huge amount. We ate lunch in The View restaurant every day, drank cocktails most lunch times and we only spent around ??750 for the 10 days we were there. This included taxis that we charged to our room each night and the odd drink and snack from the minibar and some bottles of wine that we took back to our room. We did not have our evening meals in the hotel as there were so many amazing places to eat outside- in the Fisherman's village and in Chaweng (400 baht in a taxi). The main pool is nice if you are ok with kids running about (which we are) but we did find that by 11am there were not many beds available. If there is no space, ask one of the guys at the pool bar to find you a bed and they will take some towels from a bed where they haven't seen anyone sat yet. They wont take your towels if you are at lunch or have popped down to the beach but they won't let you reserve a bed all day that you don't use- this makes me very happy as the people who do this really annoy me. There was always space at the sanctuary pool, which is perfect for a relaxing afternoon away from the noise of the families down at the main pool. You can call for drinks to be delivered or for fresh towels- this service is really fast. We have a lovely villa (pool villa). The pool is small but we had lots of fun pottering around in there when we didn't want to go to the main pools. The room was clean, and the maid came every day, around 11, to make the bed and tidy up. The living room was a great space for us to chill out if it rained or after we got in of an evening. Perfectly big enough for what we wanted. My one complaint was that on the first night we arrived we were totally ripped off by the price of the "Thai Experience Night". As we didn't get there until really late, after a long day travelling, we missed the Thai boxing, cookery demonstration and all the other fun extras but we were still charged the full price. This was really disgusting given the fact that the only thing I could eat on the buffet was a small salad. There was no explanation from the staff about any of this and it did leave us a little upset on the first night. Luckily the rest of the holiday was much better. All-in-all a great hotel for couples and families- lovely location and beautiful grounds.
View full review
MilanC71, Bratislava, Slovakia
Aug 17 2018
One of the best hotel, when we have felt home, welcomed and enjoyed the warm hospitality. The area is a paradise with beautiful gardens, perfect swimming pools and superb beach with crystal clean...
One of the best hotel, when we have felt home, welcomed and enjoyed the warm hospitality. The area is a paradise with beautiful gardens, perfect swimming pools and superb beach with crystal clean water. The hotel is a bit further from the nearby urban areas, thus is is a quite place where you can enjoy the amazing peaceful surroundings, harmony and positive energy. There is enough choice of different restaurants and meals, with excellent meal quality, thus you do not need to go outside to look for other restaurants.Delicious breakfast was always perfect start to new day. The family villas are very well designed and well equipped, where you are not disturbed by neighbors, or your own children.The villa's pools are a great place for your children to have a lot of fun. The rooms were very well cleaned and daily gifts - small sweets and milk was very appreciated by our children. The personal is very friendly and attending,and they tried to accommodate even non standard wishes. Special thanks to the animators for their family like approach to the children. Overall it was amazing experience and our children are continuously asking , when we will return there :).
View full review