An intimate resort with just 66 private villas, the Six Senses Samui is set amongst tropical foliage on a gently sloping headland, overlooking the blue waters of the Gulf of Thailand. The luxury guestrooms are built in a traditional style with wooden walls and furniture and carefully placed accents of colour, many of them featuring private pools. Tickle your taste buds with an array of mouthwatering cuisine, including an award-winning 'Dining on the Rocks' restaurant set on the tip of the headland and offering magnificent views. The stunning infinity swimming pool and the serene Six Senses Spa provide ample opportunities for relaxation, whilst the adventure seeking guests can enjoy a number of activities, including a mountain bike trip, jungle driving experience or a private fishing trip.
Sovereign does not accept children at this hotel, however this is not an adult only property.
Intimate resort cocooned in greenery
Traditional wood rooms with trendy colour accents
Stunning views at 'Dining on the Rock' restaurant
Spa with yoga, reiki and pilates classes
Sea-view infinity pool
Added value
Early booking discount
Save up to 15% discount on the hotel price for holidays between 06 January - 22 December 2018 booked 60 days prior to arrival when staying in a Hideaway Villa.
Facilities
Bars & Restaurants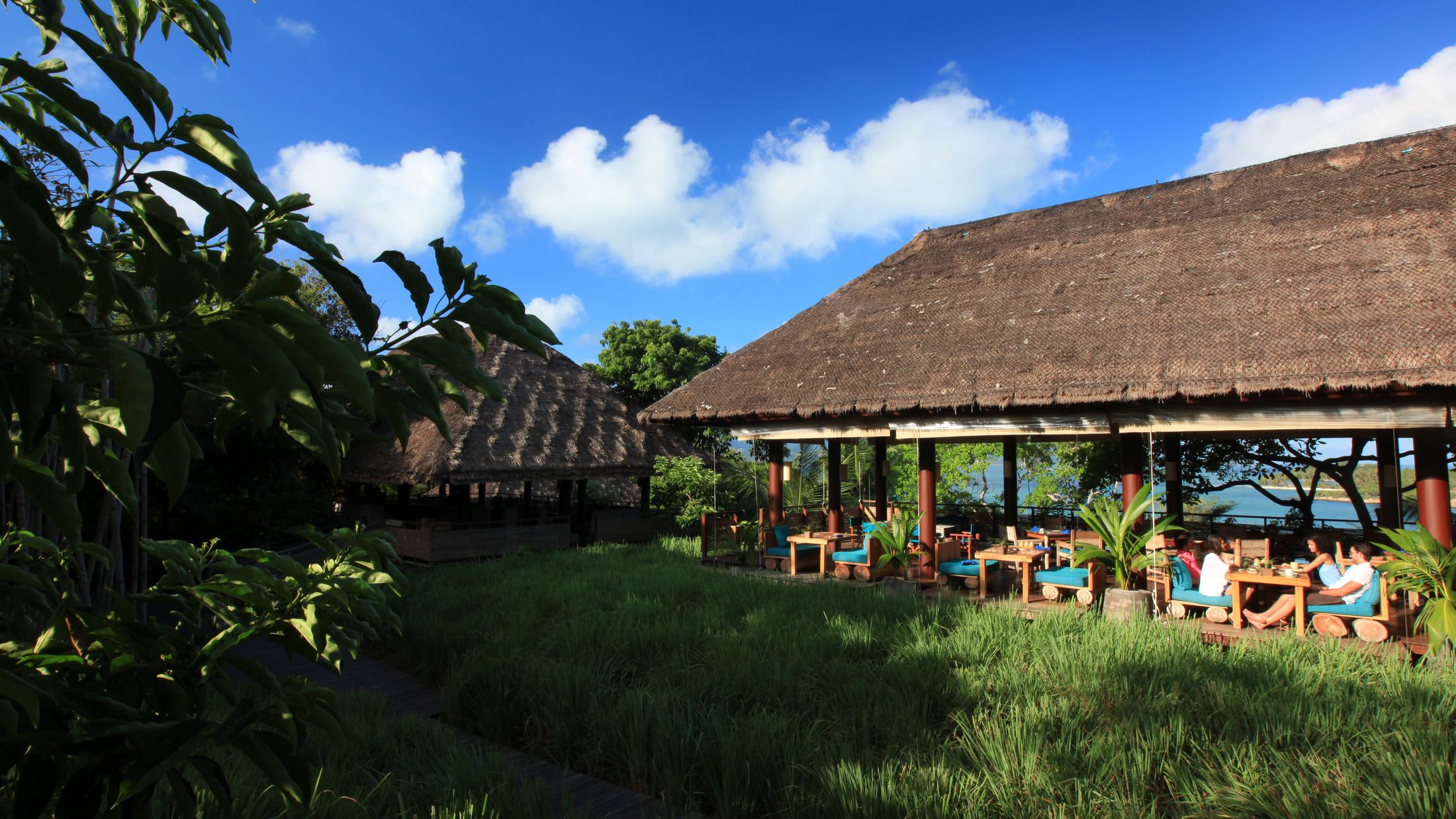 Six Senses Samui Spa
Breakfast is a buffet spread across several stations, lunch is focused on international cuisine and dinner features Thai specialities. A bar is attached to the restaurant, serving a great range of cocktails, beers and coffee.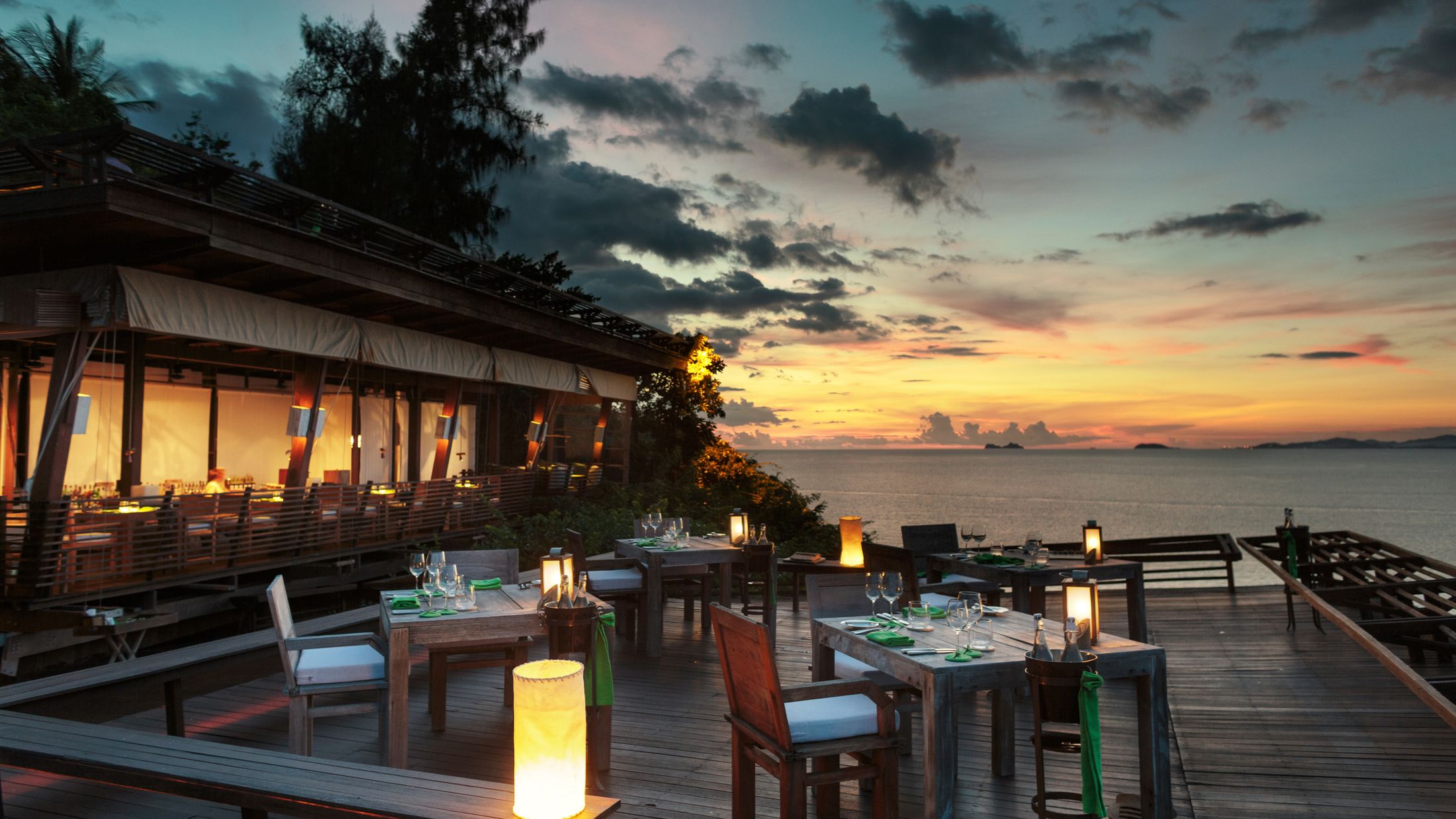 Dining on the Rocks
The hotel's signature restaurant offering tasting and 3 course set menus. An elegant bar is attached, and features an impressive range of cocktails and spirits.
Beach & Pools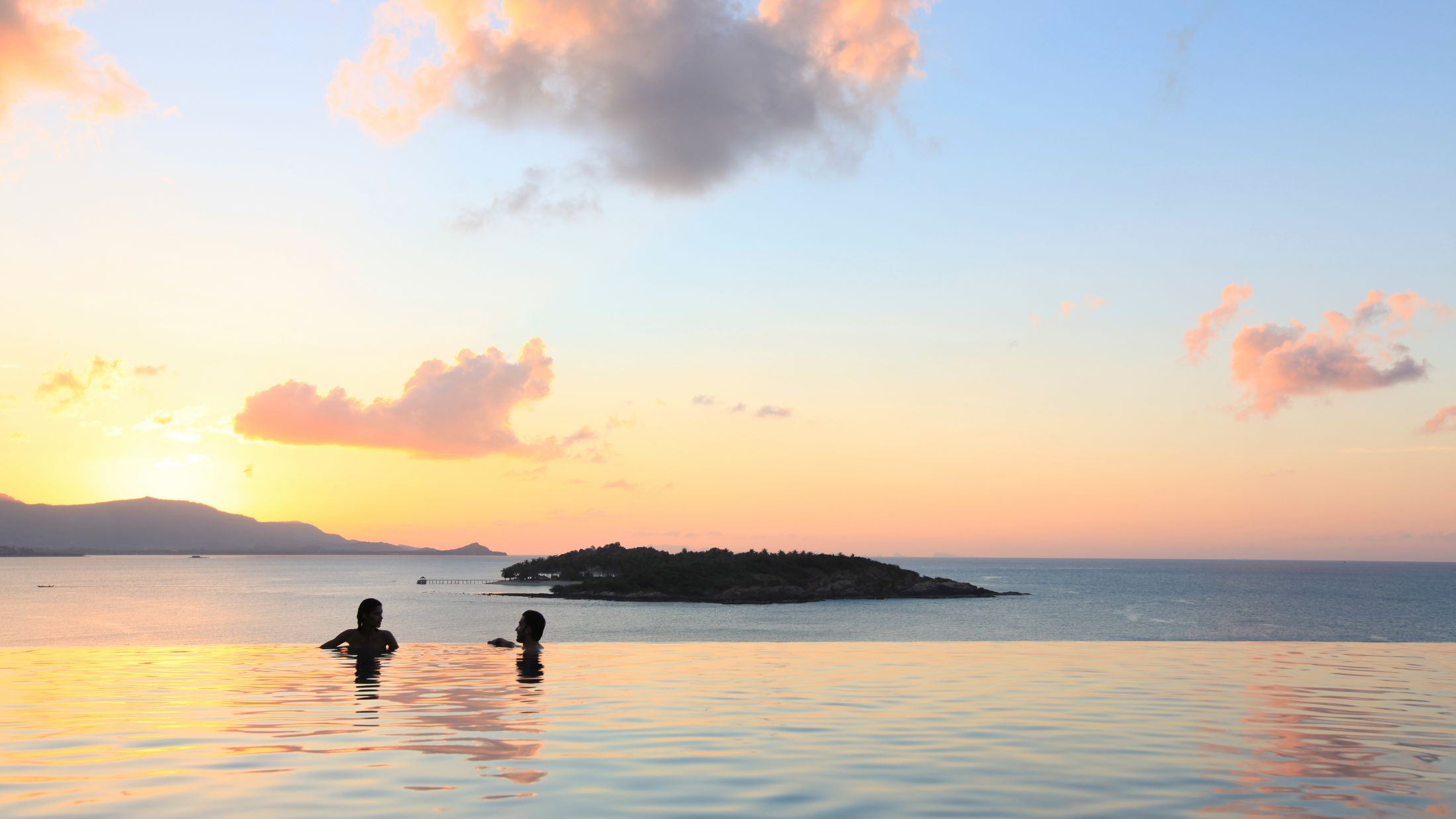 Pool
Guests can enjoy a classic infinity pool, with its still waters melting into the incredible ocean views.
Spa & Wellness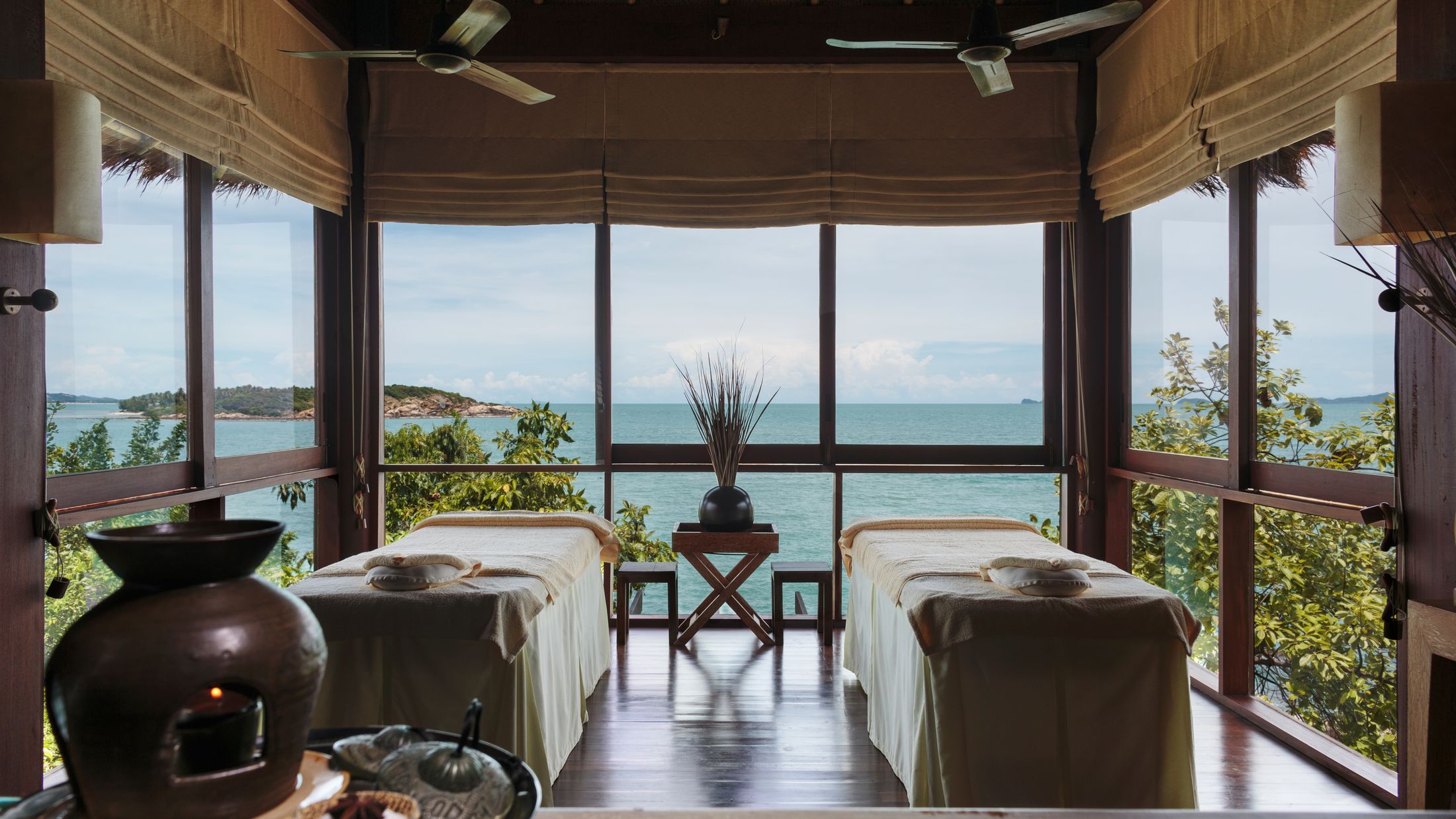 Six Senses Samui Spa
This secluded spa offers private treatment salas with stunning sea views, as well as individual spa villas. There are a range of wellness treatments offered, as well as massages and facials. Several visiting experts in alternative medicine are available for consultation depending on the season, each of which provide their own recommended treatments.

Activities & Entertainment
Daytime Activities
Guests can emerse themselves in local culture with Thai cooking and culture classes, as well as preparation of temple offerings. There's a Buddhist temple tour, and a Sunset Cruise. Snorkelling and diving is available in Koh Tao. Local charges may apply.
About the location
Koh Samui is an old hand when it comes to holidays - it was the go-to island back when Thailand first started making waves on the travel scene. Visitors were originally drawn in by its white-sand beaches, nodding palms and first-rate snorkelling and diving. Nowadays, you can add luxury hotels, gourmet restaurants and slick beach clubs to the mix.

Chaweng is the liveliest resort on the island, with a big helping of restaurants, late-night bars and shops. The beach is one of Koh Samui's best, too. If you prefer things a little quieter, but still want amenities on hand, head a little way down the coast to Lamai. On the north coast, Bophut has a village feel, with lots of small cafés and restaurants (some right on the sandy beach), as well as shops selling handicrafts and local art, while Mae Nam has a huge, palm-edged sandy beach and a peaceful, laid-back feel.
Transfer time
10 minutes from Koh Samui airport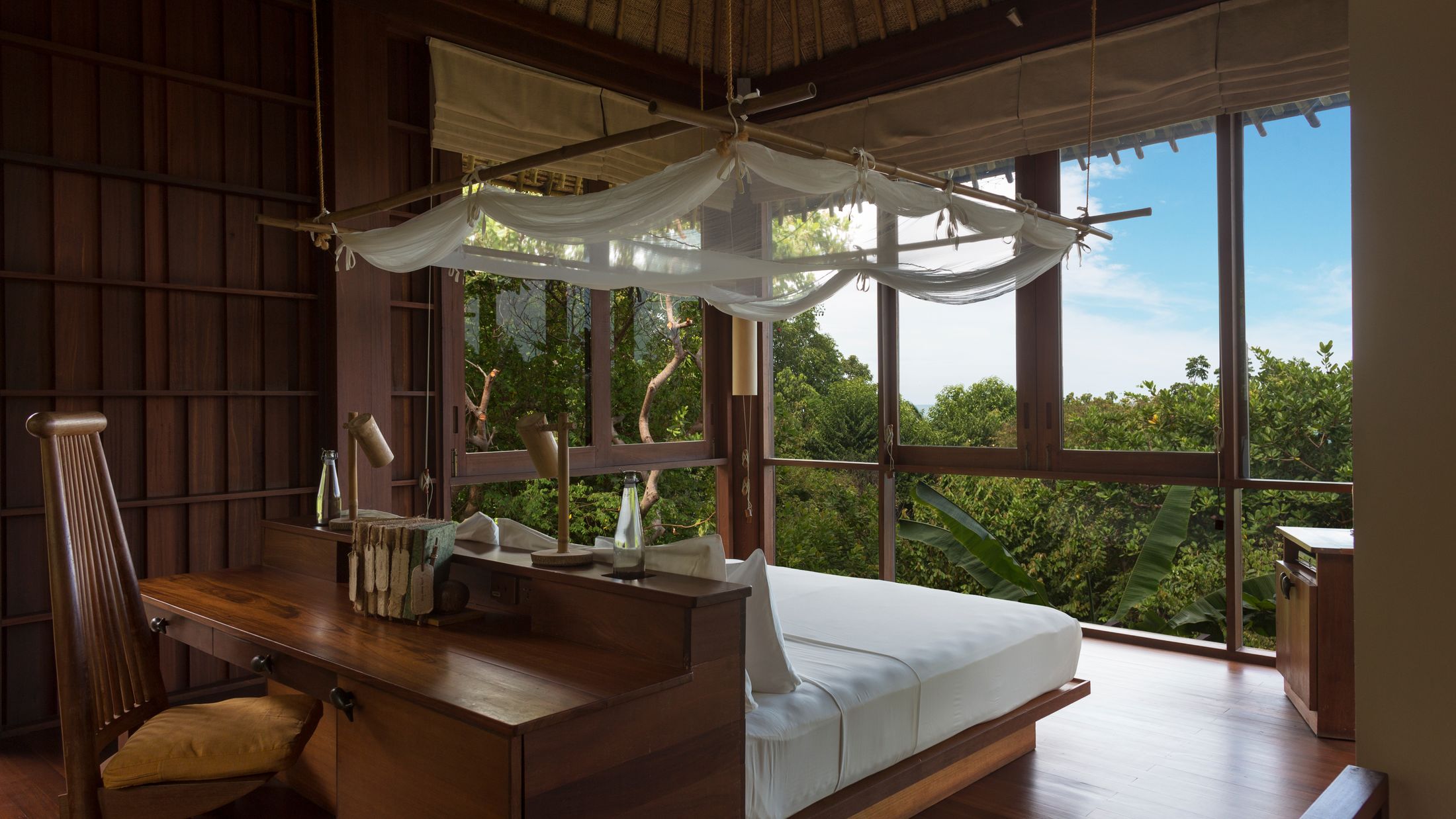 Hideaway Villa
Max 2 adults
Hideaway Villas are split level, with the bedroom situated on the upper level with the sundeck on the lower level. They offer partial ocean views.
130m² including outdoor space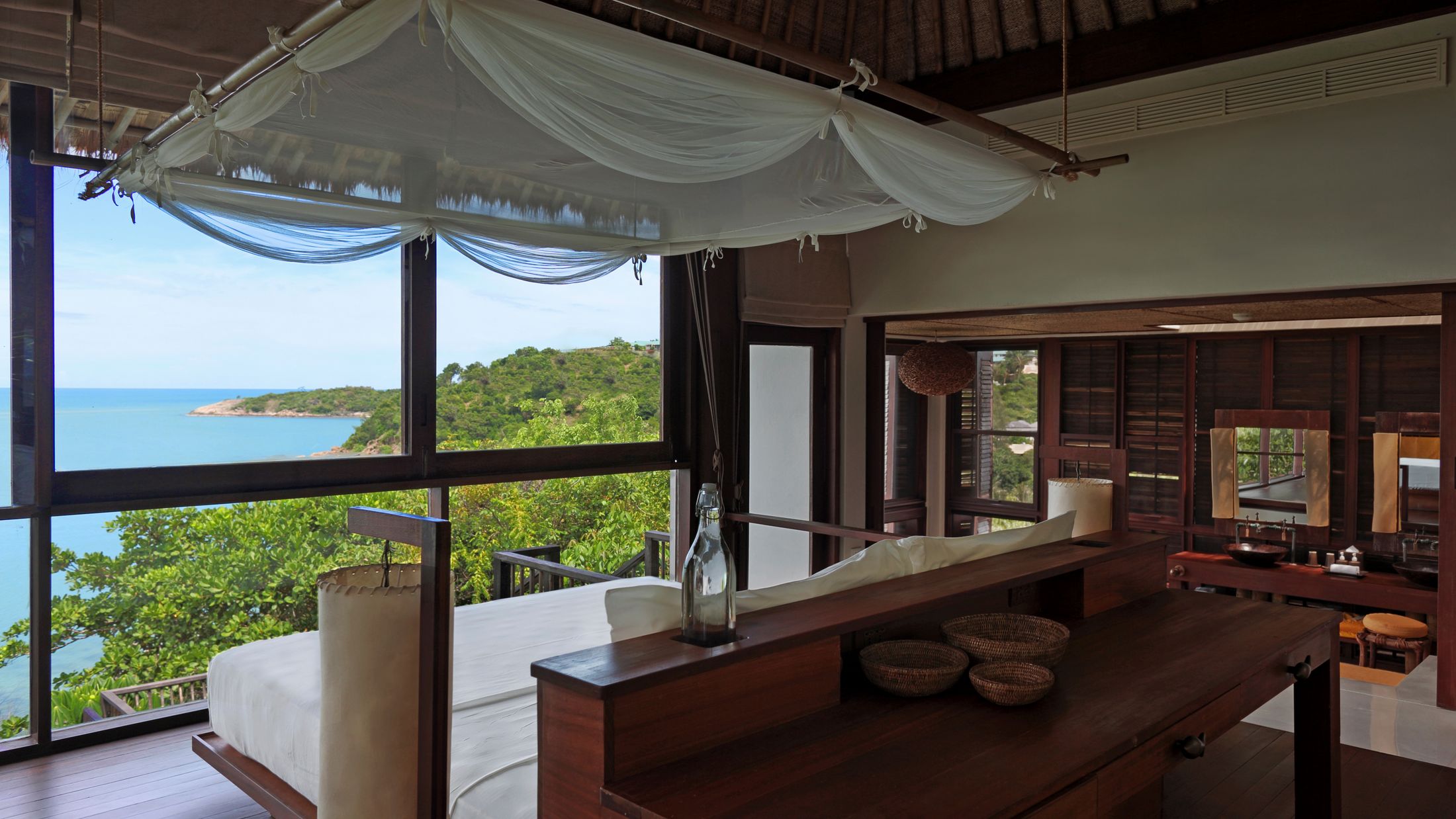 Ocean View Pool Villa
Max 3 adults
Located throughout the resort, Ocean View Pool Villas are split level with the bedroom situated on the upper level. There's also a spacious sitting area and pool deck with a private infinity pool.
160m² including outdoor space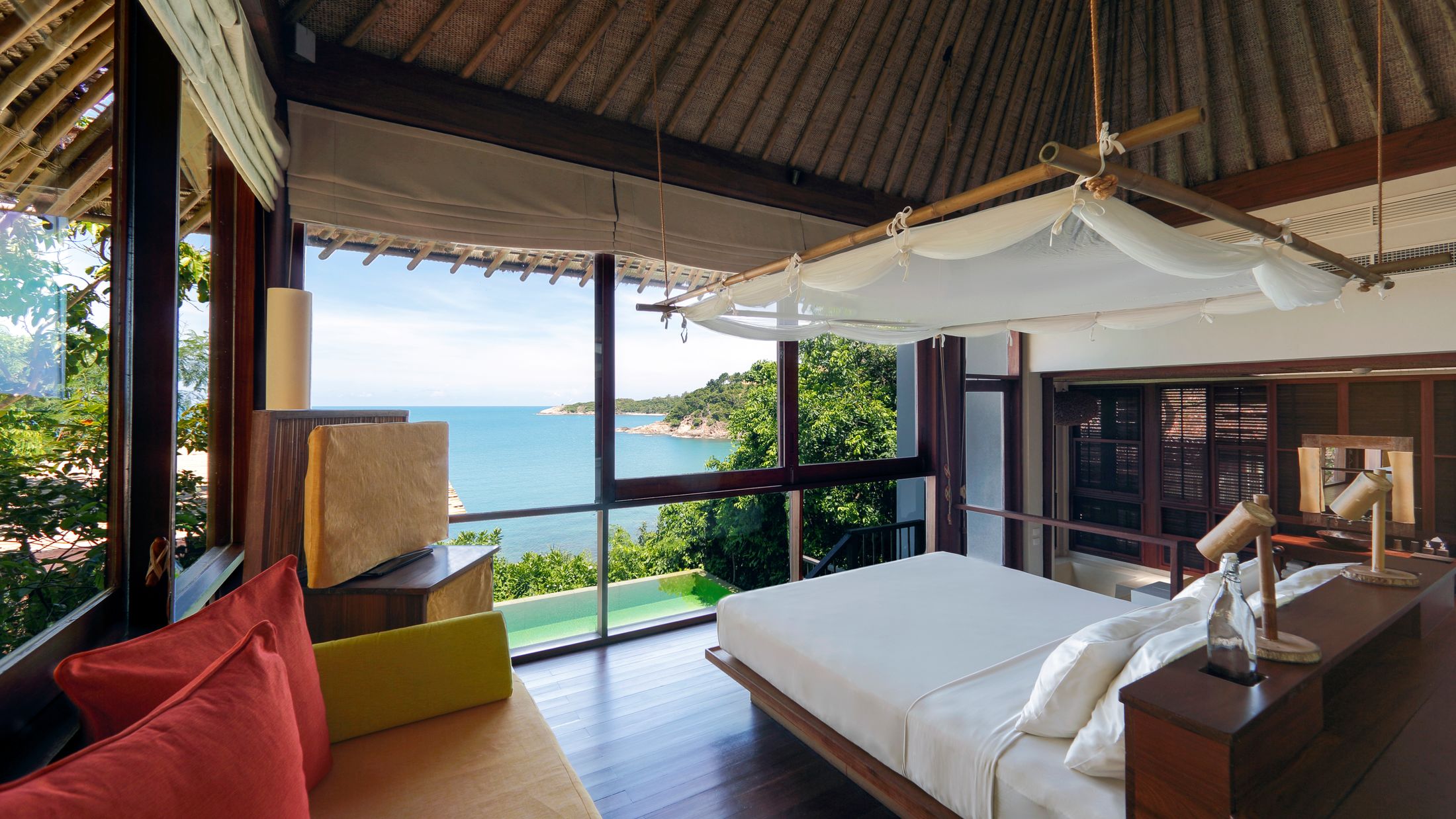 Oceanfront Pool Villa
Max 3 adults
Ocean Front Pool Villa Suites are situated on the frontline of the peninsula with views over the Gulf of Thailand. The suites have two bathrooms one with an outdoor shower and the second off of the lounge area. The split level suite has a 18m² private infinity pool.
160m² including outdoor space
Pool Villa
Max 3 adults
Pool Villas are situated on the highest point of the resort, offering partial ocean views. The split level villa has a 18m² private pool.

160m² including outdoor space

Based on 993 traveller reviews

85% of travellers recommended this hotel
Travellers Ratings
What to expect
Reviews
"
Nice location, good villas but limited food choices
2016Samot, Toronto, Canada
Jul 17 2018
We stayed end of March for 10 days in Six Senses Samui. Before we have stayed 2 times in other Six Senses locations. The villas are in super condition and get perfect cleaned every day. Compared to...
We stayed end of March for 10 days in Six Senses Samui. Before we have stayed 2 times in other Six Senses locations. The villas are in super condition and get perfect cleaned every day. Compared to other Six Senses the privacy in your villas is not so good as e.g. in Yao Noi, where you have never the feeling in the villa or at your pool that people can observe you. In Samui you have to pull down the curtains to have privacy and in your pool (in our villas) you can be seen as we also could look into other pools. The food choices are for our taste limited. But with a taxi you can drive to the villages around and find very good restaurants, which are usually also better in price (including Taxi fees). We had a mixed experience for service. Room service, reception, massage offers and room maintenance were up to the 5star Standard. Breakfast service and dinner service were very often slow. This was a surprise to us as this was the forte of the other Six Senses. Overall we will not come back to this Six Senses!
View full review
"
Luxurious private escape
Thomas H, New York City, New York
Jul 15 2018
My wife and I recently spent 2 weeks in Thailand. One of our stays was 4 days at the Six Senses. Let me just say that we both wished we booked our stay longer. From the moment we were picked up from...
My wife and I recently spent 2 weeks in Thailand. One of our stays was 4 days at the Six Senses. Let me just say that we both wished we booked our stay longer. From the moment we were picked up from the airport in their private sedan, we were treated like royalty. The staff treated us with such kindness and respect. They constantly made sure that all our needs were met. We stayed in Rm 11, an Ocean front pool villa suite. WOW! The views from the room were spectacular. The sunsets were unparalleled. The privacy of our own infinity pool made it very romantic. Turndown service at night included a mosquito net draped over our bed. The food here was 5 stars. The breakfast buffet was great and there is plenty of options to choose from. American,European as well as Asian choices. One evening we had dinner at Dining on the Rocks. The ambiance ,service and food was out of this world. My wife said it was a fairytale evening. We reserved Table 99 weeks in advance .Everything we were told about it was true. We had a whole balcony overlooking the bay to ourselves. The food was exquisite and beautiful. The experience was truly 5 Star Michelin all the way.. A bit pricey, but hey, it was our honeymoon. Ive stayed in 5 star resorts before, but this really was something out of this world. No request was too big. Like I stated earlier, the staff is absolutely amazing. A special shoutout to Junko who was our personal Jem. She checked on us twice a day to make sure we were happy and if the was anything she could do to make our experience even better, Thailand is a very long way from NYC, So I don't know when we will be returning. But, I promise you that we will be staying at the Six Senses Koh Samui if we do
View full review