• In house chefs carefully create a range of dishes inspired by fresh local products
• DJs play at Beach Rouge where there is also a dance floor
• On the shores of the Aegean Sea all rooms have spectacular views and large windows
• A spa and fitness area, as well as yoga and pilates are all offered to guests
Located in an idyllic setting on the Aegean Coast, LUX* Bodrum Resort & Residences is a luxurious yet contemporary hotel set on a private peninsula, perfect for couples and families looking for a relaxing holiday. Each of the rooms, suites and residences offer stunning panoramic views, many of which feature floor-to-ceiling windows to allow for light, bright and airy rooms. Guests can spend their days relaxing in the spa or on loungers by the sea or swimming pool before enjoying delicious cuisine at one of two restaurants. Try Stella for à la carte Italian and international dishes, or Beach Rouge for a seaside setting with a laid back atmosphere, serving freshly caught seafood and Mediterranean cuisine. In the evenings, guests can enjoy sipping on delicious cocktails whilst listening to the sounds of live DJ's perform into the early hours.
LUX* Resorts & Hotels is renowned for surprising their guests, so expect pop-up cinemas under the stars, ice-cream carts that are there one day and gone the next, and surprises hiding in a bottle across the resort. They even offer phone calls home 'on the house' from their British inspired telephone boxes.
Information: Hotel child prices apply to ages 6-11 & 12-17 years. The hotel has 91 rooms, 19 residences and a villa.
Optional All Inclusive - what's included
Breakfast is served at the Stella Restaurant, where you can enjoy show cooking and buffet options. Lunch is served à la carte at any of the restaurants across the LUX* Bodrum Resort. Dinner can be enjoyed à la carte at any of the restaurants in the resort. Afternoon tea is served every afternoon from 16:00-17:30 in Café LUX*. Drinks can be ordered from any of the hotel's restaurants or bars during opening hours and includes soft drinks, juices, mineral water, tea, coffee, wine, beer, juices, cocktails and spirits. In your room you can enjoy tea and coffee making facilities, as well as a mini bar with water, juices, soft drinks and beers. These are replaced daily. Activities include yoga, pilates and other land sports, as well as unlimited access to the fitness areas.
Facilities
Bars and Restuarants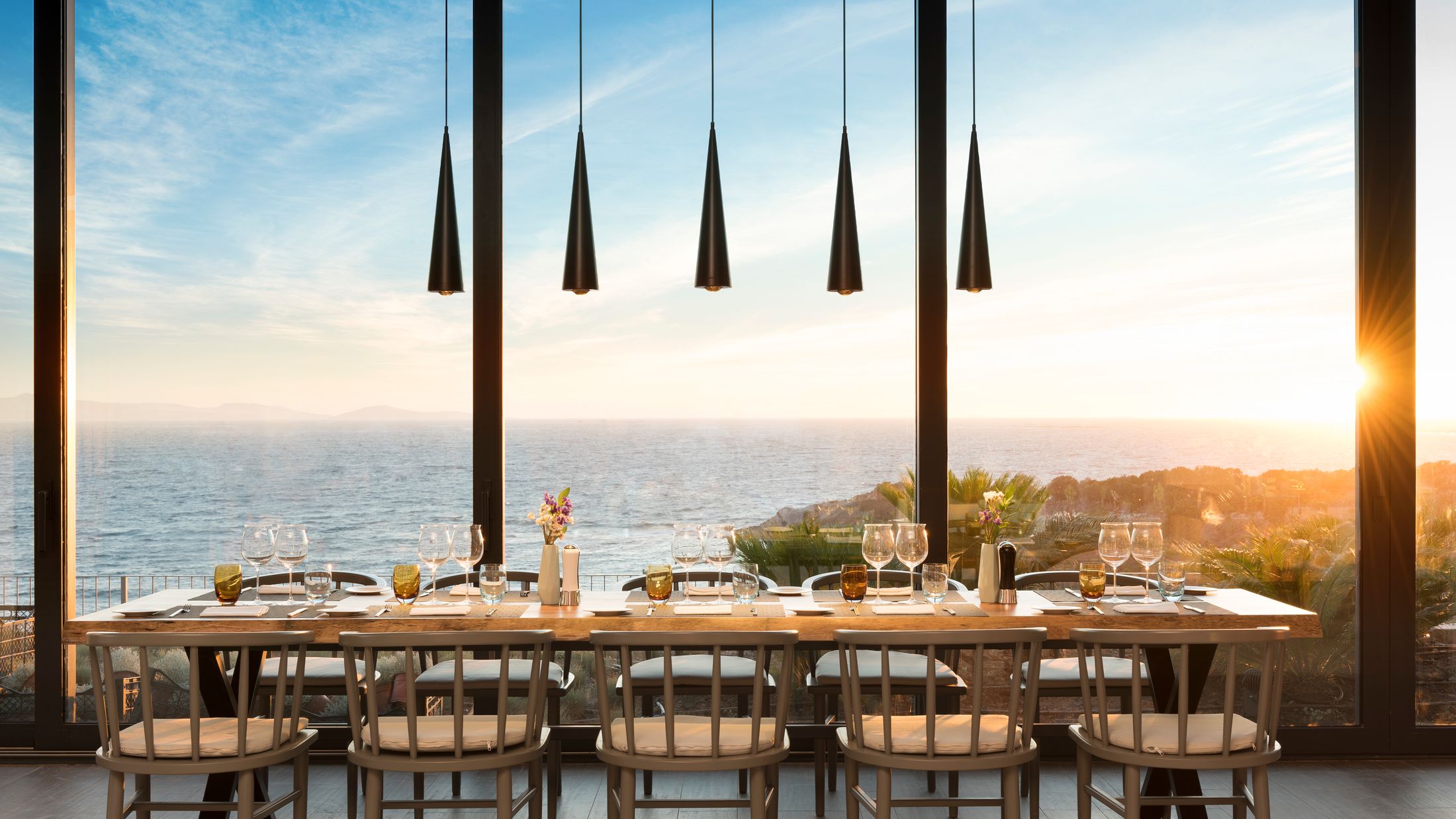 Stella
Floor to ceiling windows offer guests dining with a view over the sparkling Aegean Sea. Contemporary décor provides a relaxing setting as you watch the chefs prepare locally sourced dishes. Breakfast includes cooking stations and buffets while dinner is served à la carte with international and Italian dishes on offer.
Open: 07:30-10:30 & 19:30-22:30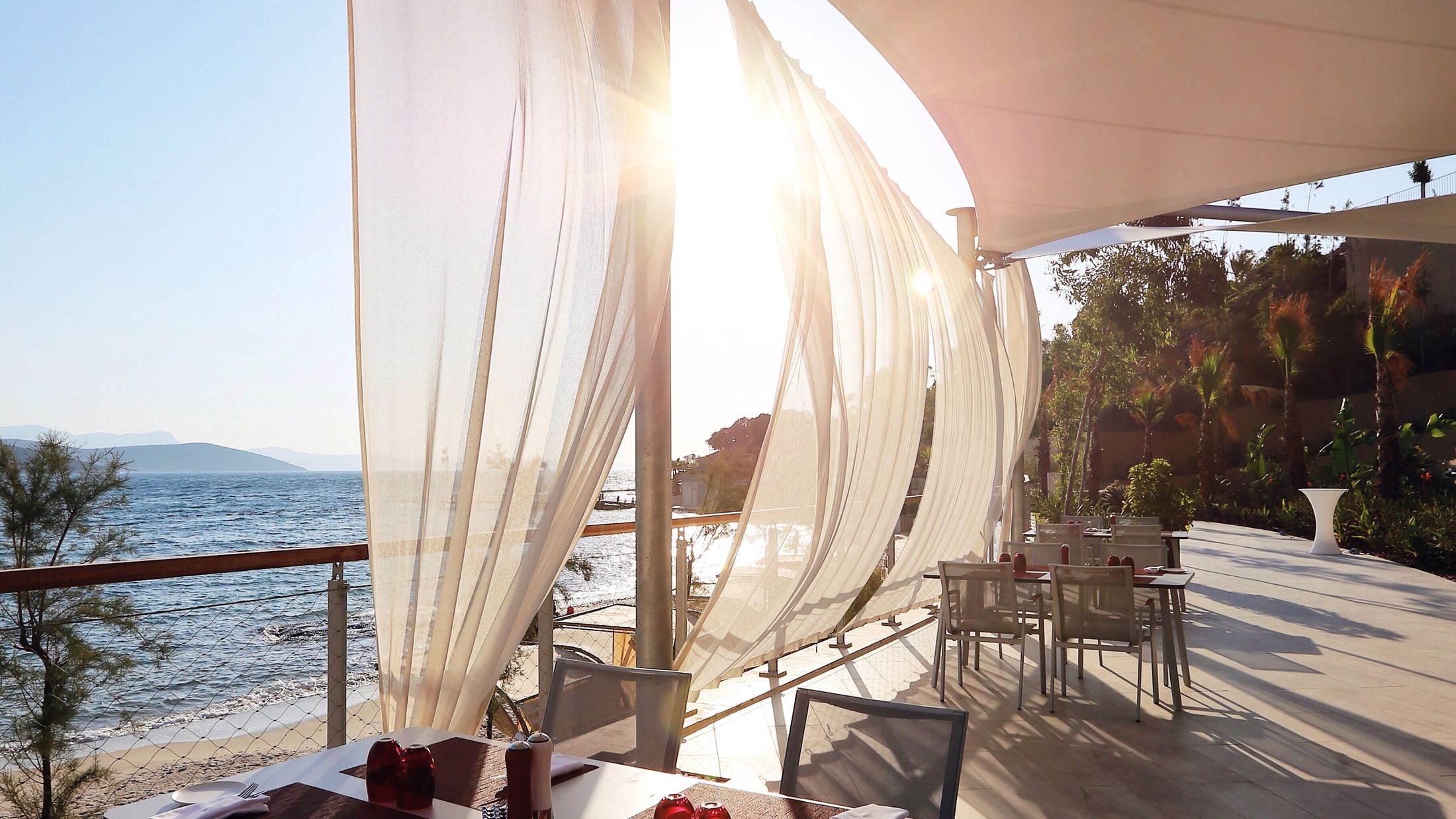 Beach Rouge
Enjoy delicious Mediterranean dishes made with fresh local ingredients. The selection includes mezzes with kebabs, local sweet treats, salads, dips and more. Set on a terrace, relax in the sun or under parasols as you take in the views of the Aegean Sea. In the evening this sleepy bar comes alive with live DJs and dancing.
Open: Late breakfast 11:00-13:00, lunch 12:00-15:00 & dinner 19:30-22:30
Cafe LUX*
Choose from light refreshments and drinks at Café LUX*, which serves café food with a Turkish twist. Choose from Turkish coffees and traditional teas, as well as international favourites like frappes, lattes and more as you enjoy the peaceful modern setting.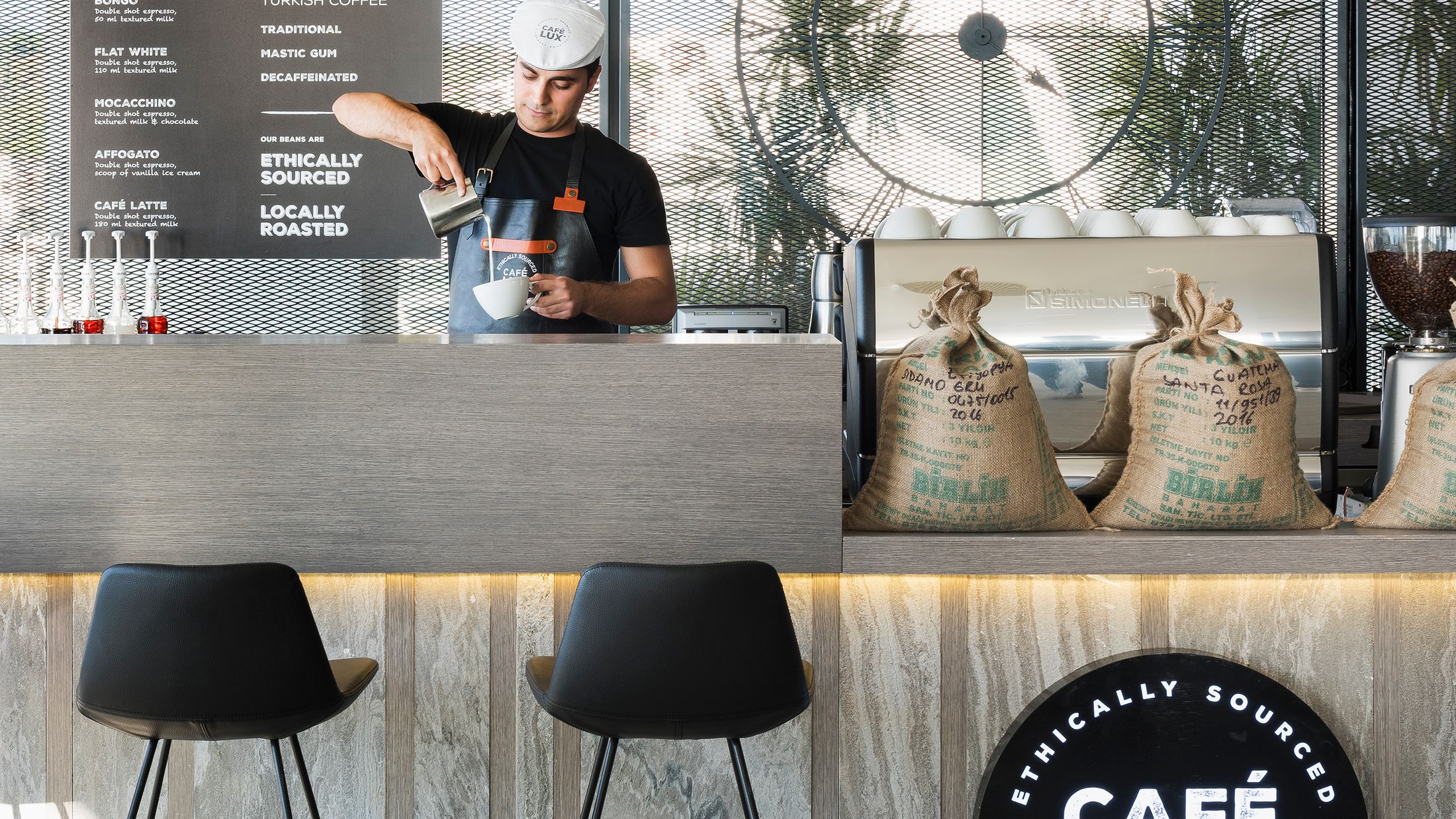 The Bar
Contemporary décor and modern art provide the setting for excellent cocktails served up by professional mixologists, as well as an extensive list of fine wines.
Beach and Pools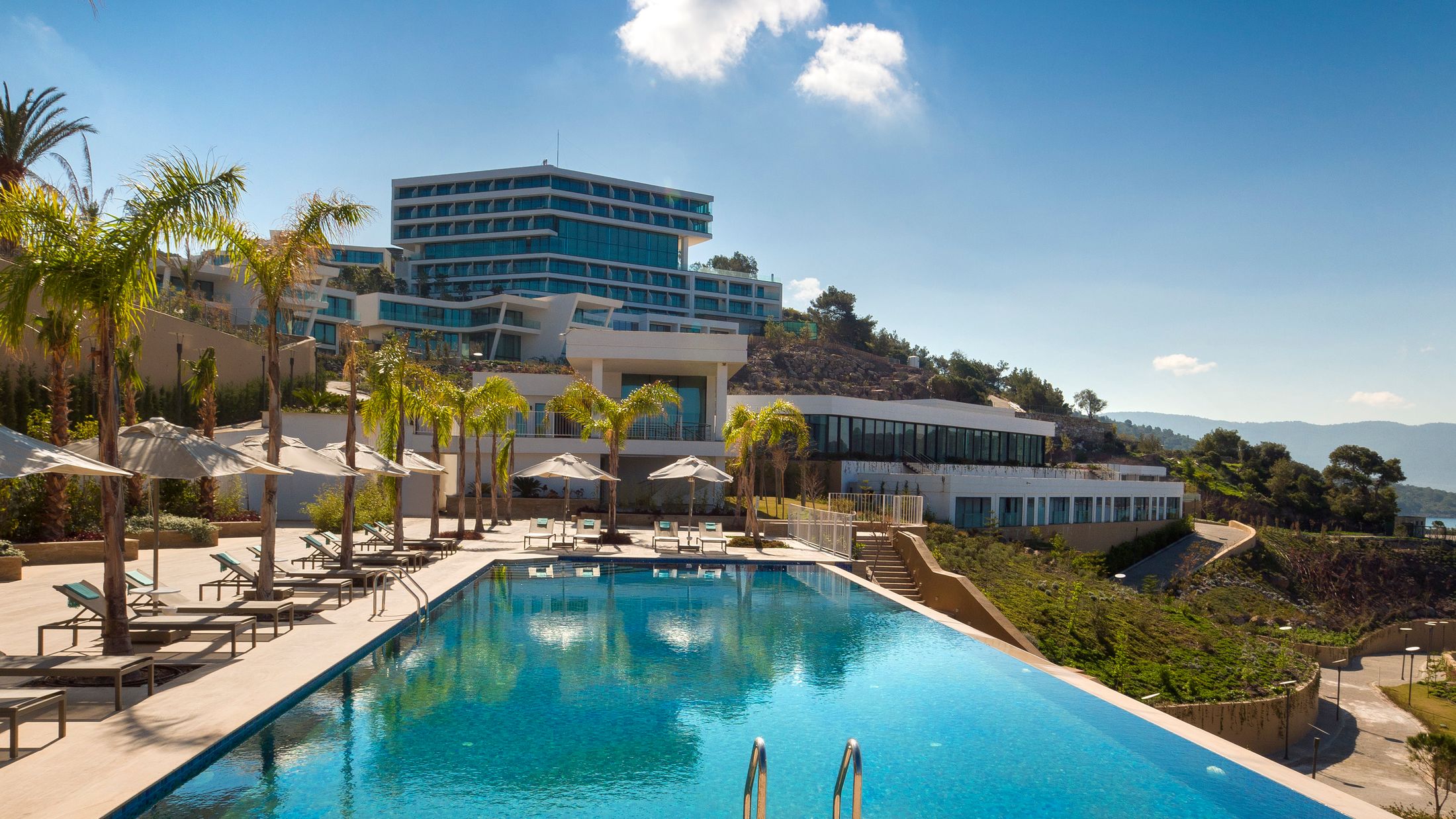 Swimming Pool
An elegant outdoor swimming pool area is ideal for those wanting to relax. Some room options also include a private swimming pool.
Beach
Set on the beach, LUX* Bodrum offers guests loungers, towels and parasols, as well as a Beach Bar serving lunch and dinner, with live DJs playing after sunset.
Spa and Wellness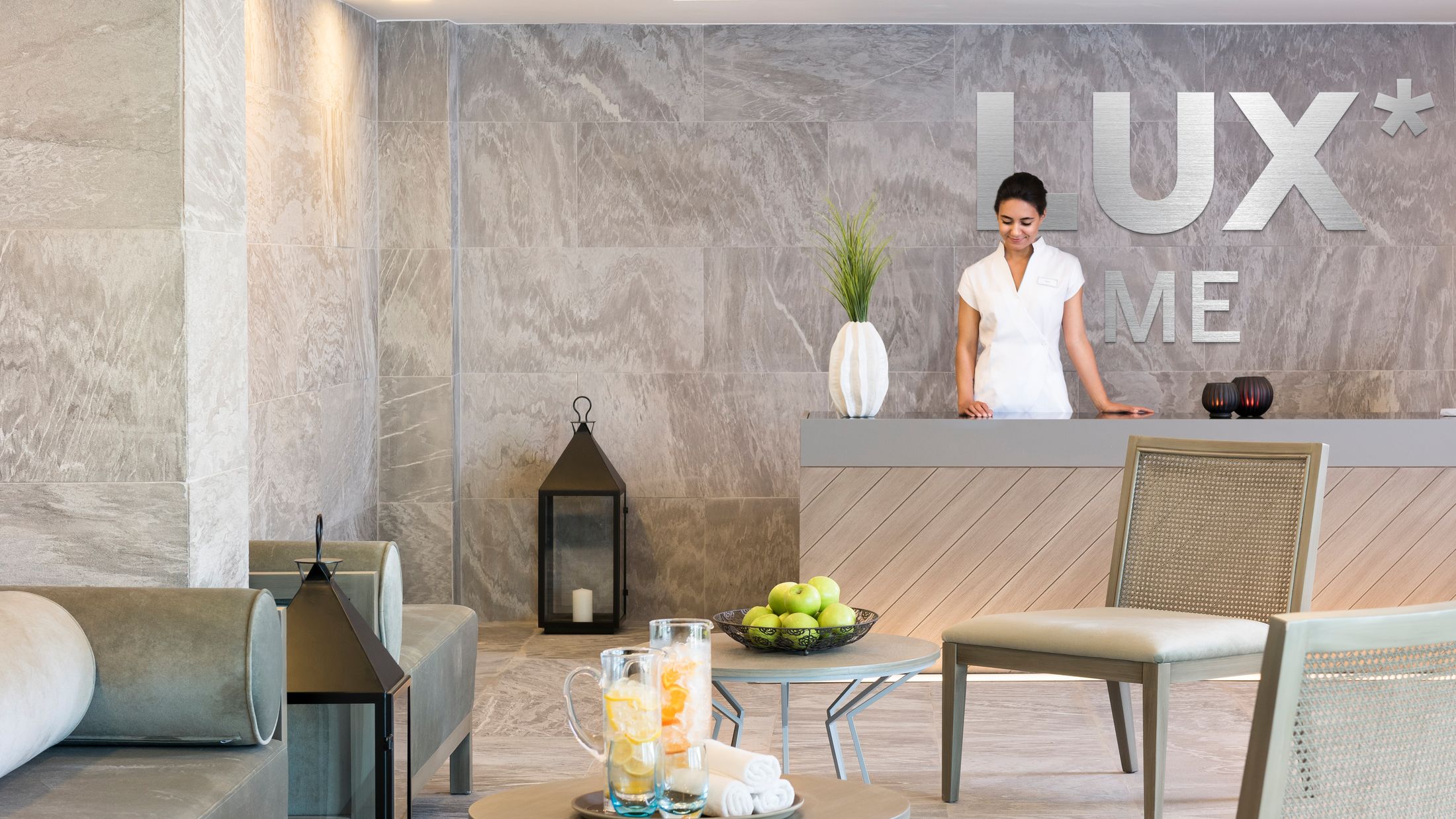 LUX* Me Spa
A luxury spa provides a range of treatments throughout the day, with signature wellness concepts designed by expert therapists.
Fitness Area
Guests can keep fit on their holidays in the well equipped fitness area, as well as enjoying outdoor yoga and pilates classes.
Activities and Entertainment
Water Sports
If you're feeling active you can enjoy a range of water sports and activities from the beach. LUX* Bodrum Resort & Residences also has yacht anchoring space.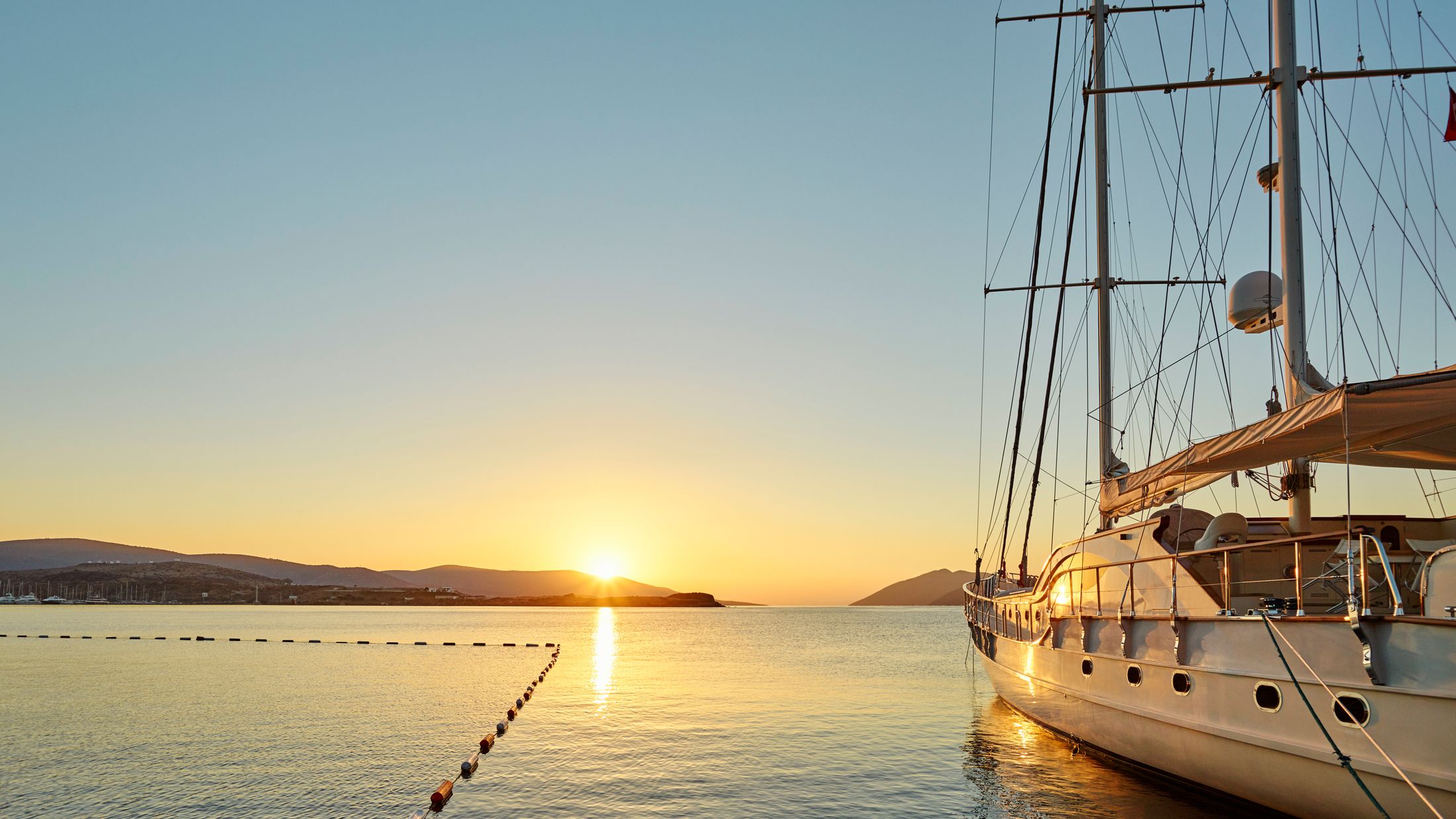 Land Activities
Basketball, pilates, yoga, an indoor and outdoor fitness area and more are all available at LUX* Bodrum.
Children's Facilities
The children's playground is ideal for little ones wanting to run around and make friends as they enjoy the fresh air. Staff are on hand to ensure children remain safe and are kept entertained.
A babysitting service is provided by experienced staff in the evenings so the adults can enjoy a well deserved evening off (24 hours noticed required, charges apply).
About the location
Bodrum is one of the most cosmopolitan resorts on the Aegean Sea. Historic landmarks, stylish boutiques and whitewashed houses rise in tiers on the hillside. They overlook two bright blue bays and a medieval Crusader castle built by the Knights of St John.

The ancient heart of the Bodrum Peninsula, this vibrant town features a harbour where traditional gulets and cruise boats await their captains. There's also a modern marina filled with elegant yachts. The covered bazaar-style lanes of Kale Caddesi lie beneath the castle walls. Here, you can barter for bargain leather, beachwear and textiles while Turkey's infamous blue-glass nazar boncugu amulets stare out from stalls and shop windows.

By night, you're spoiled for choice with chic cocktail bars and restaurants. Enjoy the sea views from the eateries that line the marina and the waterfront, or head for those tucked away in cute lanes.

There are some gorgeous beaches in Bodrum, too. Gumbet Beach is a kilometre of fine gold sand and Bitez Beach lines up sunloungers and parasols between the promenade and turquoise sea.
Transfer time
20 minutes from Bodrum airport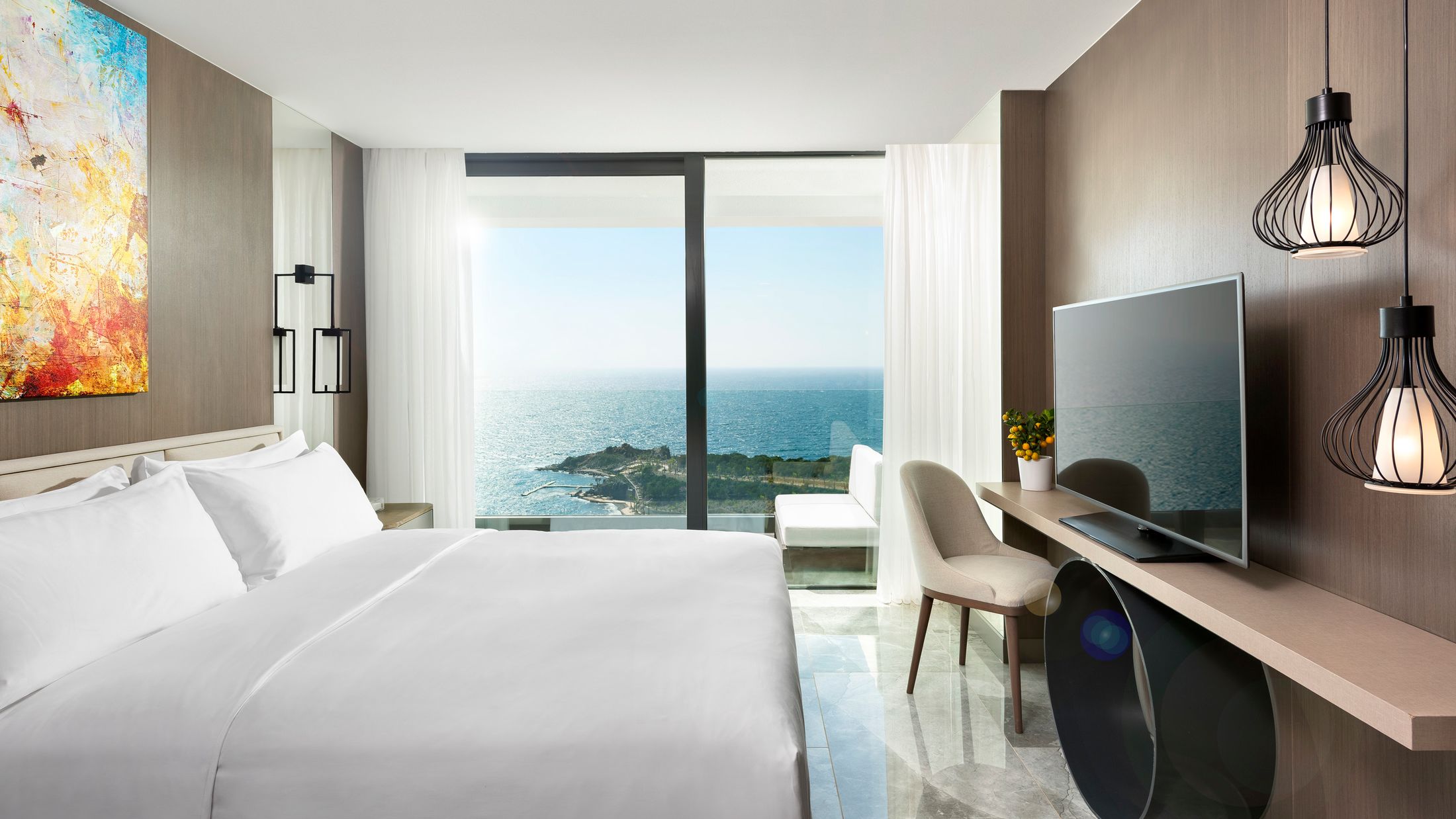 Sea Front Room
Sleeps up to 2 adults
Contemporary interiors and large windows combine to create a bright, spacious room with all the amenities you need for a relaxing stay. Soak in the views of the landscaped gardens and Aegean Sea from your balcony.
28m²
Deluxe Sea Front Room
Sleeps up to 2 adults
Panoramic views over the sparkling Aegean bring you optimum luxury. The large windows ensure the room is light and airy, while you can also enjoy all the amenities you need for a comfortable stay.
34m²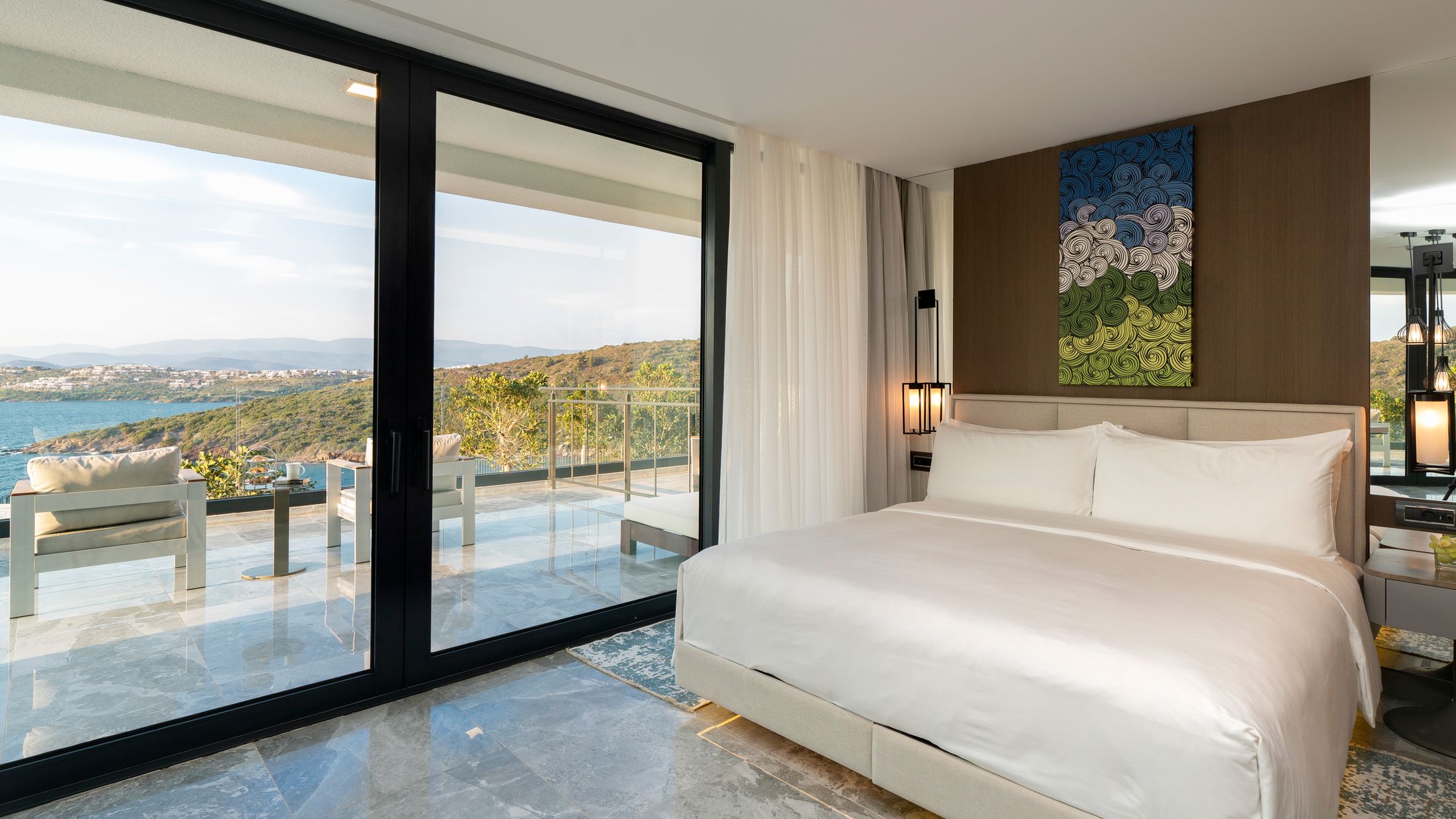 Terrace Sea Front Room
Sleeps up to 2 adults
The large outdoor terrace is the perfect place to relax as you marvel at the views over the Aegean. Flat screen TVs and high speed WiFi ensure your stay is comfortable, while the elegance of the interiors will make you feel at home.
28m² + 16m² terrace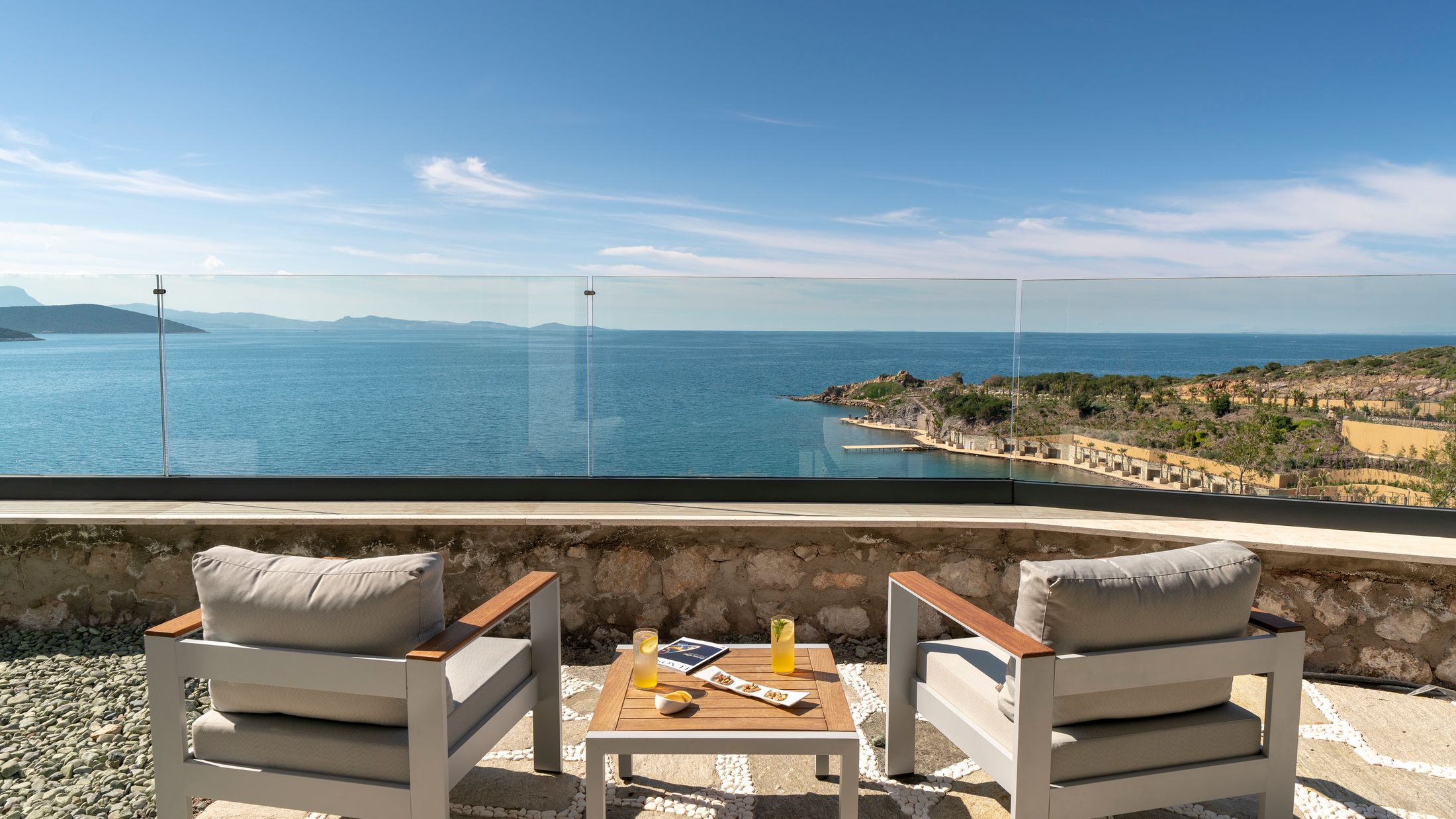 Junior Suite
Sleeps up to 3 adults
A whole wall of floor to ceiling windows offers panoramic views of the sea from the Junior Suite. Your balcony is the perfect place to relax, while inside you can enjoy plenty of space, the latest technology and all the extras you need for a comfortable stay.
56-75m²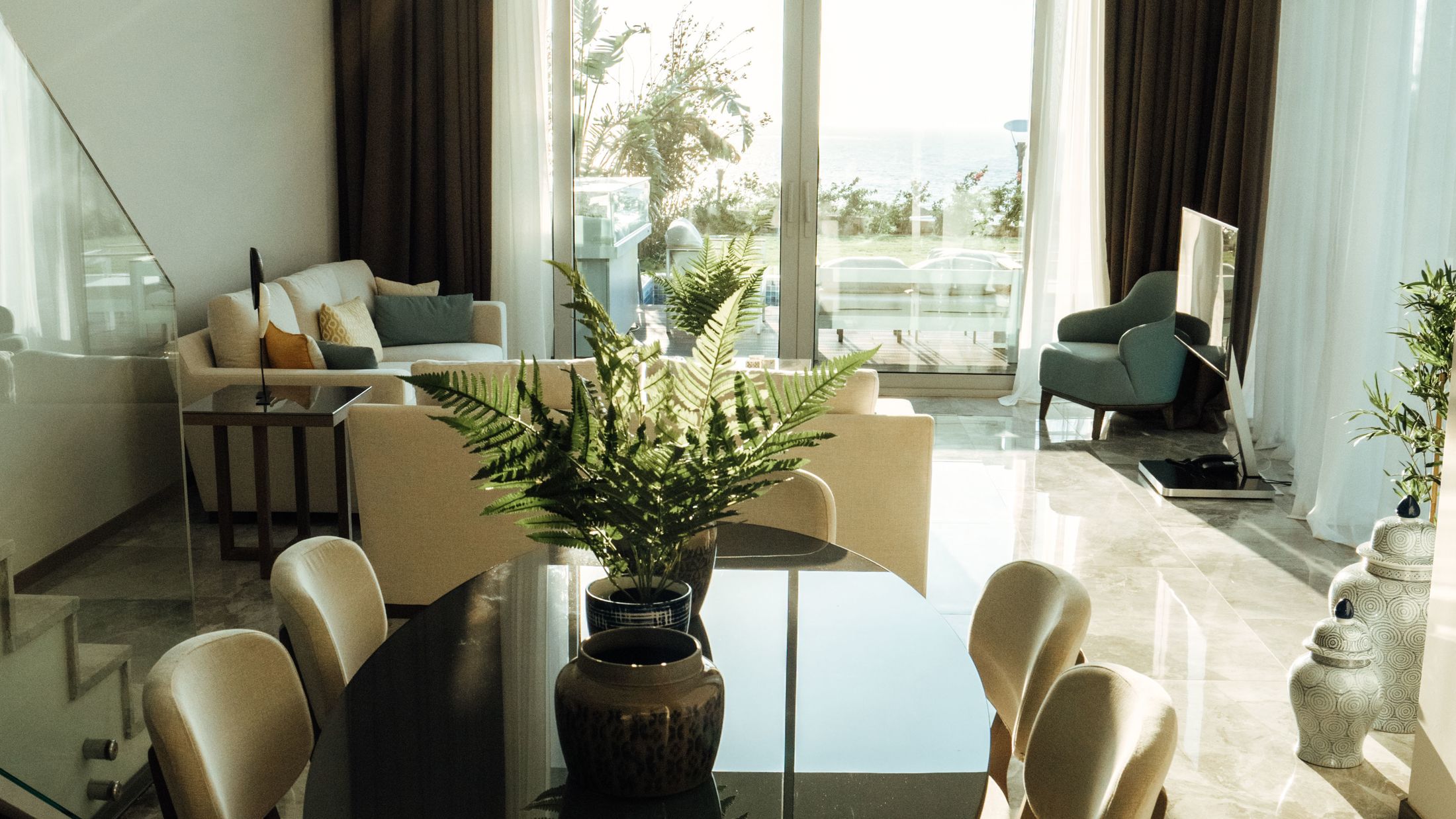 Terrace Residence
Sleeps up to 4 adults and 1 child
A luxury private villa with three bedrooms is perfect for families and groups of friends, with incredible vistas over the Aegean Sea from floor to ceiling windows. A fully equipped kitchen and en suites for every room add the finishing touches to a relaxing stay.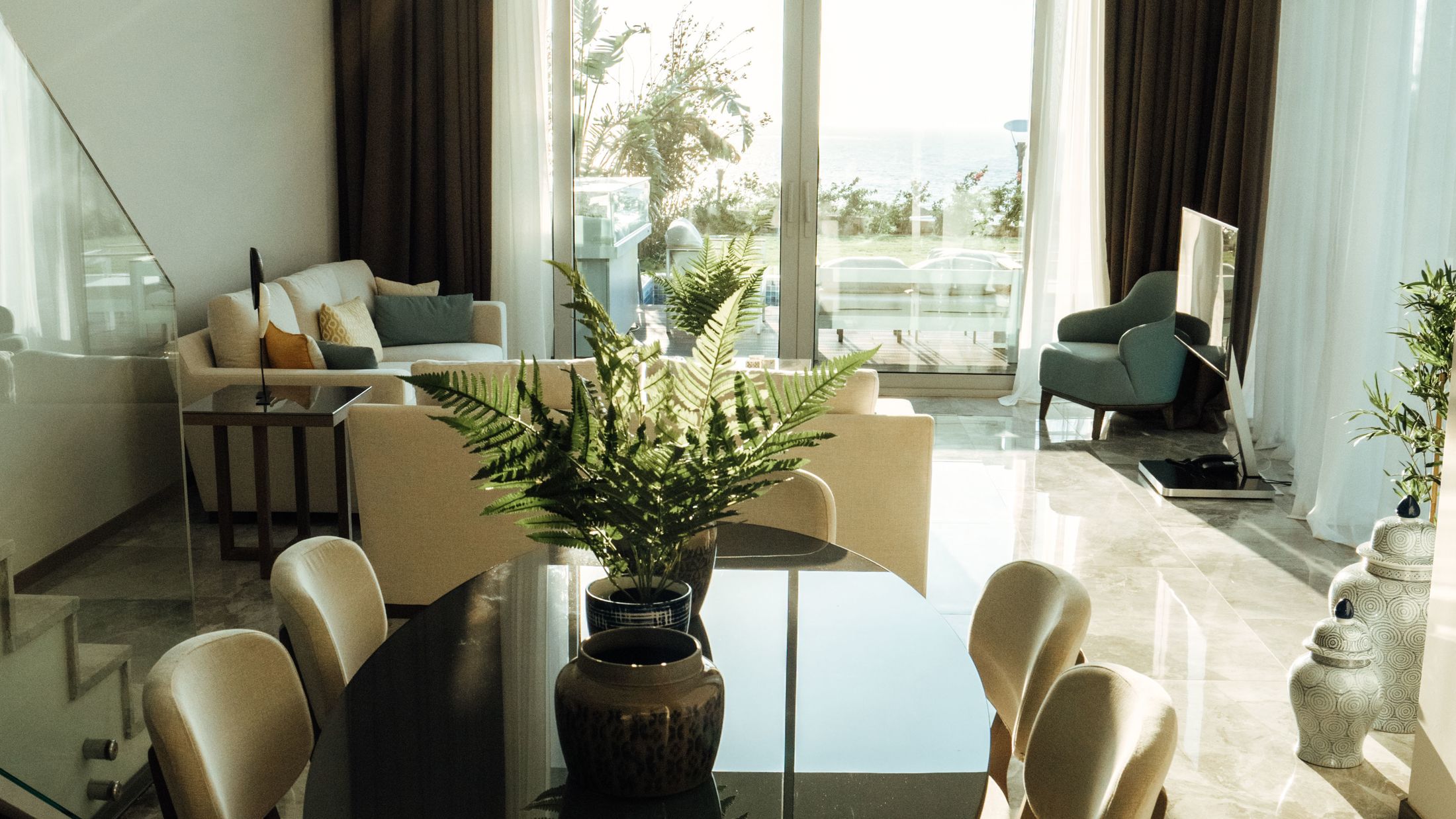 Garden Residence
Sleeps up to 8 people
A large, elegant private villa, the Garden Residence has four bedrooms, each with its own en suite bathroom. Large windows give the rooms a bright and airy feel, with a fully equipped kitchen and plenty of space for everyone.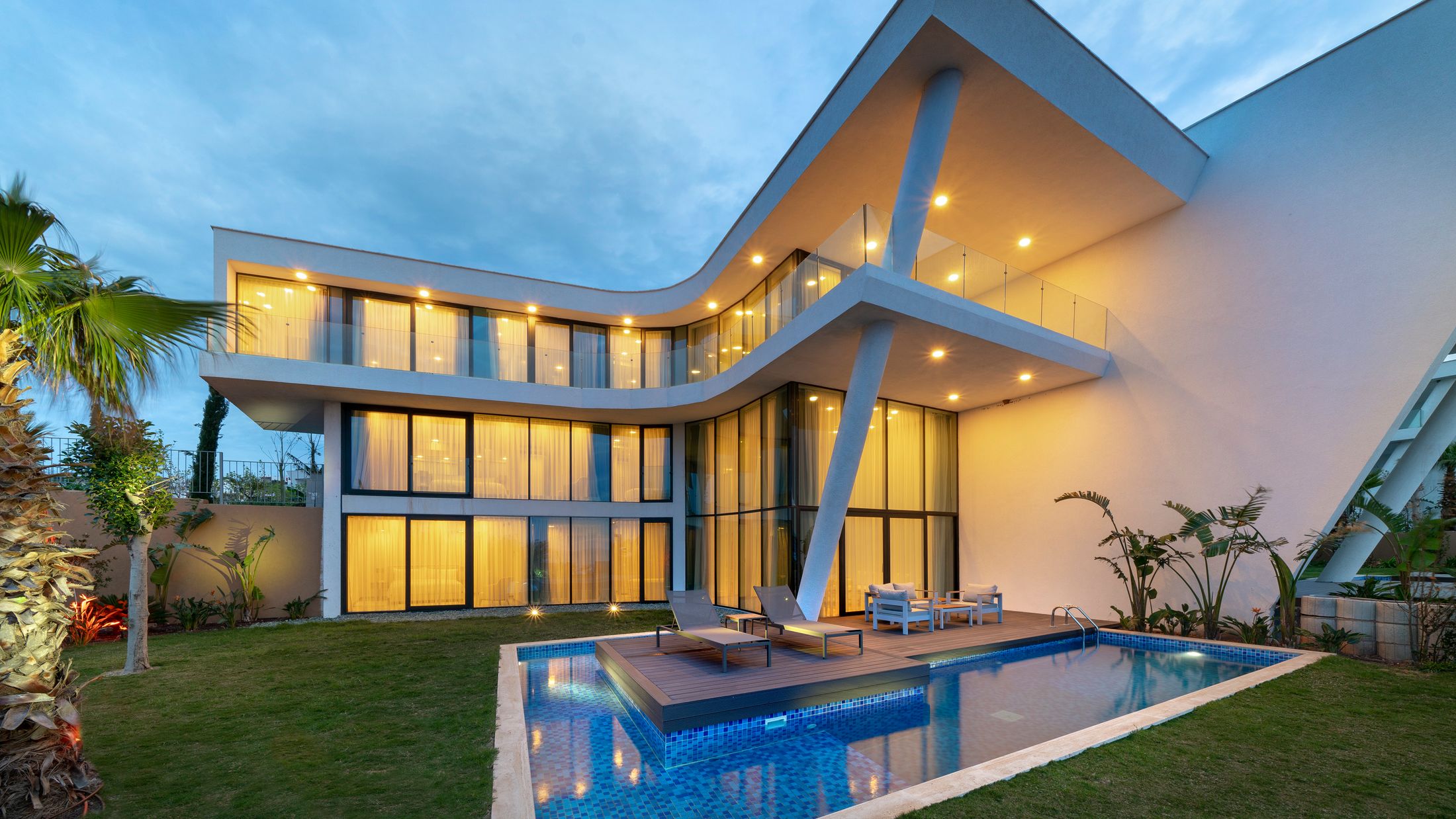 Pool Residence with Garden
Sleeps up to 8 people
Bright and elegant, with contemporary interiors and plenty of space, the tranquil Pool Residence offers four en suite bedrooms and a fully equipped kitchen. The garden is green and spacious, with its own private swimming pool.
Sovereign Experiences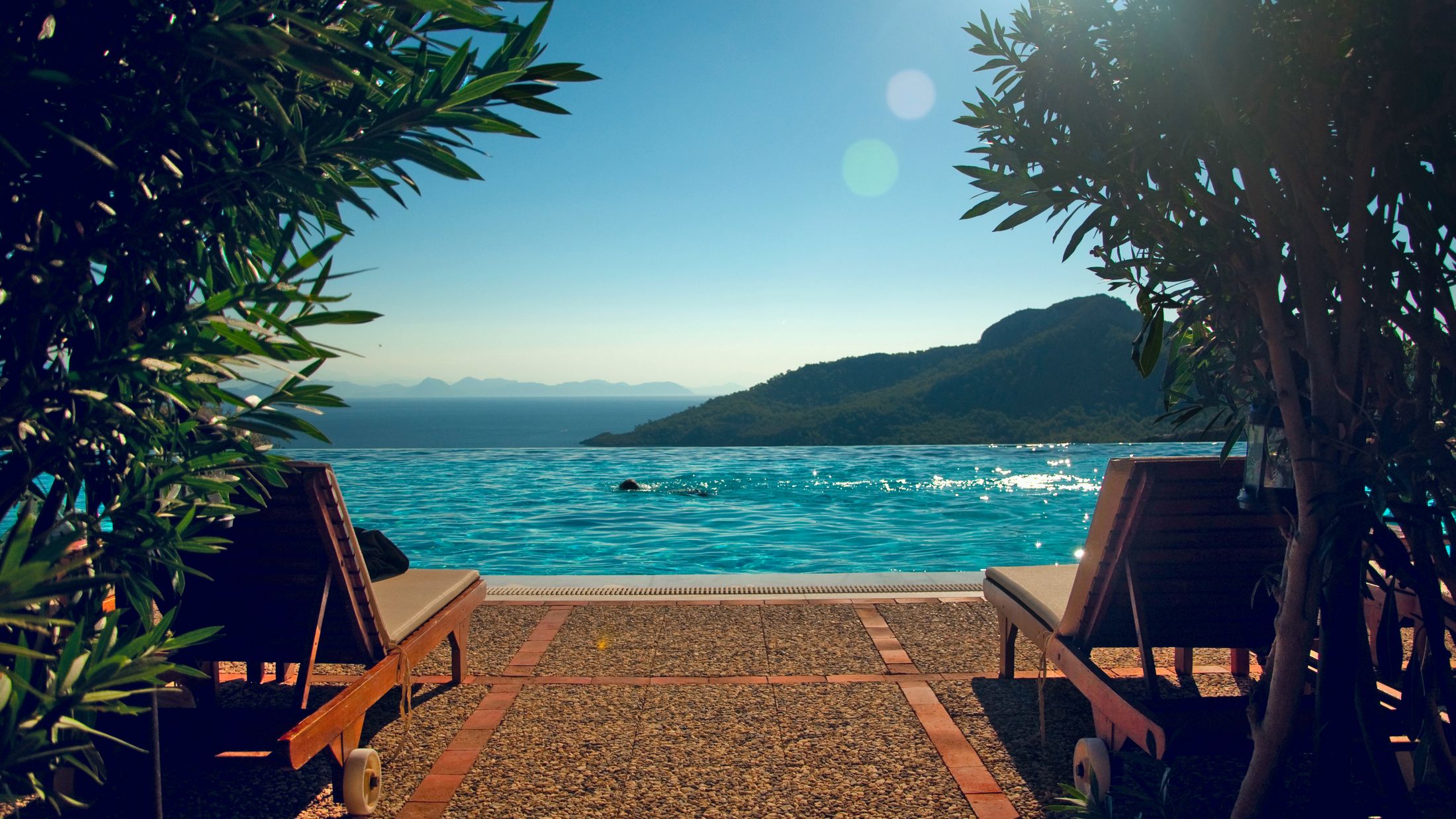 Enjoy 2 nights in a junior suite at the luxurious Dionysos Hotel - from £499 per person
Enjoy al fresco dining on the terrace, world-class views from the pool or take part in wine or olive tasting in the beautiful mediterranean sunshine. Free transfers will pick you up and drive you to the Dionysos Hotel and you will also enjoy free transfers back to Dalaman airport.
View the Dionysos Hotel
Stay longer for less
Stay between 7 - 10 days and save up to 25% discount on the hotel price
Stay between 11 - 20 days and save up to 30% discount on the hotel price
Stay between 21 or more and save up to 35% discount on the hotel price
The above discounts are based for stays between 01 April - 31 October 2019.
Please note not all offers are combinable.
LUX Combo special offer
Save up to 30% discount per person per night for combined stays in two or more LUX* Resort hotels in Mauritius and or Reunion Island and or Maldives and or Turkey for holidays between 01 April - 31 October 2019.
Please note not all offers are combinable.
Honeymoon and Wedding offer
Guests receive on arrival a fruit platter, one romantic dinner (drinks not included), one bottle of sparkling wine, one honeymoon cake and one cooking class. For stays of 10 nights or more guests receive an additional one free 45 minutes massage per adult per stay to be taken at the spa between between 10am - 16:00.
Please note not all offers are combinable.

Based on 143 traveller reviews
Travellers Ratings
What to expect
Reviews
VickyM_9, Oxfordshire
Nov 03 2018
I am not gong to say much about this hotel. All I can say is if you have been to other Lux resorts and think you will try this one because of how amazing the others are - don???t!! The only thing it...
I am not gong to say much about this hotel. All I can say is if you have been to other Lux resorts and think you will try this one because of how amazing the others are - don???t!! The only thing it has that the other Lux resorts have is the name! Goksel and Baris were the only positive aspects of this holiday - they were great
View full review
omer o,
Sep 19 2018
chef Zulfikar is a beast in kitchen! best meat and sea food around the area! we had the most relaxed time in bodrum, lovely crew, great atmosphere, drinks and food are delicious!! everyone must stay...
chef Zulfikar is a beast in kitchen! best meat and sea food around the area! we had the most relaxed time in bodrum, lovely crew, great atmosphere, drinks and food are delicious!! everyone must stay there at least couple of days
View full review