Located just moments from ocean, desert and luxury shopping malls
An authentic Hammam offers the ultimate relaxation
A fantastic restaurant serving delectable dishes for breakfast, lunch and dinner
Stroll through 65 acres of exotic gardens
The One&Only Royal Mirage Residence is nothing short of paradise. Set amongst 65 acres of lush manicured lawns and fringed with bowing palm trees, the Arabian inspired resort evokes feelings of majesty and decadence.
A short 30 minute drive from the airport will bring you to the Royal Mirage Residence. Situated between arid deserts, topaz waters and a bustling metropolis it is perfect for families who enjoy day excursions and for couples who want to repose in bliss. Opt for a luxurious massage at the One&Only spa, head to the putting green for a round of golf or explore the magnificent city of Dubai before finishing the day at the hotel's exquisite restaurant.
This immaculate resort is comprised of 48 rooms and suites, all of which offer uncompromised luxury. Choose to stay in the Residence Prestige Room for impressive views of the Arabian Gulf. Large French doors open onto immaculate gardens, where you can stand back and admire the stunning views from your private balcony or terrace.
Facilities
Bars & Restaurants
The Dining Room
Decorated with intimacy and opulence in mind, The Dining Room is the perfect setting for a romantic meal for two. Open for breakfast, lunch and dinner, an array of authentic and international dishes are available. Each is comprised of only the freshest ingredients.

Open: 06:30 - 11:30, 12:00 – 15:30 and 19:00 – 23:30.

The dress code for this restaurant is Casual Elegance. Sleeveless t-shirts, shorts and flip flops are not permitted.
The Library Lounge
Unwind with a digestif in The Library Lounge. A menu of alcoholic and non-alcoholic drinks is available. Find yourself tempted by the impressive cocktail list for an ideal way to spend the rest of your evening.
Spa & Wellness
One and Only Spa
Relax and indulge with a pampering at the luxurious One&Only Spa. Expert masseuses will tailor treatments to suit your needs, ensuring full relaxation of your mind, body and soul. The traditional Hammam offers an oasis of tranquillity and rejuvenation. Spend your morning here for an authentic steam bath experience and choose from a number of traditional treatments and massages to achieve incomparable relaxation.
Fitness Centre
One&Only have a fully equipped fitness centre for you to use at your leisure.
Activities & Entertainment
Sports
With tennis, volleyball and basketball courts free to use, as well as a putting green, there are a number of ways to keep active on your trip.
Water Sports
For those who are a little more adventurous, opt for a day of water sports. A variety are available at the One&Only Royal Mirage Residence.
The One&Only Royal Mirage Residence can be found nestled along Dubai's golden Jumeirah Beach shoreline. It's within easy reach of the city centre via the monorail, where you can enjoy a huge range of activities, from aquariums and water parks to shopping, ice skating and even skiing.

Spend your days on the beach or book excursions into the desert, city or Arabian Gulf. In the evenings, there are some fantastic bars and restaurants to choose from. Enjoy Michelin starred menus before watching the city lights from a rooftop bar, cocktail in hand.
Transfer time
Transfer time from Dubai airport is 30 minutes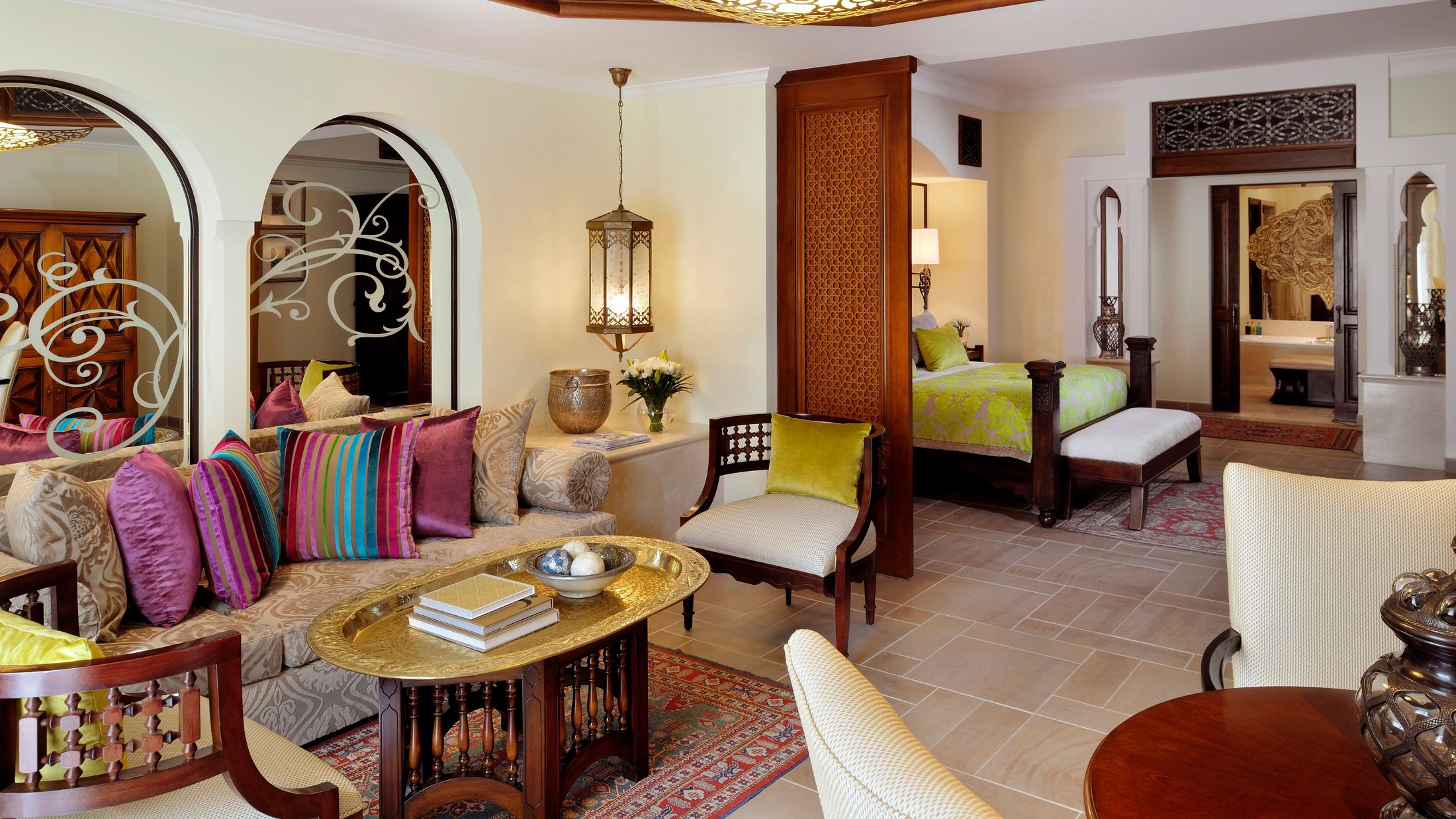 Residence Junior Suite
Max 2 adults, 1 child
Residence Junior Suites measure 85m² and feature an impressive king size bed on a raised platform leading down to a living area with a dining table and 'Majlis' style seating, bathroom with a bathtub and a separate shower.
58m²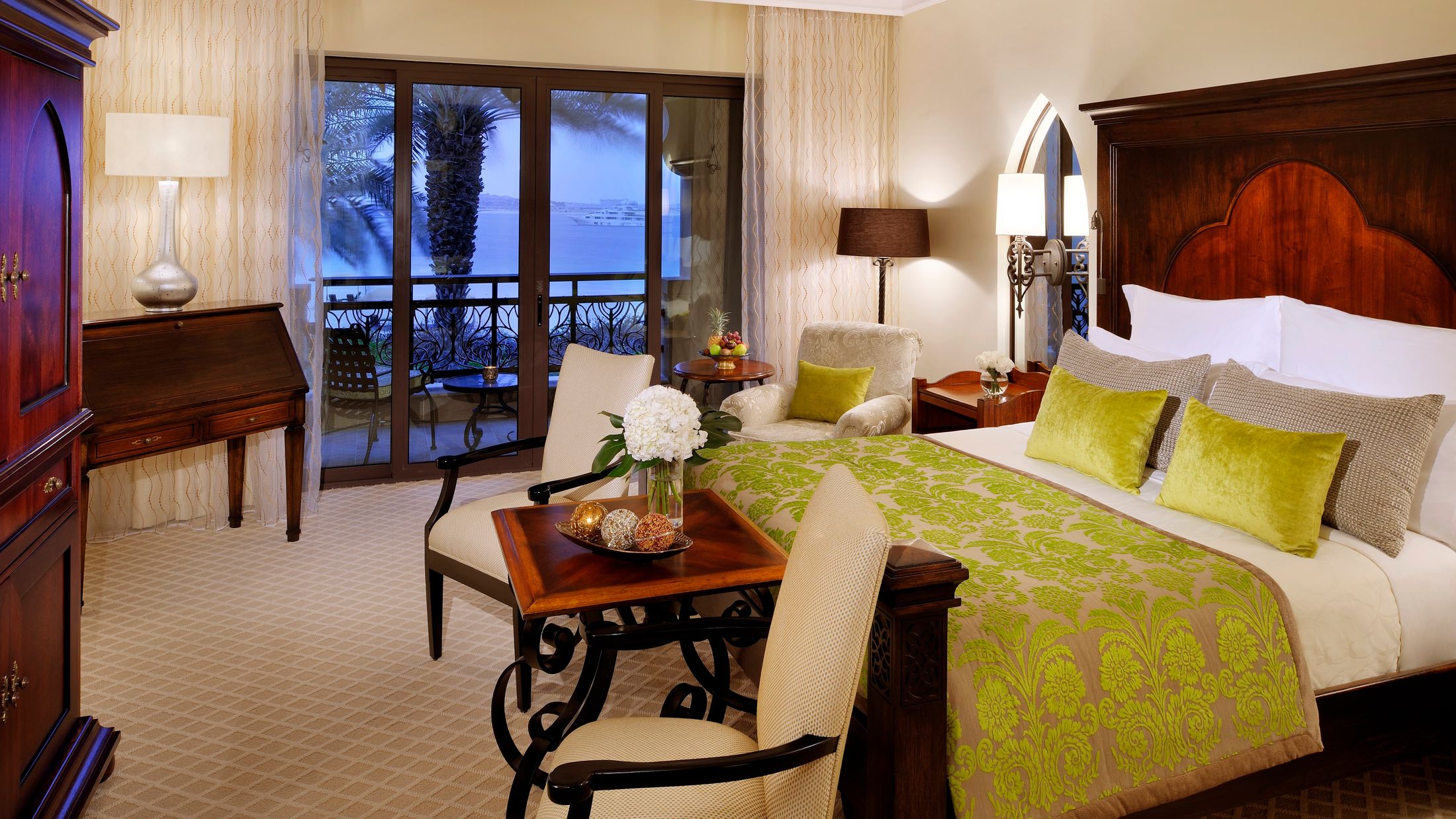 Residence Prestige Room
Max 2 adults, 1 child
Residence Prestige Rooms measure 58m² and offer wonderful views over the scented gardens, the pool and the Arabian Gulf beyond. Decorated in a traditional Oriental style the rooms feature a king size bed, bathroom with a bathtub and a separate shower, balcony or terrace, WiFi, satellite TV and safe.

58m²

Based on 960 traveller reviews

96% of travellers recommended this hotel
Travellers Ratings
What to expect
Reviews
"
Supposed to be an authentic Hammam
johannesvd, Dubai, United Arab Emirates
Aug 29 2020
It was my birthday and i was gifted an hammam experience at the spa at the ond and only Royal Mirage. It is a beautiful venue. The mansger was very friendly and nice..the other reception staff...
It was my birthday and i was gifted an hammam experience at the spa at the ond and only Royal Mirage. It is a beautiful venue. The mansger was very friendly and nice..the other reception staff ignored me. The dressing room was the same as in any golfclub. I was taken to a private hammam room. The maseur spoke in monosyllables and was washing a piece of meat,which was me. Then he left me with the soap on my body to lie in the steam and supposedly relac. First the music was too soft and then too loud and then low again.? He came back and i asked him what was next and barely got a reply. This was where i gave up and left. The manager tried to supply another masseur,but I had enough . Disappointed with such a good hotel.
View full review
Laughing_boy1959, Dubai, United Arab Emirates
Aug 17 2020
My wife and I booked a room at this hotel and before we checked in we had a room upgrade.. This hotel is spectacular, the rooms are fantastic and the staff are so accommodating, we thoroughly enjoyed...
My wife and I booked a room at this hotel and before we checked in we had a room upgrade.. This hotel is spectacular, the rooms are fantastic and the staff are so accommodating, we thoroughly enjoyed our stay during these unprecedented times, this hotel is most highly recommended, we hope to stay again before we leave Dubai👍
View full review