Two stunning swimming pools, one with waterfalls and hot tub.
Four varied dining options
Beachfront property, set in 20 acres of lush tropical gardens
Suitable for couples and families
Occupying an enviable position at the southern end of beautiful Grand Anse Beach, Radisson Grenada is the perfect escape for couples and families seeking a peaceful and relaxing holiday.
There are two swimming pools to choose from, the square Sunset Pool framed by loungers and white parasols, and the larger Oasis Pool complete with wonderful waterfalls and hot tubs. Rooms here are light and airy and all have a private balcony or terrace – with either a garden or sea view. For days when you wish to be more active, there are many complimentary watersports including snorkelling, windsurfing, kayaking and scuba diving ( complimentary 1 hour per room per day), tennis courts and fitness centre.
Rooms are spacious and private, and are available with either one king size or two queen sized beds. If you wish to be as close to the beach as possible - we'd recommend choosing a beachfront suite, with its additional living area and a balcony hammock.
Facilities
Wellness
Activities
The temptation might be to simply go from pool to beach and back again – but if you are wanting to be more active at times, you can also soak in one of two cold tubs or work out in the air-conditioned fitness center. For outdoor fun, try PADI-certified scuba diving, snorkeling, kayaking, and tennis, all available on site. Traveling with kids? Keep them engaged with indoor activities like table tennis, foosball, and billiards.
We'd recommend a visit to the islands CAPITAL St George's, home to the famous Fort George which was built by the French in 1705 and offers lovely views over the harbour, and some wonderful local restaurants.
Beach and Pool
Grand Anse Beach
Radisson Grenada Resort has a vast 20 acre site, right on the sands of Grand Anse Beach. The sand is white and powdery, the water bright turquoise, and there are not shortage of activities to enjoy such as water skiing, parasailing, kayaking and snorkelling.
Swimming Pool
There are two swimming pools to choose from. The Sunset pool is square and flanked by comfy loungers and parasols - perfect for those lengths. The second is the freeform Oasis pool with delightful waterfalls, and serviced by the Oasis pool grill, who can provide refreshing drinks and favorites such as pizzas, salads and the catch of the day.
Restaurants and Bars
Choose from four dining areas
Bamboo Lounge

- Coffee and cocktails with a light snack menu.

Tradewinds restaurant - Buffet and al la carte overlooking Grand Anse Beach
Oasis Pool Grill

- Pool side dining - favorites such as pizza, salad and the grilled catch of the day

Sunset beach Bar - the perfect destination to sip a rum punch and gaze at the beautiful sunset.
For times when you really don't want to leave the comfort of your room or villa, then there is an extensive room service menu available - available 24 hours a day.
About the location
Grand Anse is quite possibly one of the most gorgeous beaches you will encounter. Powder white sand and turquoise waters. Despite its popularity, it is big enough to always find an uncrowded spot. There are a host of bars and restaurants to retreat to when the sun becomes too much or you can cool off with a variety of watersports that are readily available.
The Radisson is located at the southern end of the beach where it is a little quieter. We'd recommend walking the length of the beach early in the morning when its cooler – it takes around 30 minutes.
Transfer time
10 minutes from Grenada airport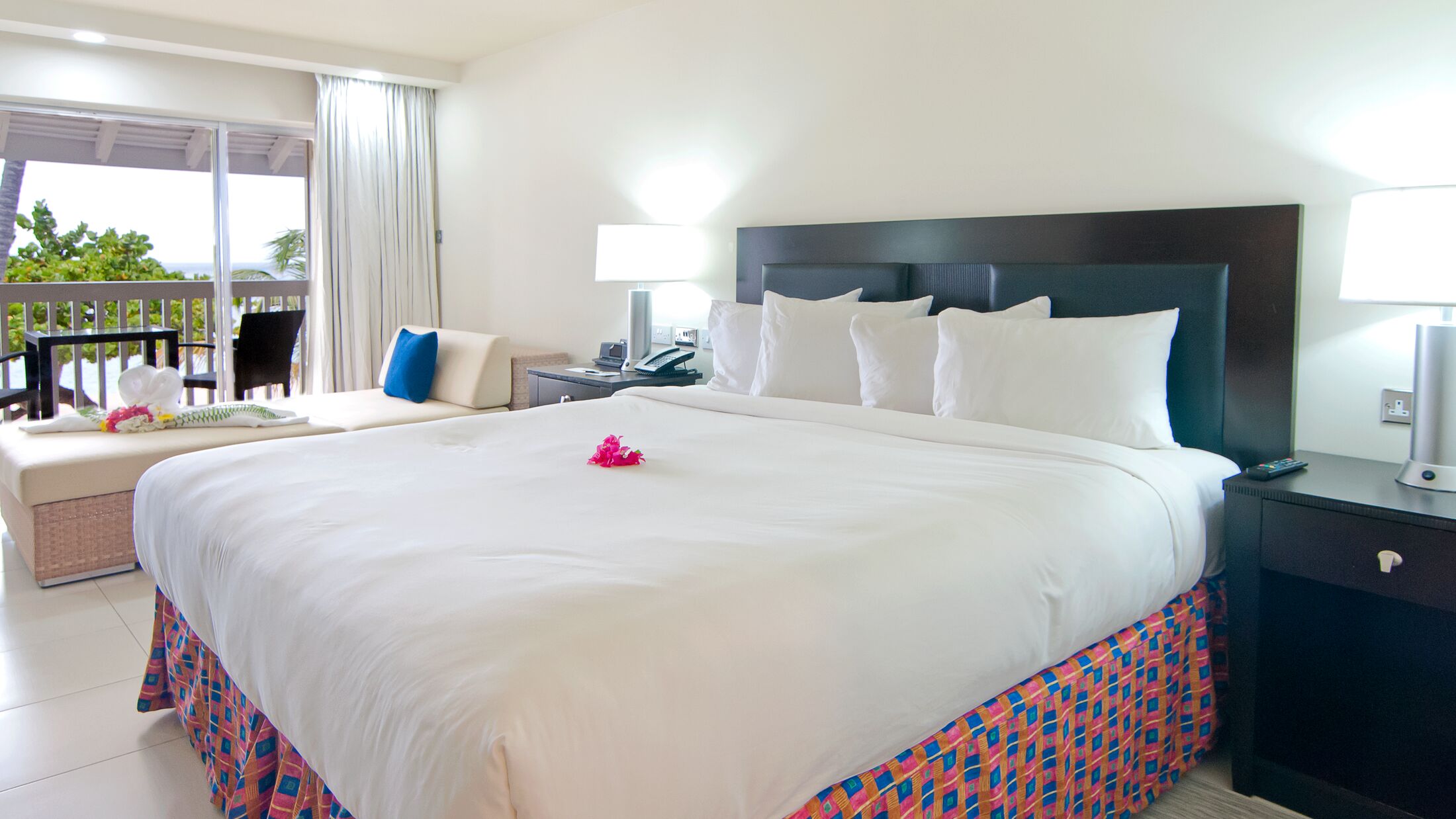 Radisson Grenada Room
max 2 adults and 2 child
Rooms are available with either garden or sea views - which can be enjoyed from your private balcony or terrace. Extra luxuries such as a pillow top mattress, an LCD TV, and free Wi-Fi ensure a truly relaxing travel experience, and a coffeemaker and room service provide easy access to refreshments. Each room category is available with either one king or two queen sized beds, and there is even the option to choose a room on a quiet zone floor for guaranteed tranquility.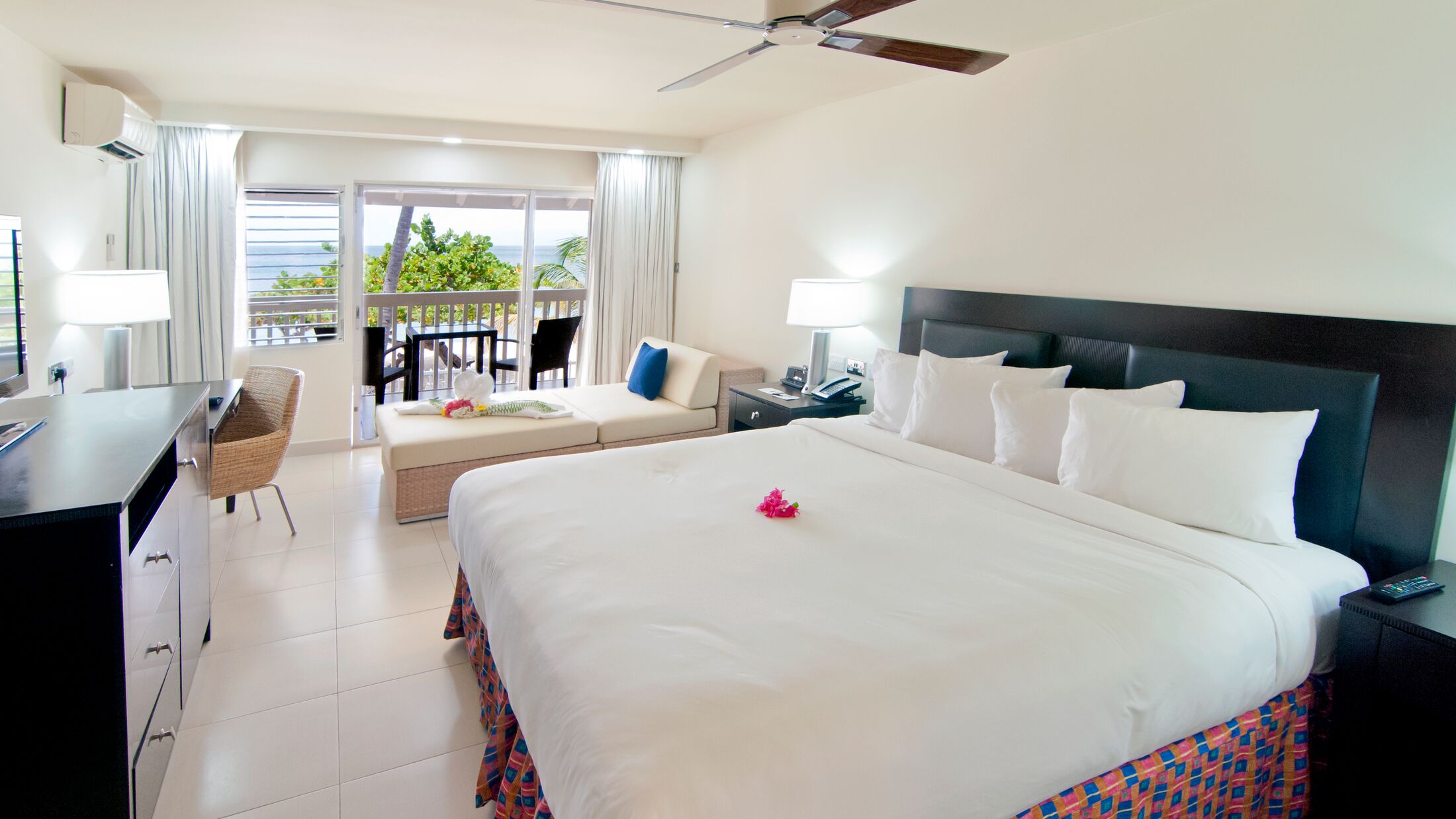 Radisson Grenada Suite
Max 6 people
One and two bedroom suites are available. Both have glorious sea views and large furnished balconies or terraces . Enjoy your private whirlpool, or unwind on your hammock - whilst taking in the amazing beauty of Grand Anse Beach .

Based on 2523 traveller reviews

72% of travellers recommended this hotel
Travellers Ratings
What to expect
Reviews
853katiel, London, United Kingdom
Aug 28 2021
We are a couple with a 1 year old baby and we stayed at the Radisson in July 2021. Unfortunately we had a bad stay at this hotel so much so that we checked out after 3 nights. On arrival at the...
We are a couple with a 1 year old baby and we stayed at the Radisson in July 2021. Unfortunately we had a bad stay at this hotel so much so that we checked out after 3 nights. On arrival at the hotel we went to our quarantine room in the quarantine block and started to settle in. The neighbours in the room next door were having a party, slamming their front door and running up and down the landing outside with a speaker box. We called the front desk as 1, we???re all supposed to be quarantining and 2, the noise was so loud that our baby couldn???t sleep but the lady on front desk didn???t seem interested. I asked if she could send someone over to our block and was told she???d try. The noise continued and the other guests were still charging up and down outside. I called back and was told by front desk that she couldn???t find security so nothing she could do???.not ideal. Those guests left the next day and it was quiet after that. On the 2nd day we were released from quarantine. I went to have a shower and there was no hot water and the little bit of water that was coming out of the shower head was literally a dribble of cold water. Another call to front desk. I asked if they could get through to maintenance and let me know when someone was going to come and fix the shower but the lady seemed disgruntled that this needed a follow up call back to us. We did get that phone call back from front desk, under sufferance and was told there???s work being done on the boiler but no timeline of when it???d be fixed. We all had to get showed with that dribble of water as it was not fixed before we went to breakfast. Breakfast at the restaurant was lovely and the staff in there were great and very accommodating. Moving on, my husband went to front desk to find out where our new ???non quarantine??? room would be and he was told there were no other rooms available and we were expected to stay in the quarantine room/block for the next 7 days even though we???d been released from quarantine. When he delivered this news to me I was livid. I got on the phone to the company we booked the hotel with and told them we needed to leave. The travel agent phoned the hotel to corroborate our story and got back to me to say we could leave so we did???.straight away. At that point the travel agent couldn???t confirm whether we???d be refunded for the remaining 7 days as the hotel manager wasn???t there and she didn???t work weekends but we were so desperate to leave that we were prepared to take our chances. We checked out about 60 hours after checking in. There were people checking in as we were checking out, I just felt sorry for them as they were completely unaware of the bad stay they were about to have at the Radisson. All the other staff that we came into contact with (that delivered items to our room or at the one time we had breakfast at the restaurant) were really friendly and helpful but the front desk staff were just diabolical. Terrible, terrible customer service and not ideal to have as the ???face of the company???. Miscellaneous For anyone needing quarantine food packages sent to a hotel we ordered through The Food Factory. The means were delicious and still hot on arrival and well packaged. Very reasonably priced. Their name on Insta is foodfactory473 and phone number is 1473 457 3663. You can see photos of the food and their menu on Insta. I highly recommend both cheesecakes lol. The food deliveries from The Food Factory were our only highlight of staying at this hotel. (They???re not affiliated with the Radisson and deliver food to all hotels as far as I know)
View full review
"
Air conditioning horrible
167darrelj, Pensacola, Florida
Aug 08 2021
I am suppose to be here a month working in the country but am so pissed off I could wait to leave before writing this. It all has to do with the damned WiFi air conditioning thermostat. It will do...
I am suppose to be here a month working in the country but am so pissed off I could wait to leave before writing this. It all has to do with the damned WiFi air conditioning thermostat. It will do what ever it wants one minute your freezing the next your boiling. I looked it up online and apparently it has a motion sensor so if your sleeping it will turn off and you wake up several times a night hot as hell and have to go over to the thermostat to make it come on again. I guess they save energy at the expense of my good night sleep. Never stay here again until they do away with this system. Thermostat brand is Verdant absolute garbage. To be fair everything else was fine. All the staff were great the food was wonderful. Just couldn???t sleep well
View full review