Wake up every morning to the gentle lapping of Lake Como
Enjoy unrivalled views of the Bellagio and the glorious Grigne Mountains
Spend sunny afternoons lazing on the private beach with a cocktail
Set your taste buds alight at one of the haute cuisine dining restaurants
With its grand high ceilings, art nouveau finishes and stunning surroundings, the Grand Hotel Tremezzo is so much more than just a hotel. It's a slice of history that is still every bit as spectacular today as it was the day it was built over 100 years ago. Set in five acres of lush tropical park on the shores of the magnificent Lake Como, you will be spoilt with incredible views at every turn. With the Bellagio to one side and the Grigne Mountains to the other, you can clearly see why this was the chosen spot for what would become one of Italy's plushest hotels.
From the second you step into the antique marble foyer, you will be treated like royalty. This family owned establishment hires only the creme de la creme of staff who will always be more than happy to go above and beyond to make your stay unforgettable. The haute cuisine dining venues are just as unique and special as the building that houses them. Offering traditional Italian flavours with contemporary gourmet twists, you'll be impressed time and again with each and every culinary delight.
Facilities
Bars & Restaurants
L Escale Fondue and Wine Bar
With its easy charm and prime location on the veranda, L'Escale is the perfect spot to dine while watching the sunset over the stunning Lake Como. The impressive menu offers an abundance of flavour packed delicacies, with expertly paired wines served alongside. Featuring over 350 exquisite bottles of red and white wines, some even older than the building itself, you'll struggle to choose just one.
La Terrazza Restaurant
Italian master chef, Maestro Gualtiero Marchesi, has created an iconic and exquisite menu alongside Executive Chef Osvaldo Presazzi. Combining traditional Italian flavours, the freshest local produce and the best culinary minds, this unique restaurant is ideal for foodies. Dishes are served on an ornamental terrace looking out at one of the world's most remarkable views.
T Beach
End your day with a cocktail in hand and a plate of sizzling meat or fish straight from the barbecue in this relaxed beach restaurant. Everything is cooked in front of you, so you can savour a perfect meal alongside a spectacular lake view.
T Pizza
Nestled into the lush green grounds of the hotel at the Piscina dei Fiori is an informal pizza restaurant. Handcrafted and baked to perfection in an artisanal wood-burning oven, you won't find tastier pizza in Lake Como.
T Bar
Chic yet traditional, this luxurious bar does contradiction very beautifully. Inside it's cosy, discreet and filled with old school charm. Out on the terrace you'll find a chilled atmosphere and of course, the hotel's famous lakeside views.
Beach & Pools
Pools
Swim on the lake, among the flowers or alongside the aromatic scents of the spa in one of the three swimming pools, each a turquoise jewel in the hotel's glittering crown.
Beach
Feel sand between your toes as you marvel at the lake before you at this beautiful beachy lido. Lined with luxurious loungers and parasols, you can relax in peace while attentive staff bring you cocktails and refreshments.
Spa & Wellness
T Spa
Contemporary and stylish with wonderful views across the lake, a trip to the T Spa is a must when visiting the hotel. Offering top of the range treatments from one of the world's most exclusive beauty providers, ESPA, even a quick trip here will leave you feeling like a million dollars. You'll also find a relaxing whirlpool, sauna and Turkish Bath ready and waiting for you to enjoy.
T Fitness Centre
The hotel's gym has three floors, each with a speciality: cardio, strength and functional, and each filled with state of the art machinery. Every level also looks out on the beautiful Lake Como so you can admire the views as you work out.
Activities & Entertainment
Watersports
Zoom across the pristine lake and get your adrenaline flowing with one of the many water sports offered here. With trained professionals on hand to help, you can spend an afternoon sailing, waterskiing, windsurfing, kitesurfing or canoeing to your heart's content.
Daytime Activities
Explore the hotel's amazing grounds and beyond on foot or by bike with flat trails around the lake, as well as many others which wind up the hills, giving you spectacular views of the lake and mountains at every turn.
Tennis Court
Make the most of the hotel's clay tennis court and free equipment to practice your backhand.
About the location
The Grand Hotel Tremezzo is located on the golden shore of Lake Como, with its own private area of the beach just waiting to be enjoyed. On the lake itself you can choose from a variety of water sports, or take boat trips to the surrounding towns. Winding around the lake and up into the hillsides are walking and cycling paths which will take you through emerald green forests and offer stunning views of this famously beautiful area of Italy.
Explore the little towns and villages with their colourful buildings, many shops and restaurants and friendly bars. Here you'll find manicured gardens, a few museums and art galleries and excellent Italian cuisine.
Transfer time
Grand Hotel Tremezzo is an hour and 30 minutes from Milan Malpensa Airport.
Deluxe Lake View Balcony
Max 2 Adults, 1 Child
Deluxe Lake View Rooms are located at the hotel corners with a balcony on each side. The main balcony has a table and chair and offers supreme views over the whole Riviera delle Azalee. The second French balcony looks out onto either the botanical gardens of Villa Carlotta on the north side or facing south to the Lenno-Villa del Balbianello. The bathroom enjoys a panoramic window as well as Jacuzzi® bath and a separate shower.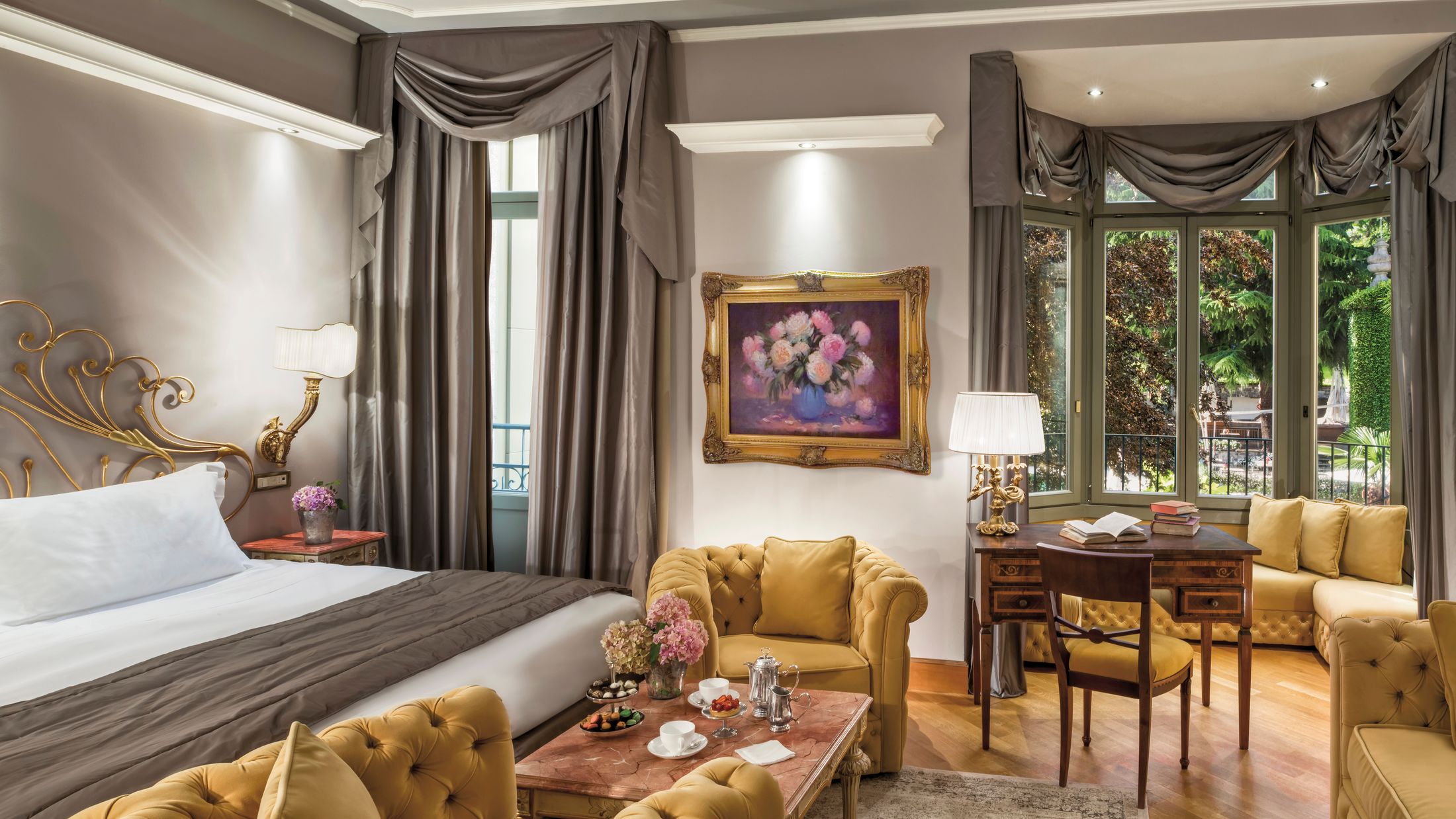 Deluxe Park View
Max 2 Adults, 1 Child
Deluxe Park View Rooms are located on the south corner of the hotel, with double windows that look out over the greenery of the park. The rooms feature precious marble bathrooms, rich fabrics, period furnishings and are ideal for a family of three.
Prestige Balcony Lake View
Max 2 Adults, 1 Child
Prestige Lake View Rooms are newly refurbished, combining elegant interiors and delicate colours. The stunning views from the balcony takes in the sights from Bellagio to Balbianello Point.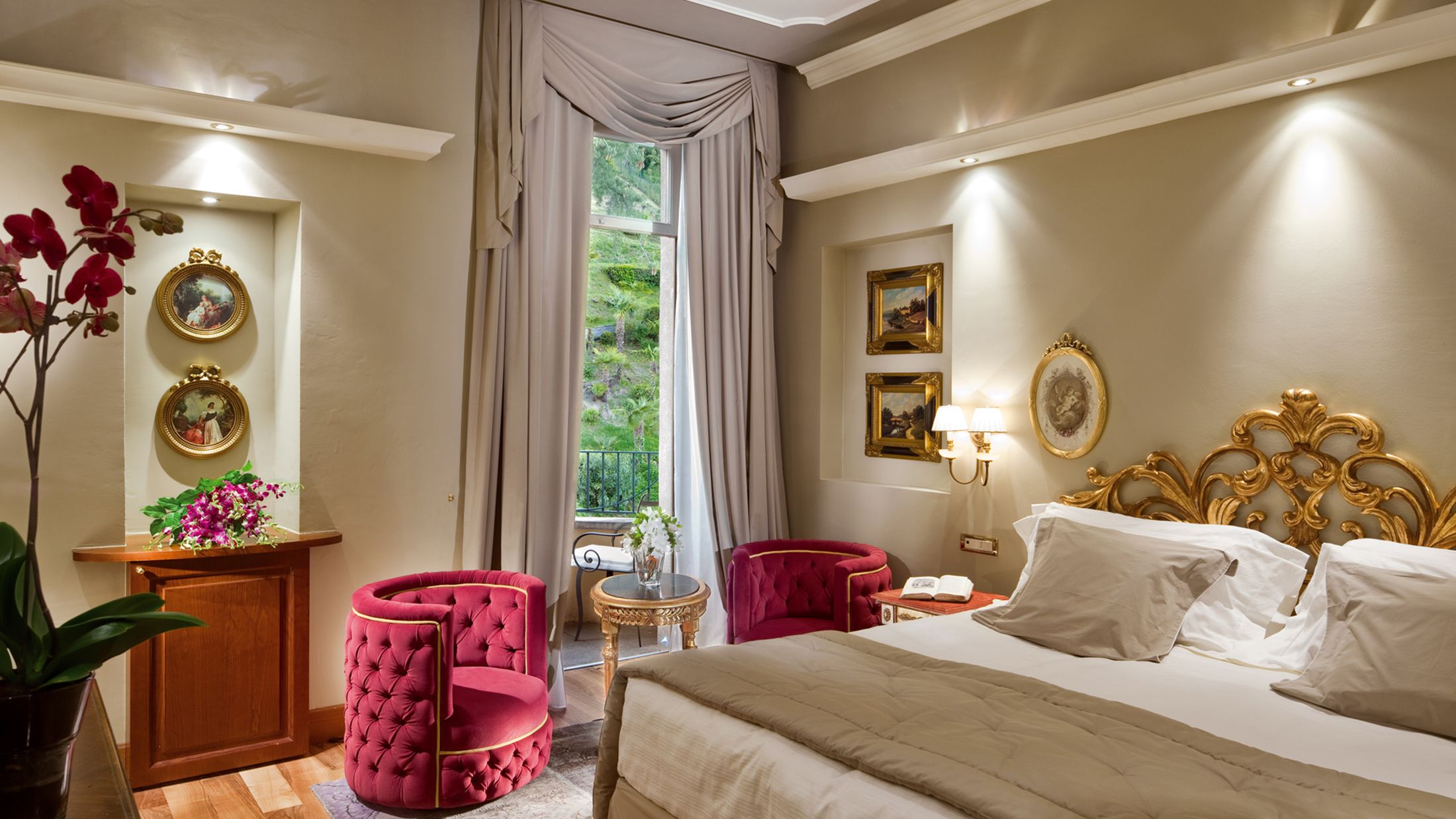 Prestige Room Park View
Max 2 Adults, 1 Child
Prestige Park View Rooms are newly refurbished, combining elegant interiors and delicate colours and has a large window that looks out over the greenery of the park.
Free nights
Stay 4 nights and pay for 3 nights or stay 7 nights and pay for 6 nights for holidays between 07 - 27 October 2018.
Please note not all offers are combinable.

Based on 1299 traveller reviews

92% of travellers recommended this hotel
Travellers Ratings
What to expect
Reviews
jennifertravelsyay, California
Dec 14 2018
Wow! What a wonderful property. It was our first time to Lake Como and we couldn???t have picked a better place to stay. The hotel and rooms have an opulent old world charm. Not my usual style...
Wow! What a wonderful property. It was our first time to Lake Como and we couldn???t have picked a better place to stay. The hotel and rooms have an opulent old world charm. Not my usual style preference but it was done well and felt luxurious and fresh. We ate at every restaurant over the course of our stay and everything was delicious, especially the creative take on ravioli at La Terrazza. The standard room was a generous size (though the bathroom was a bit of a squeeze) and we lucked out with a corner room with views of the lake and the lush back garden. The spa is simply amazing and we spent a good part of our days alternating between the steam room, sauna, cold mist shower, and relaxing room. Then popped over the infinity pool and hot tub. This is the kind of place where you can gladly stay all day just relaxing and enjoying all the different places to rest and take in the view. We already can???t wait to return.
View full review
Wedding_Photographer, Milan, Italy
Nov 24 2018
it's a magic place, just perfect for intimate and luxury weddings. Attention to details and passion of the people that work here create a incredible experience. I can't wait to work here again. One...
it's a magic place, just perfect for intimate and luxury weddings. Attention to details and passion of the people that work here create a incredible experience. I can't wait to work here again. One of the best places in Lake Como
View full review