A luxurious property built of lava stones
Spectacular views of the Tyrrhenian Sea
97 state of the art rooms
A daily buffet featuring a wide range of Italian flavours
Nested on the cliff of Vulcanello, one of the most beautiful parts of the Aeolian Islands, Therasia Resort Sea and Spa is an exclusive five star hotel offering a contemporary experience with a touch of Mediterranean romance. It is one of the best places to spend holidays in Vulcano.
With an unbeatable beach facing location, guests of Therasia Resort Sea and Spa can enjoy spectacular views from every angle of the property, which overlooks both the sparkling waters of the Tyrrhenian Sea and the majestic volcanic land surroundings. Inspired by the wild nature of the Vulcano Island, the hotel's 97 rooms feature both sophistication and authenticity. The interiors are carefully crafted using local materials such as lava stones, cotto tiles, cedar, and olive wood while the look and feel reflects warmth, luxury, and comfort.
For photography enthusiasts, the hotel holds perfect spots such as the charming steps down to the sea or the infinity pool side where sunset shots reveal the grace of the Aeolian Islands. And there is plenty for active guests as well. From Kayaking around Sicily and swimming in the volcanic pools, to discovering the local hidden shops of Vulcano, the list of things to do around the hotel is long but distinguished.
Sovereign does not accept children at this hotel, however this is not an adult-only property. The hotel has 94 rooms.
Facilities
Bars & Restaurants
I Grusoni
Conveniently located in the middle of Therasia Resort Sea and Spa, this celebrated restaurant offers a true gastronomy experience. The artistic colour blends and culinary fusions are inspired by modern trends while re-inventing the rich local tradition.

Open: 20:00 - 23:30.

The dress code is smart casual.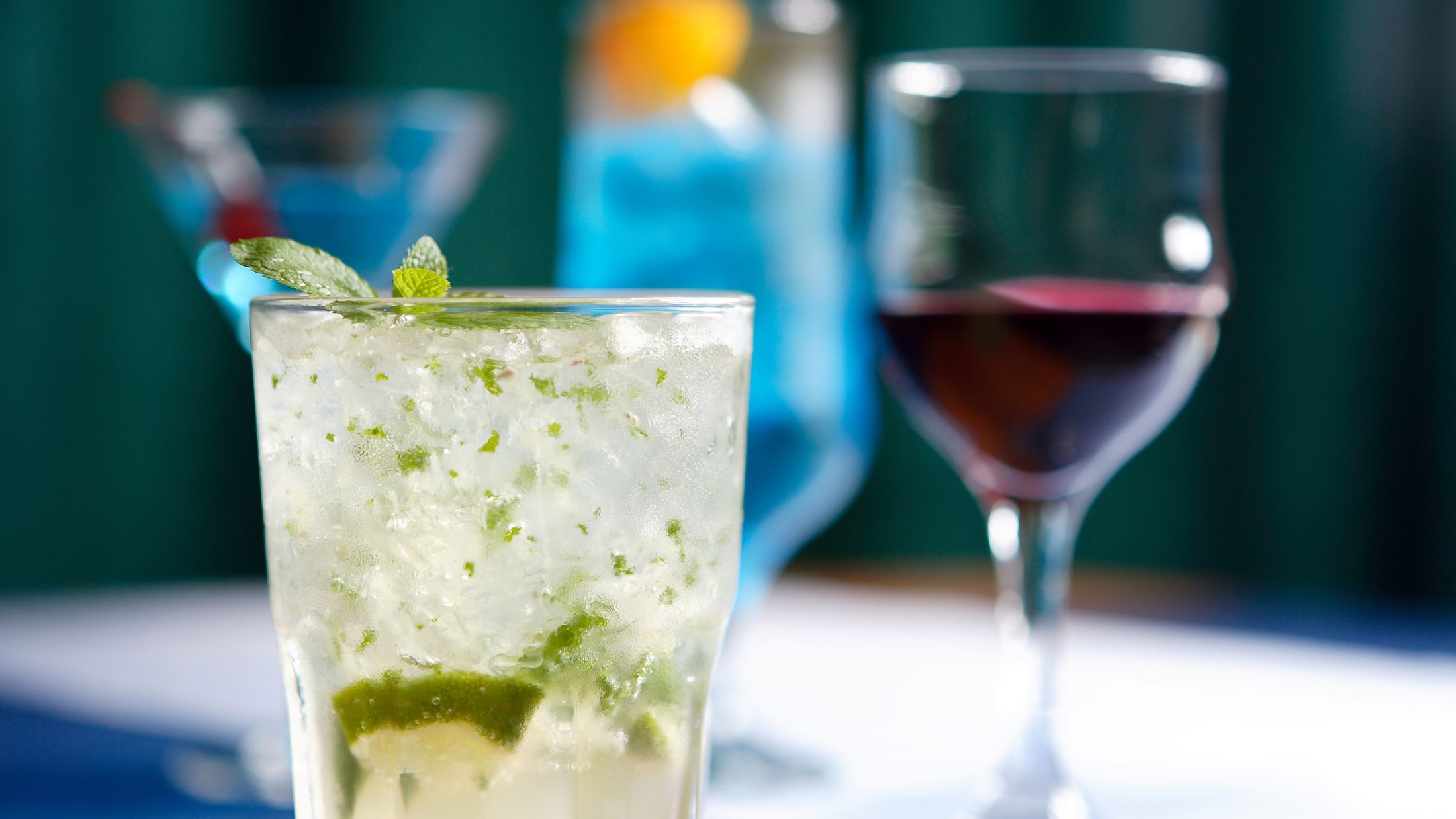 "I Russuri" Bar
Located nearby the hotel's gorgeous infinity pool, I Russuri bar is a perfect spot to enjoy the famous Aeolian sunset over a refreshing Mediterranean cocktail. Russuri is the Sicilian equivalent for the word "sunset".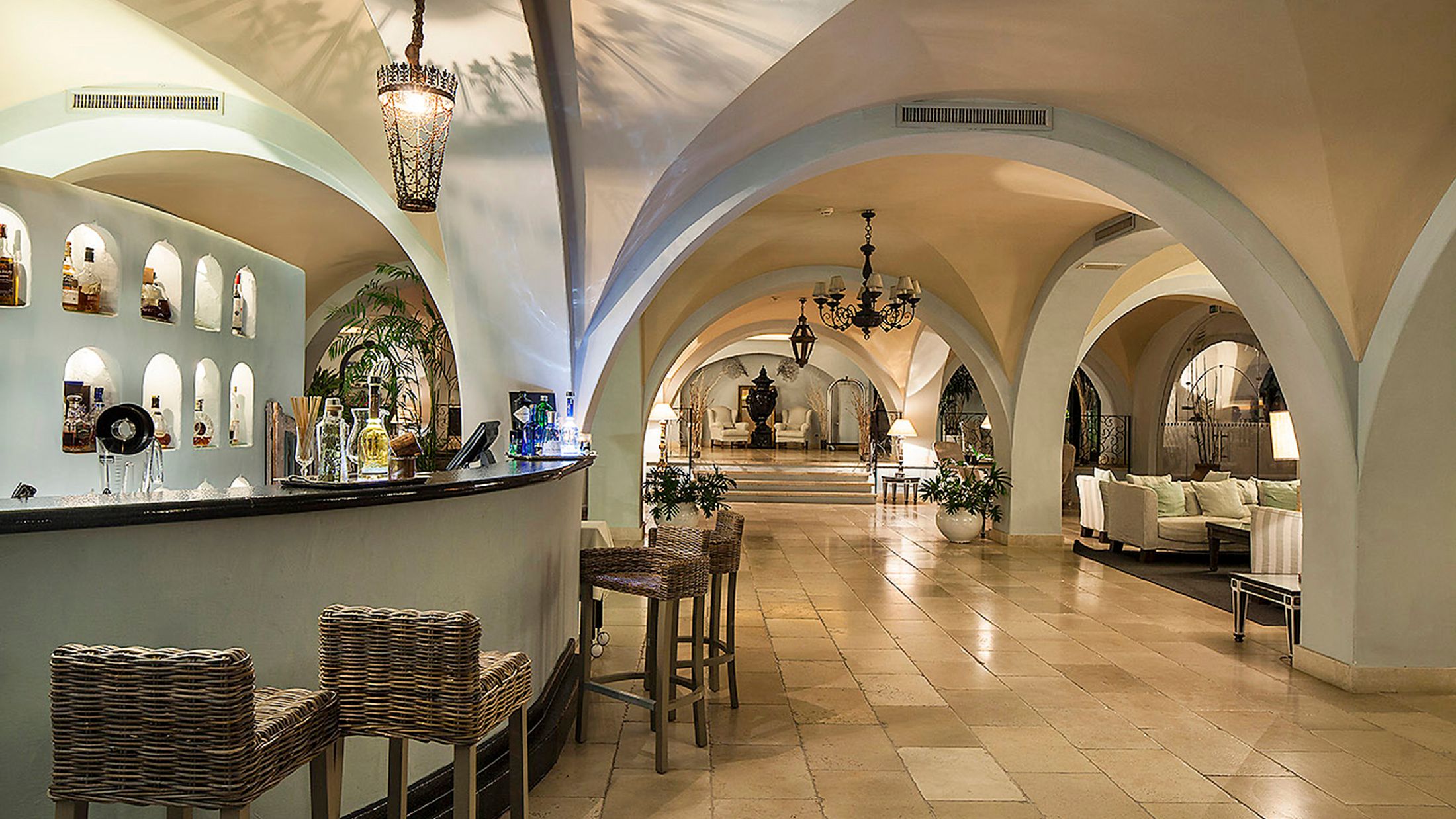 "I Faraglioni" Lounge Bar
Il Faraglioni is the hotel's terrace lounge bar where guests can comfortably enjoy views of the entire hotel while sipping a glass of authentic Italian wine.
Il Cappero
Il Cappero is the hotel's Michelin starred gourmet restaurant offering classic Sicilian recipes in a casual atmosphere. It is ideal for special events, anniversaries and exclusive parties.
L'Arcipelago
With a relaxed atmosphere, delightful meals and impeccable hospitality, L'Archipelago pays tribute to the Sicilian cuisine.

Open: 07:00 - 10:30 and 20:00 – 22:30.
Beach & Pools
Swimming Pools
Therasia Resort Sea and Spa's infinity pool is one of the hotel's most loved facilities among guests. It is surrounded by stunning views of the Tyrrhenian Sea, making it a perfect place for capturing unforgettable memories.
Spa & Wellness
Spa & Wellness
The resort's wellness centre offers everything guests need to enjoy a moment of peace and harmony. With a covered pool of warm water, a whirlpool tub, sauna, Turkish bath and a tranquil shower, the spa is well equipped to make guests feel like pampered royals.
About the location
Vulcano is one of the neighbouring Aeolian Islands along the Sicilian coast of Italy, engraved with a collection of volcanoes, which gives it a unique outlandish landscape. It is a lively island where you can enjoy fantastic activities and beautiful scenery. The island boasts volcanic rocks, therapeutic sulphur mud and alum caves just waiting to be explored. Beautiful hotels give visitors a peaceful, romantic and ideal vacation.
The Island features strange volcanic pyrotechnics, while a number of hiking routes allow discovering the secret spots of this Mediterranean pearl, including zones where a humble countryside survives, keeping alive the spirit of Vulcano. With a ferry route operating up to 18 times per day and a sailing duration of approximately 10 minutes, visitors of Vulcano also have easy access to other Aeolian Islands such as Lipari.
Transfer time
Therasia Resort Sea and Spa is a three hour transfer with a ferry ride from Catania Airport.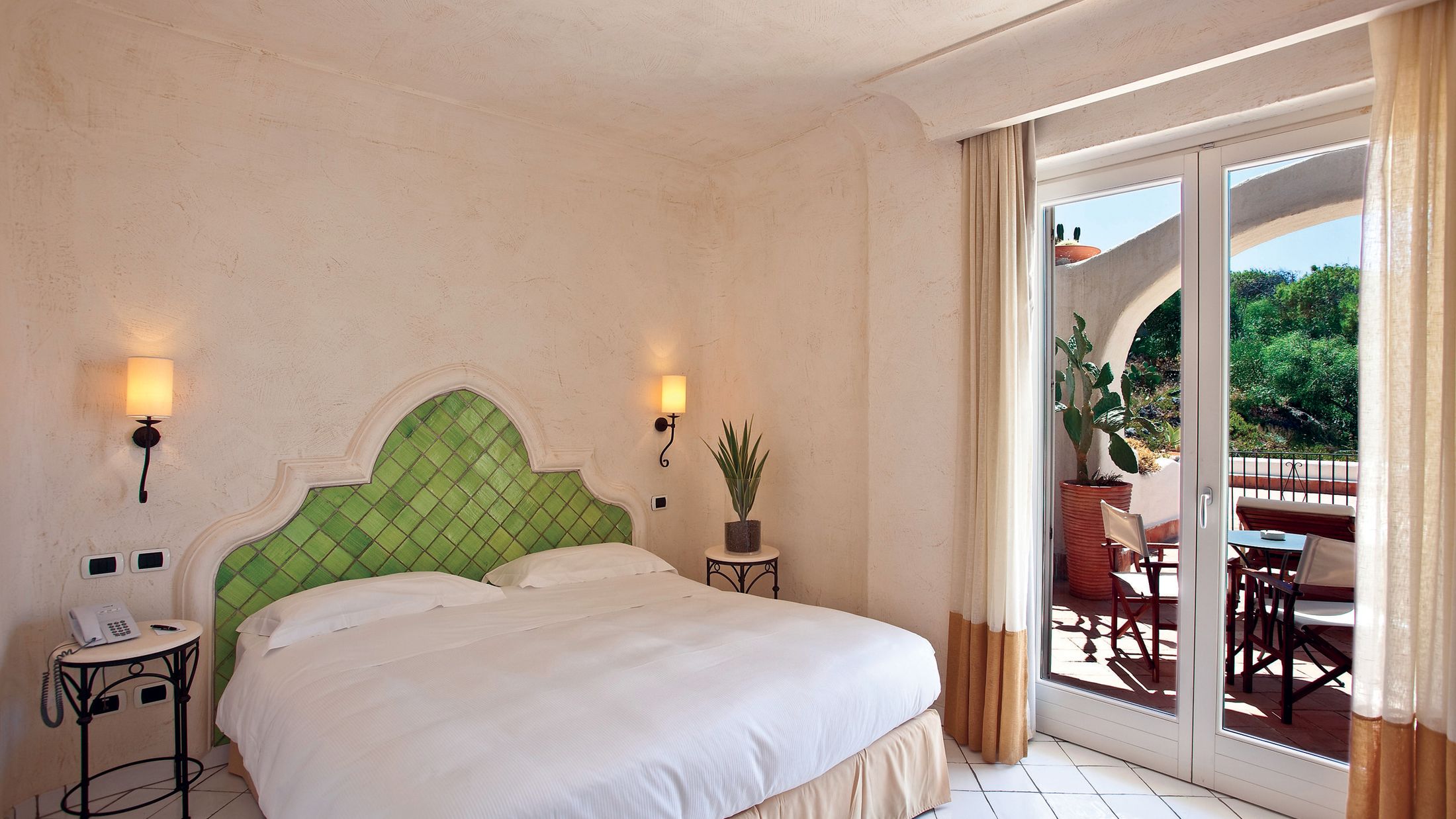 Classic Double Balcony or Terrace
Max 2 adults
Classic Double Rooms Balcony or Terrace are decorated in vibrant colours, featuring balcony or small terrace overlooking the resort's garden. Facilities include air conditioning, satellite TV, minibar, safe and wifi connection.

20-31m²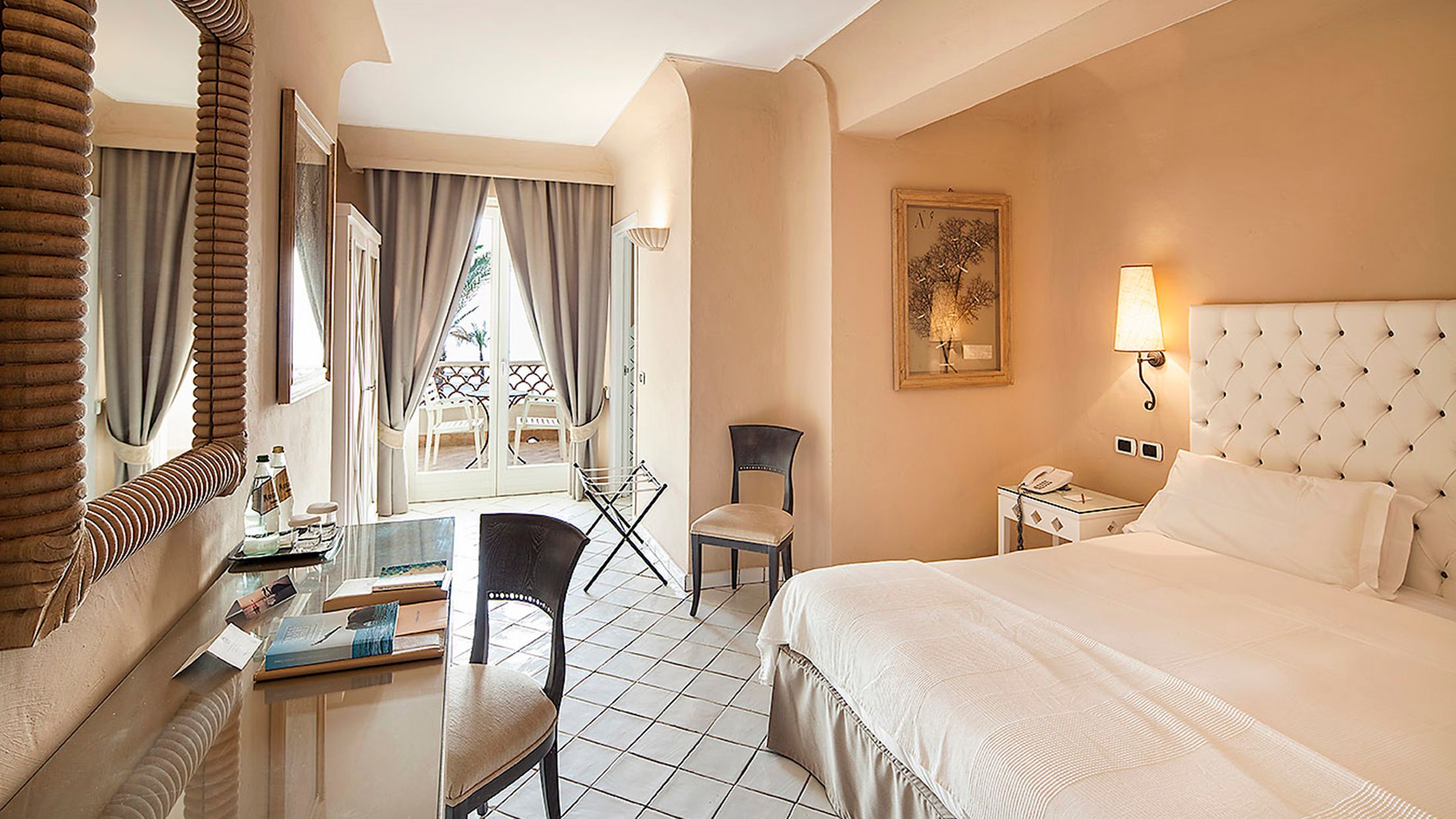 Comfort Double Front Sea View Balcony
Max 3 adults
Comfort Double Front Sea View Rooms Balcony measure approximately 20-23m² and enjoy full sea view from the balcony.
20-23m²
Deluxe Double Front Sea View Terrace
Max 3 adults
Deluxe Double Front Sea View Rooms Terrace measure approximately 22-27m² and include large terrace with sun beds and full sea view.

22-27m²
Junior Suite Front Sea View Balcony
Max 4 adults
Junior Suites Front Sea View Balcony measure approximately 30-37m² and feature a large sitting room and balcony overlooking the sea.
30-37m²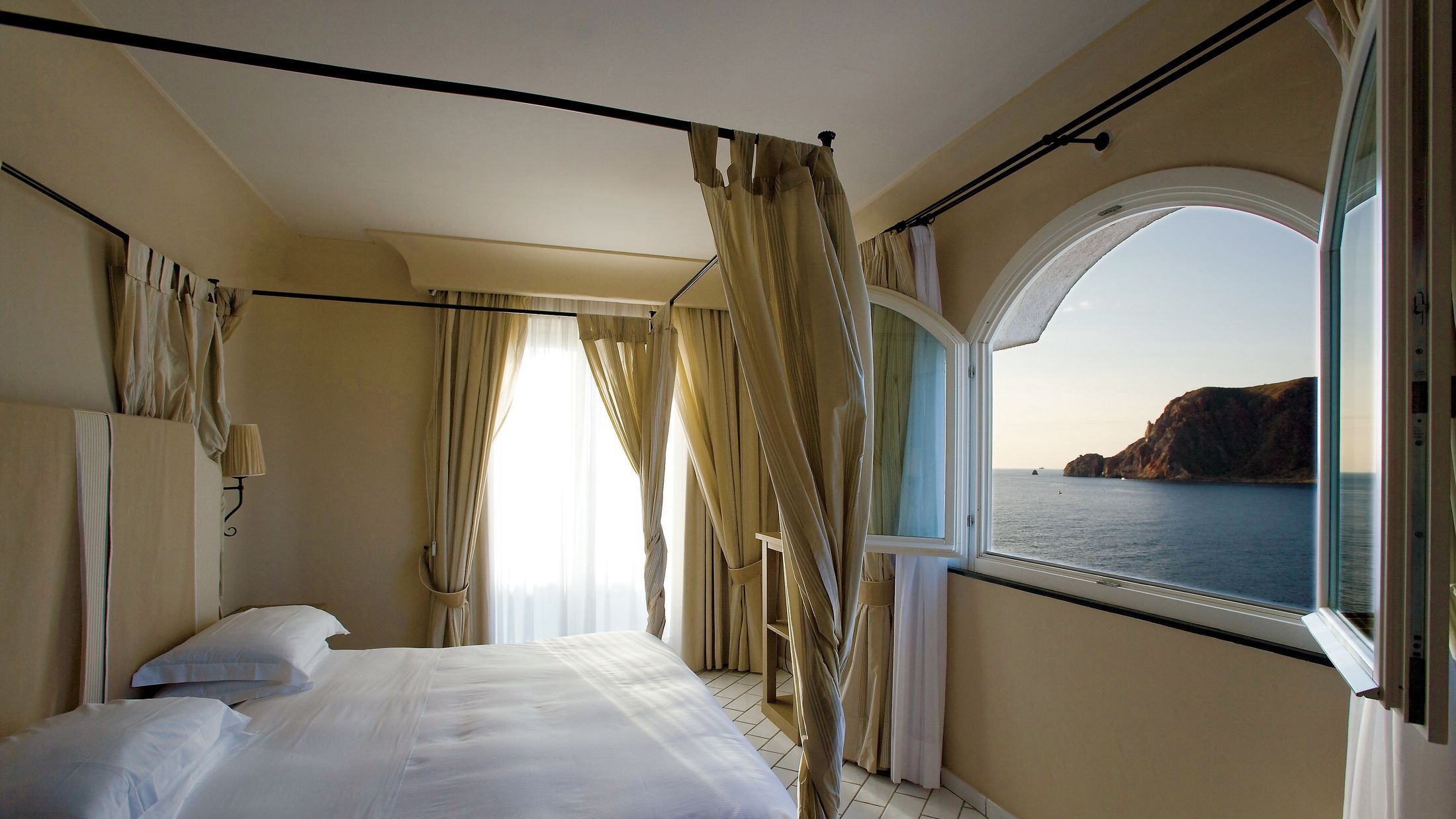 Suite Front Sea View Terrace
Max 4 adults
Suites Front Sea View Terrace measure approximately 42m² and have a full sea view from the large furnished terrace, a spacious lounge and four-poster bed.
42m²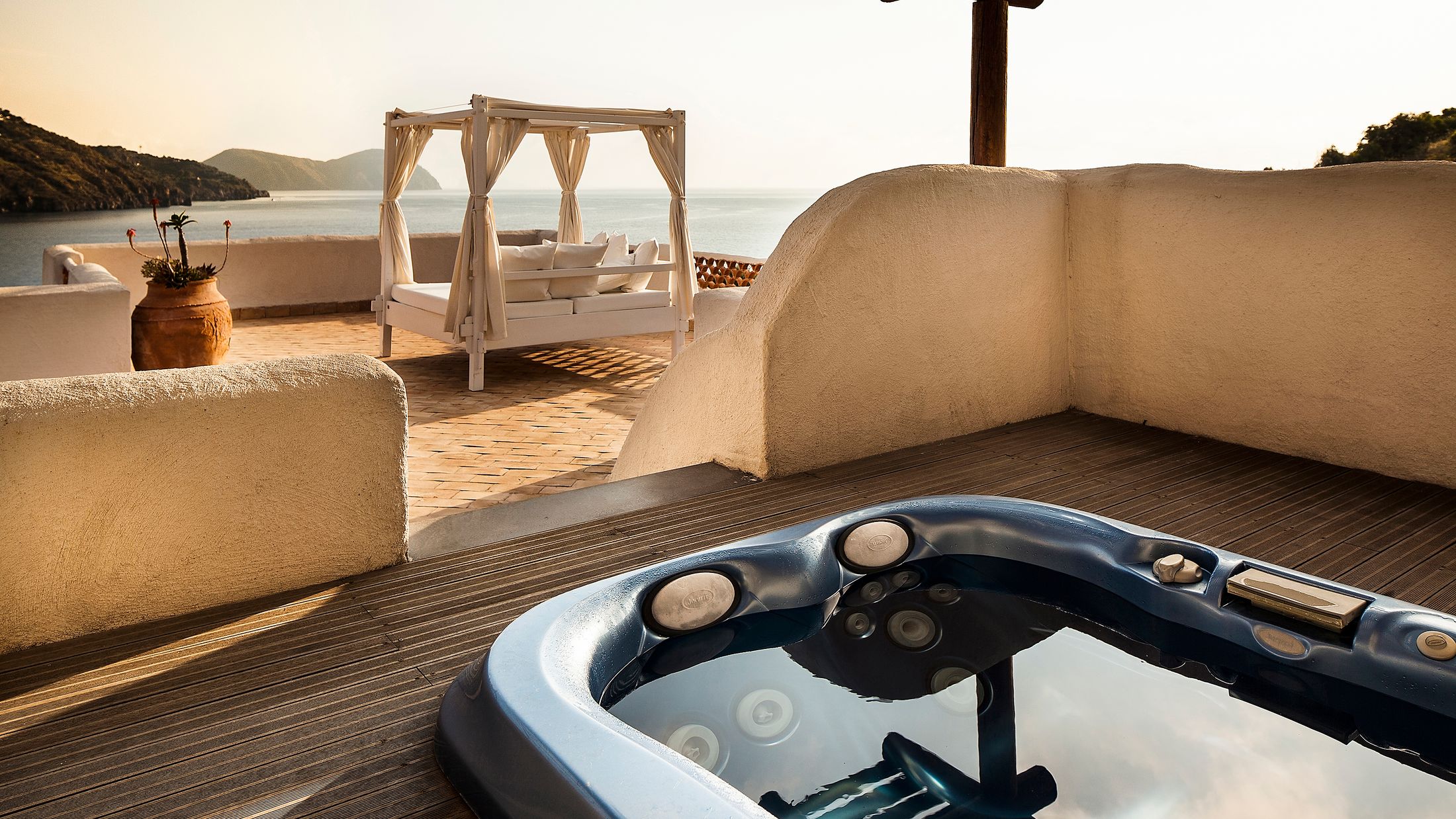 Master Jacuzzi Front Sea View Terrace
Max 3 adults
Master Jacuzzi Front Sea View Suites Terrace feature a spacious terrace with a whirlpool and lovely sea views.
Free nights
Stay 7 nights and pay for 6 nights for holidays between 21 April - 06 July 2018 and 08 September - 12 October 2018.
Honeymoon & Anniversary offer
Guests receive a complimentary bottle of sparkling wine for holidays between 21 April - 12 October 2018 when staying a minimum of 7 nights.
Spa offer
Guests receive one free spa entrance per person per stay, as well as 10% discount off all treatments and massages and 50% discount off additional entrance to the spa for holidays between 21 April - 12 October 2018.

Based on 1195 traveller reviews

94% of travellers recommended this hotel
Travellers Ratings
What to expect
Reviews
"
.......the mosquitoes loved it ......
RangerRoger, Essex England
Nov 03 2018
Stayed for a few nights on a VJV tour. Lovely location. Paid extra for sea view and it was worth the supplement. However, the bathroom had a "bad drains" smell. Now being charitable, this could be...
Stayed for a few nights on a VJV tour. Lovely location. Paid extra for sea view and it was worth the supplement. However, the bathroom had a "bad drains" smell. Now being charitable, this could be down to the fact that we were on a volcanic island with sulphur smells all around. But I think it was the drains - and the mosquitoes loved it and we were both badly bitten during our stay. Dinner was included on the first evening and clearly we were on the "tour-group special". Group food mass catering and not terribly good with very limited choice and though the a la carte menu looked better, the prices were a bit high for us. Breakfast in the morning was brilliant however.
View full review
"
Generally good, but could do better! Has the potential to be very good.
g_d_edwards, Royal Wootton Bassett, United Kingdom
Oct 28 2018
The Therasia Resort Hotel is beautifully situated on Isola Vulcano within Italy's Aeolian Island archipelago and from the dining room there are some beautiful views across the sea to the other...
The Therasia Resort Hotel is beautifully situated on Isola Vulcano within Italy's Aeolian Island archipelago and from the dining room there are some beautiful views across the sea to the other islands. The weather was perfect when we were there, and azure blue sea and clear skies made this an idyllic holiday retreat, albeit that getting to and from the island can be a bit of a challenge. The accommodation and hotel facilities were generally very good and MOST of the staff were very helpful and friendly (more about the exception in a moment!). We had slight concerns beforehand that the smell created by volcanic activity might spoil things, but actually, at the hotel you are too far away from any of the volcanic fumeroles to be affected. In the port however, there are a few quite whiffy areas, so chose an upwind restaurant if eating in the port (unless you like the smell of rotten eggs!). We were slightly disappointed in the repetitive evening menu in the main dining room (Arcipelago Restaurant): although there were some 'seafood specials' added to the menu, the basic menu did not vary during our stay, and it was easy to become tired of it. Understandably, given Vulcano's proximity to Sicily, the hotel was keen to promote Sicilian food, but we were surprised that in a supposedly 5* resort, there was a total lack (in the main dining room) of any international cuisine, or even for that matter, Italian food from outside the region. The Sicilian food that was served was of a good quality, but a greater variety would have been appreciated. Breakfasts were outstanding. The food was varied and plentiful, although on occasions some things ran out and were not replenished unless you made a point of seeking out staff and asking. (e.g. the orange juice). Drinks are expensive and unless you are on an all-inclusive deal, the temptation to go in search of more varied food and drink at a reasonable price is very strong, and as a result, we ate in the port area on a number of nights. The complimentary shuttle service was efficient (although a change in timetable on one day wasn't properly advertized). The one thing that very nearly spoilt an otherwise pleasant stay here, was the attitude of ONE of the sommeliers in the dining room. One of the sommeliers was very good and very friendly, the other was possibly auditioning for a role in Fawlty Towers. He was unspeakably rude, inattentive, and unprofessional, and to this day, we have no idea what we did to upset him (as he seemed to single us out for this childish and unacceptable treatment). Not only did he seem to get upset that we wanted our wine with our meal (how terribly unreasonable of us!), but clearly didn't approve of OUR choice of wine (that was on the first day) and on subsequent days, he strutted around the dining room as if he was God's gift to to the sommelier trade and demonstrated incredible skill in avoiding serving us. On one occasion when we did manage to ask him for service, he went away from us muttering in Italian under his breath, and perhaps it is just as well that my Italian is not good enough to understand what he was saying because his attitude was unmistakably hostile . We never did get our wine, and only the very helpful intervention of the other sommelier prevented us from complaining directly to the resort manager about this pathetically inadequate excuse for a man. It certainly left a bitter taste in the mouth for a few days whenever we saw his scowling face in the dining room. The grounds were neat and tidy, although I did feel that a 5 star hotel could have made more effort with their 'gardens'. The main pool and various plunge pools were lovely and access to the sea for sea-swimming was also good. There were plenty of sun-loungers either around the pool or in more secluded parts of the grounds if that's what you prefer. So overall, we had a good holiday at the Therasia Resort, but it certainly isn't worth the 5 star rating and it could certainly do a lot better if it tried. Would we return? Probably not: there are hotels that provide better levels of service where the cuisine is more varied and drinks aren't overpriced.
View full review