Water and beach villa stays in Maldives resort
Tropical island beach retreat
Scuba diving in the emerald lagoon
Veligandu Island Resort & Spa in the North Ari Atoll of the Maldives welcomes you to tropical island paradise.

Nourish your soul with privacy and tranquility at every turn in this elegant and traditionally-styled, four star resort.

The endless beaches with their swaying palm trees offer welcome shade from the glimmering blue skies as you walk barefoot along powdery golden sands.

Veligandu Island Resort & Spa is an ideal place for couples and families alike to romance and relax, with a sprinkle of adrenaline-fuelled and scenic leisure activities for good measure. While not a strictly adults-only resort, the island only caters to children over the age of 12.

The emerald lagoon provides opportunities to go fishing, windsurfing, jet skiing or even island-hopping aboard a traditional catamaran.

The surrounding waters of the Indian Ocean are crystal clear and boast in-house coral reefs teeming with marine life, making it one of the best scuba diving spots in the Maldives. Head into the deep blue with snorkelling and scuba diving experiences from the Ocean Dive Centre, a registered PADI Dive Resort that caters to adults and children alike.

If you'd prefer to stay on land, then you can work out at the resort's modern fitness centre, lose yourself in games of foosball, billiards, table tennis and darts in the air-conditioned games room, or simply curl up with a book from the lending library.

There's a sparkling infinity pool to swim in, volleyball, badminton, and football, or delight in natural, chemical free healing at the island's tropical spa with its massages, reiki, and meditation.

Create timeless memories at the resort's Raalhu Photo Studio, which will perfectly convey stories of your paradise experience. You can also take home a unique tailored garment, picking fabric and your ideal design at the specialist tailor shop.

By night there is always live entertainment to enjoy - including movie evenings, Bodu Beru cultural dance shows, dive presentations, and the occasional glow party and DJ disco.

There are 91 villas at Veligandu Island Resort & Spa, which all feature a king size bed, air-conditioning, wooden or tiled floors, a private furnished deck, an indoor sitting area and a partialling open-air bathroom with rain shower and double sinks.

You have the choice to stay in a villa that overlooks the beach or offers direct access into the waters via your own private staircase. Some of the villas come with a private jacuzzi - ideal for dreamy evenings under the stars.

Comfort is guaranteed here, with a stocked minibar with refrigerator, complimentary tea/coffee, espresso machine, flat screen TV and iPod docking station in every room.

Feast on all you can eat buffet food at the traditional open-air Dhonveli Restaurant, which has a sand floor and thatch roof dining for a truly tropical experience during your luxury holiday in the Maldives.

For special experiences, you might want to eat privately under the stars, with the a la carte menu that always includes the catch of the day. There are also several beach bars with al fresco decks where you can enjoy a sundowner cocktail over the sparkling lagoon.

Veligandu Island Resort & Spa is paradise perfection!
Facilities
Bars & Restaurants
Athiri Bar
Located on the water's edge, the al fresco seating area is a wonderful place to catch the golden sun, whilst sipping on a signature rum cocktail and wiggling your toes on the soft sand.
Dhonveli Restaurant
Veligandu's main restaurant serves international food from breakfast through to dinner. Enjoy buffet style dining or watch your food on order at the live cooking stations. Choose whether you would like to dine in the warm open air, either shaded by a thatched roof or out on the wooden deck. Veligandu hosts a Maldivian themed night with a specialities menu and waiters wearing traditional outfits.
The Madivaru Restaurant
An à la carte menu is served at the Madivaru restaurant, which is sheltered by swaying palms. Fresh, grilled seafood and prime beef are particular specialities.
Thundi Bar
Beside the infinity pool, take a break at the main bar and enjoy the beautiful view of the lagoon. Poolside service is offered or you can sit up on the decking at a table, whilst sipping a refreshing drink and something to eat.
Beach & Pools
Swimming Pool
Take a dip in the freshwater infinity pool, hugged by palm trees and overlooks the beautiful beach.
Beach
The Maldives is famous for its beauty, clear oceans and pristine white sand beaches with azure waters, there's no better place to relax and unwind or even try the local water sports.
Spa & Wellness
Duniye Spa
The over the water spa combines Asian and African healing traditions with modern skincare treatments. Step inside to experience a holistic approach to wellbeing; rejuvenate your body with an exfoliating coconut body polish and your mind with yoga meditation.
Activities & Entertainment
Watersports
There are plenty of other sports to try, from kayaking and stand up paddle boarding, to water skiing, jet skiing, and windsurfing.
Land Sports
From badminton, snooker and table tennis to darts and football; the list of sport activities are endless. Younger guests can enjoy the children's playground, while you head out onto the pleasant putting green to enjoy some time in the shade.
About the location
Veligandu Island is located in the North Ari Atoll of the Maldives and home to just one resort, the luxurious Veligandu Island Resort & Spa.

Upon arrival at Velana International Airport, the gateway of the Maldives, you will be met by a resort representative who will show you to a relaxing lounge before helping you board a seaplane for easy reach of the island.

Enjoy a birds-eye view of the turquoise waters with the 20 minute flight over to Veligandu Island.

Surrounded by the tropical treasures of a stunning lagoon in the heart of the Indian Ocean, Veligandu Island stretches across 22 acres, offering privacy at even turn.

The North Ari Atoll is considered one of the best diving spots in the Maldives, welcoming both novice and experienced divers.

With every detail and all your comforts considered, your luxury Maldives holiday at Veligandu Island Resort & Spa will feel like paradise on earth.
Transfer time
Approx. 20 minutes by seaplane from Velana International Airport.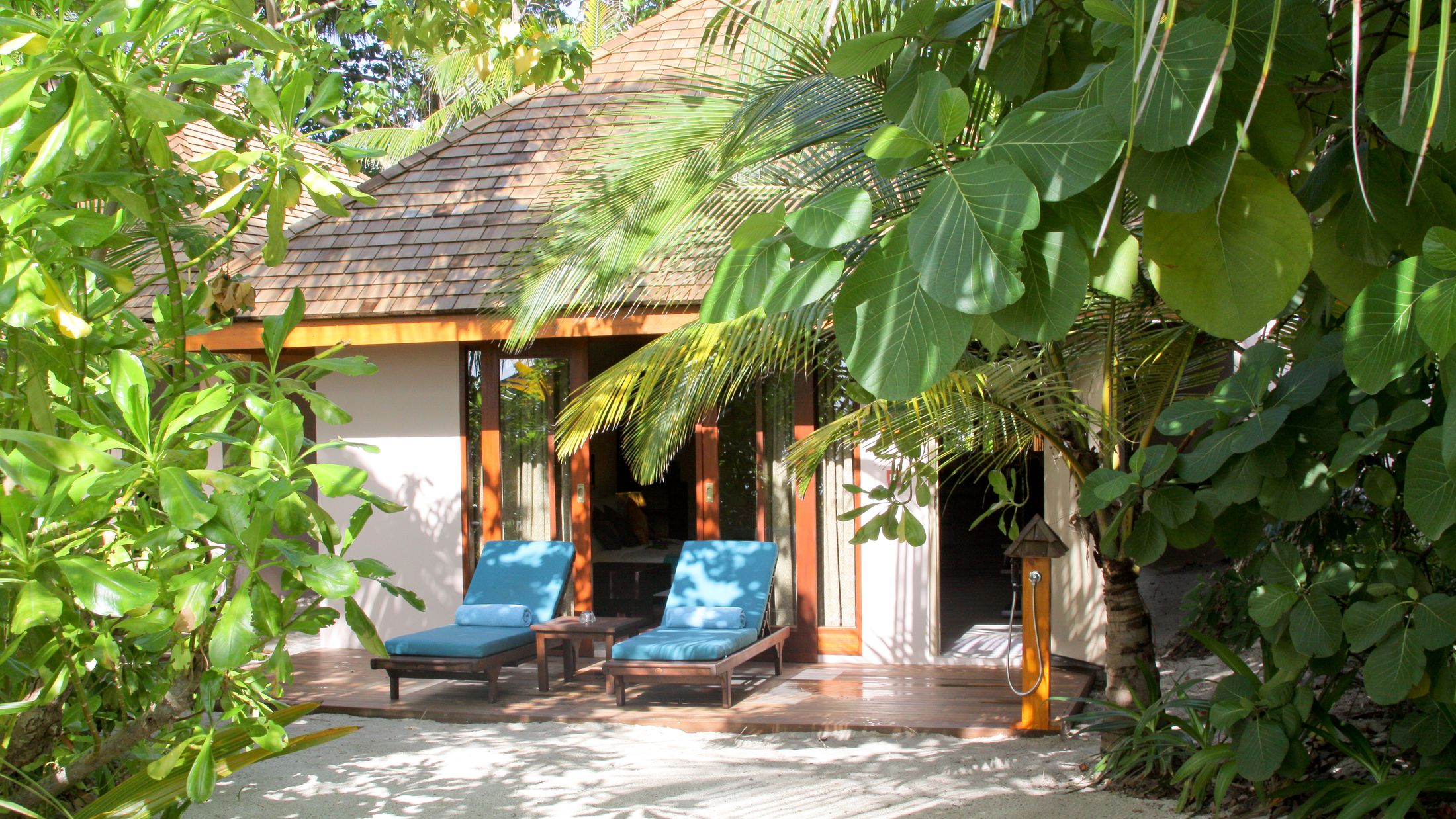 Beach Villa
Beachfront views just a few steps away from your villa, set amid lush tropical greenery and beneath swaying coconut trees. Enjoy a comfortable stay in paradise.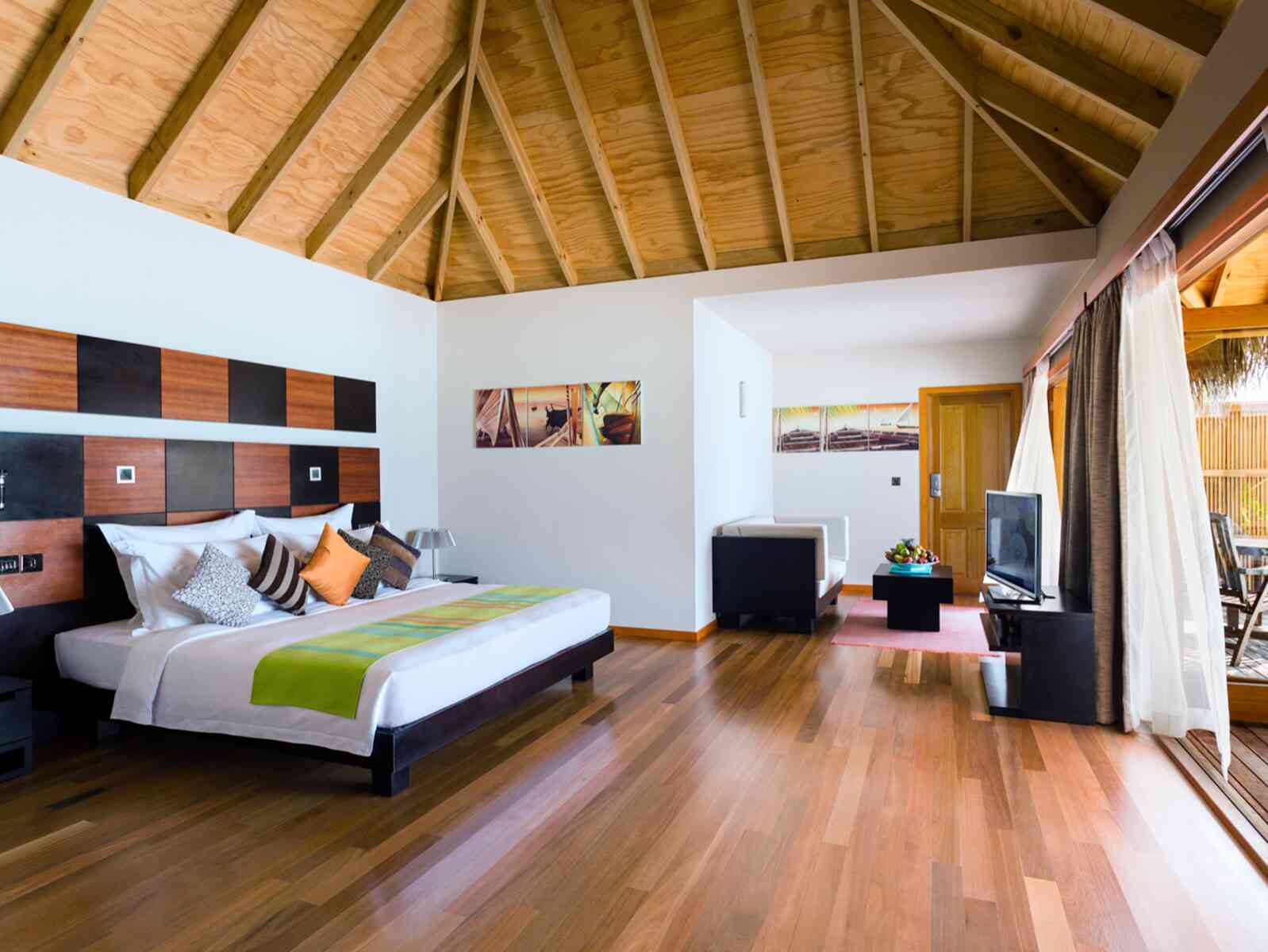 Jacuzzi Beach Villa
Inside the Jacuzzi Beach Villa, you'll find a king size bed and double sinks, while ceiling height glass doors open out onto a furnished private porch complete with jacuzzi. The sandy shores are right on your doorstep; step off your deck and dip your toes straight in the sea.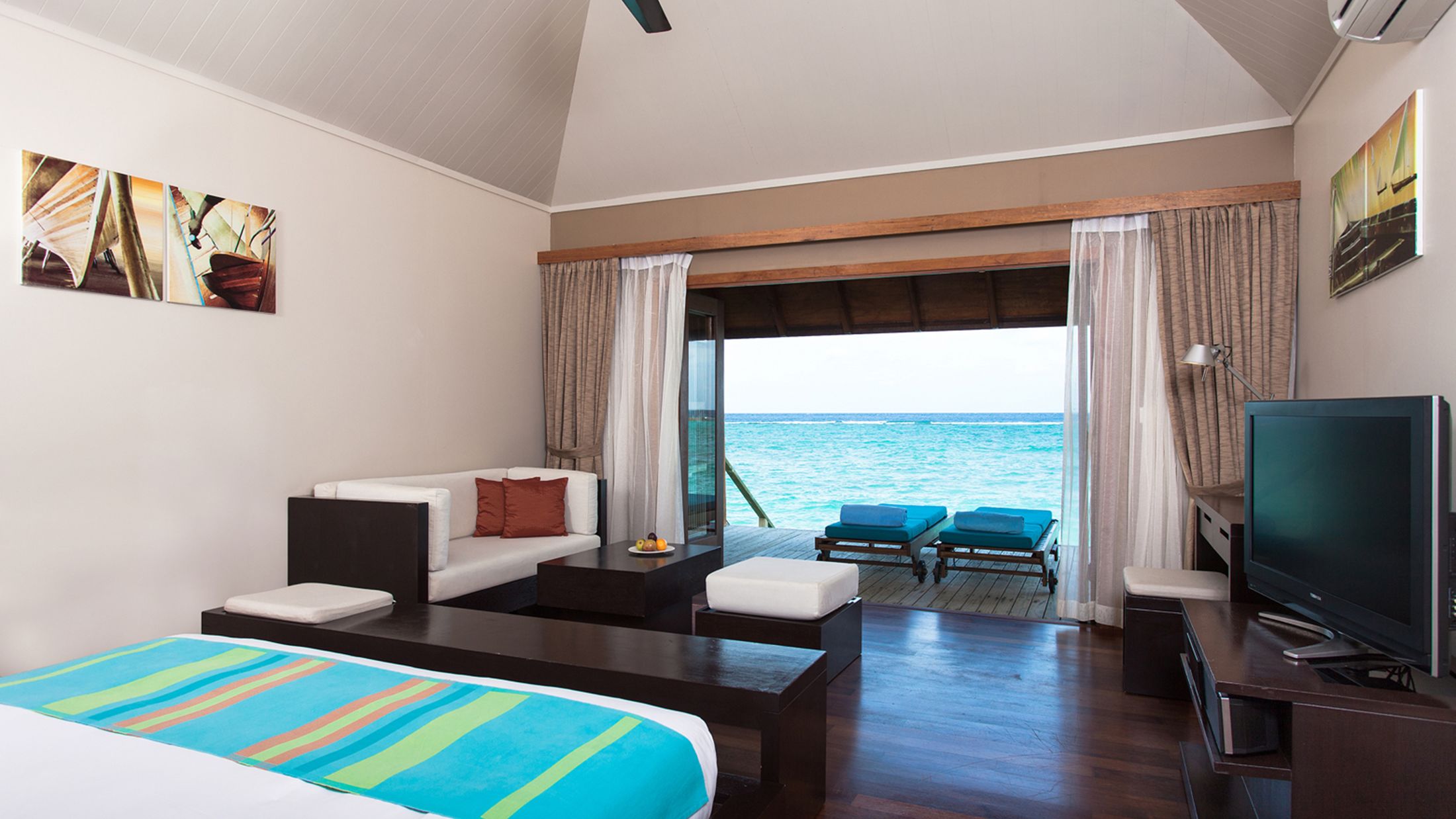 Water Villa
Admire the picturesque Maldivian sunset over the lagoon, from your Water Villa, boasting direct access to the ocean from your private stairway.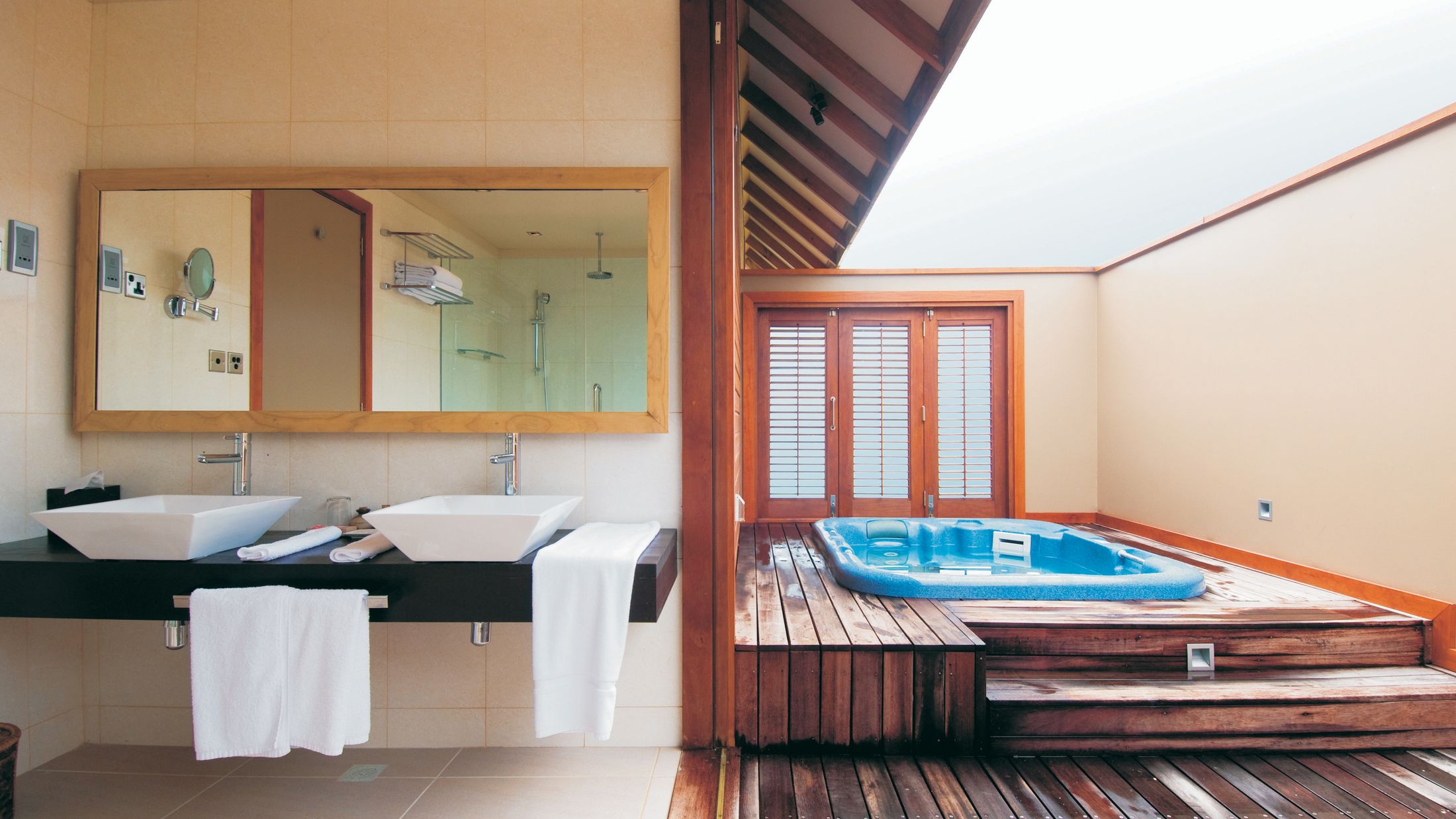 Jacuzzi Water Villa
Whether you choose to start your day with a morning dip or end the day romantically with a luxurious whirlpool indulgence for two under the stars.

Based on 4271 traveller reviews

95% of travellers recommended this hotel
Travellers Ratings
What to expect
Reviews
Marie Eline P,
Jul 20 2021
Veligandu is an absolutely beautiful Island Resort. We lived in an overwater sunset jacuzzi villa, which is really recommendable as the sunsets are beautiful. Although it???s rain season we barely had...
Veligandu is an absolutely beautiful Island Resort. We lived in an overwater sunset jacuzzi villa, which is really recommendable as the sunsets are beautiful. Although it???s rain season we barely had any rain throughout 8 days. The service was outstanding, thanks to our lovely Island Host Mireia we had nothing to take care about. She scheduled all the great activities. The Dolphin Sunset Cruise is a must do! The food was also really good, fresh and something new every day. The service at the restaurants and the bars was great. I think I???ve barely experienced any other resort with such good personnel. Veligandu is perfect for couples of all ages, as well as for families. You can perfectly choose how much privacy you wish for. We always spend the mornings at the beach, and the afternoons at our villa, which was the perfect way to relax for us. We definitely will come back. Thanks a lot!
View full review
"
Wonderful stay in Maldives. Heaven in earth!
jvcapelo, Lisbon, Portugal
Jul 20 2021
Me and my husband booked your stay at Veligandu's for middle July (7 nights). We arrived in Mal?? Airport and we are kindly escorted by the staff in a transfer for the waiting room on the seaplane...
Me and my husband booked your stay at Veligandu's for middle July (7 nights). We arrived in Mal?? Airport and we are kindly escorted by the staff in a transfer for the waiting room on the seaplane docks (have plenty of snacks and beverages to eat/drink). After a short time we took a seaplane to the resort (15 minutes trip) and arrived on secundary island (like a dock for seaplanes and boats) and meet with your hotel host, Nabeel. We went by boat (2-3 minutes trip) and have a lovely welcome with fresh juice and fresh towels at the Veligandu Resort. Your host show us the island, facilities, restaurants, bar area and all of your requests or questions could be asked via whatsapp directly to him (always responded very quickly). We stayed at a Jacuzzi Watter Villa with all inclusive. The resort is beautiful, amazing food (every day the buffet as different menus, fresh fruits, fresh meat and fish and vegan/vegetarian options as well). We did a lot of activities, as snorkeling, kayak, jet ski, sunset cruise, gym, play snooker and ping pong at the game center. We have a lovely special dinner at Madivaru's Restaurant and it was the best gastronomic experience! Don't have enough words to describe how welcome and safe we feel by the Veligandu's team and the Resort. Because of pandemic we have to do a PCR test 72h before in your country and for leaving we do it directly on the hotel and have the results in next morning. We want to thank all the team and specially to your host Nabeel for a fantastic vacations. Definitely a place to come back again. Joana and Hern??ni.
View full review