Incredible setting in UNESCO-protected Piton Valley
White-sand beach backed by 100 acres of rainforest
Treetop treatment rooms at Rainforest Spa
PADI diving and snorkelling centre
Personalised tasting menus at the Great Room
For views with that wow factor Sugar Beach, A Viceroy Resort is ideal. It's not surprising that its location in the majestic valley of the Pitons has been listed as a UNESCO World Heritage Site. With more than 100 acres of rainforest that sweeps majestically towards the iridescent sea, you will no doubt experience first-hand the natural beauty of this island and its inhabitants such as hummingbirds and tropical butterflies. This hideaway resort hotel offers a beautiful white-sand beach and an utterly relaxed yet luxurious atmosphere. Rooms and villas all have breathtaking mountain or ocean views. The Luxury Villas and Luxury Sugar Mill rooms feature cool Caribbean furnishings, modern amenities, private outdoor space with plunge pools and butler service. For heavenly relaxation head to the new Rainforest Spa, with treetop treatment rooms set in stunning natural rainforest. The PADI-certified dive centre provides world-class scuba diving and snorkelling. Casual and elegant dining can be savoured at the Bayside restaurant, Cane Bar or The Great Room. All guests receive a personalised butler service which is available 24 hours, and includes unpacking of luggage, laundry service, booking dinner reservations and any other special requirements.
Hotel child prices apply to ages 0-16 years.
The hotel has 81 rooms, villas and beachfront bungalows & 15 residences.
Optional All Inclusive - what's included
Breakfast, lunch and dinner. All beverages (house brand liquors and cocktails, house wine by the glass, Caribbean beers and soft drinks). Afternoon tea. Non-motorised watersports (windsurfing, sailing, snorkelling, kayaking, hobie-style catamarans, pedalos). Tennis. Entertainment some evenings. All gratuities, taxes and service charges. Please Note: Local beer, water and soft drinks only available from the mini bar within the all inclusive programme. Room service has a delivery charge of US$18 per tray.
Facilities
Bars & Restaurants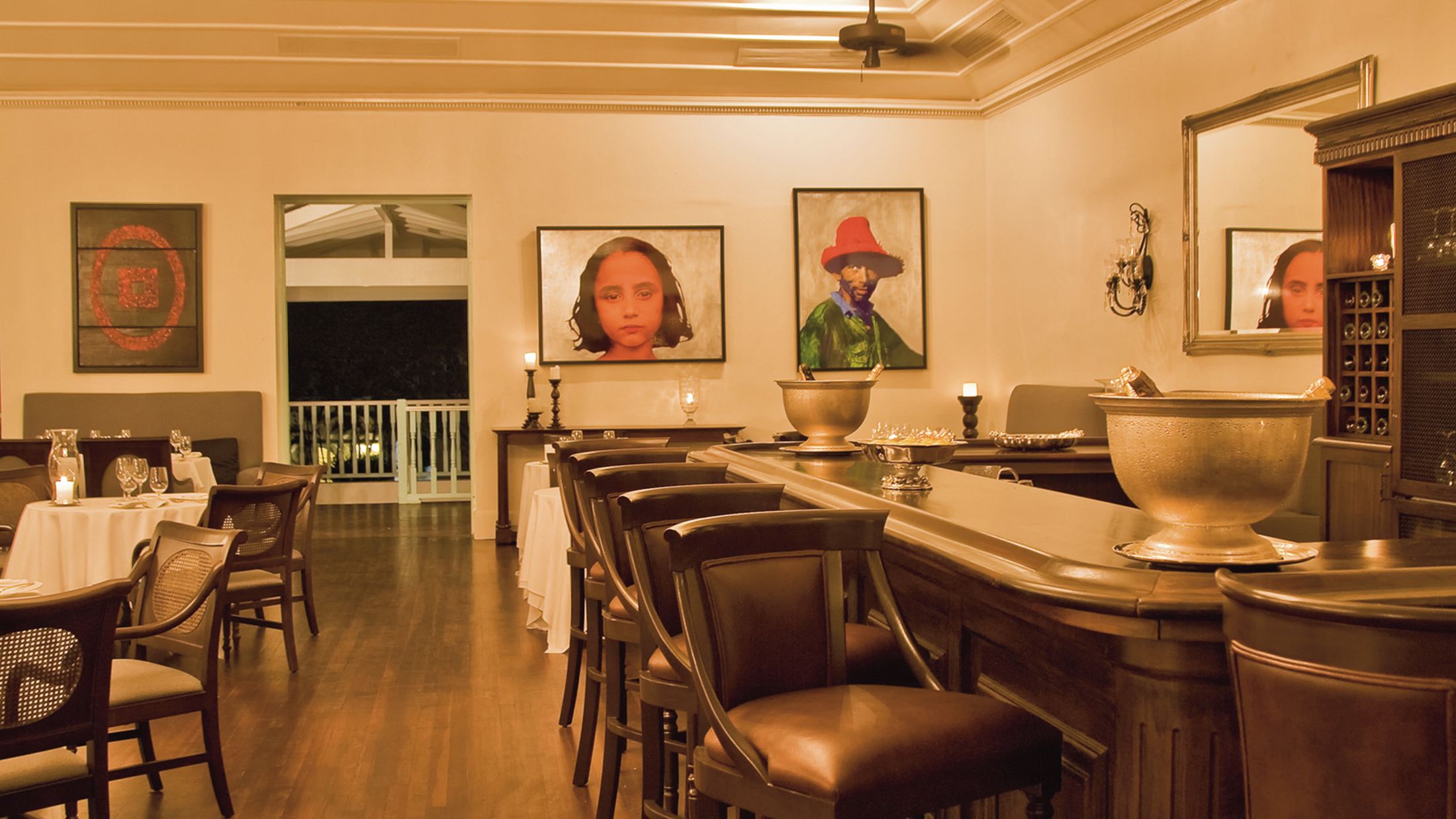 The Great Room
Opening Times:
Dinner 18:30 - 22:00
Dress Code:
Cocktail Attire required: Dress shirts, dress T-shirts or dress polo shirts, dress jeans, cocktail dresses or skirts and similar apparel, closed toe shoes or dress sandals.
No shorts, jeans, caps or t-shirts allowed.
The elegant Great Room serves Caribbean influenced à la carte cuisine in candlelit surroundings. The delightful colonial theme sets the scene for a special evening.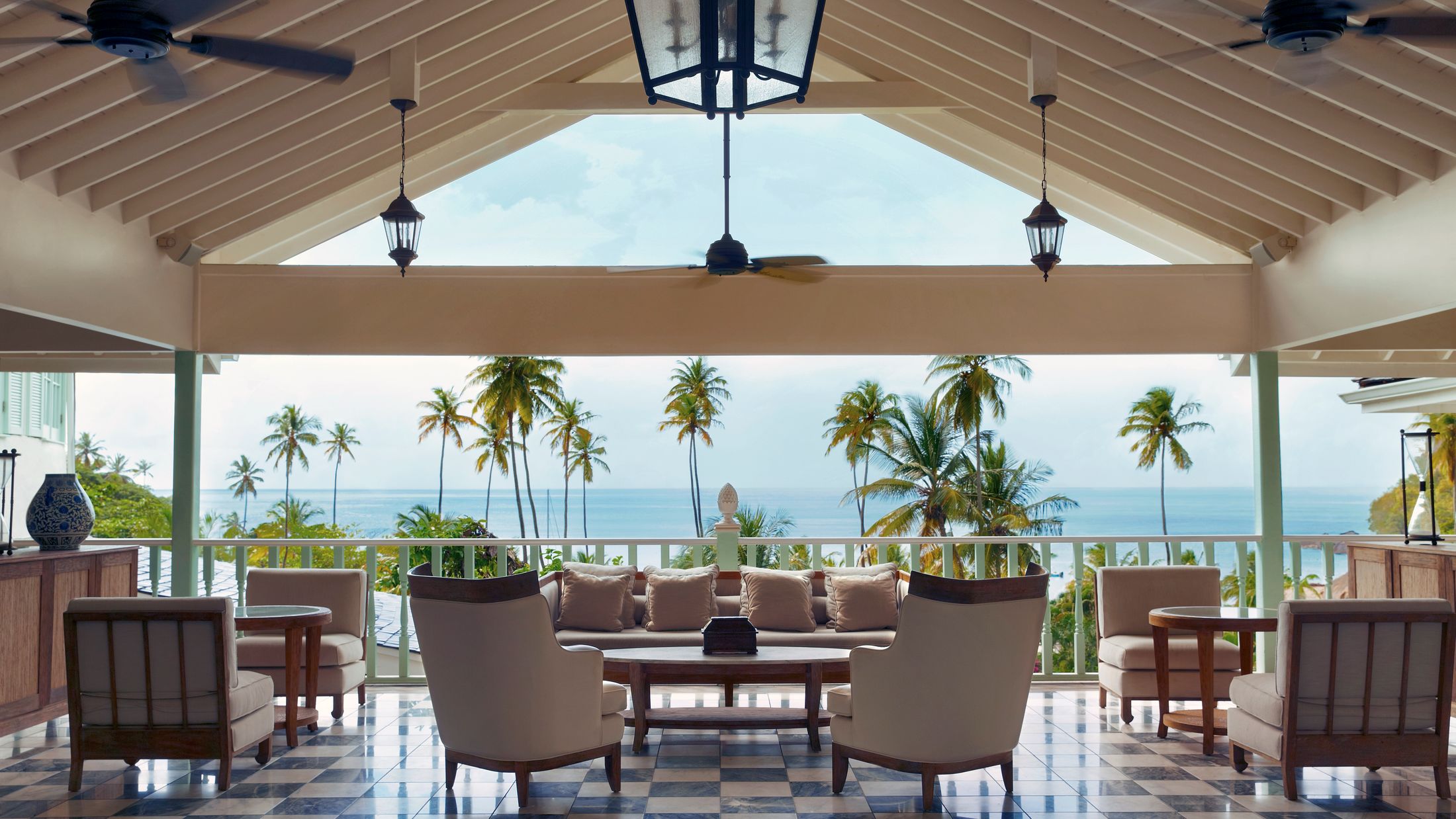 The Palm Court Lounge
Serving a variety of wines, beers and cocktails as well as savouries and teas. Afternoon Tea is available daily at the Palm Court Lounge.

Opening Times:
15:00 - 23:00
Dress Code:
Smart Casual: Dress T-shirts or dress polo shirts, dress shorts, slacks or jeans, sundresses or skirts and similar apparel. Bathing suits are not permitted and footwear is required.
The Terrace
Serving a variety of breakfast buffet favourites and à la carte dishes overlooking the lily pond and Caribbean sea.

Opening Times:
Breakfast 07:00 - 10:30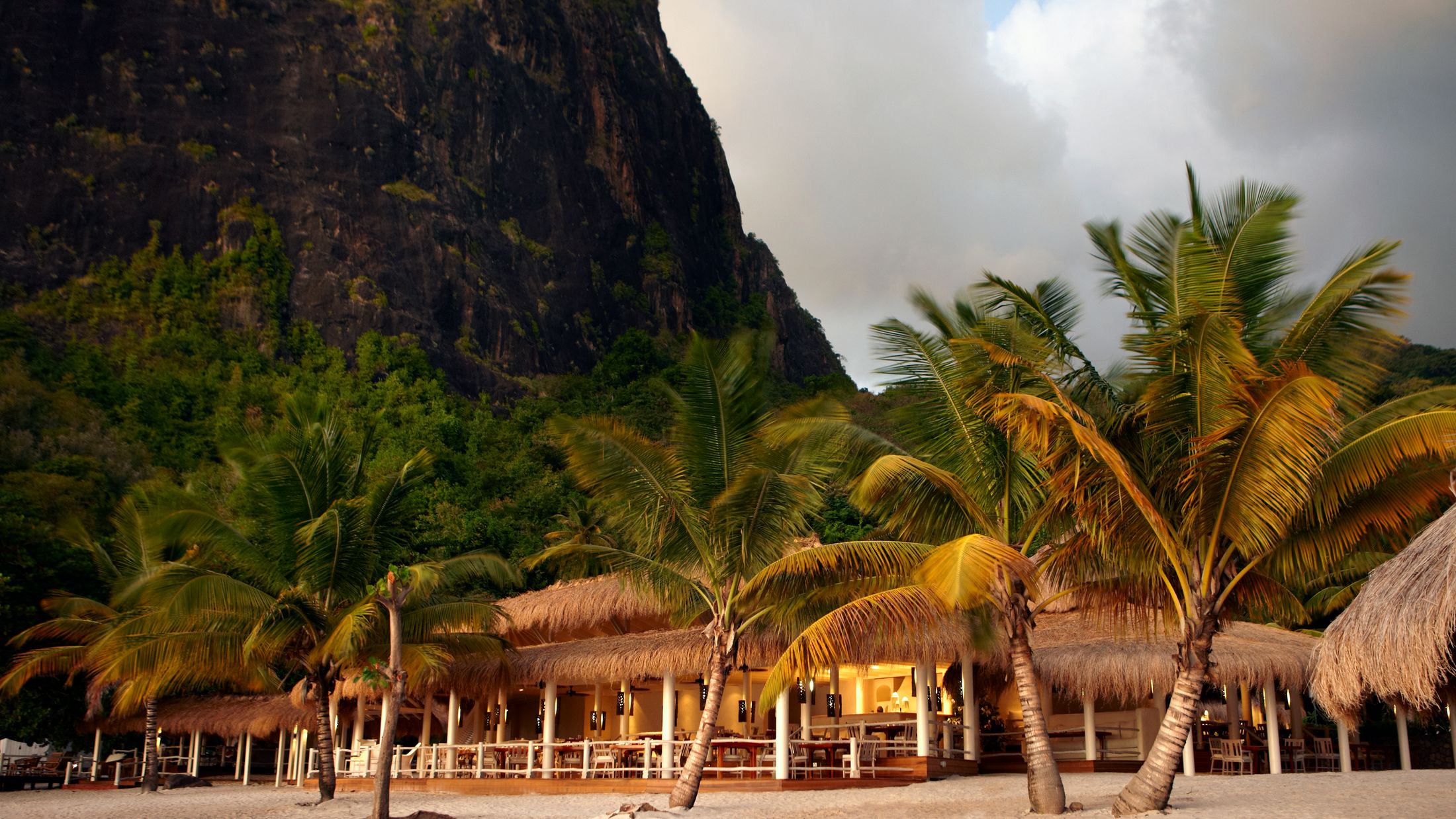 Bayside Restaurant & Bar
Opening Times:
Lunch 12:30 - 15:00
Dinner 18:30 - 22:00
Dress Code:
Lunch: Casual (T-shirts or polo shirts, shorts or jeans, sundresses or skirts. Bathing suit cover-ups and footwear are required).
Dinner: Smart Casual (Dress T-shirts or polo shirts, dress shorts, slacks or jeans, sundresses or skirts and similar apparel. Bathing suits are not permitted and footwear is required).
Offers open-air à la carte seaside dining with magnificent views of the Caribbean Sea and Pitons.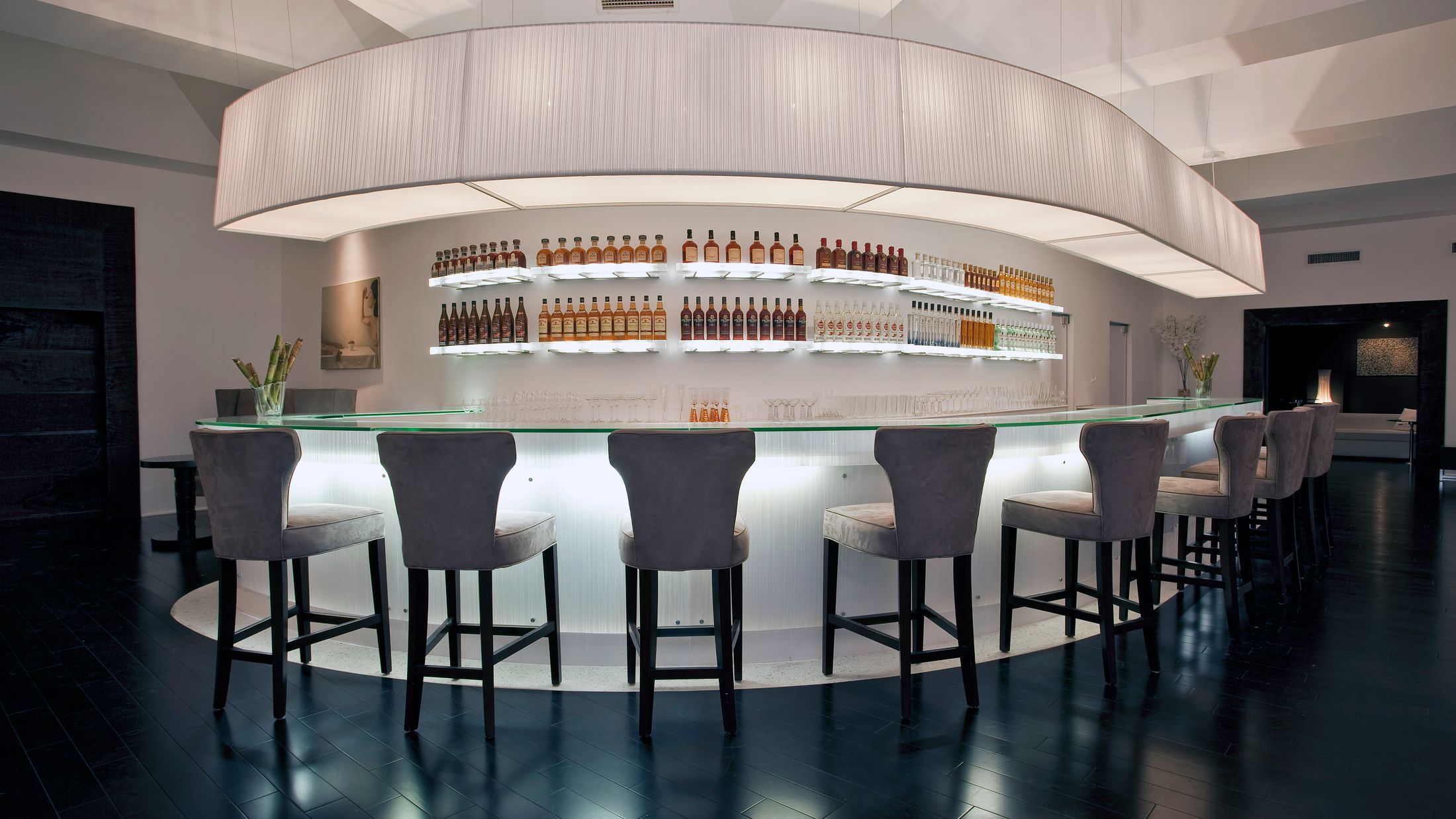 The Cane Bar
Opening Times:
18:00 - 01:00
Dress Code:
Smart Casual: Dress T-shirts or dress polo shirts, dress shorts, jeans, sundresses or skirts and similar apparel. Bathing suits are not permitted and footwear is required.
Famous for its Rum, the Cane Bar offers a wide selection of rum with a "rummerlier" on hand to guide you to the perfect choice. A tasty range of dishes is served from Sashimi to the sushi platter featuring the catch of the day.

Restrictions:
After 10pm, adults only (18+).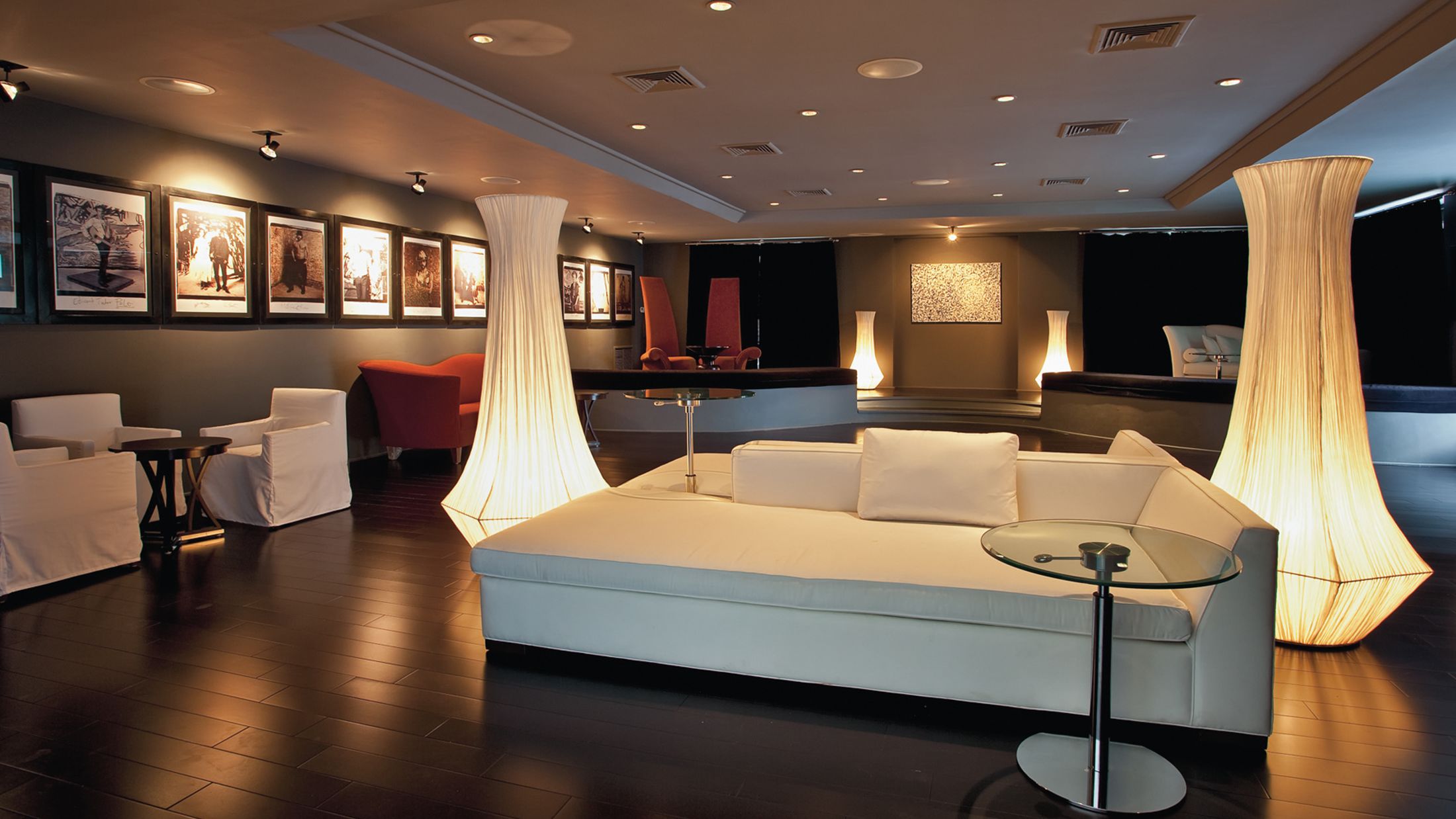 The Late Night Bar
Serving a range of beverages in an air-conditioned lounge and open-air terrace.

Restrictions:
Guests must be over 18 years old.
Beach & Pools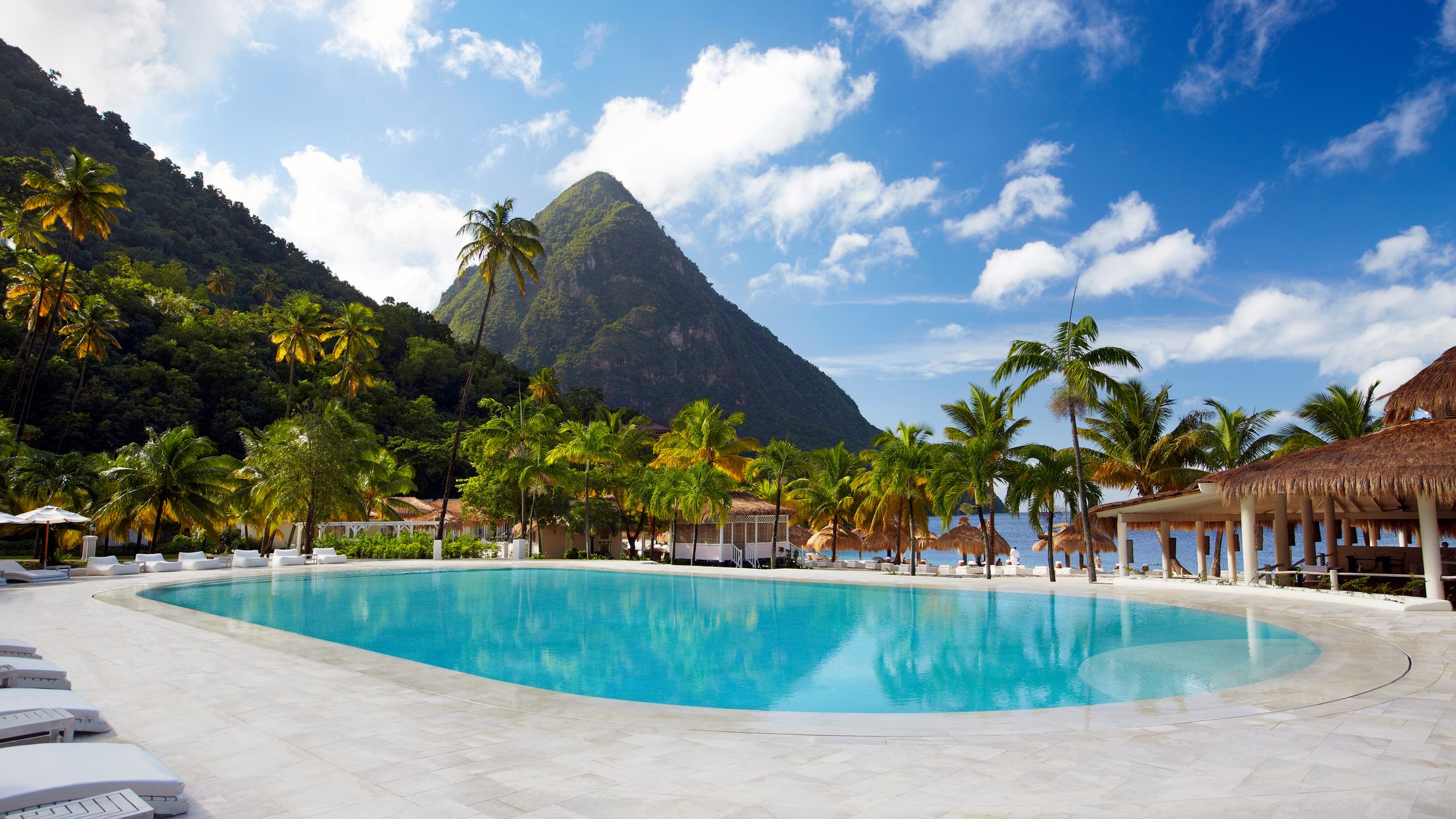 Swimming Pool
Refresh in the swimming pool or enjoy a cocktail served by the poolside servers.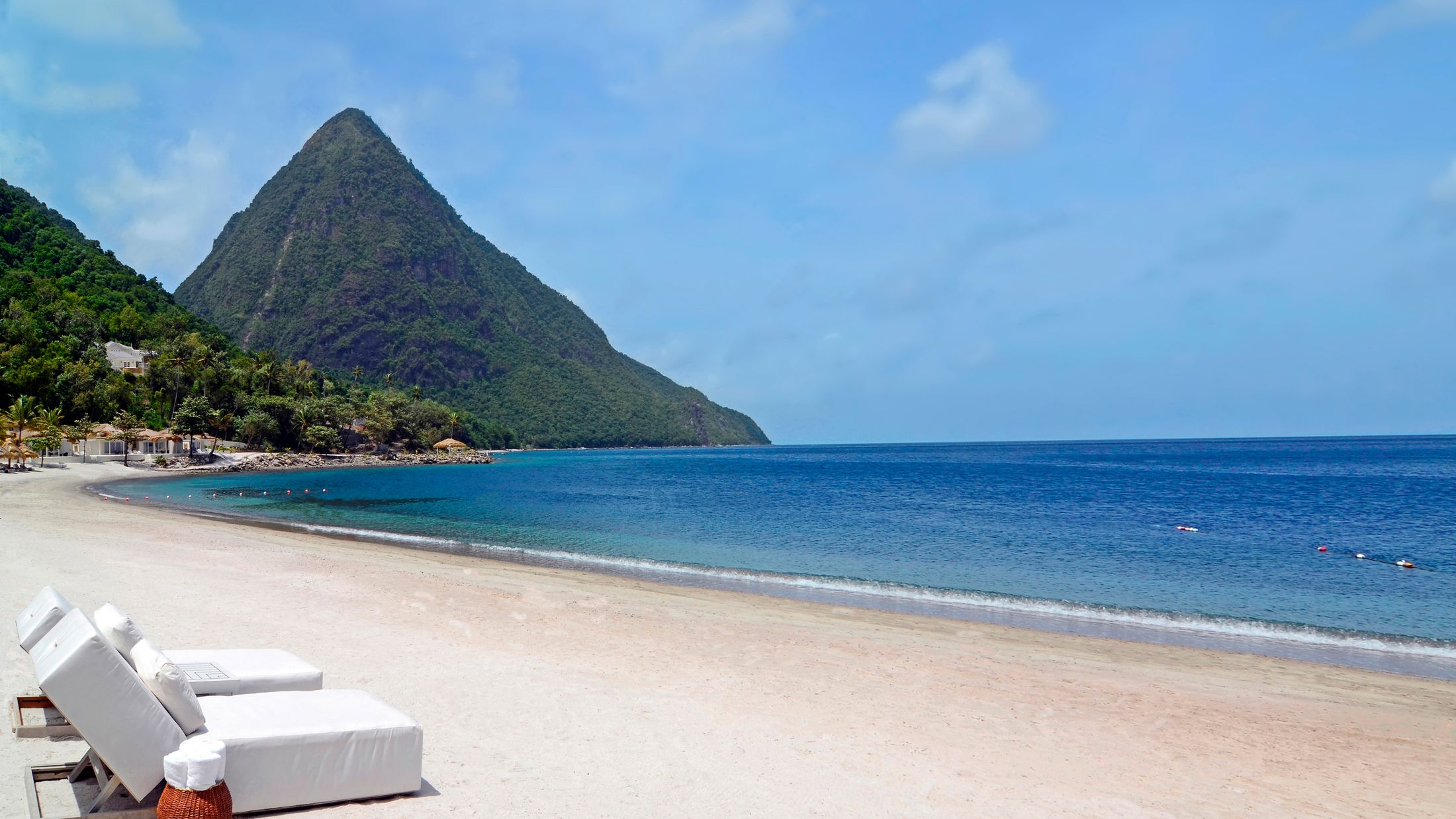 Beach
Unwind with a cocktail in hand on the white sandy beach. Sun loungers and umbrellas are available for guests as well as all day beachside service.
Spa & Wellness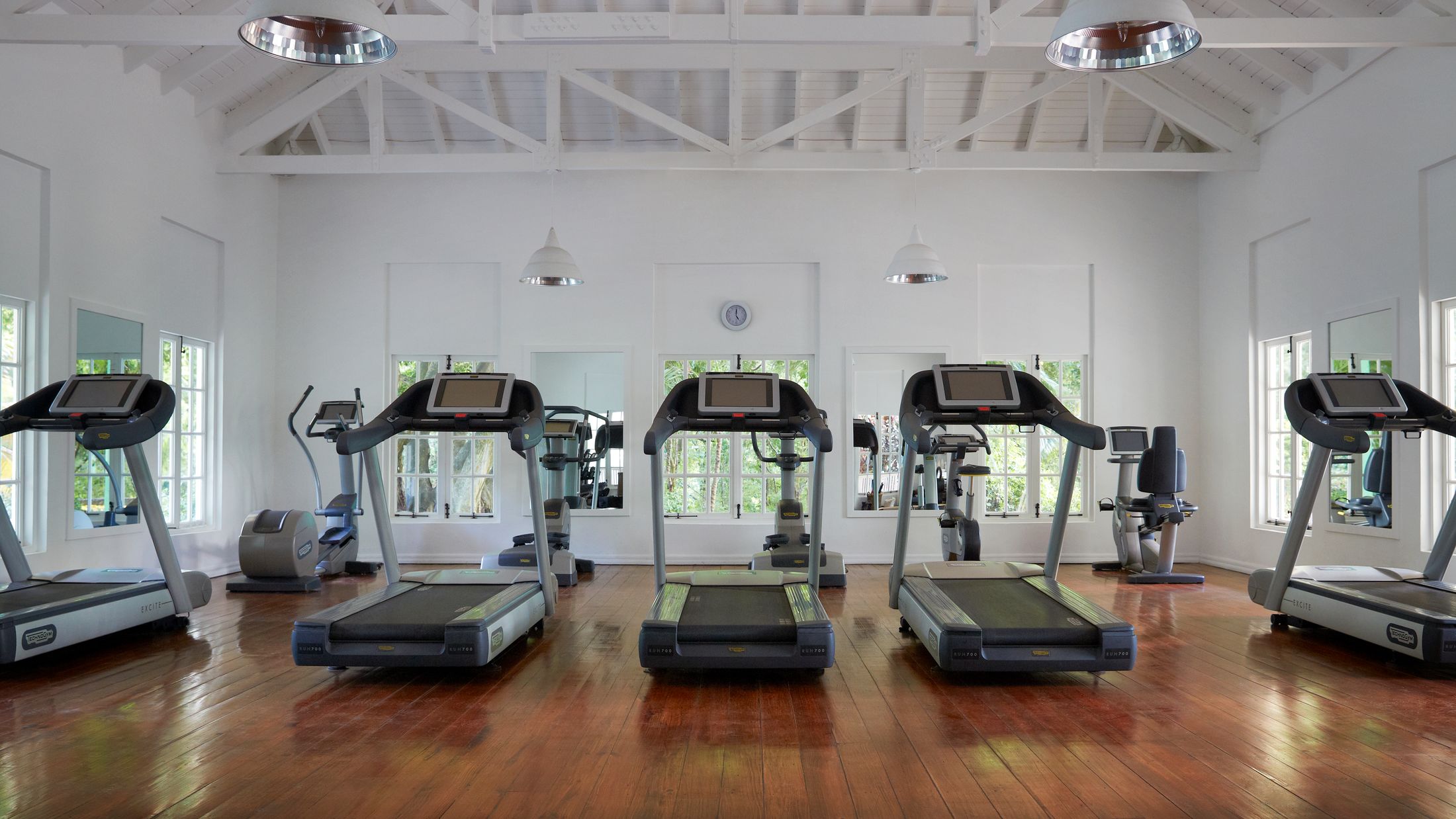 Fitness Centre
The fitness centre is equipped with cardio and weights machines. Individual personal trainer sessions are available offering weight lifting programmes or interval training.

Guests of all abilities can choose from a long list of group exercise classes. Body burn, bootcamp, yoga and ab solution are examples of classes.
Rainforest Spa
Opening Times:
08:00 - 19:00
The seven tree house treatment rooms host the perfect location for a relaxing facial, massage or body treatment. Treatment options for men, teens and couples are available.

The Rainforest Spa features a wetroom with manicure and pedicure facilities, a relaxation pavilion, and an earthen Amerindian steam dome (known as a temascal).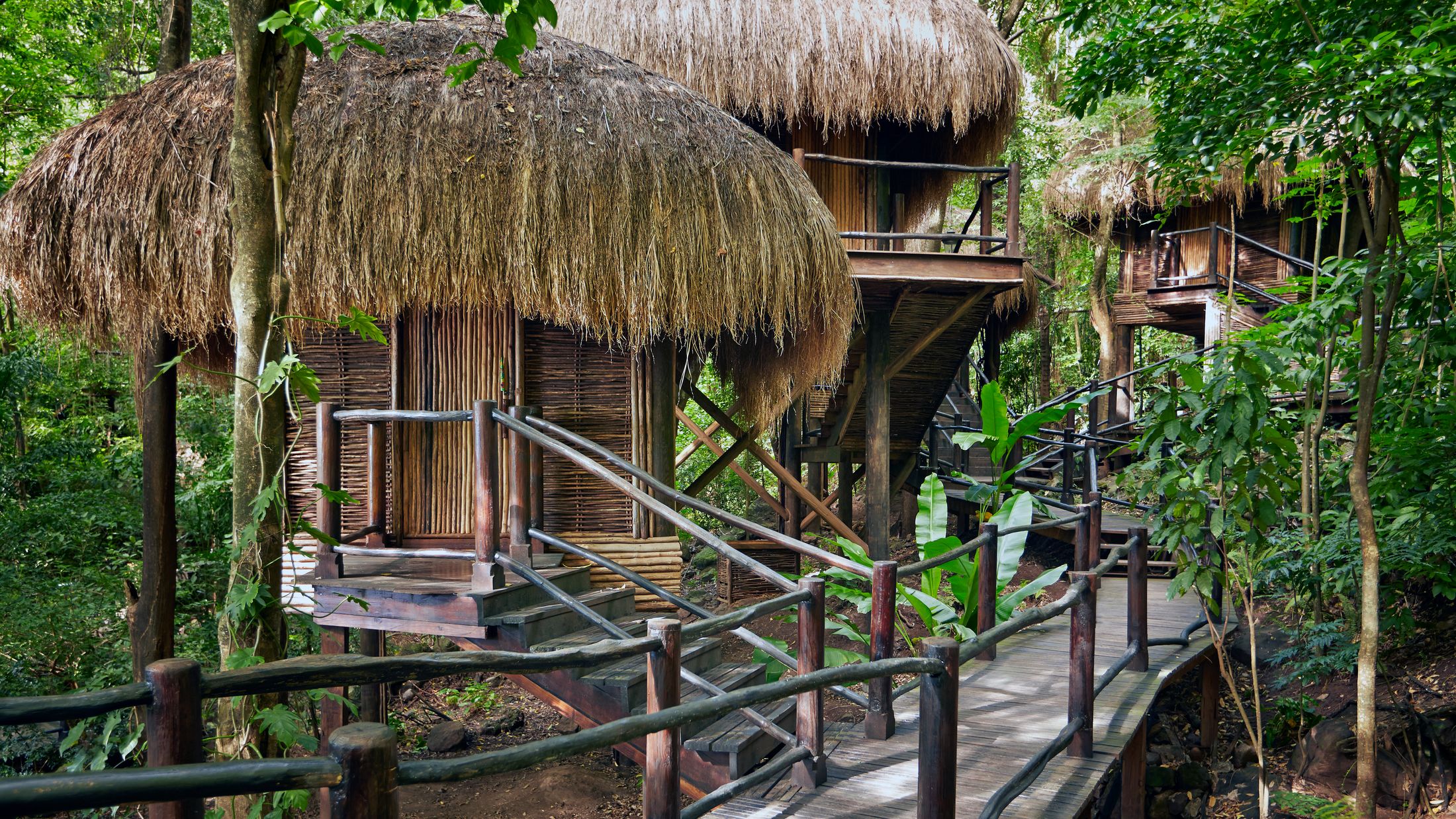 For Families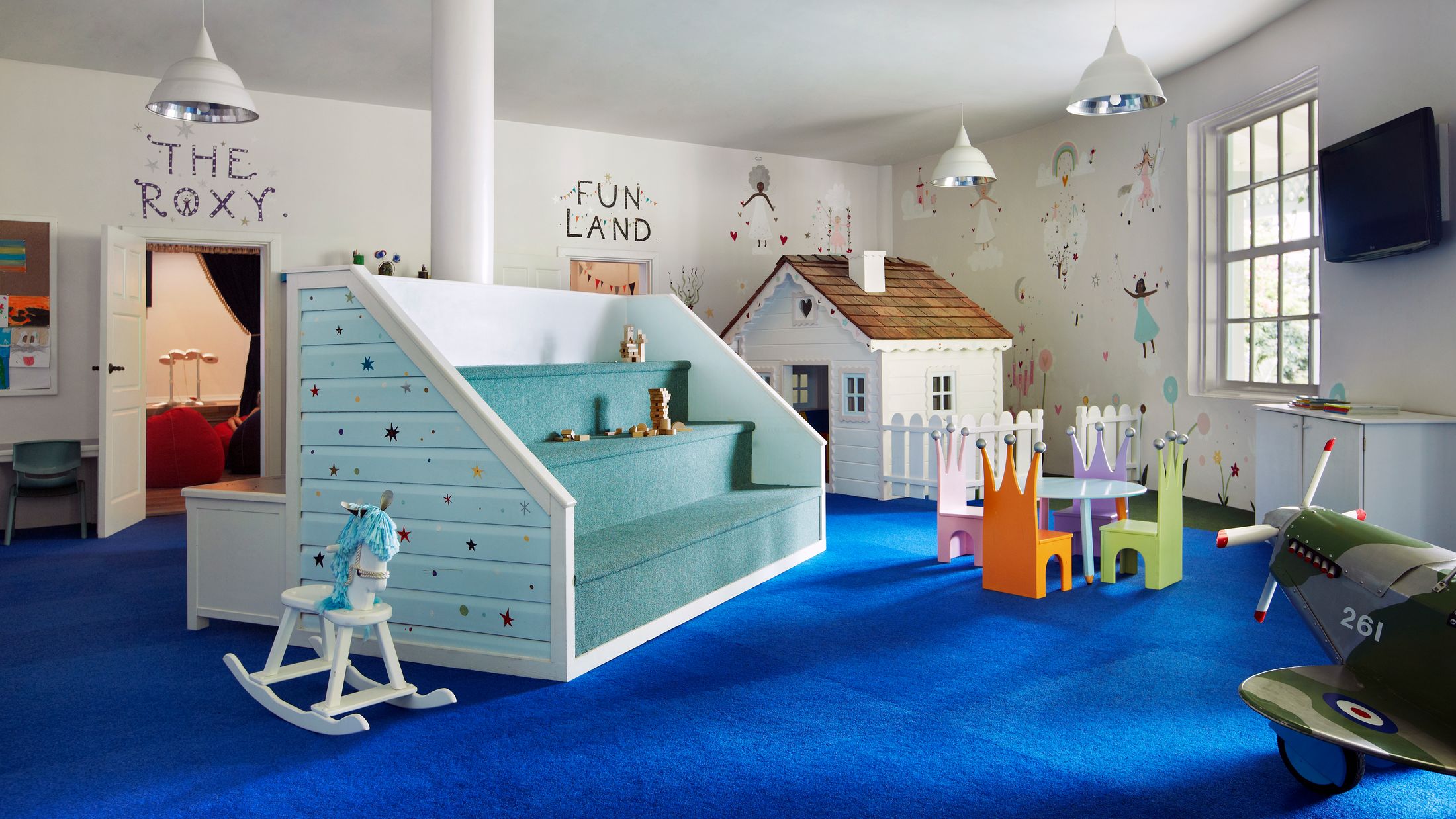 Kids' Club
The kids' club, Sugar Club, provides supervised activities for children aged 4-12 years. A range of activities occur daily including sand castle competitions, arts and crafts, fish feeding and tie dye.
Teen's Club
Spice Club offers teenagers the chance to take part in activities such as table tennis, croquet, billiard tournaments, pinball machines and video games.
Activities & Entertainment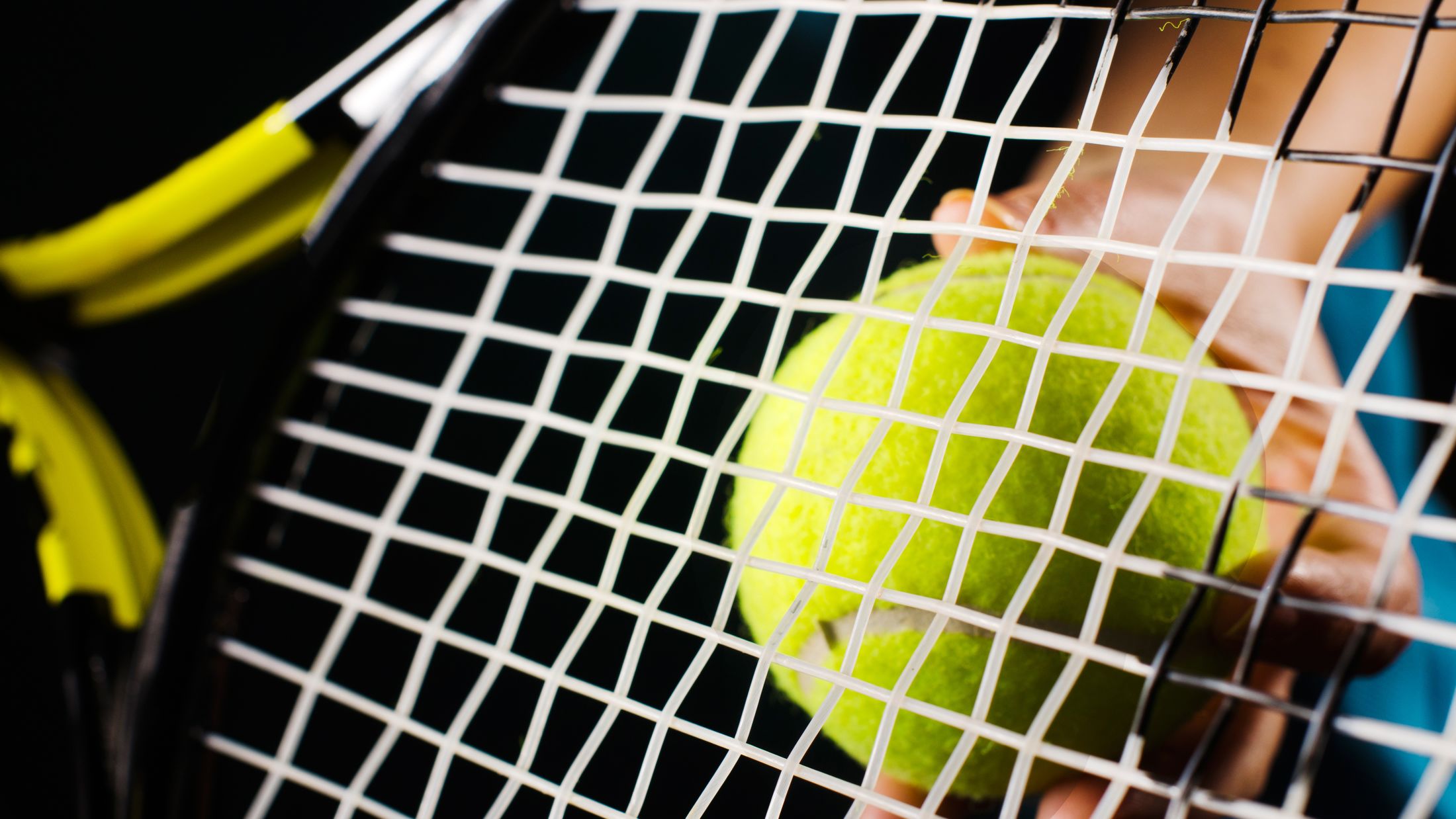 Tennis
Stay active with a game of tennis in the two floodlit tennis courts or enhance your skills with personalised lessons from the tennis pro (payable locally).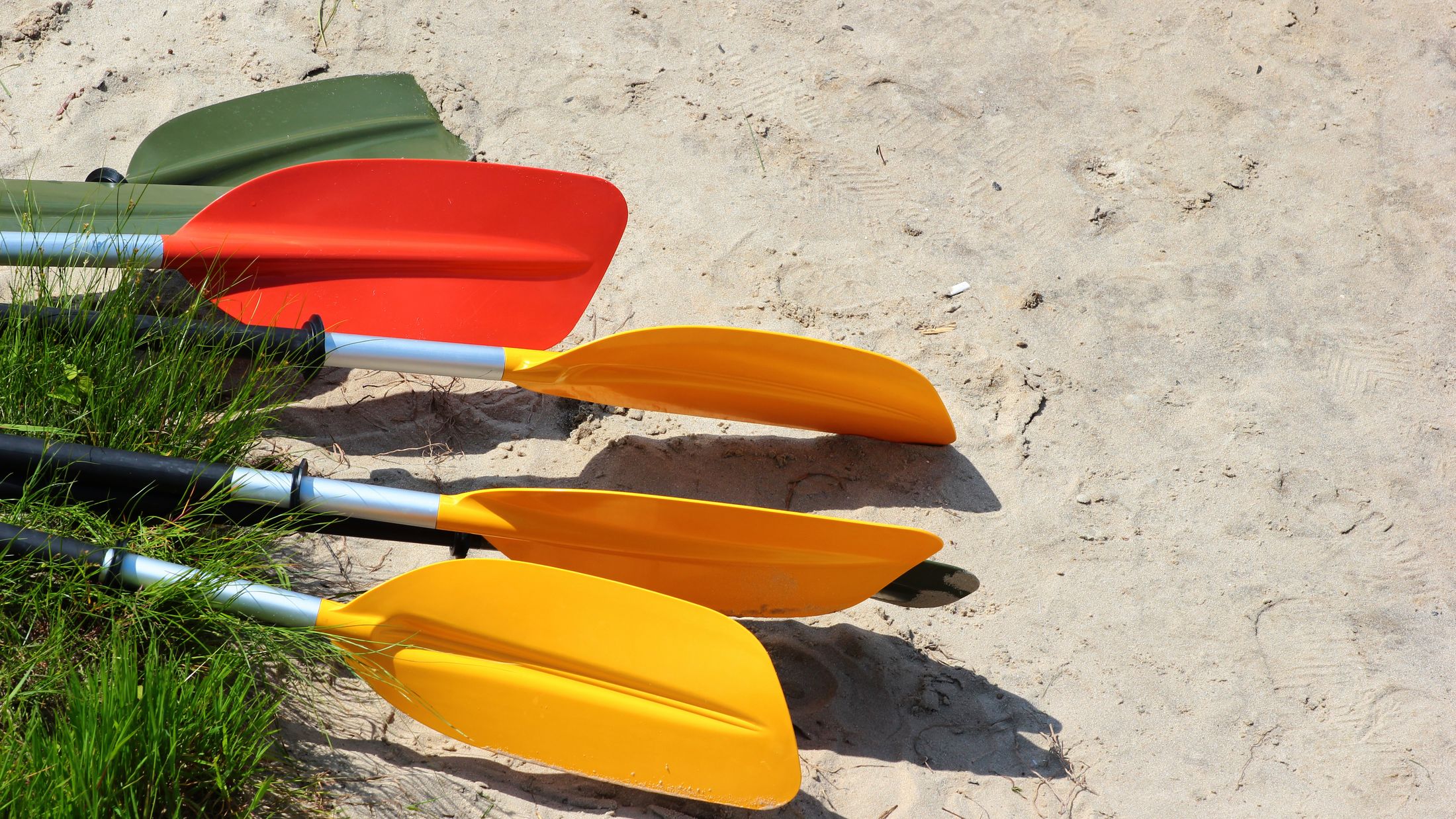 Watersports
Guests can enjoy complimentary watersports including windsurfing, sailing, kayaking, pedalos and snorkelling.

Guests can try Water skiing, wake-boarding, banana boat rides and scuba diving at an additional charge.
About the location
Tucked into St Lucia's west coast, Soufriere is a little town with a big reputation. It counts gorgeous colonial architecture and a colourful seafront among its gifts, with an exciting dining scene that mixes authentic Creole eats and fine dining. The nightlife is worth a mention too, with lots of locals bars where you can sample the island's beloved rum. The beautiful Anse Chastanet beach is less than half an hour's drive away, famous for its vibrant HD colours – green rainforest, white sand and deep azure waters. Soufriere is also the gateway to the island's finest natural attractions. You've got the Sulphur Spring, the 'drive through volcano' known for its bubbling hot springs, and the exquisite Diamond Falls waterfalls wrapped up in a shiny bow of exotic botanical gardens. Then there's the Pitons, twin pillars of towering rock thick with green vegetation that act as a gateway to the town.

Transfer time
45 minutes from St Lucia airport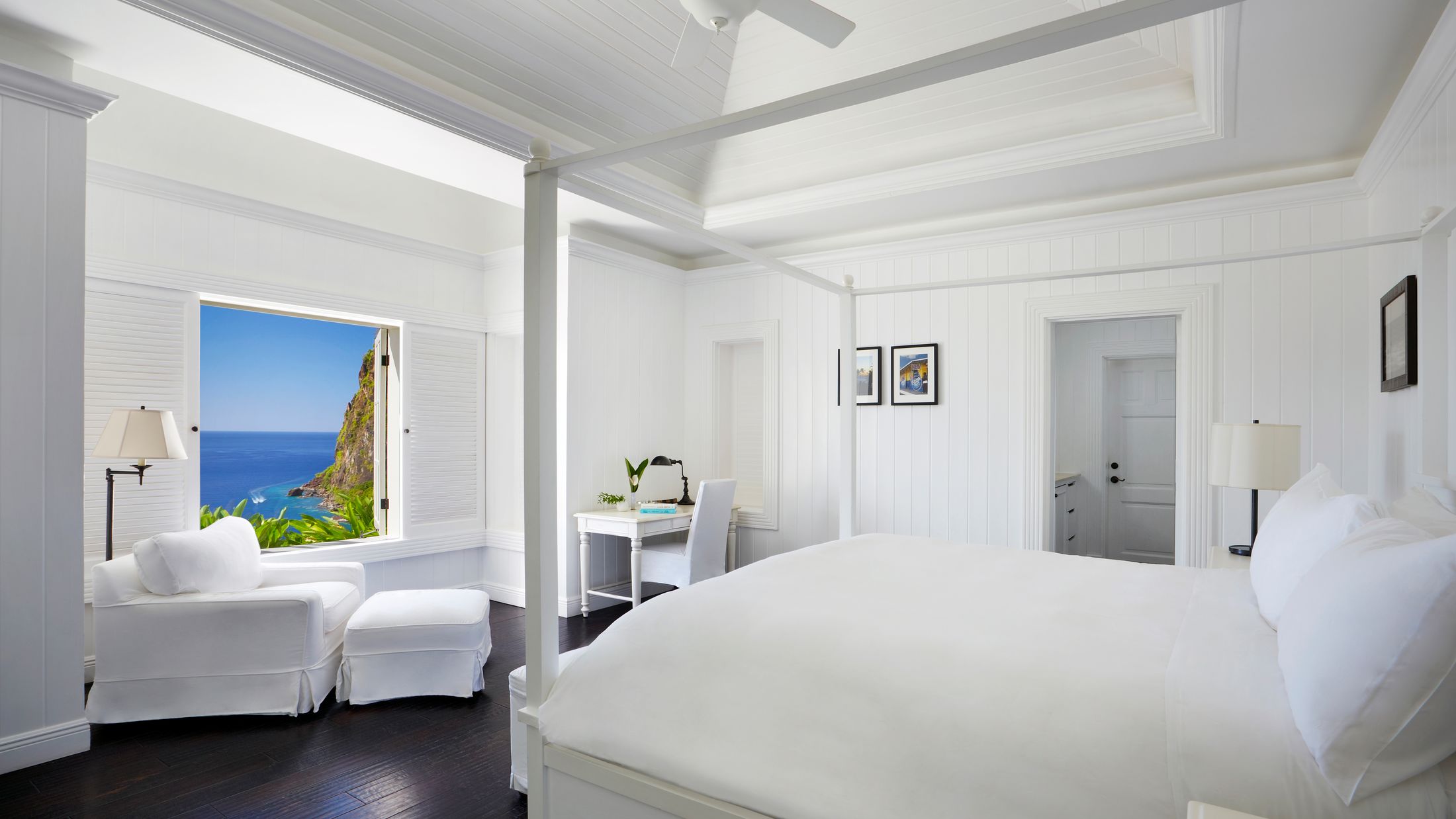 Luxury Sugar Mill Room
Max 2 adults,1 child
Sugar Mill Luxury Rooms are elegantly designed offering a private terrace, plunge pool and walled garden. They enjoy views of either the 18th century sugar mill or sugar mill lily pond and facilities include a four-poster bed, air conditioning, satellite TV, DVD/CD player, iPod docking station, complimentary WiFi, minibar, tea & coffee making facilities, bathtub, shower and bathrobes.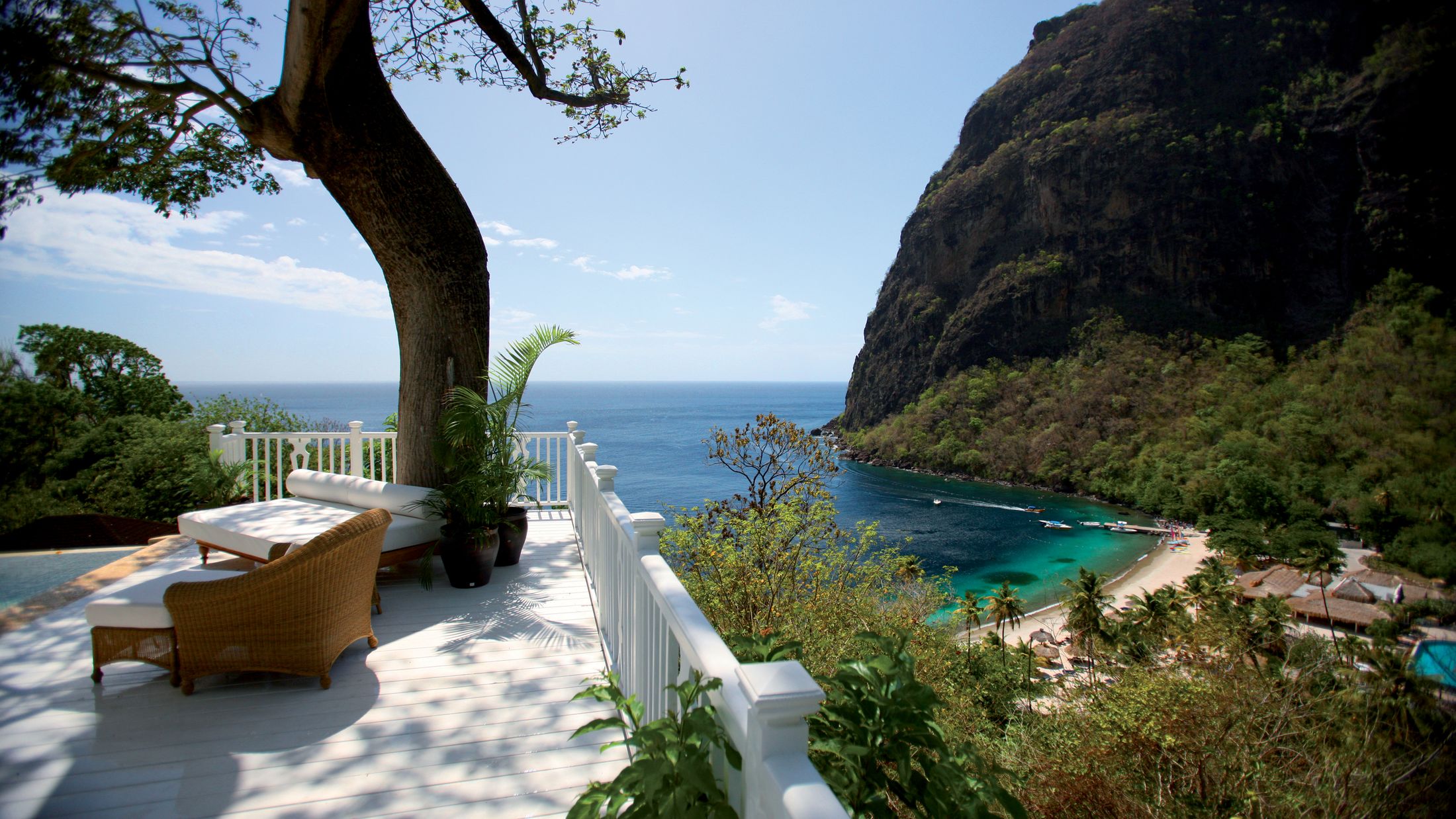 Superior Luxury Sugar Mill Room
Max 2 adults,1 child
Superior Sugar Mill Luxury Rooms are as above but have a private roof terrace with garden views.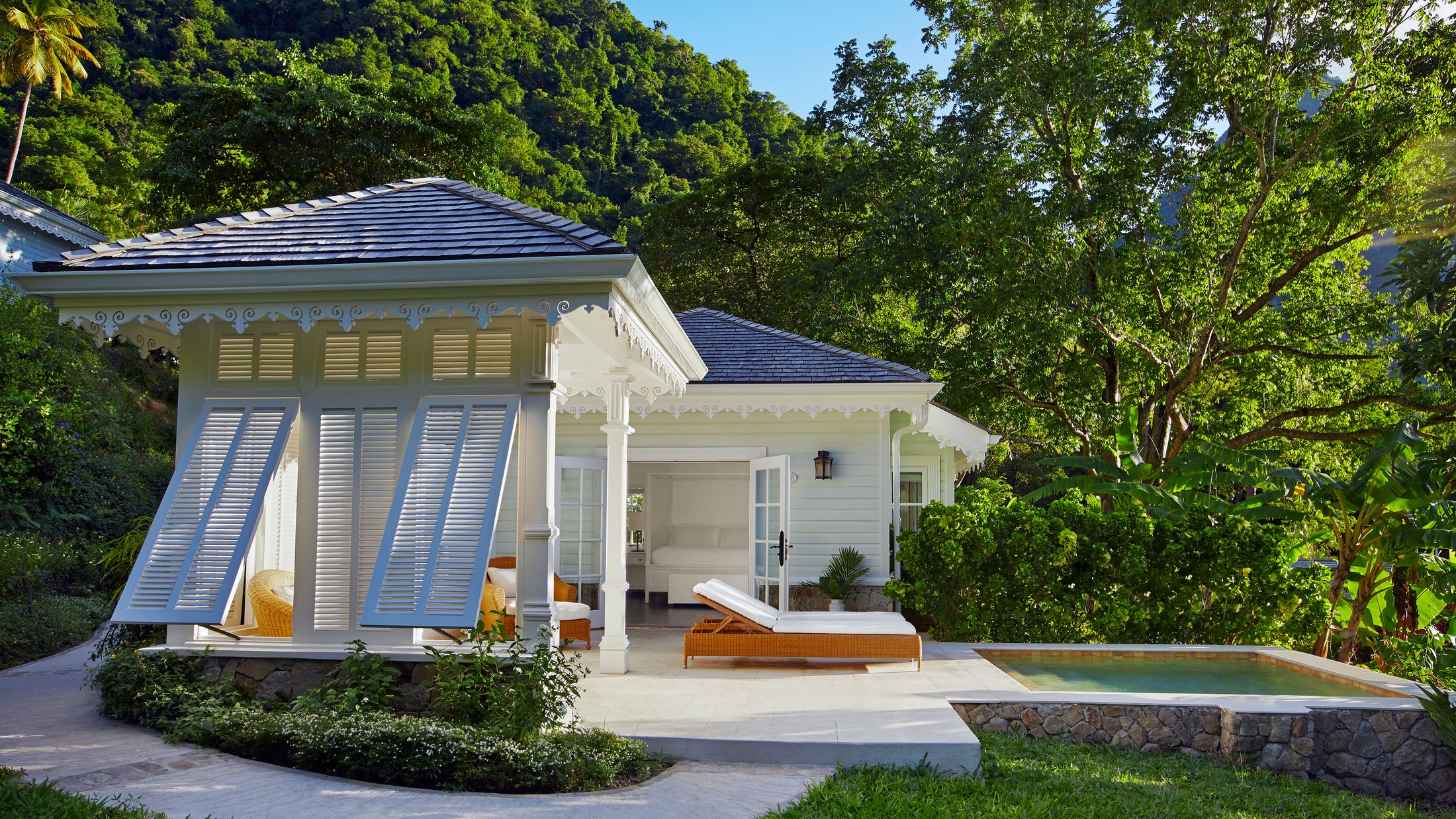 Luxury Cottage
Max 2 adults,1 child
Luxury Cottages are tucked away in the hotel's gardens, offering more privacy and views of either the majestic Pitons or of the sparkling waters of Ansedes Pitons below. All come with a private terrace and plunge pool and have a sitting area and bedroom designed in the style of the resort's plantation history.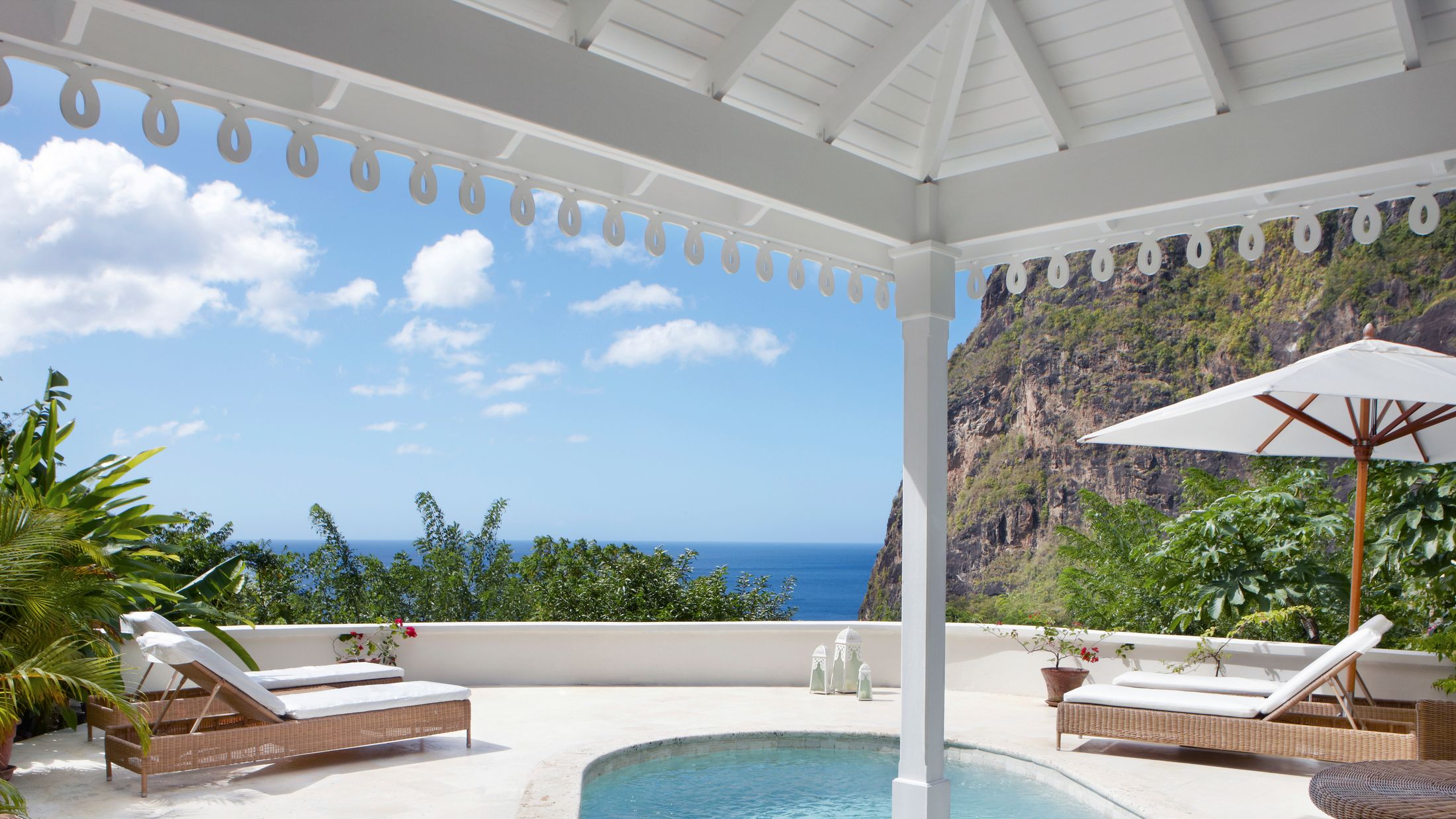 Luxury Villa
Max 2 adults,1 child
Luxury Villas are luxuriously decorated with a walk-in wardrobe, separate bathtub, large walk-in shower and a terrace with a plunge pool.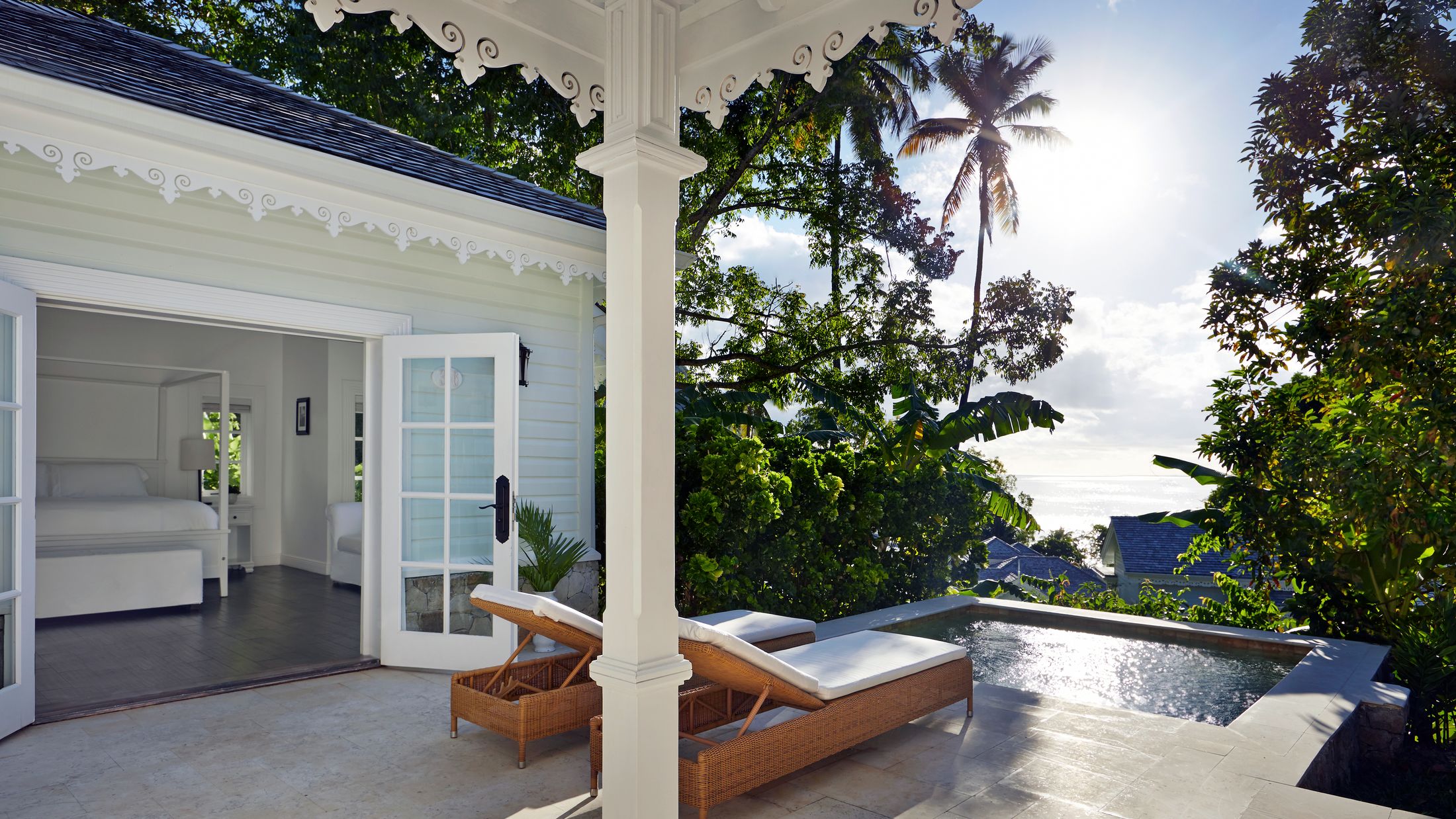 Superior Luxury Cottage
Max 3 adults or 2 adults & 2 children
The Superior Luxury Cottages benefit from a bedroom with four poster bed, a separate living room with a sofa bed and an en suite bathroom with walk-in shower and bathtub. Outside, there is a private patio with a plunge pool.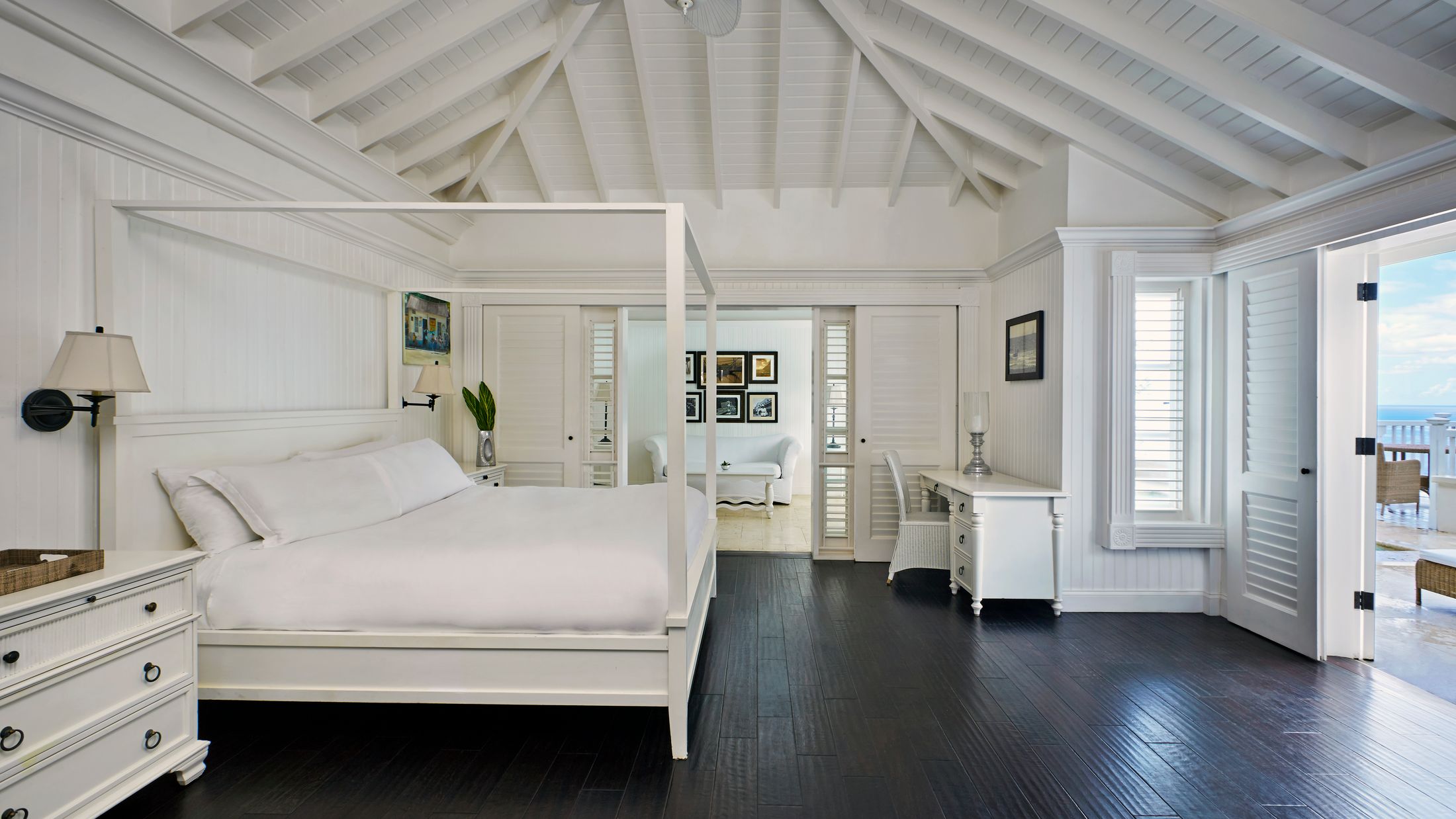 Superior Luxury Villa
Max 3 adults, 2 child
Superior Luxury Villas are as above but also have a small living room with a sofa bed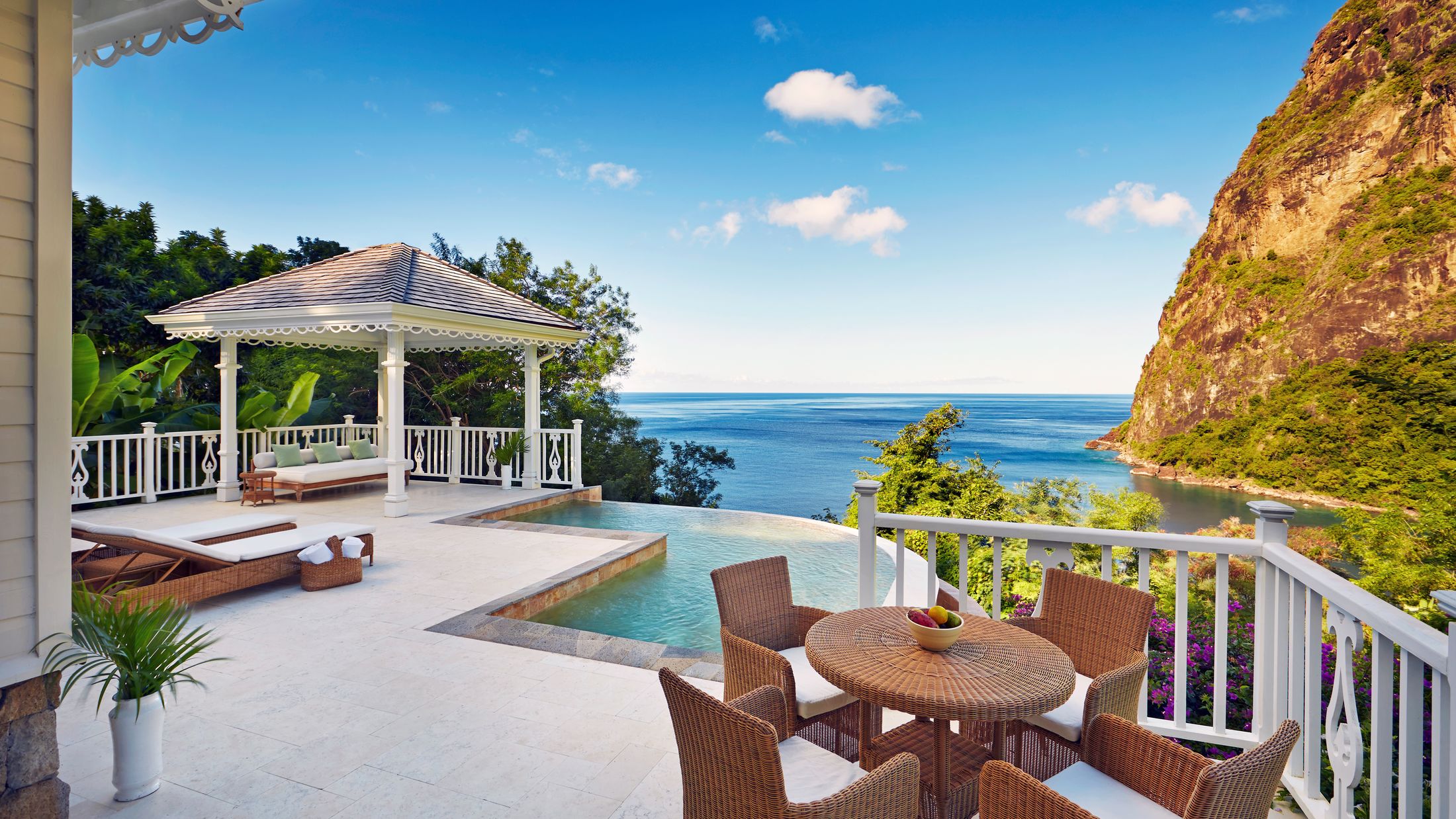 Grand Luxury Villa
Max 3 adults, 2 child
Grand Luxury Villas have a bedroom and a separate living room with a sofa bed and a plunge pool in the large, private patio.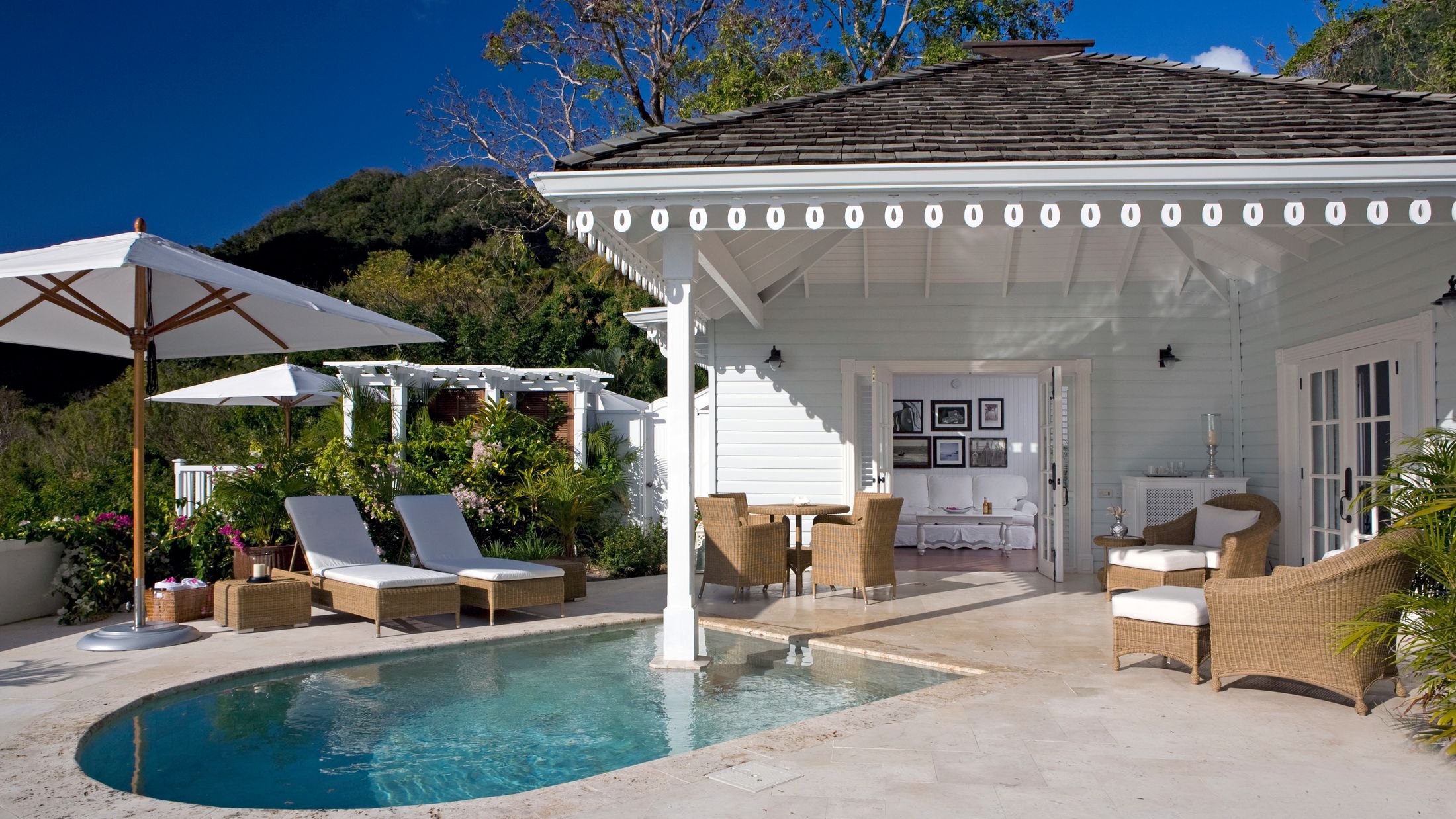 Grand Luxury Villa Ocean View
Max 3 adults or 2 adults & 2 children
Grand Luxury Villas feature a four-poster bed, walk-in wardrobe, en suite bathroom with walk-in shower and bathtub and a living room with sofa bed.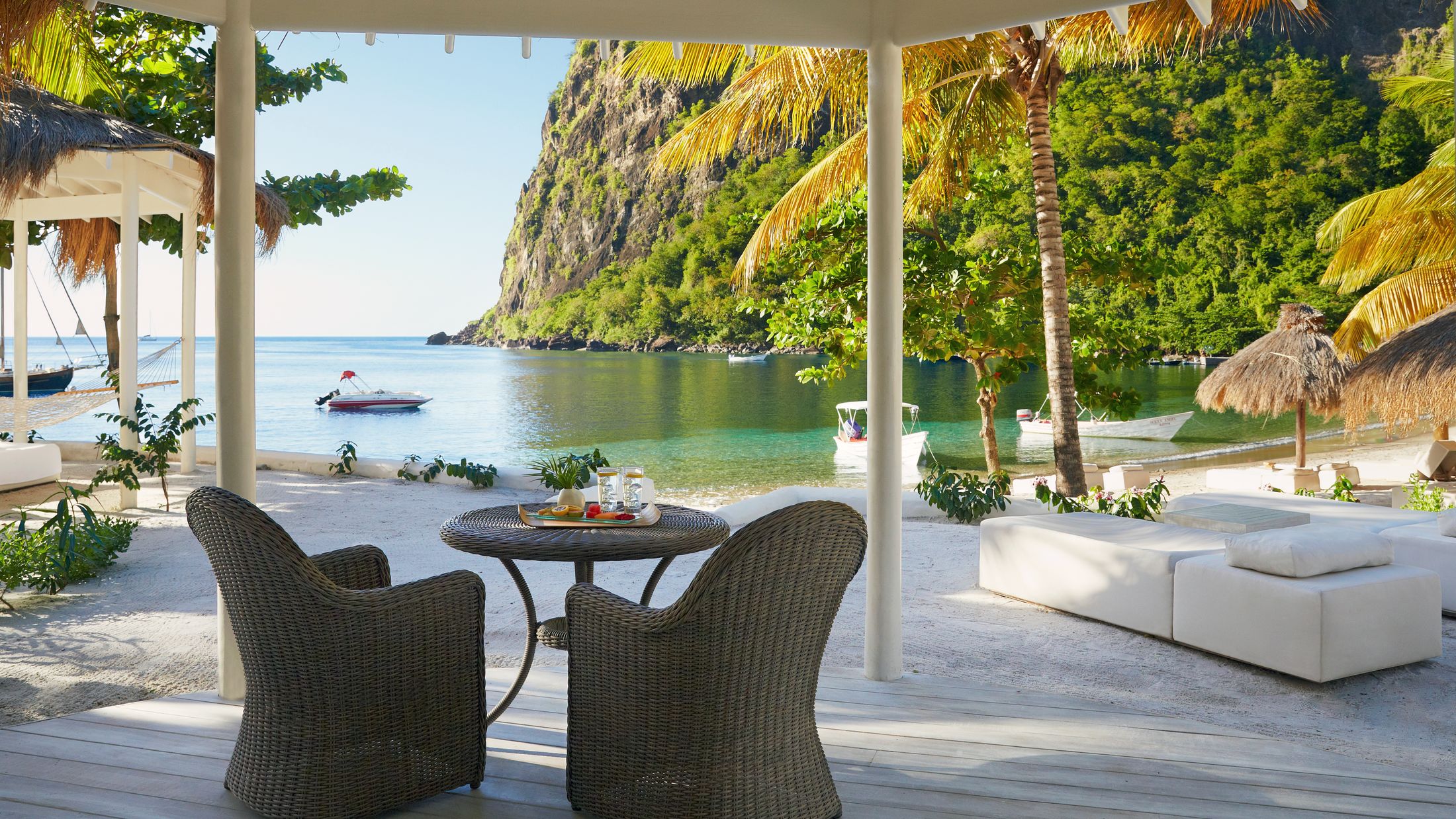 Luxury Beachfront Bungalow
Max 2 adults, 1 child
Luxury Beachfront Bungalows are located on the white sands of Sugar Beach, just steps away from the clear waters of Ansedes Pitons. Decorated in a luxurious style, these stylish villas boast whitewashed pine floors, a large bathroom, an outdoor shower and Jacuzzi® in the private courtyard and a covered open-air living area furnished with sun loungers, table and chairs.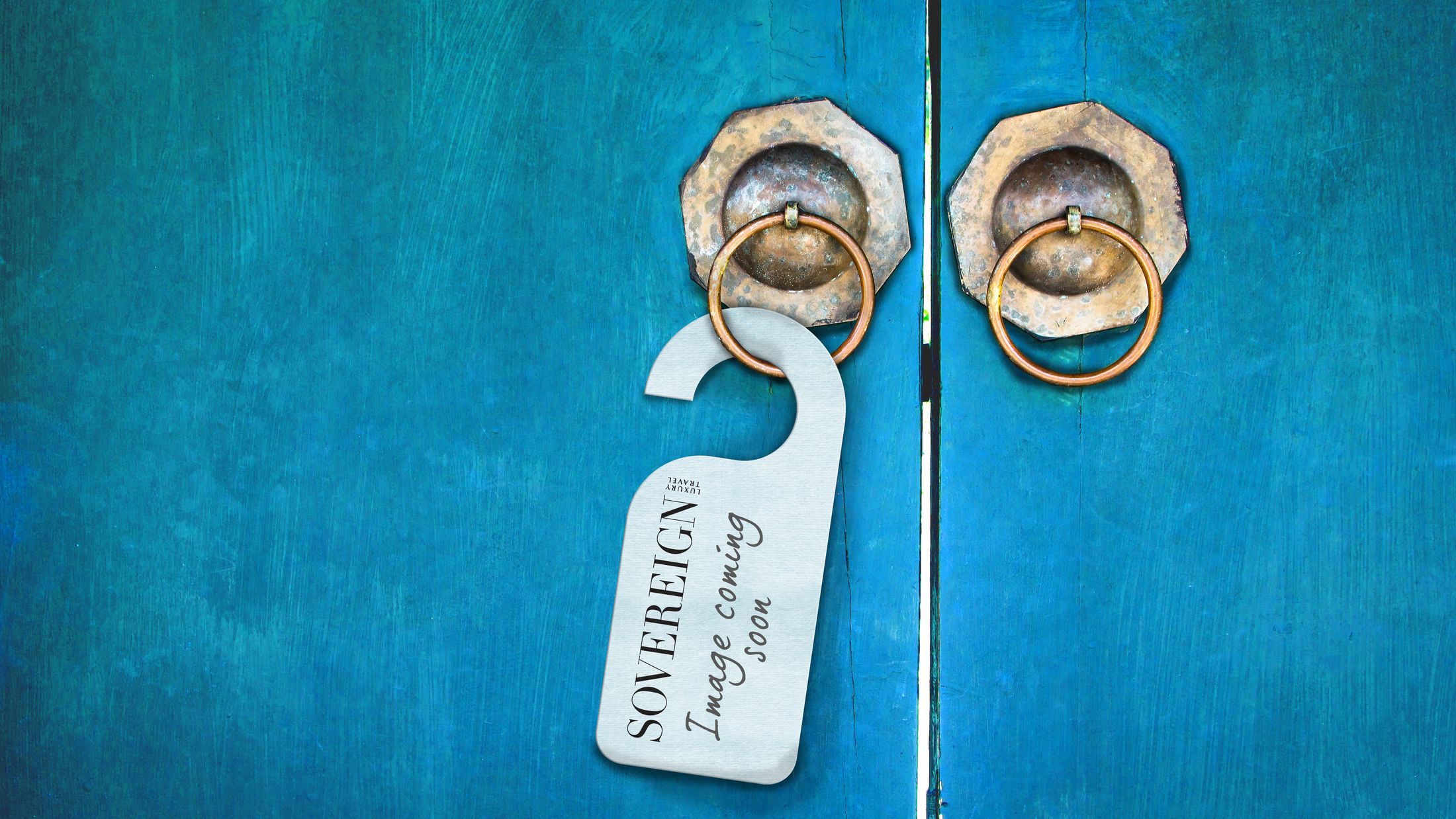 Two Bedroom Luxury Cottage
Max 6 adults
Featuring a master bedroom with a king-size bed and a second bedroom, this two bedroom cottage is ideal for families and boasts a private patio with walled garden and an infinity-edge pool.

Based on 1655 traveller reviews

92% of travellers recommended this hotel
Travellers Ratings
What to expect
Reviews
"
Things you may want to know
JJUNNYC,
Nov 17 2018
TLDR - amazing stay, amazing hotel, I would recommend. Things you may want to know and some tips if you plan on staying. Hotel - First the location of the resort was like something out of a movie...
TLDR - amazing stay, amazing hotel, I would recommend. Things you may want to know and some tips if you plan on staying. Hotel - First the location of the resort was like something out of a movie. Nestled between the 2 pitons with a beautiful white beach and greenery everywhere you looked. I was impressed that everything was maintained immaculately and there was nothing we saw that looked like it was worn or in need of repair. All hotel areas and our villa were immaculately clean. Room - We stayed in a Grand Luxury Villa. - If you've read other reviews you will know the villas are on a pretty steep hill above the beach and restaurants and reception. - You will need to take shuttles to get back and forth from the beach to the villas. Originally I thought this would be annoying but their shuttle system is quite efficient and we never waited for more than a few minutes. - Each villa comes with a team of butlers to help you during your stay. You will be give a small cellphone so you can contact your butlers if you need anything. Most of the time you use the phones to call them for shuttle service and to make you dinner reservations at one of the resort restaurants. Our butlers also helped us setup some trips outside the resort. - It can actually get pretty loud at night because of all the frogs. The first night I found it annoying and couldn't sleep but by the second night I didn't even notice them. - The bed is covered by a mosquito net and they also provide mosquito spray in your villa. We didn't really have any major issues with mosquitoes but we made sure to spray ourselves before we went out in the evenings. - There are some Villas that overlook the beach and some located inside on the hill. Obviously, the villas overlooking the beach have a better view. - The internet in the villa we were in was very weak and slow. If for some reason you need to do some work while on vacation you may have some issues with the internet speed/stability in the villas. - Rooms have US electric plugs in every room so no need to bring a converter. - There was no iron in our room in case you need to iron some clothes before going out. - There is a refrigerator in the room and the water and Piton beer are complimentary and stocked every day. Beach - nestled between Petite and Gros Pitons this imo is the best beach on the island. - There is great snorkeling to the right of the beach inside the Marine Reserve. - Strangely, there was no staff on the beach until 9AM so if you are an early riser then expect to wait for towels and service. - There is internet on the beach and it was quite good and far better than the internet in our villa. You can easily use spotify or one of your music streaming services. - The beach has imported white sand but is still a bit rocky and can be a little rough on your feet when getting in. - No seaweed in sight whatsover. - Beach service was spotty I think mostly because it seemed as if there were only 2-3 servers working at any given time for a pretty large beach. - There are locals who will approach you about chartering a water taxi or a tour on the beach. They are a little pushy but friendly and its very convenient to be able to take a water taxi right from the beach. - There is a large pool area near the beach but I hardly ever saw anyone there. - The water is amazingly calm and shallow and perfect for young kids. Food - We tried all the restaurants and bars at the hotel and the food was an 8/10. - The best meal was breakfast which we thought was excellent. - I wouldn't recommend the all inclusive meal plan. We didn't feel like there was enough options between the 3 restaurants for a week long stay. We chose to eat outside of the resort quite often. (Check out Martha's Table for lunch and Ladera for dinner.) - Food is expensive but what you would expect from any high end Caribbean resort. If you are having appetizer, entree, and dessert then you should expect to pay $200+ a meal for 2. That doesn't include drinks. - Overall, while staff was helpful and friendly I found it annoying that on multiple occasions wait staff forgot something I ordered because they never wrote anything down. - Cocktails were just OK. We tried a bunch of different drinks but never had one that really wowed us. Staff - the staff overall were truly amazing and friendly. Our butler Felicia was amazing and she really worked to make our stay a joy. We also really loved all the shuttle drivers. John was great and often gave us some interesting information about the island and made suggestions for cool local spots to eat. The friendliness of the staff really made this resort stand out. Misc tips - we rented a car so we could explore a little and eat outside of the resort. I would not recommend you rent a car unless you are a confident driver. The roads are extremely narrow, steep, and windy. Also, they drive on the left side and cars are right side drive which takes time to get used to. The drive to get to Sugar Beach from the main road is quite an adventure on its own. - if you are going to rent a car I recommend you rent a 4x4. While on island it rained a couple evenings and I couldn't imagine driving up those steep hills without 4wd. Originally, I had the car in 2wd driving up a hill out of the resort and the car was slipping all over the place. It doesn't help there are like 2ft deep rain gutters on the sides of the road. - Highly recommend you charter a snorkeling trip with Desmond who captains the Unity boat on the beach. He will take you to Anse Chastenet for a snorkel and to check out the beach. Should run you like $60. - Definitely stop by Martha's Table for lunch. We liked it so much we ended up eating lunch there 4 days in a row. - Definitely make a reservation for Dasheen at Ladera which is located right above Sugar Beach. Find out what time the sun sets that day and arrive an hour early to get a good seat and enjoy some cocktails while you enjoy the amazing view. - If you are going to the Sulphur mud baths try going around 4PM. All the crowds will be gone by then and you will have the place to yourself. You definitely do not want to go when all the cruise boat tours are there, it's a mad house and you will not enjoy yourself. - Beside 1 or 2 restaurants there wasn't that much to see in the town of Soufriere. It's a fishing town and not really developed for tourists. It's not like other Caribbean locations where you will see souvenir shop after souvenir shop. In fact we only saw one souvenir shop there the whole time.
View full review
"
absolutely beautiful resort in a spectacular location
motorolomd, Los Angeles, California
Nov 12 2018
Sugar Beach is a spectacular resort located between a UNESCO World Heritage Site between the Gros and Petite Piton mountains. The grounds are immaculate and well-maintained, and the staff is friendly...
Sugar Beach is a spectacular resort located between a UNESCO World Heritage Site between the Gros and Petite Piton mountains. The grounds are immaculate and well-maintained, and the staff is friendly and discreet. Our room was perfect and had a wonderful view of the sunsets.
View full review