This lively and luxurious hotel is perfect for both families and couples looking for lots of facilities
An awarding winning spa offers treatments, whirlpools and an Indian body and mind temple
Choose from a fantastic range of restaurants, bars and lounges, including fine dining and local fish
Part of the Leading Hotels of the World, there are excellent facilities for both couples and families
Amathus Beach Hotel Limassol is a luxurious property set right on the golden sands of the beach. It offers a wealth of facilities and experiences, with something to keep guests of every age relaxed. Enjoy romantic candlelit dining beneath the stars or head to the spa where you can choose the hotel's signature package and leave feeling rejuvenated.
Each of the rooms is bright and modern with attention paid to every detail. Choose from views of the Mediterranean or the beautiful gardens, as well as private swimming pools and more. There are 10 restaurants and bars to choose from, each with their own flavour and atmosphere, as well as two swimming pools and two beaches.
Hotel child prices apply to ages 2–14 years. The hotel has 239 rooms, 5 floors, and 3 lifts. Specially modified rooms for people with reduced mobility are available on request.
Facilities
Bars & Restaurants
Dine Around
Guests of the Amathus Beach Hotel can pre-purchase Dine Around vouchers that allow guests to dine in a range of a la carte restaurants at the Amathus Beach and neighbouring Four Seasons Hotel. Dine around must be pre-purchased before travel in groups of 3, 5 or 7 vouchers per person and a purchase of 5 or 7 vouchers will also include one complimentary lunch buffet.
Dine Around vouchers can be used for a 3 course dinner or a set tasting menu (depending on restaurant) at Limanaki Fish Restaurant and the Grill Room at the Amathus Beach Hotel or at Vivaldi by Mavrommatis Restaurant, Seasons Oriental and the Seafood Bar at the Four Seasons Hotel.
Please call our Trusted Advisers for more information.
Athina Lounge
This al fresco terrace is the perfect place to enjoy fresh cocktails, snacks and light bites as you overlook the hotel gardens leading down to the Mediterranean. There is also an indoor area for those wanting some shade.

Open: 09:00 – 01:00
Blue Breeze Lounge
Choose from a menu of cocktails, snacks and over 50 flavours of shisha as you enjoy panoramic views of the sea. The lounge is perfect for a relaxing afternoon or an evening listening to chilled tunes.

Open: 18:00 – 01:00
Helios & Fresh Bar
Choose from snacks, refreshments and light bites at this outdoor bar. The menu includes fresh juices, waffles, ice creams, hot and cold sandwiches, sushi and lots more.

Open: 10:00 – 19:00
Kalypso
Enjoy all day breakfast, lunch and snacks on the terrace or in the elegant restaurant. Choose from Middle Eastern, Cypriot, Italian, Indian and Chinese flavours in this restaurant that offers a combination of buffet and a la carte dining. The grilled prawns, fresh pasta, steak and chocolate cake are a must.

Open: 07:00 – 10:00, 12:30 – 15:00 buffets, and 10:00 – 19:00 a la carte.

Half Board guests can enjoy breakfast and lunch or dinner in the restaurant.
Kalypso Gardens
Dine on the al fresco terrace and enjoy the shade from the surrounding palm trees as you overlook the ocean. The themed buffet changes regularly, with the traditional Cypriot evening highly recommended.

Open: 19:30 – 22:30 from May to October

Half board and full board guests can enjoy dinner here.
Lighthouse Bar & Lounge
A relaxed, beachy feel matches the views of the ocean as you order creative cocktails, champagne, wines and more alongside freshly cooked fish, fresh oysters and a delicious cheese board.

Open: 18:30 – 01:00
Limanaki Fish Restaurant
Dine beneath the stars as you listen to the waves lapping the ocean. Enjoy a selection of freshly caught local seafood, including prawns, calamari, crab cakes, oysters, lobster and more.

Open: 19:30 – 23:00 from May to October

Full board guests can choose Limanaki Fish Lounge as their dinner restaurant. Half board guests are entitled to a food allowance of €17.50 per adult and €9.75 per child for dinner.
Shisha Lounge
Relax and take in the views of the Amathus Beach Hotel Limassol's gardens as you choose from exotic cocktails and a shisha menu with 50 different flavours available.

Open: 17:00 – 01:00
The Grill Room
Take in views of the sea from the large windows or wooden al fresco deck as you enjoy a romantic meal of locally sourced produce. The smoked salmon is a must, as well as salads, succulent beef and more.

Open: 19:30 – 23:00 in summer, 19:00 – 22:30 in winter

Full board guests can choose dinner here. Half board guests are entitled to a food allowance of €17.50 per adult and €9.75 per child for dinner. Children under the age of 5 are not allowed in this restaurant.
Beach & Pools
Beach
There are two private beaches to choose from during your stay, with one dedicated to families. Each is fully equipped with sun loungers and parasols. There is also a new floating playground, located just off of the beach for all the family to enjoy.
Swimming Pools
There are two outdoor swimming pools, one of which is dedicated to families. Play on the waterslides and let little ones paddle in the shallow end. There is also a heated saltwater pool indoors.
For Families
Pelican Kids' Club
This complimentary kids' club offers a full programme of activities and games with expert staff on hand. Activities include cooking lessons, a cinema, arts and crafts, TV games and a soft play area. The adjoining Pelican family restaurant is perfect for families of all ages.

Age: 4 – 12 years

Open: 10:00 – 13:00 and 14:00 – 22:00 in summer
Spa & Wellness
Amathus Spa
The hotel's award winning spa offers an extensive treatment menu, as well as offering an indoor pool with whirlpools, a relaxation area and an Indian body and mind temple. The Amathus Herbal Experience is highly recommended.

Open: 09:00 – 20:00 from April to November, 09:00 – 19:00 from December to March

Children under the age of 16 are not allowed in the spa.
Activities & Entertainment
Water Sports
Head to the neighbouring Four Seasons hotel and make the most of the many water sports available, including sailing, water skiing and more.
Sports
Choose from activities including tennis and table tennis, with equipment and courts available on site. Group fitness classes are also held throughout the week.
Evening Entertainment
Live shows and music are performed on selected evenings and include international performances as well as offering an insight into Cypriot culture.
About the location
Found along Cyprus' south coast, Amathus Beach Hotel is located in lively Limassol and is ideal for those wanting to enjoy the many amenities and activities available. Limassol is Cyprus' largest resort and offers a vibrant atmosphere for everyone. The beaches are fantastic and offer water sports, as well as a chance to relax, and little bars and restaurants where you can enjoy delicious local cuisine, cocktails and more.

There are plenty of shops for those wanting to pick up souvenirs and unique gifts to take back home, as well as an old town for culture lovers. Take in the 19th Century architecture and pretty pavement cafés or wander around the castle and soak in its history.
Transfer time
Amathus Beach Hotel is a 40 minute drive from Larnaca Airport.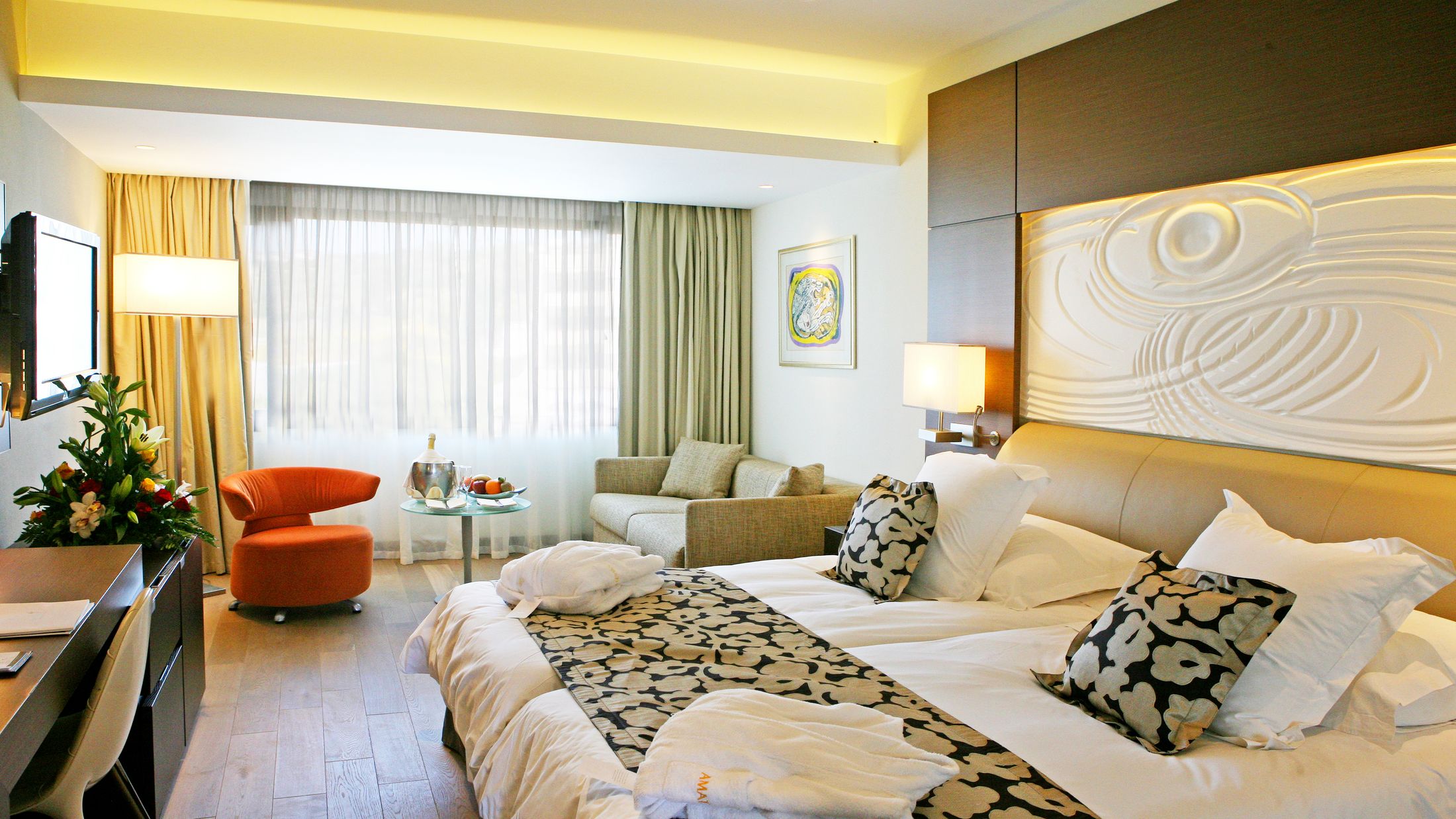 Superior Twin Inland View
Max 3 adults, 1 child
Superior Inland View Rooms are located on the 1st - 4th floors and have been newly renovated to offer contemporary accommodation with quality furnishings and stylish décor.
31m²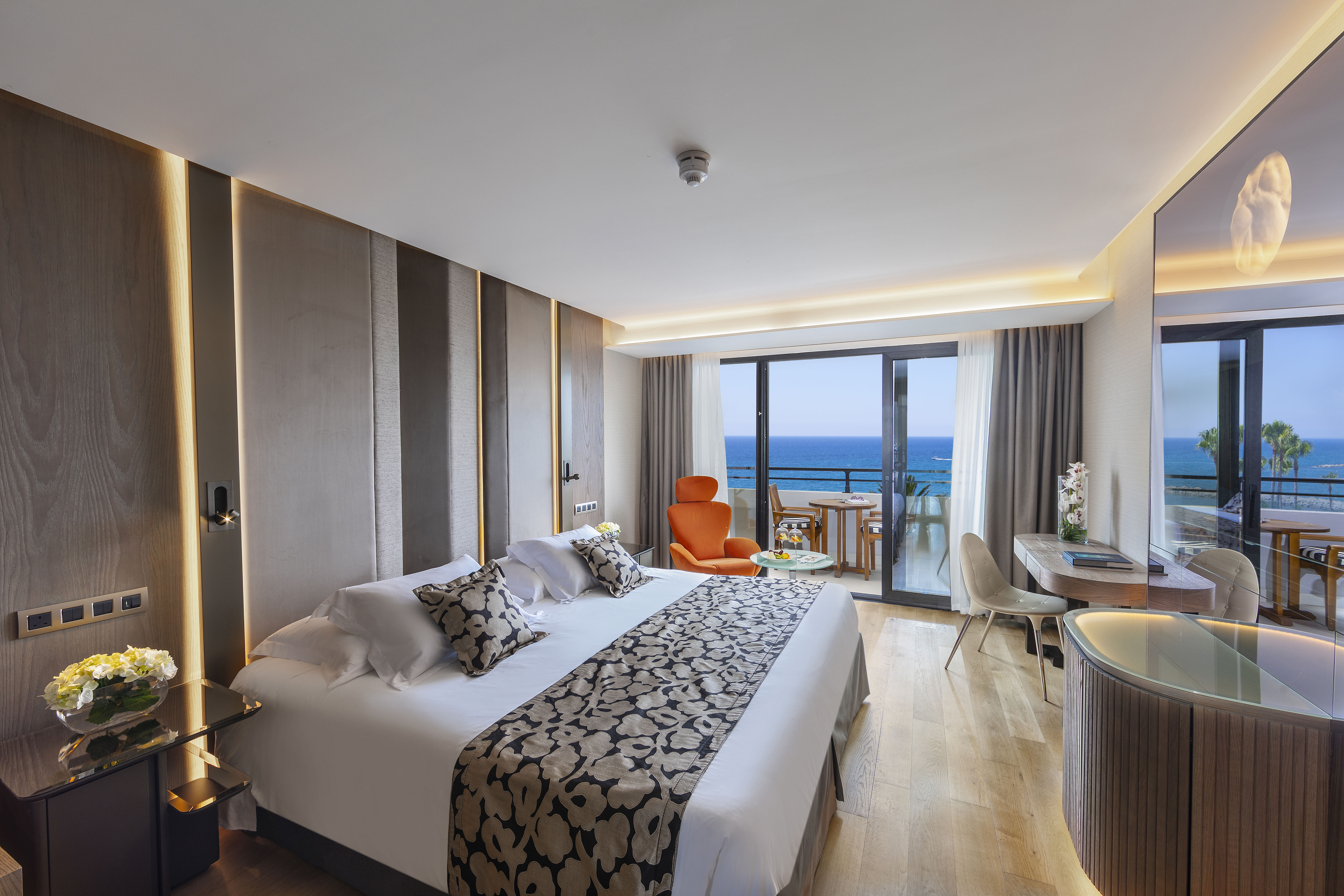 Superior Twin Sea View with Balcony
Max 3 adults
The Superior Sea View Rooms have recently been refurbished, offering stunning panoramic views from their furnished balconies. These rooms are located on the 1st - 4th floors.
26m²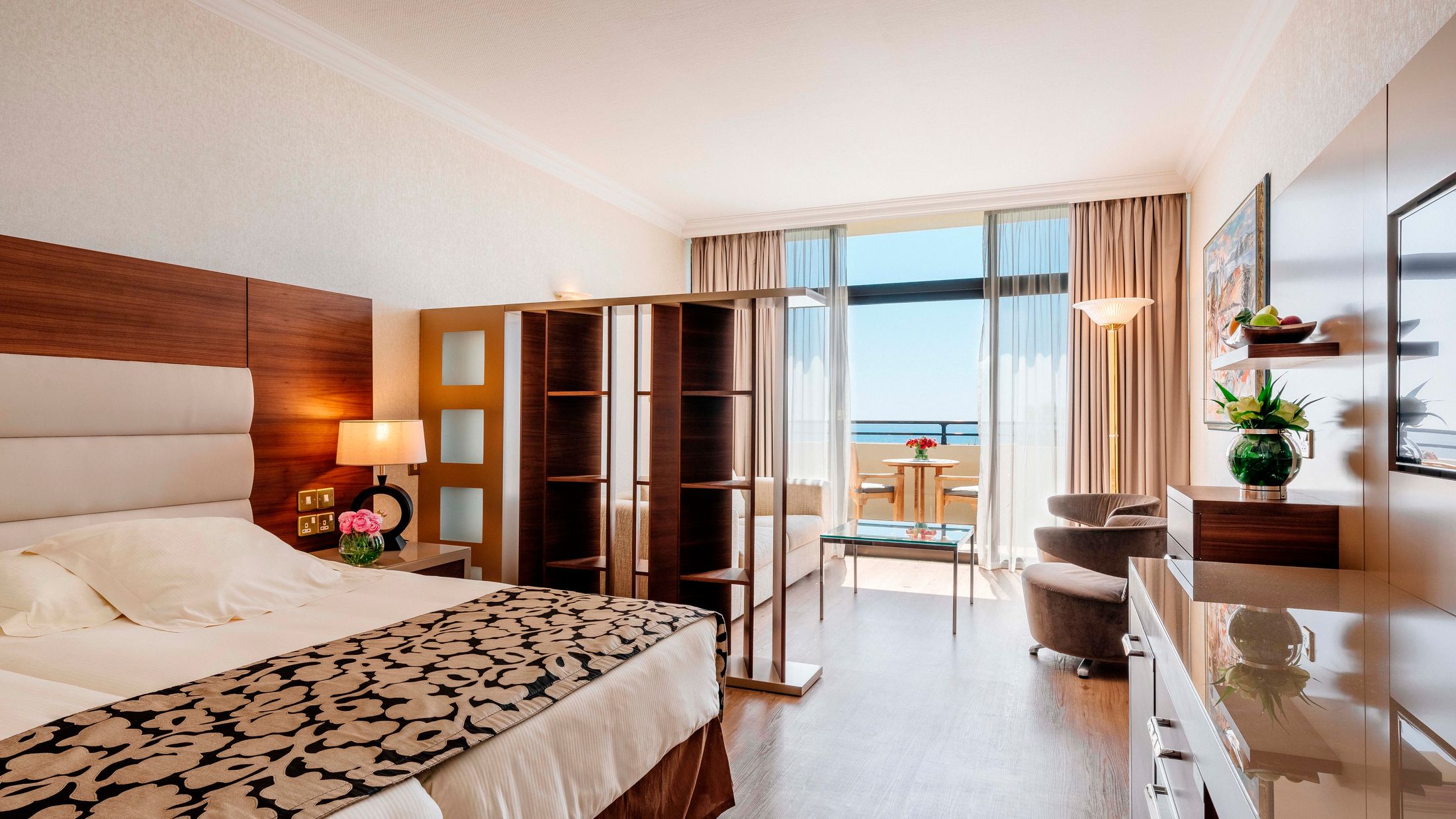 Junior Suite Sea View
Max 3 adults, 1 child
Junior Suites with Sea View are located in the private annex and are elegantly decorated with a lounge area separated from the bedroom by a partition. The suite has a coffee machine, iPod docking station, marble bathroom with twin sinks and an expansive balcony with sea views.
37m²
Family winter offer
Two children between the age of 2 - 17 years staying in their own room will receive up to 10% discount between 01 November 2020 - 24 April 2021 (a minimum stay of 7 nights is required).
For the month of April 2021, children up to the age of fourteen (14) are entitled to FREE FULL BOARD TERMS. (a minimum stay of 5 nights is required)
Free room upgrade
Book a Superior Twin Inland View room and receive a complimentary upgrade to a Superior Twin Sea View room when staying for a minimum of 7 nights between 08 January - 28 February 2021.
Free upgrade to half board
Guests staying for a minimum of 7 nights between 15 November - 15 December 2020 & 08 January - 10 February 2021 receive complimentary Half Board.
Early booking discount
Save up to 10% discount on the hotel price for holidays between 27 April - 31 October 2021 booked by 31 March 2021.

Based on 2625 traveller reviews

94% of travellers recommended this hotel
Travellers Ratings
What to expect
Reviews
"
Sun, sea and wonderful people: perfect place for long stays and for living!
AlexTalking, London, United Kingdom
Oct 15 2020
I stayed in this beautiful hotel twice and each time was truly impressed how consistently excellent this hotel is run and how specifically it is guest-oriented. Honestly, it feels like home and like...
I stayed in this beautiful hotel twice and each time was truly impressed how consistently excellent this hotel is run and how specifically it is guest-oriented. Honestly, it feels like home and like a club where you want to come and stay for as long as possible. In fact, I wanted to live there in the end. Each client faces warm Cypriot hospitality. From the point of booking to pre-arrival to checking-in it was all very personal and caring. When arrived, Myria, Anastasia and Eleni ensured I had all I needed, nothing can compare to how greatly they assisted me, even with some unusual requests. The housekeeping and the room service were excellent. The beach is amazing with two parts of a nice sandy beach which feels private with warm Mediterranean water and sun taking care of you in the hands of nature. The breakfast is superb - both in the room and in the modern, brand new restaurant. The beach service was excellent with amazing freshly squeezed juices and food from Panteleitsa and Alexander, served by Maria and all the great people who work there. Limanaki, where I had dinner almost every day, turned out to be one of the best restaurants in Limassol, which is true! Thanks a lot to Goran and his caring team! The massage with Christiana was so great - the hotel has an amazing spa with beautiful swimming pools and a gym. I befriended a couple of locals who turned out to be Amathus club members, and shared how amazing it was and that they can't live without it. The only sad thing is that I didn't have a chance to try Aqua aerobics classes in the fitness club! I wish I knew that in advance, next time I will go there each time! The hotel has wonderful facilities, such as bars and restaurants, but I didn't try them much. The most beautiful thing about this hotel for yet are its cats - amazing Garden of Eden creatures! They will make your stay full of fun and appreciation for the nature, flora and fauna! Huge respect to the owner and the management for taking care of them. Finally, all staff I interacted with are an amazing team and wonderful people! Many thanks to each of you for the great stay, I look forward to coming back soon!
View full review
357hayleyr, Beaconsfield, United Kingdom
Oct 12 2020
I have recently returned from a 10 day stay at the stunning Amathus Hotel and had a wonderful experience, whilst it wasn???t complete perfection, I would say this was mainly due to Covid-19 and any...
I have recently returned from a 10 day stay at the stunning Amathus Hotel and had a wonderful experience, whilst it wasn???t complete perfection, I would say this was mainly due to Covid-19 and any imperfections could be easily put right by the management. We originally booked a superior room with inland view but were upgraded to a junior suite as the superior room had no bath which would have been an issue with our two young children. Whilst the suite was a little larger and had a bigger bathroom, it was the balcony that made all the difference as the inland rooms do not have this. There was a very small capacity of guests staying at the hotel and so many of the restaurants and facilities were closed which was understandable yet disappointingly not updated on their website (it really doesn???t take much to update a website) and the buffet breakfast was a sad situation with the same food every day often left out on the side for long periods of time and no doubt gone to waste in the end due to lack of guests. The hotel itself is beautiful with an incredible setting and extremely well kept grounds. There really is something for everyone with a stunning ???Adult only??? area with infinity pool, a fun kids pool and another larger pool open to all guests not to mention the beautiful private beach overlooked by the pool areas providing the ultimate setting. The majority of the staff are fantastic , especially those we encountered at breakfast and dinner who clearly work hard to make you feel special. It does however seem that some staff need more direction as things seemed to change on a daily basis and there was much confusion which was frustrating when we were making simple requests. We also found it quite absurd that the Sushi and sandwich bar only served sushi on weekends! The hotel was extremely clean and we felt very safe from Covid-19. We had one of the most memorable weeks and can???t praise the staff enough for making us feel so welcome . Finally special thanks to Anastasia who has the natural ability to excel in her role as Guest Relations manager, her dedication to ensuring her guests are happy is a credit to the property surpassing our expectations where we approached her with a few gripes. Please be careful with the valet service, upon arrival to the hotel one of the porters parked our cars and handed back our key, we did not use the car whilst we were there but had a call from our rental company to say that the hotel had called them to say our car was parked in a spot they weren???t happy with and needed moving (they had parked it themselves!!) when we got to the airport we were charged for damage which we are sure must have happened at the hotel as we knew for sure it was not us. All in all we would definitely recommend this hotel and hope to return.
View full review