• A private 400 metre sandy beach on the Red Sea
• Scuba diving and snorkelling facilities
• Six restaurants and bars to choose from
• Kids' Club and a children's activity programme

Located on Egypt's stunning Red Sea coast the Kempinski Hotel Soma Bay offers extensive luxury facilities spread across a large resort. With 325 rooms, six restaurants and bars, a spa, fitness centre and lots of activities it's the ideal place for those wanting to keep active. Explore the many waterways and swimming pools at the hotel or head to private beach and relax on the white, powdery sands. Shaded by palm trees and with lounger service and the cool waters of the Red Sea close by this is a holiday paradise.

Families will love the family friendly facilities throughout the resort, with a Kids' Club for younger children while older children can take advantage of the many activities on offer. There's plenty for couples as well, with golf facilities just minutes away, as well as a scuba diving and snorkelling centre, tennis and a spa offering a selection of treatments.
Information: Hotel child prices apply to ages 2-5 years and 6-11 years.
Facilities
Bars and Restaurants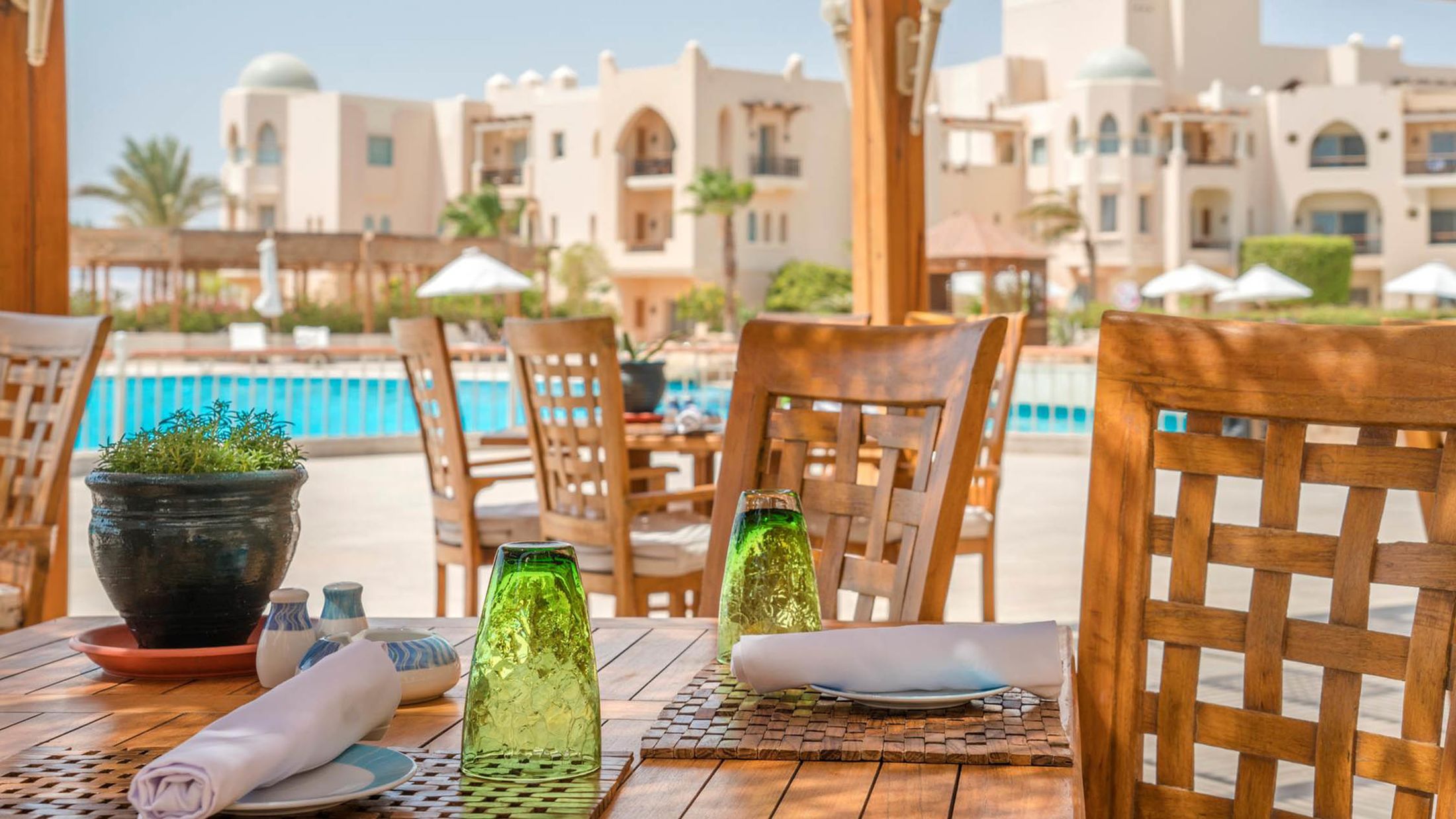 Al Mar Restaurant and Bar
Serving lunch and refreshments until sunset enjoy pool views and sunshine, cocktails and friendly Egyptian hospitality. Choose from international dishes including pizzas, salads, succulent grilled meats and desserts.
Bamboo Shoot Restaurant
An à la carte restaurant with beautiful Asian interiors and Far Eastern dishes from Japan, China and Thailand. Watch the sushi chefs create masterpieces in front of you at the sushi bar.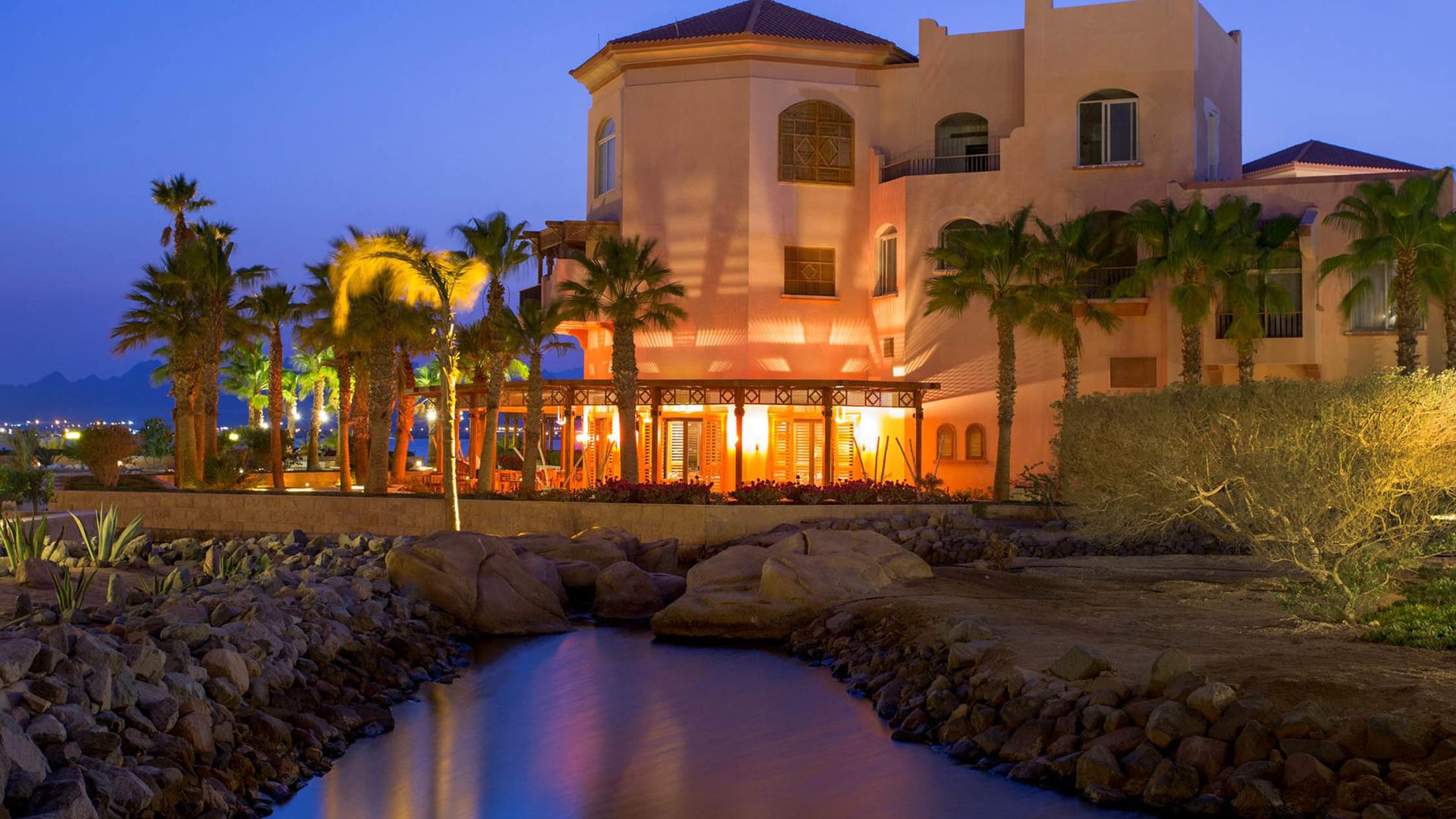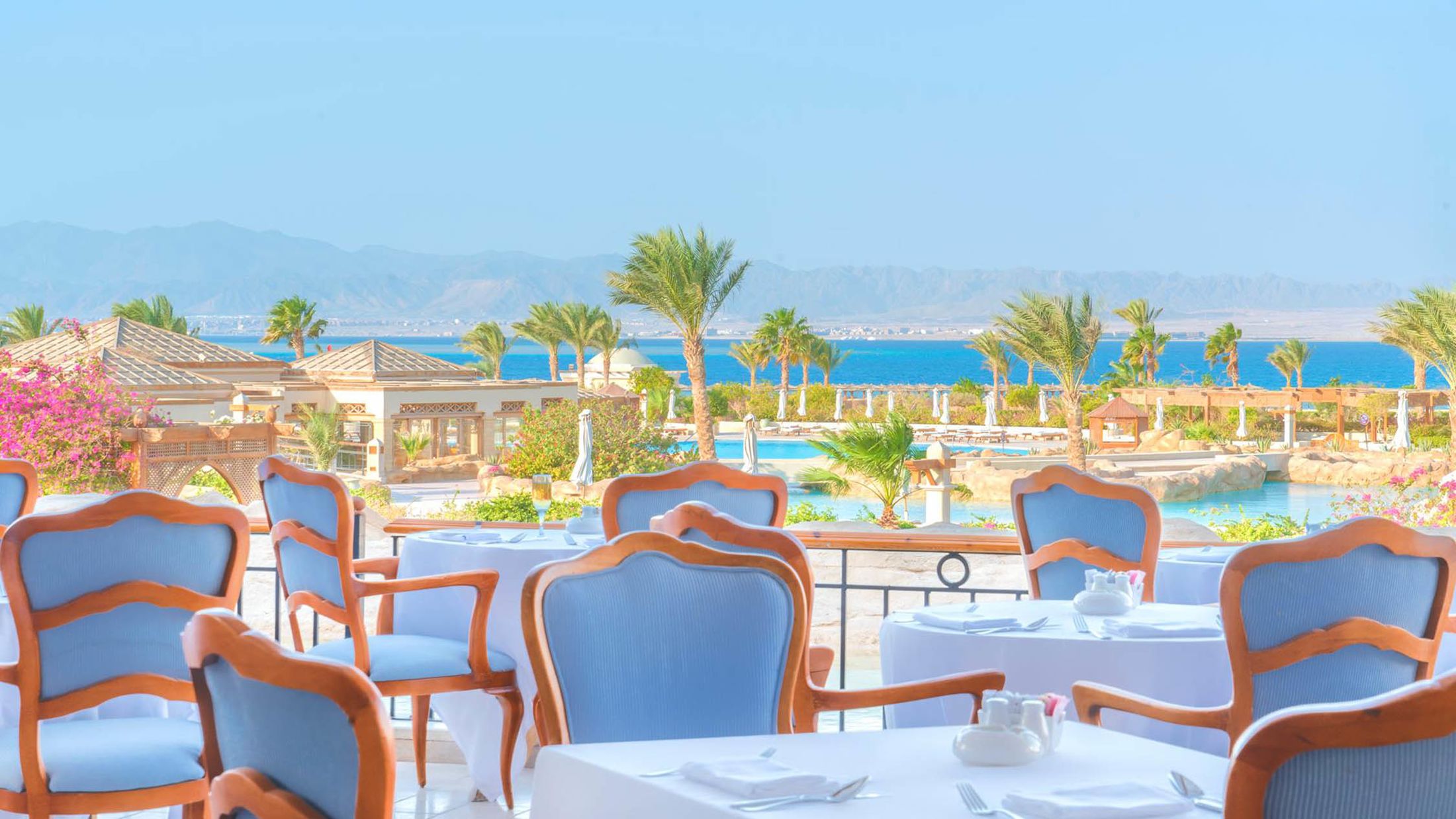 The View Restaurant
A 5 star restaurant with a large outdoor terrace offering views over the swimming pool and lagoon area. Enjoy traditional Egyptian cuisine and international dishes, with four live cooking stations.
La Pergola Restaurant
The hotel's Mediterranean themed restaurant provides fresh local dishes, expert wine pairings and unique flavours. Journey through the Mediterranean region to France, Italy and Spain as you enjoy the delicious options.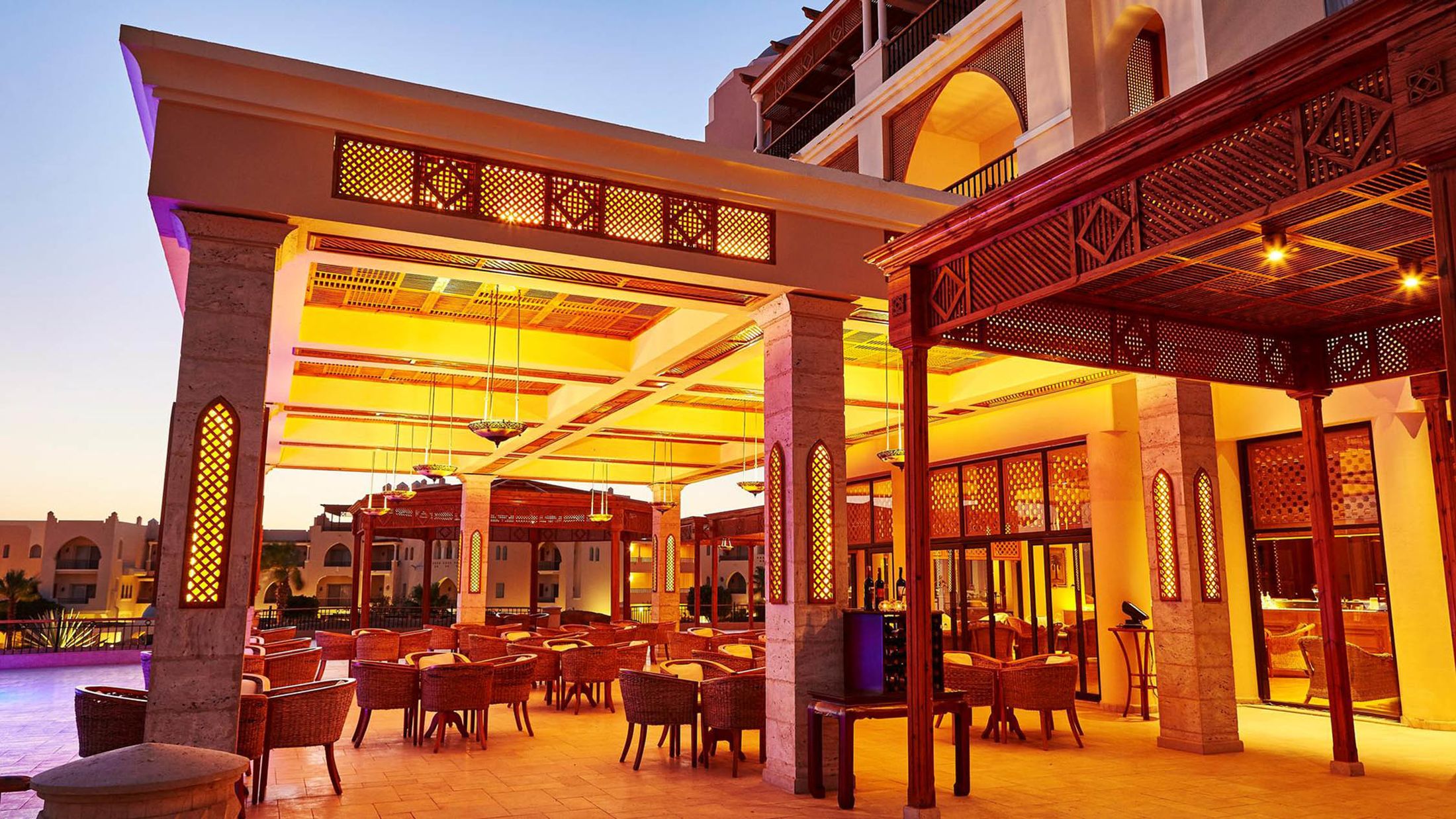 Sultan Lobby Lounge
Soft music and views of the pool from the outdoor terrace make the lobby lounge the perfect place to unwind in the evenings. Enjoy exotic cocktail blends and fine wines, as well as light snacks and refreshments. There is also a quiet corner where families can enjoy card and board games.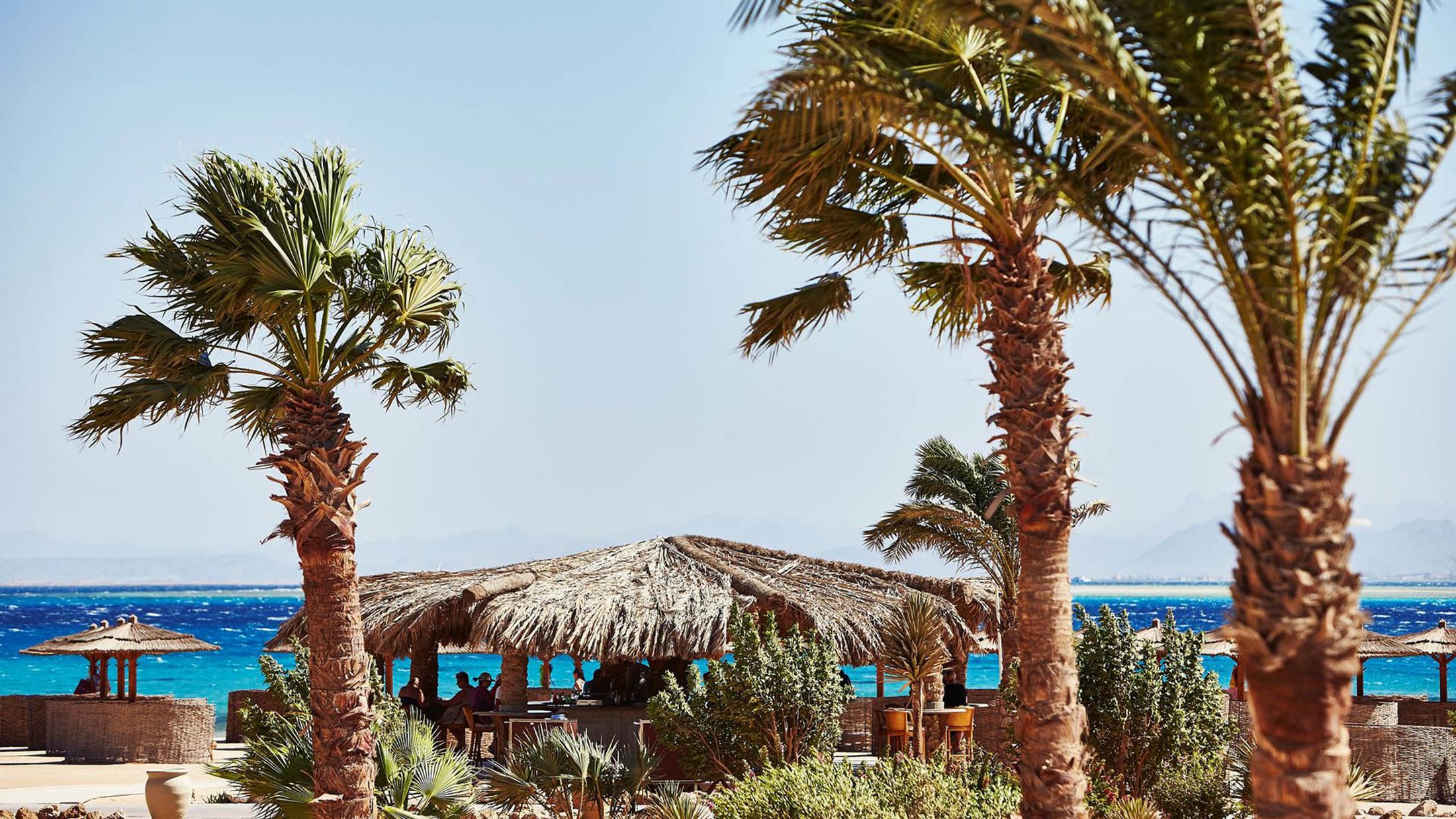 Beachcomber Bar
A casual beachside bar where guests can enjoy light snacks and refreshments as they listen to the wave lap the beach. Fresh juices, snacks, cocktails and beers can be ordered straight to your lounger. The bar is open from 12:00 until 16:00.
Beach and Pools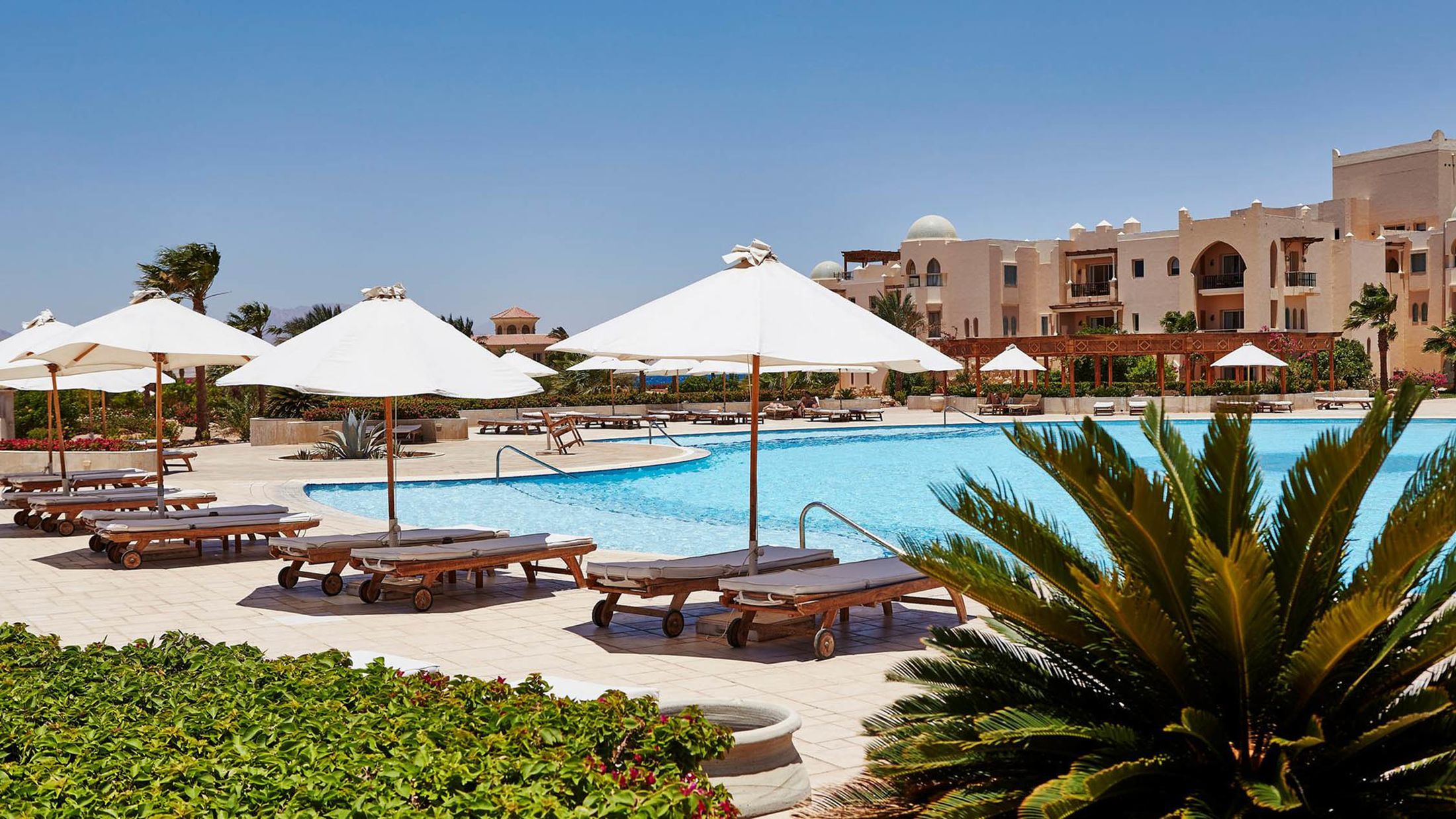 Swimming Pools
The resort's main attraction, the swimming pool and lazy river run through the hotel, with bridges and palm trees adding beautiful finishing touches. The family pool has a shallow section for children and there is a Jacuzzi, lifeguards and a heated pool over winter.
Beach
400 metres of white sand stretch along the Red Sea in front of the hotel. Gently shelving sands make this perfect for little children who like to paddle and loungers and parasols are also available.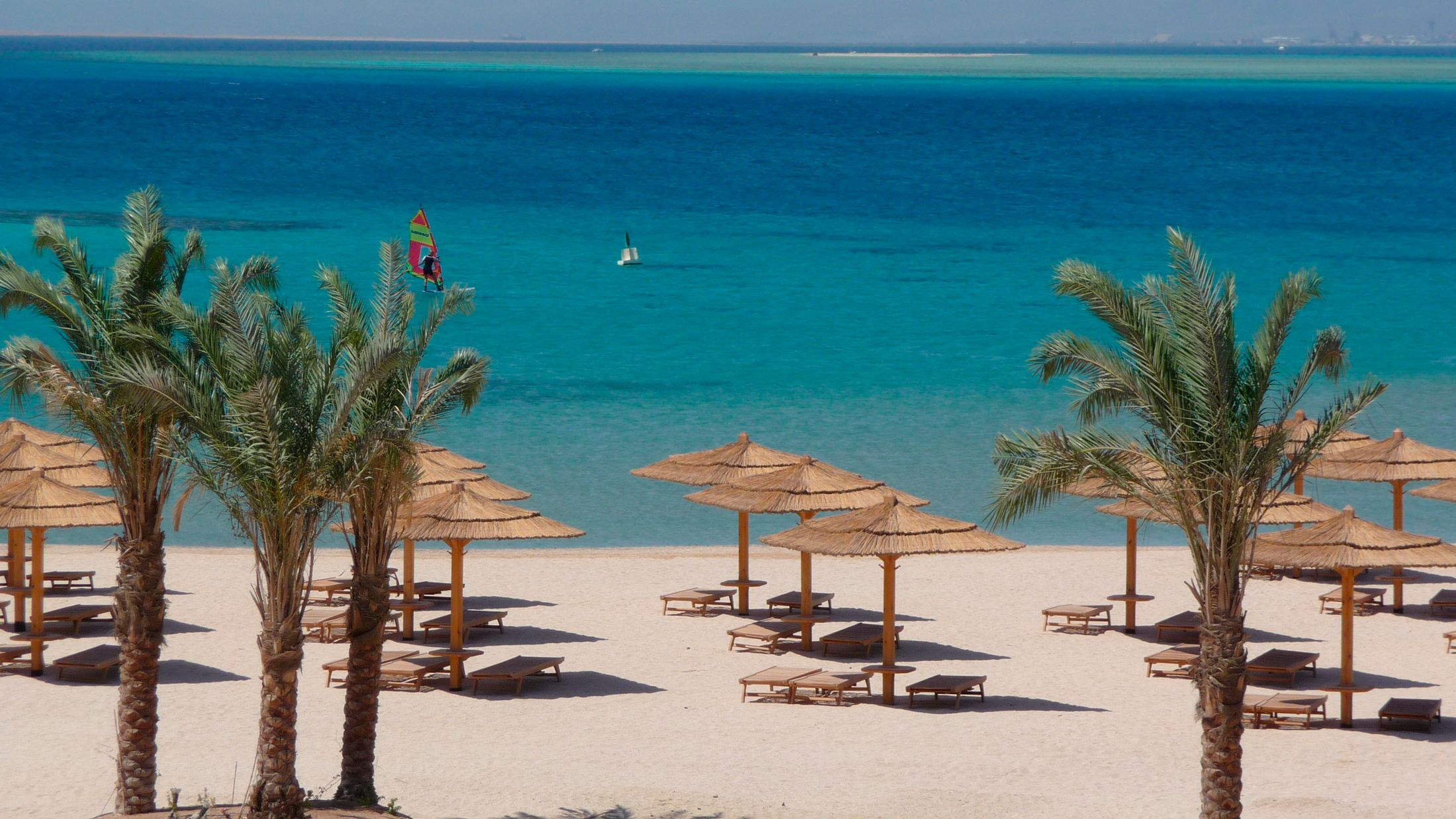 Spa and Wellness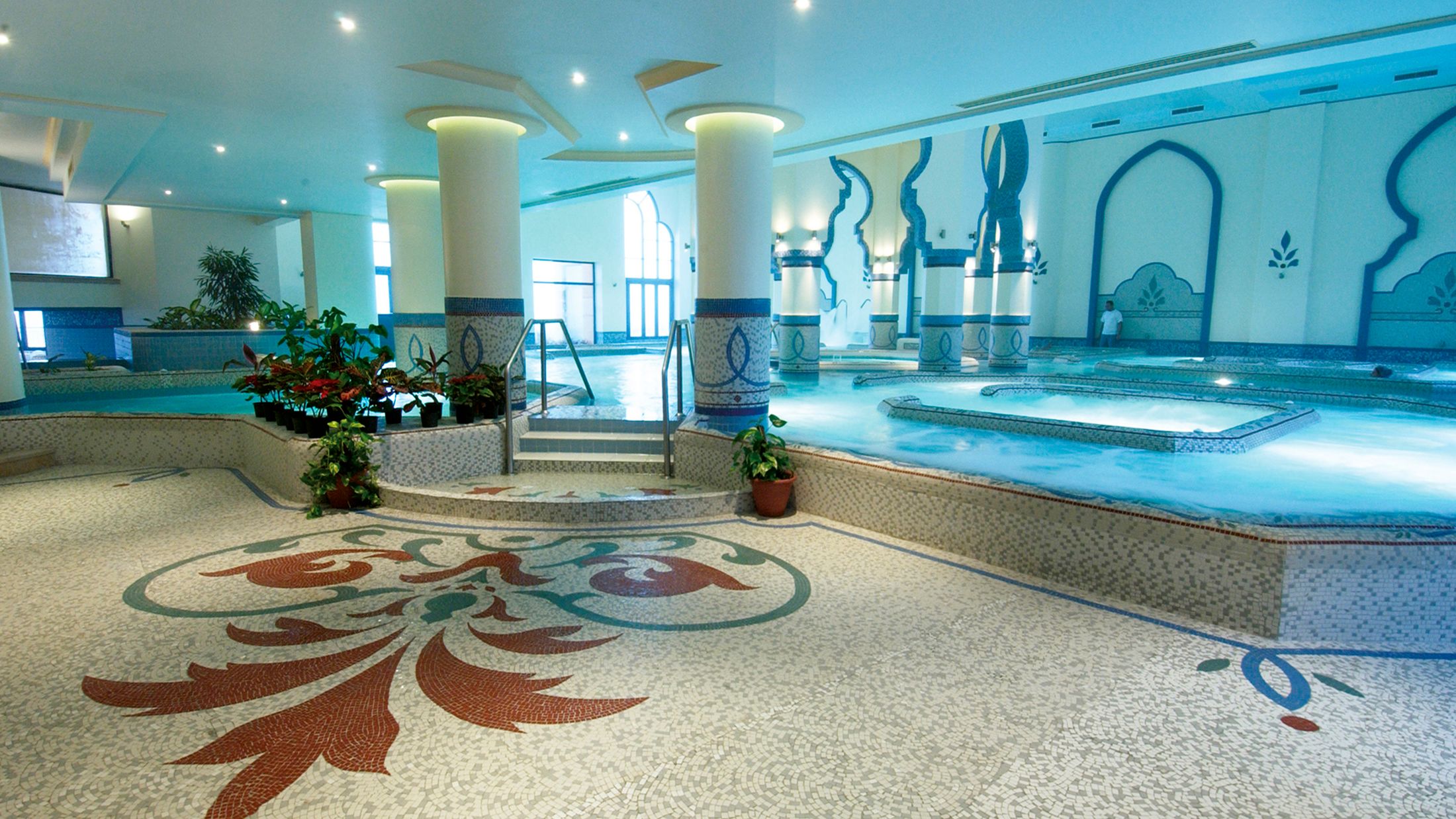 The Cascades Spa & Thalasso
One of the largest spas in the world, relax into a range of treatments at the onsite spa. Hydrotherapy, an aqua-tonic pool, seaweed wraps, underwater massages, manicures, pedicures, couples' massages and lots more are available.
Fitness Centre
The state of the art Fitness Centre features a gym, Jacuzzi, sauna, steam room and an outdoor swimming pool. The gym includes cardio machines, weight machines and medicine balls.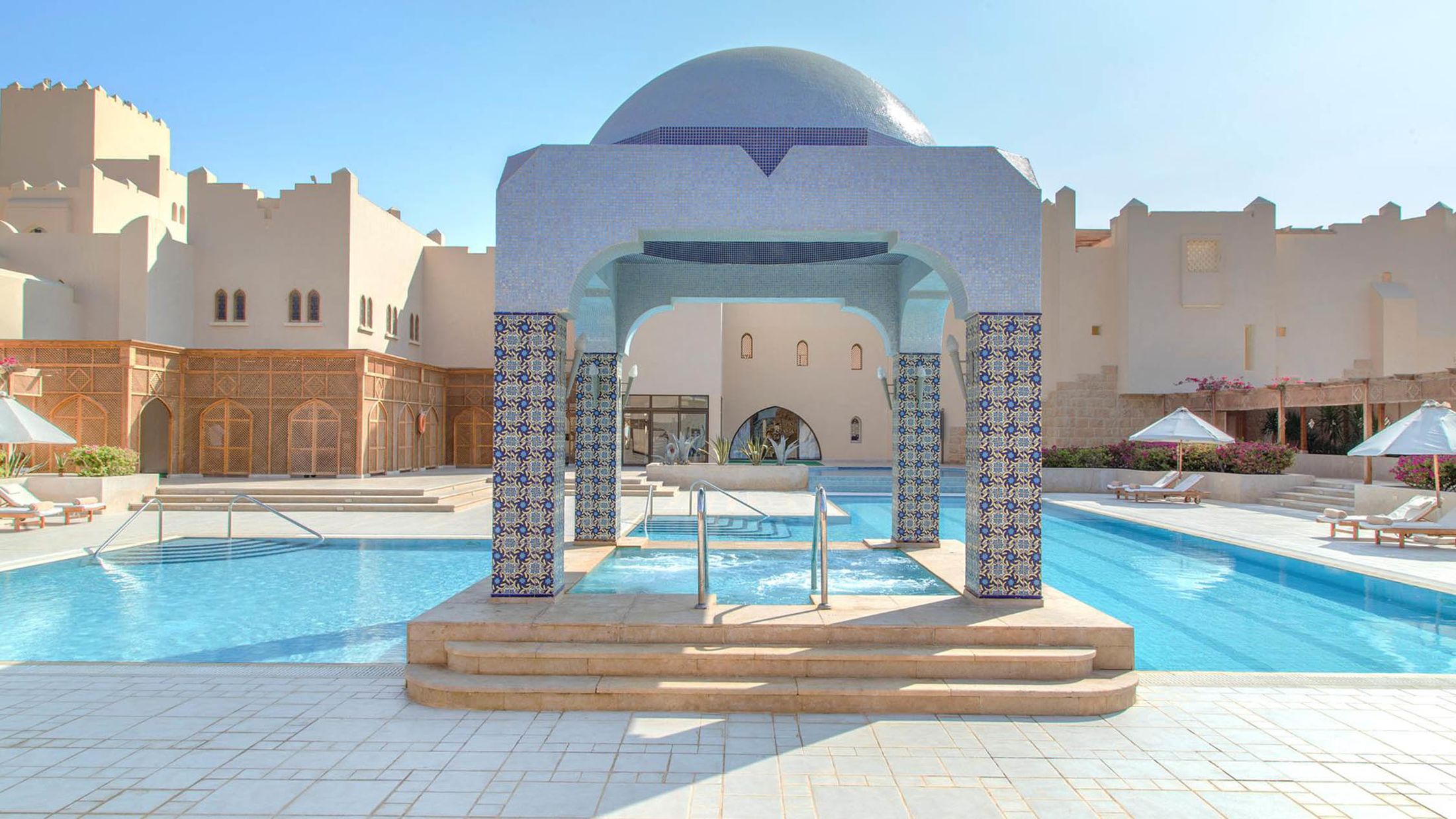 Activities and Entertainment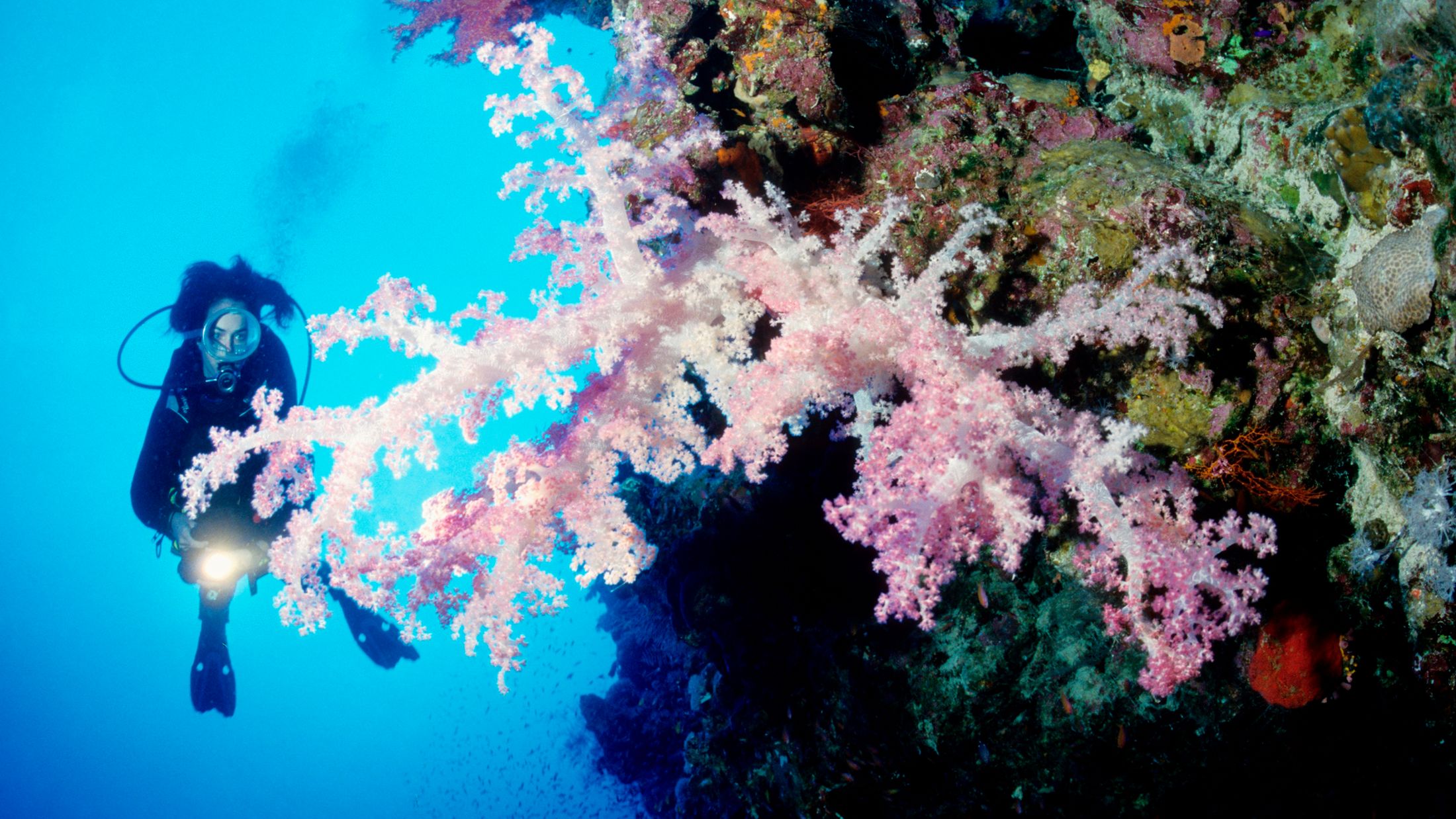 Diving & Snorkelling
The Red Sea is one of the world's most diverse regions for snorkelling and scuba diving. Book boat trips and explore the nearby reefs with all their exotic wildlife or stay above the surface and see colourful fishes when snorkelling from the hotel's beach.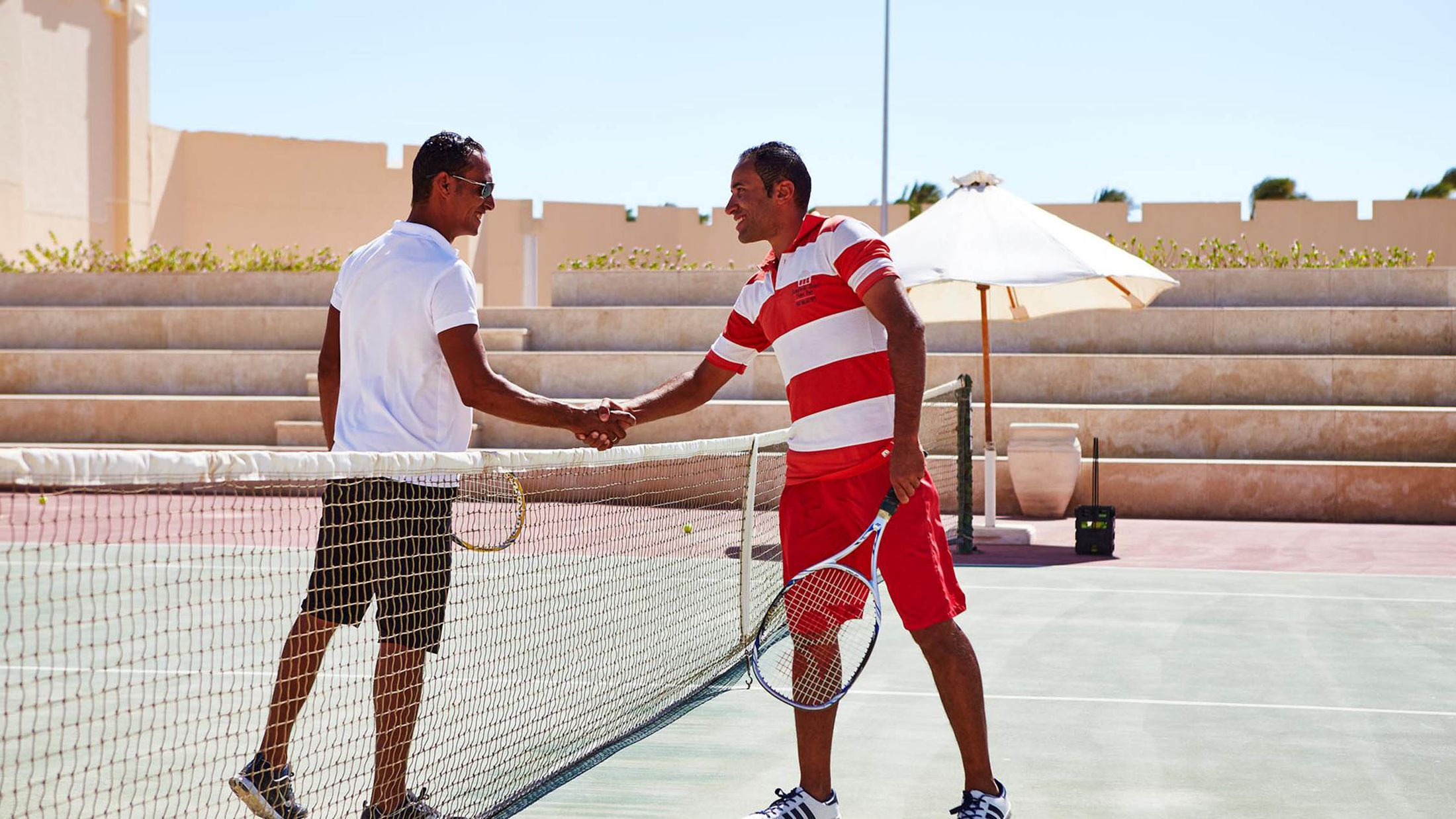 Tennis & Squash
Guests can take advantage of the hotel's squash hall, as well as four outdoor tennis courts. You can also rent rackets and balls, as well as booking one to one coaching.
Family Facilities
A Kids' Club is run for guests aged 4 to 12 years. Including activities throughout the day such as jewellery making, sandcastle building, table tennis, face painting and lots more. There are also special menus, a welcome gift, a babysitting service and amenities especially for babies.
Activities Programme
The hotel offers a varied activities programme, with sports running throughout the day. Try morning and sunset stretching, aqua aerobics, volleyball, power walking, Arabic cooking classes and gym classes.
Golf
Located just minutes from the hotel the Cascades Golf & Country Club was the first championship course in the Middle East. Designed by Gary Player there are 18 holes to play, with the desert to one side and the Red Sea on the other.
About the location
A quiet, modern resort on the beach, Soma Bay is home to upmarket bars, shops and restaurants. Soma Bay peninsula is completely surrounded by water, making it a haven for private beaches full of sun loungers, water sports and activities. The golf course is just minutes away from the Kempinski Hotel Soma Bay and offers lessons as well as an 18 hole par 72 course with views of the desert and the Red Sea.

Luxury hotels line the streets of this gated community where you can enjoy some of the best restaurants along the Red Sea coastline. Choose from relaxing bars where you can watch the sun set, lively shisha bars and gourmet dining as you listen to the waves lapping the beach.
Transfer time
45 minutes from Hurghada Airport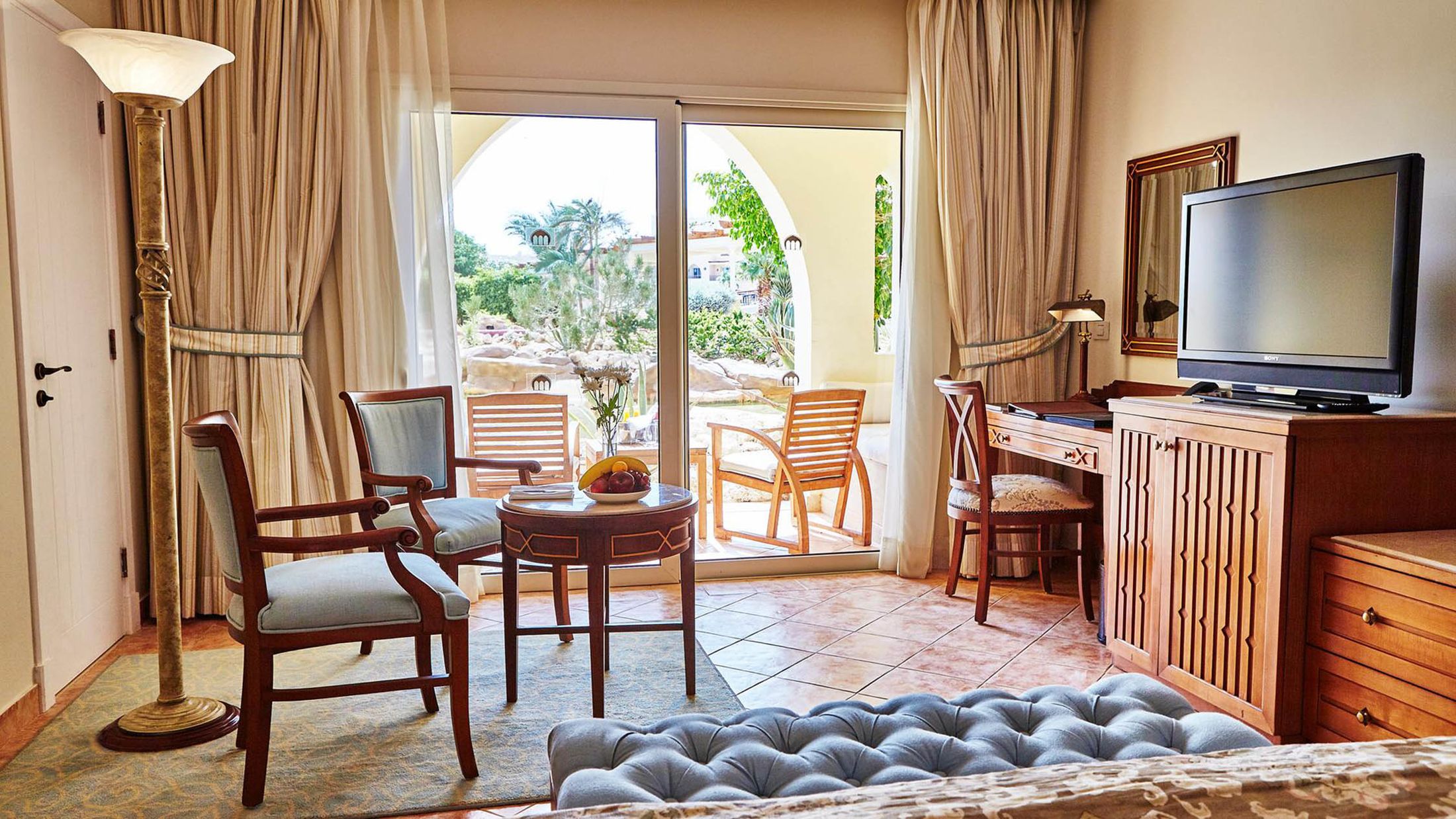 Lagoon View
Max 3 adults
Enjoy views over the lagoon from your private terrace or balcony, as well as bright and spacious interiors and a King or Queen sized bed. Interconnecting rooms are available for families and some rooms have a seating area.
39-42m²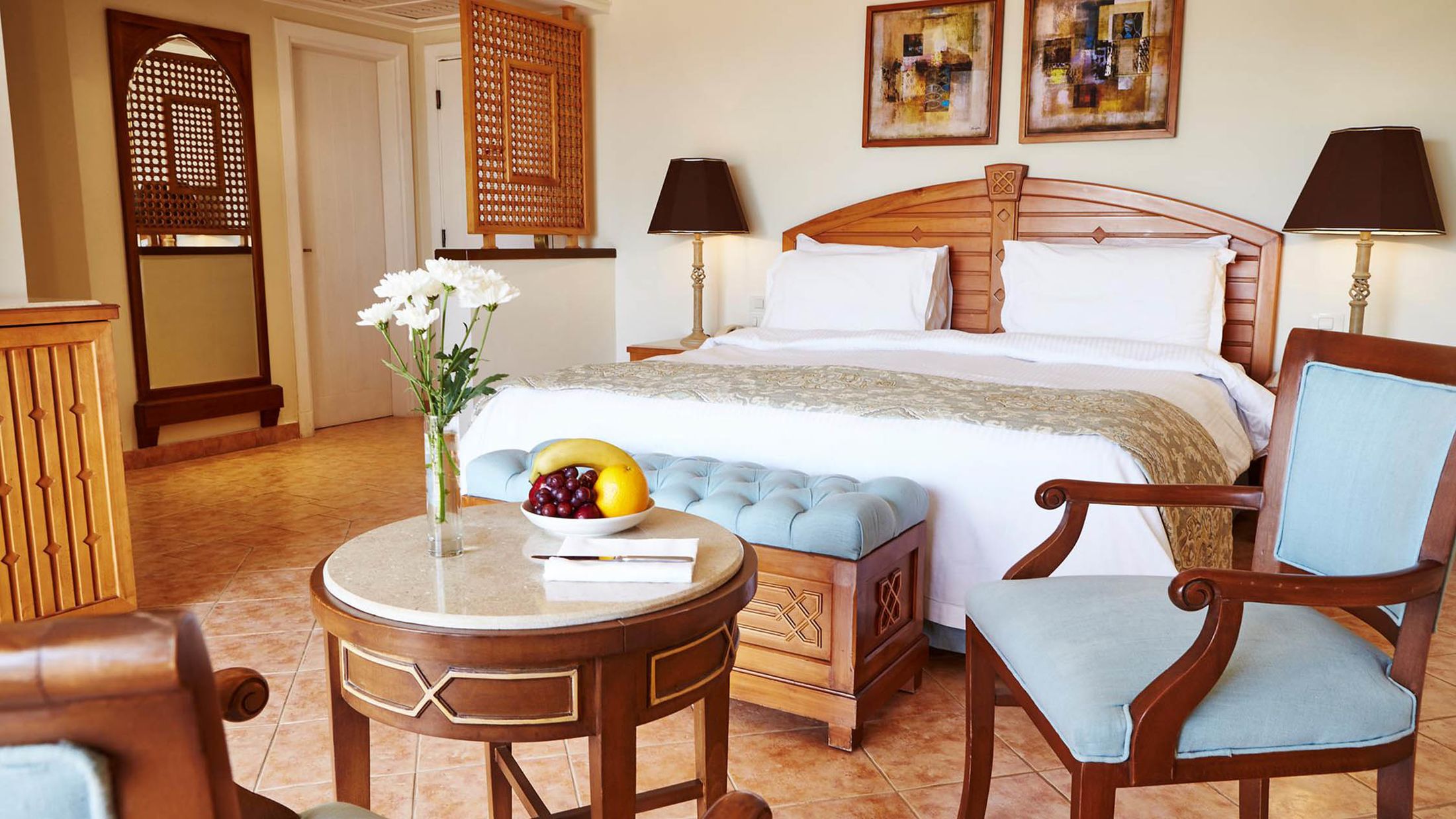 Side Sea View Room
Max 3 adults
Luxurious and spacious, enjoy spectacular views over the Red Sea from the upper floors. Seating areas are perfect for relaxing as you enjoy the beautiful Egyptian-style interiors.
39-42m²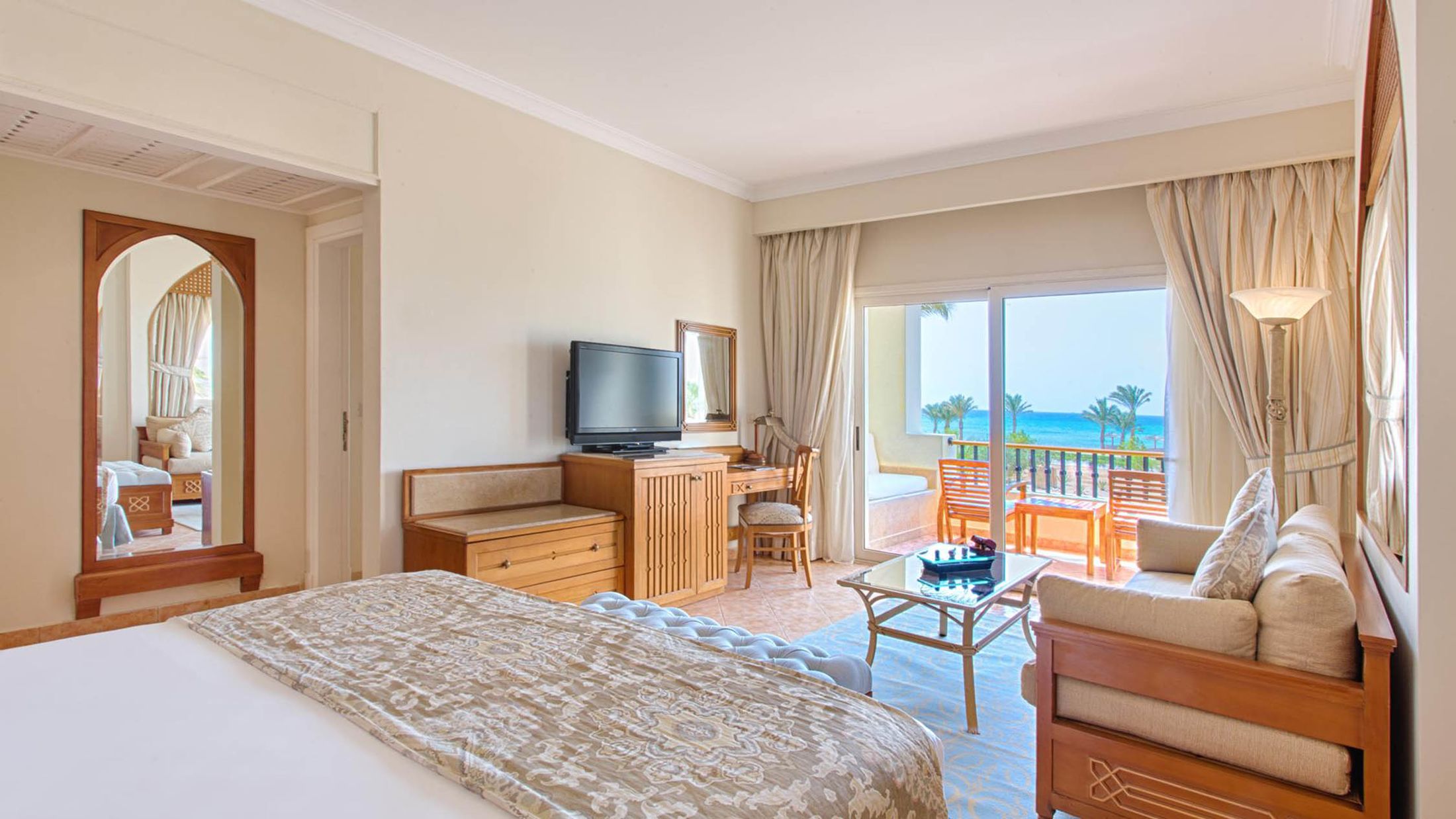 Sea View Room
Max 3 adults
Private balconies and terraces offer breath taking views of the Red Sea as you listen to the soothing sounds of the waterfall below. Interconnecting rooms are available for families.
39-42m²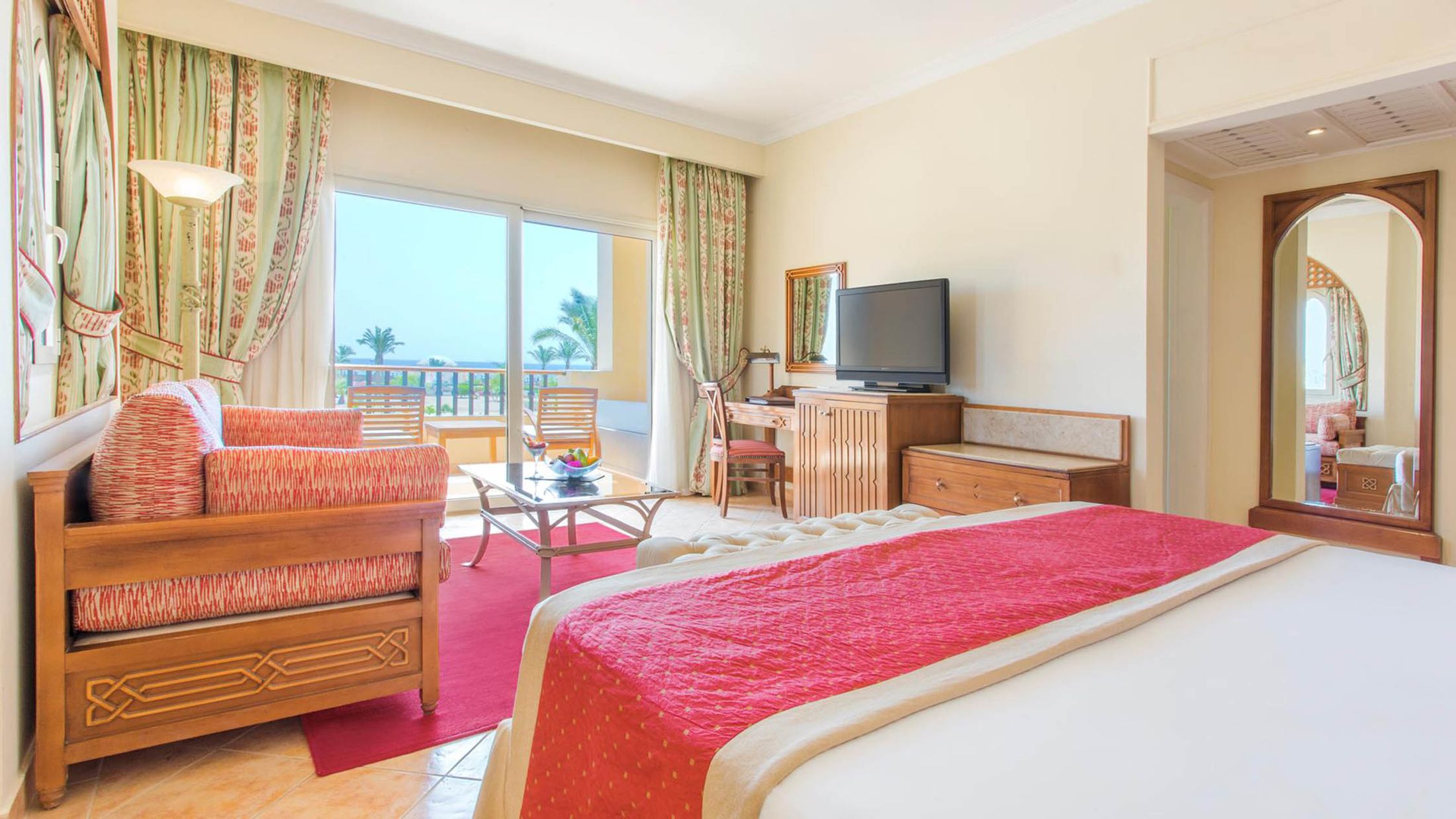 Laguna Club Room
Max 3 adults
Bright and spacious rooms lead out onto your private balcony or terrace. Guests can enjoy access to the Laguna Club Lounge which offers gourmet dining and drinks throughout the day.
39-42m²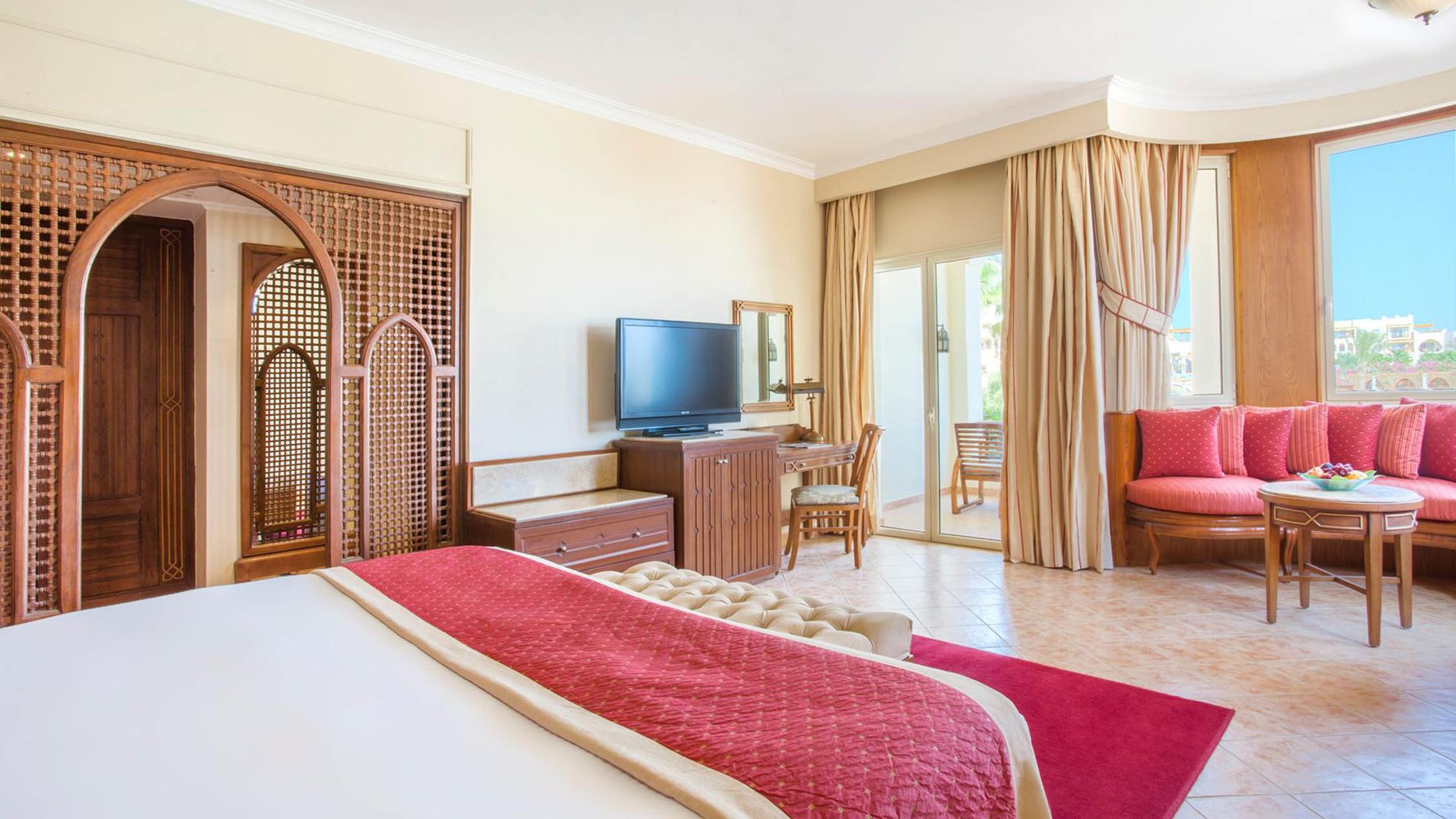 Junior Suite
Max 3 adults
Opulent Oriental interiors and panoramic views from your balcony greet you as you enter the room. King or twin beds are available, as well as a comfortable seating area, large marble bathroom and complementary luxury toiletries.
45-75m²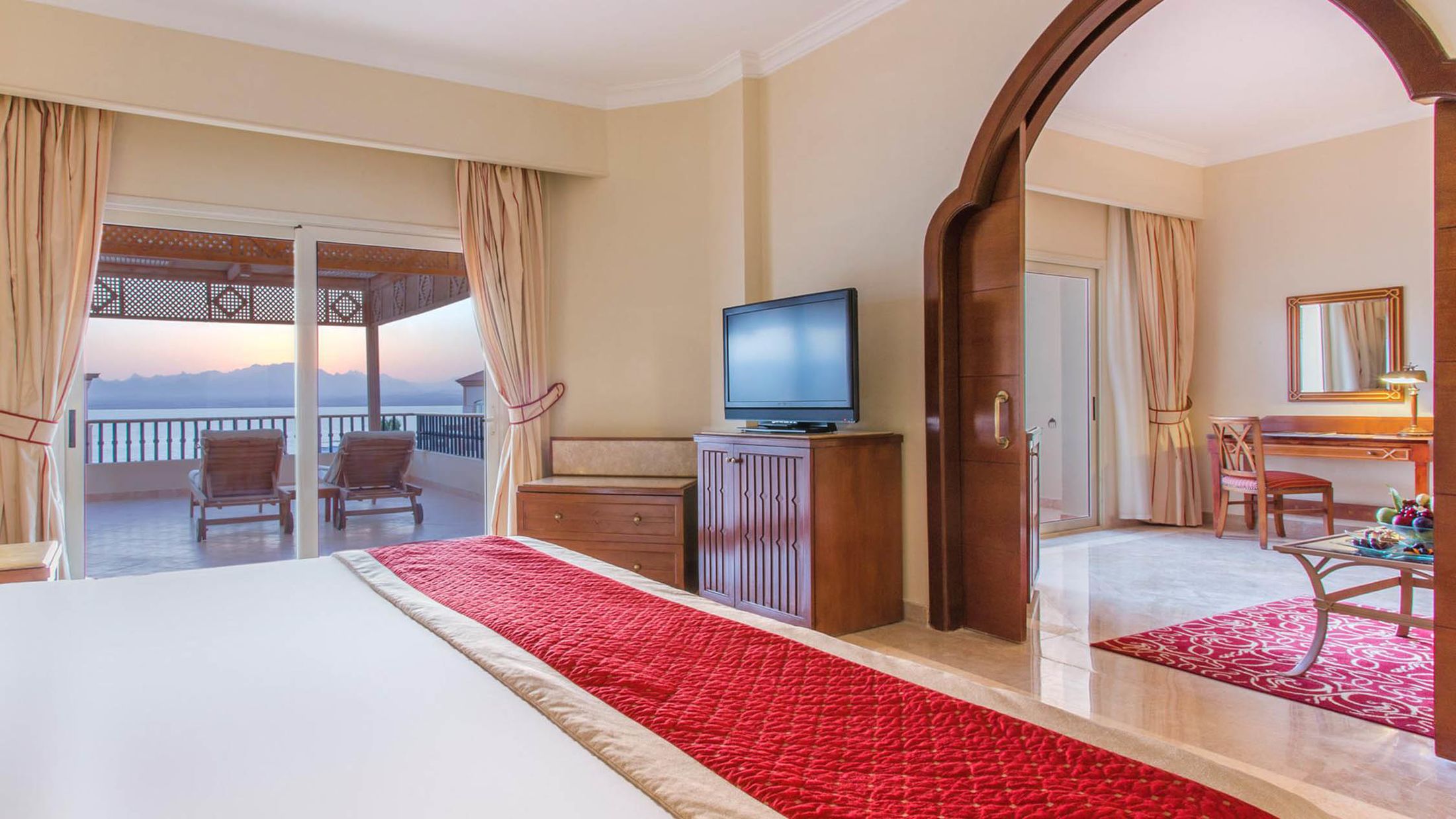 Deluxe Suite
Max 3 adults, 1 child
Enjoy bright modern interiors and panoramic views of the Red Sea, beach and surrounding landscapes. A large sitting room is the ideal place to unwind and relax before dinner.
75-120m²
Sovereign Experiences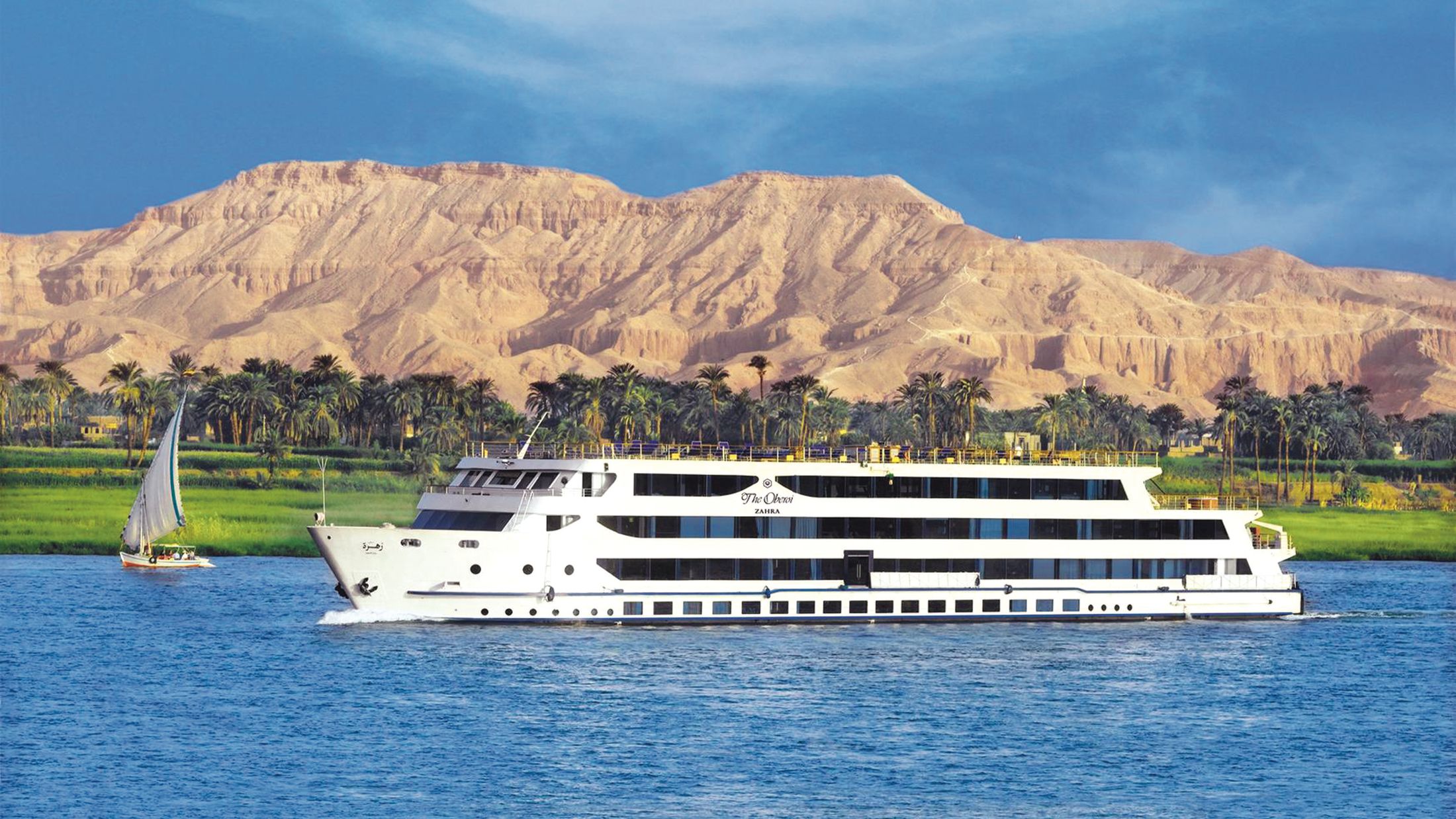 Experience luxury at its finest to suit a pharaoh as you explore the historic footsteps of some of Egypts most celebrated figures. Choose between a five or seven-night leisurely Nile Cruise on the luxury Oberoi Zahra cruise. Balance sightseeing between Luxor and Aswan, with the chance to unwind and enjoy the facilities of the Oberoi Zahra.
View the Oberoi Zahra Nile Cruise itinerary here
---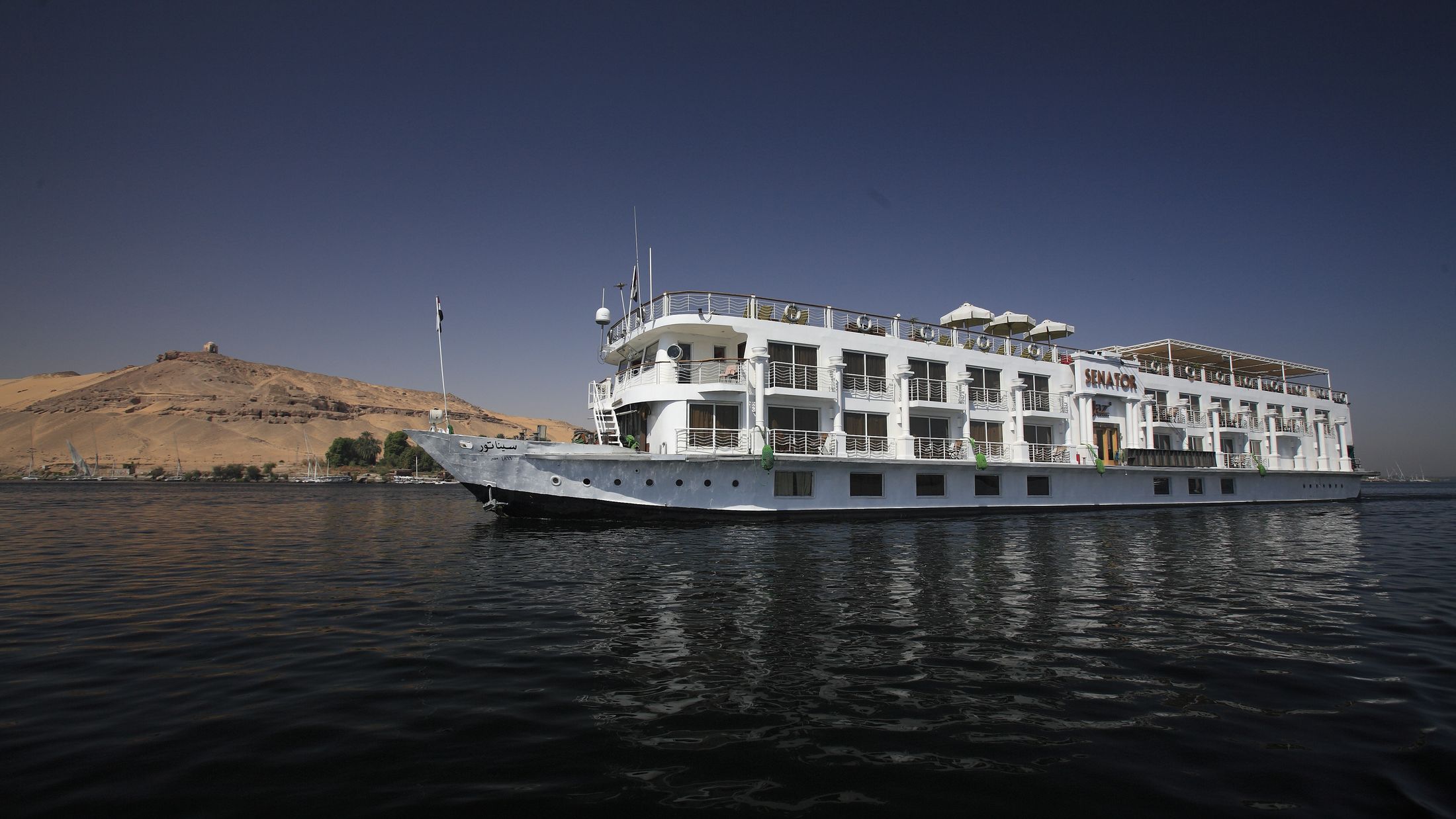 On one of the world's most historic journeys, enjoy the fascinating culture of Egypt and its many ancient sights. Combine sightseeing and beautiful landscapes with modern luxury facilities, the Jaz Senator Nile Cruise offers the ultimate holiday.
View the Jaz Senator Nile Cruise itinerary here

Based on 1426 traveller reviews

93% of travellers recommended this hotel
Travellers Ratings
What to expect
Reviews
Ahmed T, Bristol, United Kingdom
Jun 21 2018
Based on numerous excellent reviews from my friends, I chose this hotel The hotel is beautiful, clean, and comfortable. The staff are friendly and professional. Food is delicious and very good...
Based on numerous excellent reviews from my friends, I chose this hotel The hotel is beautiful, clean, and comfortable. The staff are friendly and professional. Food is delicious and very good varieties. Highly recommended
View full review
Naomi N,
Jun 21 2018
I spent my birthday and some more extra days at the Hotel Kempinski Soma Bay with some friends and everything was so smooth, we regretted not having had booked a few days more. Literally everything...
I spent my birthday and some more extra days at the Hotel Kempinski Soma Bay with some friends and everything was so smooth, we regretted not having had booked a few days more. Literally everything that is in the hands of the hotel management was flawless: hotel personnel, room, amenities, food, cleanliness, etc...just everything! At the check-in counter, we were expected with a friendly smile and an incredibly nice refreshing little towel and drink. The room had not only a nice welcome surprise but also a birthday cake surprise waiting for us!. In general the room service didn't disappoint us at all. The food was fresh everyday and offered an extend variety of dishes, not forgetting about the grill stations, where one can pick fresh fish and pasta of your choice. The staff, I can only say 5 stars! Always on top of your wishes but still not annoying at all. The same in all areas, restaurant, pool, beach & bar. The hotel offers different activities, such as snorkeling with a hotel guide, Sunset Cruise with music among others. It is next to the Robinson & Breakers hotels (walking distance by the beach max 10min) where you can party and then enjoy a nice and relaxing sleep back in your room. Extra activities nearby like diving are easily coordinated with the hotel stuff at the reception. Thank you for the perfect days is paradise Kempinski Soma Bay!
View full review