Tropical private island hideaway
Handcrafted beachfront and overwater villas
Deluxe spa set within a tropical garden
Member of the Small Luxury Hotels of the World
The Baros Maldives Resort is a luxury sanctuary situated on its own tropical island. Indulge in a world of luxury and natural beauty dotted with hammocks, thatched roofs, and inviting villas. Select from overwater and beachfront villas, with chic interiors and lavish outdoor bathrooms. There is an excellent collection of restaurants, serving mouth watering local and international cuisine, in addition to a choice of unique dining experiences, tailored to your requirements, to contribute to an unforgettable holiday. Sample beachside or overwater dining, accompanied by impeccable Maldives hospitality.
Immerse yourself in an oasis of calm and relaxation, in one of the first resorts in the Maldives. Indulge in a variety of treatments and massages at the luxury spa, or soak up the sun on the pristine, white sandy beach. Take a dip in the overwater infinity pool and enjoy stunning ocean views or try excursions from sailing to sightseeing, allowing you to fully appreciate the exquisiteness of the Maldives.
Hotel child prices apply to ages 8–11 years. Sovereign does not accept children in the water villas or over water categories.
Facilities
Bars & Restaurants
Nooma Dinner
Indulge in a Nooma dining experience at sunset for an unforgettable holiday treat. Board the resort's wooden sailing boat and enjoy a romantic cruise with cocktails and dinner, while being looked after by first class staff.
Dining Experiences
If you can tear yourself away from the outstanding restaurants, sample a unique dining experience. Select from in-villa dining to island dining, wherever you choose and enjoy a romantic picnic or dinner under the stars on a sandbank surrounded by the ocean. Alternatively, take to the traditional Dhoni sailing boat and indulge in a sunset cruise.
Lighthouse Lounge
Sit out on the deck and enjoy panoramic sea and sunset views as you sip on a cocktail or champagne, accompanied by delectable canapés. Once a week you can enjoy live music from local artists.

Open: 17:00 - late.
Lime Restaurant
Indulge in lavish lagoon-side dining al fresco style and sample contemporary cuisine with an Asian twist. Stop for a delicious buffet breakfast, tasty snacks throughout the day, and fresh fish specialities for dinner while overlooking the blue lagoon.

Open: 07:30 – 10:30 and 11:00 – 22:30.
Sails Bar
Located in the heart of the island, guests can sit on the sand under the swaying palms or in a hammock with a signature cocktail while listening to calming music. Appetising afternoon tea is also available.

Open: 10:00 – 17:00.
The Lighthouse Restaurant
An icon in the Maldives, the Lighthouse Restaurant resides over the ocean with its white sail blowing in the cool breeze. Sit under the stars and sample fresh seafood, tender steaks and international favourites infused with exotic flavours. Indulge in succulent cuisine combined with mesmerising sea views.

Open: 19:00 – 22:30.

Reservations are required.
Cayenne Grill
Enjoy intimate al fresco dining over the lagoon where you can sample a la carte dishes fused with Indian flavours. Taste the finest grilled meats and seafood cooked to perfection accompanied by premium wines. The Teppanyaki table and wood-fired oven will seduce you with flavours from around the world.

Open: 12:00 – 16:00 and 19:00 – 22:30.
Beach & Pools
Swimming pools
Take a dip in the freshwater swimming pool, which is situated in the overwater pavilion next to Lime Restaurant. Soak up the sun from its plush sun loungers along the deck looking out to sea.
Beach
The island is surrounded by a powdery, white sandy beach lapped by the turquoise warm waters of the Indian Ocean, perfect for snorkelling and diving.
Spa & Wellness
The Spa at Baros
Enter a haven of rest and relaxation hidden in the trees of the hotel's tropical garden. Enjoy beauty rituals and massages from within the pampering private suites or in your own villa, or take the opportunity to indulge in a steam bath.

Open: 09:00 – 20:00.

Children over 8 years are able to use the spa when accompanied by an adult.
Activities & Entertainment
Excursions
Experience the sparkling waters, luscious islands and white sands from a different angle with seaplane tours, which can be arranged by the hotel. Guests can also hire an expert guide to take them to the Maldives' capital, Male.
Padi Dive Centre
The five star PADI Gold Palm Dive Centre promotes environmental awareness and preservation of the coral reefs. The centre organises diving courses in addition to a variety of trips to stunning dive sites suitable for all levels of experience, with refresher dives and night dives also available. The Marine Biologist also offers snorkelling excursions.
Watersports
Float over fish in your transparent kayak and witness the stunning marine world, or take to the waters on a wakeboard. Try paddle boarding and water skiing or for something different, take on the Fun Tube Ride.
About the location
Baros Maldives Resort is situated on one of over 1,000 stunning islands in the Indian Ocean which make up the Maldives. Here you'll find white, powdery sands accompanied by turquoise blue lagoons and home to exquisite marine life and tropical coral reefs.

Each island has its own deluxe hotel, creating an ideal secret hideaway of luxury. Select from magnificent and lavish accommodation to rustic, chic retreats typical of the Maldives. It's also a mecca for divers, and being surrounded by the sea, fresh fish is the order of the day and a key ingredient in mouth watering Maldivian cuisine.
Transfer time
Baros Maldives is 25 minutes from Male Airport via speedboat.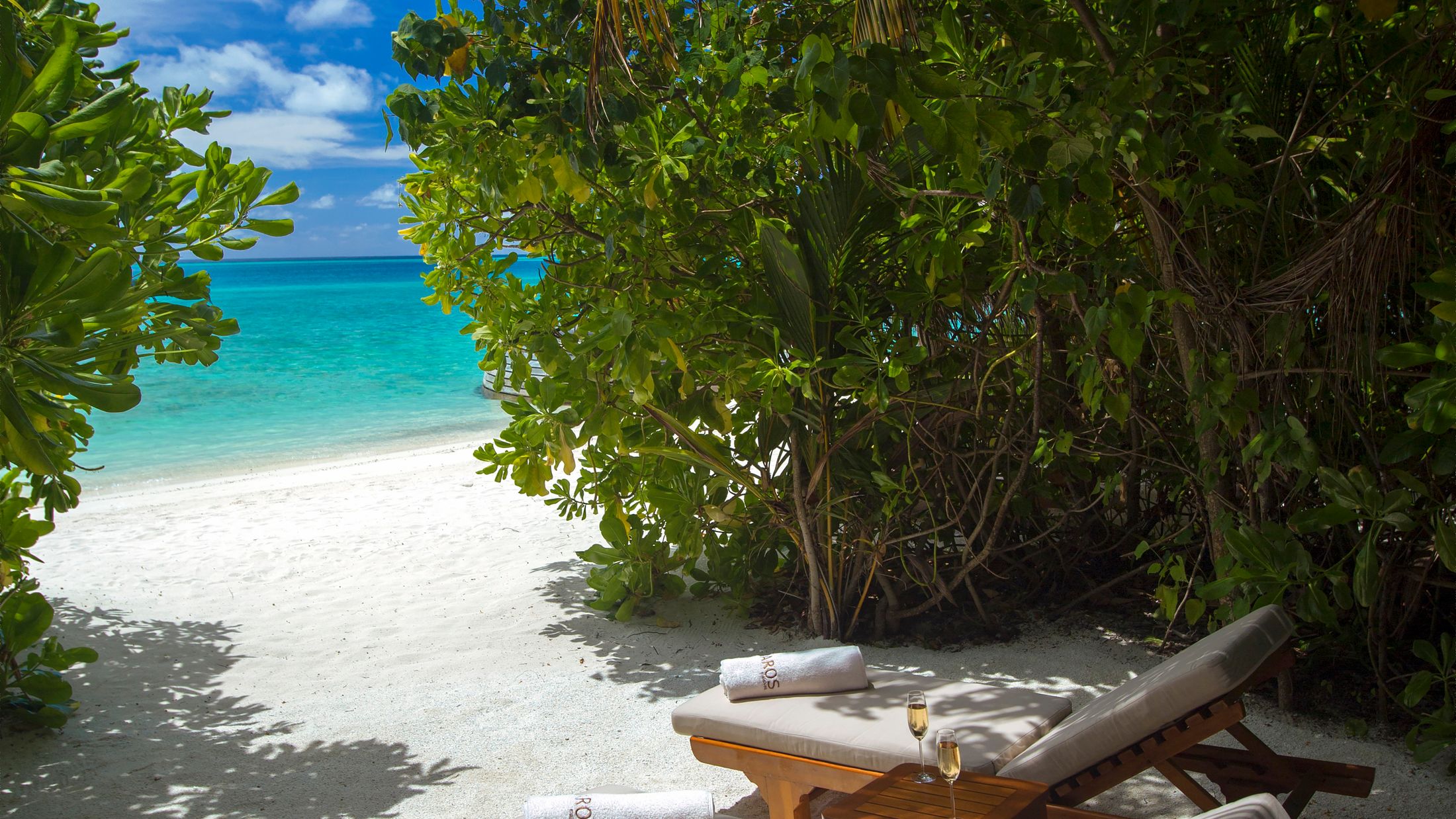 Deluxe Villa
Max 3 adults
The beautiful Deluxe Villas feature an open air bathroom surrounded by a walled garden with an outdoor shower, a spacious shaded veranda and a direct access to the beach.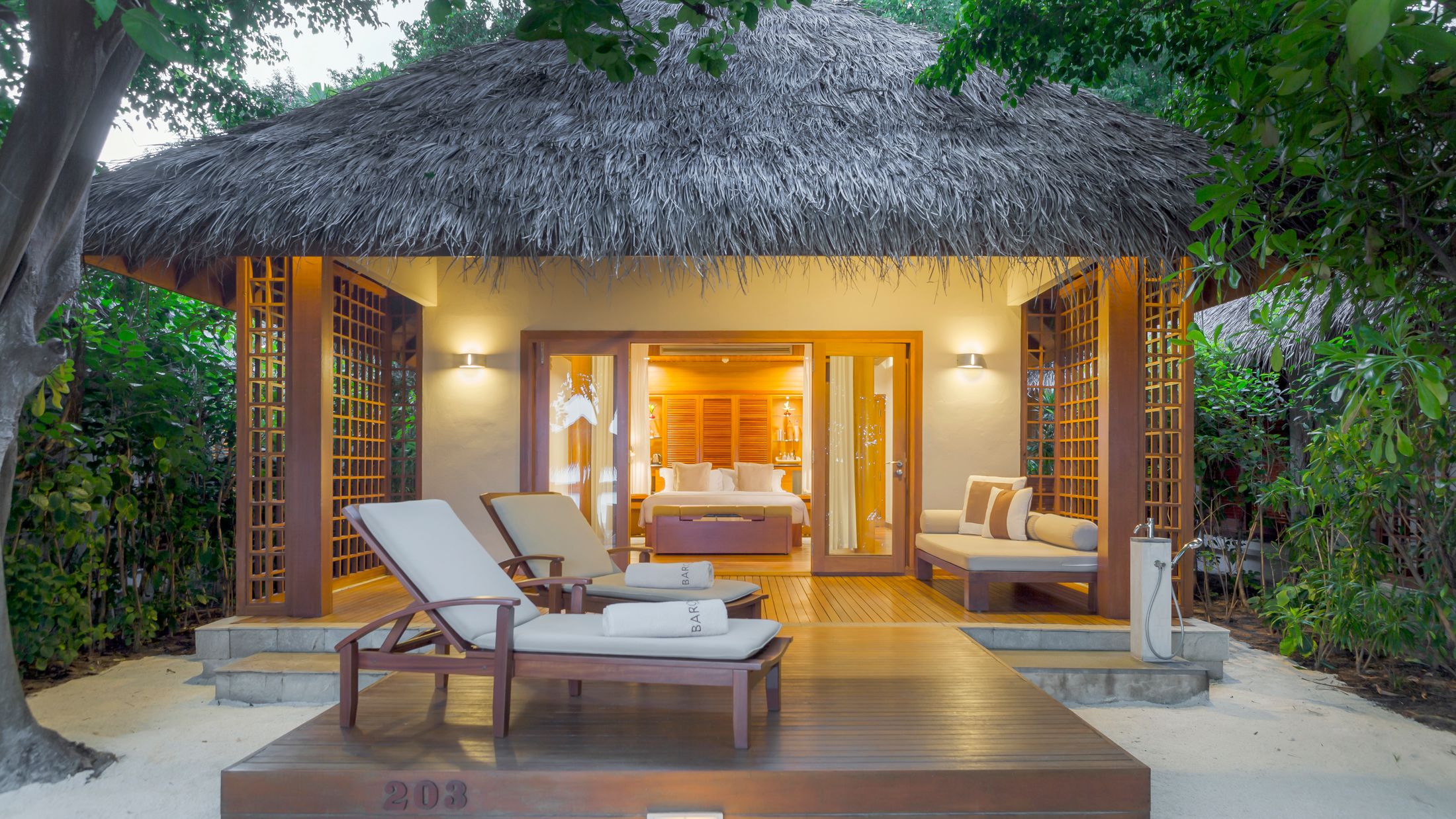 Baros Villa
Max 3 adults
The private and secluded Baros Villas are located by the beach, surrounded by a tropical foilage. Each villa features an open air bathroom with walled garden and outdoor shower, shaded veranda leading to a wooden deck with sun loungers and a direct access to the beach.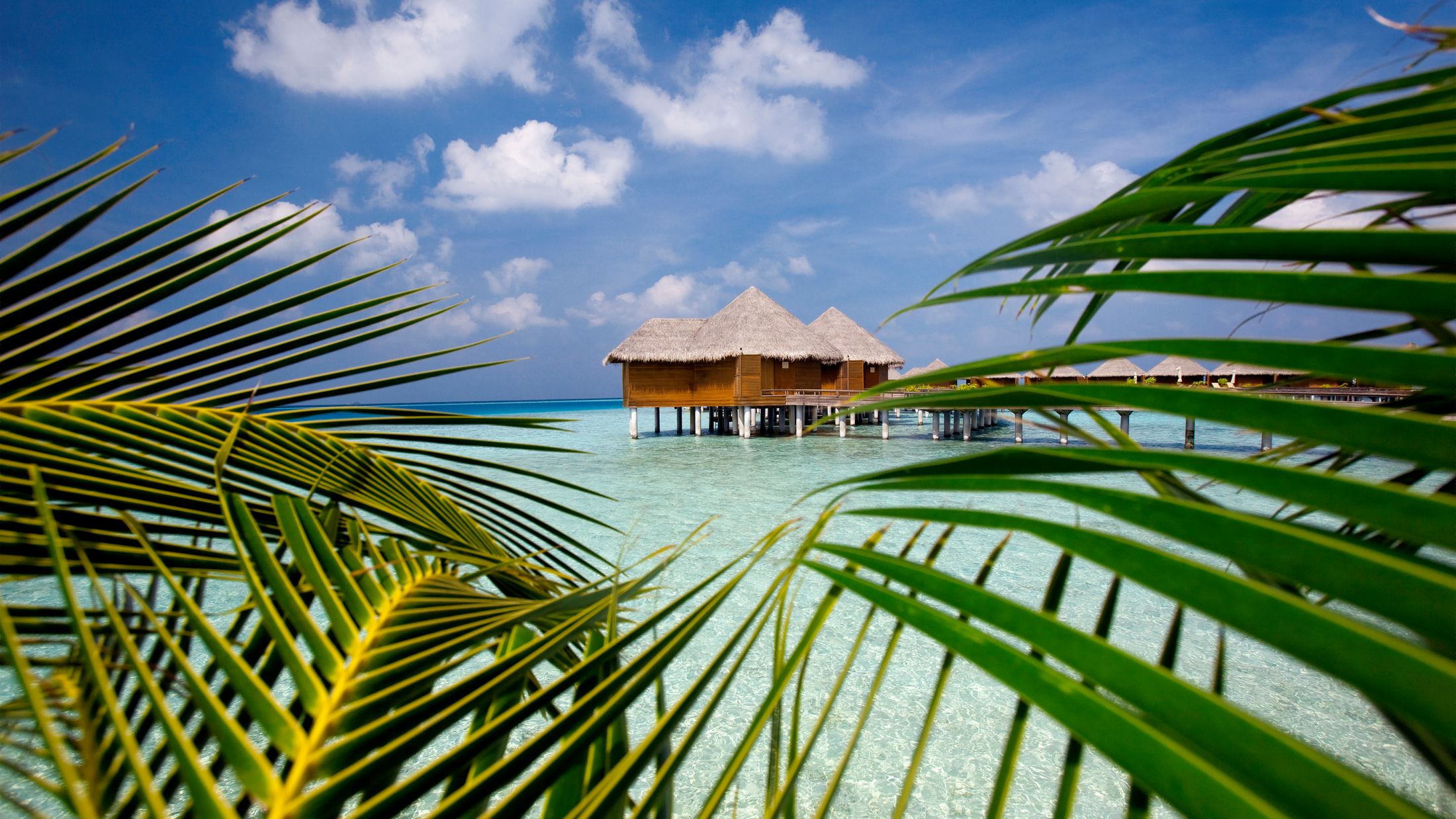 Water Villa
Max 3 adults
Reached by a wooden jetty, the Water Villas offer a secluded oasis with endless views of the ocean and horizon. Each villa has a large wooden deck with canopied four-poster bed, sun loungers and dining furniture and wooden steps leading directly into the lagoon.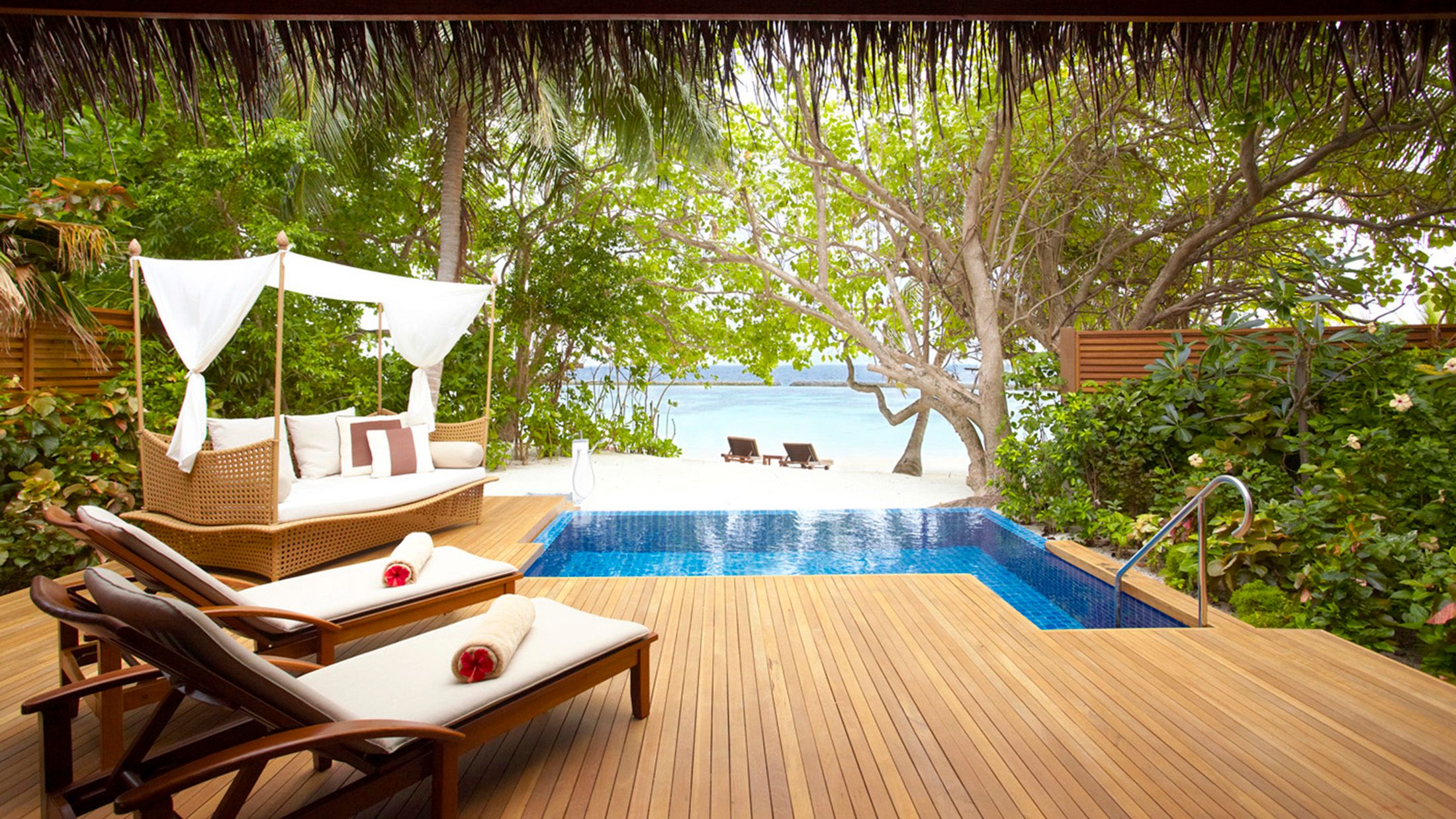 Baros Pool Villa
Max 3 adults
Screened by lush tropical foliage, the Baros Pool Villas offer the ultimate in privacy. The secluded spacious wooden veranda with canopied four poster bed and sun loungers leads to a private infinity plunge pool and a direct access to the beach.
Honeymoon offer

Honeymoon guests staying in a Deluxe Villa, Baros Villa or Water Villa receives a bottle of sparkling wine, chocolates , one honeymoon photo in a Baros photo frame, one candlelit dinner for two (based on set menu) for holidays between 01 January 2019 - 10 January 2020.


Based on 2555 traveller reviews

97% of travellers recommended this hotel
Travellers Ratings
What to expect
Reviews
"
Beautiful place with the best culinary experience
travelbunnyy, Hong Kong, China
Feb 18 2019
Came here for 5 days for Valentine???s Day and stayed at the water pool villa which was a beauty ! weather was windy and water was choppy which was unusual for that time of the year. The staff and...
Came here for 5 days for Valentine???s Day and stayed at the water pool villa which was a beauty ! weather was windy and water was choppy which was unusual for that time of the year. The staff and everything was amazing and the food ? Wow it was a culinary experience ! Not once did I dislike any part of the restaurant or food , everything you order is going to be good and the Maldivian buffet was probably my favourite as they cook most of the food on the buffet and you can choose your meat for curry and they cook it in front of you every thing was fresh in every restaurant and quality was top notch ! Lighthouse is a fine dining restaurant they have and the view for dinner there is amazing you sit quite close to the water so you could see a lot of fishes especially black tip sharks ! Didn???t manage to snorkel much but my boyfriend who went said he saw a lot of blacktip sharks oh and we went fishing and it was probably my favourite part of the trip ! You eat what you catch :) will definitely come back
View full review
"
Beach holiday for millionaires
Divya S,
Feb 17 2019
My fianc?? and I visited Baros for 4 nights prior to our trip to India. There are so many resorts to chose from in the Maldives and the main reason we chose Baros is for the house reef. On each...
My fianc?? and I visited Baros for 4 nights prior to our trip to India. There are so many resorts to chose from in the Maldives and the main reason we chose Baros is for the house reef. On each snorkel we were able to see multiple shark, fish of all sizes, rays, and even a turtle! We are from America and usually go on all inclusive beach vacations in Mexico and the Caribbean. With that being said, Baros is VERY EXPENSIVE. The typical guest at Baros seemed to be Europeans in their 50s or above and spent the day chugging water and reading books all day. Very different from what we are used to at Mexican/Caribbean all inclusives. If it weren???t for the snorkeling, the trip would have been pretty boring. As for the food, the themed dinners put together by the hotel cost $134 PER PERSON, drinks not included... with food and drinks being so expensive, we found ourselves skipping meals... The actual island itself is beautiful and the breakfast buffet amazing. Would I come back? Maybe the day I become a millionaire!
View full review