The hotel dates back to 1930 and boasts a blend of period and modern décor
Is located in Estoril, home to casinos, art galleries, Tamariz Beach and museums
Golfers have access to seven courses in the area, including prestigious Estoril Golf
Enjoy an outdoor pool, fitness centre, spa, kids' club, restaurants and bar
Palacio Estoril is a five-star hotel located just outside of Lisbon, whose past guests include novelists, filmmakers and European royalty. Couples and families alike will enjoy top-class facilities including two restaurants, a state-of-the-art wellness centre and opulent spa. Families can take advantage of the kids' club that runs over summer, as well as the close proximity to Tamariz Beach.
The hotel is set in beautifully-landscaped gardens with views over Estoril and the Bay of Cascais. Inside the grand white façade, you'll find classic décor from the 1930s with contemporary facilities. There are 161 rooms which feature chic suites with marble bathrooms and terraces, sitting rooms, lavish fabrics, and furnishings.
Palacio Estoril has hosted European royalty for decades as well as spies during WWII and was aptly featured in the James Bond film, On Her Majesty's Secret Service. Estoril is also part of Portugal's Golden Triangle, which includes Cascais and Sintra, which are both ideal options for day trips. Other nearby attractions include a golf course and Estoril Casino, the largest in Europe.
Hotel child prices apply to ages 2–12 years.
Facilities
Bars & Restaurants
Four Seasons Grill Restaurant
Dine on a variety of traditional Portuguese, as well as international dishes. The restaurant has a sophisticated yet relaxed atmosphere, with tables spread over the ground and mezzanine level. Choose from the regular or healthy menu, which has options for vegetarians and gluten-free guests.
Restaurant Bougainvillea Terrace
Have an al fresco meal or drink overlooking the stunning gardens and swimming pool. The Bougainvillea Terrace has a healthy menu with vegetarian and dairy and gluten-free options, as well as a special brunch and substantial main menu.
Beach & Pools
Swimming Pool
The hotel has a large outdoor swimming pool set in beautifully-landscaped gardens. There's plenty of surrounding space for sunbathing and relaxing.
For Families
Kids Club
There's a kids' club which offers a range of activities for children, run by qualified staff.

Ages: 3 -12 years

Open: between July and August
Spa & Wellness
Banyan Tree Spa
The spa boasts staff that were trained at academies in Indonesia, China and Thailand, providing authentic Asian massages and beauty treatments. Spa facilities include a hammam, sauna, dynamic pool, Turkish bath, whirlpool and sensation showers.
Estoril Wellness Centre
Located next to the hotel, the wellness centre has exercise equipment, plus three studios offering classes such as yoga, dance, Zumba and Pilates. There's a team of therapists and medical staff, as well as a nutritionist on hand.
Activities & Entertainment
Golf
The 18-hole Estoril Golf Course lies just a kilometre from the hotel and is one of Portugal's oldest and most prestigious clubs. Make use of the 5,200-metre-long course and golf lessons.
About the location
Palacio Estoril is located along Lisbon's sunny western coast, in the upmarket town of Estoril. It's just a 30 minute drive away from Portugal's capital, Lisbon, where you can enjoy some excellent day trips full of shopping, delicious local cuisine and spectacular sightseeing. The resort itself is home to quiet sandy beaches lined with palm trees, and a laid back atmosphere dominated by its iconic casino, which was featured in Ian Fleming's 'Casino Royale'.

If you're looking for a touch of luxury Estoril has it all. It's surrounded by beautiful nature, including beaches and forested hills, as well as boasting some excellent golf courses. There are plenty of upmarket restaurants and hotels dotted throughout, as well as boutique shops.
Transfer time
Palacio Estoril is a 30 minute drive from Lisbon Airport.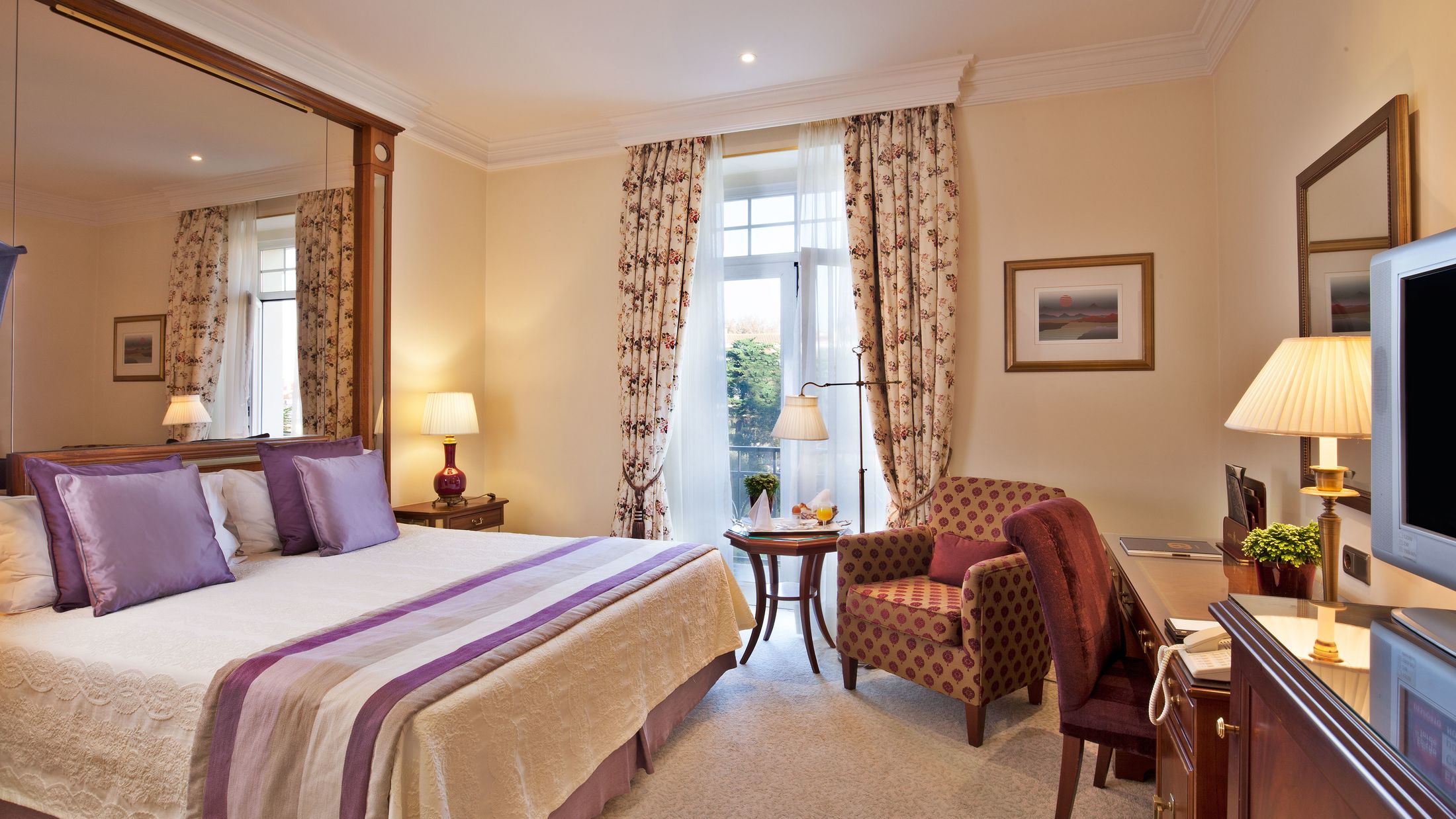 Classic Room
Max 3 adults
Classic Rooms are elegantly designed with contemporary touches with views over the town of Estoril.
Measures between 20-25m²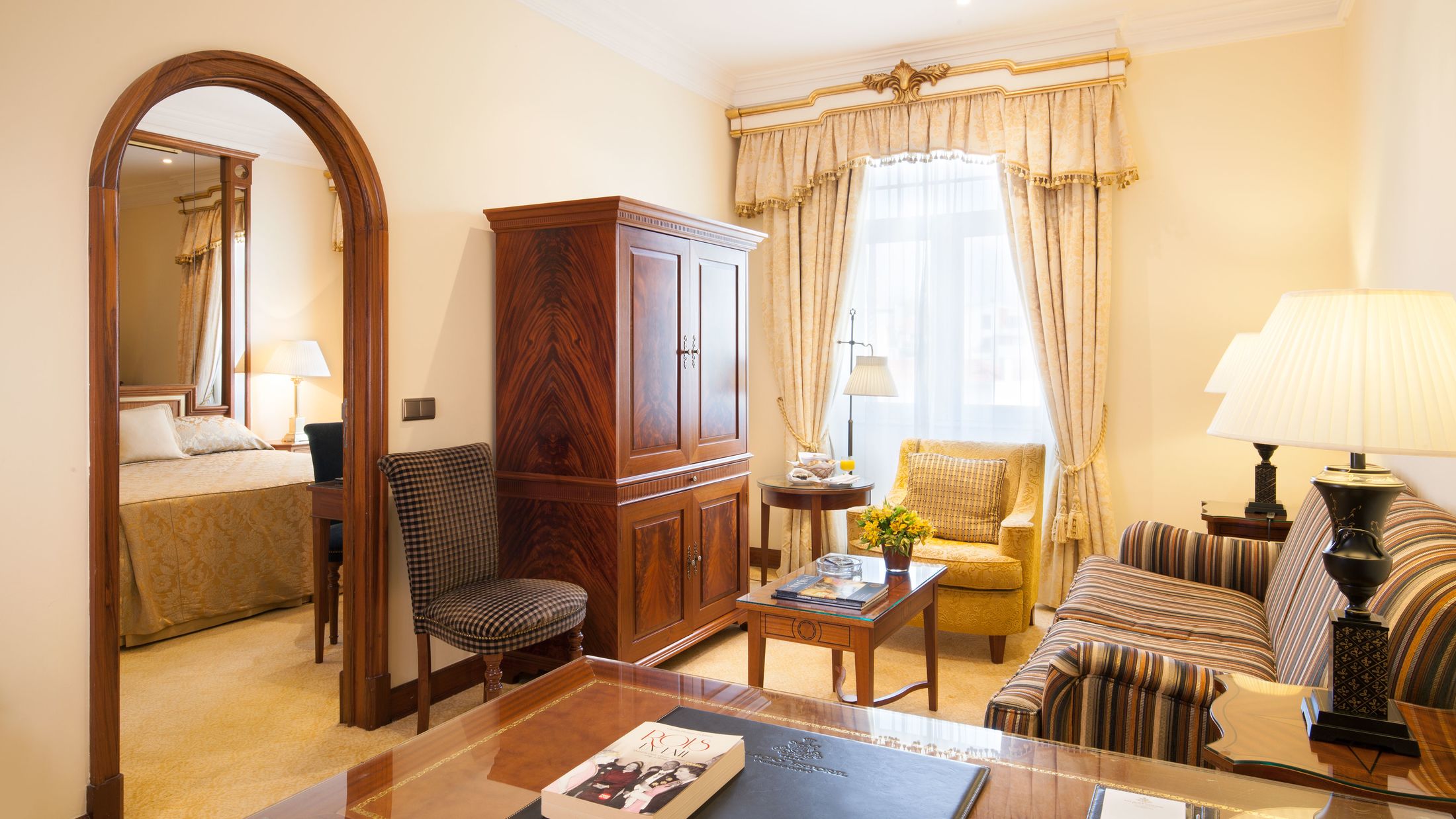 Junior Suite
Max 3 adults
Junior Suites are notably more spacious than the other rooms available. The suites feature a queen size bed and separate living room with sofa and arm chairs with views over the town of Estoril.
38m²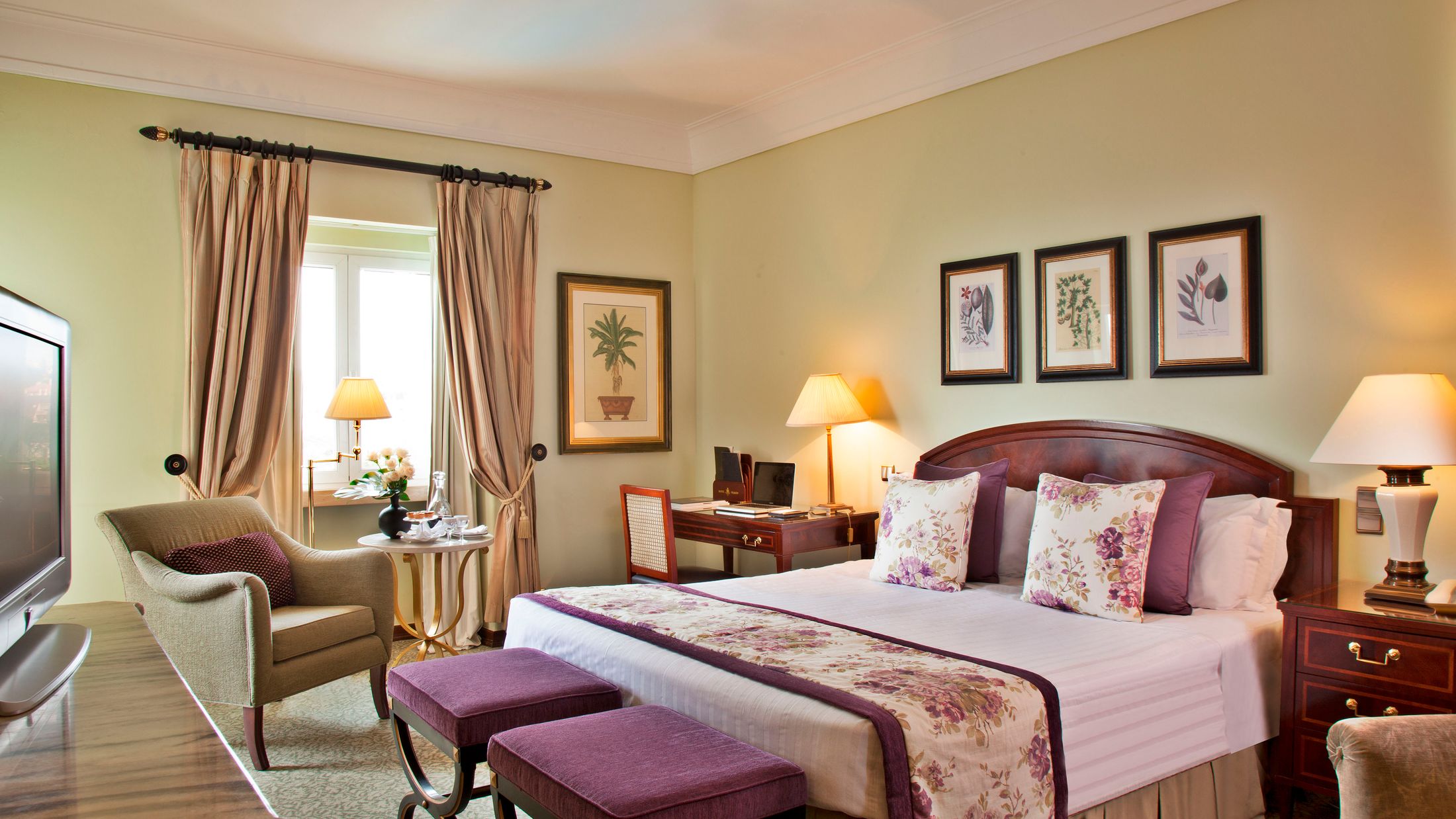 Superior Deluxe Room
Max 2 adults
Superior Deluxe Rooms are located on the upper floors of the hotel. Views of the hotel gardens, Estoril Park and Cascais Bay can be enjoyed from the balcony, and the bathroom features a bathtub and separate shower.
Measures between 25-35m²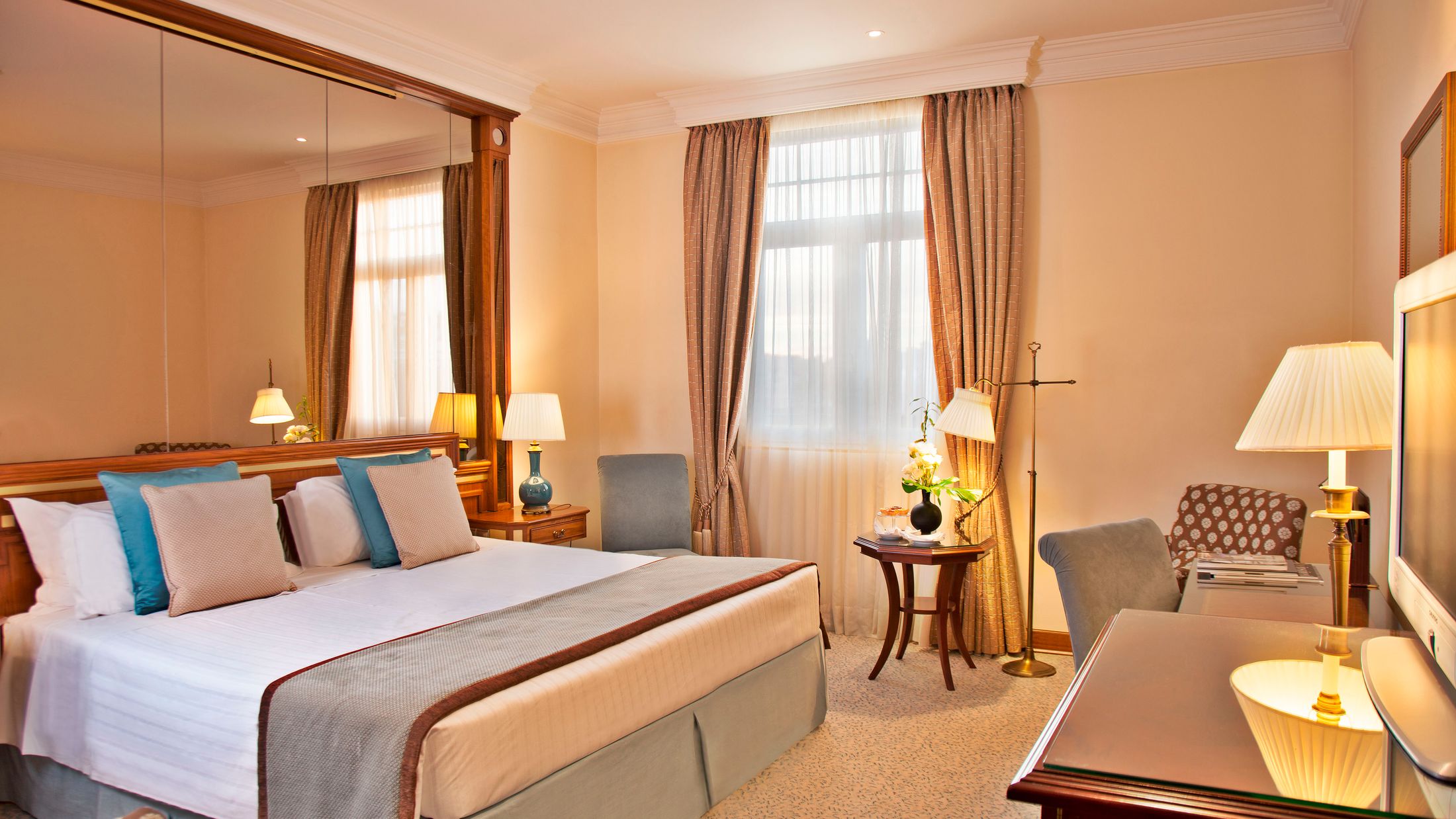 Superior Room
Max 3 adults
Superior Rooms are similar to Classic Rooms but with views over the hotel gardens and Estoril Park.
Measures between 20-25m²
Complimentary rail ticket
Guests receive one complimentary return rail ticket from Estoril Station (Hotel's closest station) to Lisbon City Centre, per person, per stay, when staying a minimum of 3 nights.

Based on 1189 traveller reviews

92% of travellers recommended this hotel
Travellers Ratings
What to expect
Reviews
"
Old school European luxury hotel
shawns280,
Mar 29 2020
Old school European luxury hotel Rooms fairly basic. Maybe see if you can get one facing the pool. The pool was beautiful, but we were there when it wasn't warm enough to use. James Bond bar was cool...
Old school European luxury hotel Rooms fairly basic. Maybe see if you can get one facing the pool. The pool was beautiful, but we were there when it wasn't warm enough to use. James Bond bar was cool (a number of articles have been written about how the hotel was inspiration for Ian Fleming). Pictures of the rich and famous who have stayed here were interesting (though hotel could toss Rudy Giuliani at this point) There is a nice selection of books in their traveler book sharing area Excellent breakfast Drive to Cascais for lunch or dinner or there may be no better options closer to home. Next to a big casino. We didn't go but looked nice from the outside. Attempted to drive to Sintra but that didn't work well. Next time we would take the local train from Lisbon.
View full review
"
Traditional luxury with excellent service
chrismC7799MZ, Milton Keynes, United Kingdom
Mar 09 2020
4 couples on a birthday weekend with golf and relaxation. Staff attentive and professional, bar was elegant served by Wilson who is great fun. Breakfast has good selection and cappuccino if you ask...
4 couples on a birthday weekend with golf and relaxation. Staff attentive and professional, bar was elegant served by Wilson who is great fun. Breakfast has good selection and cappuccino if you ask. Good location with things to do in walking distance plus you can chill by the pool. Water was very cold in March. We played golf at their associated course which was short and very challenging with fast greens. We will come back for sure - thank you
View full review