Boutique adults only resort located on a tropical island paradise
Indulge your senses with a pampering treatment at the award-winning Linger Longer Spa
Relax on the resort's seculded golden sand beach while enjoying a handcrafted cocktail or craft Thai beer from Sundowners beach bar
Enjoy uninterrupted views of the peaceful shoreline and distant islands for the comfort of your sunlounger beside the impressive salt water infinity pool.

The ultimate in peace and relaxation, the adults only Layana Resort and Spa takes your comfort seriously. Perhaps its the traditional Thai greeting on arrival, the incredible surroundings or simply the feeling of sinking into your duck down duvet covered bed, but it doesn't take long to understand that at Layana the world revolves around you.

From little touches like the luxury tea and coffee making facilities in your room to the complimentary weekly wine tasting, Thai cooking lessons and Thai boxing (November to April), the friendly staff at Layana are on hand to ensure make your stay here extra special.

For total peace and relaxation the idyllic gardens of the award-winning Linger Longer Spa provide the perfect space for active medidation, yoga or an indulgent spa treatment. Or try the spa's hypo-allergic Salt Spa which reproduces the theraputic microclimate found in natural salt caves.

Discover the exqusite afternoon tea at SeaSky restaurant, where you can savour the sumptous array of homemade cakes with tea and coffee as you lose yourself in the beachside view.
Facilities
Bars & Restaurants
SeaSky
As the name suggests Layana's SeaSky restaurant has a perfect location perched at the end of the beach overlooking the ocean. Whether you choose to dine inside or opt for an al fresco beachside setting you sure to enjoy the views.
Open from breakfast through to late evening dinner you will discover a spread of contemporary Thai and Mediterranean cuisine with delicious seasonal and daily specials such as the succulent Larb Nue. A spicy minced beef salad served with fresh herbs, mint, roasted rice and a chili dressing . Not to mention the refined afternoon tea available daily.

Open: Daily from 6:30 am to 10:30 pm
Sundowners Bar
If you are looking for the perfect spot to enjoy an evening cocktail while watching the sunset then Sundowners Bar is ideal.
Facing the beach this relaxed and hip bar and lounge serves an array of cooling beers, wine, cocktails and non alcohol beverages.
If you want to feel virtuous while sipping on your favourite holiday tipple you can always join in the relaxing Yoga and Tai Chi sessions throughout the day.

Open: Daily from 10:00 am to 12:00 am
White Bar
Located beside the Layana's Wellness Pool and a mere few steps from the Fitness Centre, this juice bar offers you an amazing menu of healthy, rejuvenating freshly squeezed juices and smoothies alongside a menu of light snacks.
Perfect for a post workout energy boost or to simply keep you hydrated as you soak up the atmosphere by the pool.

Open: 10:30 am to 6:00 pm
Beach & Pools
Beachfront
The impressive Had Phra Ae or Long Beach seems to stretch on endlessly with its soft golden sand, calming waves and pine trees providing welcome shade.
Despite its west facing position offering you some of the most impressive sunsets on the island, the beach remains secluded and never feels over-busy.
So recline on one of the resorts beach front loungers or dip your toes into the crystal clear Andaman Sea as you soak up the view.
Infinity Pool
With an impressive unobstructed view of the Layana's peaceful shoreline, the large salt water infinity pool is step from the beach.
Surrounded by plush loungers and plenty of parasols to provide shade, this is the perfect spot to unwind. Enjoy an array of delicious refreshments serves by the beaming and attentive wait-staff.
Open: Daily from 6:00 am to 8:00 pm
Wellness Pool
Surrounded by the resort's lush gardens, the half-Olympic size Wellness Pool is perfect for an energetic swim or to simply laze on the poolside loungers while enjoying a refreshing drink or snack from the healthy juice bar.
With its saltwater treatment, the water will leave you feeling rejuvenated and cleansed.
Open: Daily from 6:00 am to 8:00 pm
Spa & Wellness
Fitness Centre
The recently renovated state-of-the-art fitness centre at the Layana Resort offers you a dynamic and roomy space to enjoy your perfect workout.
The welcoming atmosphere is improved by the oversized windows facing the manicured gardens so you can burn some extra calories on the cardio machines and free weights in the comfort of the gym's air-conditioning but still enjoy the view.
To help you achieve your ultimate fitness goals the resort can provide fitness assessments, personal training and free nutrition consultations.
Open: 6:00 am to 10:00 pm
Linger Longer Spa
For the ultimate in indulgent relaxation be sure to book yourself in for a session or three at the Layana Resort's award-winning Linger Longer Spa.
A haven for your senses the spa offers a mystical blend of eastern and western treatments to restore your inner harmony.
Nestled in an idyllic garden setting, the spa is equipped with six indoor air-conditioned treatment rooms, two outdoor foot massage salas, one hydro massage pool, an hypo-allergic Salt Spa and a sauna with shock shower.
Whether you are seeking a soothing traditional or aromatic massage, rejuvenating scrub or body treatment or a revitalising facial the highly trained and sympathetic staff are on hand to pamper and restore your inner glow.
Yoga Platform
Join a specially designed therapeutic and mellow yoga class every Monday, Wednesday or Friday at the Layana Resort's Yoga Platform, located in the resort's Wellness Zone.
Greet the day as you are led through gentle stretches, movements and meditation in the picturesque gardens.
Although reservations are not necessary these are recommended to allow the professional practitioners to tailor their sessions to your needs and skill level.

About the location
The adults only Layana Resort and Spa offers a lavish hideaway nestled in the unspoiled tropical island of Koh Lanta Yai, within the Mu Koh Lanta National Park. A beautiful marine archipelago, the park boasts flourishing tropical rainforests and undersea wonders such as colourful coral with their bountiful natural marine diversity.

The hotel's spectacular three kilometre long golden sand beach offers you ample room to enjoy a quiet barefoot stroll under the palm fringed shores with the gentle lapping of the waves kissing the sand to keep you company.

A short walk along the beach will bring you to local restaurants, perfect if you like to get out and about now and then. For greater choice take a 10 minute drive to Saladan Town where you can find plenty of restaurants, bars and shops.
Transfer time
The Layan Resort and Spa is approximately 1.5 hours from Krabi International Airport by land and speedboat.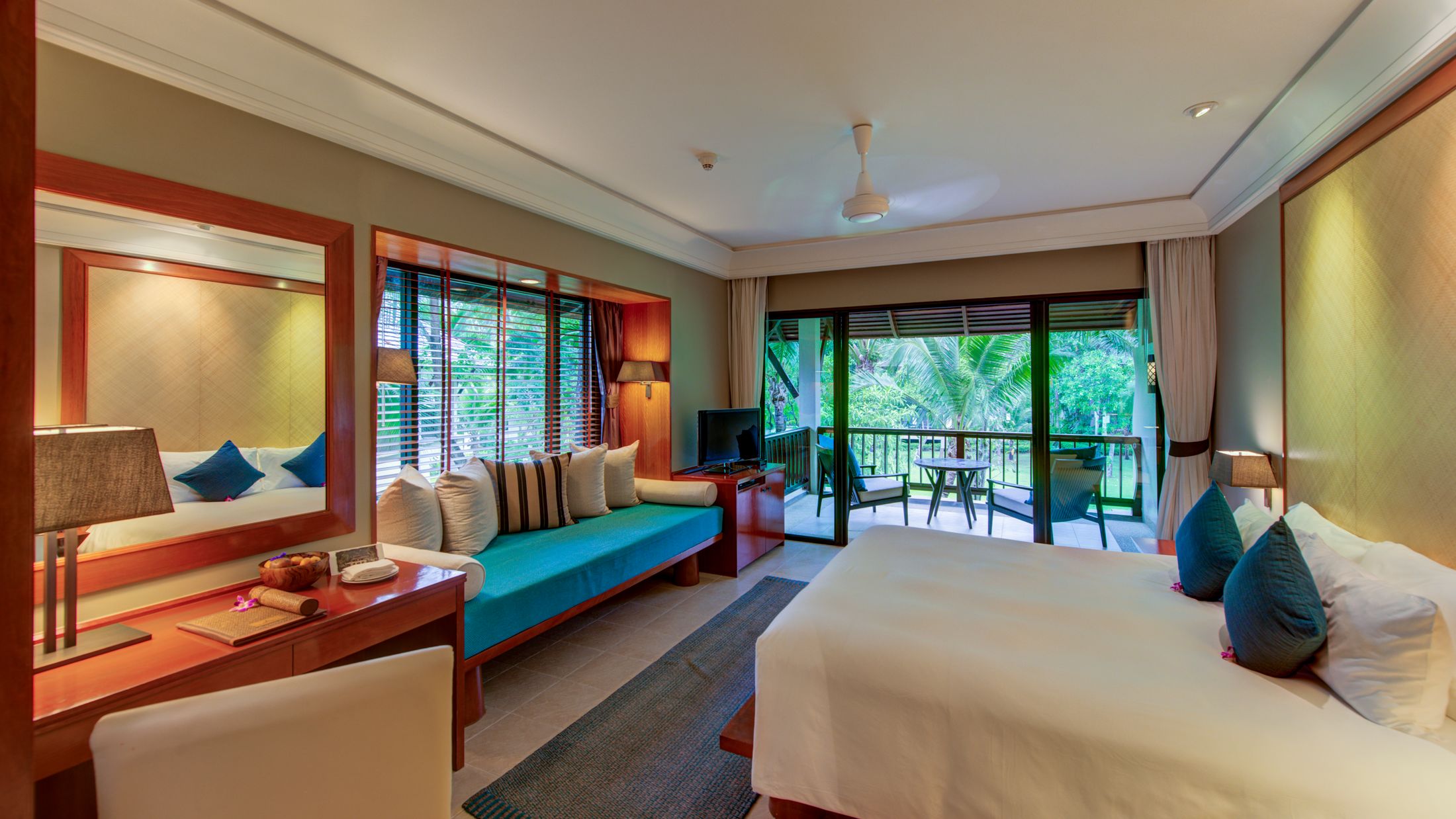 Garden Pavilion
Max 3 adults
The fabulous Garden Pavilions are located in 11 two-storey units nestled among the resort's lushly landscaped gardens.
With the generously sized living space, climate controlled fully equipped rooms with elegant ceiling fans and amenities which include a day bed.
Unwind on your oversized and softly furnished balcony where you can soak up the serenity and tranquility as you enjoy stunning views of the mountain and gardens.
For the ultimate indulgence enjoy a soak in the beautiful sunken bath in your stylish bathroom.
Garden Pavilions come with either twin or king bedding and have provision for an extra bed.
49m²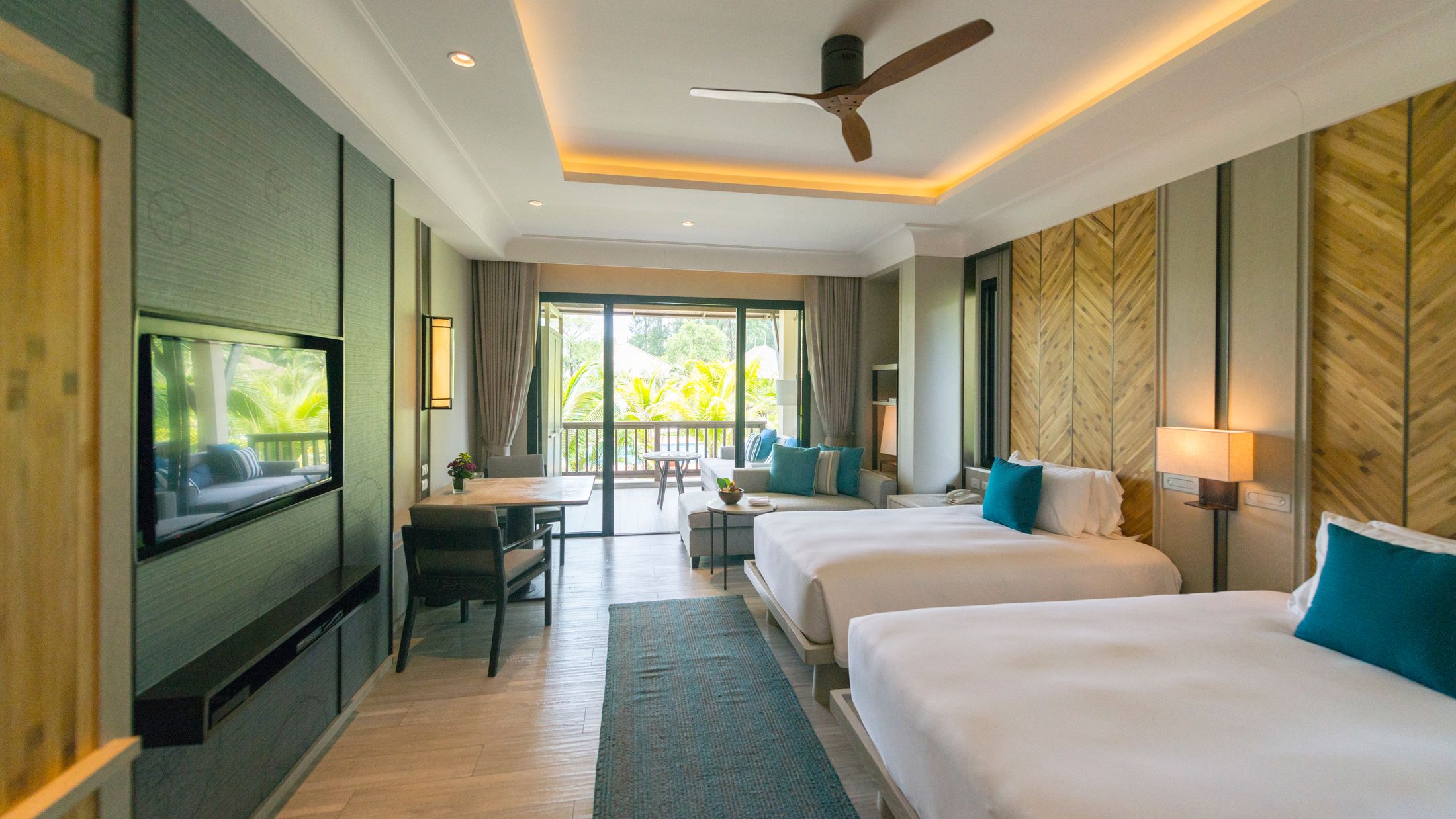 Grand Garden Pavilion
Max 2 Adults
Set in small clusters of two storey buildings, Grand Garden Pavilions are as Grand as their name suggests. These exquisite pavilions provide you with an elegant and spacious room finished with superior craftsmanship.
Your bathroom is the ultimate in stylish contempory design with dual vanity basins, seperate shower and generous sized bath.
Your extensive balcony comes with a plush outdoor sofa and generously stocked minibar overlooking the beautiful gardens. If your Pavilion is located on the lower floor you will also enjoy direct access to the resort's wellness pool area.
55m²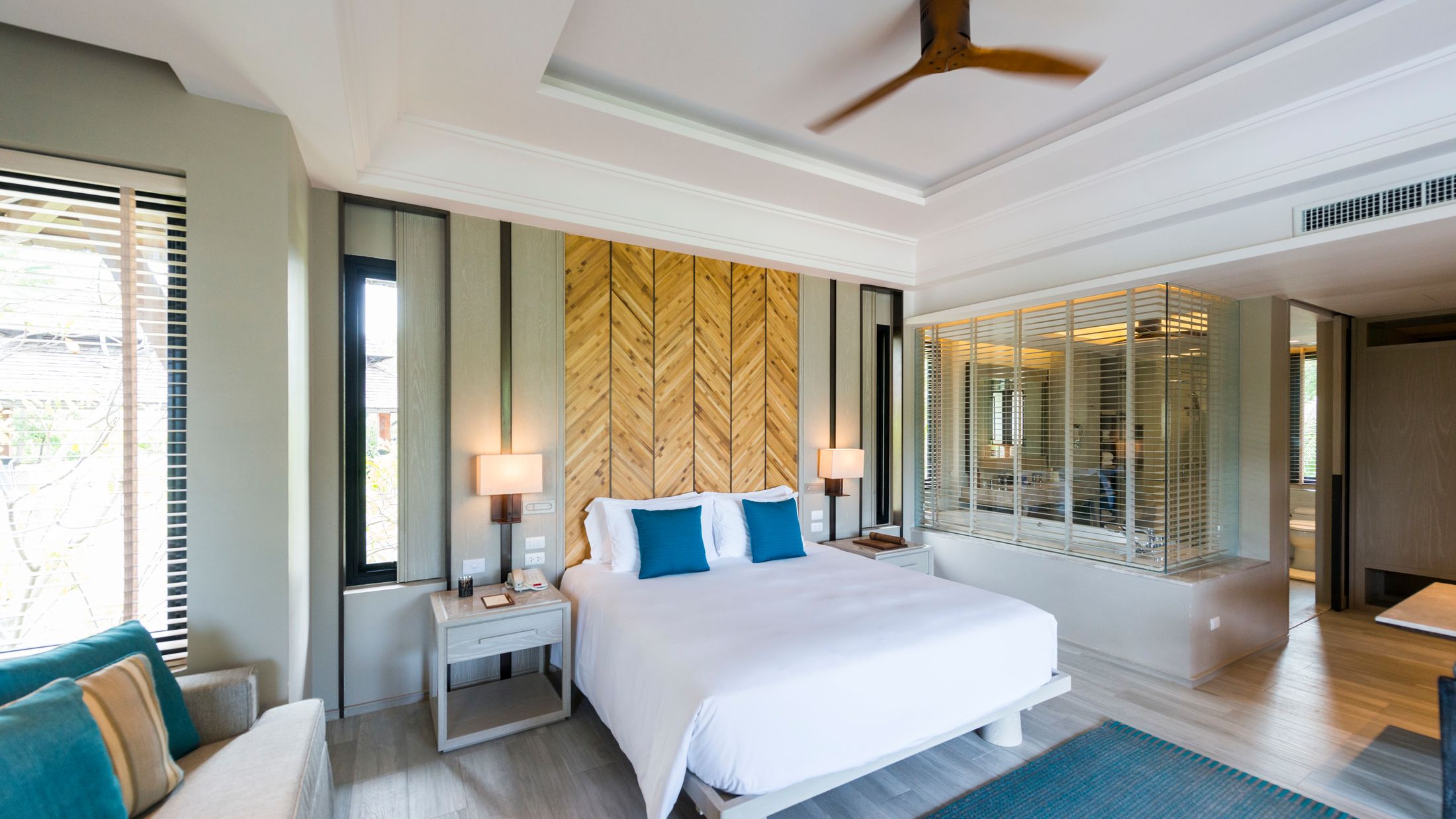 Terrace Suite
Max 2 Adults
The stylish split-level Terrace Suites offers a new calibre of execellence on Koh Lantata. From the balcony of your upper level suite you can enjoy sweeping views over the resort and your lower level private patio area provides you with direct access to resort's Wellness pool.
Enjoy a languorous Jacuzzi® bath or invigorating rain shower in your uniquely styled all-glass bathroom.
When it comes to comfort and relaxation your chic and airy lounge is perfect for peaceful evening with a crisp wine from private wine cellar or a morning coffee from your Nespresso machine.
60m²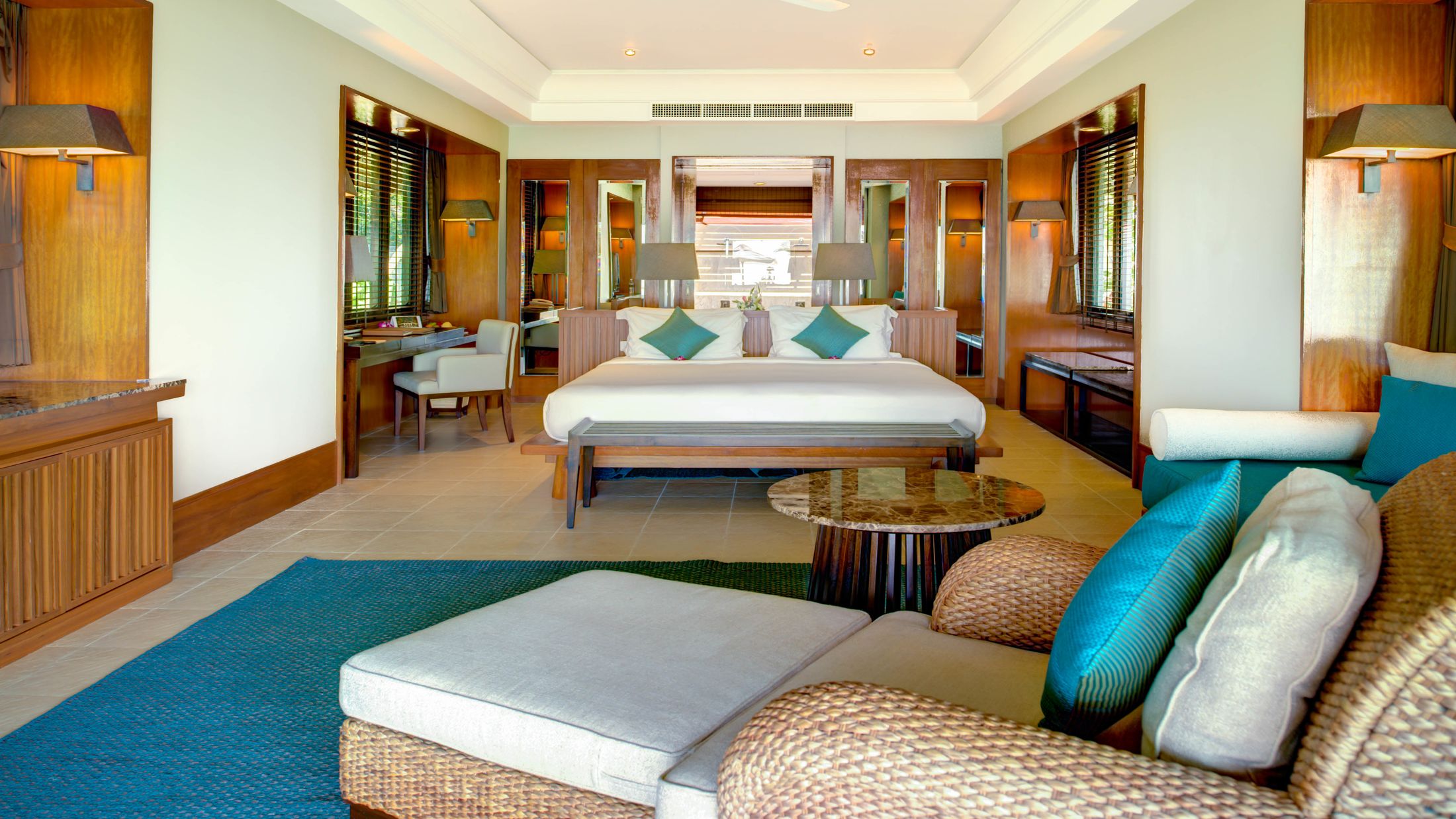 Beach Villa
Max 2 Adults
The ultimate in luxury the impressive Beach Villas are perfect if you are looking for an exclusive escape.
Your Villa Host will be on hand from check-in to check-out to ensure your stay exceeds your expectations, nothing is too much trouble for these friendly members of the Layana team.
Overlooking the crystaline waters of Koh Lanta's shoreline, you will have one of the best views of the impressive sunsets, so unwind in comfort on your balcony as you watch the shifting hues of red and gold while the sun drops below the horizon.
Dining al fresco couldn't be easier as your Beach Villa comes complete with private garden. Wash off the beach in your outdoor shower before sampling some of the resort's finest cuisine in the comfort of your own villa.
59m²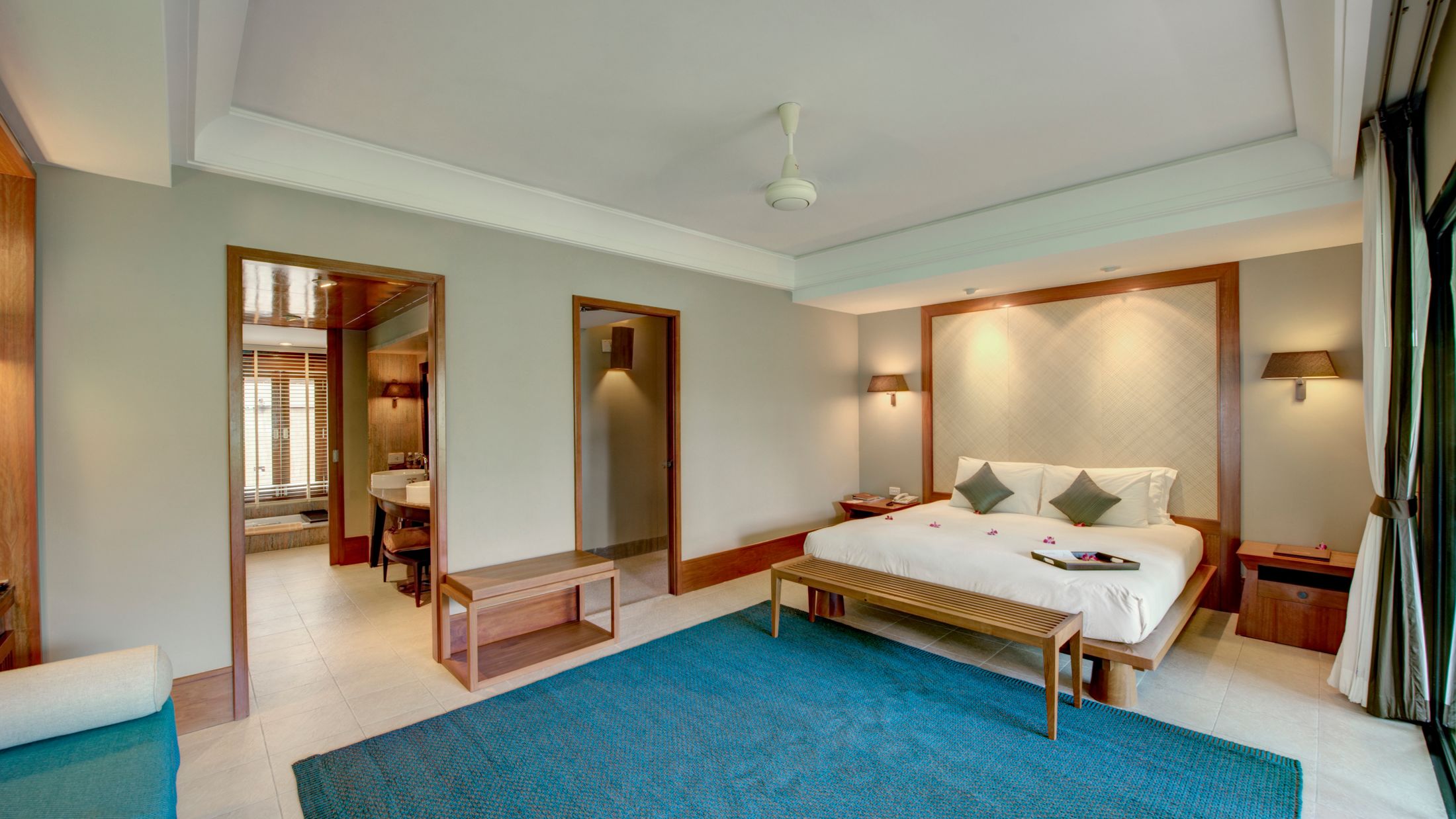 Ocean Deluxe Suite
Max 2 Adults
Freshly redesigned, the three voluminous Ocean Deluxe Villas enjoy an enviable position just a stone's throw from the Layana's secluded beachfront.
Your sumptous master bedroom can be found on the villa's upper level and is accompanied by your impressive en-suite bathroom with its seperate shower room and bath tub.
Your spacious and elegantly furnished ground level lounge area includes separate living and dining areas.
Step outside to discover your enchanting private garden complete with an outfoor rainshower and your personal Jacuzzi®.
The Layana resort have provided all the amenities and comforts to make your stay extra special, but in case you require anything your exclusive Villa Host wil be on hand from check-in to check-out.
100m²

Based on 2032 traveller reviews

96% of travellers recommended this hotel
Travellers Ratings
What to expect
Reviews
PeterAntananarivo, Antananarivo
May 10 2021
Layana was excellent all round but I want to highlight two things: When the management knew that my wife had mobility problems they put us in the room nearest the pool and restaurant. This made a lot...
Layana was excellent all round but I want to highlight two things: When the management knew that my wife had mobility problems they put us in the room nearest the pool and restaurant. This made a lot of difference! Although our room was on the ground floor, there are about five steps up to the room door. An hour after we arrived, the management arranged for a banister to be attached to the wall so that my wife had something to hold on to when she was walking up or down. This also made a lot of difference! Staff recommendation I do not have the names of any individual staff members but the manager, David Caille, was extremely helpful and friendly.
View full review
"
Consistently high quality
petebkk, Bangkok, Thailand
May 05 2021
We've stayed many times at Layana, most recently in May this year. We've had a consistently excellent experience each time. Firstly, the setting is absolutely stunning; we always stay in the beach...
We've stayed many times at Layana, most recently in May this year. We've had a consistently excellent experience each time. Firstly, the setting is absolutely stunning; we always stay in the beach villas, the view across the short lawn to the ocean is just jaw-dropping, and the photo we always use to try and make friends and family jealours. The staff is consistently fantastic - friendly, proficient, and absolutely focused on making sure our stay is flawless. We are no strangers to luxury hotels, and Layana maintains a very special place in our hearts.
View full review