Located on the edge of the Krabi Marine National Park at the heart of the beautiful Phranang Peninsula, Rayavadee offers luxury two-storey pavilions built and furnished in a traditional style to replicate an idyllic Thai village, set amongst tropical gardens, against the backdrop of lush jungle and clear blue sea. A member of the 'Leading Hotels of the World', Rayavadee boasts a five star dining experience, featuring a romantic Thai restaurant overlooking the stunning beach as well as a magical 'Grotto' nestled under a limestone cliff. For a truly relaxing experience, visit the luxurious Rayavadee spa offering a range of traditional treatments and therapies, alternatively take advantage of the numerous excursions available, from cultural discovery tours to elephant riding, kayaking and rock climbing.

Hotel child prices apply to ages 2-12 years.
Tropical resort surrounded by limestone cliffs
Four restaurants including the acclaimed Grotto
Spa offers authentic Thai healing treatments
Cultural classes including cooking, garland making and fruit carving
Boutique selling hand-crafted wares
Added value
Free nights
Stay 4 nights and pay for 3 nights, stay 7 nights and pay for 5 nights stay 10 nights and pay for 7 nights and stay 14 nights and pay for 10 nights for holidays between 03 April - 19 December 2018, 11 January - 01 February 2019 and 11 January - 31 March 2019 when staying in a Terrace Pavilion.
Please call our trusted adviser for further details.
Honeymoon offer
Honeymooners receive a welcome drink on arrival, a selection of tropical fruits, flowers, a bottle of Champagne and one 75 minute massage for two at the Rayavadee Spa for holidays between 11 January - 19 December 2018 and 11 January - 31 March 2019 (you must stay at least 3 nights to get this offer).
Facilities
Bars & Restaurants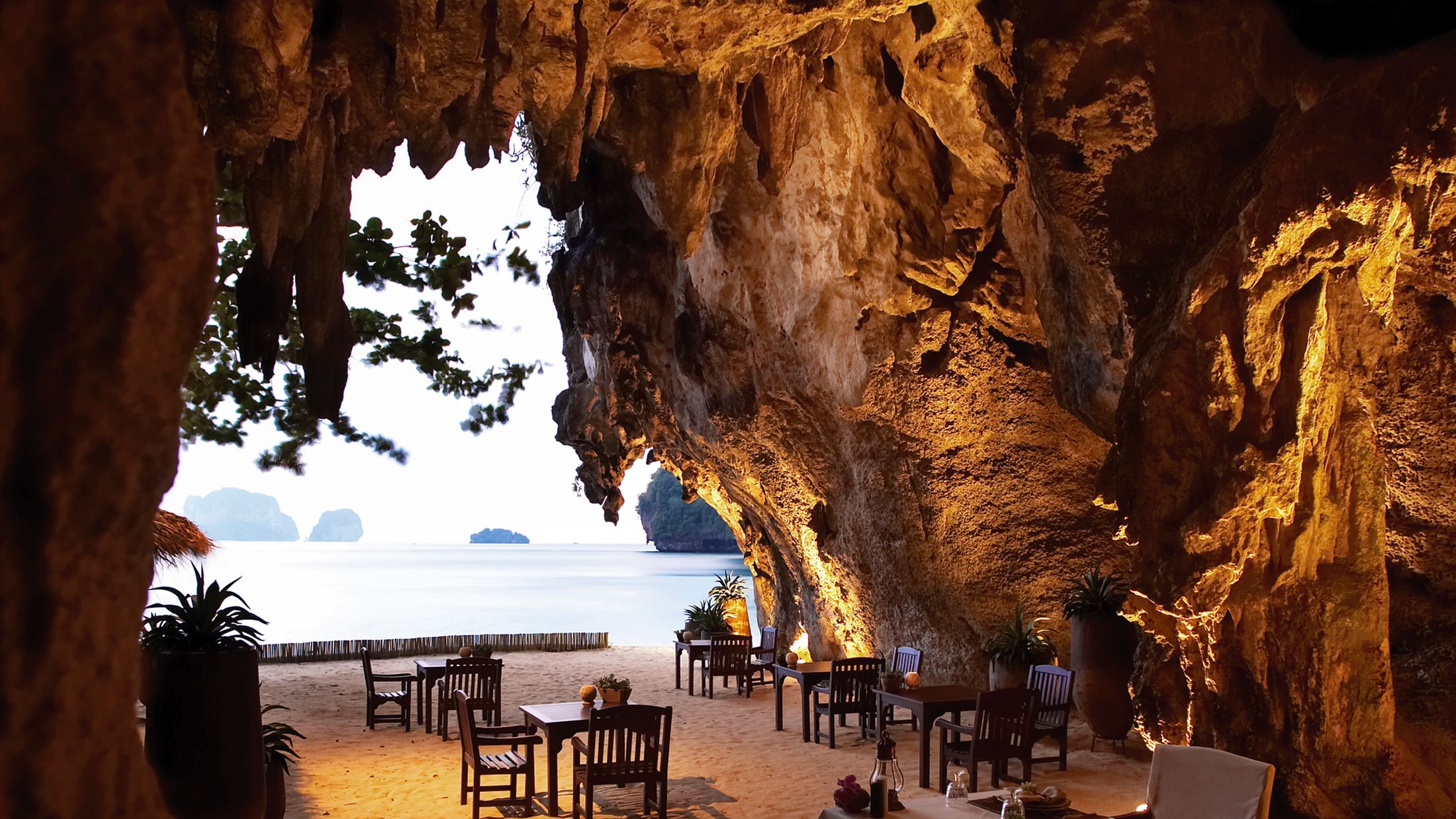 The Grotto
Opening Times:
12:00 - 20:00
The Grotto offers a casual beachside setting serving up snacks, fresh salads and tasty stir-fries.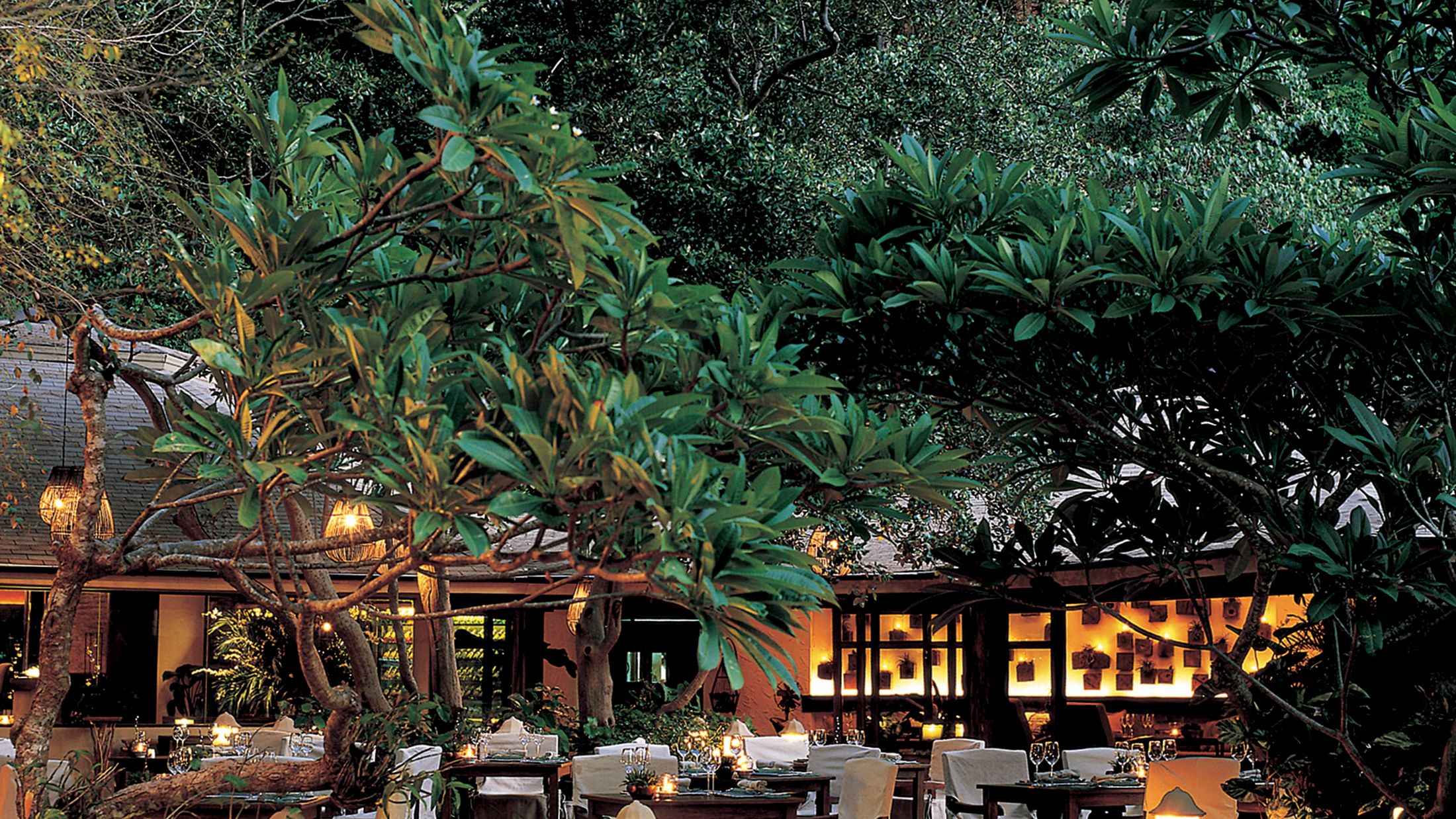 Raya Dining
Opening Times:
07:00 - 23:00
All day dining offering international cuisine.
Krua Phranang
Opening Times:
18:00 - 23:00
Dine with stunning views of the sea and limestone cliffs in this romantic Thai restaurant.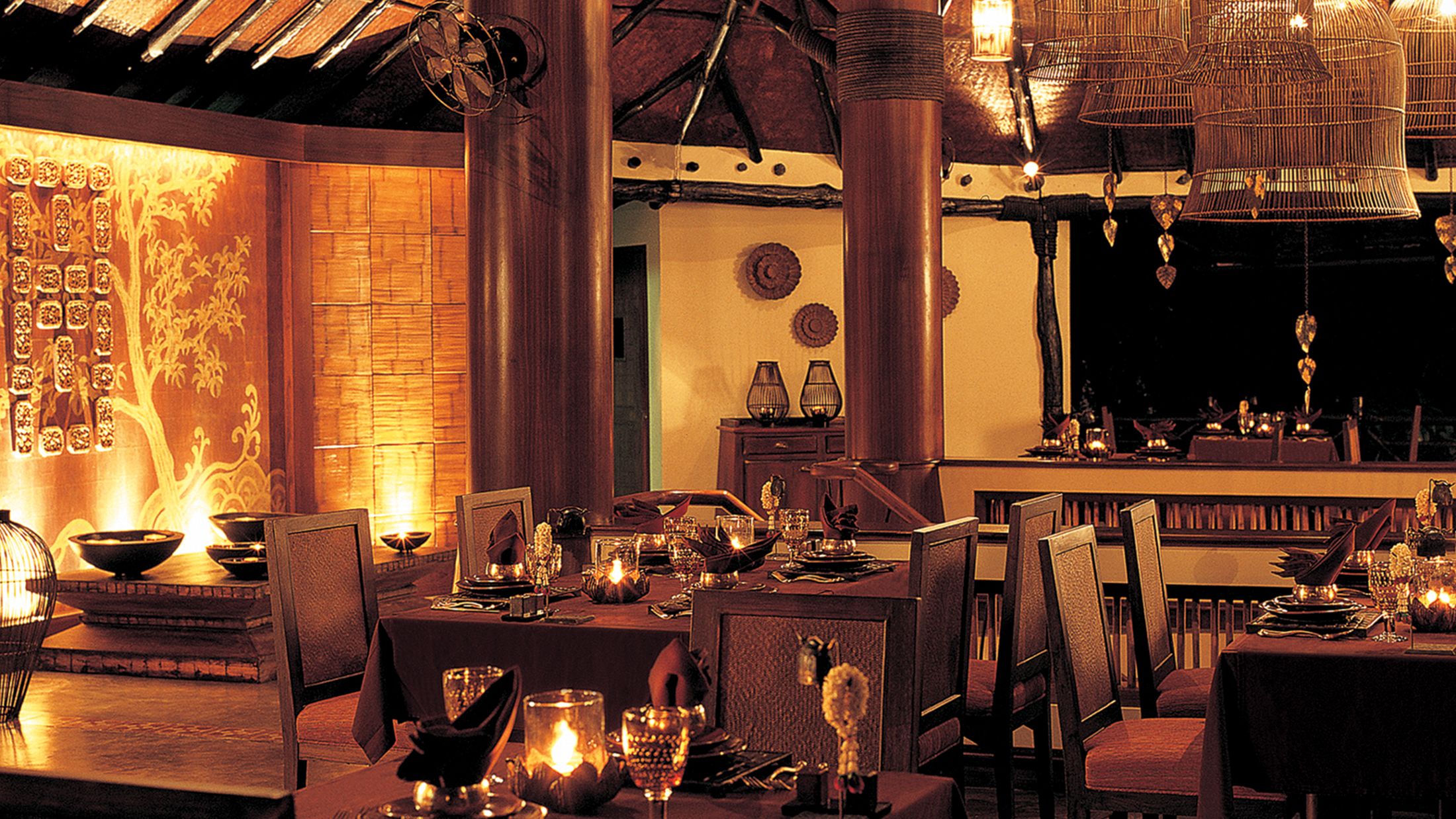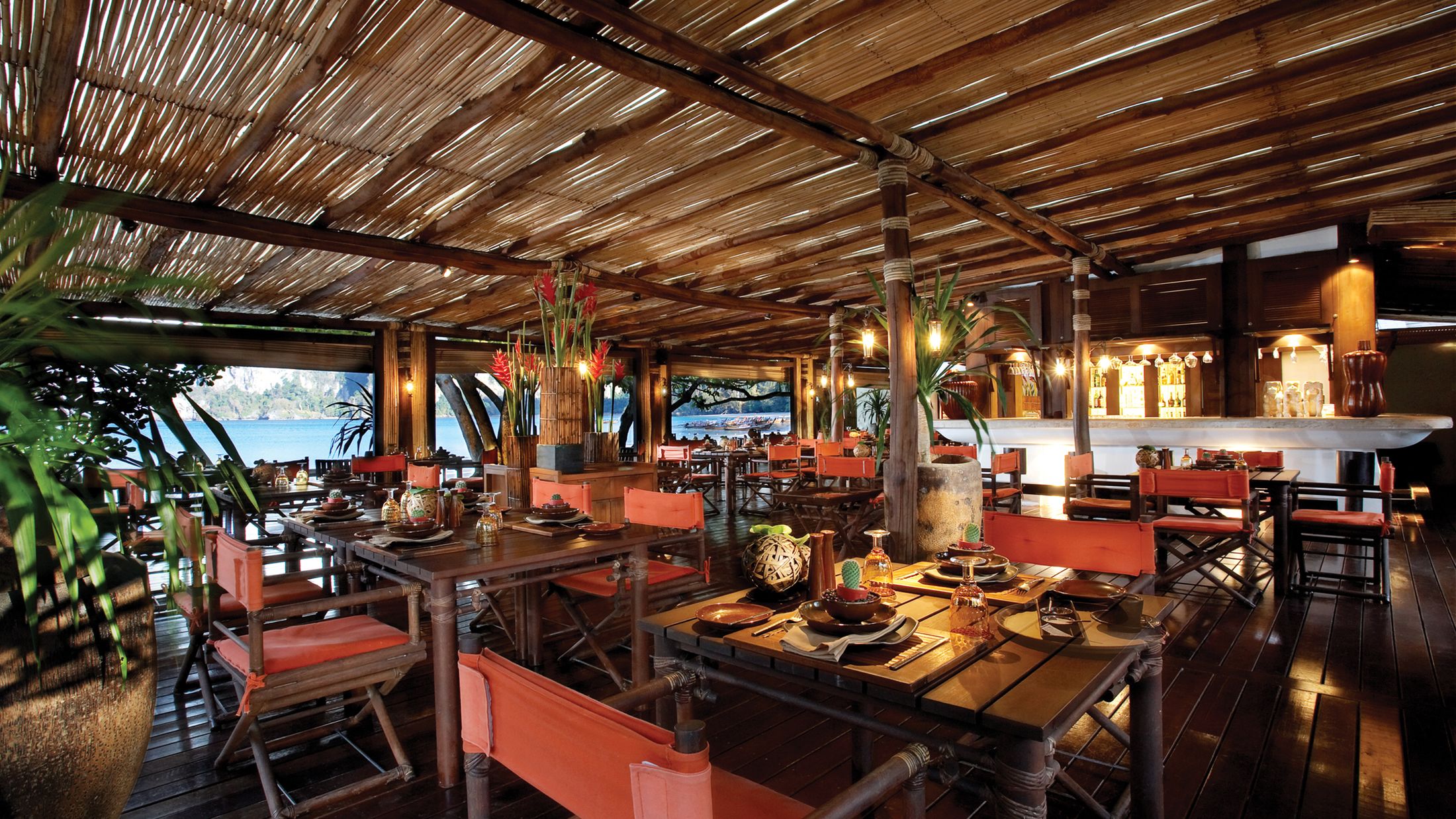 Raitalay Terrace
Opening Times:
11:00 - 23:00
Casual dining serving Asian inspired cuisine with views of Railay Beach.

Beach & Pools
Pool
The resort features a stunning infinity edge pool, surrounded by subtle rock piles and lush vegetation.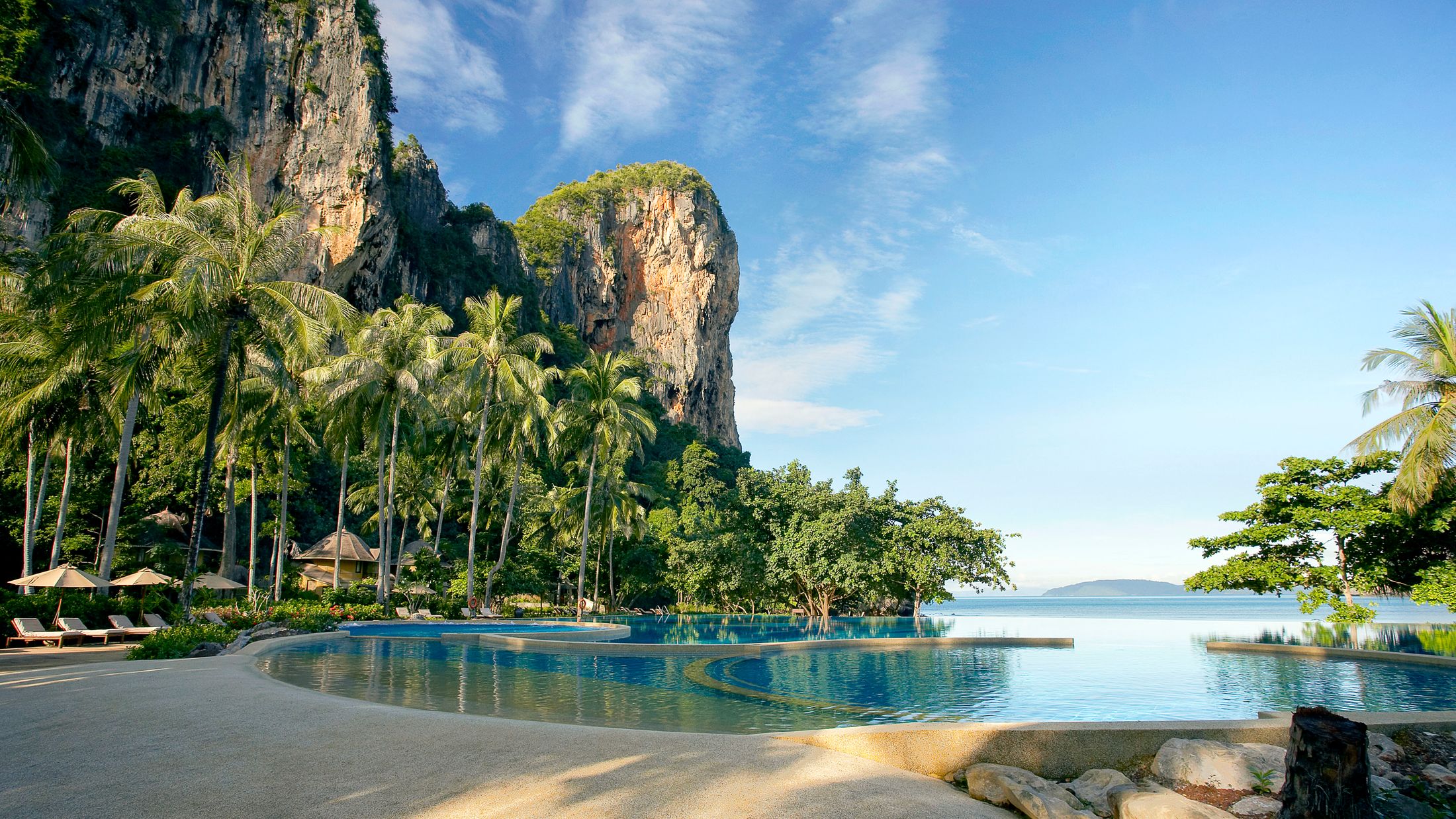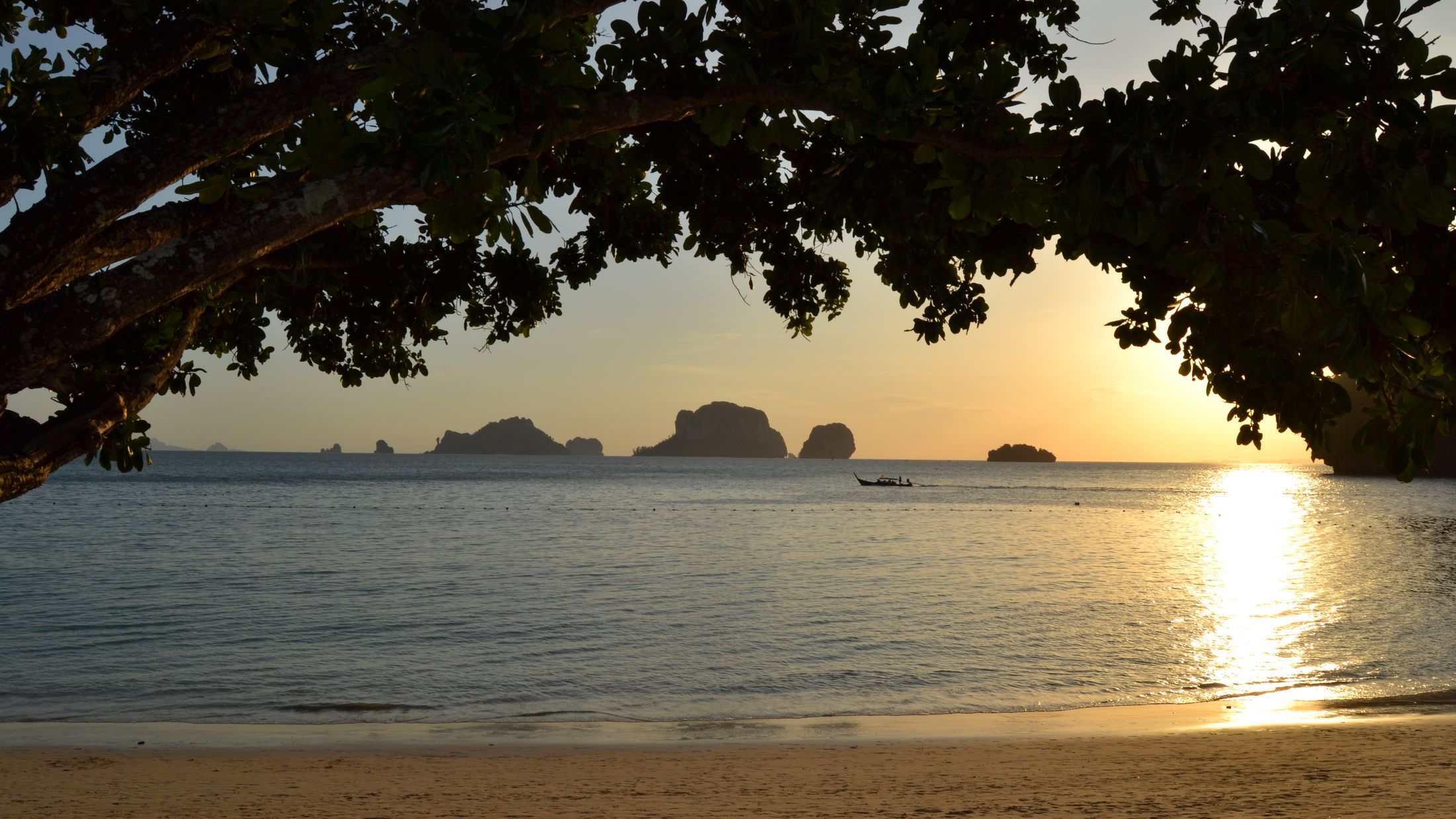 Beach
The resort features a stunning white sand beach, with limestone cliffs surrounding it.

For Families
Kids Club
Children aged four to twelve are welcome to join Rayavadee's 'Just For kids', a program that offers interactive experiences for children. The schedule features a variety of activities including arts and crafts, a garden discovery walk and Thai cooking classes.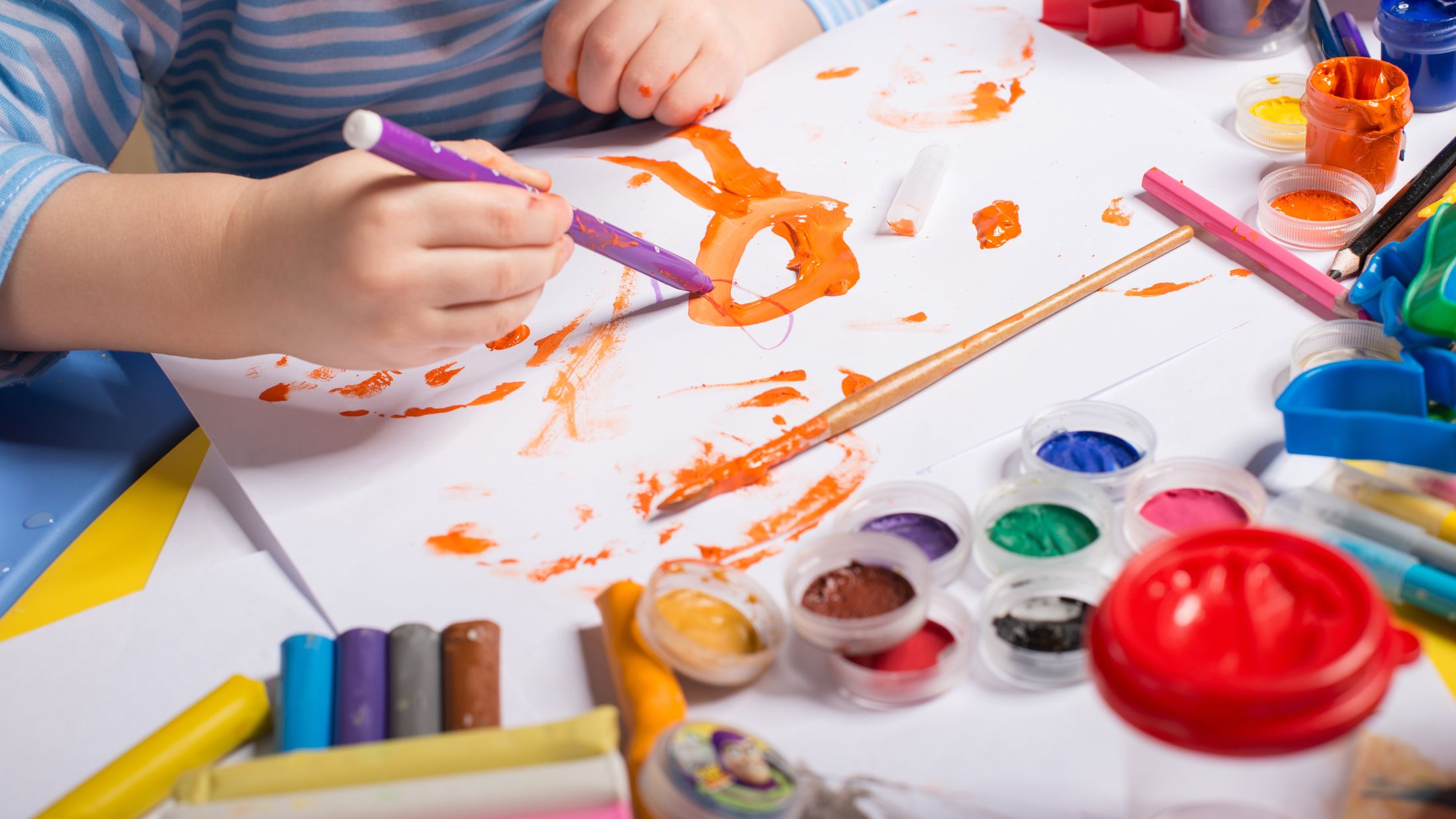 Spa & Wellness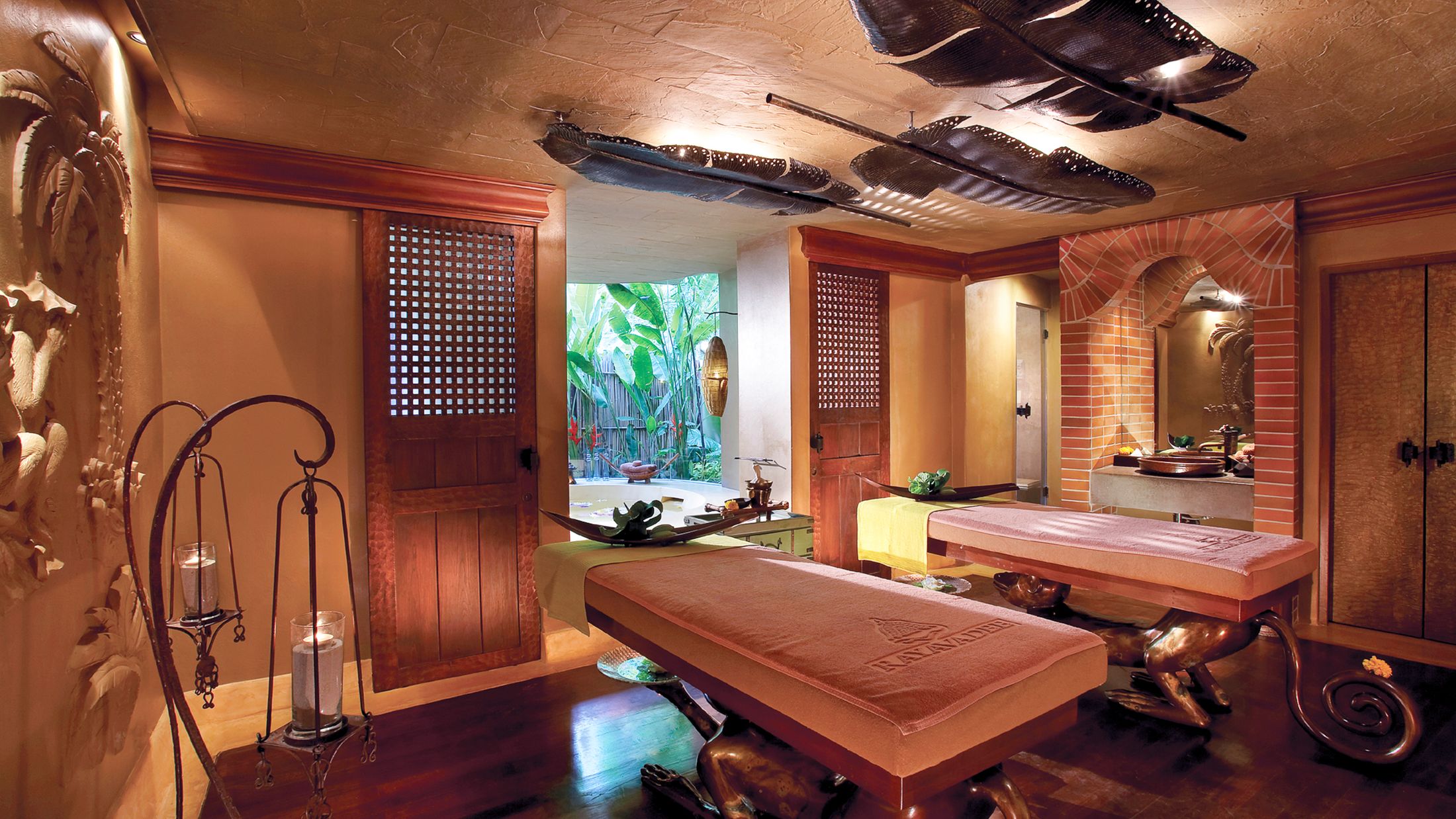 Spa
The Rayavadee Spa uses ancient Thai techniques to create the ultimate relaxing and healing experience. There is a huge range of treatments to choose from, including the Signature massage, and facials using Thai therapeutic herbs.
Guests can also enjoy the facilities of the resort's fitness centre, complete with a range of cardio and aerobic machines, as well as free weights.
Activities & Entertainment
Daytime Activities
There are two outdoor tennis courts, as well as indoor, air conditioned squash courts. There are classes in batik art, flower garland making and traditional Thai fruit carving. There are also excursions, rock climbing and hiking.
Water Sports
There is a water sports centre, where guests can find sea canoes, snorkelling and wind surfing equipment.

About the location
The coastline at Krabi is one of Thailand's most distinctive, with huge limestone cliffs towering above talc-white sands. It's a popular place with rock climbers - you'll often spy them clinging to the cliffs in the mornings, particularly at photo-worthy Railay Beach. The limestone is honeycombed with caves that are ripe for exploring. Wat Tham Sua (Tiger Cave Temple) is a favourite - its name comes from the paw prints in the stone inside the cave, supposedly from a tiger.

The waters off Krabi are studded with dozens of islands. The four that make up Koh Hong are a popular daytrip, as are the two Phi Phi islands, Phi Phi Don and Phi Phi Leh. Take a boat out for the day and you'll find pristine beaches, half-hidden coves and some of Thailand's best snorkelling. Other standout day trips include the Emerald Pool, a beautiful pond filled with mineral-rich spring water, and the hot spring waterfalls, where you can enjoy the luxury of wallowing in balmy natural pools and cascades.

Krabi Town is where you'll find the hub of activity. Make a beeline for Thanon Khon Dern, or Krabi Walking Street, for street food stalls and shops selling souvenirs, handicrafts and rainbow-hued sarongs.
Transfer time
40 minutes from Krabi airport by car and boat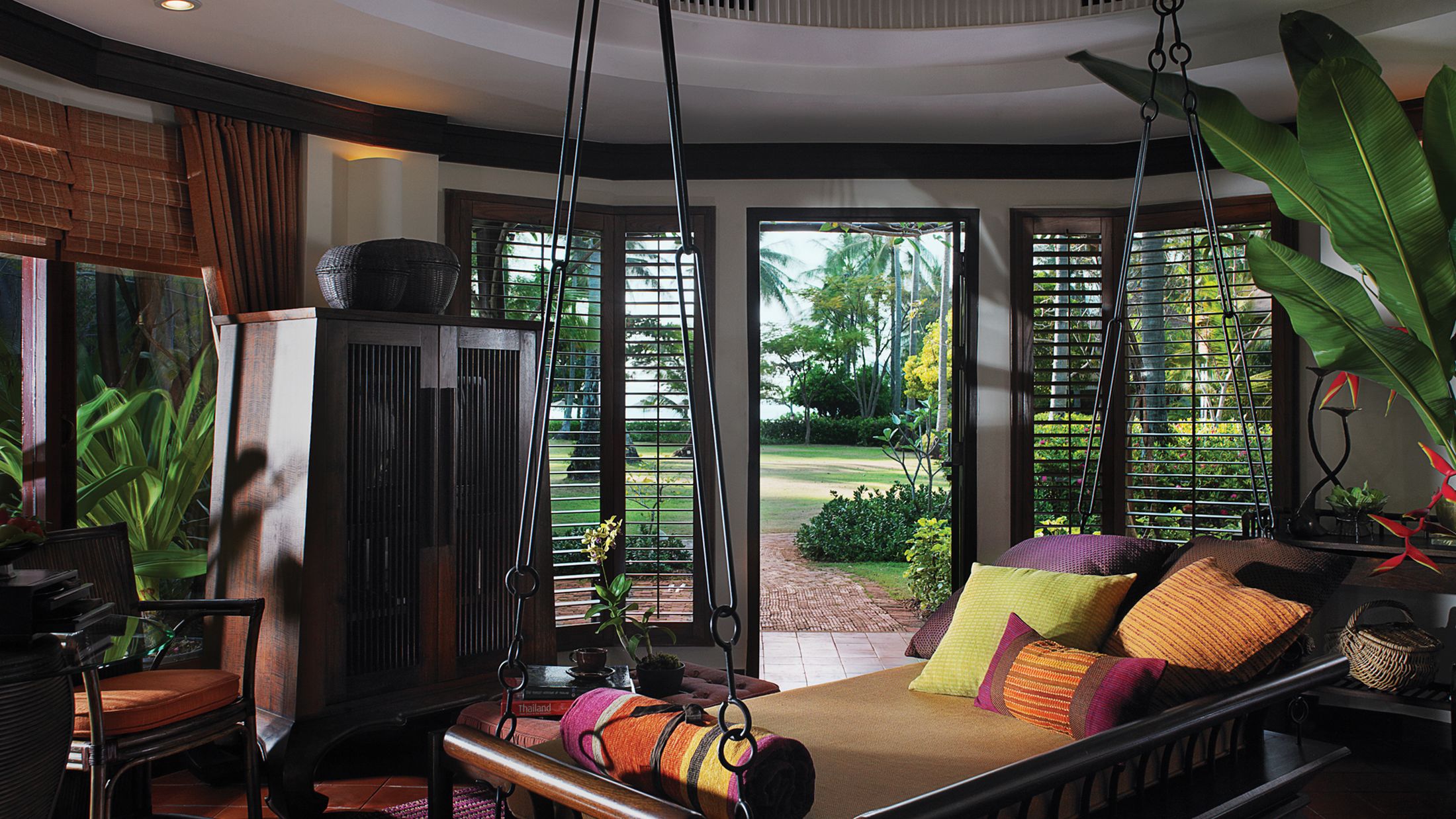 Deluxe Pavilion
Max 3 adults
Deluxe Pavilions are decorated with dark wooden furnishings with handcrafted detail. The two-story pavilions are equipped with a private terrace and seating area with views of the natural surroundings.
90m²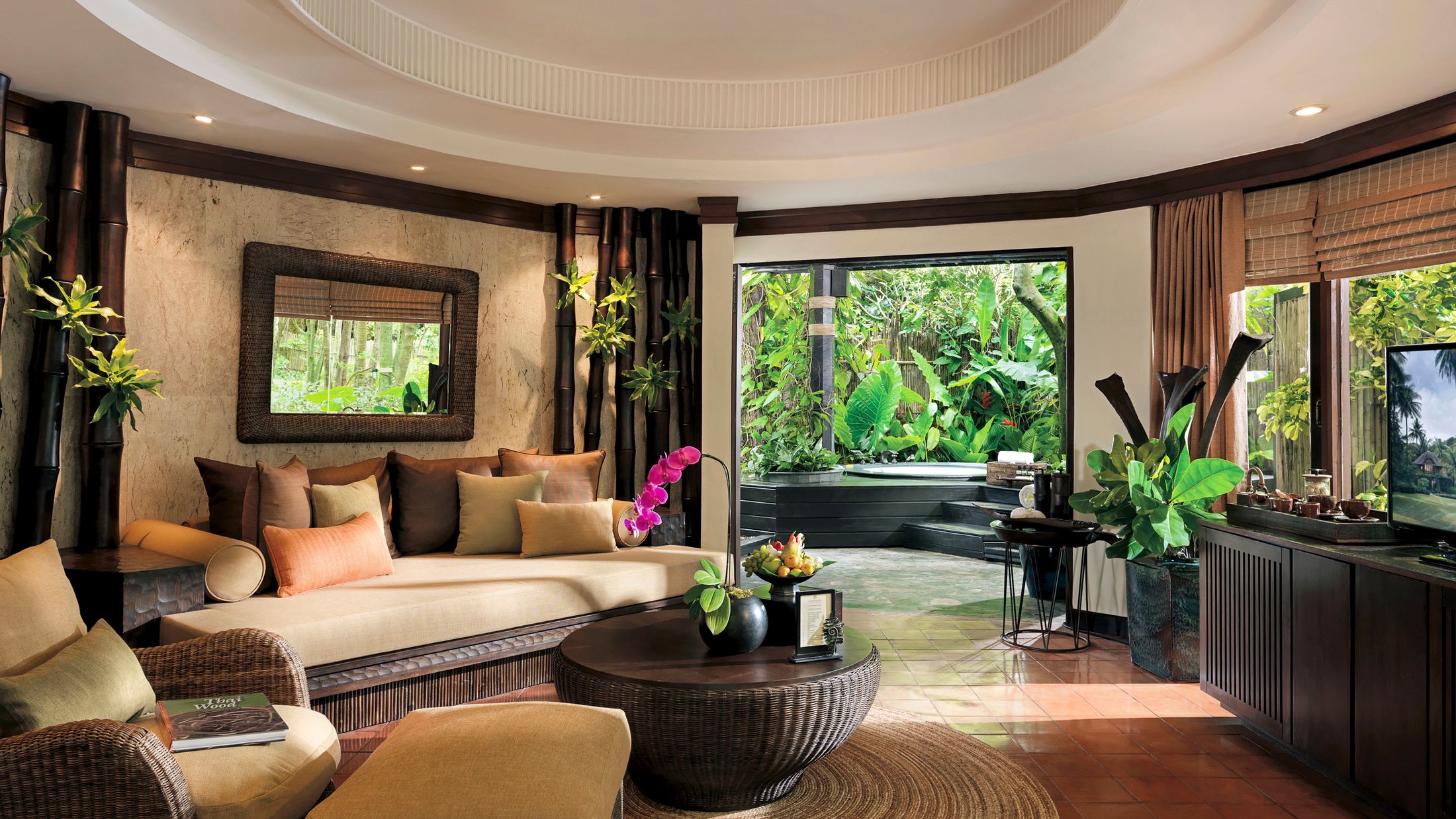 Spa Pavilion
Max 3 adults
Spa Pavilions offer all of the same features of the Deluxe Pavilion as well as an outdoor Jacuzzi® with sun loungers.
115m²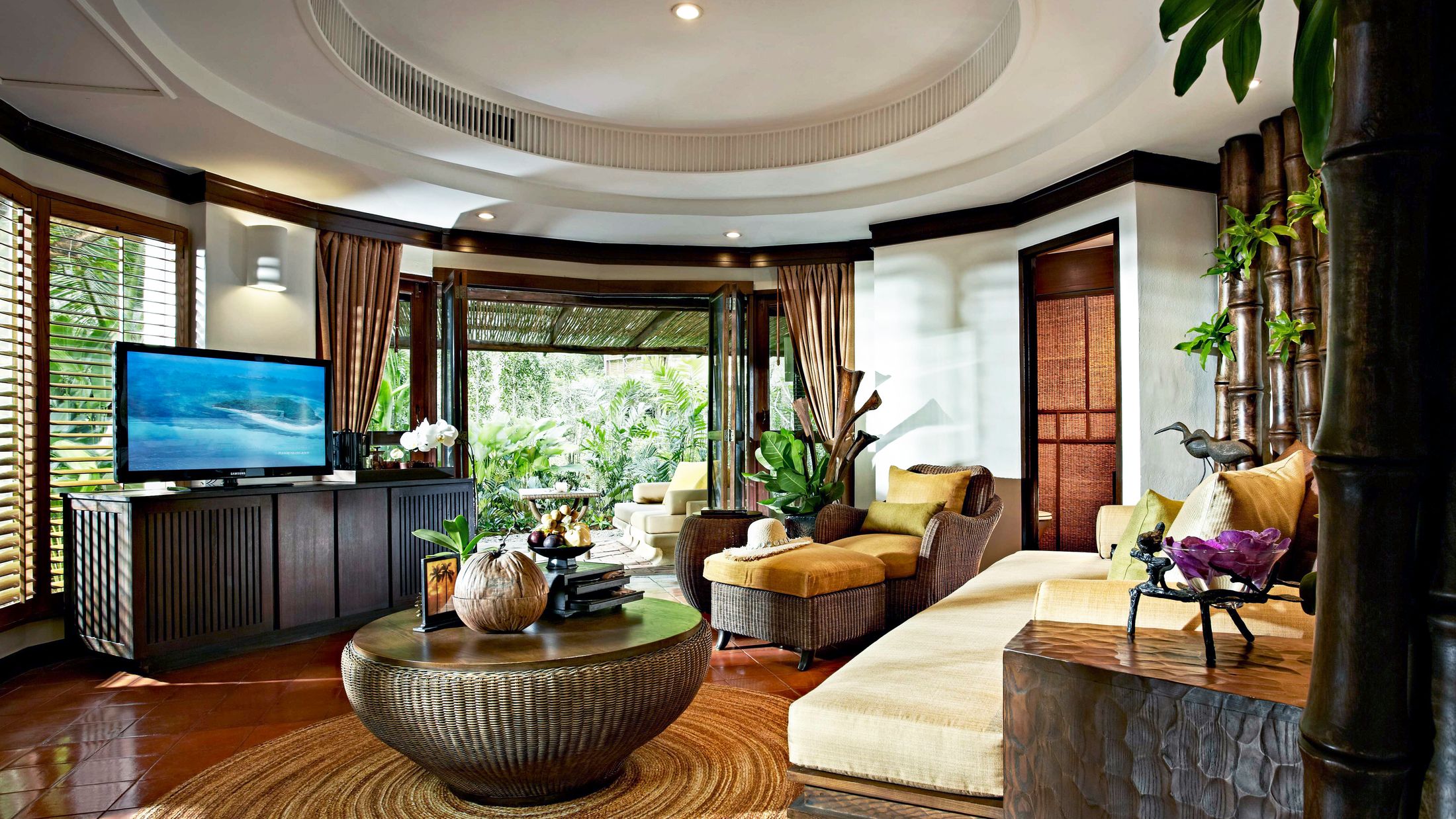 Terrace Pavilion
Max 3 adults
Terrace Pavilions offer a contemporary take on the Deluxe Pavilion. They feature an outdoor terrace with lounge area surrounded by lush gardens. The terrace area can also host barbecue dinners.
115m²

Based on 2054 traveller reviews

87% of travellers recommended this hotel
Travellers Ratings
What to expect
Reviews
SpyrosFr, Athens, Greece
Jun 24 2018
A wonderful resort in naturall park, where you could enjoy nature, animals sea nad seaside. The people in the hotel was so polite, the restaurants were fantastic - the restaurant Cave, is something...
A wonderful resort in naturall park, where you could enjoy nature, animals sea nad seaside. The people in the hotel was so polite, the restaurants were fantastic - the restaurant Cave, is something so special - and the transport to and from hotel again excellent
View full review
madeleye, Los Angeles, California
Jun 23 2018
There are lots of really great things about this hotel, but for the price you pay - it doesn't feel worth it. The location of the hotel is amazing. Beautiful rock formations, caves, forest...
There are lots of really great things about this hotel, but for the price you pay - it doesn't feel worth it. The location of the hotel is amazing. Beautiful rock formations, caves, forest, monkeys, butterflies, frogs, and ponds. It's a tropical paradise spot. You have easy access to 3 beaches - although they really only recommend you go in the water at Phranang beach because the others are rocky. While you're in the pool, you can look up at the beautiful rock formations. But the pool is cold without any jacuzzis despite a couple of sections that have bubbles. I'd recommend going in hotter months so a cold pool might be enjoyable. Normally the pool is where you can still go even if it's raining, but not here. The food is just ok. We even did the special seafood dinner at The Grotto. I was surprised that things just weren't flavorful enough. And a lot of times the food is inconsistent. We went to the Thai restaurant and ordered the same 2 dishes three times and each time they were executed differently. And you have to pay for water each time you go to the restaurant - such an odd thing to charge for when they provide unlimited water in glass bottles in the room and really odd when you're paying so much for the stay and also for the food. With the exception of the seafood dinner at The Grotto, the service at restaurants was painfully slow. At breakfast, us and other families started to just get up and order directly from the back of the house - and we collected the dishes ourselves when they were placed in the window. Everyone's really nice, but it felt like they were understaffed and unorganized despite it being low season. And despite it being low season, there were plenty of guests... looked like they were fully booked - some of the rooms were even unavailable when I'd booked online, so I'm not sure the reason for not being able to service everyone. The mosquitoes are out of control and will eat you for breakfast, lunch, and dinner. The ponds are beautiful, but I suspect they encourage the hordes of mosquitoes to come. Complimentary repellent spray is provided, but there's no avoiding them - we even carried the spray with us to keep reapplying. We got rained on for several days while there, and there's nothing to do when the rain comes down. They even cancelled the happy hour rather than move it to another restaurant or area unaffected by the rain and wind. Only 1 tea time was scheduled... that was nice since it gave us something to do. The heavy rains from a surprise storm in low season is out of the hotel's control but it was unfortunate that they didn't rearrange activities to provide more entertainment. Heavy rains means all excursions are cancelled, no beach days, and no pool since it's a cold pool. All of the guests end up just staying inside rooms getting cabin fever during the rain. May from guest services was definitely a highlight. He got our expectations up when we first arrived and were welcomed by him. He was really hospitable and helpful. Unfortunately, dinner service that day quickly set the tone for the lack of and slow service we'd end up getting the rest of the stay. You're paying for the location in nature... which is beautiful, but just beware that the service and offerings will leave you dissatisfied. Definitely go in high season and hope there are no storms or bad weather days so you can enjoy its location in nature.
View full review